We heard that a visit to Hopper Valley makes a nice day trip from Karimabad and there would even be a glacier. As our visit to Passu Glacier was not as successful as we had hoped for, we decided to give Hopper Valley a go.
It would be possible to travel from Karimabad to Hopper Valley by public transport via Aliabad. We ended up hiring a driver, though. We met a German man, Carsten, at our guesthouse, and he joined us to split the costs. Getting an own driver was a good idea, because he made many stops on the way so we could see much more than just the Hopper Valley. Private day tour with the nice driver and his Landrover costed 3000 rupees altogether (around 18 euros).
Sights on the way
Our first stop was the 1000-year-old village of Ganish, the oldest settlement of the Hunza Valley. Even though a big part of it has been destroyed by floods, it was an amazing historical place to see.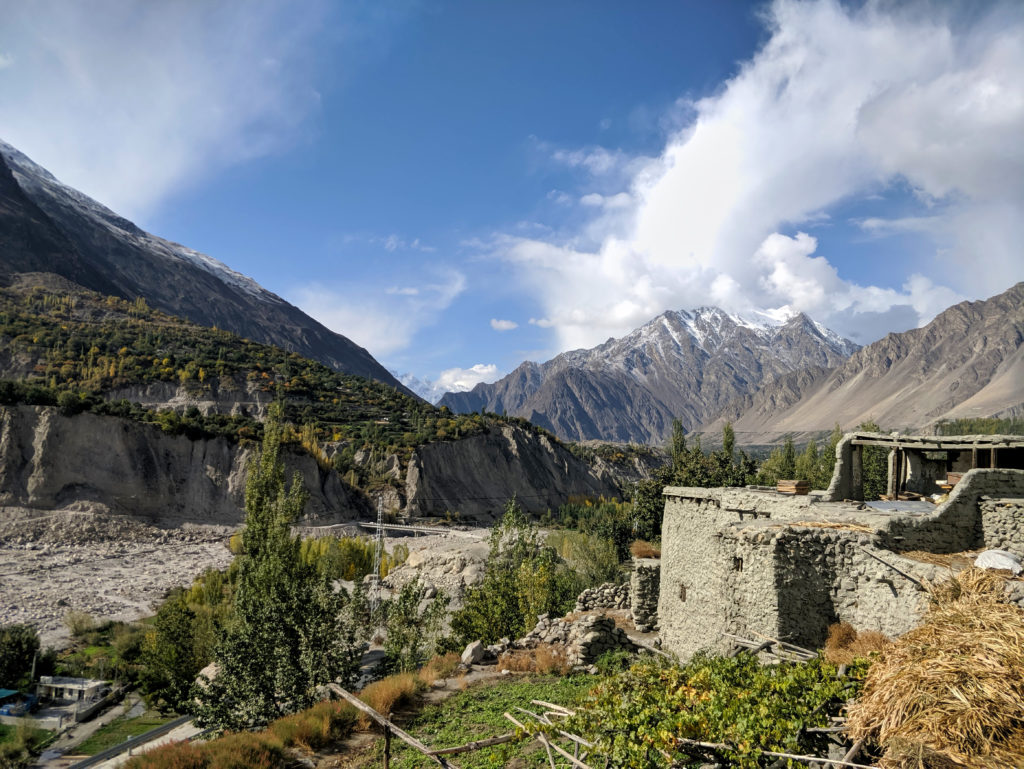 Our next stop were the sacred rocks of Hunza. On these big rocks next to the Karakorum Highway thousands of years old buddhist inscriptions are still visible. It was kind of interesting to see, even though one gets quite fast bored staring at rocks. But the views behind them were stunning as ever.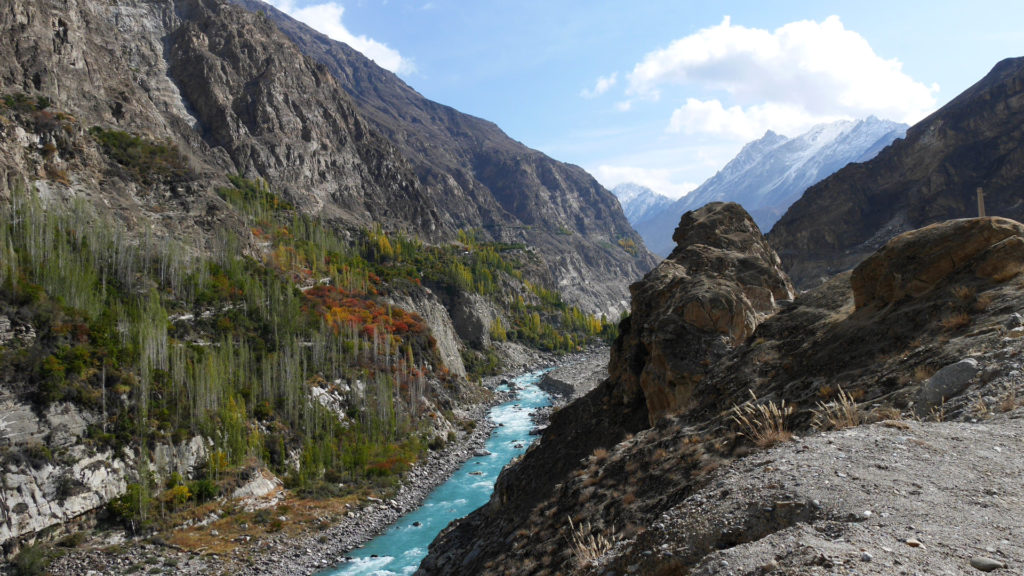 Our driver had another surprise for us. Before driving to Hopper Valley, we also had a small stop at a ruby mine. It didn't sound very interesting, but as we managed to find stones with tiny ruby pieces attached to them, we got excited. While Johanna and Carsten focused on the ruby search, Seri explored the long dark tunnels leading through the rock.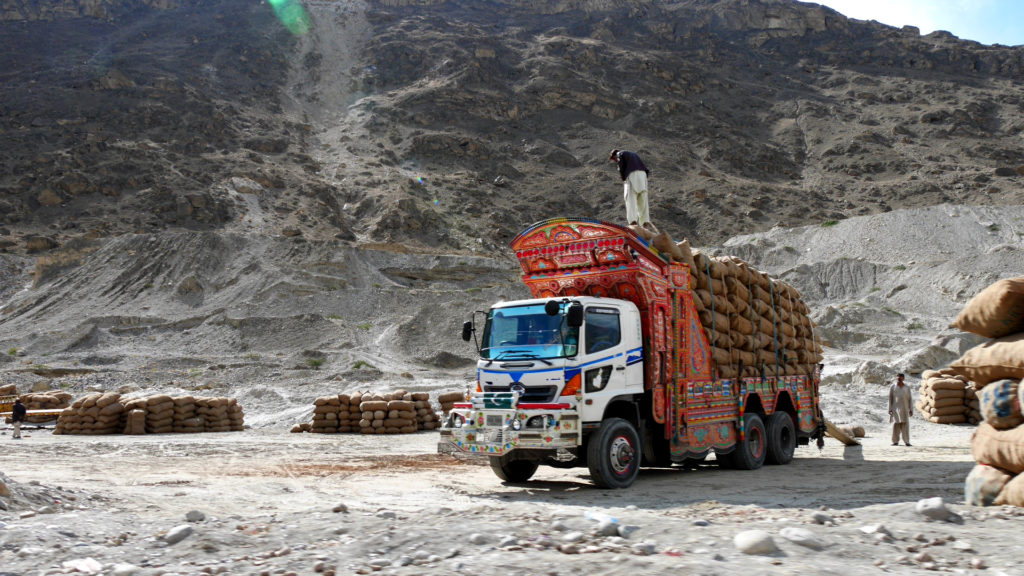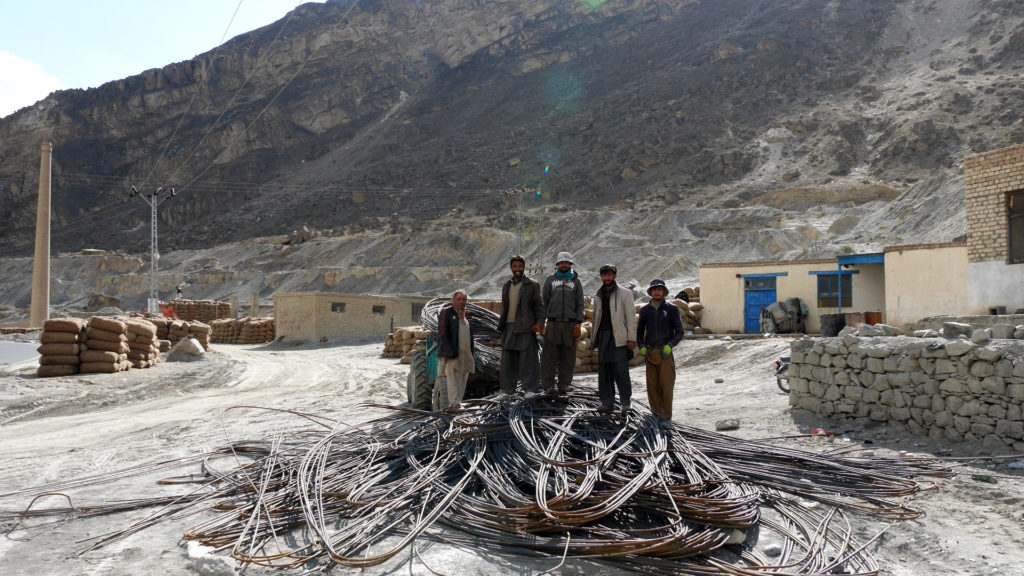 On our way to Hopper Valley
Finally, we started our way towards the Hopper Valley. We drove by a riverbank where local families had built camps. They live there to search diamonds from the river.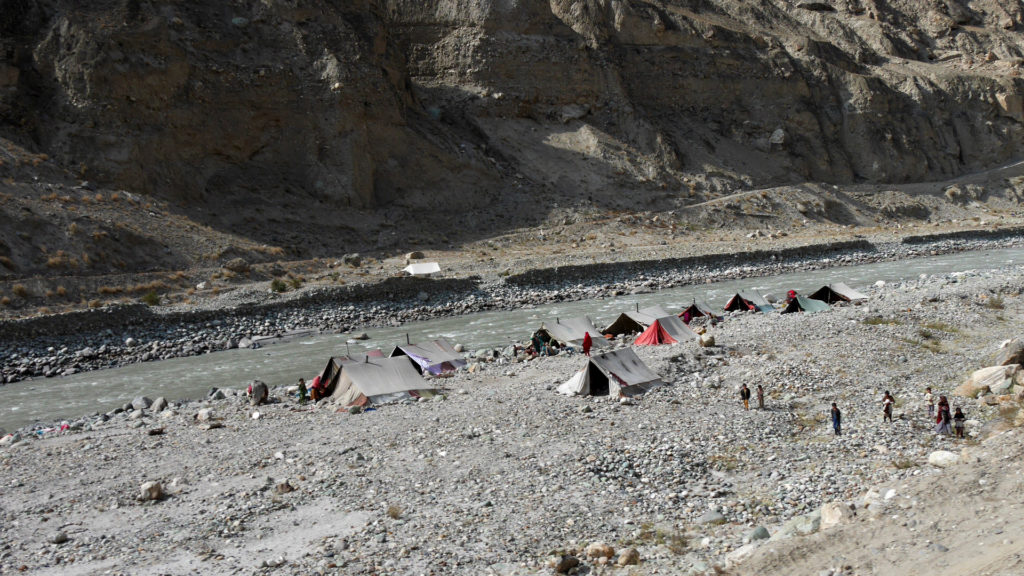 Then we started ascending to the mountains. Breathtaking mountain views, goats, the vivid autumn colors… you know, the usual. The sand road leading up was rather narrow at some points, so it almost got exciting. We passed many small villages with streets filled with happy kids on their way to school, seemingly excited to see some foreigners.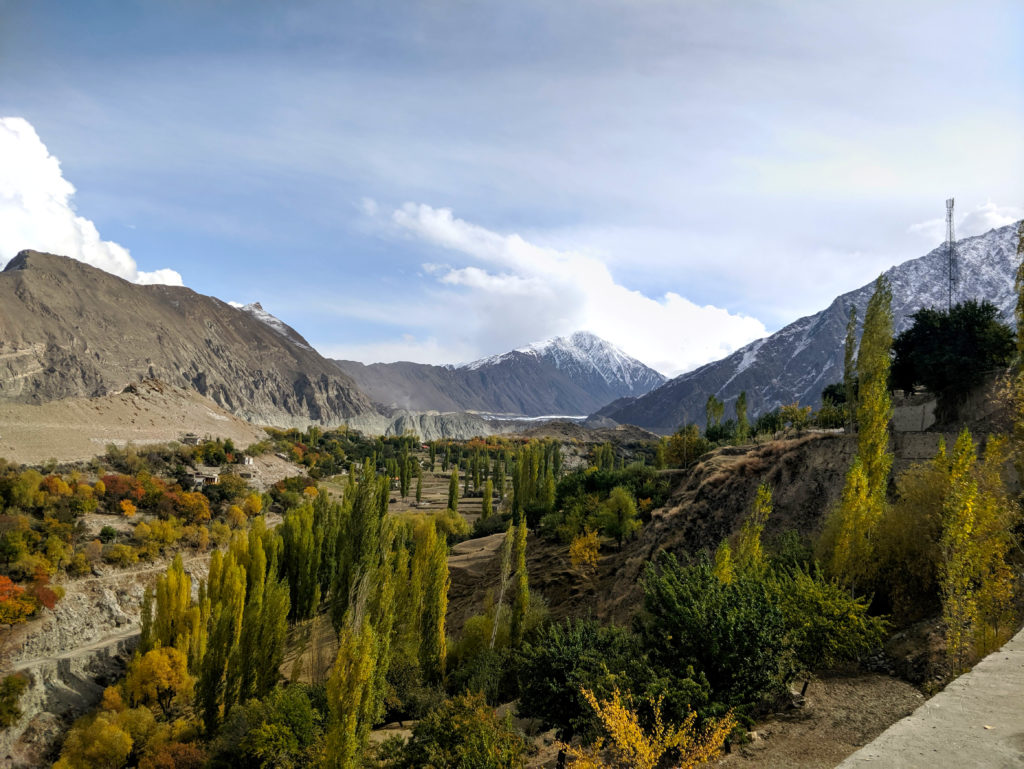 Visit to the glacier
In Hopper Valley, our driver parked the car in front of a "Hilton Restaurant", which had (luckily) nothing to do with the actual Hilton chain. From here it would be around 2 hours to walk to the glacier and back. We were offered a guide, but we refused, confident that we will find the way on our own.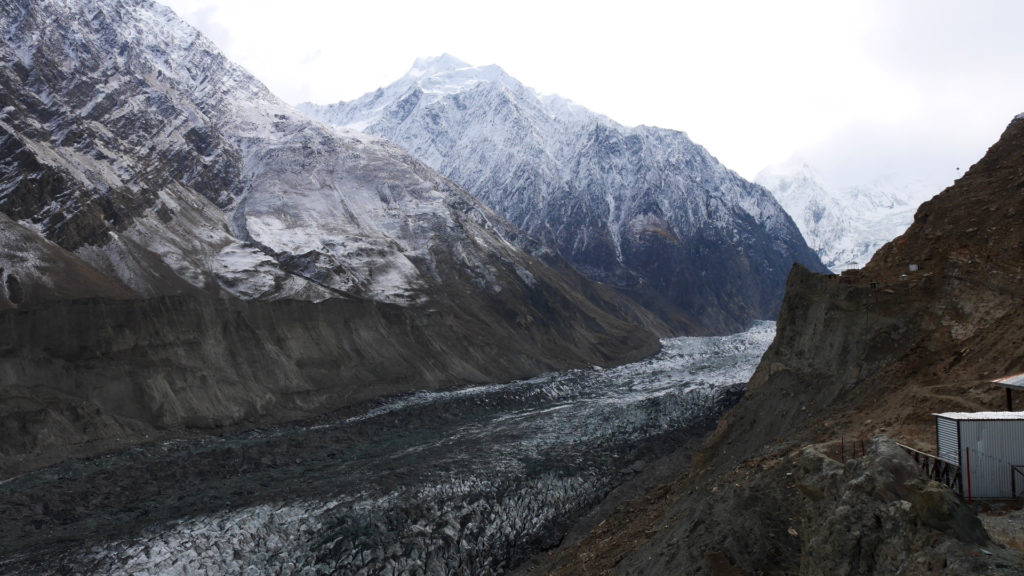 We could see the glacier from afar but wanted to make it on top of it this time. The descent was quite steep. When we finally arrived at the side of the glacier, we searched for a way to get on top for a long time, as it was all muddy and hard to cross. The hard work paid off, as the views from on top of it were quite spectacular. We've never stood on a glacier before (the one in Passu doesn't count).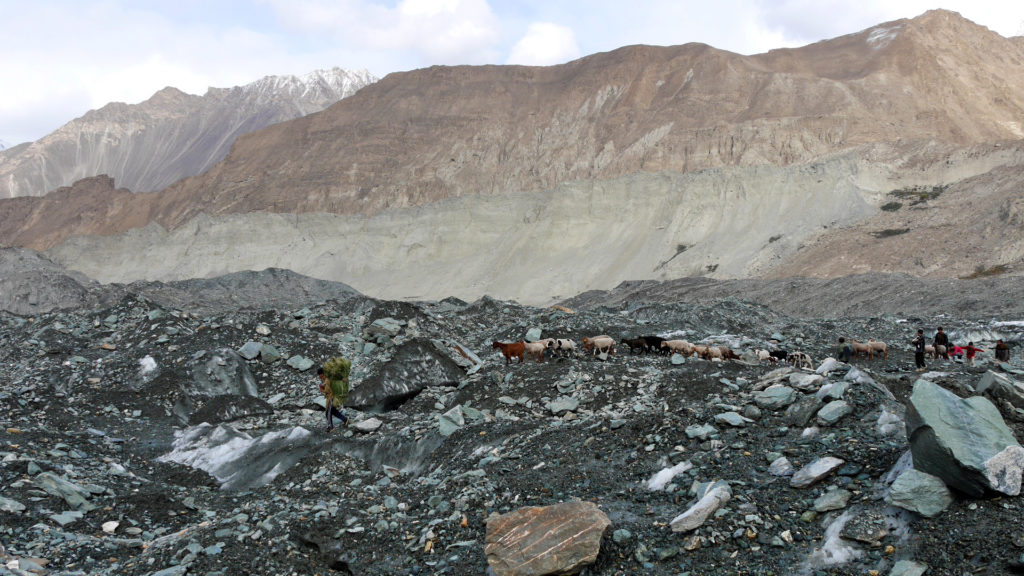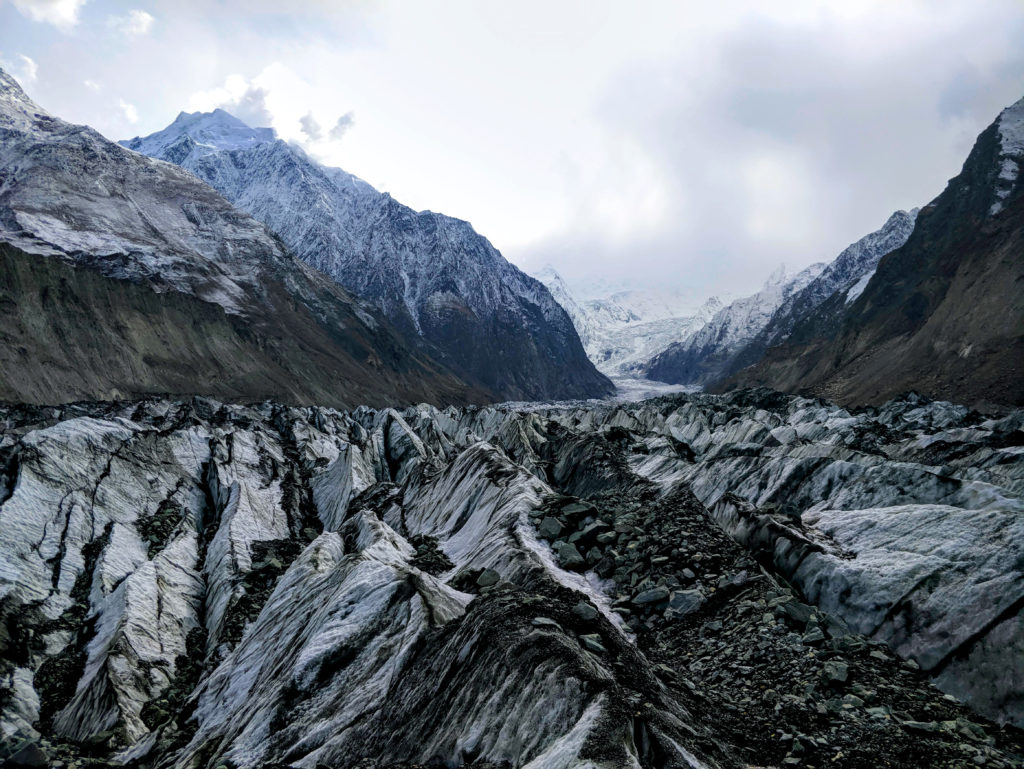 After getting back up, all the way to the Hilton Restaurant, we had a lunch there and then drove back to Karimabad.
A trip to recommend
We don't often do daytrips like that. Hire a driver and tour around from one sightseeing point to another. But we would recommend to do this trip with a driver, as there were many things to see on the way that we would have missed by taking the public transport. As you could fit at least five or six passengers to a Landrover like that, it's also very affordable when you share the costs.