There is so much nature around Almaty that you could spend weeks in the city doing day trips to nearby natural attractions. It also seems to be a popular way for the locals to spend their free time. We visited two natural attractions next to Almaty: The Big Almaty Lake and the Butakovka Waterfall.
The Big Almaty Lake
We've seen many pictures of the bright turquoise Big Almaty Lake on the internet. Now we wanted to see the lake with our own eyes to know if the pictures were heavily photoshopped or if the lake really looked like that.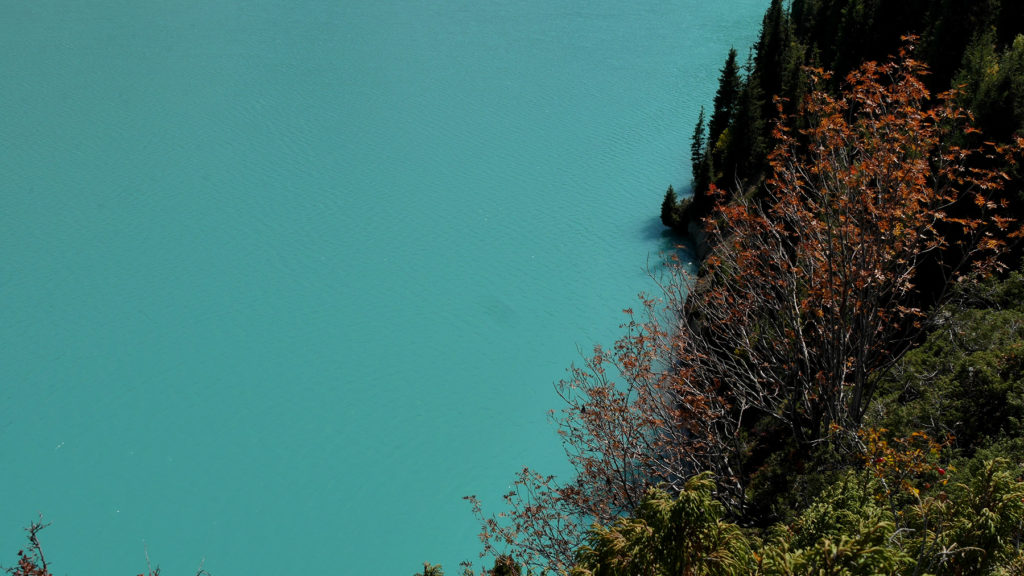 Getting there
The Big Almaty Lake must be one of the most popular attractions around Almaty. It is located 15 kilometers away from the city, high up on the mountains. Still, there is no public transport going all the way up there so you have to go on an organized tour or improvise a little bit. We knew that we could take two buses to get more near and then take a taxi or hitch a ride for the rest of the way. We waited for more than half an hour for the first but it never came. Apparently it was on a special route because some roads were closed that day. So we gave up and ordered a ride through Yandex. After a few minutes the driver started saying "sorry, sorry, sorry" and wanted us to get out. He had just now realized where we wanted to go and apparently his car wasn't made for the steep mountain roads. The next Yandex driver had a more powerful vehicle and finally we were on our way. The views on the way were getting better and better. Near the lake there was already a traffic jam. It was a Saturday morning and we were clearly not the only people there.
At the lake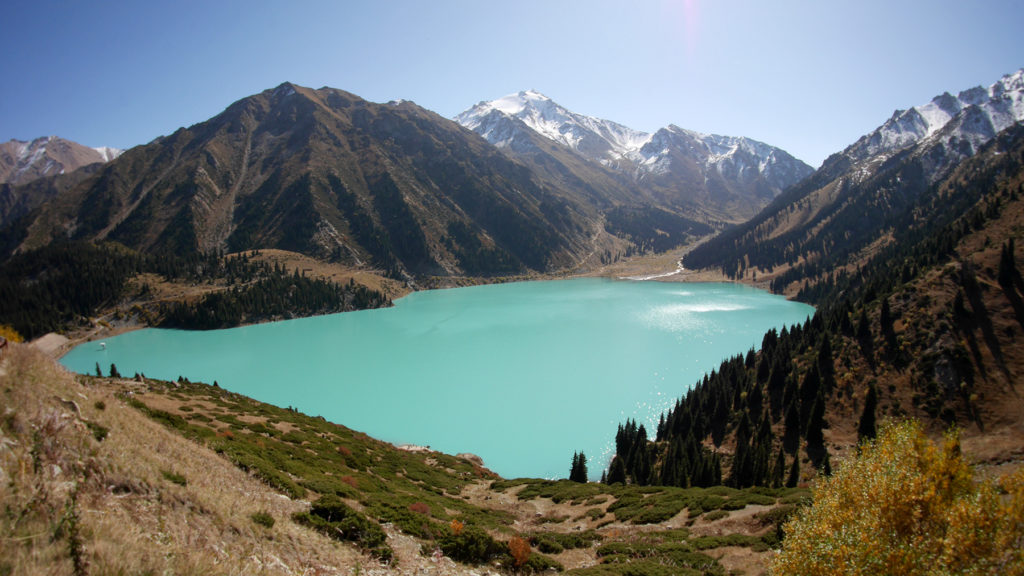 Then we saw the lake. The view was breathtaking. It looked exactly like in the pictures we've seen before, if not even more beautiful and more turquoise. The tap water of Almaty is coming from this Lake, therefore you're not allowed to swim in it. So you can walk around it, have a picnic, or queue to take a selfie on top of a stone, like most of the people seemed to be doing. We went for a little walk. It was so nice to be in the nature, since so far we've been mostly in the cities or on vehicles since we left Finland. We didn't walk around the whole lake though, and apparently it's not even possible. There was some army guy yelling something in Russian to a megaphone when we got more near to the dam on top of which he was sitting on. Johanna thought it would be better to turn back, Seri thought he might have just yelled orders like "remember to have fun".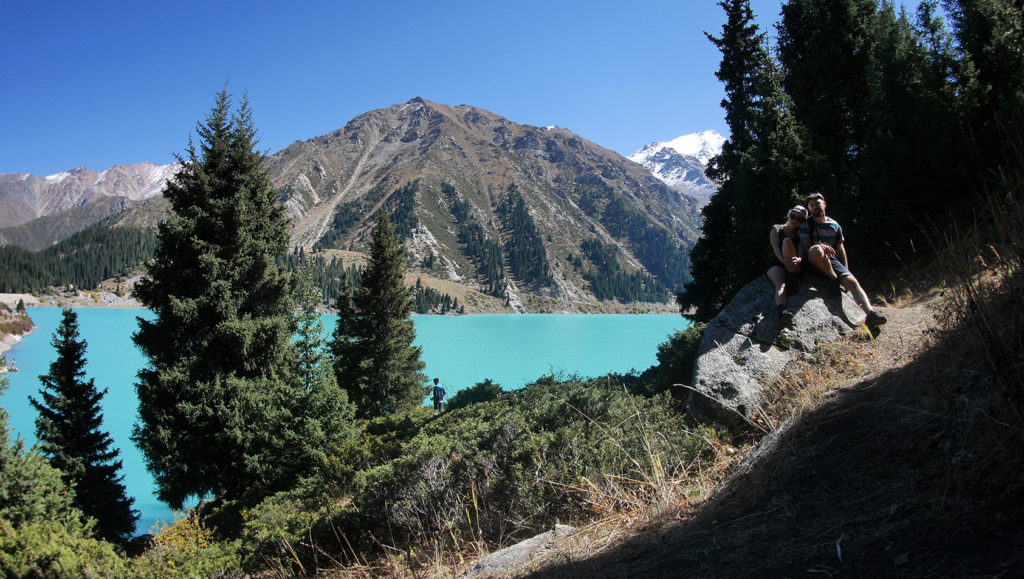 Getting back to Almaty
After a few hours we decided to head back to Almaty. By that time the place was completely crowded and the traffic jam on the mountain was massive. There would have been taxis up there, but we (or Johanna) thought it would be nice to still walk a little bit and hitch a ride later.
The walk along the road was not that interesting, but we've read from some blog that we could follow the water pipe leading down from the lake in order to get down faster. We saw people coming up, walking directly on the pipe, so we decided to give it a go, too. Johanna was a little bit scared and took little steps. Latest, when the pipe rose up from the ground to cross a river and Johanna started to crawl on it, we realized that this was not going to work out. Anyway, walking down on the pipe would have been completely senseless – it would have taken hours, even for a normal, non-scared person. Also, how do you walk a pipe that is partly going down in some 40 degrees angle?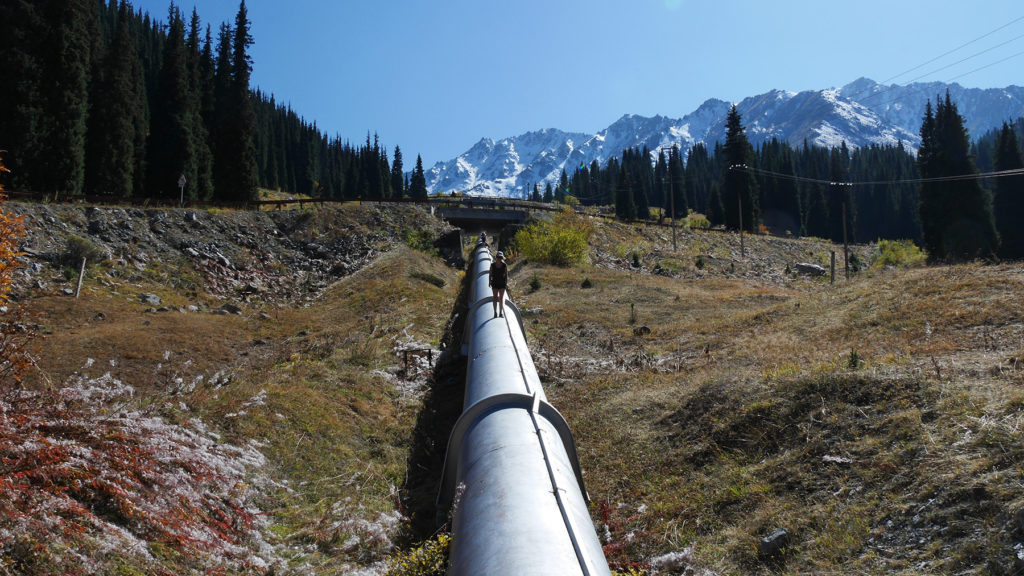 Almost straight when we got back on the road looking helpless, a local couple stopped next to us and told us to get in. They were not headed to Almaty, but to some village, so we figured it was better to get out on some bigger parking area in order to find a bus. We didn't see any buses there, though, so we continued walking. According to our maps there should have been a bus stop nearby but we couldn't find it. We were already starting to lose our nerves. It would have been so much easier just to get in a taxi on the top. But then some local men walked by and ordered a dark cab. There was space for us, too. The men didn't go far, but the driver agreed to bring us to our hostel. The price was very affordable, so in the end we were happy that we had done it the adventurous way.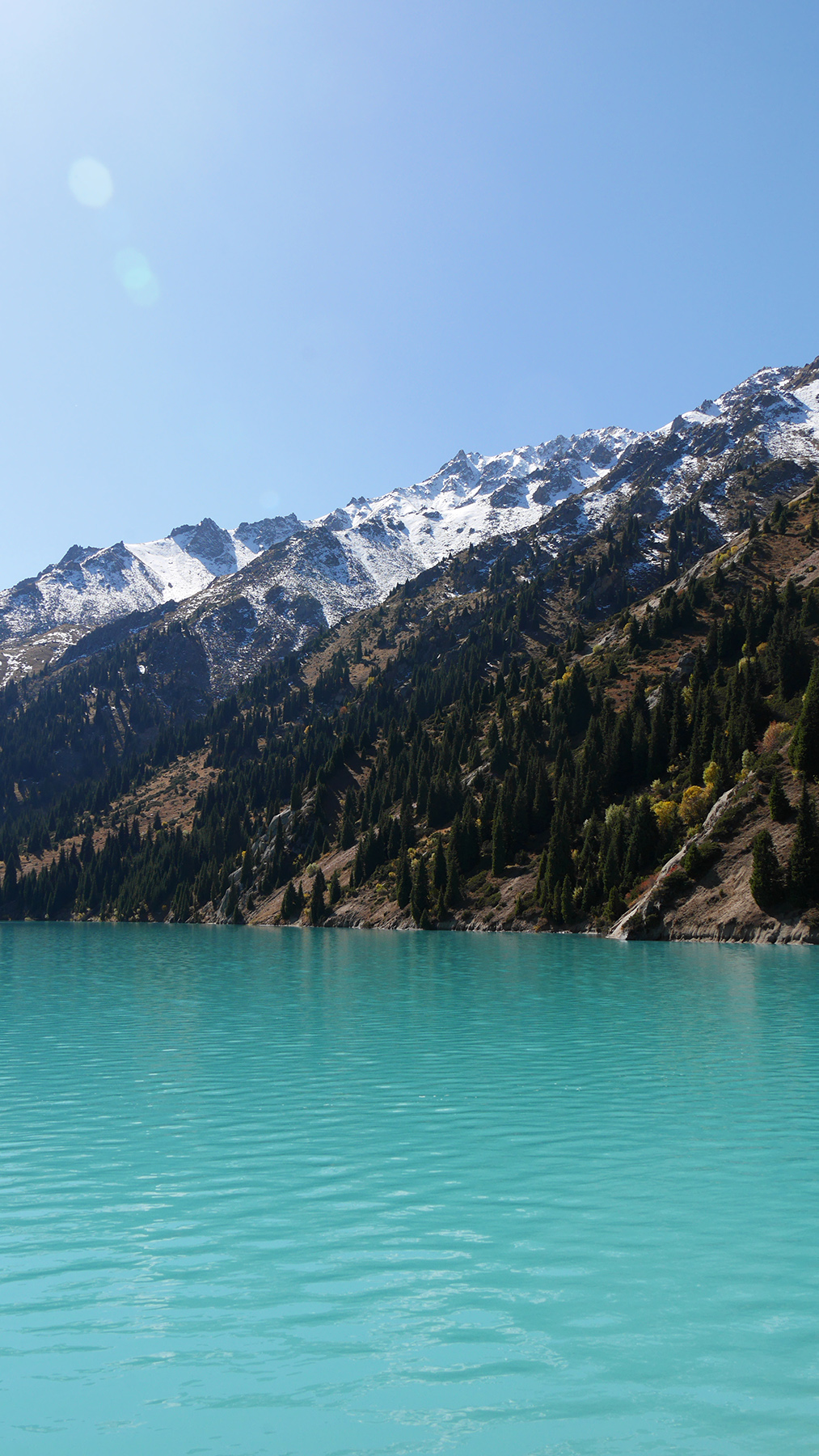 The Butakovka Waterfall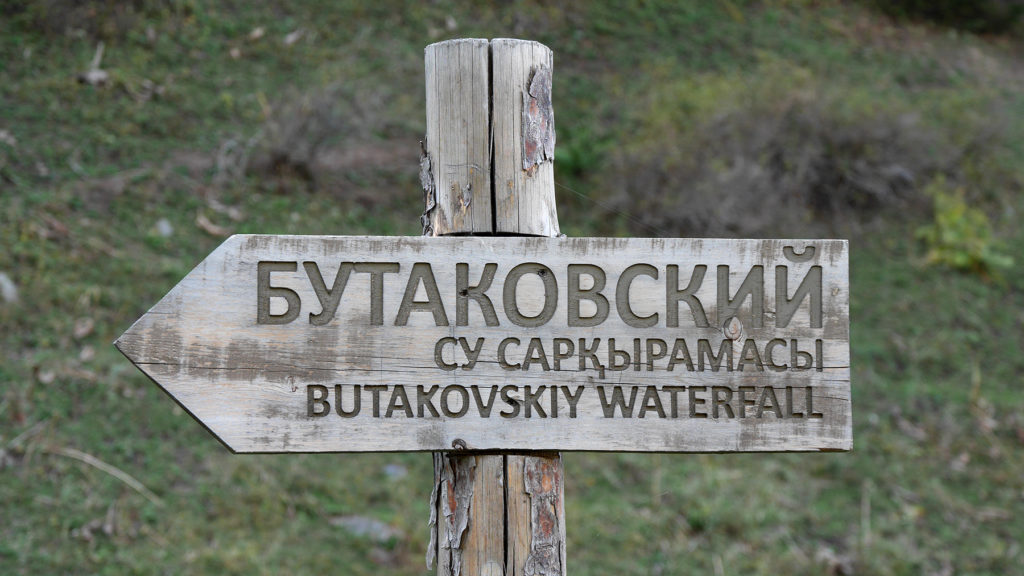 Medeu is a sports complex up in the mountain. The best it's known for its ice skating rink, but it's also the starting point for several hikes. As Seri has been sick the last days, we wanted to start with something relatively easy. We've read that you can reach the Butakovka waterfall effortlessly in two hours, and that it would be a good hike for children, too. Apparently we are not in our best fit at the moment, as we didn't find it THAT easy and were sweating like hell along the way, but the hike was enjoyable nevertheless. Walking in the nature is such a good way to get your creativity flowing.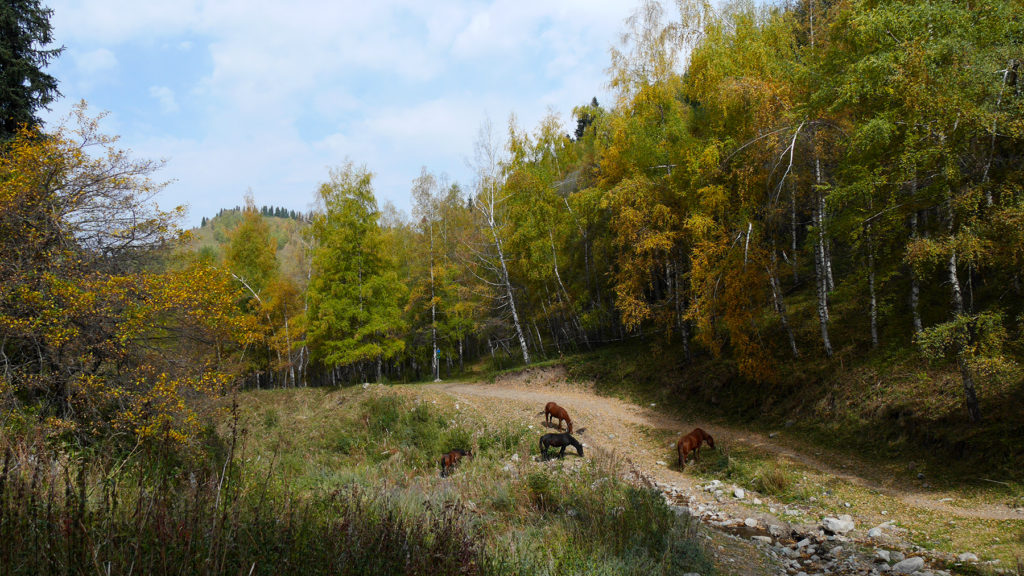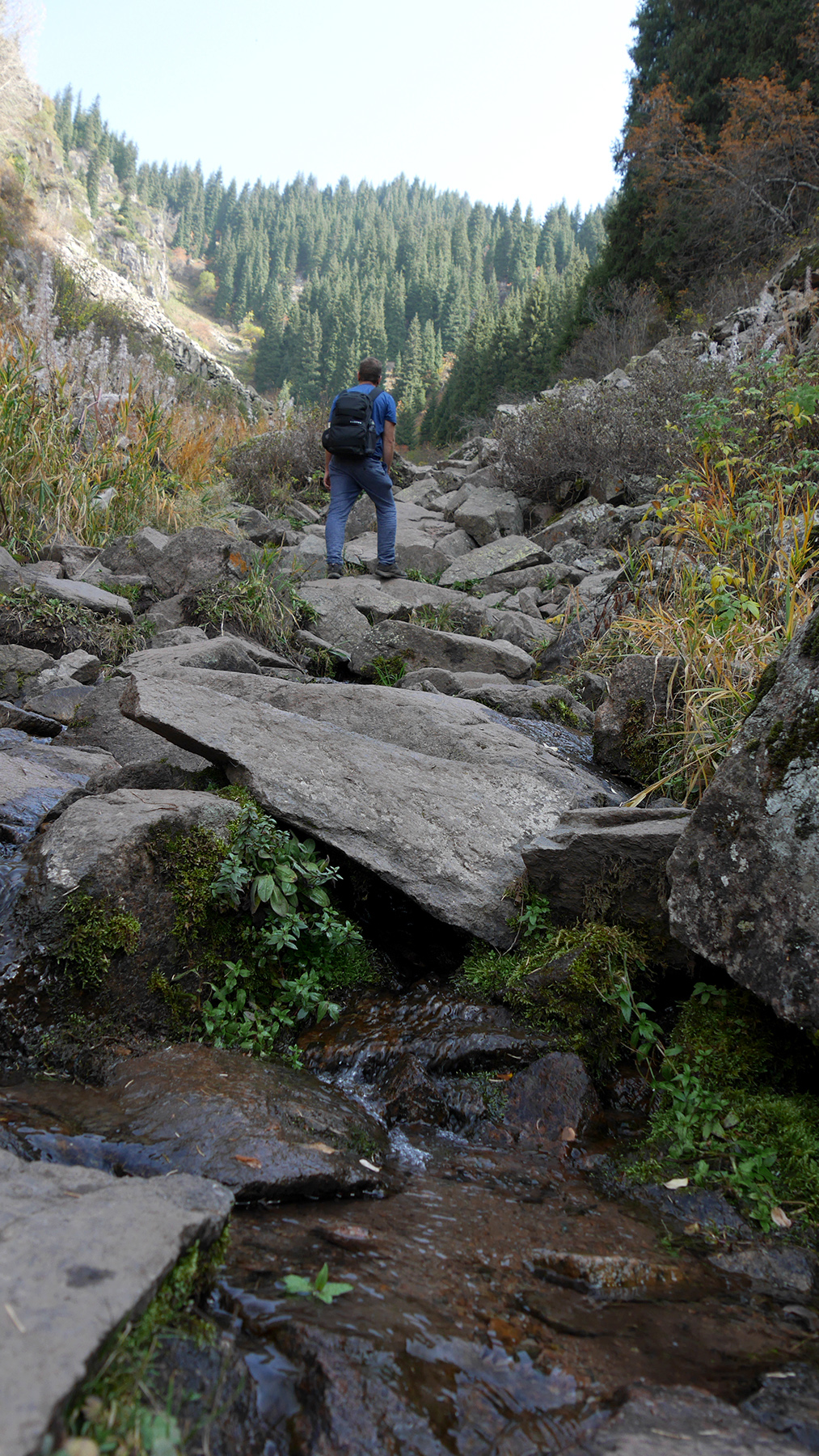 The waterfall itself was not the most spectacular one we've seen but it was still a nice spot to have a lunch break.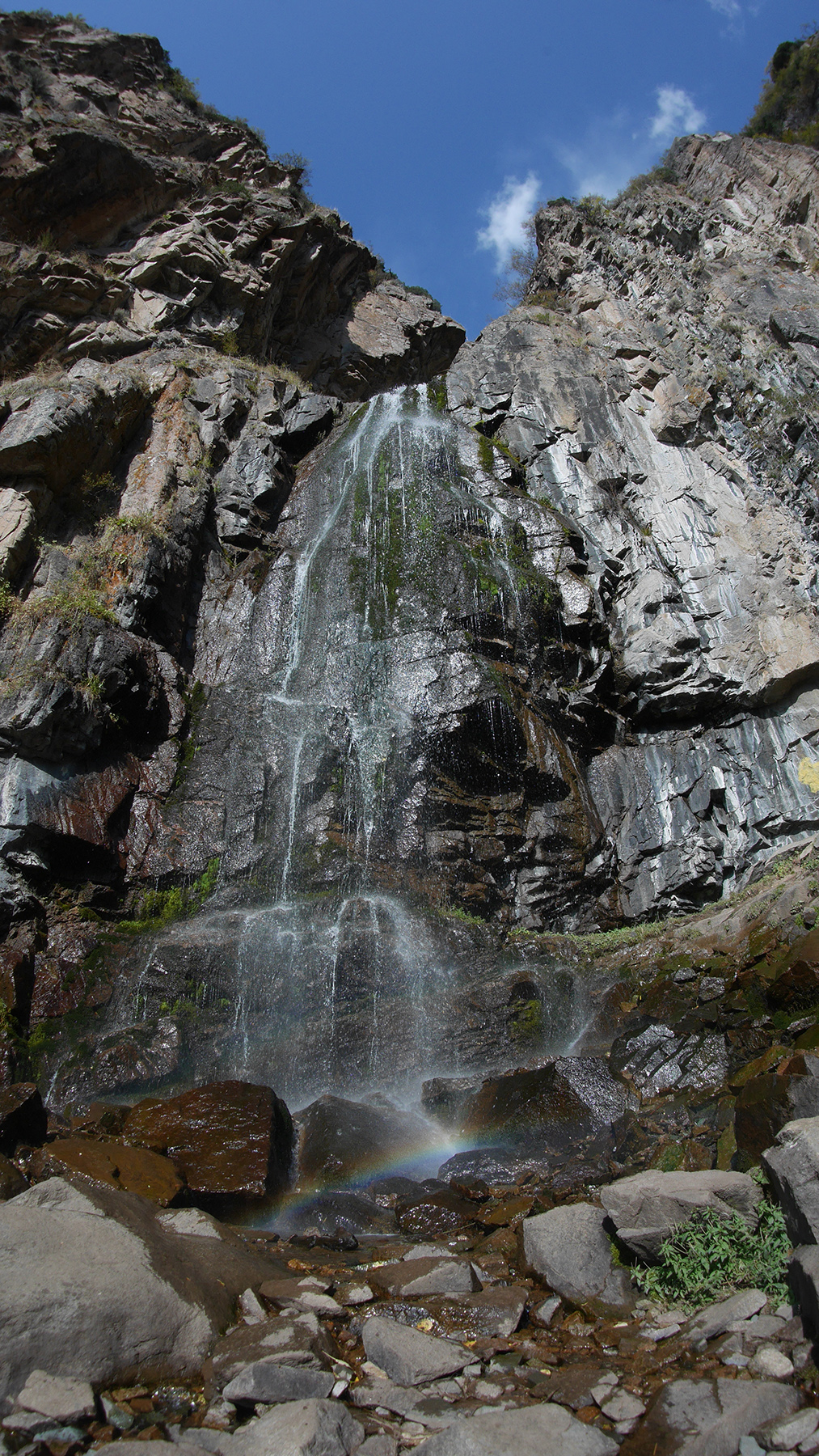 We thought not to walk the same way back, as we've read that there would be frequent buses leaving from a small village on the way. We didn't find any buses and later it turned out that we were not even in the right village. But as Seri tried to ask some older couple about buses to Almaty, they just assumed we wanted a ride to Almaty from them. So they told us to hop on to their car and so we got back to Almaty.