It's not a wonder if you've never heard of the city of Nur-Sultan, as it got its new name just less than a half a year ago. Until that it was known as Astana and it's been the capital of Kazakhstan only for 11 years. Nur-Sultan is a surreal, artificial city with skyscrapers in the middle of the vast central-Asian steppe. The whole place was a little bit confusing for us.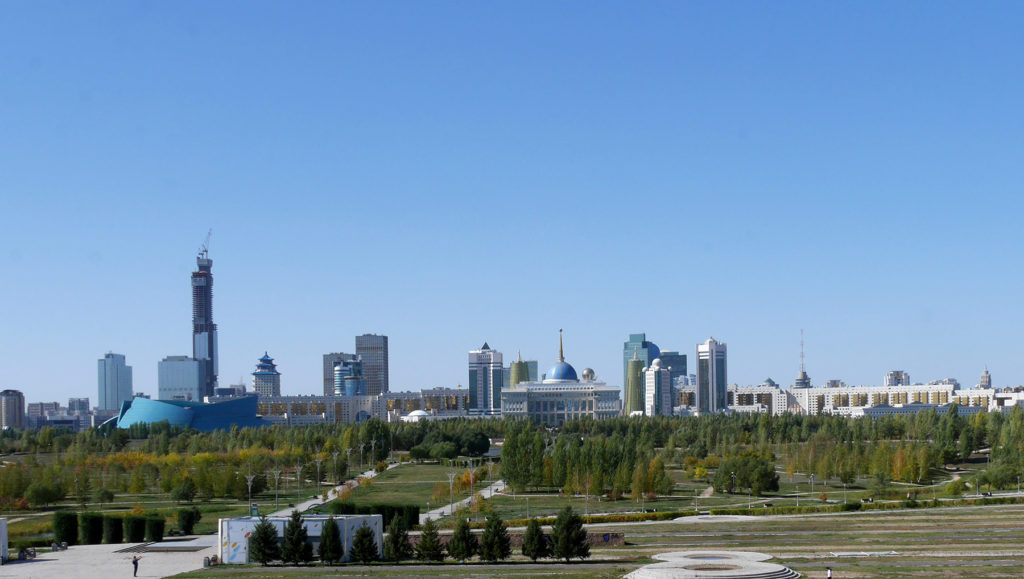 Too much money to buy anything
It was early evening when we arrived at the train station in Nur-Sultan. As always when we arrive to a new country, we had to find an atm to get some local money, tenge. We asked for the directions and found a few ATMs at the waiting hall. Stupidly we were choosing to withdrawal in big notes. We tried to break one of the big notes for the bus by buying water from a small shop, but they didn't have enough of cash. After trying at some other shops and one office we made another withdrawal. This time only small notes. It was a good lecture for our stay in Kazakhstan. From that point on we were always breaking the big notes when ever possible, for example in hostels, supermarkets or restaurants, and keeping the small notes for when we were needing them.
Back on the international traveler's trail
The outskirts of the city were not looking as modern as we expected. We took a public bus to the direction of our hostel. The bus looked quite modern, we could have been also in some European city, except that many of the people on it looked already Asian. As we came closer to the city center, things started to look newer and posher. Our accomodation, Hostel Nomad 4×4, was situated next to the center in some older area of the city with small houses. When we arrived there, we were surprised that the friendly owner was speaking in quite good German to us. Next surprise was that the place was full of international backpackers. We hadn't seen almost any on our journey until now. It felt nice and overwhelming at the same time, to be among other international tourists and to be able to talk to other people than just to each other. The hostel was nice with a garden. We liked the place a lot and asked straight the next day if we could stay longer but the room was already booked.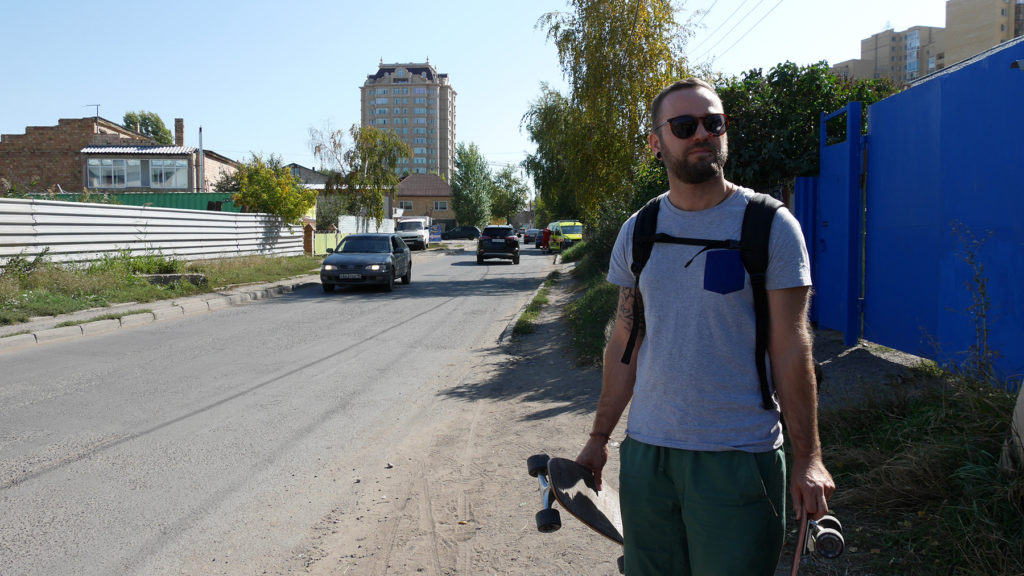 The city of Nursultan
The capital of Kazakhstan was moved in 1998 from Almaty to Astana. The autocratic president decided to build on the base of the city a new futuristic capital that can compete with economic centers like Shanghai. Therefore, popular international architects like Norman Forster were hired and the city is still in a big transformation process. This March the name of the city was changed from Astana to Nur-Sultan to honor the former President Nursultan Nasarbajew. He was formally steppings to side after 29 year of autocratic rule.
We were spending our two days by cruising in the city (as its new, big parts are also good to skate) and just looking around. There are impressive buildings and sights like the Bayterek Tower, the Ak Orda Presidential Palace, the Pyramid of Peace and Reconciliation with a huge park surrounding it or the Nur-Astana Mosque. We visited the Khan Shatyr shopping center that is shaped like a tent and housing everything from fancy shops to giant supermarket (that was half empty), food court with cheap chain restaurants and even a Waterpark and roller-coaster in the roof.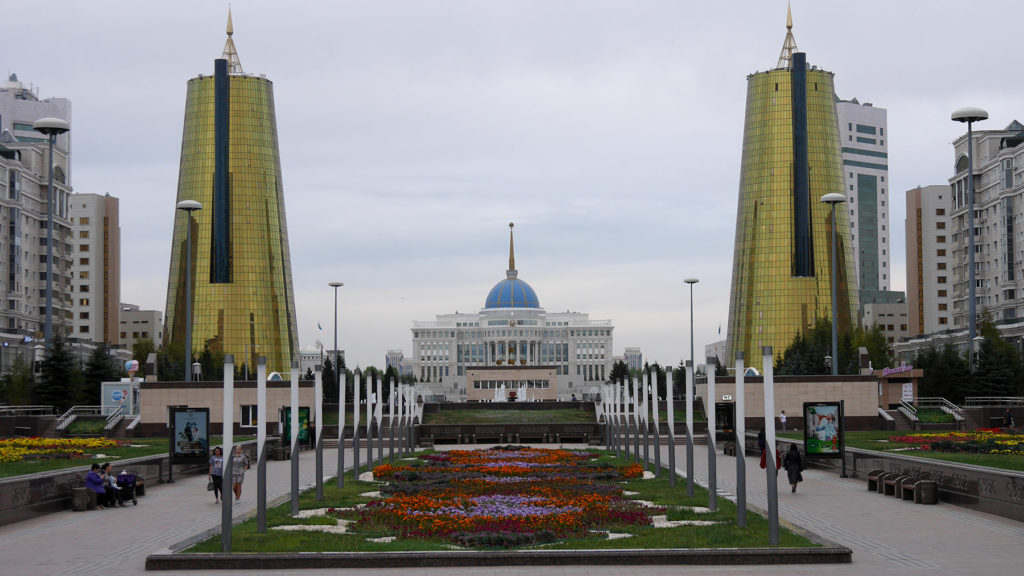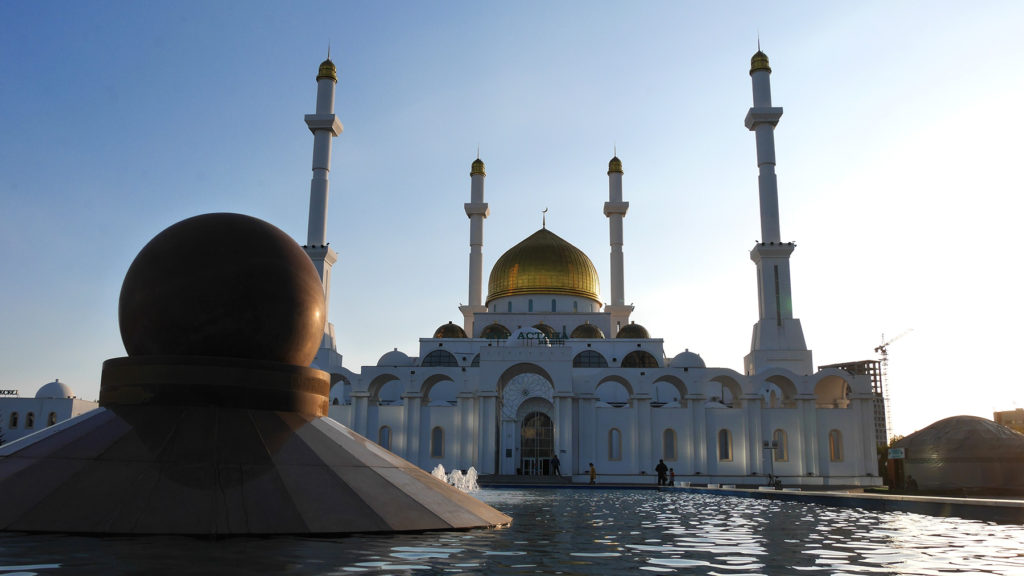 The city feels clean and safe, the people are friendly, there are a lot of parks many with small forests built in. The streets in between are huge, offering enough of capacity to prevent traffic jams. Even very impressive, after a while the whole place felt a bit soulless. We had the feeling that many of the houses in the city center are still empty and there's still a lot of building going on. So to us the place felt unfinished and artificial. There are not too many people in the streets. Still we managed to bump into a group of Finnish men who were in the city for the boxing championship. We loved the bicycle ways for skating, especially because we saw only three bikers in two days.
We missed nice small cafes or restaurants in the center. Most of the places were chains or addressed to a rich business audience. Even though the owner of our guesthouse had announced us that Kazakhstan is a meat country, we managed to find some vegetarian food. Our favorite place to eat was a veggie restaurant not too far from our place called Trawa Modern Vegetarian. The food was delicious and well-priced. Still, even there we felt a little displaced at first because the whole interior felt so posh. Otherwise we were sticking quite much to the fast food of the food courts. If we couldn't find anything else vegetarian, french fries, pizza margarita and surprisingly also Russian food like vareniki always work.
After all we felt quite much done with the city after two days. Therefore it turned out to be a good thing that we couldn't extend our stay at the hostel. Still we would recommend a visit to Nur-Sultan on a Kazakhstan trip because the city is quite impressive. After futuristic and globalized Nur-Sultan, we were looking forward going further south to Almaty and being in a more natural environment, surrounded by mountains, forests and lakes.