Our plan for the next two days was to get from Almaty, Kazakhstan, to Karakol, Kyrgyzstan through the remote Karkara border and to have an overnight stop at the famous Charyn Canyon on the way. This was not the easiest way to get to Kyrgyzstan as most parts of this route wouldn't be covered by public transport. Also, we weren't sure where we were going to sleep. Anyhow, we were prepared for hitchhiking and hanging our hammock somewhere, trusting that things will work out just fine. Well they did, much better than we could have ever imagined, and we had the most fun days of our trip so far.
From Almaty to Charyn Canyon
We left our guesthouse early in the morning. We took a Yandex to the Sayakhat bus station where there might be some marshrutkas leaving to our direction. The Yandex driver was super nice. It was hard to find the bus station, so he first turned at the wrong crossing. He was so sorry about the 5 minute delay that he refused to take money from us!
We couldn't find the marshrutka but we found four other travelers who wanted to visit the canyon, so we shared a taxi on our own. It would take us directly to the entrance of the canyon for 3000 Tenge (7 Euro) each. As the driver started the car, the radio was blasting Freestyler on full volume and we had the feeling that it was going to be a good day.
On the way there was a toilet stop and Johanna took the chance. This was the first toilet of this journey where there were only some holes on the ground, separated by some kind of walls, but no doors and anyone on the queue could look at you doing your business. Last time in China we were not that comfy with this at first but now it felt pretty much normal to Johanna.
Surprising change of plans in the Charyn Canyon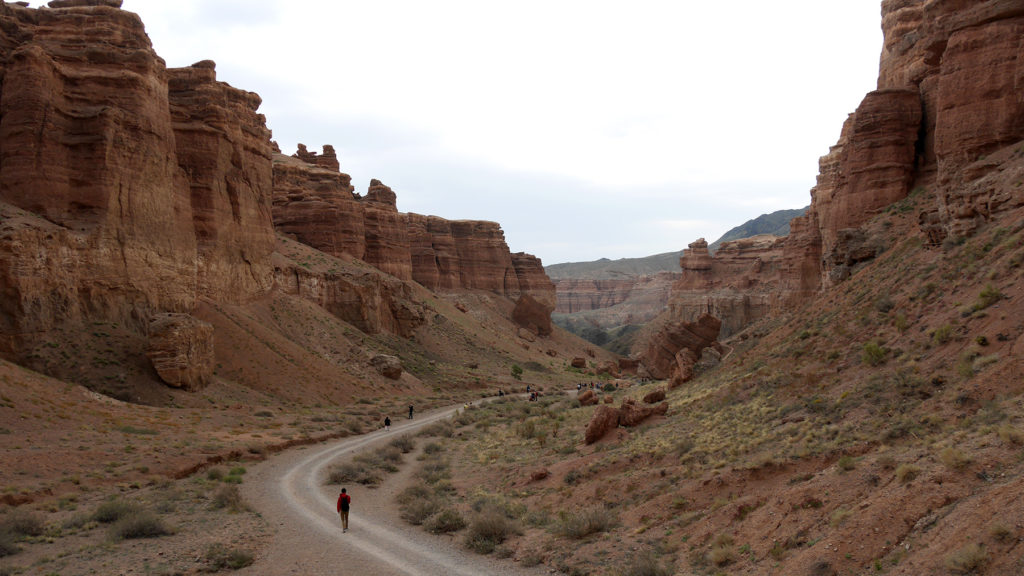 We arrived at the canyon and started to walk through it. We wanted to reach the river at the end, next to which we were hoping to find some trees where we could hang our hammock. In the worst case there would also be some overpriced huts for rent.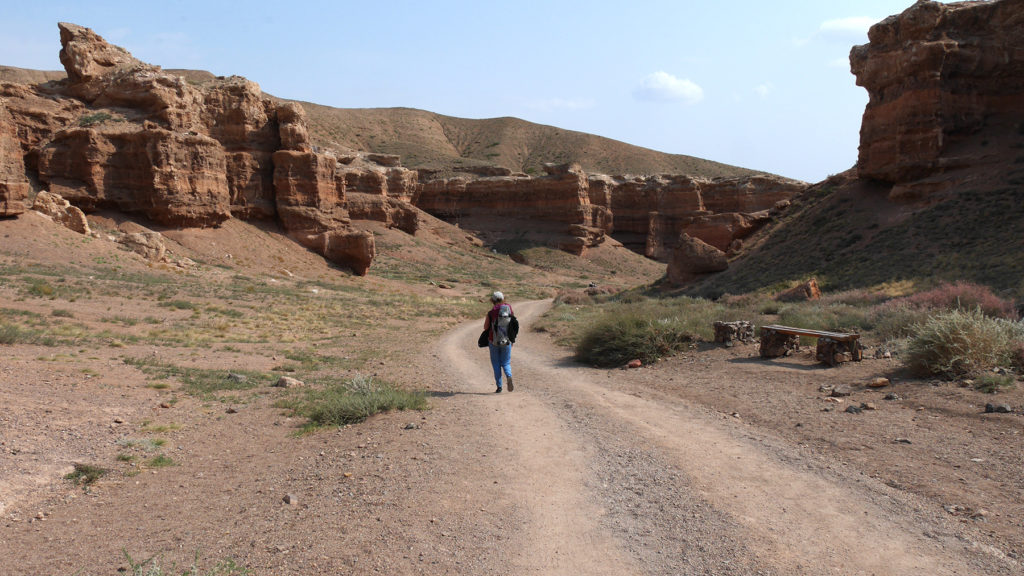 After carrying our bags in the heat for at least half an hour, we were almost there. And then we bumped into Lena and Tjerk, a super nice Dutch couple traveling around with their land cruiser. We've gotten to know them at our hostel in Almaty and spend a few evenings together. Their plan was to cross the border to Kyrgyzstan, too, on that day or on the next one. After talking for a while, they said they could change their plans a little bit. We could camp somewhere and spend the evening together, and then drive through the border the next day. At this point it sounded like a dream come true for us already, but things were about to get even better.
In search for the perfect camping spot
We had a small break at the river by the huts and the restaurant, but 10 minutes were enough. The huge, age-old rock formations around us were impressive and the river was beautiful. But there were so many people that you really couldn't enjoy the peace of nature. So, we were more than happy to put our backpacks on again, walk back to the parking lot and try to find a more peaceful spot for us four.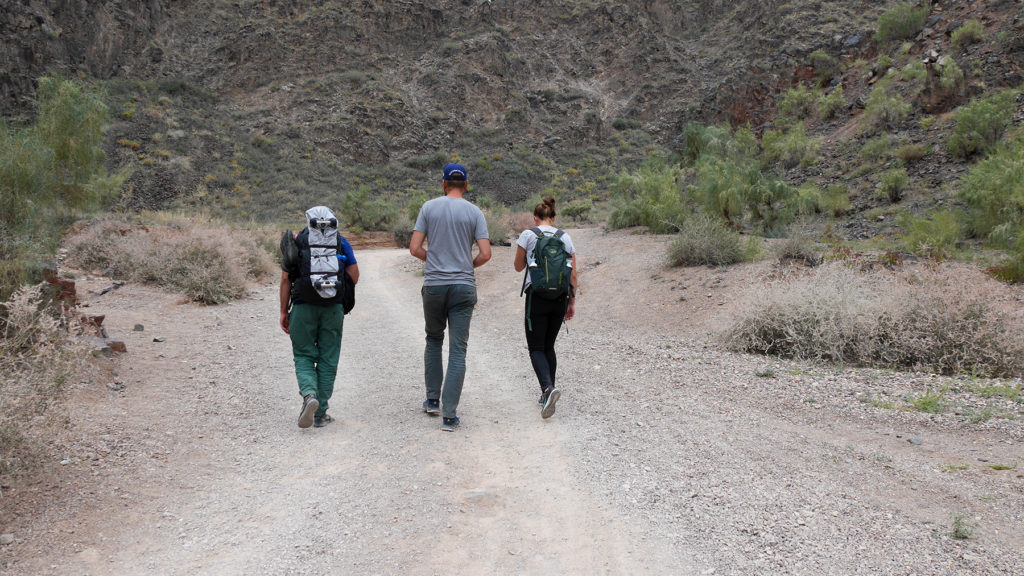 Lena and Tjerk's car has only two seats as it is converted to an off-road camper. They were a bit concerned if it would be too uncomfortable for us to sit in the back on top of a storage box that also works as a bench. But we thought it was the best. It was fun to get off-road for a change and to sit (or jump) through the bumps.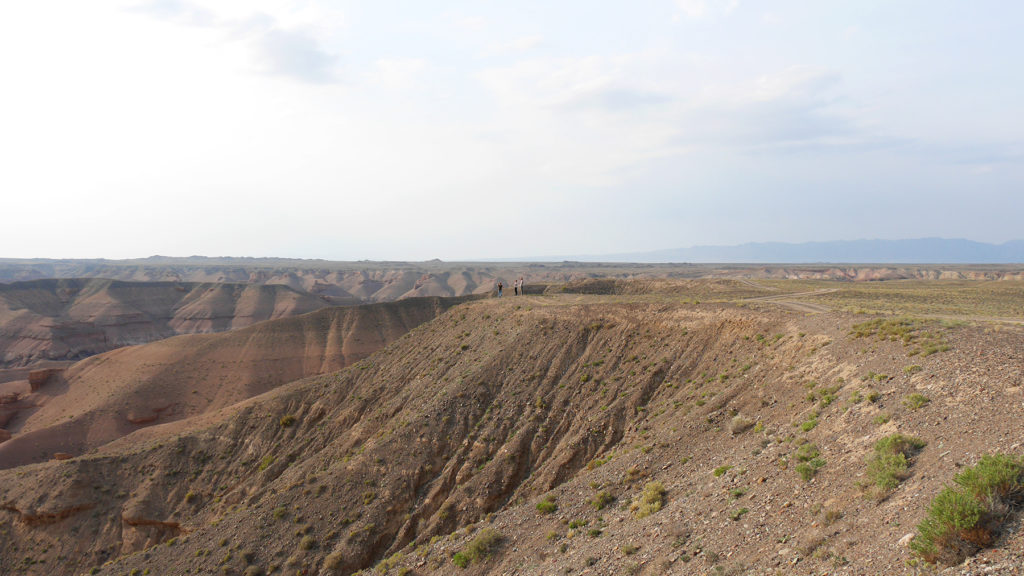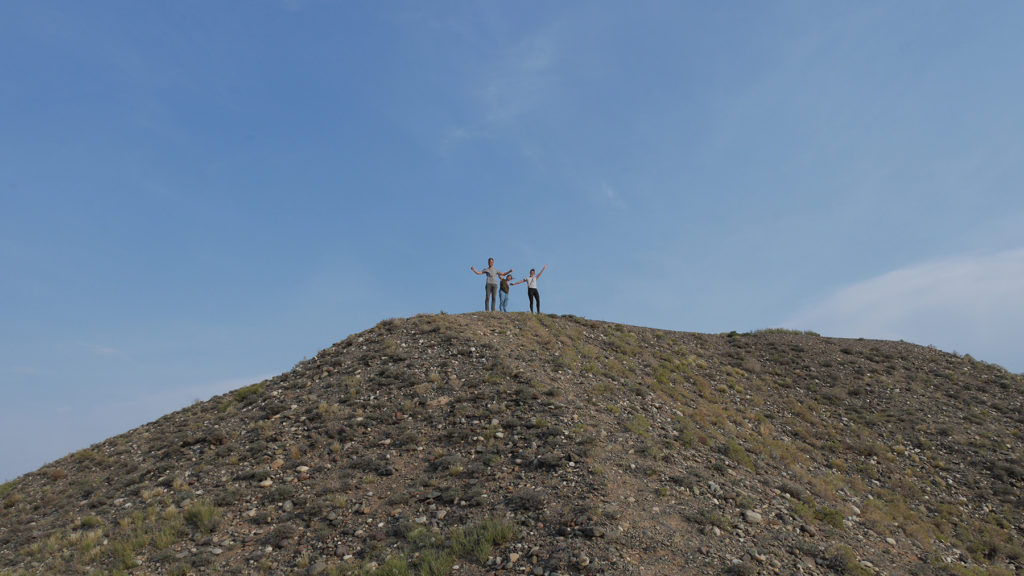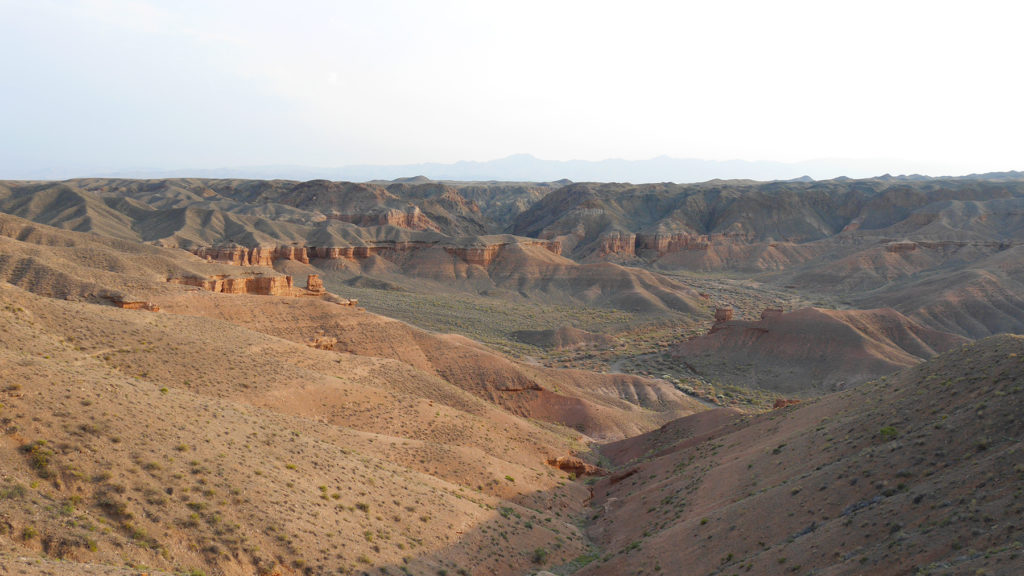 After some time driving through the epic landscape, we arrived at a viewpoint with breath-taking views. We saw that there was a gravel road going deep down into the canyon, probably leading to the river.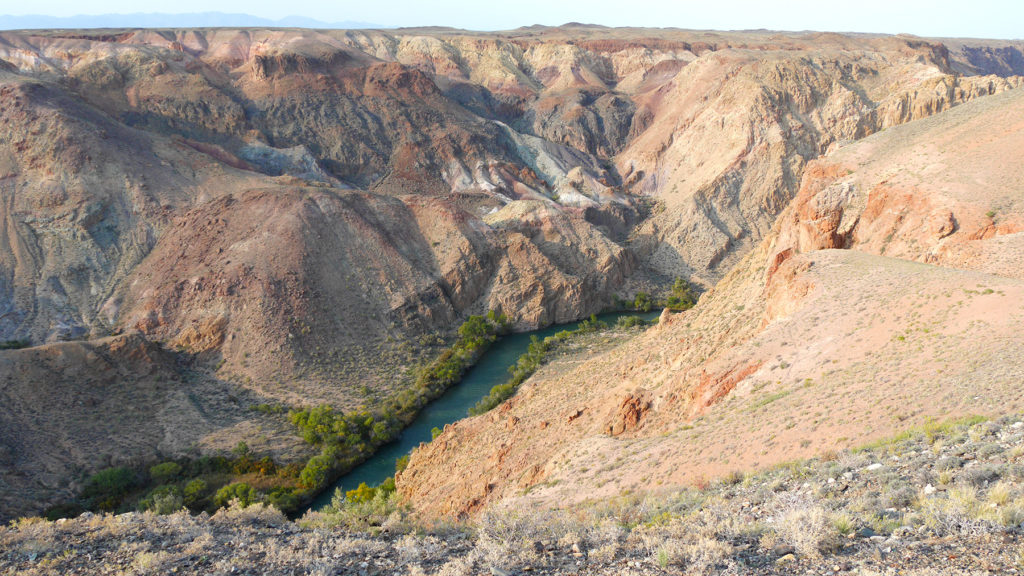 So, we went on a little adventure. It felt surreal to drive inside the canyon with huge rock walls on both sides. Sometimes the road got really narrow and we were not sure if the car could fit, but Lena drove like a pro. We arrived at the riverside and were surprised to find some picnic shelters there, as the place was really remote. At least we could hang our hammock under the roof, in case of rain.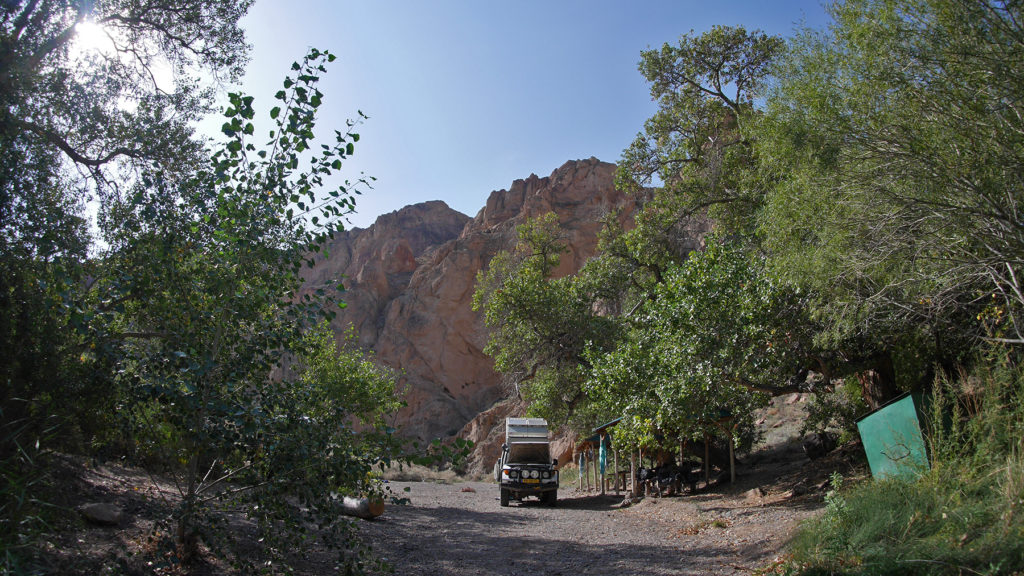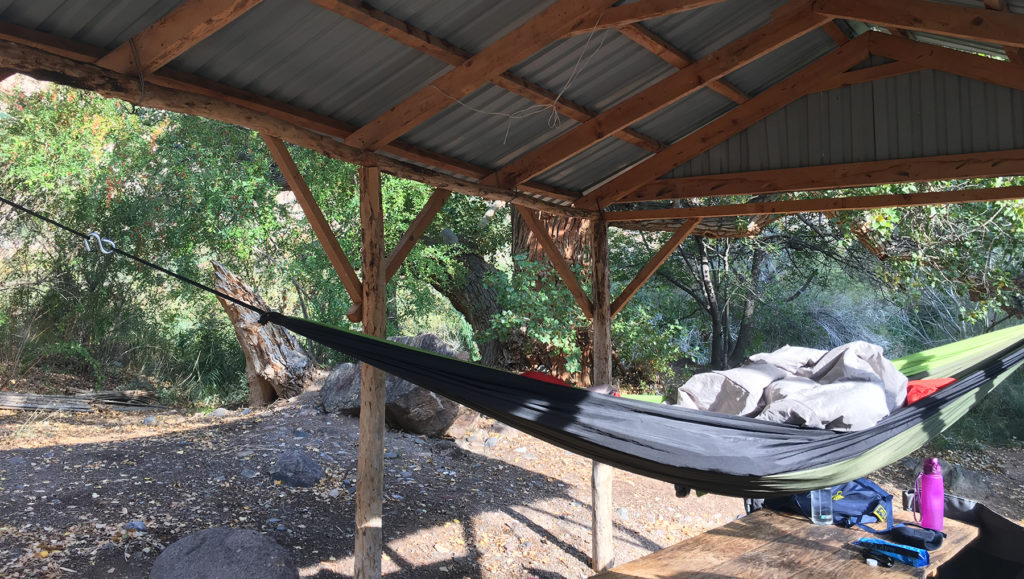 Enjoying the peaceful evening by the campfire
We shared our roles in a rather traditional way. Johanna assisted Lena with cooking while the boys went to gather some wood. Tjerk ended up cutting a whole (dead) tree with an axe, so at least we would have enough wood to sit by the fire the whole evening.
It got dark early and then it started to rain and thunder. The picnic shelters were coming very handy. Luckily it was only short showers so soon we could get back to the fire to enjoy ourselves. We finished the few beers we had bought for the evening and also a bottle of special chocolate wine Lena had gotten as a birthday present in Mongolia. After a comfy evening, we were thinking that it was soon time to go to sleep.
Chicken, cheesecake and sangria
Suddenly we heard a sound of an approaching car. It felt a bit shocking as it was completely dark already and we were deep down in the canyon, thinking that we were going to spend the night alone. The car that came out of the darkness turned out to be the same type that Lena and Tjerk had. Therefore, Tjerk made friends with the driver straight away. They were two young guys "from a nearby town", speaking good English. They asked if it was fine for us that they camped there too. Well, even though we had really enjoyed our peace, of course it had to be fine for us. Then there was another, bigger van coming and altogether they were 8 people. They were putting up a grill fire and were going to celebrate the birthday of one of the girls. We were invited, too.
First, we thought we would just join for a few minutes, out of politeness. But the evening got a bit longer. The "nearby town" where the people were from was actually Almaty – guess some 150 kilometers can mean nearby if you live in a vast and empty country like Kazakhstan. They were a film crew, making professional extreme and travel videos. All eight of them were super welcoming and nice towards us and their group dynamics seemed to work great – they were a lot of fun to hang out with, but they also seemed to be very caring towards eachother.
One guy was grilling chicken for hours. Shitloads of chicken. Until midnight the evening was pretty "quiet". People were mostly eating that chicken and drinking sangria. We were asking questions and the guys said they felt like being on an English lesson.
Then it turned midnight and it was time to celebrate one of the girls' birthday. Someone took out a huge boombox and a microphone and put the volume up. Flowers and presents were given. Cakes with candles shooting fire were brought out. We thought it was really cute, that a girl who had already several times mentioned that she hates cheese, had even baked a cheesecake for the birthday girl. That's love right there. At one point the music got turned down. Each person held a speech for the birthday girl. Most of them were in Russian so we couldn't understand much but thought it was hear-warming.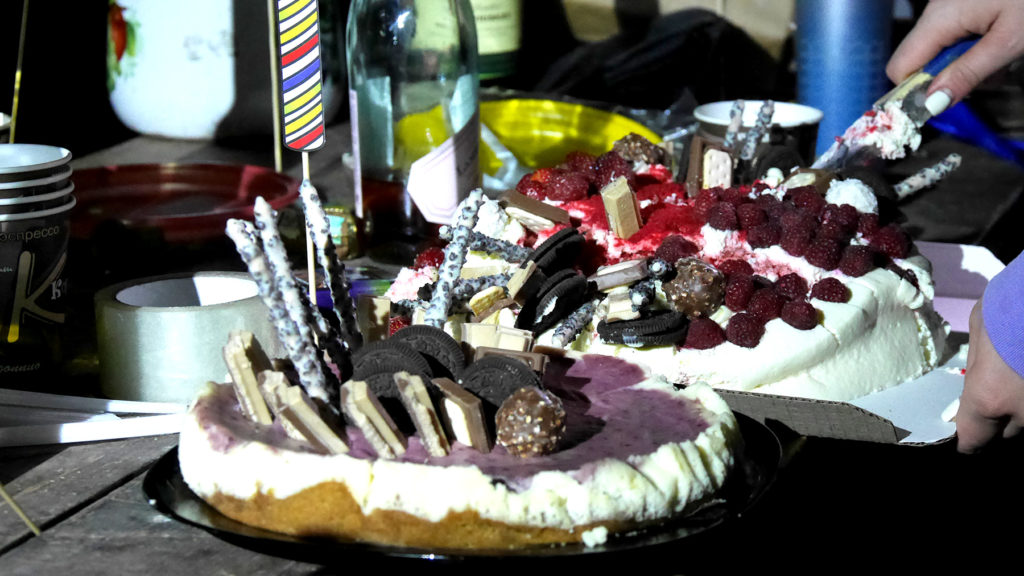 Then the party continued. A lot more chicken was eaten, and booze was drunken. Everyone had fun, especially one heavily drunken special dude. When we finally decided to go to sleep after two, we found out that some of the guys had turned the white wall of Lena and Tjerk's car into a movie screen. As a goodnight story we got to watch a sweet video made for the birthday girl.
Our last morning in Kazakhstan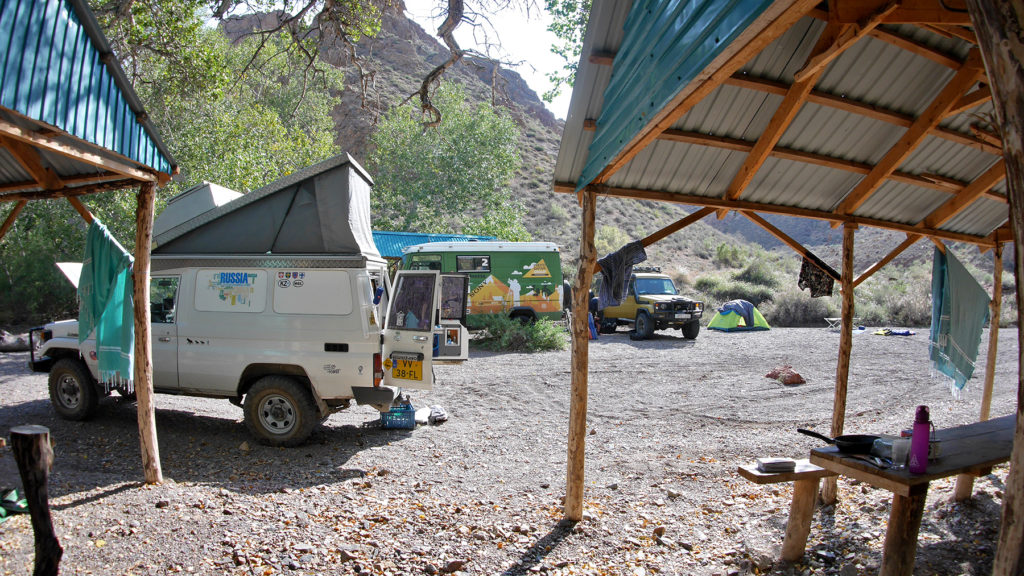 The next morning the place looked like a field hospital. There were some fold-up beds spread around with people in sleeping bags on top of them. Slowly the party people started to get up, more or less sober. Those who were able started to set up the cameras and some went for a test drive to the canyon with the e-motorbike. We were being offered some breakfast chicken. But we made our own breakfast. Luckily none of us four felt hungover. We thought that our last morning in Kazakhstan was just perfect. We were wondering if there were going to be more surprises on our way to Kyrgyzstan but figured that probably the day will be a bit tired and quiet. Little did we know…