After packing our camp and saying thanks and goodbye to the funny people of yesterday's party, we started our way out of the canyon and towards the Karkara border between Kazakhstan and Kyrgyzstan and further to the city of Karakol.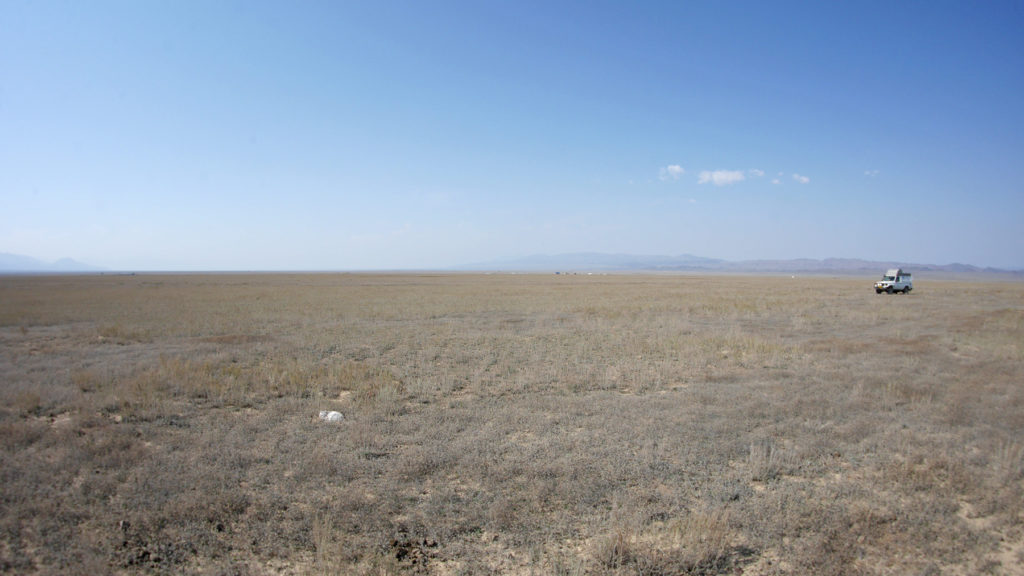 The landscape we were driving through was just as amazing as it had been the day before. At one point we had to make a stop to have a closer look at the camels we saw on the way.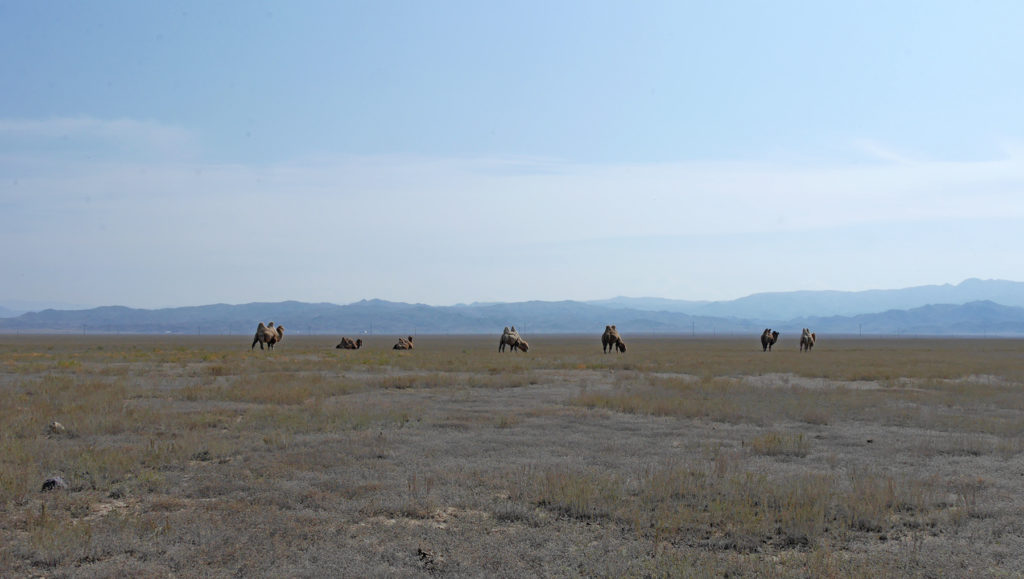 Last stop in Kazakhstan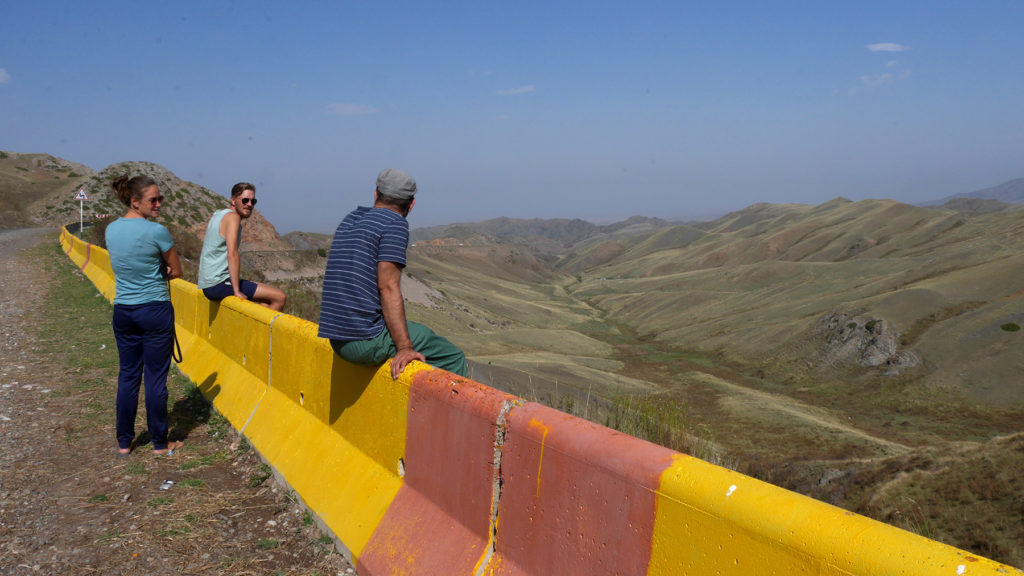 We had a tanking and eating stop at Kegen, which is the last "bigger" town before the Karkara border. We were trusting too much to the "yes" answer when asking about vegetarian food in a small cafe. The food we got was some noodles with vegetables, but the sauce was clearly made from meat broth. After us both being vegetarian for over 20 years, it wasn't particularly easy for us to eat it. Still, we managed to fight halfway through the meal. When a piece of bone got into Johanna's teeth, we decided that we were full already. So that was our awesome last meal in Kazakhstan.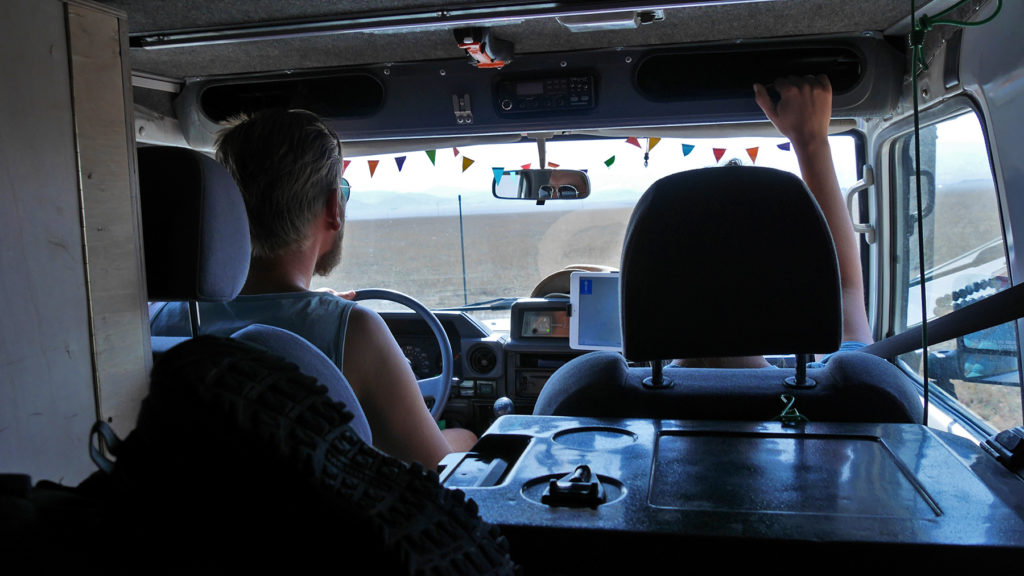 Leaving Kegen we saw a backpacking couple trying to hitch a ride along the road. We didn't stop as the car was full. We two couldn't help but think how lucky we were, thanks to Lena and Tjerk. It could have been us standing there, waiting for a ride along an empty road.
Approaching the Karkara border
The road leading to the border was in a shitty condition. In fact, it seemed that they were just building a new road there. We ended up driving on the construction site for a few kilometers. You really couldn't tell the construction site from the actual road. We had known that the border was remote but didn't expect it to be THAT remote. Hitchhiking would have been harder there as we had expected.
From Kazakhstan to Kyrgyzstan
On the Kazakh side we got out of the car with Lena. Tjerk was going to drive the car through the border. We had to open our bags, but the check was very quick. Lena went through the border first, then came Johanna and finally Seri. All happened so fast and easy that Seri didn't even realize he had already crossed to Kyrgyzstan and gotten the Kyrgyz stamps in his passport. It took less than half an hour. We walked only a few meters, didn't have to fill any forms and we were not questioned at all. This was the easiest border control ever.
From two-persons-car to an eight-persons-car
After sorting everything with the car at the border, Tjerk came to us and said we needed to discuss about something. Two Canadian girls had arrived at the border and there was a confusion with their driver. The driver and the border workers had asked, or actually decided, that the girls could ride with us from the border on. Tjerk nicely wanted to know if we were also fine with that. Of course we were. So, we reorganized the car to make space for two more passengers.
As we were waiting for the Canadians, the hitchhikers from Kegen also made it to the border and through it. They introduced themselves to us by saying: "We are fucked." It was getting late and therefore unlikely that other vehicles are passing the border anymore.
The Canadians finally made it through. They explained us that they had booked a tour with a transport over the border all the way to Karakol. Now, all of a sudden, the driver had decided that he didn't want to get over the border.
It felt bad to leave the other two backpackers alone to the border. Lena and Tjerk thought the same. So, after another "meeting" we decided to fit everyone in, at least to the next town. This shows how warm-hearted people Lena and Tjerk really are.
We were eight people in a two-seat car. At least it was cozy, and we got the know Jessica, Sarah, Natasha and Jacub very closely 😀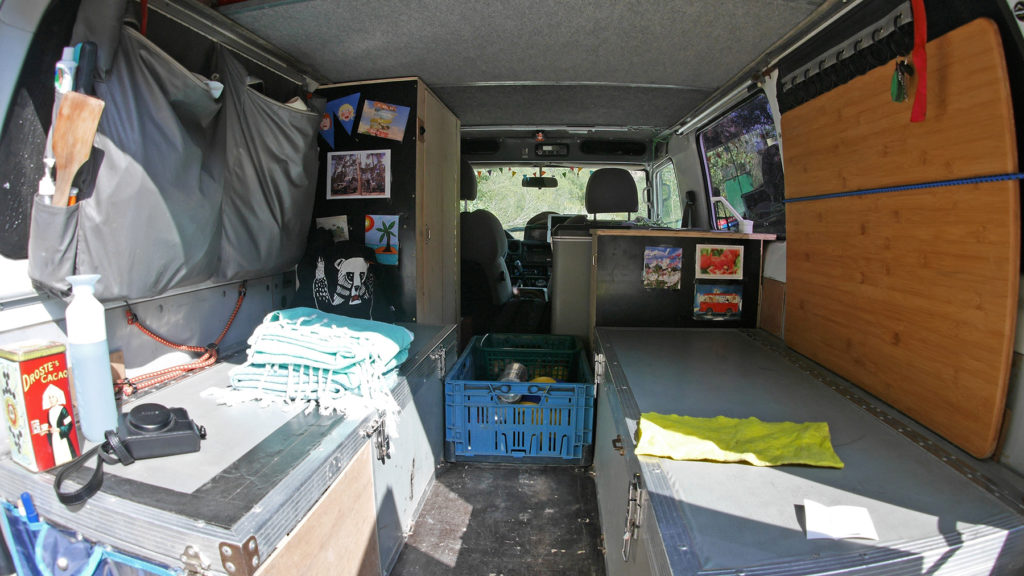 After some time Tjerk stopped the car (this time not because of the cows on the road) next to some tiny village and said it was time for another meeting. We couldn't really talk with him and Lena inside the car as we were isolated from them with a huge pile of backpacks in the middle of the car. Tjerk and Lena had realized that the car was so heavy that they had to drive slower on the bumpy road. With this speed it would take almost the double amount of time to get to Karakol, meaning another three hours sitting in a pile at the back of the car. Another option would have been to leave two persons to this village and hope that they managed to find a ride or a place to sleep. We all agreed to continue with half speed.
In Karakol, at last
We two had booked a room in Karakol already. It was a little shock for the hostel owners, we assume, that a car with eight people in it parked unannounced in front of their gate during off-season. Luckily, they had space for us all.
To celebrate the successful border crossing we all went to eat together. Warm, non-meaty food and a cold local beer after a day like that tasted heavenly. The last surprise of the evening was that when we got back to the hostel, we saw another car parked in front of the hostel. It belonged to another Dutch couple we had met in Almaty.
We were looking forward to explore more of Karakol the next day, after sleeping out first.