Karakol is a small city in Kyrgyzstan. It's located at over 1700 metres, next to the Tian Shan mountains and the Issyk-Kul Lake. Our stay in this cozy city was all about hot springs and Ashlan-Fu (which is not a form of martial arts, btw).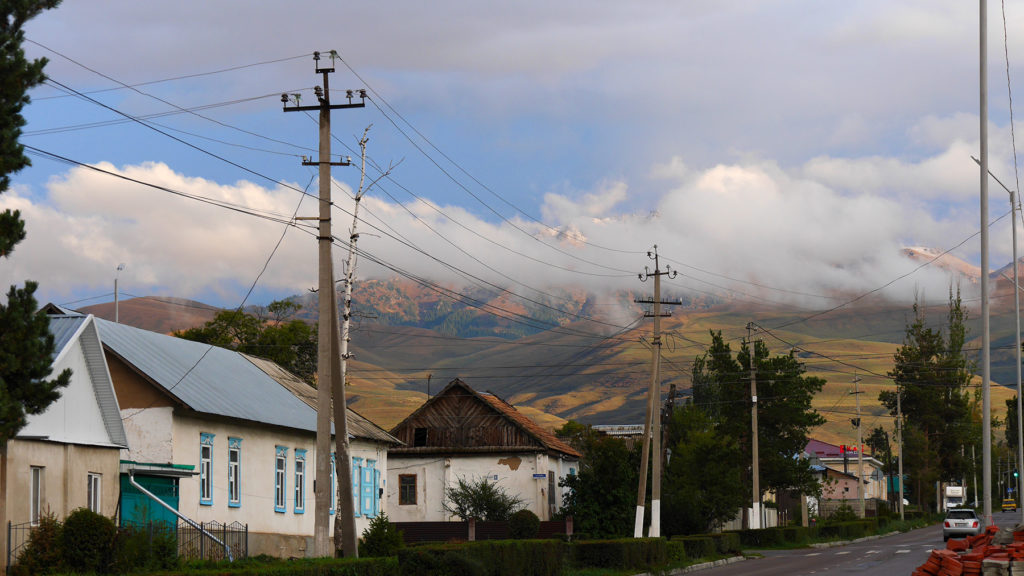 It's autumn now, also in Kyrgyzstan. When we woke up on our first day it was rainy and gray. The streets were all muddy. The sky was so cloudy that we didn't even know that we were surrounded by majestic snow-capped mountains. But we liked Karakol already. The cute wooden houses with colorful doors and window frames. The cows and goats on the streets and the kids who yelled "hello" when they saw us.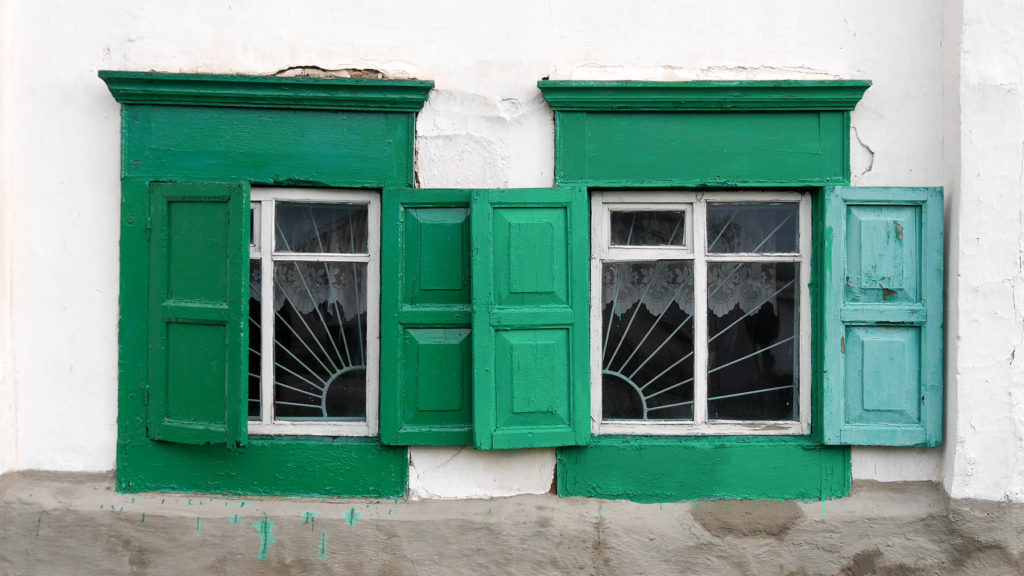 Ashlan-Fu
One of the highlights of our stay was the incredible Ashlan-Fu. Maybe you think it's funny that we ranked it so high, when we tell you that it's "just" a cold soup. But Central Asia is not exactly known for its vegetarian food… So we were delighted to find something this delicious here. 
In 1880's the Dungan muslims fleed from China and many of them ended up in Karakol. They brought Ashlan-Fu with them. There are also non-vegetarian versions of this dish, but the base is vegetarian and oh so tasty. The soup is a perfect mix of sourness, saltiness and sweetness, topped with garlic, chili, chives and two types of noodles. The only thing we could "complain" about is that a hot soup would have fitted better for this weather. But luckily Ashlan-Fu is normally served with tea and warm, fresh pirogis. The one filled with potato is a vegetarian's choise. In Karakol we were probably the first time in our lives feeling sorry for not having a hangover. We heard that Ashlan-Fu is the perfect hangover cure.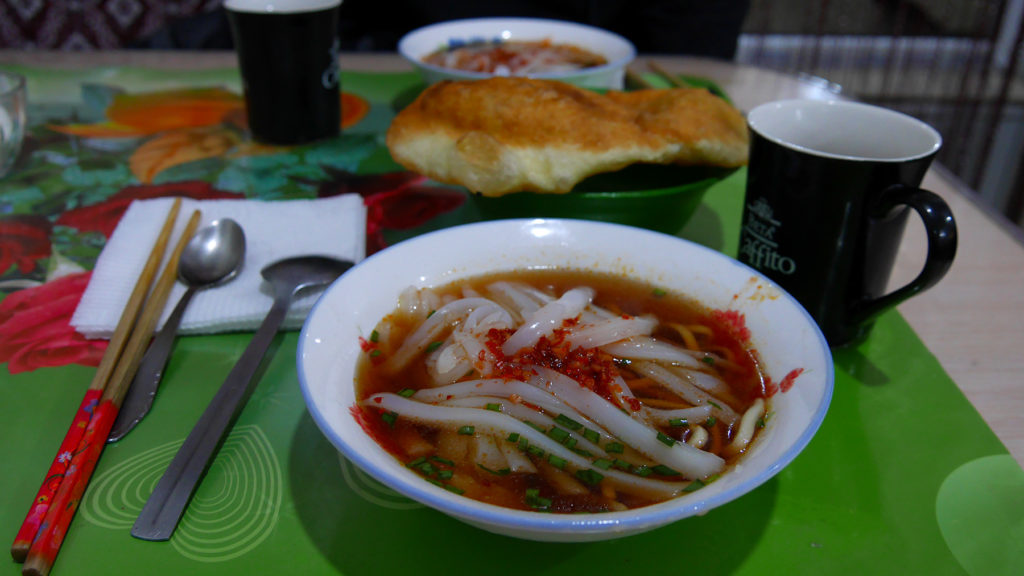 There are many restaurants selling this delicious soup in the city. At the Small Bazaar you can even find a whole alley dedicated only to Ashlan-Fu.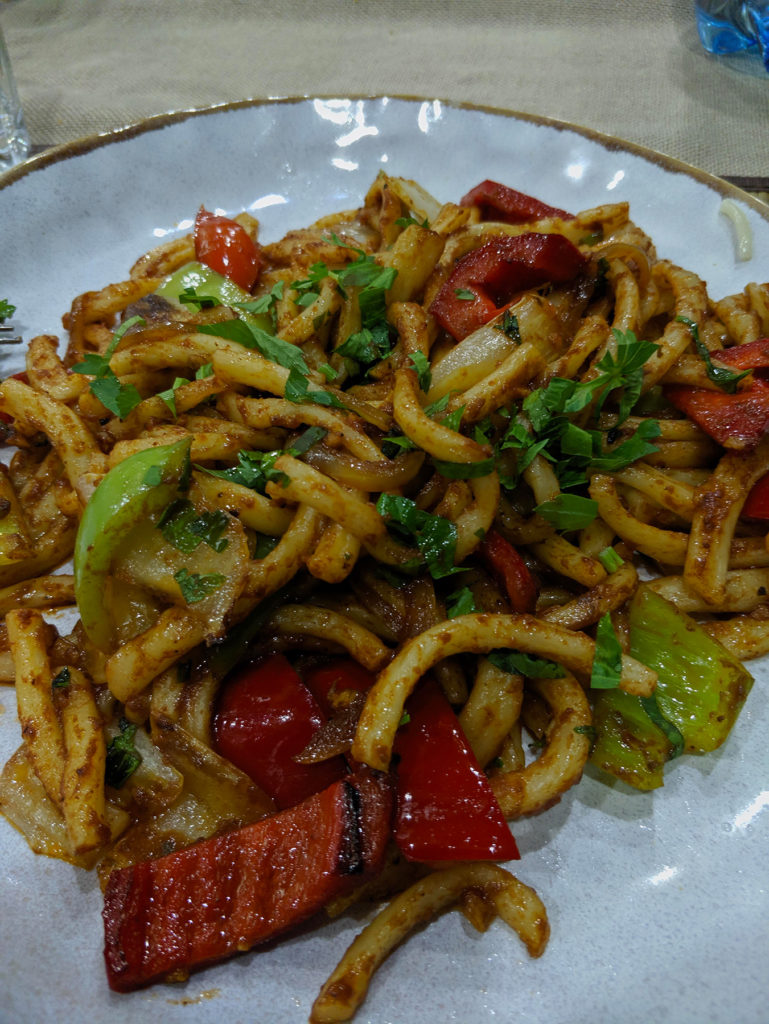 The hot springs
What better way to spend a few hours on a cold, rainy autumn day than bathing in a hot spring. There are numerous hot springs at the Karakol area. The easiest one to reach is the Ak-Suu Kench. You can get there in 30 minutes from Karakol by marshrutka # 350. There are two of these marshurtkas though – to get all the way to the hot spring, ask for "Kurort".
We were expecting some kind of a muddy hole on the ground and were really surprised that Ak-Suu Kench was new, modern and very clean. It was more like a spa with dressing rooms, showers and a restaurant. There were three pools connectet to each other with water temperatures ranging from "boiled alive" to "hot" and one little bit cooler pool. Floating in the hot pools in the beautiful mountain surroundings was just perfect. Two hours (which is totally enough) costed 200 com (2,6 Euro) each.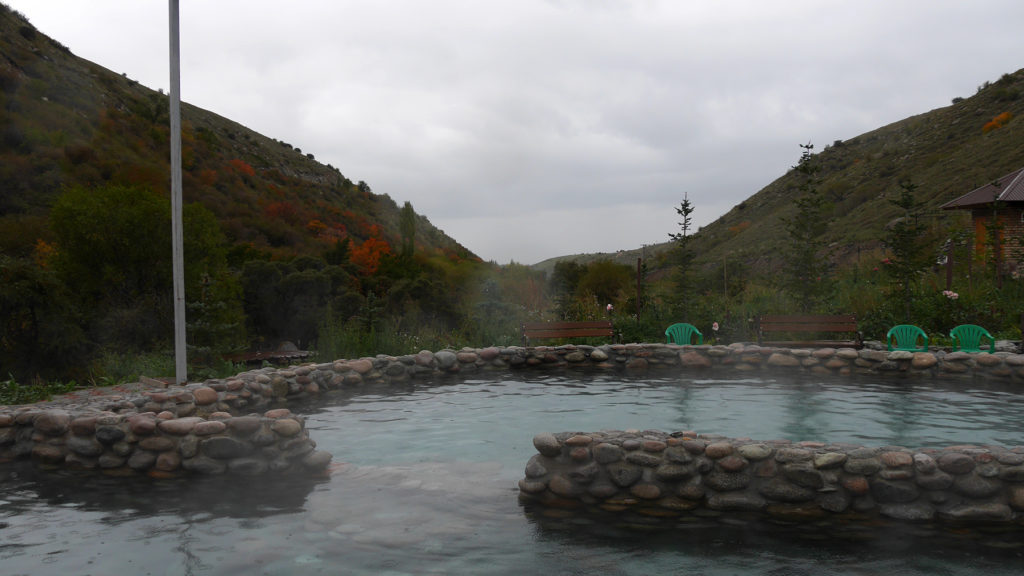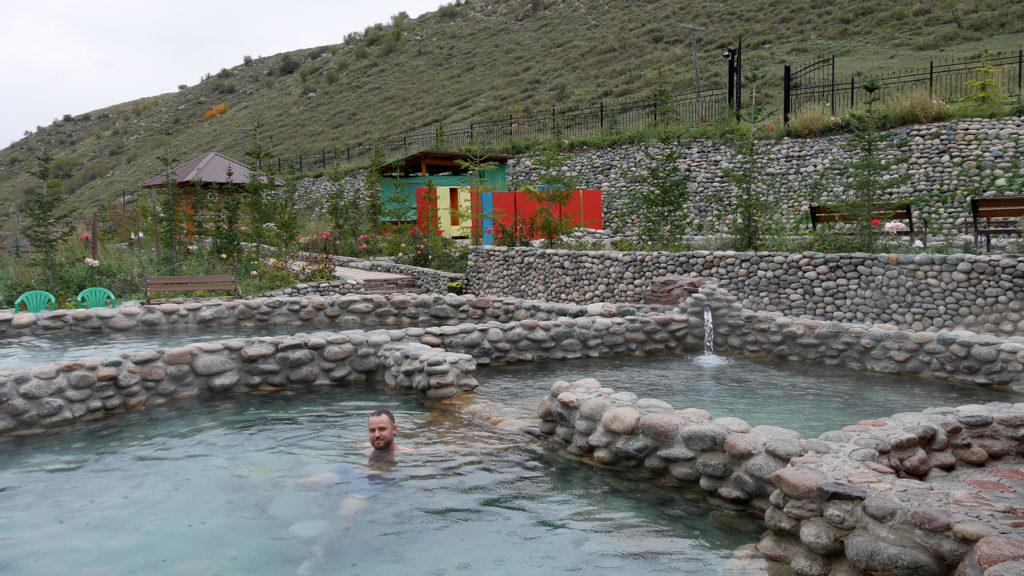 We also did an overnight hike to another place famous for its hot spring, Altyn Arashan. This is something we can really recommend for anyone in Karakol. You can read more about our trip to Altan Arashan here.
Things to see in Karakol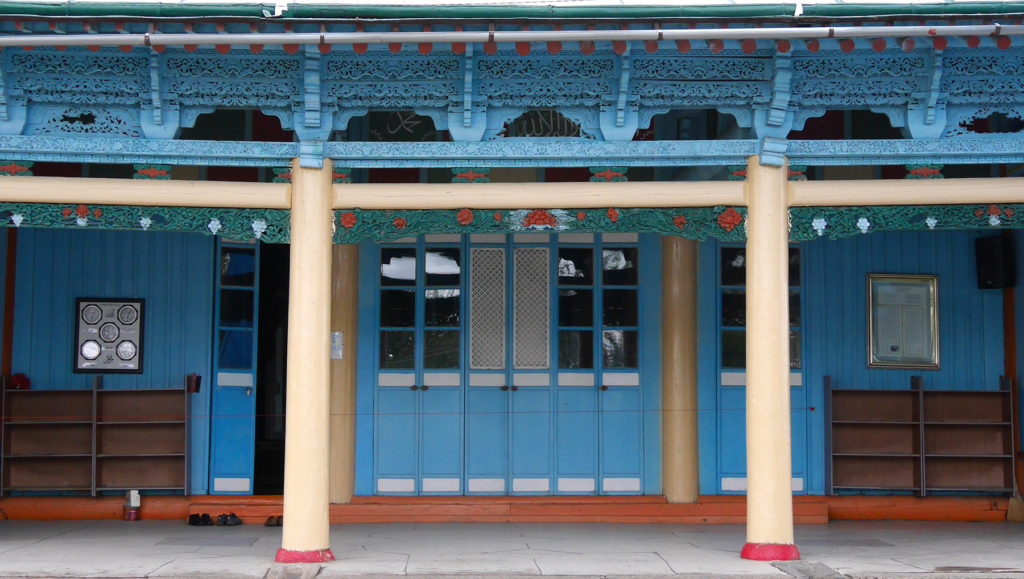 Apart from floating in the hot springs, slurping Ashlan-Fu and enjoying the surrounding nature, there were a few other things we found interesting to see. The Dungan Mosque is a special combination of chinese architecture and a traditional mosque. It looks almost like a colourful buddhist temple. It's wooden and built completely without nails.
Also the wooden orthodox church in the city was worth seeing for. And like always, we liked walking around at the bazaars. There are several ones in the city, of which the biggest seems to be the Big Bazaar (suprise), built out of shipping containers.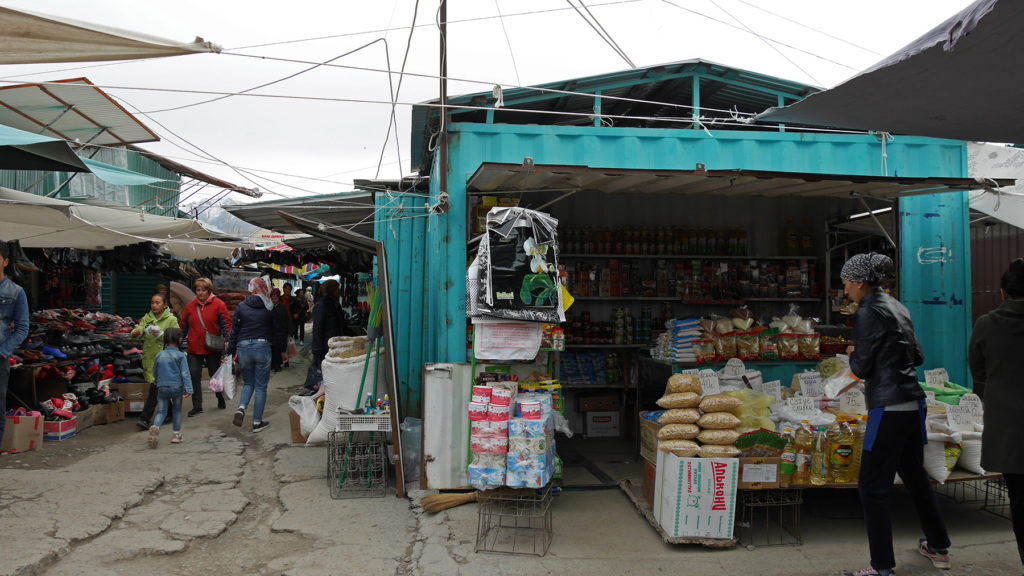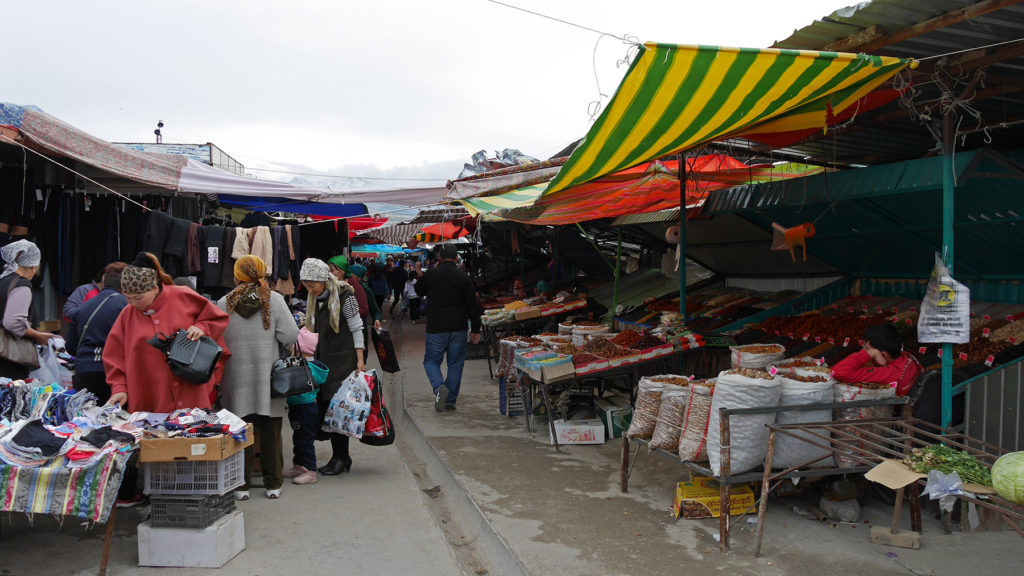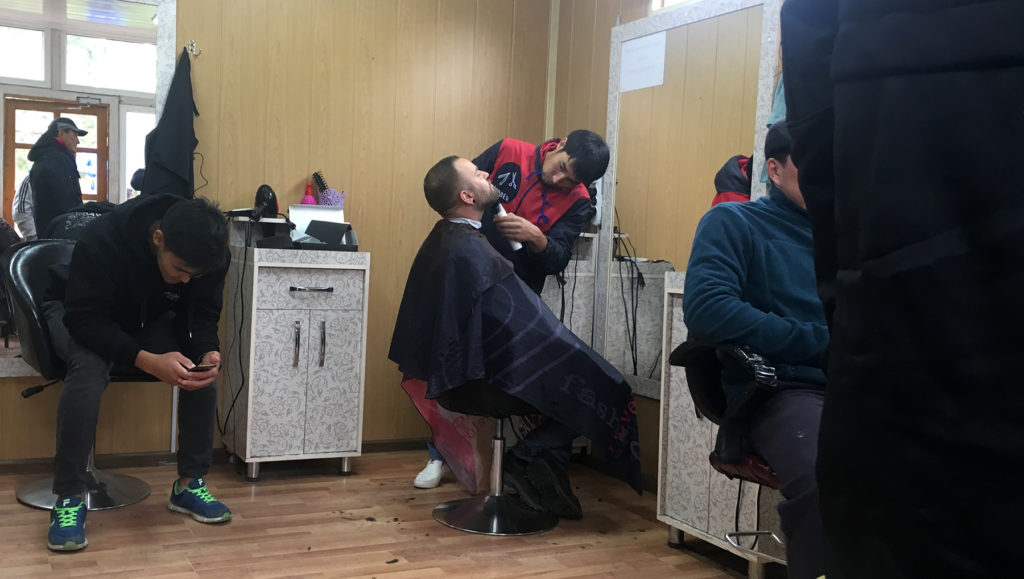 Our stay in Karakol
One thing that made our stay in Karakol so comfy was the place where we stayed, Snow Leopard Hostel. You could always find some nice company in the common area since we had come there together with Tjerk, Lena and the people from the border. The hosts, Jalil and his family, were the very friendly and welcoming. We spent several evenings together with them in the kitchen, drinking tea and talking.
Altogether we spent six nights in the Karakol area and then started our journey towards Bishkek. On the way we had a stop by the Lake Issyk-Kul, but that's another (Good Ride) story.