Exploring Lahore, Pakistan's "cultural capital" and the "city of food", was the perfect way to end our time in this wonderful country. Our new friend from Lahore showed us some historical sights of the city and the secrets of its delicious street food. We also took part in a mystical Sufi ritual and learned that the people of Lahore are at least as hospitable (and as much into selfies) as they were anywhere else in the country.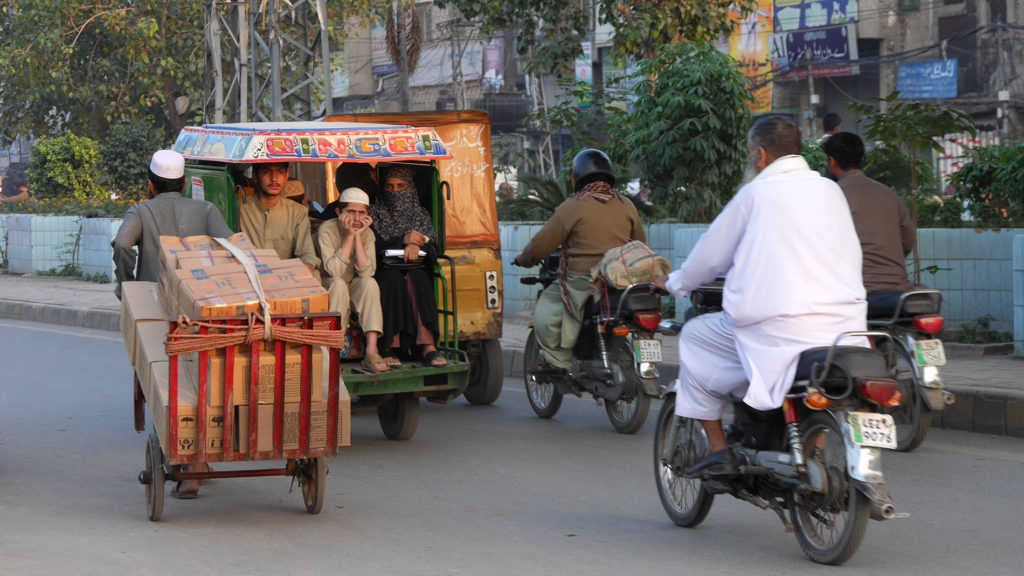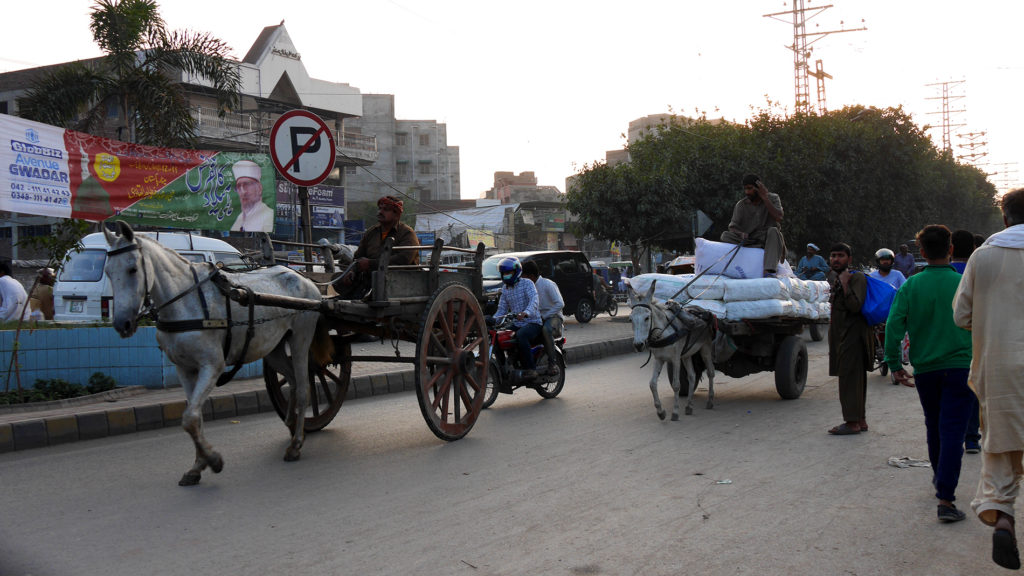 Searching for a place a stay in Lahore
At the Lahore bus station we got into an Uber with our new friend Salman, who was headed to the same direction. After sitting 22 hours in a bus from Gilgit to Lahore, we were really looking forward to getting to a guesthouse and having a shower and a nap. We had looked up a place from Booking.com where we would like to stay. We hadn't done the booking yet, though, in hopes to get a better rate in person. This time the tactic didn't work. They asked for a double higher price because apparently all the rooms we had looked at had been just booked. So, we had to start looking for anotherL place, which is never that pleasant in a new, big city.
Luckily Salman, who had insisted on helping us, was living just around the corner. We could leave our bigger bags to his room while we walked around asking for the prices of the hotels. We were really tired, so we didn't last too long until we gave up and agreed to something that was much more than our usual budget in Pakistan. But it was a nice room.
Lahore seemed very stressful with its chaotic traffic and the streets that were clearly not made for pedestrians. But what we really enjoyed was the weather. Finally, FINALLY, it was warm! On the first day we were so tired, though, that we didn't spend too much time outside. Another thing that made us happy was that there were much more veggie food options than before.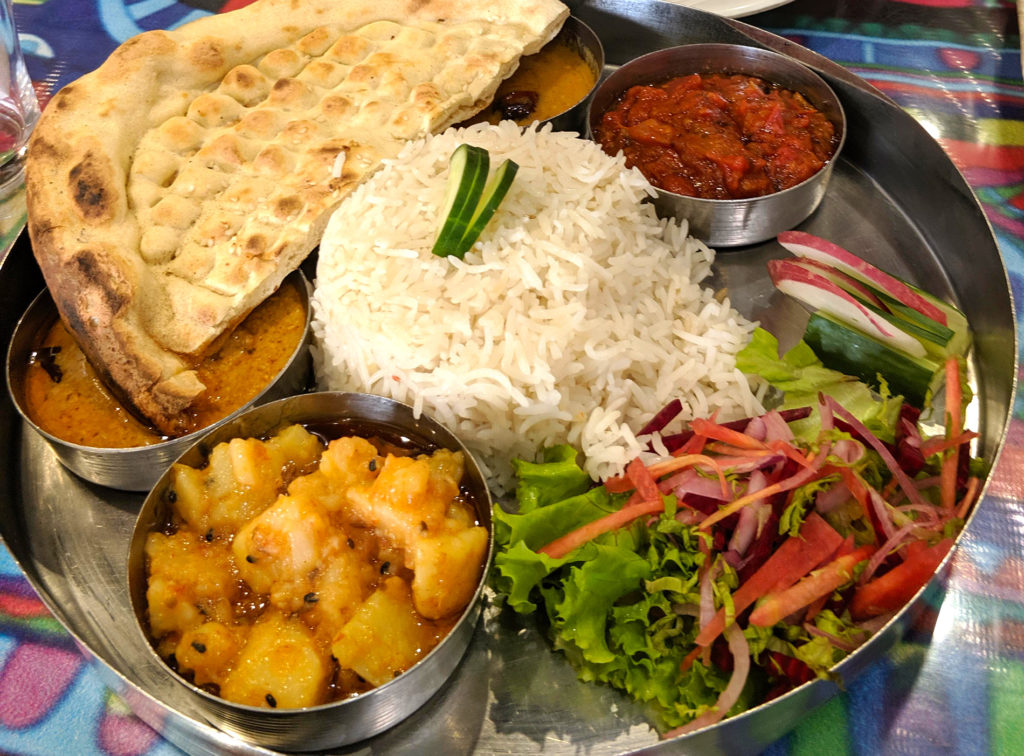 Sightseeing and snacking with a local friend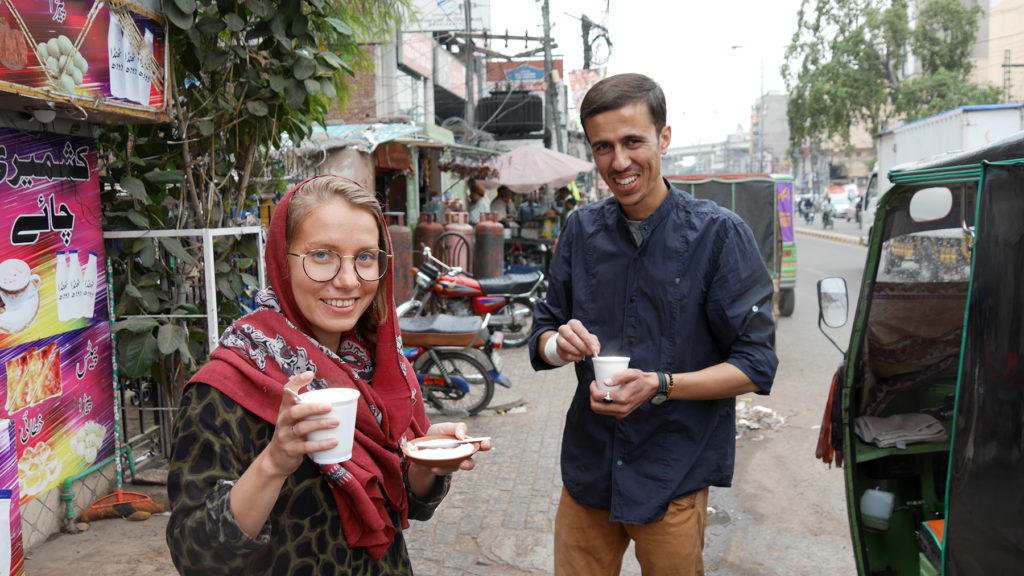 On our first whole day in Lahore we had a tour in the old town with our local friend Salman. He is a relaxed and friendly dude, so spending the day with him was really nice. We visited three of the most important sights in the city: the Greater Iqbal park with the Minar-e-Pakistan (the "Eiffeltower" of Lahore), the Lahore Fort and the Badshahi Mosque, all located around the Walled City.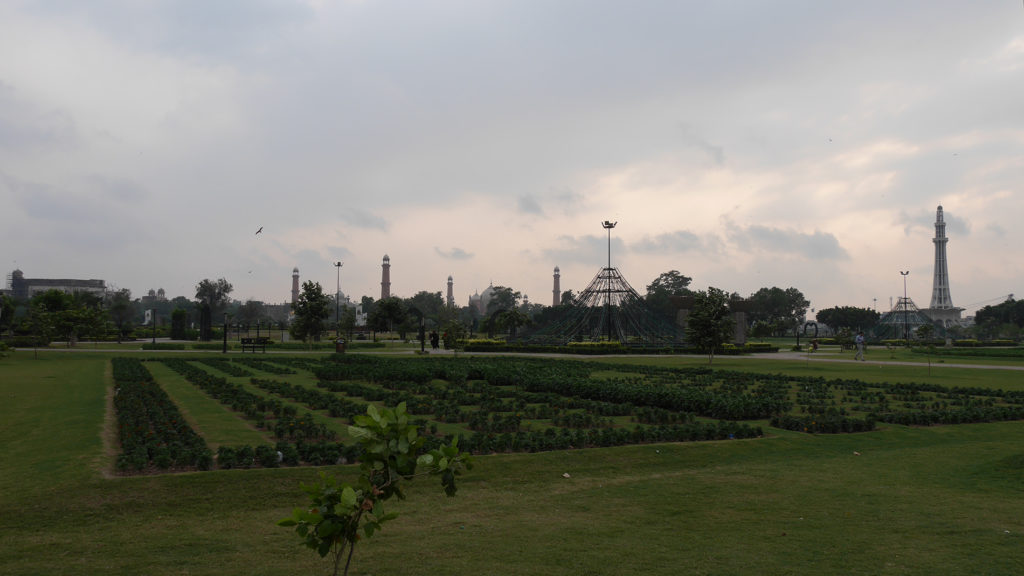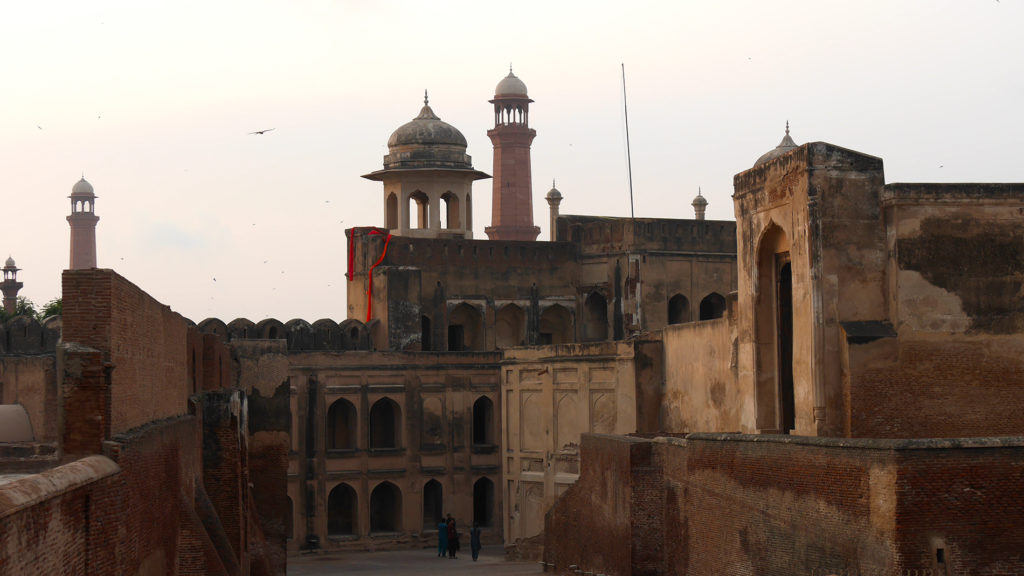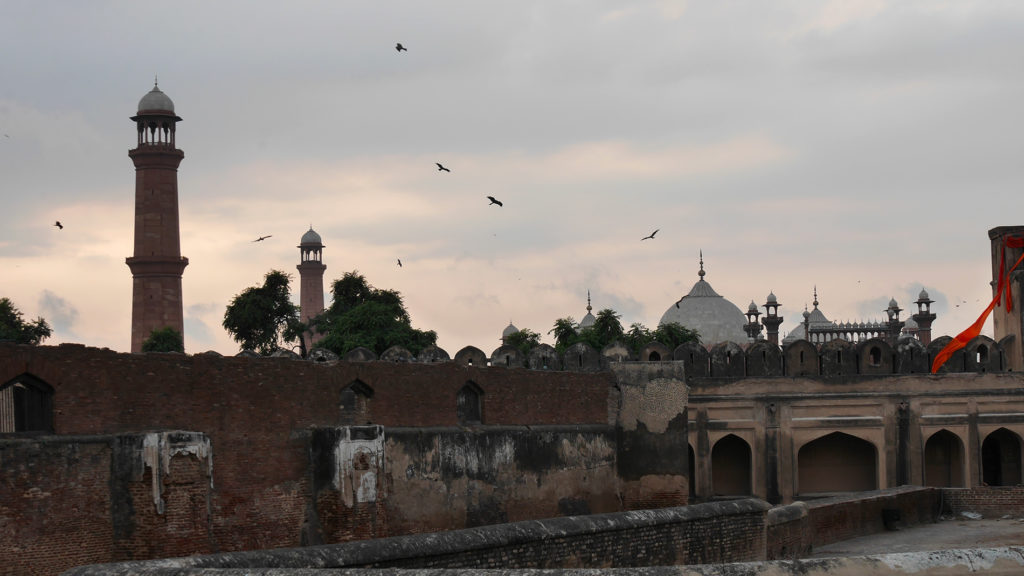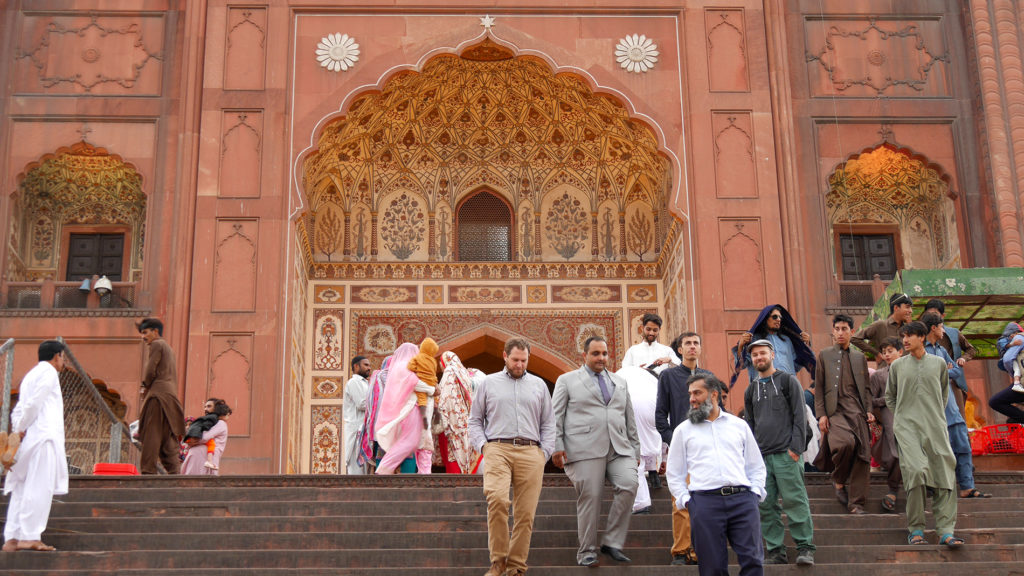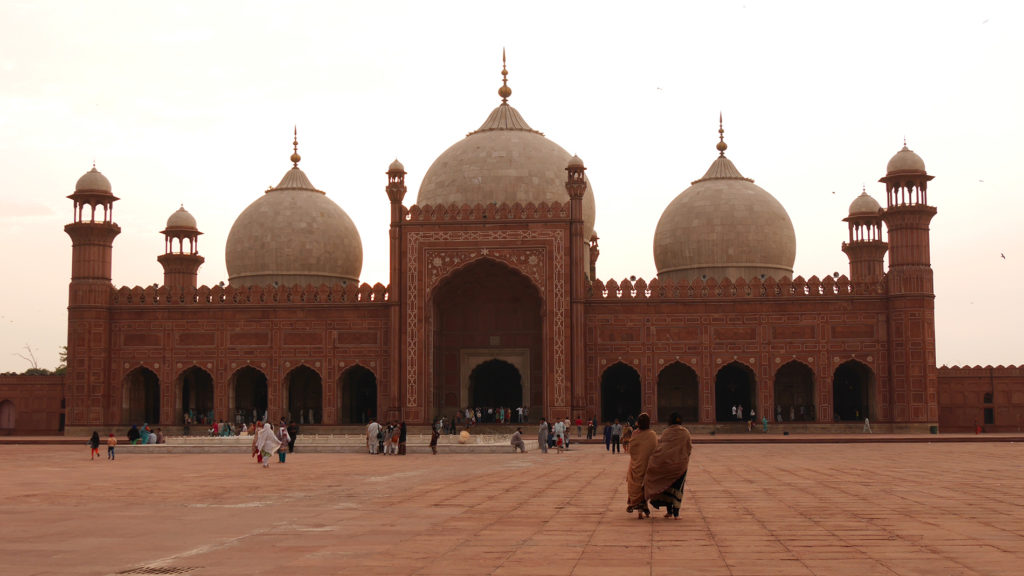 Besides sightseeing, the other main activity of the day was snacking. Salman stopped here and there saying "you have to taste this", "you must try that", grabbing some snacks new to us from the street vendors. Not a wonder that Lahore is called the City of Food.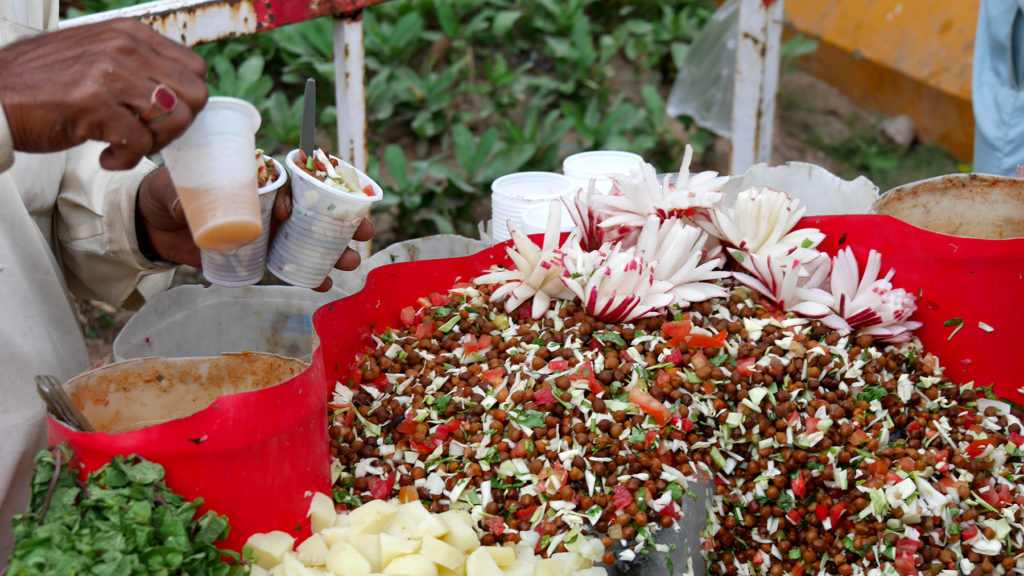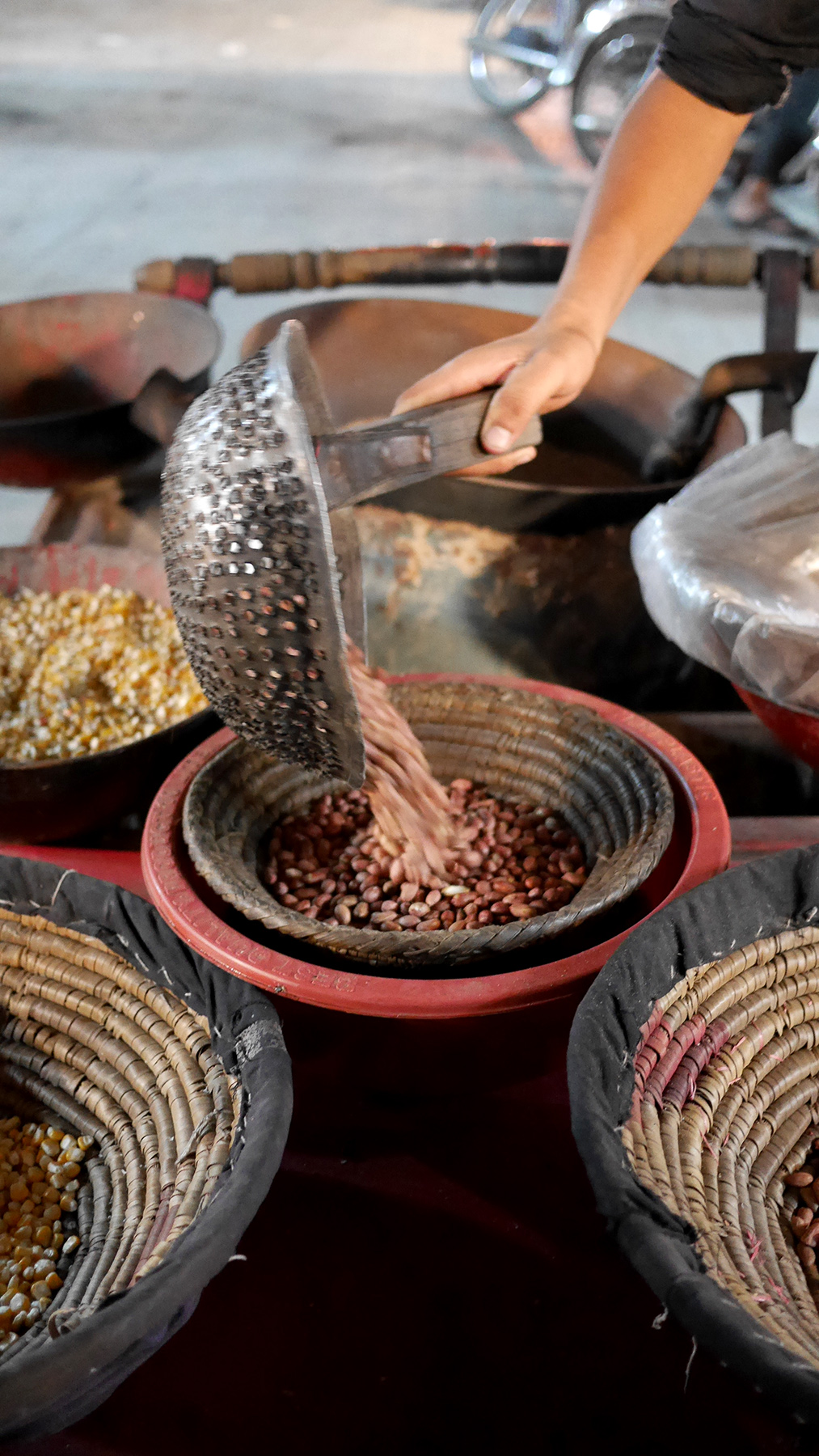 For the dinner we had wished for a stop at a local food street. We first went to the one near the fort but realized the food there was way too expensive. Anyway, we had read about Gawalmandi food street that sounded much more interesting and local. Unfortunately, it was a big disappointment. It was just a short street with a few restaurants, that at least at that time of the evening were completely empty. We had some basic aloo and palak curries at one of the diners there and then continued with our program.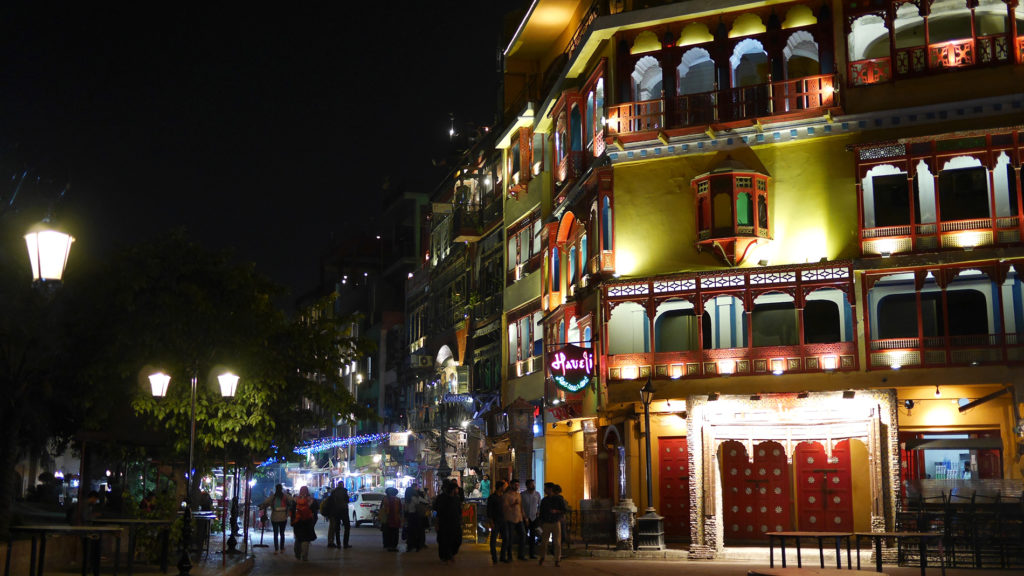 Attending a mystical Sufi ceremony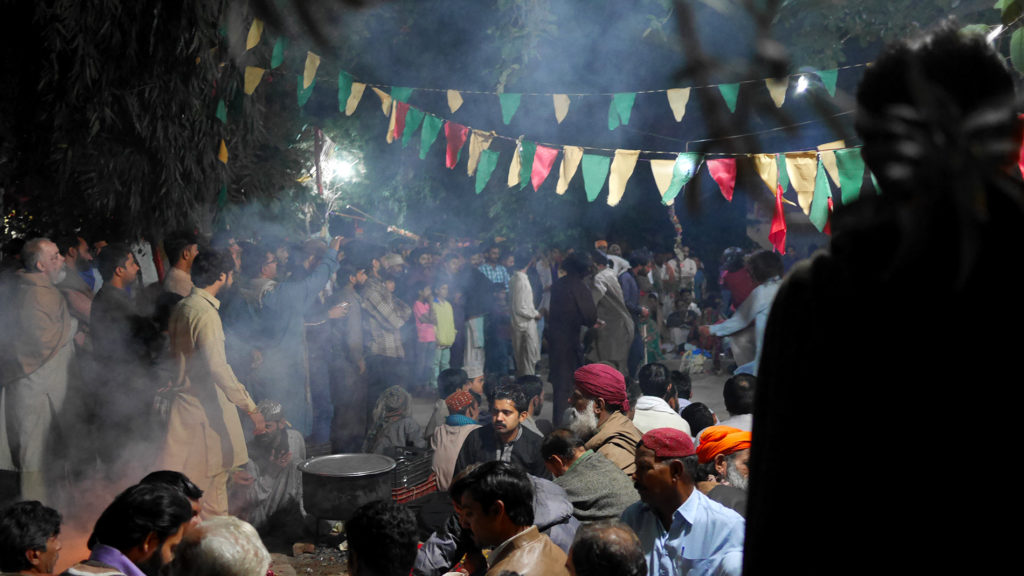 The next and last program point for our day was something that we two had planned, attending a Sufi ceremony. It was going to be a new experience for all of us, including Salman. Sufism combines old mystical Islamic beliefs and practices in order to get closer to god. Part of this is a ceremony called Dhamal that is performed by Sufis in Pakistan and in some parts of India. The Sufis are gathering in a Sufi shrine, smoke hashish and dance themselves into trance. Usually this happens on Thursday evenings because it is the day before the Jummah (Friday Prayer), the holy day in the week of Islam. And lucky us, it was Thursday!
After some terrorist attacks in what used to be the city's most popular shrine for Sufi dhamals, these rituals nowadays take place only in some smaller shrines. After doing some research, we took an Uber to a market near the Madho Lal Hussain shrine.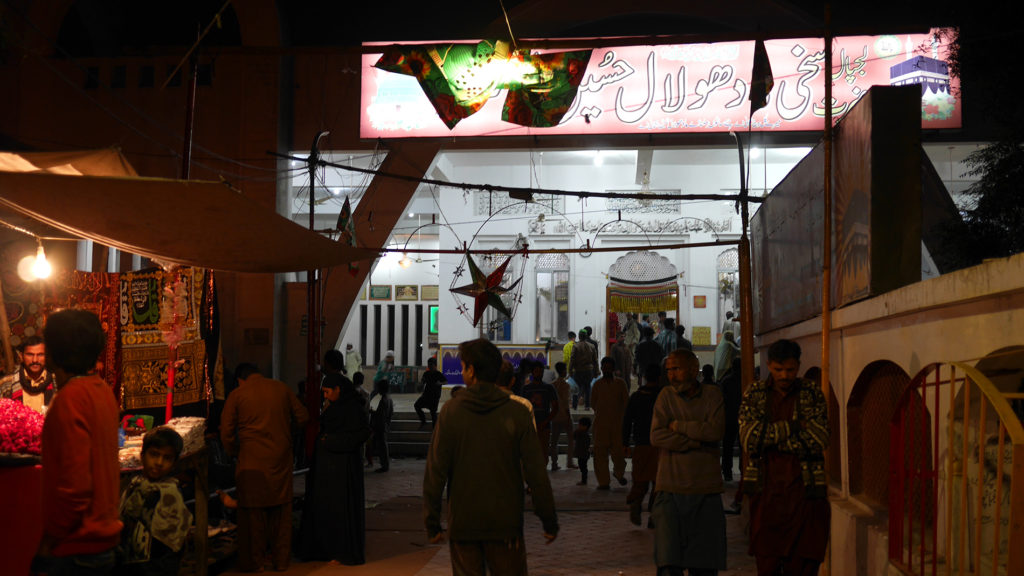 At the security check by the entrance we were friendly greeted and welcomed in. The place was atmospherically lit with candles and oil lamps, the smoke of incense sticks was lingering in the air. While there were also women in and around the shrine, only men (and children) seemed to be allowed to the walled yard with old trees, where the actual ceremony took place. This was, of course, a bit disappointing for Johanna. Luckily we could see everything even from behind the wall, and Seri and Salman also went in for a while.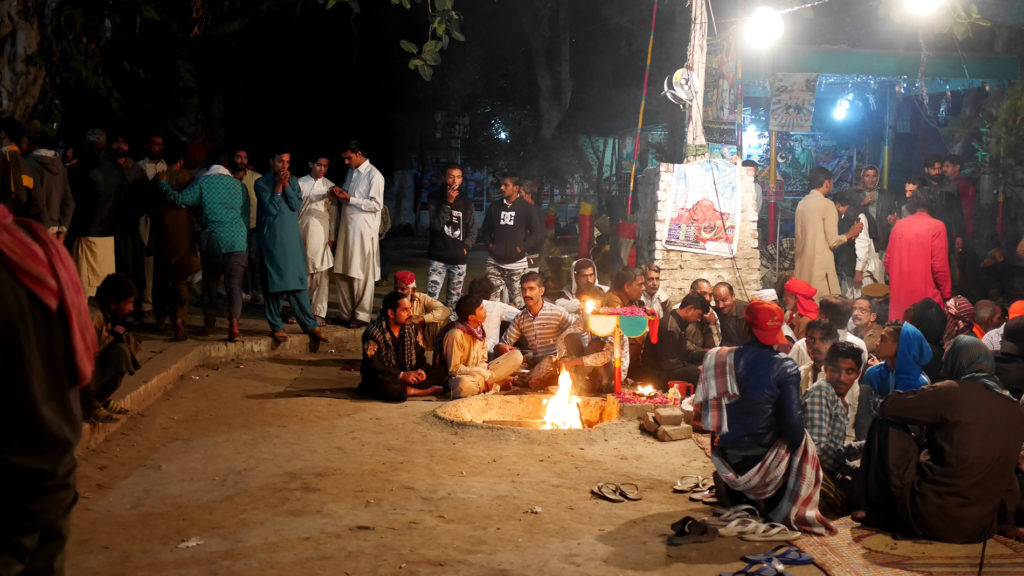 The people were eating food and smoking hash while the men in the middle were dancing and spinning to the beating of the drums, preparing themselves for the trance.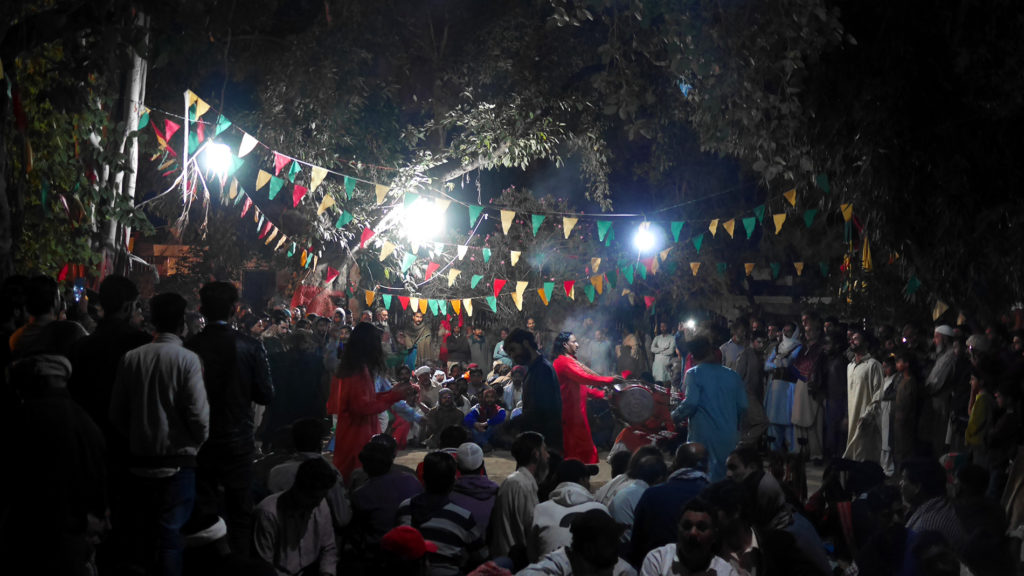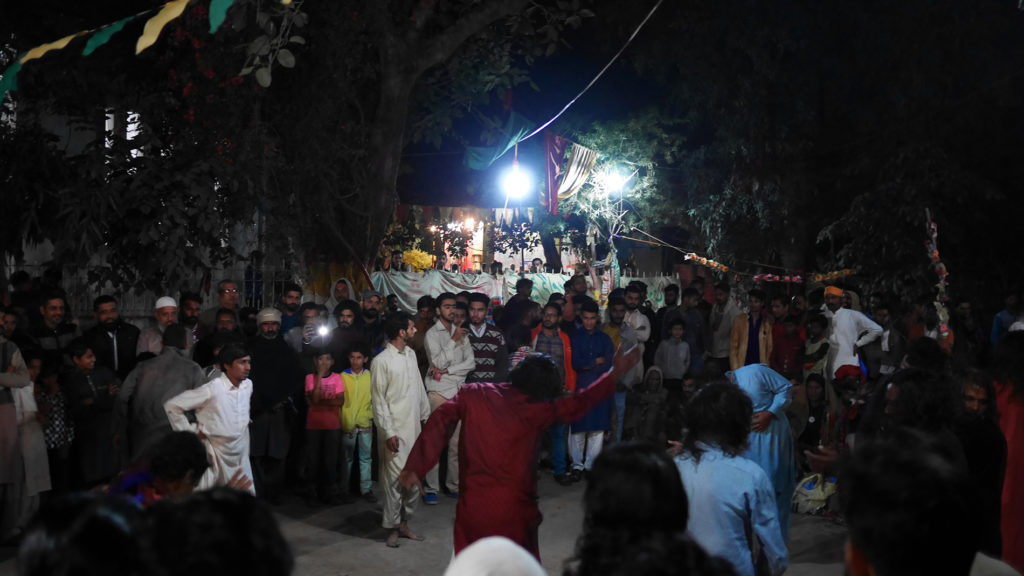 We felt a little bit displaced in this happening, as we had never been part of anything like this before but people acted openly and friendly towards our presence. They even offered us some tasty porridge with nuts and fruits.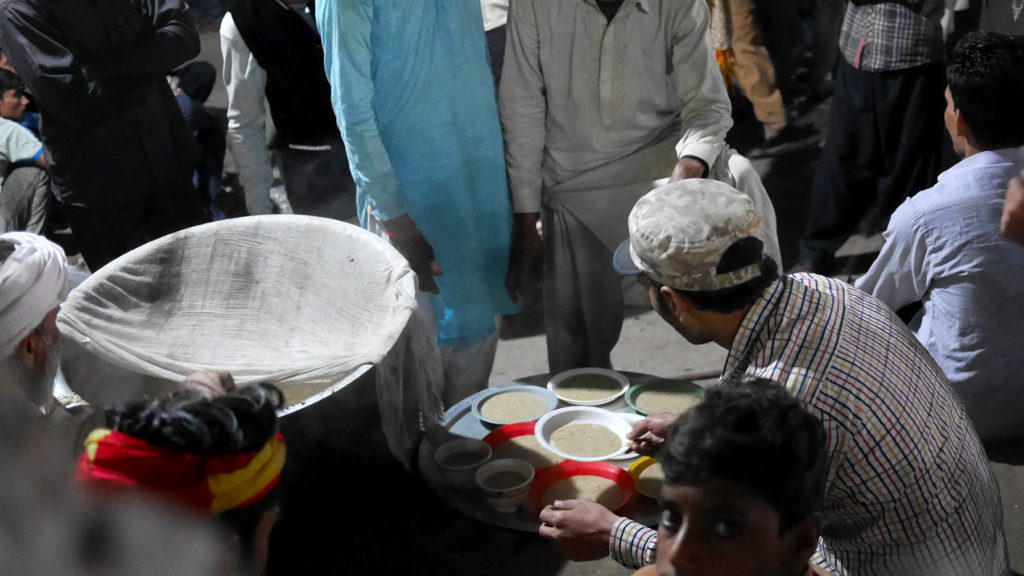 We stayed there for some time, watching this mesmerizing ritual and also talking with some of the Sufis. The Sufi dhamal was something very special to see and we recommend attending one when visiting Lahore.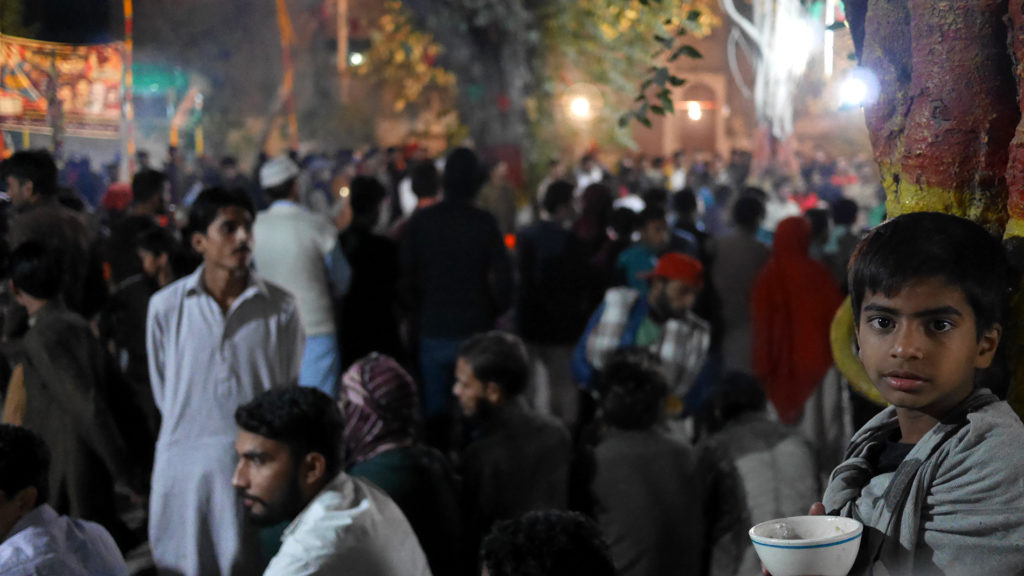 Change of plans and running errands
Since we met the three funny Pakistani guys in China's Tashkurgan, our plan has been to visit them in their hometown, not too far from Lahore. We had initially planned to do it on our second day in Lahore, but unfortunately, due to bad communication and bad timings, the whole thing screw up. Therefore, we had time to do boring things like search for a post office or an ATM. In Pakistan, we've usually had to try about six ATM's on average before managing to get money out of one, so it really takes some time…
More sights on the narrow streets of Lahore's Walled City
We also visited the Walled City again – another part of it this time. The narrow streets are full of people, rickshaws, motorbikes and animals. The streets are lined with shops that sell colourful, glittering dresses, shiny jewelry and everything else one might or might not need. Despite the market area of the Walled City being really busy, it didn't feel as distressing as it does at similar markets in many other cities in the world. The sellers were not trying to push us into buying something all the time and mostly when we heard "hello", it was just to greet us.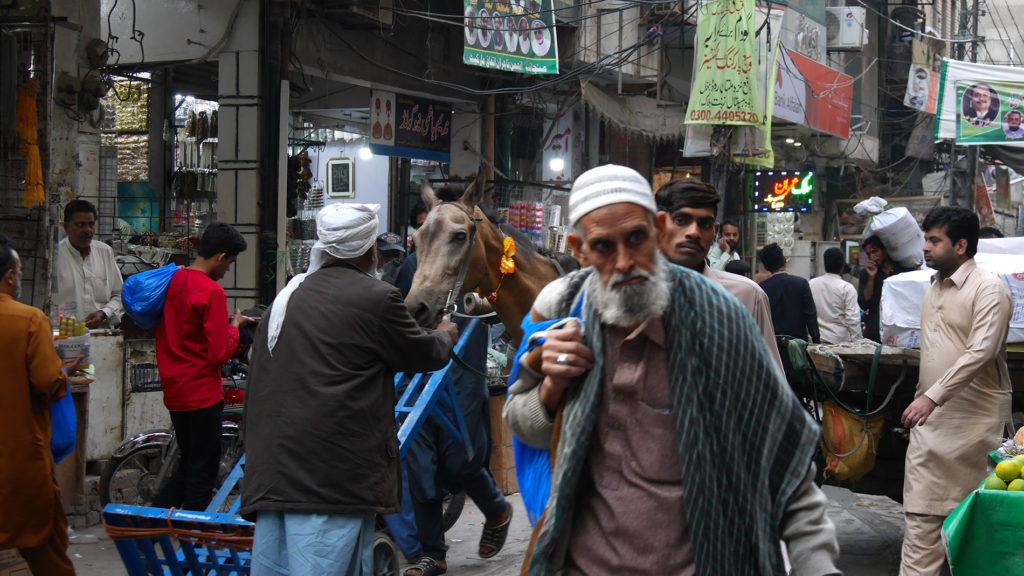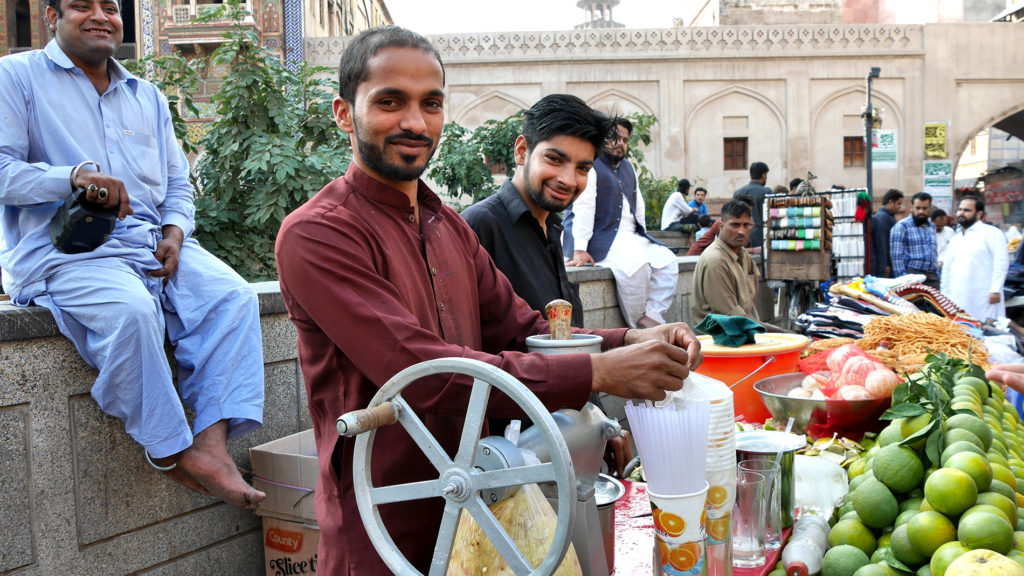 In the Walled City we visited the ancient Shahi Hammam, located next to the Delhi gate. It was restored a few years ago and serves nowadays as a museum, so don't expect to take a bath in there. We are big fans of hammams and spas and visit them on our travels when ever possible. It was interesting to see how many similarities this one had, say, to the oldest ones in Budapest. For example, both have an octagonal center pool and similar roof constructions. Pity that one can't have a dip in this one, though.
The famous Masjid Wazir Khan mosque is located almost next to the hammam. We didn't enter but spent some time in front of it patiently taking selfies with local boys and also a few pictures of the mosque itself.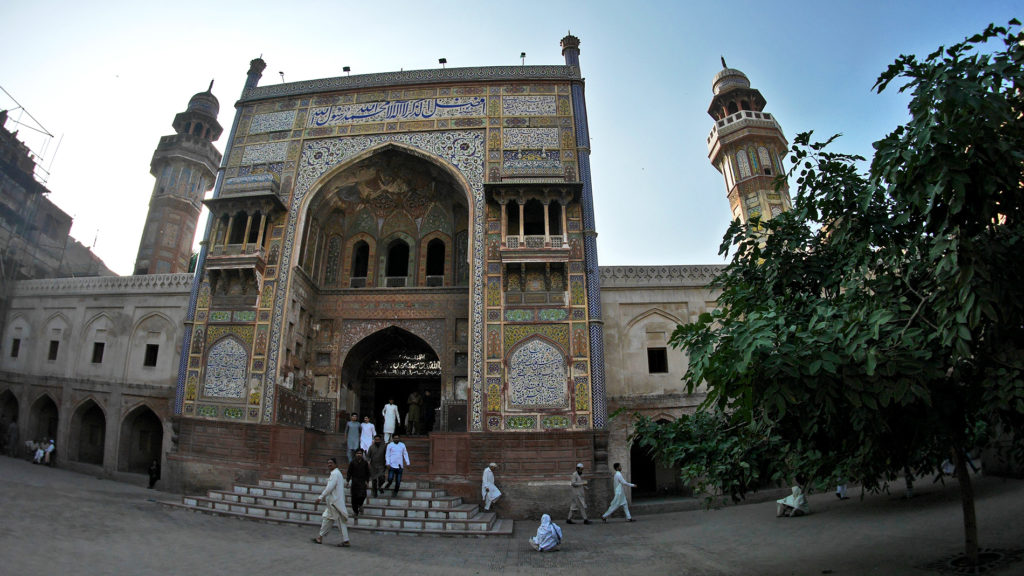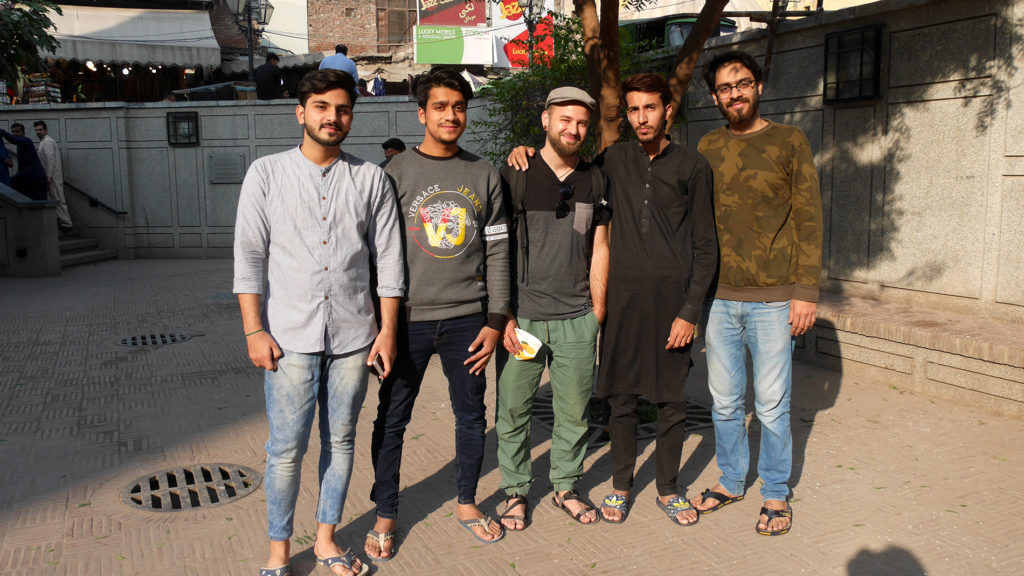 The hospitality (and interest in selfies) of Lahore people
During our time in Lahore's old town we took more selfies with locals than we probably had taken on this whole journey so far. Especially Seri felt like being a film star among the young (and also the mid-aged) men who were constantly asking for selfies.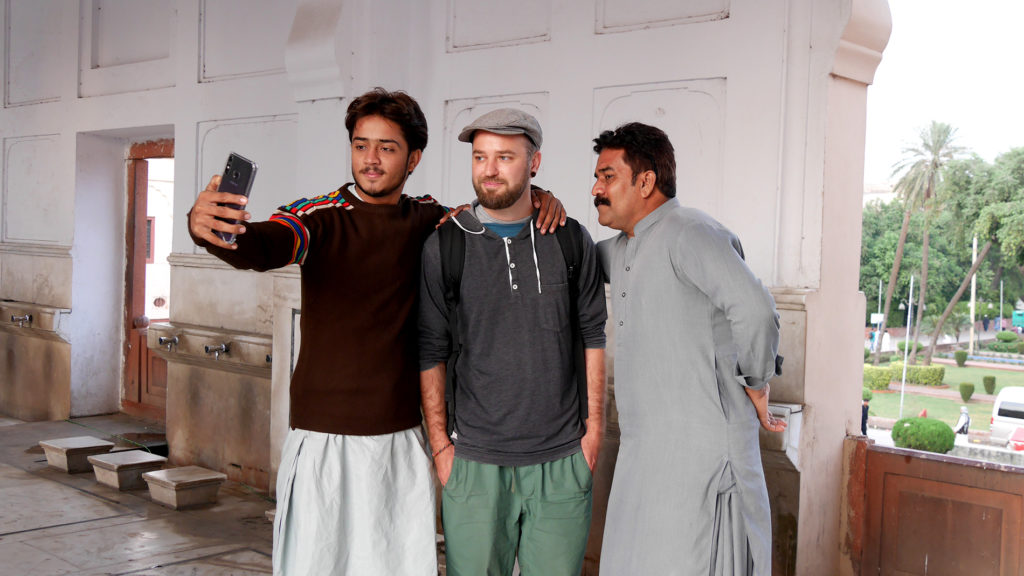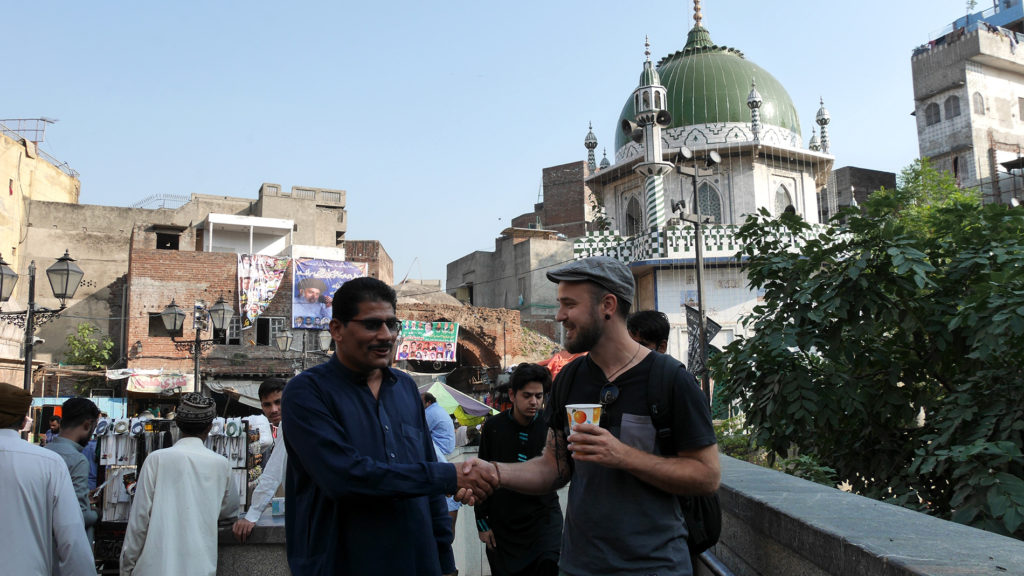 Besides wanting to take selfies with us, the locals also wanted to make us guests feel very welcomed in their city (and totally nailed it). For example, once when we were about to pay for a snack on the street, a local young man literally jumped in between Seri and the seller, demanding to pay for our food.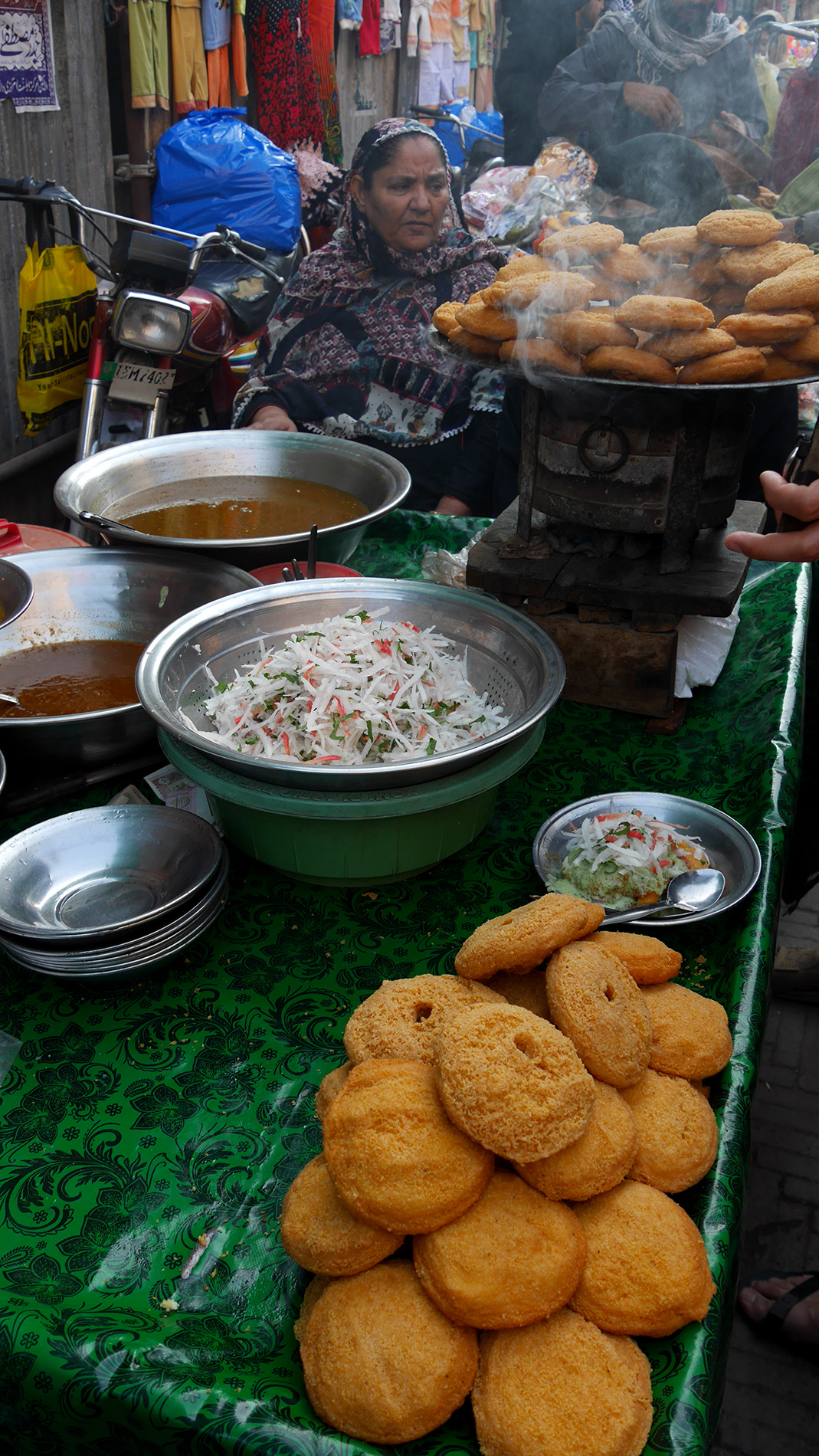 Even at a bakery, when we wanted to buy some sweets, instead of taking our money the bakers gave us more sweets and invited us for a tour in the backroom of the bakery. Nothing beats the hospitality of Pakistani people and here it seems to extend even to the big cities. Trying to turn down the locals' kind offers is completely useless and the standard answer goes: "you are our guests, it is our duty to take care of you".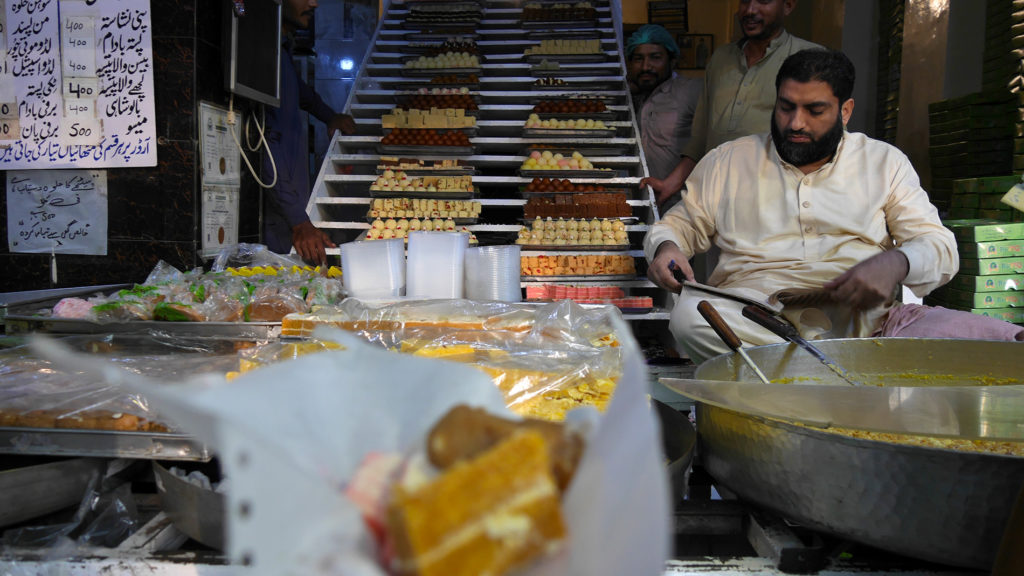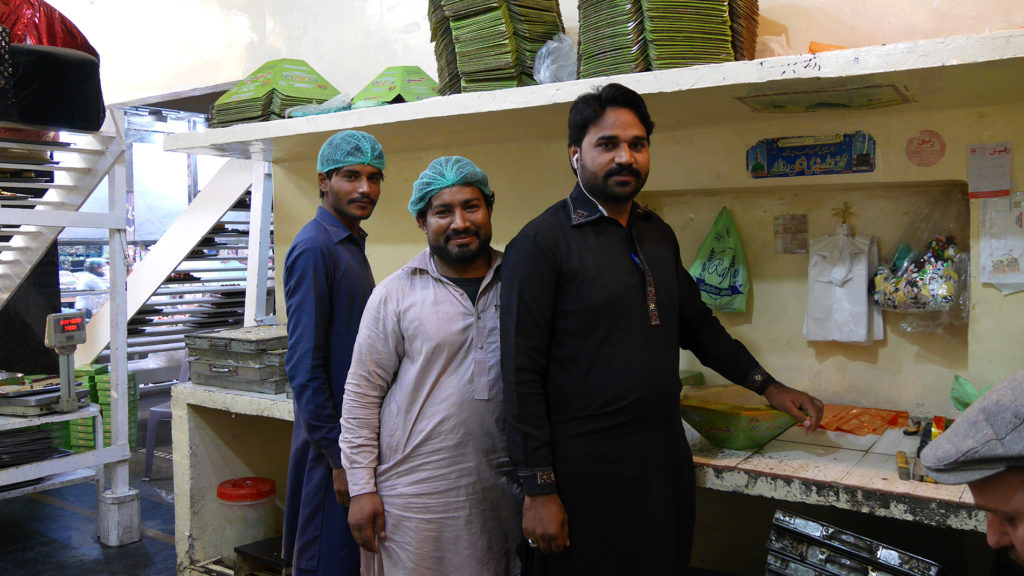 Feeling sentimental on our last day in Lahore
All the traveling and sightseeing has started to get quite tiring lately. We feel like we need some place that is relaxed, warm and doesn't have too many things to do. Therefore, even though we had initially planned to stay longer, we decided to move on and leave Lahore, and Pakistan, the next day.
In the evening, as we were eating our last dinner in Pakistan, Johanna started to cry in the restaurant. It felt so sad to leave Pakistan and its wonderful people. At the same time, of course, we are already looking forward to our new adventures in India.
The last brunch before leaving Pakistan
On our last morning before leaving for India, we met up with our friend Salman to complete something we had agreed to still do together. He took us to a restaurant called Capri, which seemed to be THE place to be on a Sunday morning, at least if you are a fan of halva puri. Halva puri with chana sounds like a weir combo – sweet halva, deep-fried bread and chickpea curry, which you eat all together. But it was really good.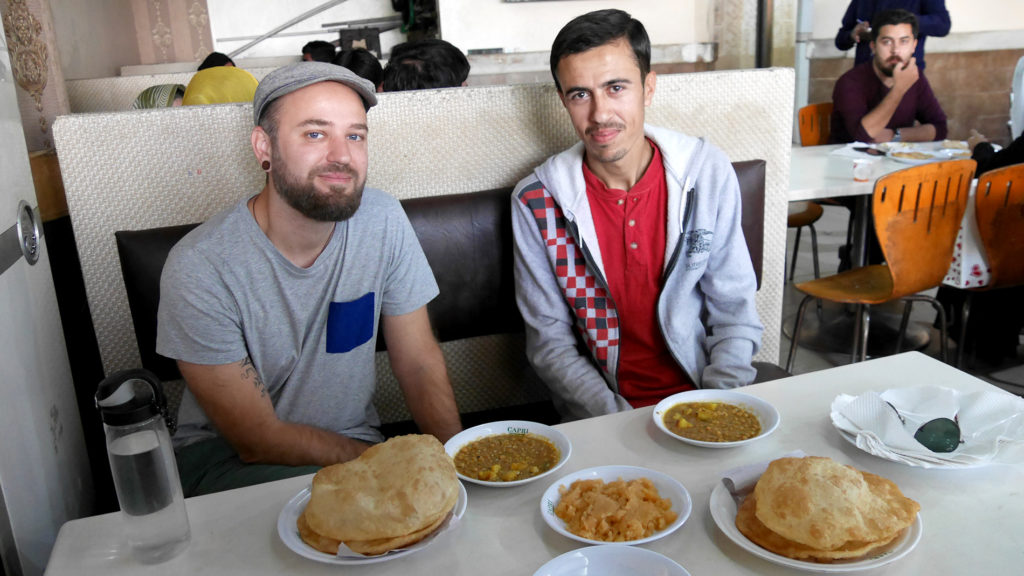 Having this brunch with our friend Salman was the best way to end our stay in the city of food and in the whole Pakistan, which has turned out to be one of our favorite countries ever. After saying goodbye to Salman we started our journey towards the Wagah Border…