After crossing the Wagah Border from Pakistan, we spent our first few days in India in Amritsar, the "Golden City". During these days we got our first experiences on how India has changed since our last visit, saw some interesting sights of Amritsar, learned about the history of partition and taught an Indian to ride a skateboard.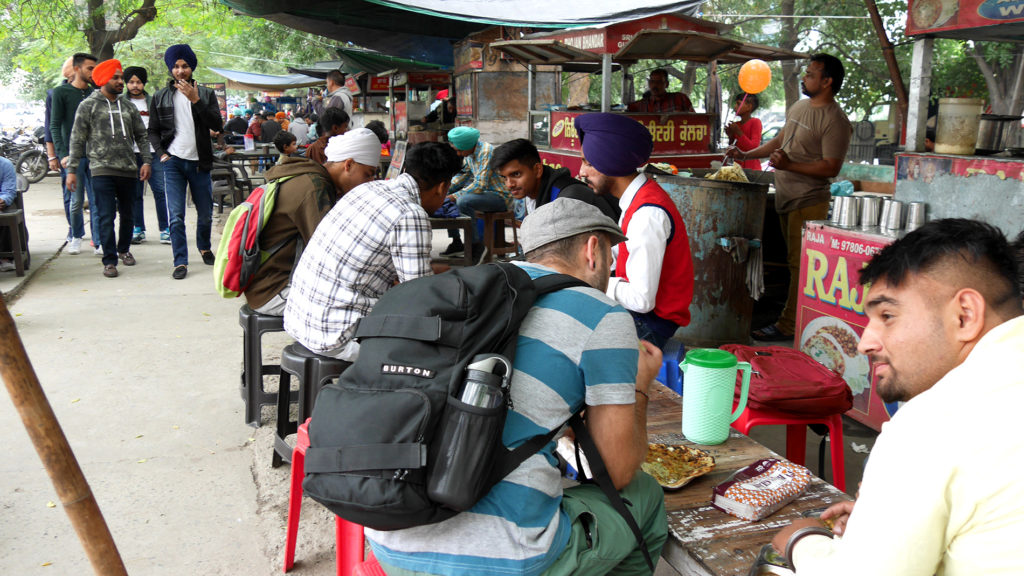 Here we are, in India
After 2 months and 3 days of traveling overland, here we are, in India! We've been in India already a few times and it's one of our favorite countries for traveling. Still we were prepared to get totally overwhelmed by everything as soon as we arrive. At least we were expecting to get surrounded by beggars and pushy rickshaw drivers straight when we get to this side of the border. But this time, nothing. Has India changed? Or maybe it's because we crossed overland and have slowly gotten used to everything. Or maybe it's just that Amritsar, even though loud and somewhat chaotic, seems like a friendly city. Let's see if the culture shock hits later.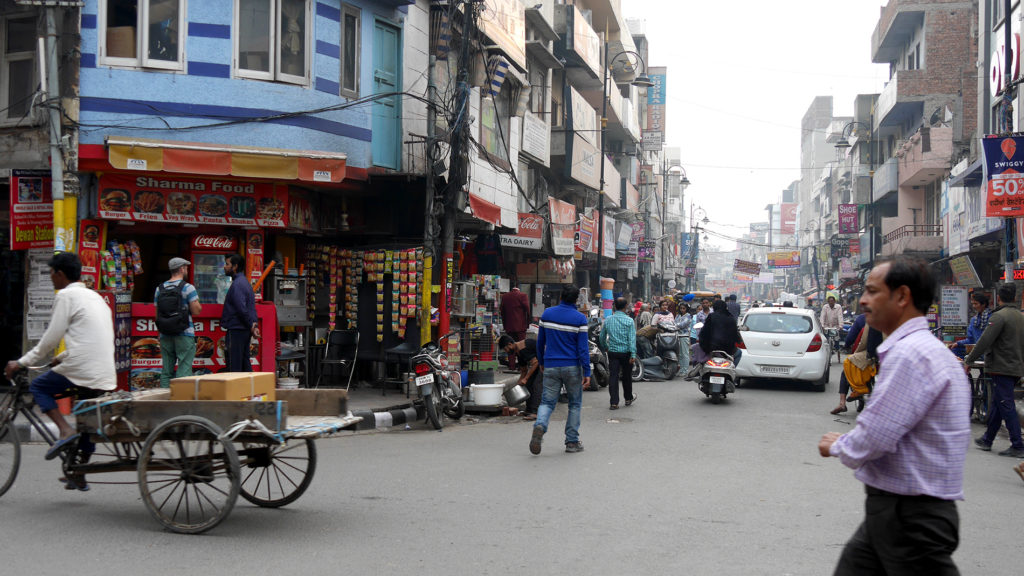 Arriving to Amritsar – First evening in India
When we arrived at our homestay in Amritsar, we were greeted by a very warm and welcoming family. Unfortunately, there was some problem with the plumbing in our room that couldn't be fixed before the next morning. Therefore, they had to relocate us to a hotel next door for the first night. The room was okay, but otherwise we didn't feel too good at that place. The pigeons living on our window kept us up half of the night. Also we are not sure what to think about the young man at the reception (which was right next to our room) who watched some hard core adult entertainment on full volume in the late evening… Luckily we had to spend only one night in this place.
On our first evening, before going to sleep, we enjoyed the culinary (and alcohol-y) wonders that India has to offer. We had a really good thali (a collection of different curries, naan and rice) in a simple, local restaurant and couldn't be happier to be back in this wonderland for vegetarians!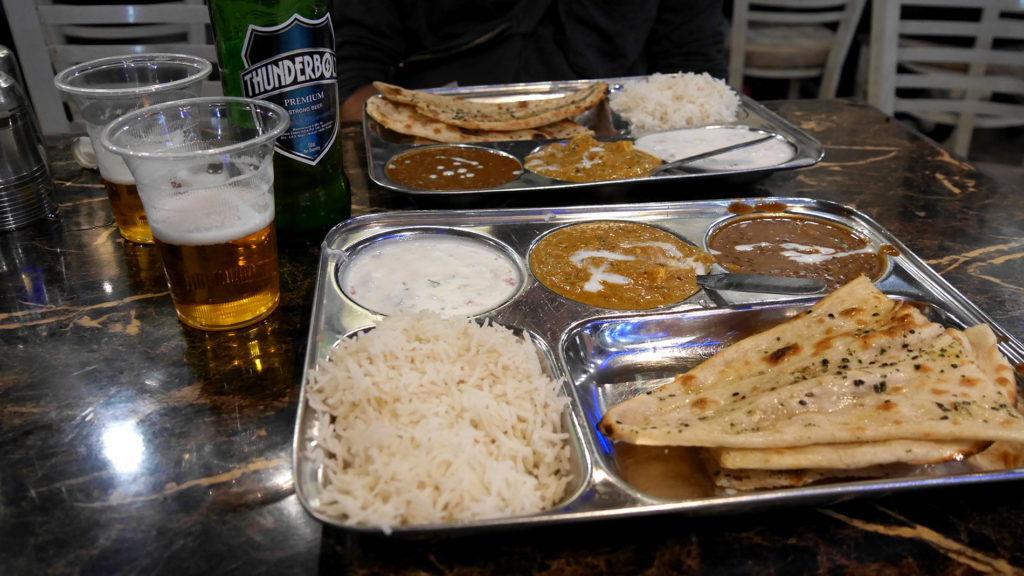 After being over three weeks without a drop of alcohol in Pakistan, we were looking forward to an ice-cold beer to go with our first Indian dinner. Unfortunately, the restaurant didn't have our favorite brand in India, Kingfisher, so we had to settle with something called Thunderbolt. This one tasted really bad, though – definitely not worth waiting for the last three weeks.
We still wanted to have our Kingfisher so we had a walk trying to find some bar, but it seems that the few ones that are existing in Amritsar all close down really early. On our way back we bumped into the same rickshaw driver who had taken us from Wagah to Amritsar. He was so happy to see us again, that after we took a few selfies with his current customers, he gave us a ride for free. Wow, so even the rickshaw drivers in Amritsar are very nice! Something we don't remember experiencing often in India.
Our homestay
The next morning, we could luckily move to the homestay we had booked, the MYE Homestay. We enjoyed our stay there a lot. The room was clean and comfy. The only thing that could disturb our sleep was a 3-day-long Christian church party nearby. The music started every morning around sunrise and lasted throughout the day. At least it kept us in a festive mood…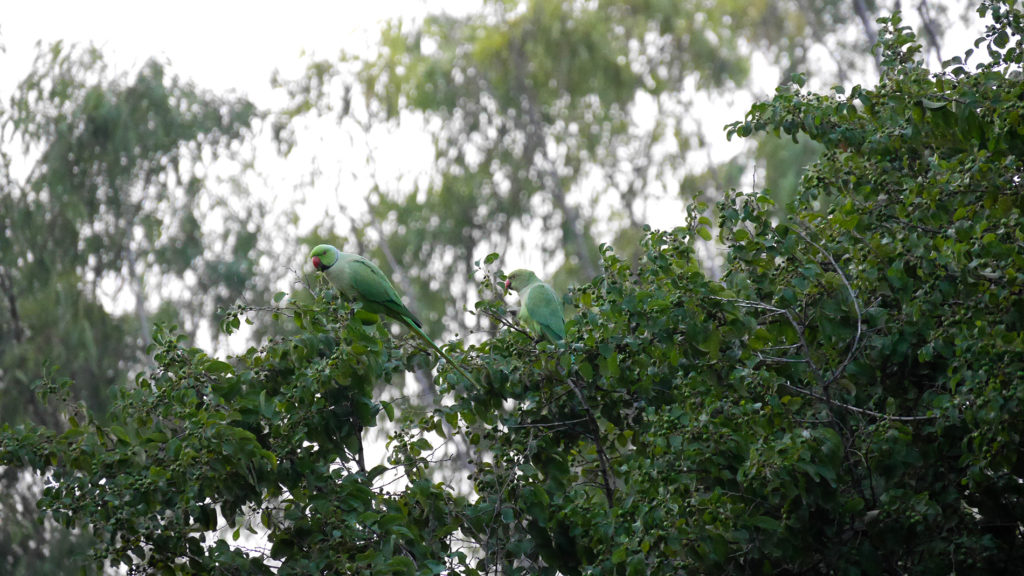 The accommodation also had a nice rooftop terrace where we could spend time in the evenings or do yoga in the morning.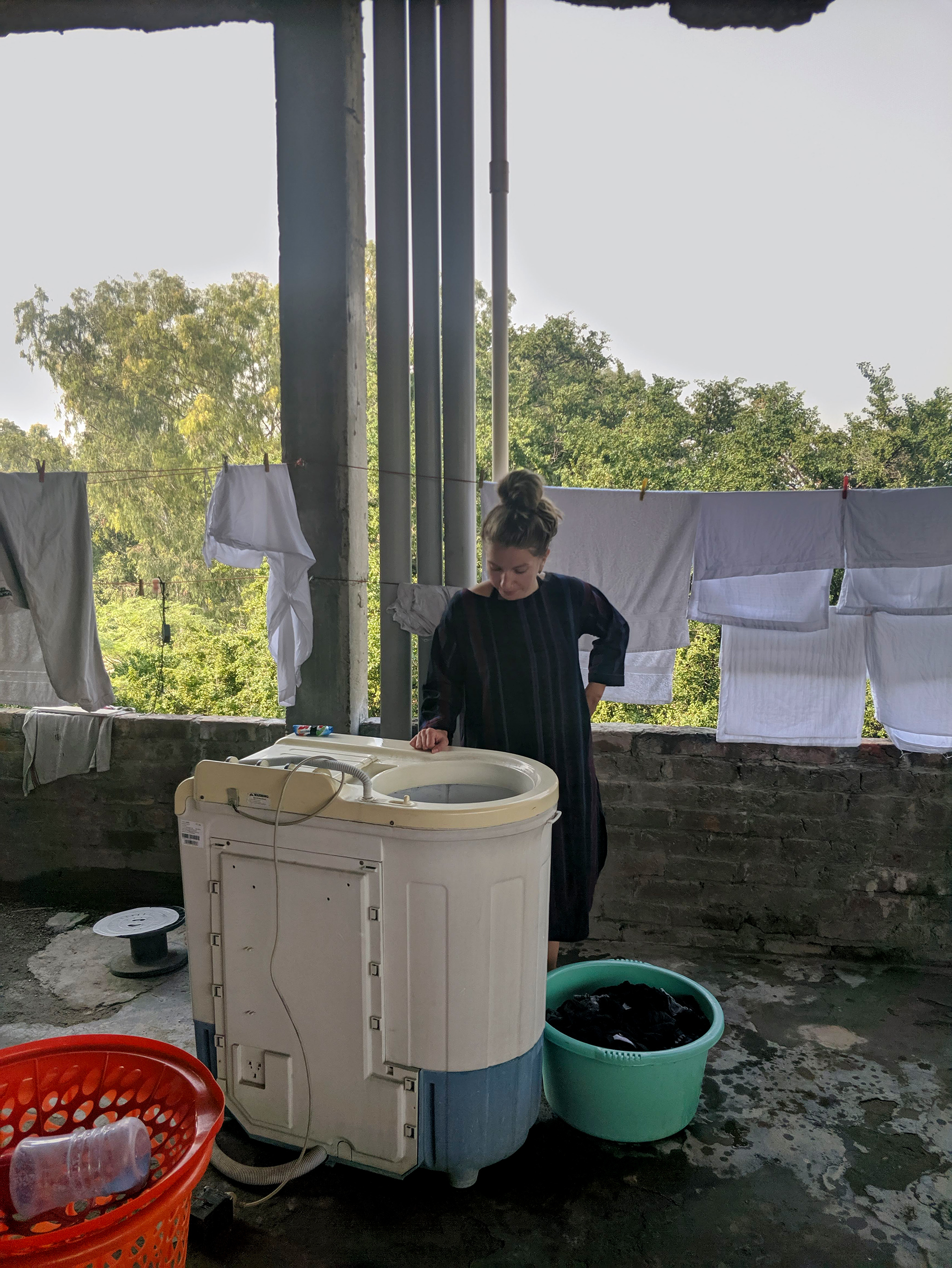 And the family was super nice. We became friends with the son, Rohin, who was a few years younger than us. He wanted to learn skateboarding, so we spent a few afternoons in rollerskate rinks to teach him the basics. It was a lot of fun for us all. Rohin, in return, helped us with the almost impossible mission of getting a sim card…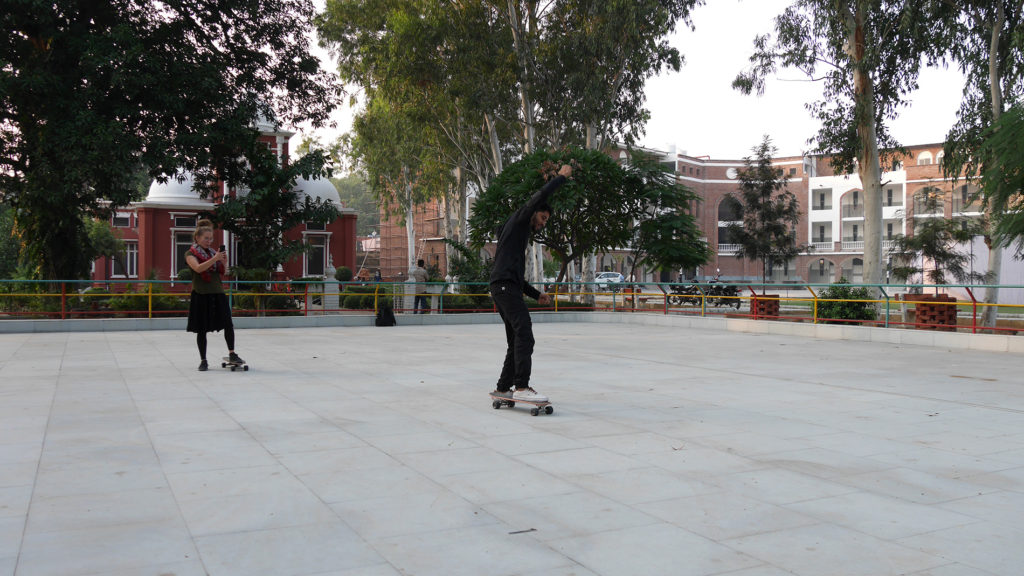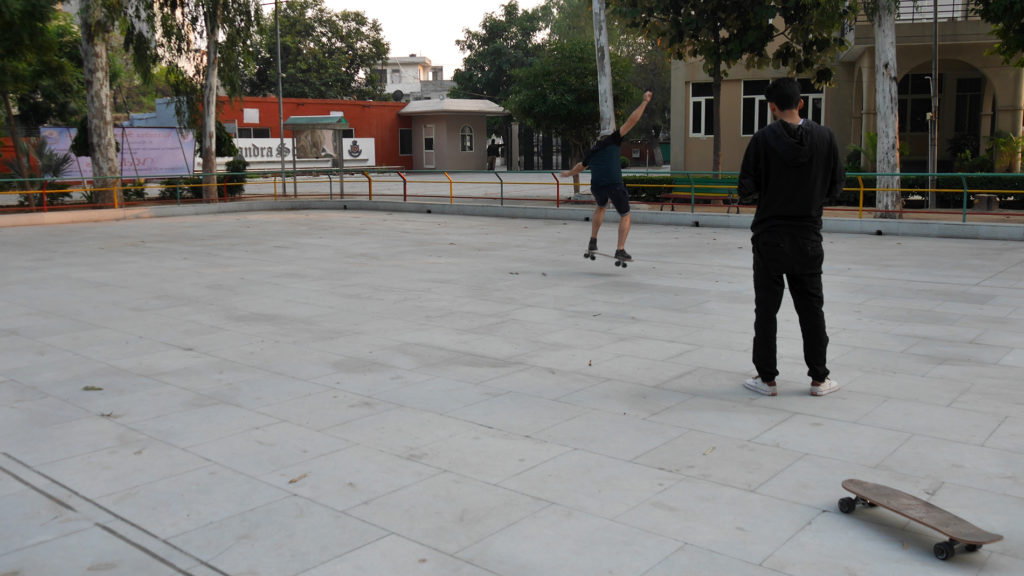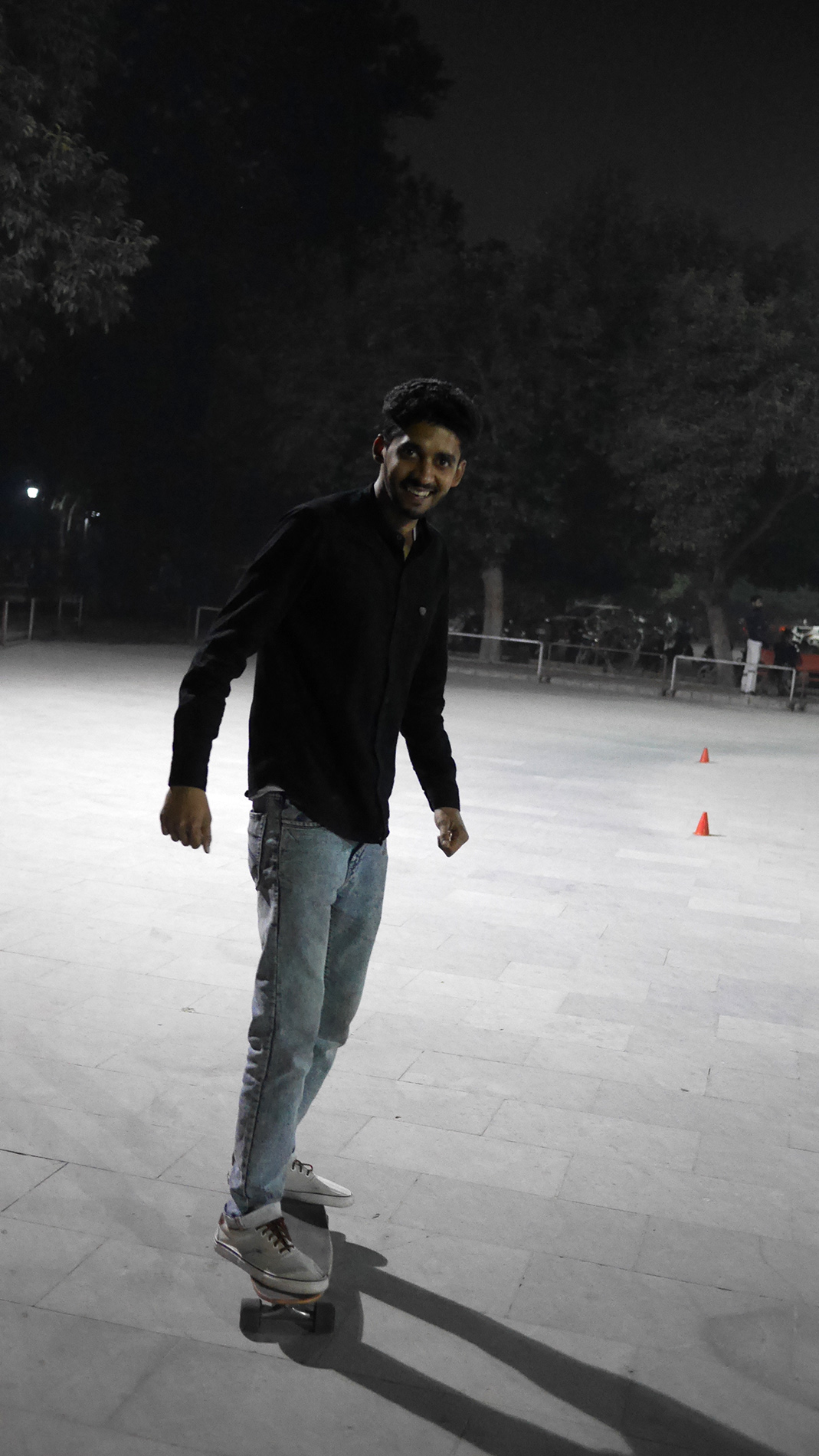 Getting an Indian Sim Card
Getting an Indian sim card was, seriously, consuming most of our time in Amritsar. First, we tried to get it from a provider named Jio, that we really can't recommend. We were sent from one shop to another, just because no-one seemed to have any idea of how to register a sim card for a foreigner and didn't want to bother with it. We even tried to do it by calling to the customer service ourselves so that they could tell us what the workers at the shop should do. In the end Rohin had to come with us because they needed a local contact person, but it didn't help either.
After three days we gave up and went to another provider, Airtel. They also couldn't help us in the first store but called to another one to make sure that they could. Then a friendly worker got us a rickshaw to the other shop. There we got really professional service and managed to get our Indian sim cards straight away. Recommendation for Airtel!
A sim card is something practical to have in India. In the last five years (since we last visited) things have change quite a lot. You don't have to queue for hours at the ticker counter in order to get a train ticket – there's an app for that. And haggling with rickshaw drivers has been minimized, thanks to services like Uber and Ola.
Sightseeing in Amritsar
Besides visiting the phone operators' stores and two skating rinks, we also saw some of Amritsar's sights.
The Golden Temple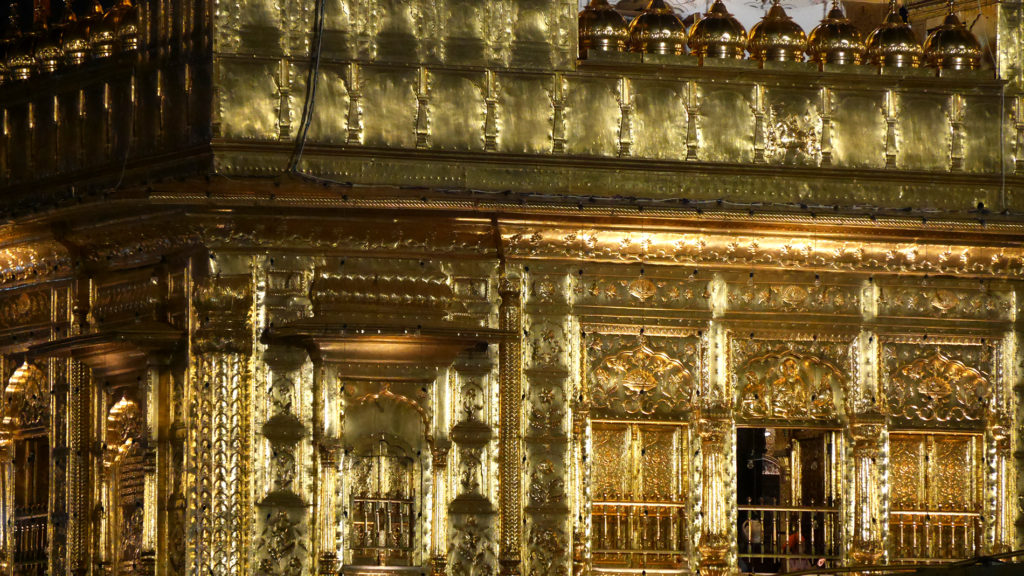 The most important sight in Amritsar, if not in the whole Punjab, is the Golden Temple. In Amritsar, 58% of the population are Sikhs. In Sikhism, gurdwara means the place of worship. The Golden Temple is the most important of all the gurdwaras and Amritsar is the holiest city for Sikhs.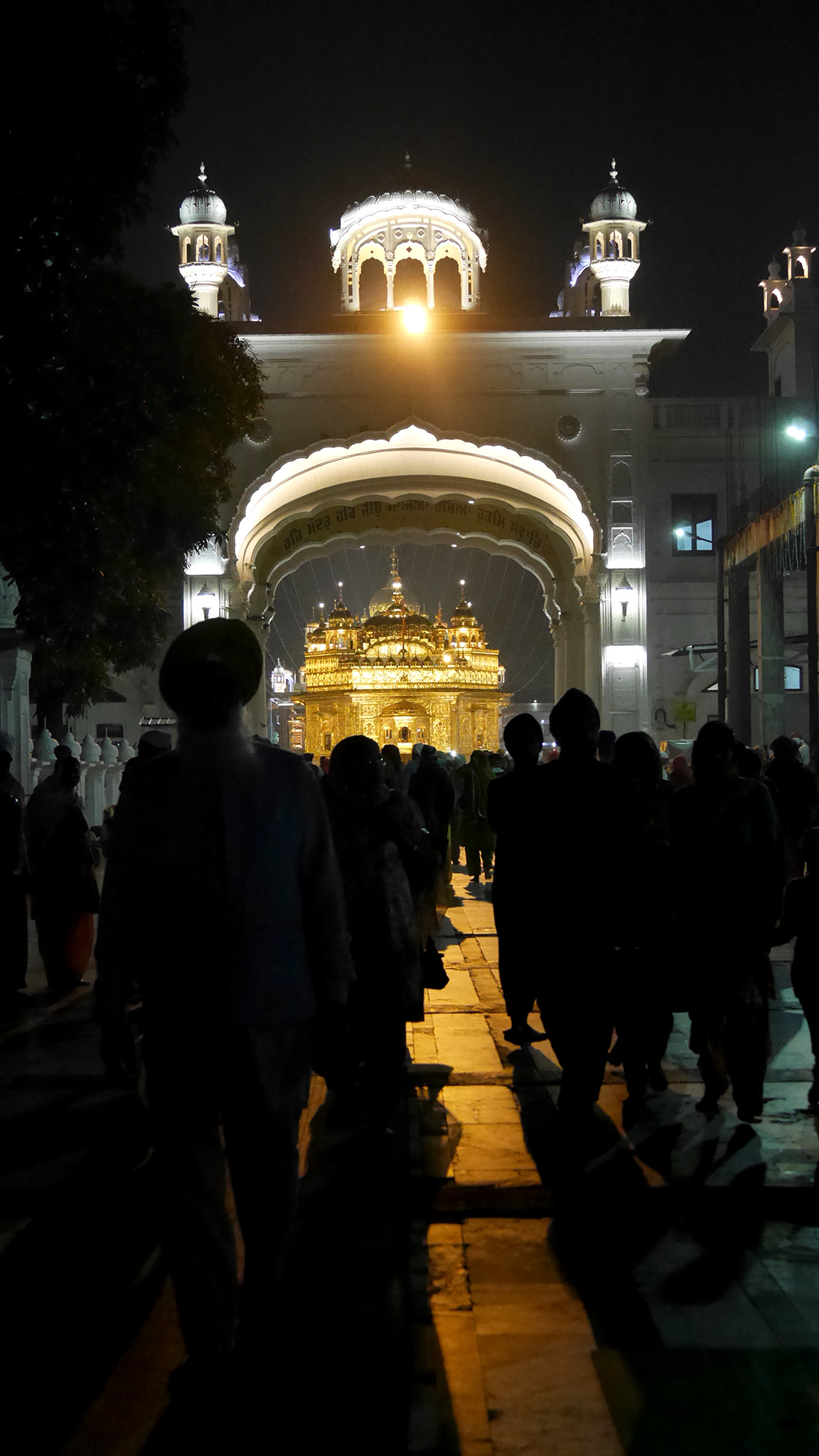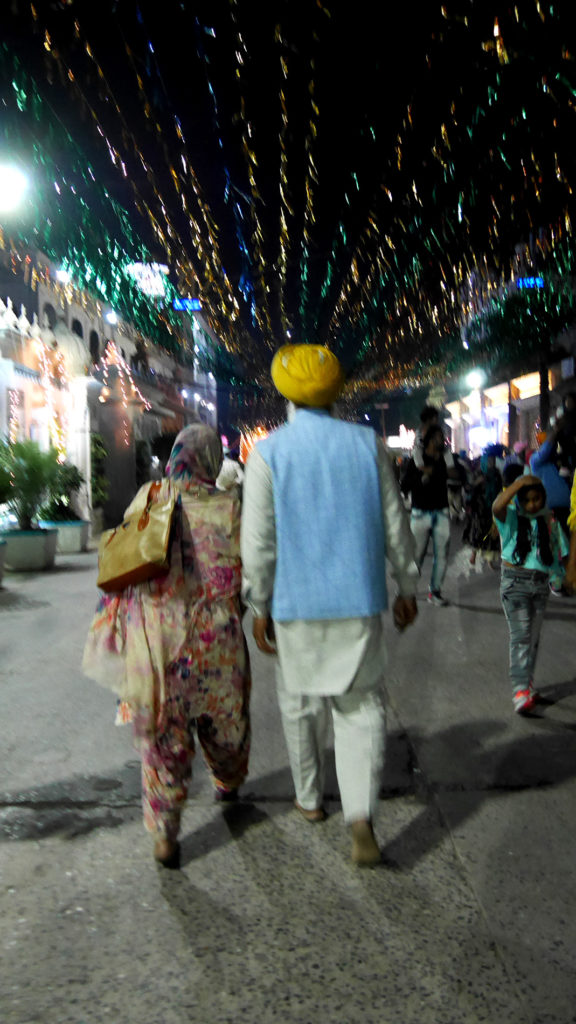 While we were in Amritsar, it happened to be the 155th birthday of the Sikh Guru Nanak Dev. Many had come to the Golden Temple on this special day, even Dalai Lama had visited the day before us. Therefore, the queue to the temple itself was too long for us to get in but at the premises of the golden temple there were other magnificent holy buildings for us to admire.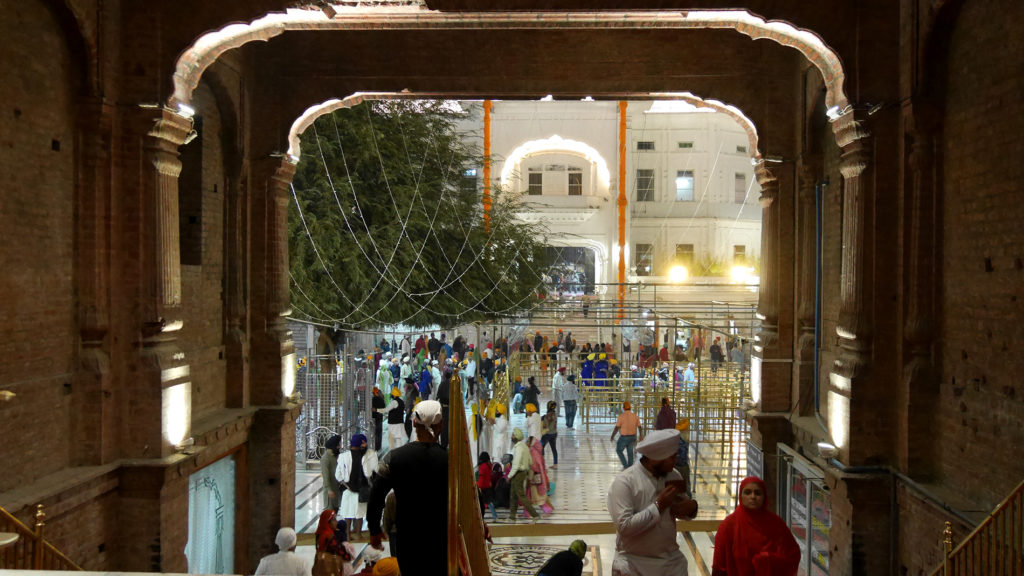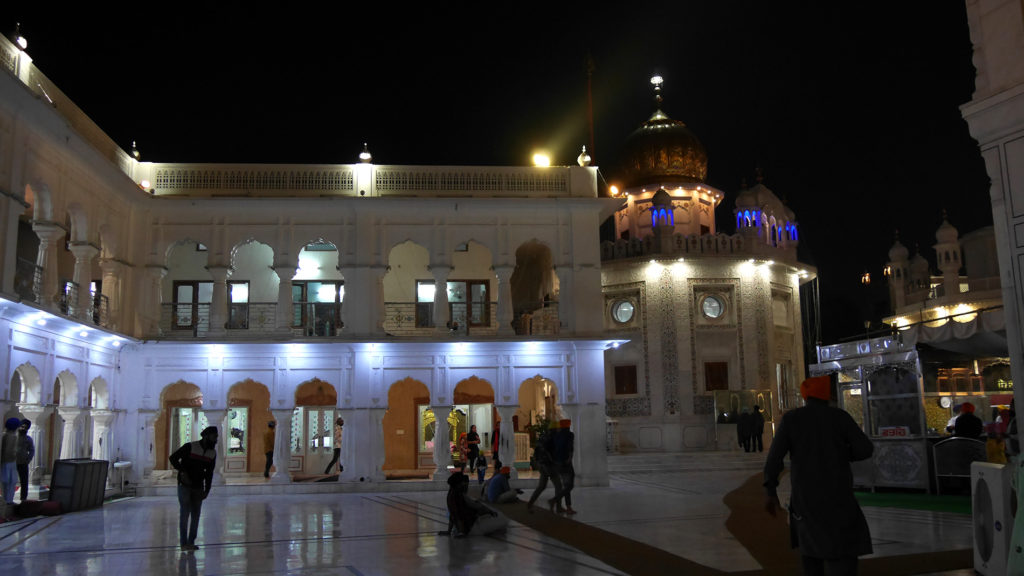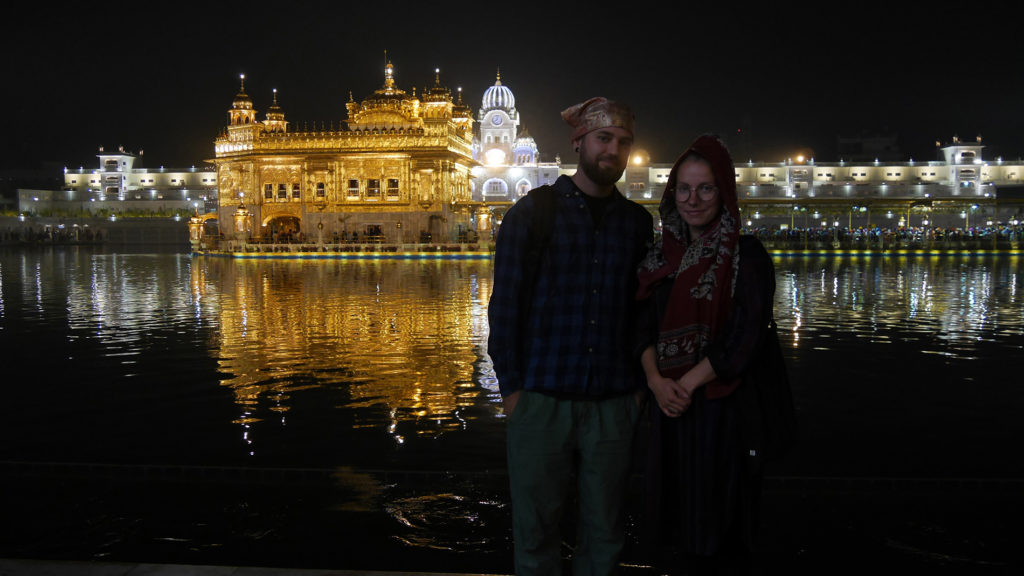 At the temple area there's also a community kitchen where anyone can eat for free (or for a donation). Having a dinner there was something very special. Everything happens like on an assembly line. You queue to get a plate, sit down on the floor, someone comes with a bucket and a spoon and throws some daal on everyone's plate, another person comes and gives chapati to everyone. As soon as your plate is empty, there's more daal and more chapati coming.
But you have to be fast: as fast as this all started, it also ends. You must get up and give space for the cleaners before the next batch of hungry mouths enters the dining hall.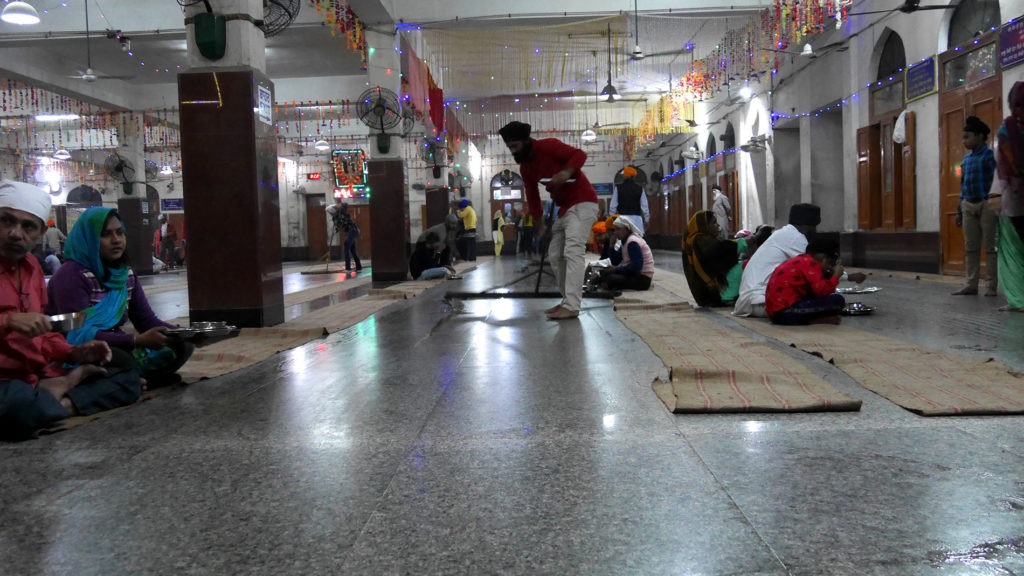 You give your plate to someone who brings it to the kitchen and they start throwing it from one person to another, through different washing stations, until it's clean again. The sounds the metal plates make while going through the cleaning process in the kitchen is something you don't forget easily. Anyway, the highly professional and well-organized process was impressive.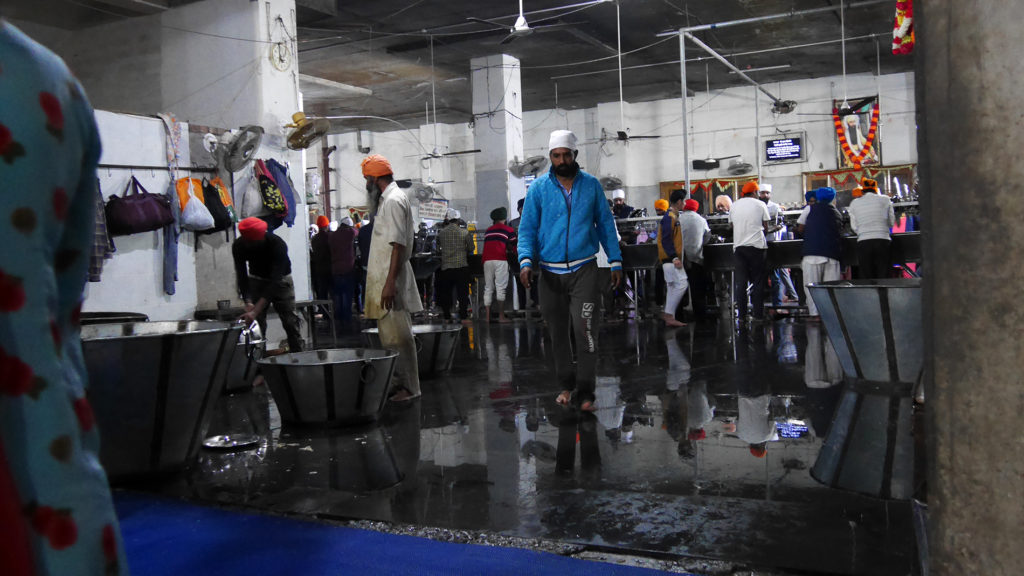 Gobindgarh Fort
The fort built in the 18th century-built serves as a combination of museums nowadays. There's a lot of information and shows about the history of Punjab and the Sikh culture. The tickets are sold as a combination of different museums, shows and activities. We bought the cheapest ticket that included the entry for the fort, the turban museum (great for a turban-fan Johanna), a 7D show and a live show.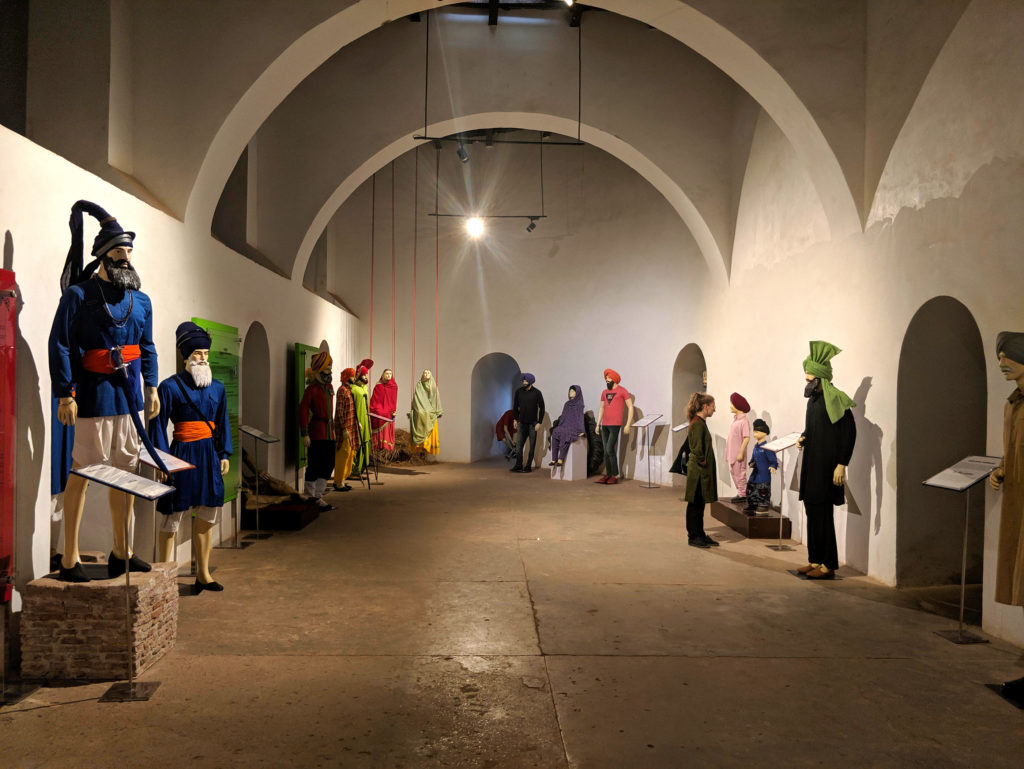 The 7D cinema show was a nice animated 3D movie based on Maharaja Ranjit Singhs life story, supported by shaking chairs, water spraying and air blowers.
We watched the last part of the live show with all kind of Sikh weapons and decided afterwards to stroll around at the fort. By the time we wanted to leave the live show started again followed by the Whispering Walls show that we had no ticket for.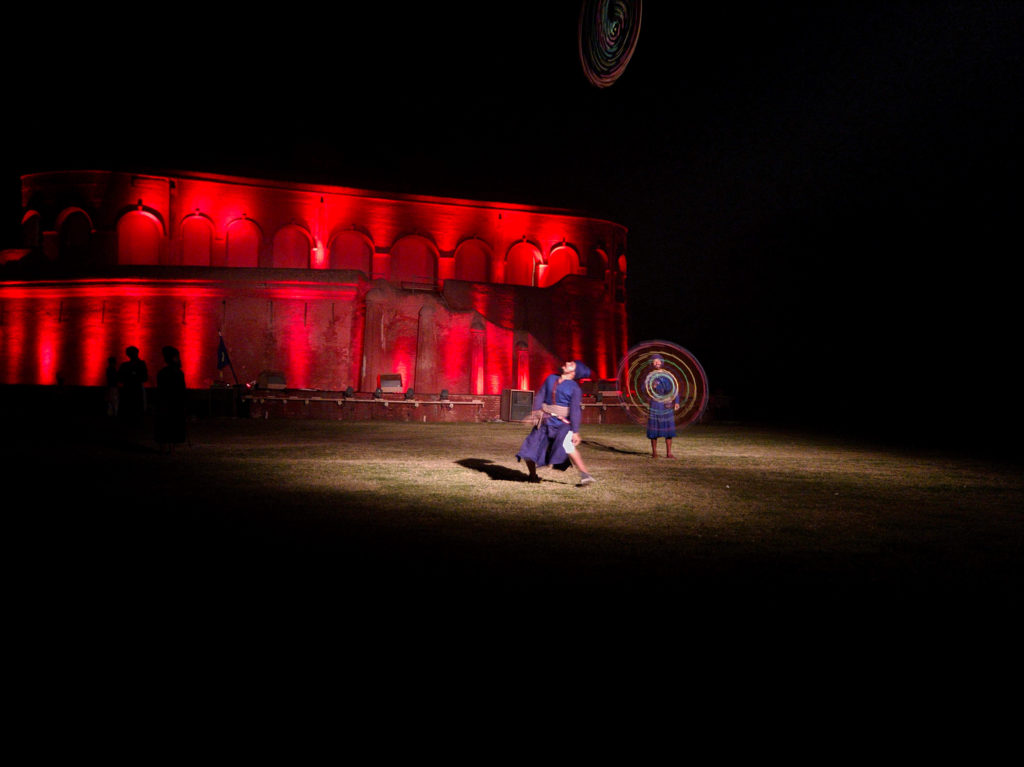 We decided to stay and watch it anyway. It was a multi-media sound and light show, with the story of the Gobindgarh Fort projected with laser lights on the Colonial bungalow. Because it was in Hindi, we didn't understand too much, but the animations and effects were impressive. Definitely the highlight of our visit to the fort.
The partition museum
Another important sight of Amritsar is the Partition Museum in the Town Hall. In 1947, India was divided into India and Pakistan. The borders were drawn by the British lawyer Cyril Radcliff based on religion. Until the last moment, it was unclear for the citizens, where exactly the line will be drawn. Therefore, many people found themselves in the wrong country overnight and related to that, 800 000 people lost their lives. It was sad and interesting to dive deeper into this part of Indian history, especially as we just came from Pakistan. Before the partition, Amritsar and Lahore (our previous stop on this journey) were just two neighboring cities in one country. The museum (which, of course, showed the history from an Indian perspective) was very informative and well made.
And some food in Amritsar
Like said, we really enjoyed being back in India where being vegetarian is so easy. Basically, you can find good food anywhere, but we started to like one restaurant in particular. We didn't quite understand what the name of the restaurant was, but it was directly opposite the Chrystal restaurant at Queen's Road, on the second floor, and had the word "Bombay" in its name. It was cheap, the place was clean, service was good and everything we ate there was really well prepared.
Another place we liked on the same street was the Friend's Dhaba. It's the restaurant where we had the thalis on our first evening and where we later returned for another yummy meal.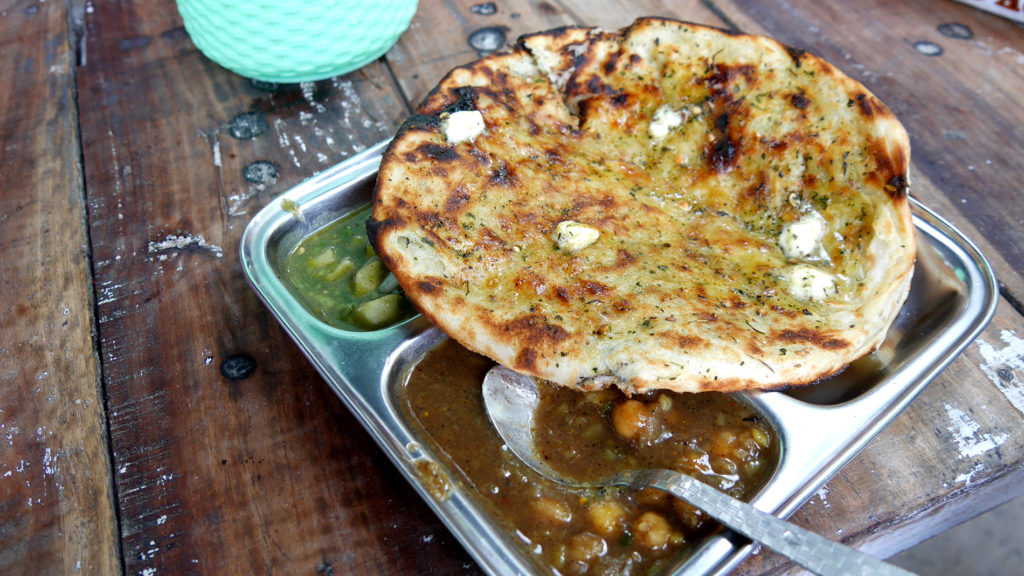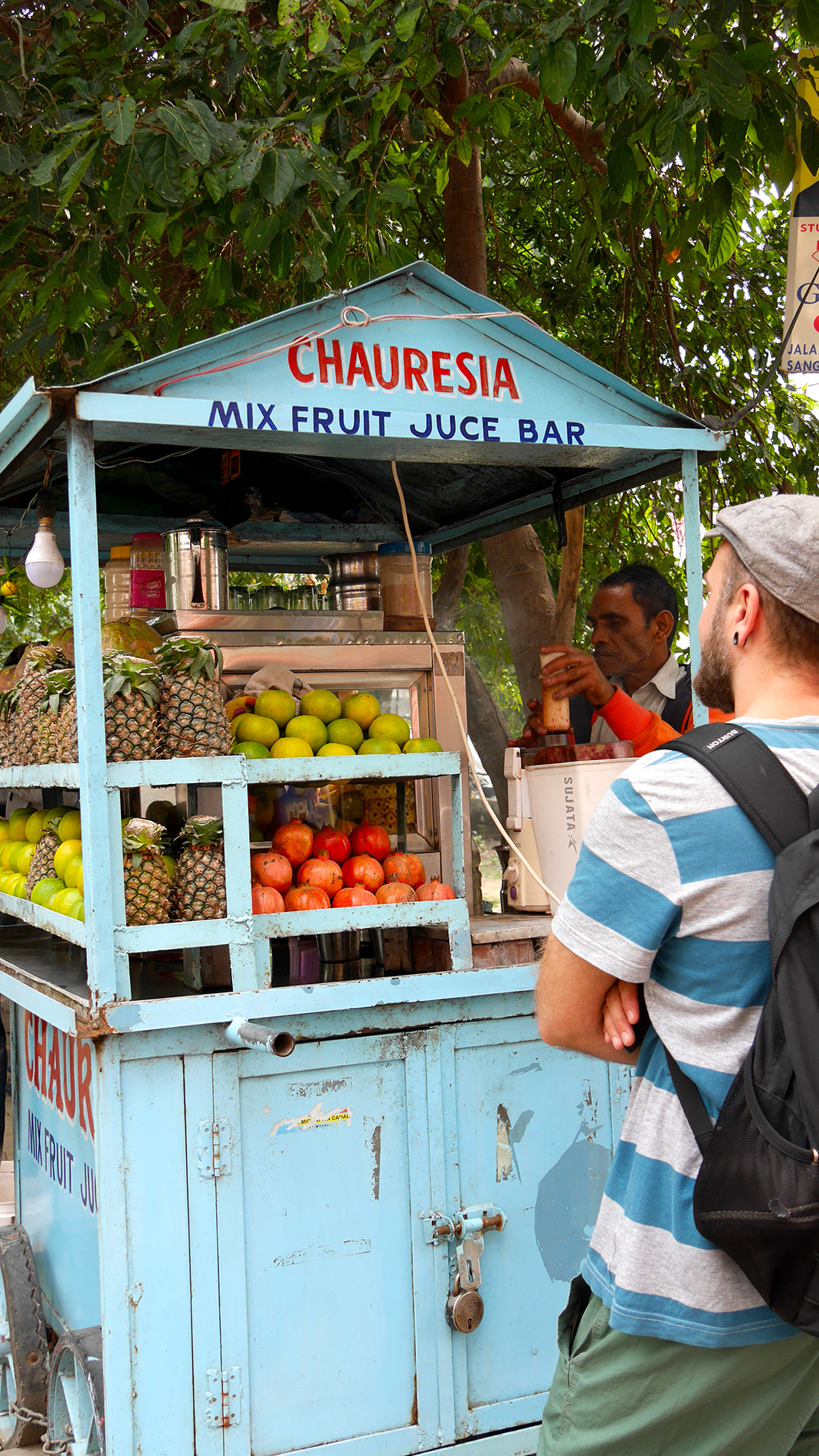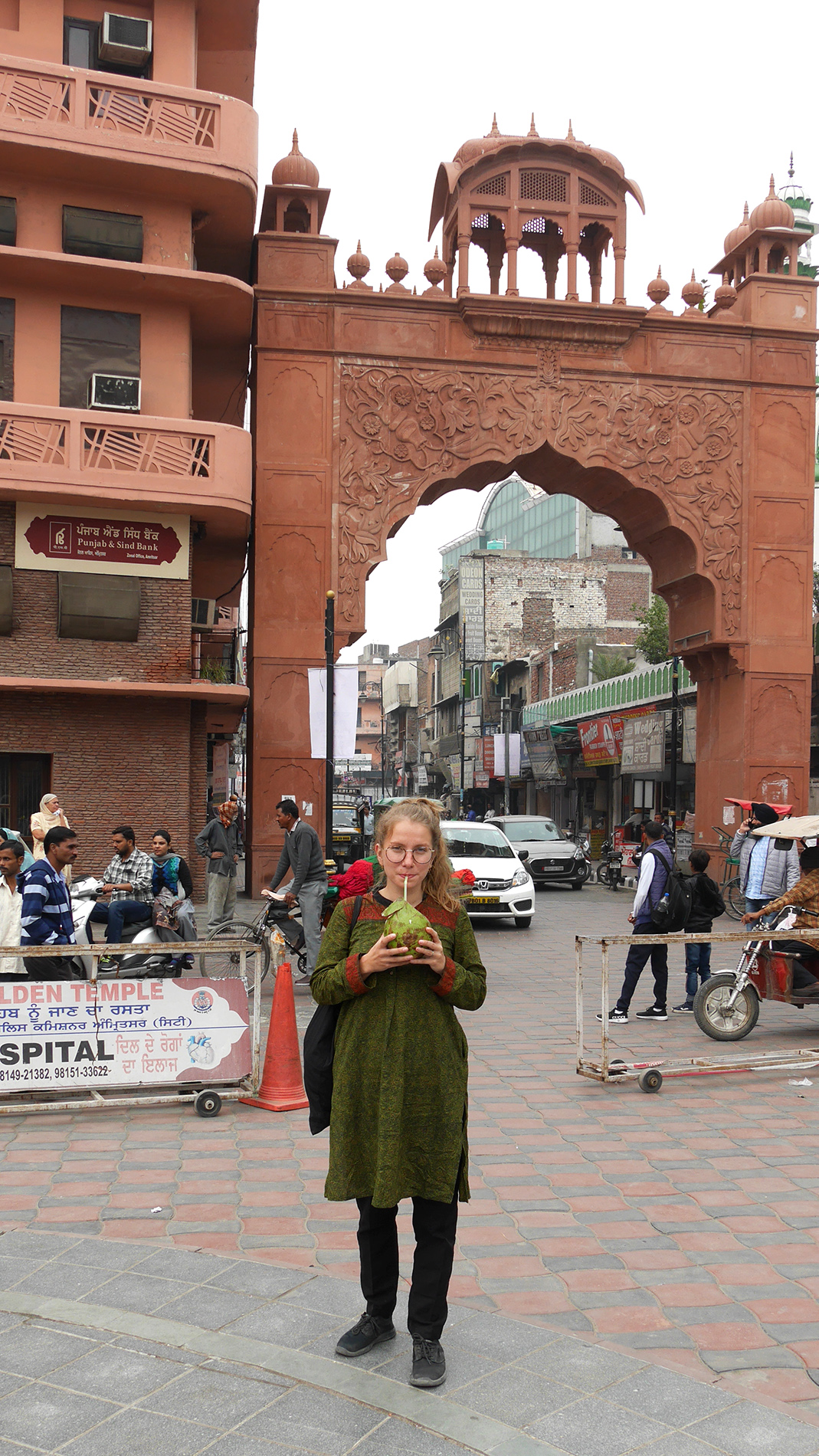 Leaving Amritsar
After we had survived the coldness on Pakistan's mountains, we couldn't have imagined travelling back to the mountains one week later. But while doing some travel planning in Amritsar, we looked at the map and realized that Dharamshala, a place we really like, is not that far away. Apparently, we are masochist or unconsciously get some kind of kicks out of freezing our asses off, because next we were headed to Dharamshala in the state of Himachal Pradesh, in the Indian Himalayas…