After five years, we returned to Dharamshala's Mcleod Ganj, the Tibetan diaspora in the Indian Himalayas. Our stay was a lot about well-being. We did morning yoga, tried Tibetan meditation and even had a traditional Tibetan massage. But most importantly, during our stay we got more aware of the crisis and suppression that has been going on in Tibet for decades.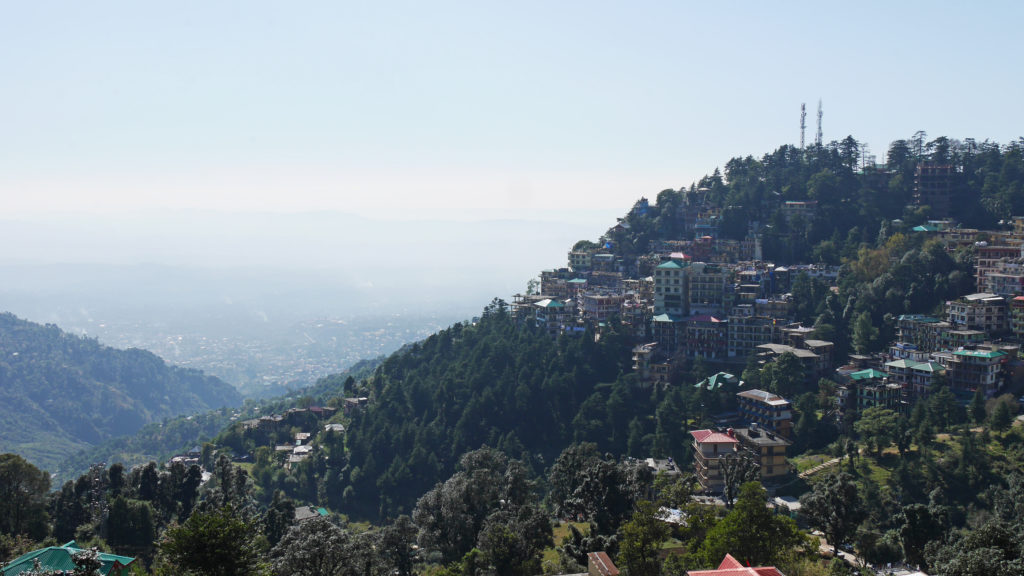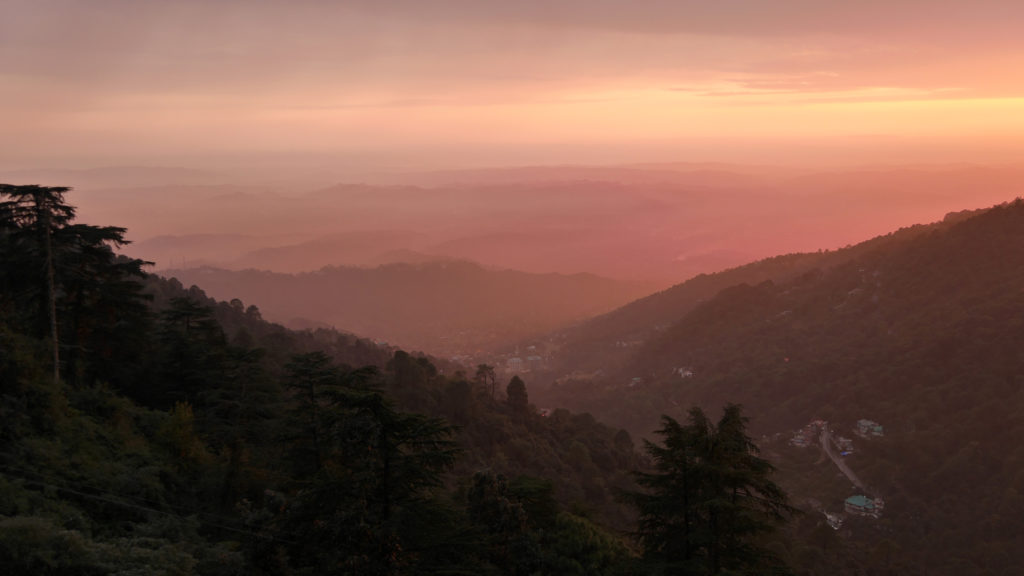 From Amritsar to Dharamshala
There is no train going all the way up to Dharamshala, but we traveled the first part of the journey by train, from Amritsar to Pathankot. We were traveling in the general class, to which one doesn't need to make a reservation in advance. At the train station we realized that buying tickets at the station has gotten much easier since our last visit. We could get the ticket from a ticket machine with the assistance of a friendly worker, without any queuing. This was our first Indian train ride on this journey and we really enjoyed it. There's something special about Indian trains! The ride from Amritsar to Pathankot took a bit over two hours.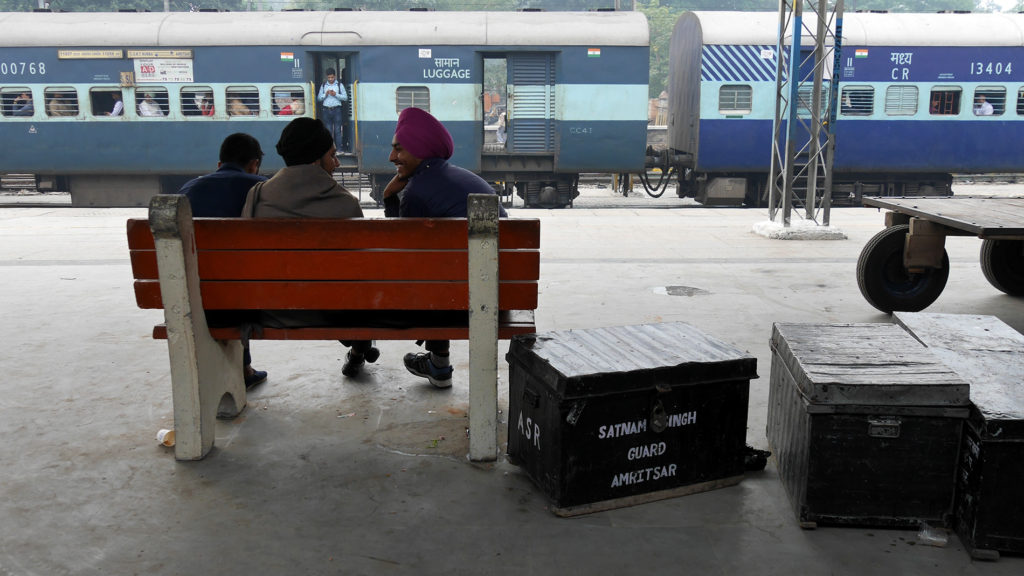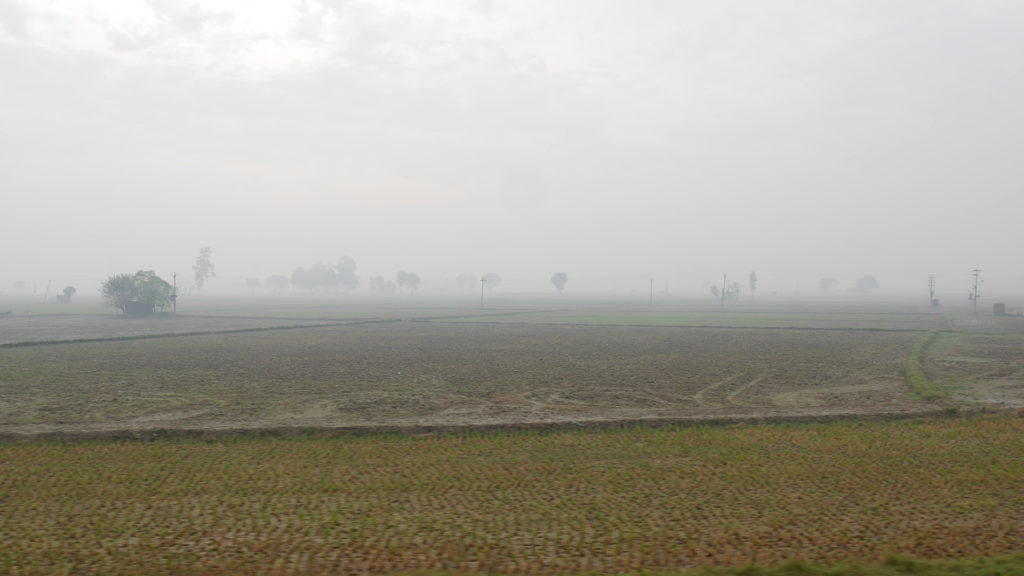 In Pathankot the bus station is located within the walking distance from the train station (Pathankot Junction). The bus ride to Dharamshala took around three to four hours. Along the way the scenery started to change and soon we were up on the mountains, again. We got really excited as we approached Dharamshala – it seems that we have missed the mountains already. It looked completely different than on the Pakistani mountains, though. There were still some snowy peaks in sight but also palm trees, other tropical plants and monkeys. The bus brought us to the bus station in the Lower Dharamshala from where we took another local bus to Mcleod Ganj.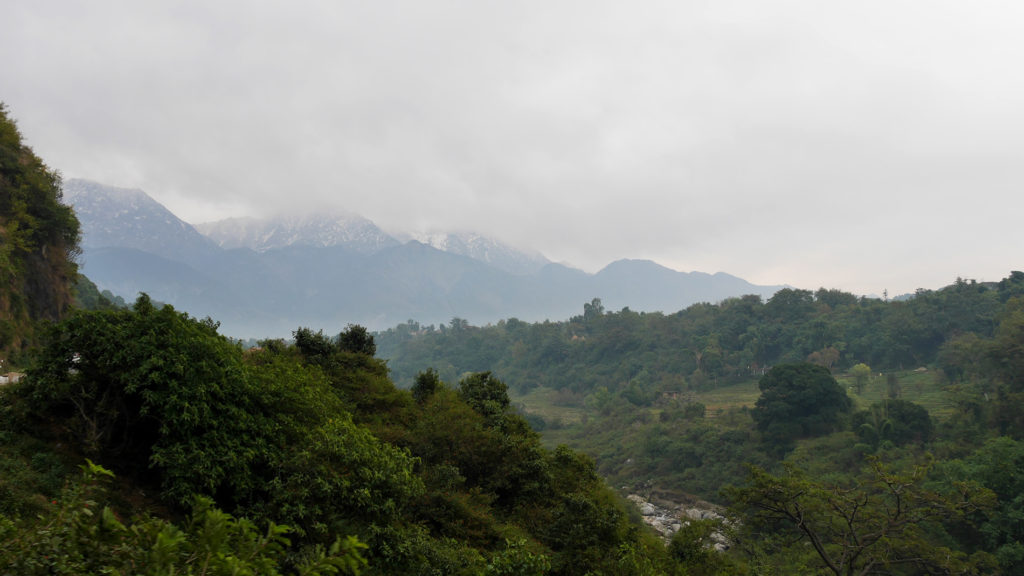 About Mcleod Ganj
Since our first visit in Dharamshala, we have often been going back there in our thoughts. The upper part of Dharamshala, known as Mc Leod Ganj, was becoming the home of Dalai Lama and thousands of Tibetans that followed to flee their country after 1959. It's also a popular tourist destination (we even had Austrian and Finnish neighbors). The town has its own charm, even though the narrow streets are busy with people, souvenir sellers, momo stands and cars.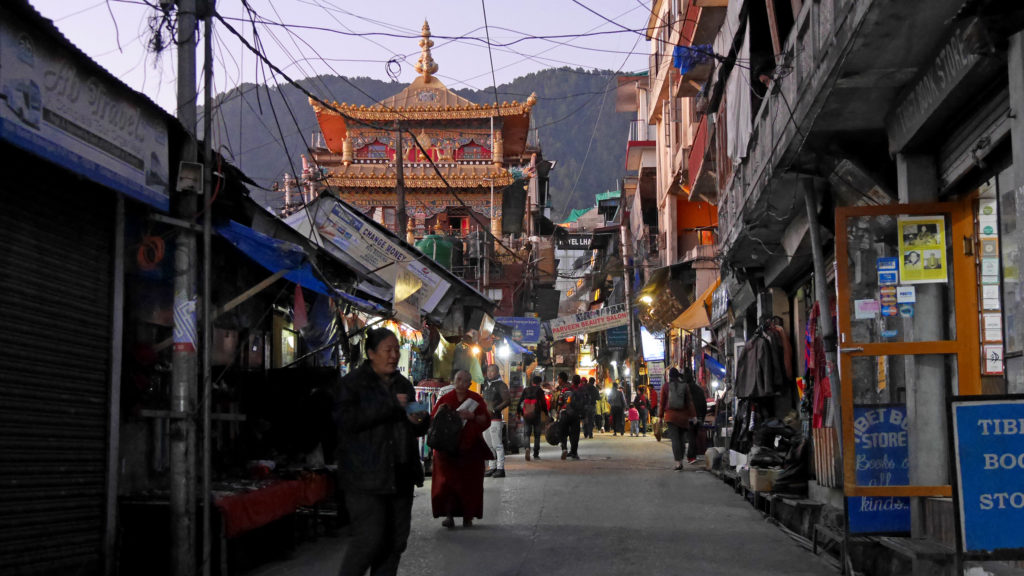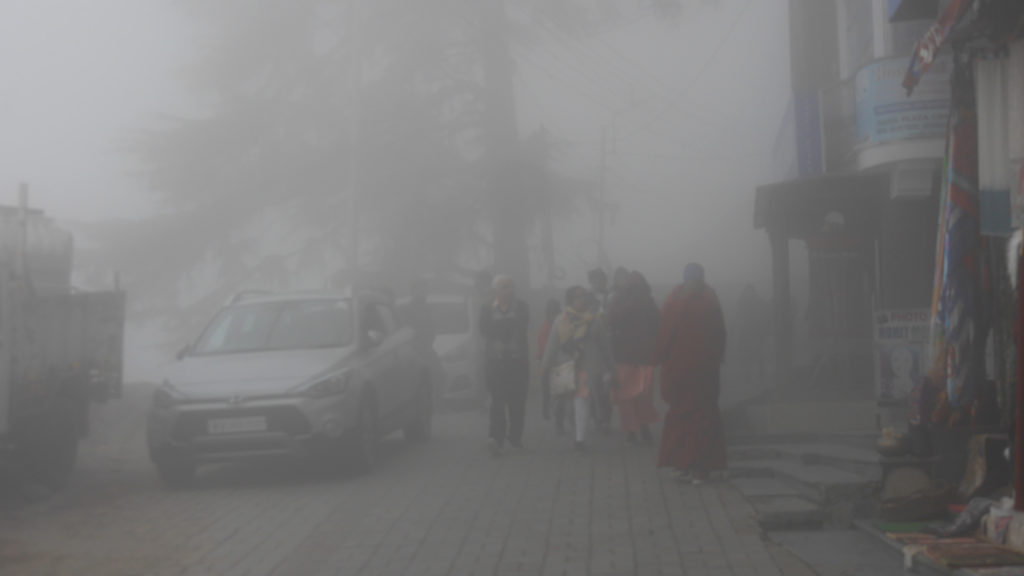 The best part is, that in a few minutes you can get out of the town and find yourself surrounded by the peace of nature. There are pine forests and fresh mountain air, families of long-furred monkeys jumping around and eagles circling in the sky. Dharamshala is a magically beautiful place.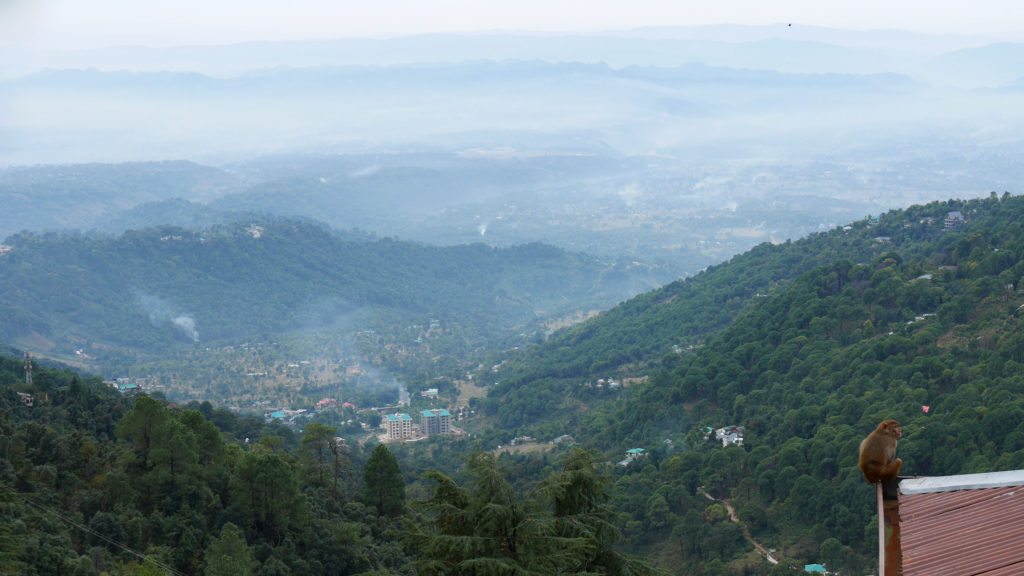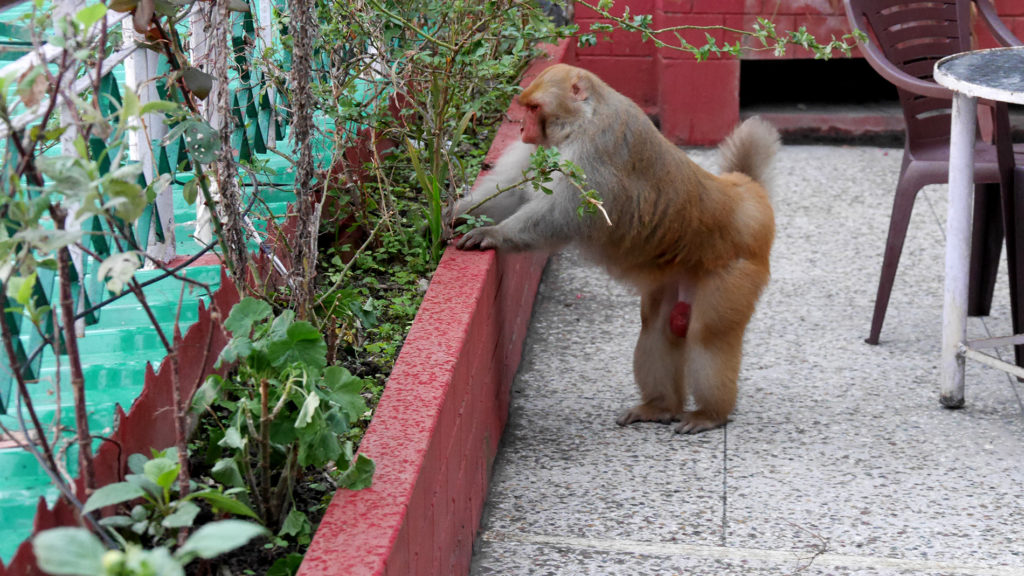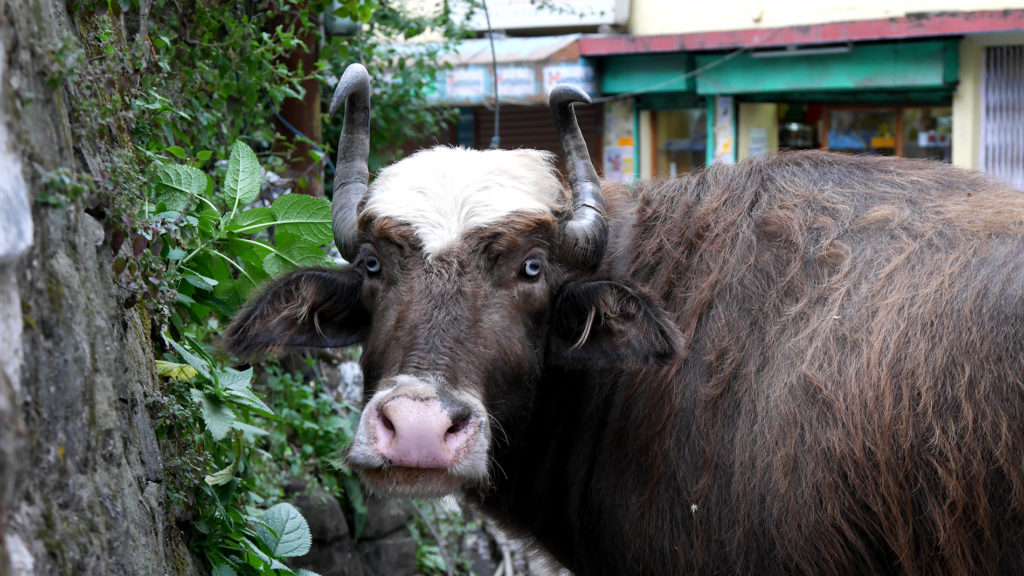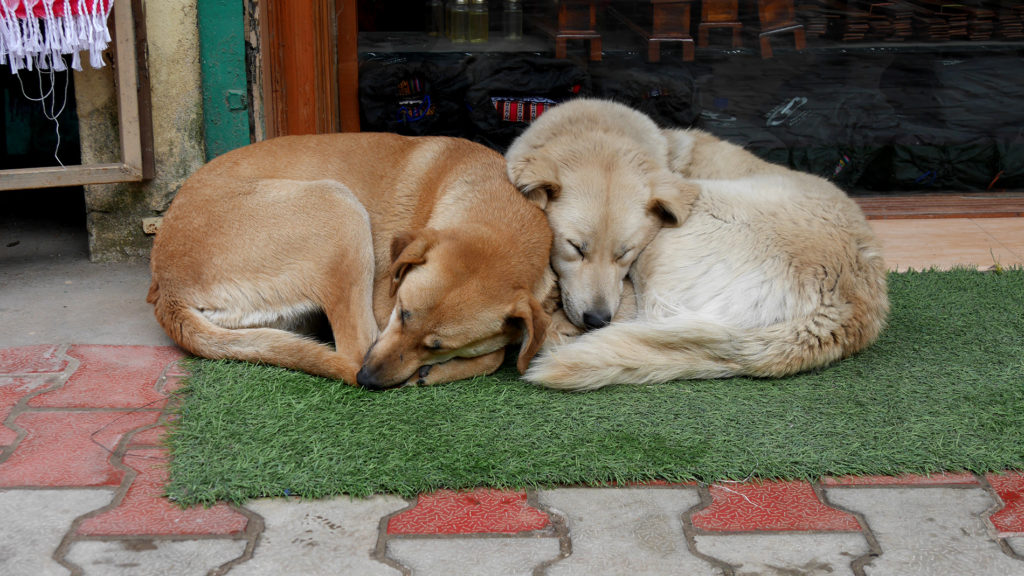 The Tibetan Buddhist temples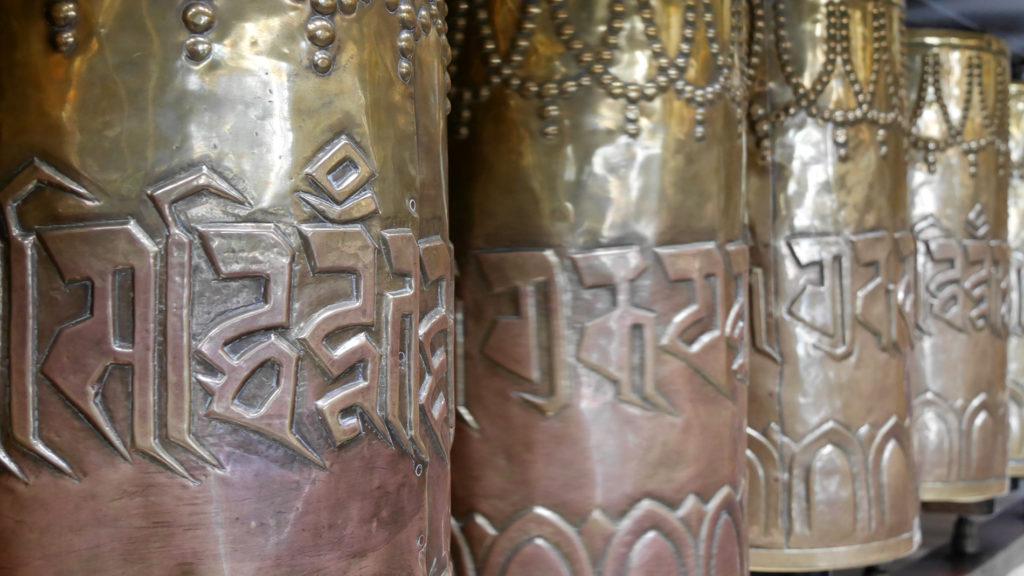 The most popular attraction here is the temple of Dalai Lama, where also his residence is located. We think that Dalai Lama has good thoughts on many topics, so we were happy to be able to visit his home temple (the second time already). While we were there, we were also lucky to watch and listen the monks chanting in the prayer hall.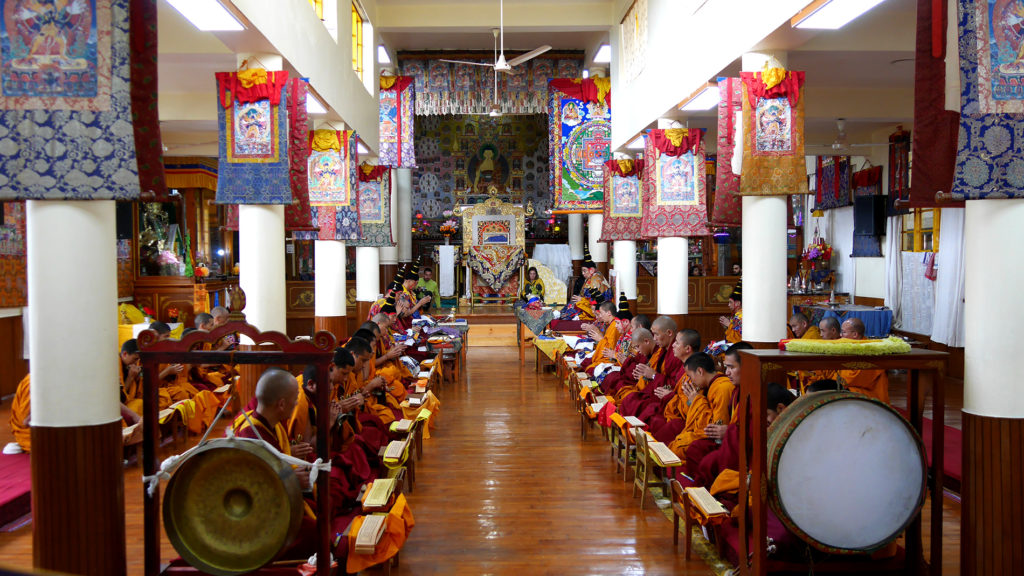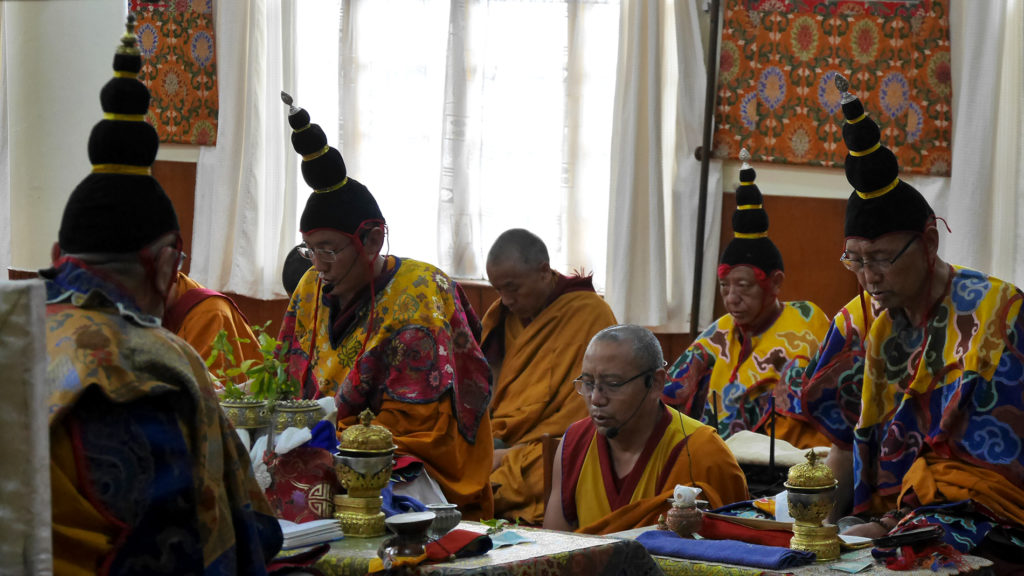 There are also other Buddhist temples in the area. One of them is located right in the center of the town, while to the others you "have" to walk through the forest for a while.
We got to know an Austrian girl Magda who is working in Mcleod Ganj. She took us to the Tushambe monastery which is also a place for silent retreats. Every morning (except for Sundays) there is a free guided meditation. This was the first time we took part in Tibetan Buddhist meditation. Even on the first time we realized that it was doing good to us and thought that maybe we should continue the habit of meditation. Also, sitting cross-legged for an hour (with a small break in the middle) was surprisingly painful. After a while you can't feel your legs anymore and it feels quite uncomfortable. So, after the break, Seri had to go to sit on a chair, but it was hard to get there with legs that are not following your commands anymore.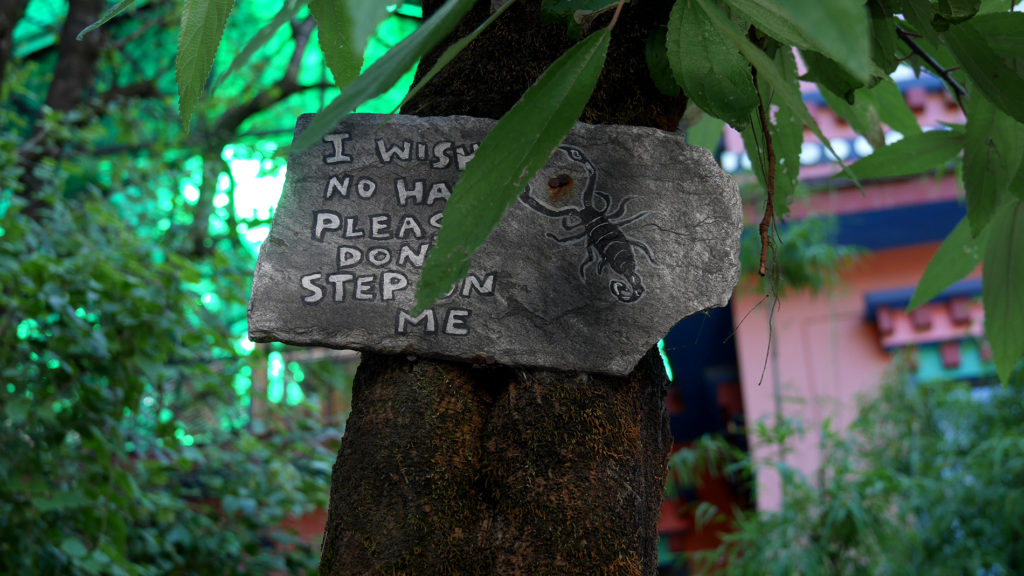 Morning yoga
For a few months we have managed to do morning yoga on a regularly irregular basis. But for the first time on this journey we went on a yoga class instead of practicing on our own. In fact, this was the first yoga class ever for Seri!
Ram's Yoga House had a nice yoga room in the roof top with an amazing view. Sometimes our yoga practice got interrupted by loud monkeys jumping on the roof. The yoga class lasted almost two hours and was very physical compared to the practice we normally do. We could totally feel our muscles the next days.
Tibetan massage
What better way to treat your sore muscles from 2,5 months intensive traveling (and the yoga class…) than having a massage! Not only once or twice, after a long bus ride or some hike, have we been dreaming about a proper massage. On our journeys we like to try different style of massages and now it was time to try the Tibetan one. We really enjoyed our traditional one-hour massage in Yavana Massage Studio, which was also the most budget friendly option in town. They seem to be quite busy, so better to book in advance.
Hiking in nature
Triund Hill
The most popular hike in the area is the Triund Hill hike. We did it last time, so now we decided to take it easy and just did some small walks around Mcleod Ganj.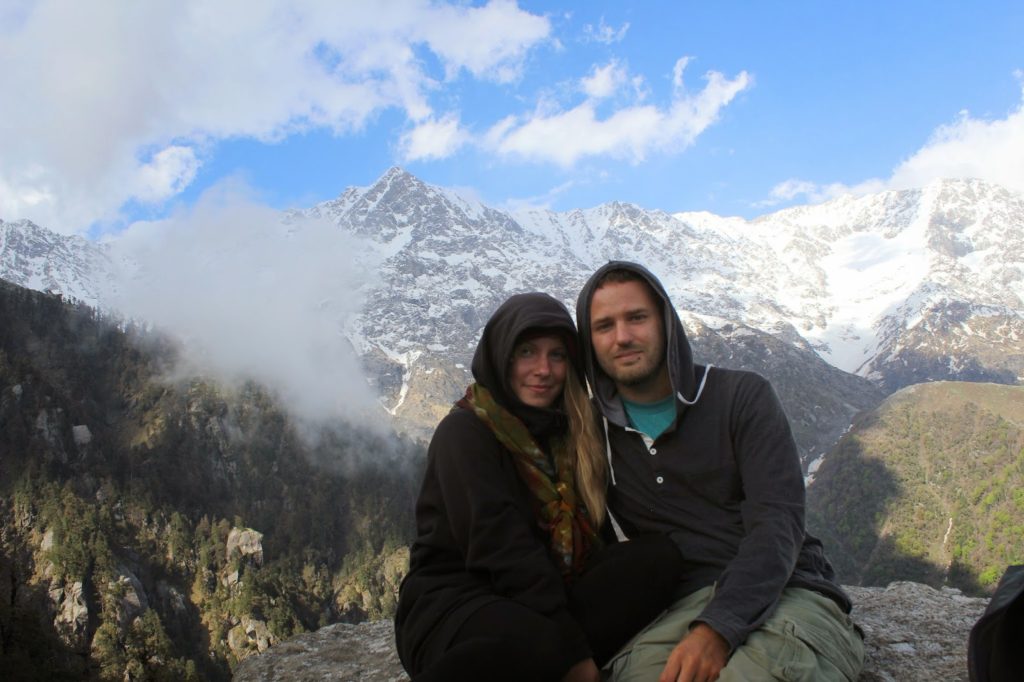 The Bhagsunag Waterfall
The first two days it was gray and rainy, but on our third day in Dharamsala the sun was shining. We were motivated to get out and walked to the Bhagsunag Waterfall. The walk there took maybe an hour, including a break at a small Hindu temple on the way.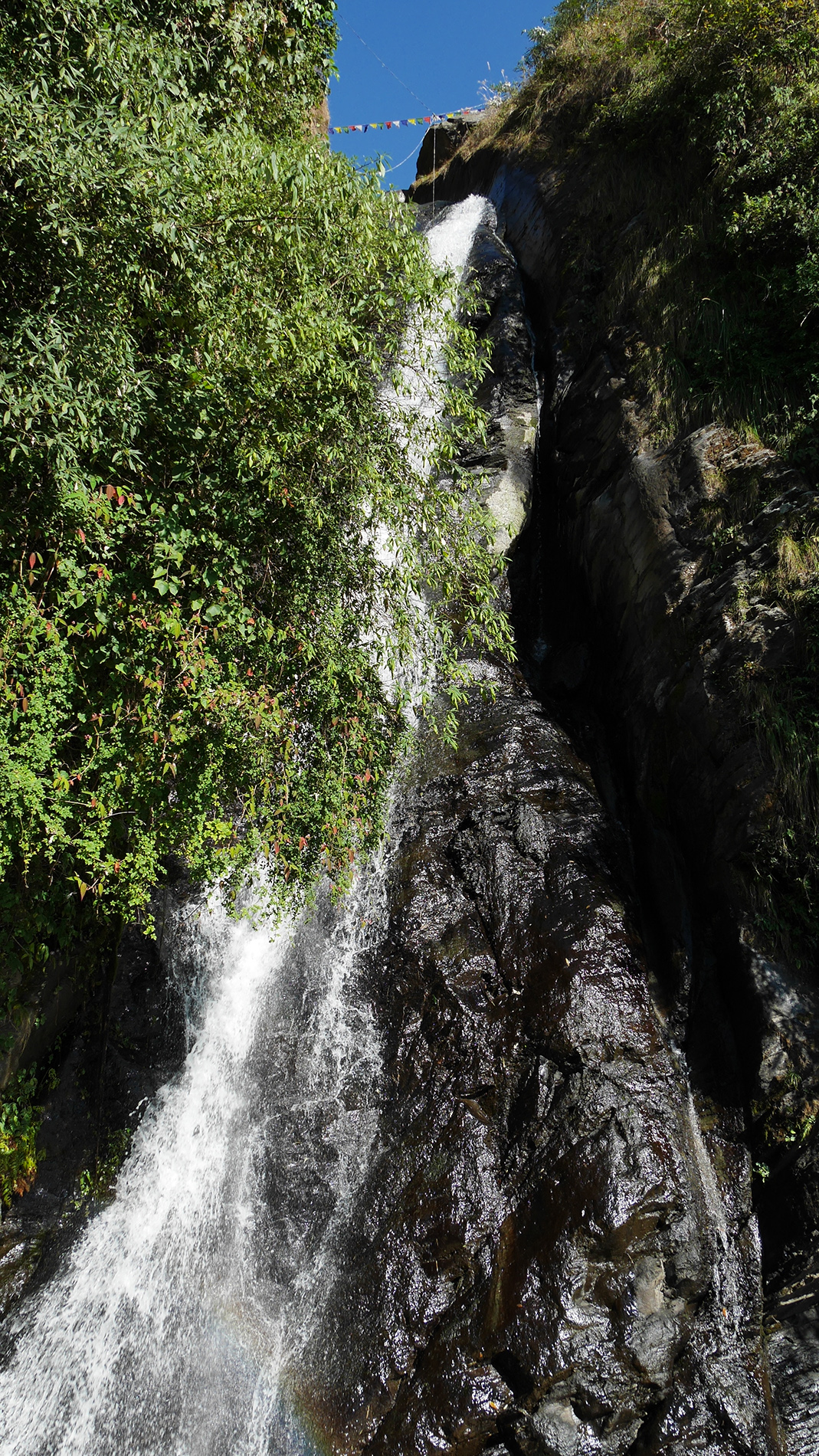 The waterfall was nice, but the place was packed with tourists. It got a bit better as we walked further from the most popular hang-out place. There were many small cafes on the way but the one on top of the waterfall, Shiva Cafe, was the most atmospheric one in our opinion. Nearby the waterfall there was also a small shrine.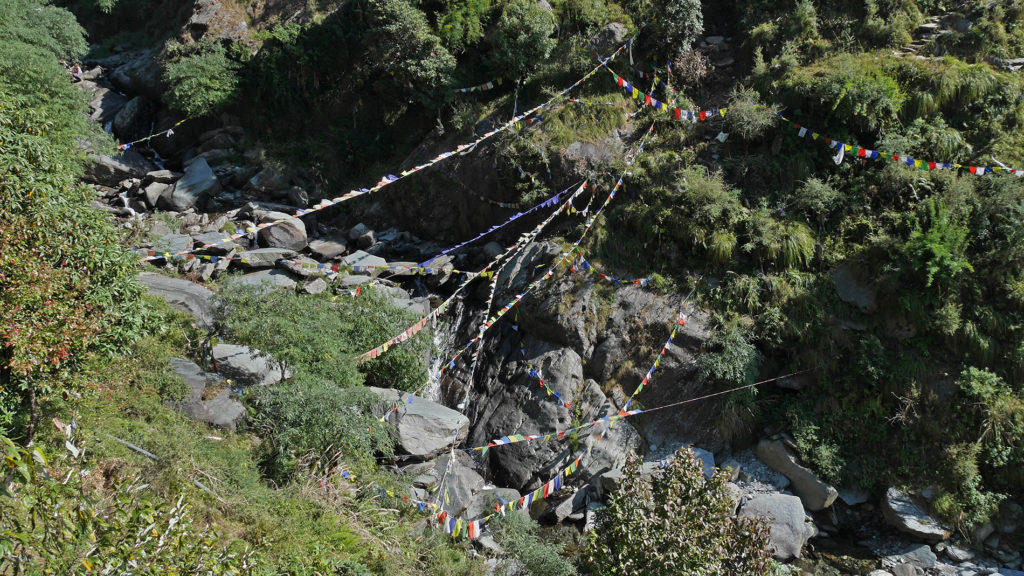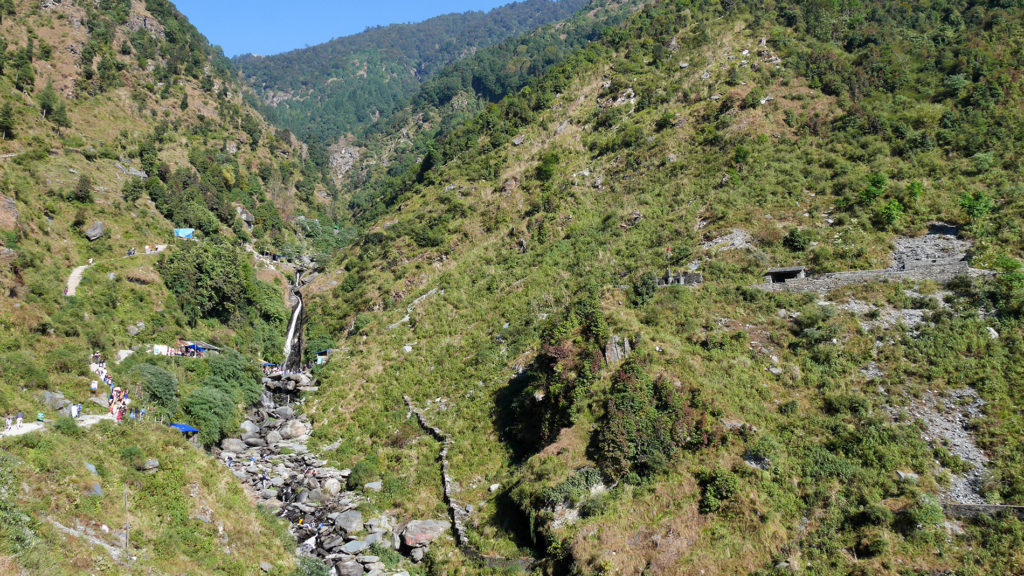 The way to Dal Lake
After our meditation session in Tushambe, Magda showed us a nice path leading to the forest. After following it for a while, we came to a forest shrine, where there were hundreds of prayer flags hanging from the trees.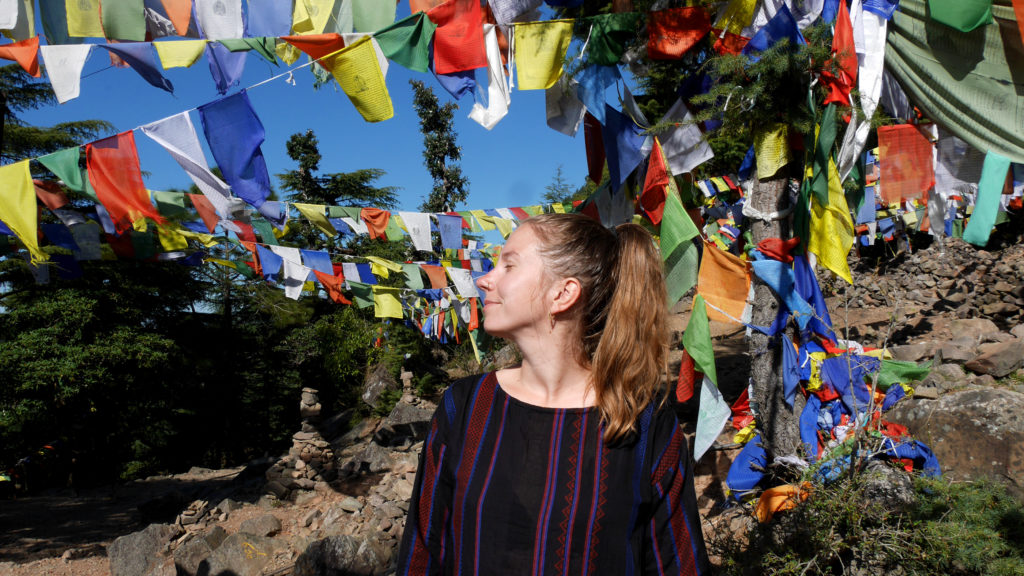 From here we continued our way to the Dal Lake. The lake is considered sacred, but for us it didn't seem too special. Because of the nice walk in the woods it was totally worth going there, though.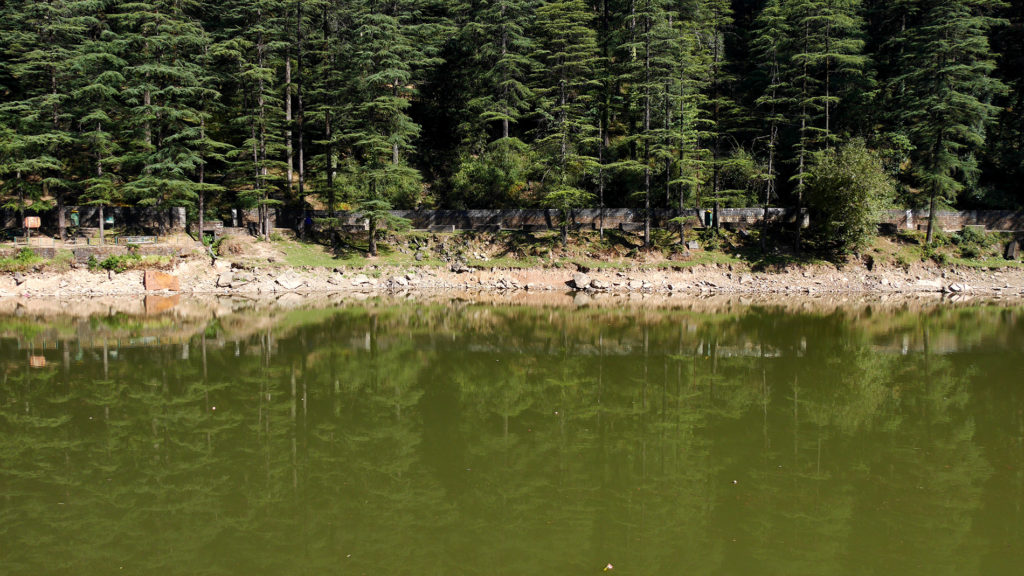 On the way back we walked along the road, which was not as pleasant, and got into a fight with each other, but at least we saw some nice black and white monkeys.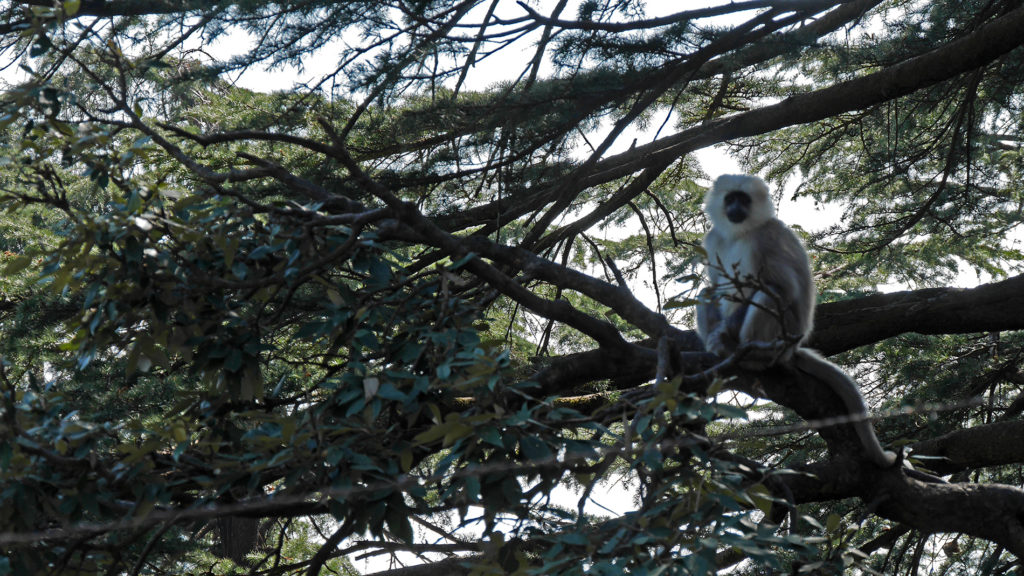 Food for Tibetans and tourists
Being a tourist place, Mcleod Ganj can offer almost any type of food. We enjoyed plenty of Tibetan food, mostly momos that are sold cheap (around 40 INR / 0,5€ for 8 piece) on the streets. Also, the Four Seasons Cafe and the Common Grounds Cafe (among many others) offer good Tibetan and Asian food in general.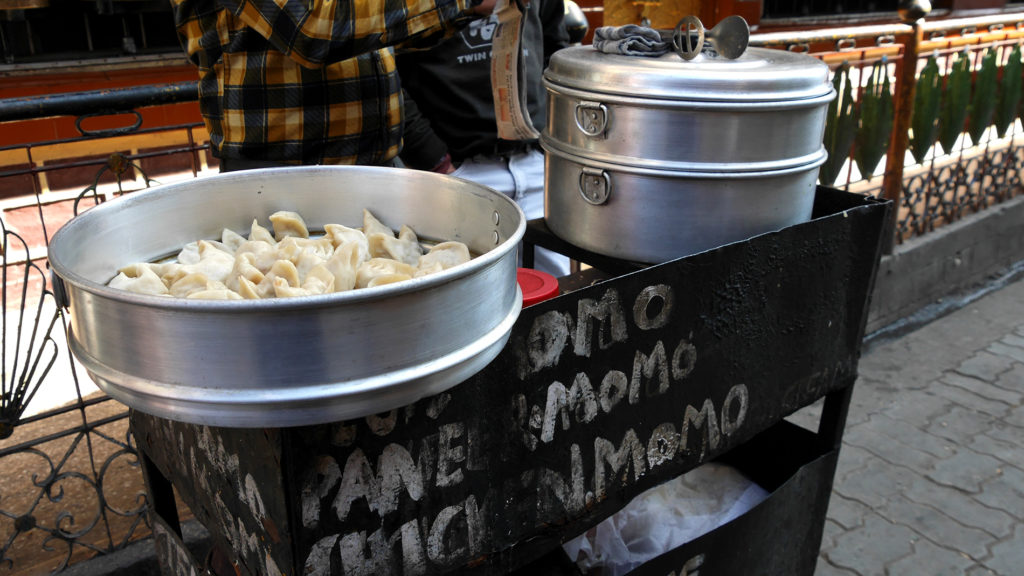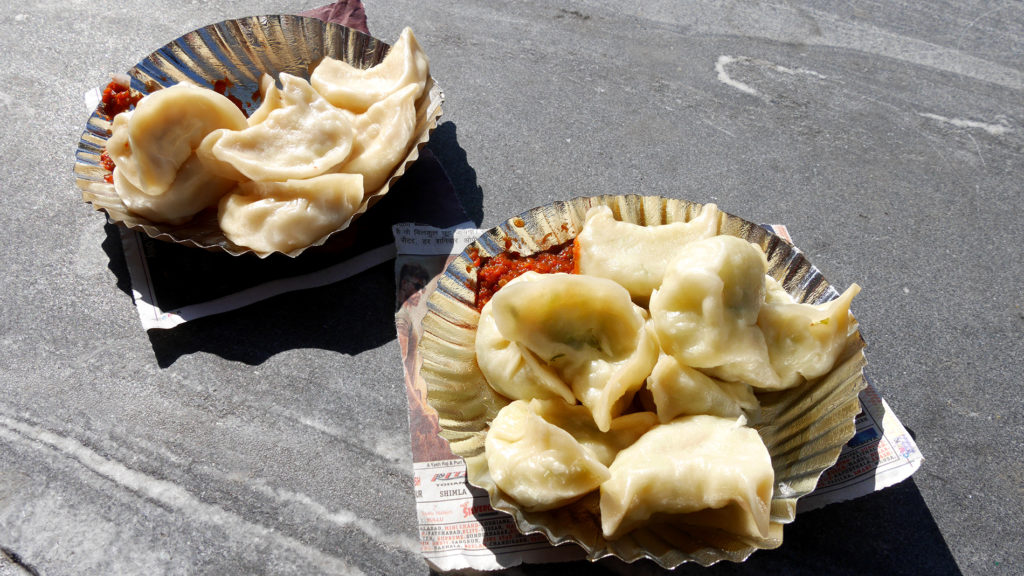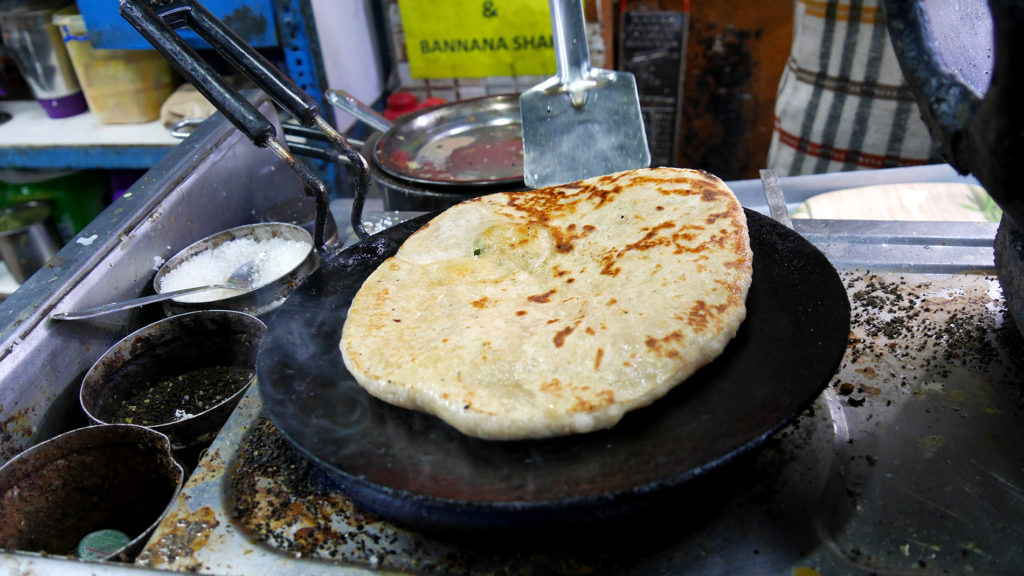 Already before arriving to Dharamshala, we had decided to have some pizza at Om Cafe, still remembering it being yummy from the last time. They also serve porridge and huge fruit and granola bowls for breakfast.
Almost every cafe and restaurant in McLeod Ganj offers Johanna's favorite drink (besides spritzer): hot lemon-ginger-honey. When we drink it at home, we often think of Dharamshala. And now, here we are again.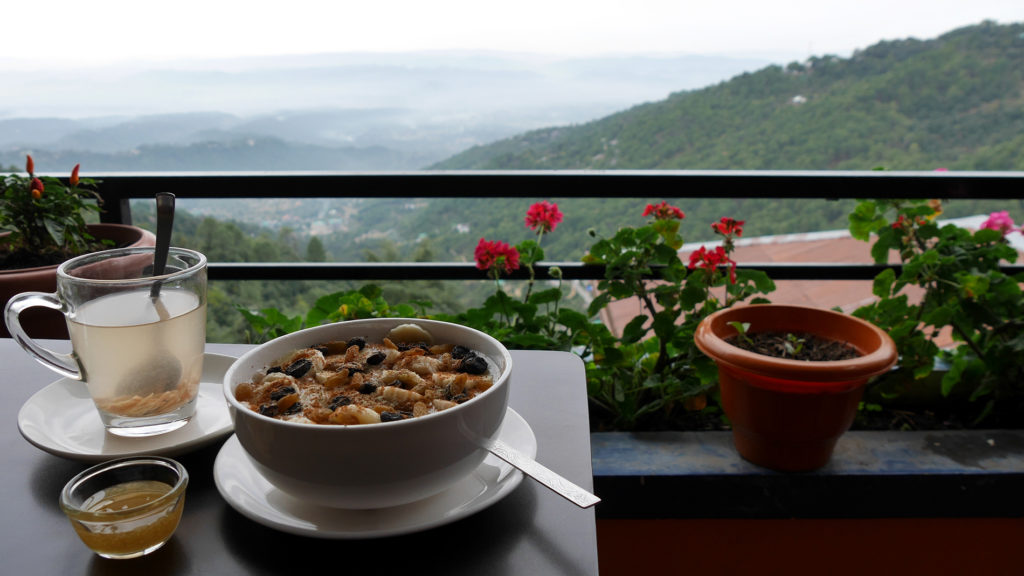 The Tibetans in exile
Besides all the spiritual / hedonistic activities we found ourselves taking part in in Mcleod Ganj, one of the most important activities was to visit the Tibet museum. This museum tells the Tibetan perspective about the history and the current situation in Tibet under China's rule. What happens in Tibet is hard to comprehend. China's actions there has led to many Tibetans trying to escape their homes. Many of those who were lucky enough to get out of their home country alive, exiled to Mcleod Ganj.
While we visited the museum, there was a screening of a documentary. Brave people with blurred faces and altered voices were telling their horrifying stories to the camera, scared to lose their lives if being exposed.
We have just traveled in Xinjiang where social and cultural conflicts led into complete suppression by the Chinese government. In Tibet, things haven't been any better for decades. This makes us feel sad and angry, yet so powerless at the same time.
Time to leave Dharamshala
We stayed a few days longer than intended in Dharamshala. After five nights we decided to move on, but we didn't want to leave Himachal Pradesh yet. Therefore, we chose to travel to another hill station, Palampur, which was going to be a new place for us.