In Jaipur, on our guesthouse's wall, there's a painting that says: Don't make plans for India because India already made plans for you. This couldn't have described our stay in Jaipur any better. Our initial plan was to do one quick sightseeing day in the "pink city" and then continue our way to Pushkar and Jodhpur. Well, we ended up staying five nights with some special program. We attended a wedding, battled with monkeys and extended our stay for a rare opportunity.
Jaipur – in the essence of India
Jaipur is the definition of an Indian city. The streets are very hectic, filled with honking horns, rickshaws, cars, trash eating cows and goats, street vendors and beggars. The buildings are beauuutiful, telling stories about the ancient Maharajan times, and there's a temple on almost every corner.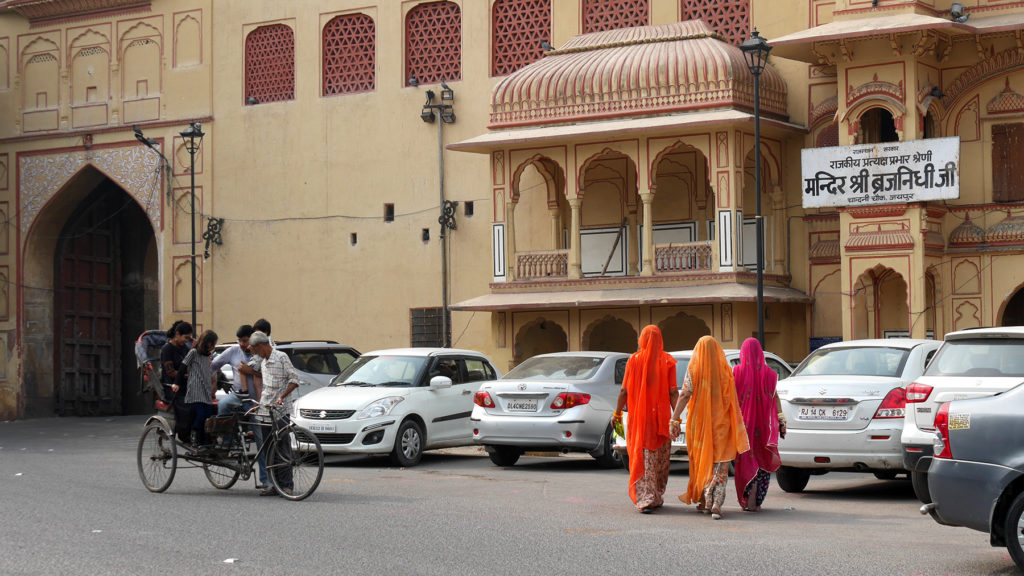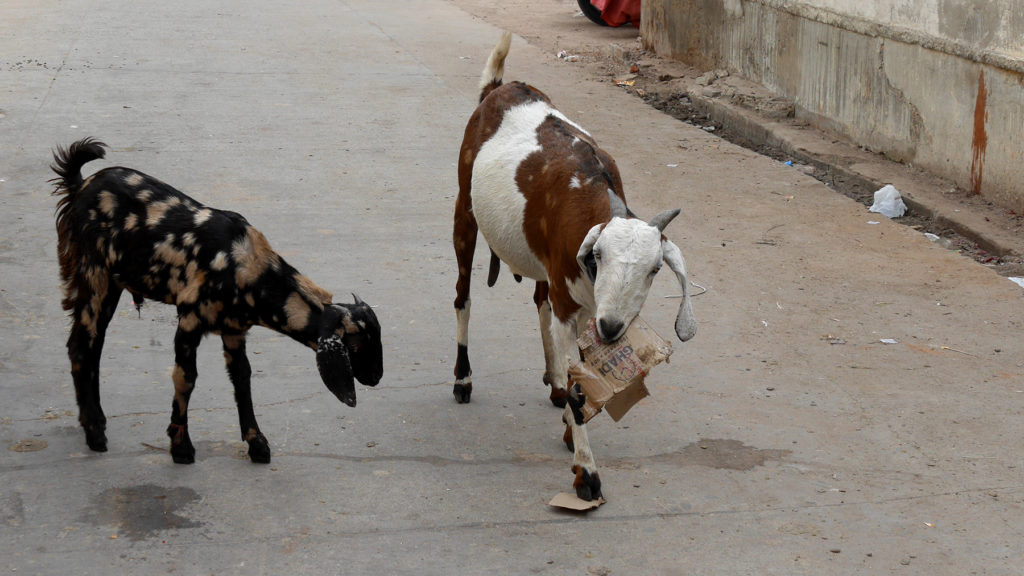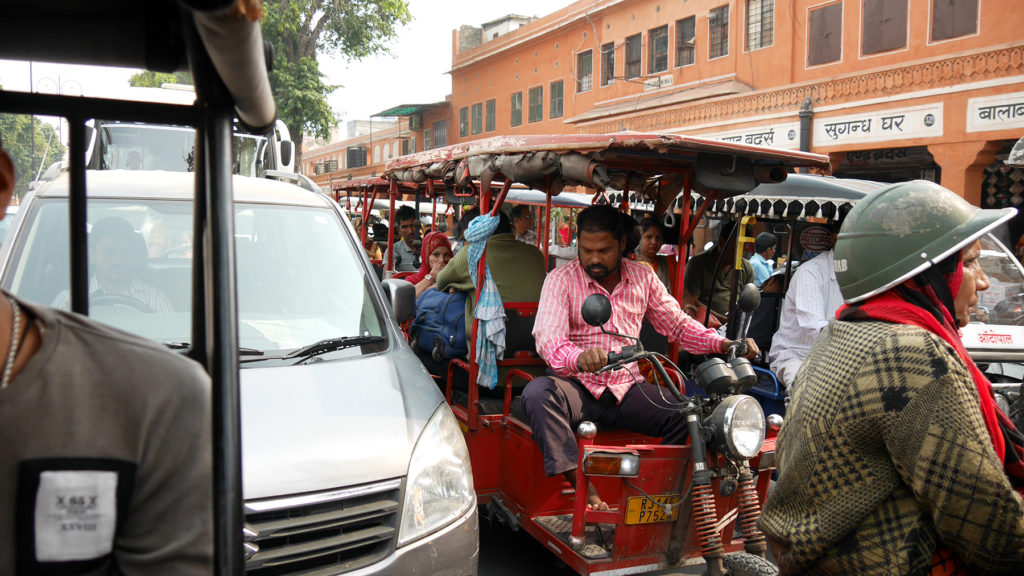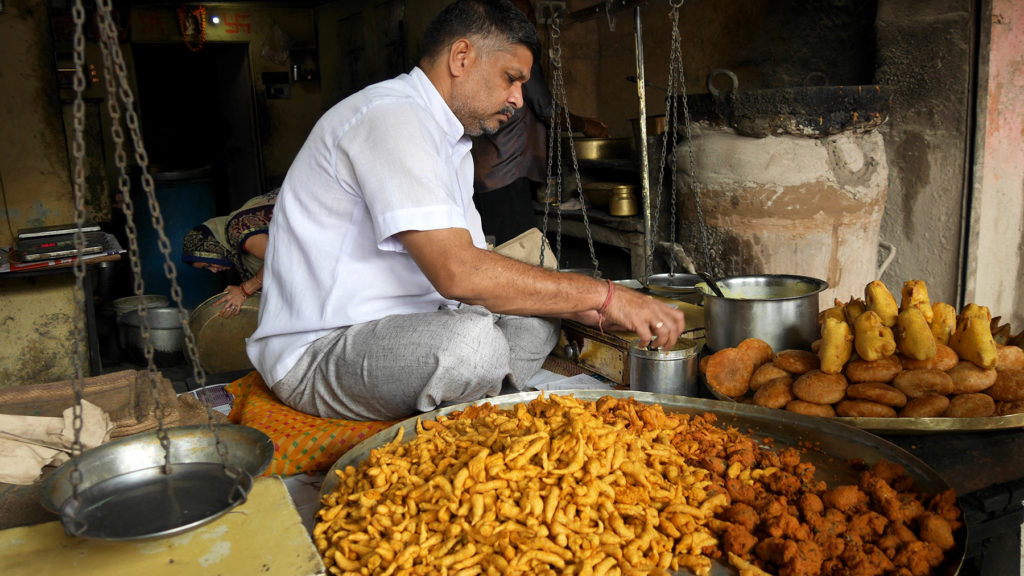 Literally every kid on the street is greeting us and we've met many super friendly adults too. But here we've also had the feeling, first time on this Indian trip, that we must be very careful on who we trust. The rickshaw drivers are the worst and most of them didn't seem to have any idea where we wanted to go, either.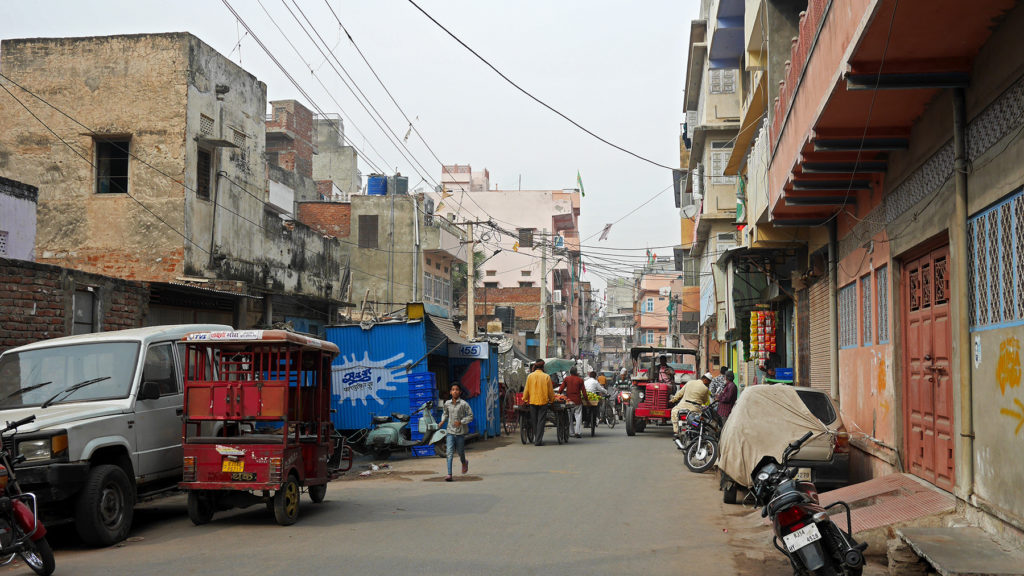 We picked a nice family run accommodation, Chalo Eco Hostel, in the Muslim area of Jaipur. Being not one of the typical tourist areas, the people in the neighborhood were very friendly and not pushy at all. We enjoyed our stay in Jaipur, but it was great that the hostel had a peaceful rooftop. There we could have a time out from all the hassle, watching the kids on the rooftops flying their kites and listening to the mesmerizing prayer calls of the surrounding mosques.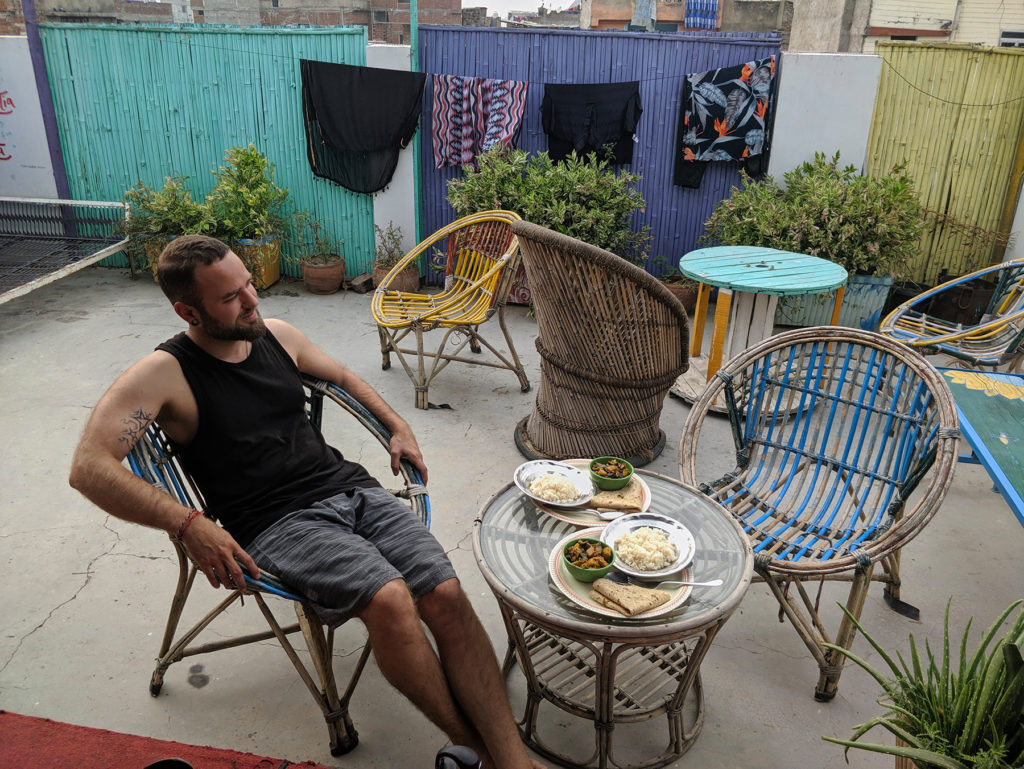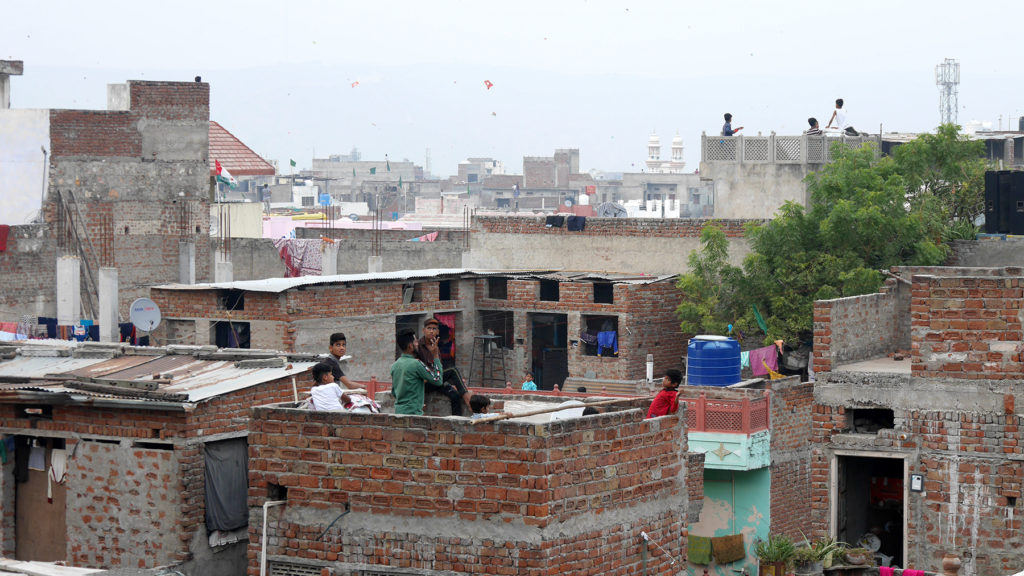 Our first evening in Jaipur
On our way from Pathankot to Jaipur we broke our first awesome 10.000 kilometers on the road! That was something we had to celebrate! Because our train to Jaipur was five hours delayed, we didn't have much time to do anything else on that day. Especially because we spent some hours cruising around the city with rickshaws that went to wrong places and tried to claim extra charge for that.
Before our dinner Seri brought his OnePlus phone to the brand's store for a battery change. There are no OnePlus stores in Europe, so this was a good place to do it and to get a new original battery for less than 8 Euros.
We had our celebration dinner at the Hawk View restaurant. It was a nice, atmospheric rooftop restaurant with good food and very reasonable prices. Don't let it scare you that it is located on top of a Sheraton Hotel. This hotel didn't seem to have much to do with the actual five-star Sheraton Hotel chain… Finally, finally, we got the first Kingfishers Beers on this trip! But we were so tired that our celebration ended before ten, after a small beer each and a shared thali.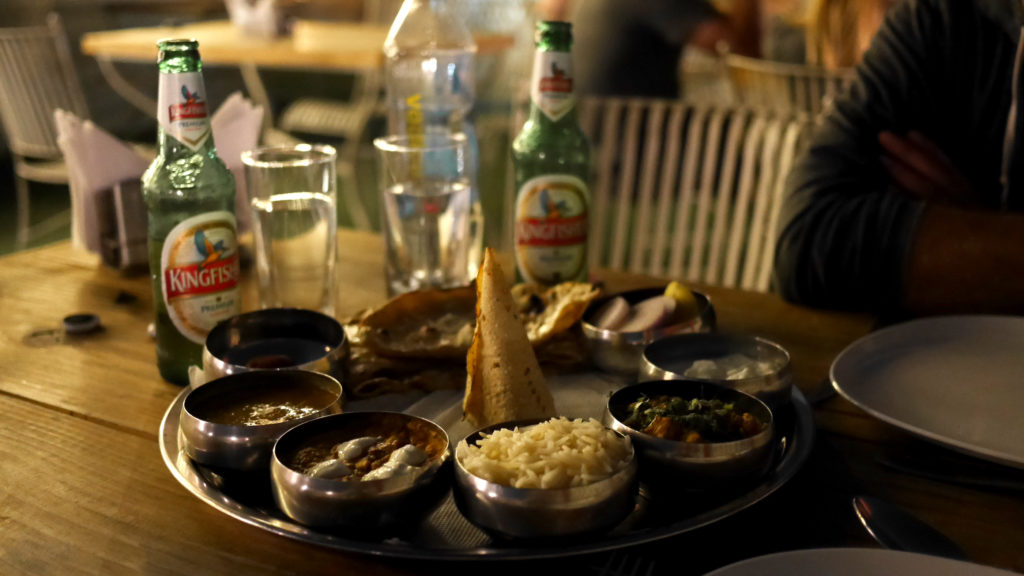 A day full of sightseeing
On our first morning in Jaipur, we woke up thinking that we were going to continue our journey the next day. There's a lot to see in Jaipur so we decided to pack many sights to one day.
The Palace of Winds
We started our day by walking to the Palace of Winds. It has a gorgeous facade with dozens of beautifully decorated windows. It was built for the women of the palace so that they could see what's going on in the streets without having to cover themselves. We went for a chai to a rooftop of one of the tourist cafés opposite the palace to get better views.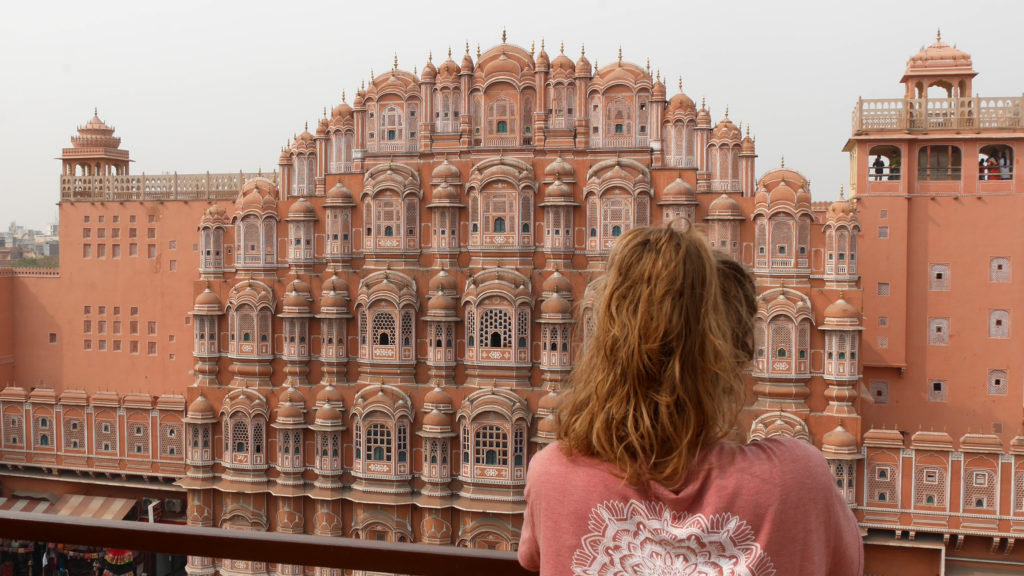 Jantar Mantar
Jantar Mantar is a collection of huge astronomical instruments. The place was built by the founder of Rajasthan in 1734 and it features the world's largest sundial. For us this was an interesting place to see, even though we didn't quite understand how to use these instruments for measuring time or the distances of celestial objects.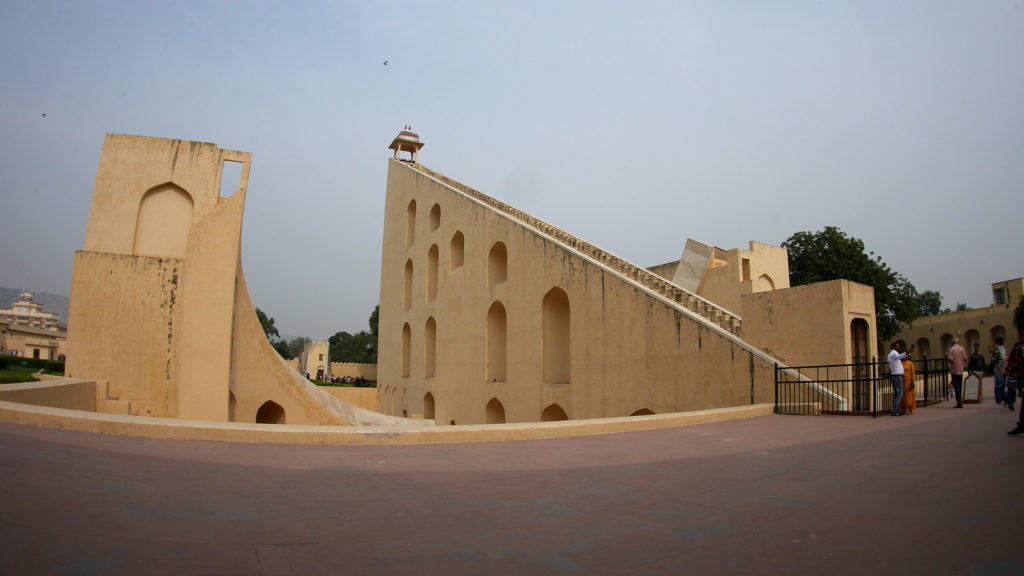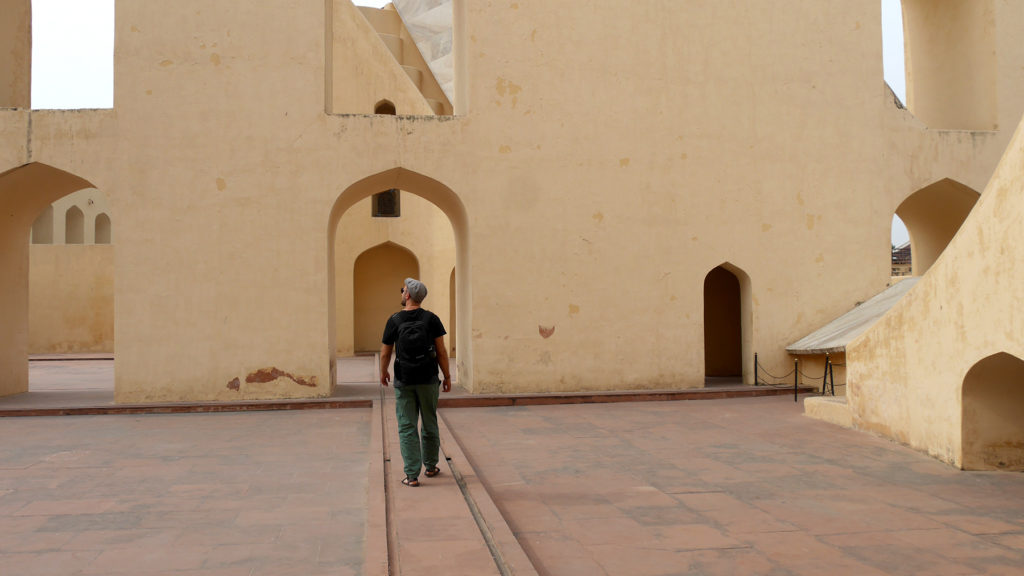 The Hanuman Temple
After having a struggle with our rickshaw driver, once again, we finally reached the Hanuman Temple a bit out of the city just before the sunset. Perhaps this was the best time to visit. The darkening evening and the squeaking and yelling of the monkeys that the ancient temples were infested with, created a magical, almost eerie atmosphere.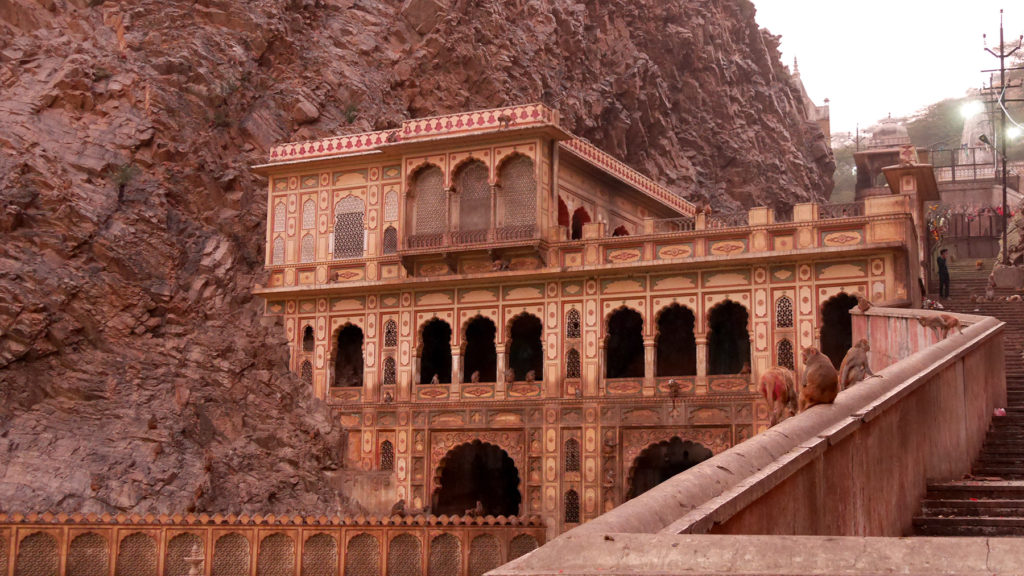 There must have been hundreds of monkeys living in the temples and they didn't seem to fear humans at all. It was the other way around. After one monkey grabbed Seri's leg, another jumped on his backpack and one tried to steal the camera from Johanna, we got a bit scared of them. We didn't want to get bitten by one (or hundreds). But as a group of young backpackers showed up, we grouped up close together and made it all the way to the top. In our opinion, this was one of the most special Hindu temples we've seen.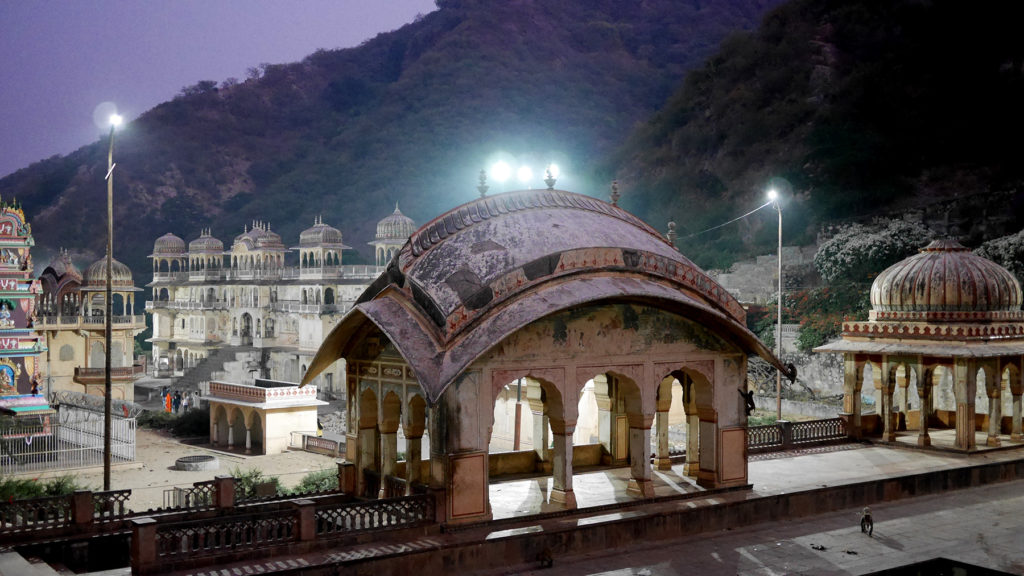 A serious question
When we got back to our guesthouse, ready to pack our stuff and leave the next morning, we heard that the guesthouse's manager wanted to talk to us. O-oh, what have we done?! It turned out he just wanted to ask if we were interested in acting as extras in a Bollywood film the next day. Of course, we were, but it meant changing our travel plans (with already booked trains and guesthouse). After ten minutes of brainstorming we decided to do it! This was something we were really interested to experience – especially as Johanna has worked in TV-industry in Finland for some years.
Later it turned out that they are looking for 20-22 years old white people. As we are a lot older, we thought that the whole thing would screw up and went back to our original travel plans. Surprisingly, judging from our pictures, they thought we looked young enough and gave us the part.
After all, the production was not a movie but a music video, which was shot in two days. These two days were a lot of fun. We got to know a friendly and professional Indian film crew, some famous actors and dancers and also ended up doing some things in front of the camera that we would have never imagined to do in public (nothing perv, though 😀 ). We will tell you all about our days in the set of a Bollywood music video production in the next post!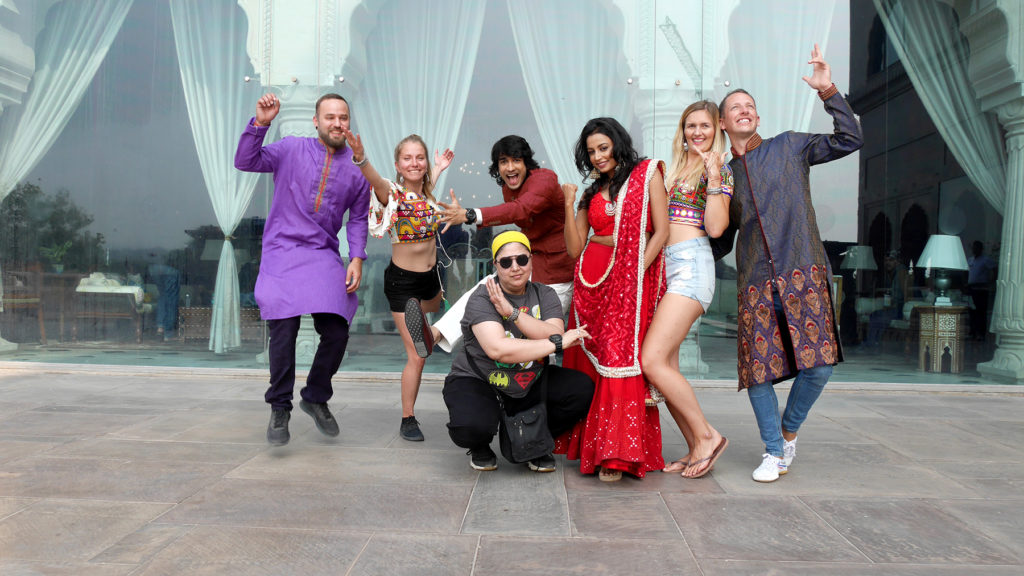 Another day of surprises
Visiting a gemstone workshop
As we were having a breakfast at our hostel and having a chat with the hostel manager's brother, Salim, it turned out that the family also runs another business: gemstones. As we got fascinated by the topic, Salim promised to take us to the workshop and show us how they work on the gems.
We all three hopped on Salim's motorbike and drove to the workshop. There we got some chai and saw how the raw stone turns into the polished gemstones we see in jewelry. The stone goes through several man-powered machines and great attention to detail is needed. It was interesting to see the process and made us realize how much work there is done before the gemstone looks like it often does in the shops.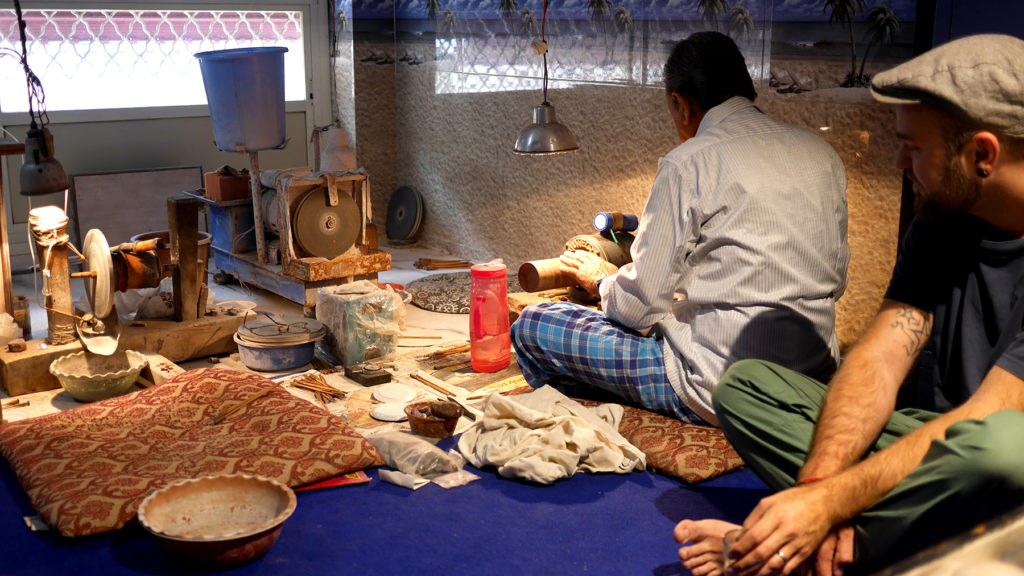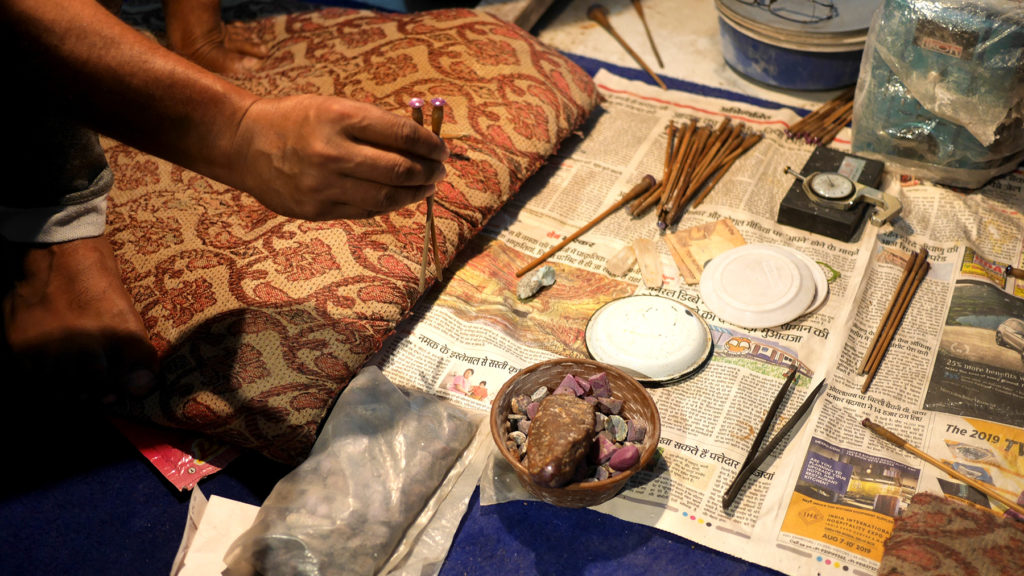 Search for a missing person
After our visit to the gemstone workshop Salim asked us if we were in a hurry or if we had time to stop by at his friend's place. He had told us about this friend already before. He was an Indian man who had an Austrian friend some thirty years ago. She lived at his place for three months. After that they stayed in touch for a long time but at some point, the contact was lost. We promised to snoop around latest when we get back home if we could somehow find this person and her contact details.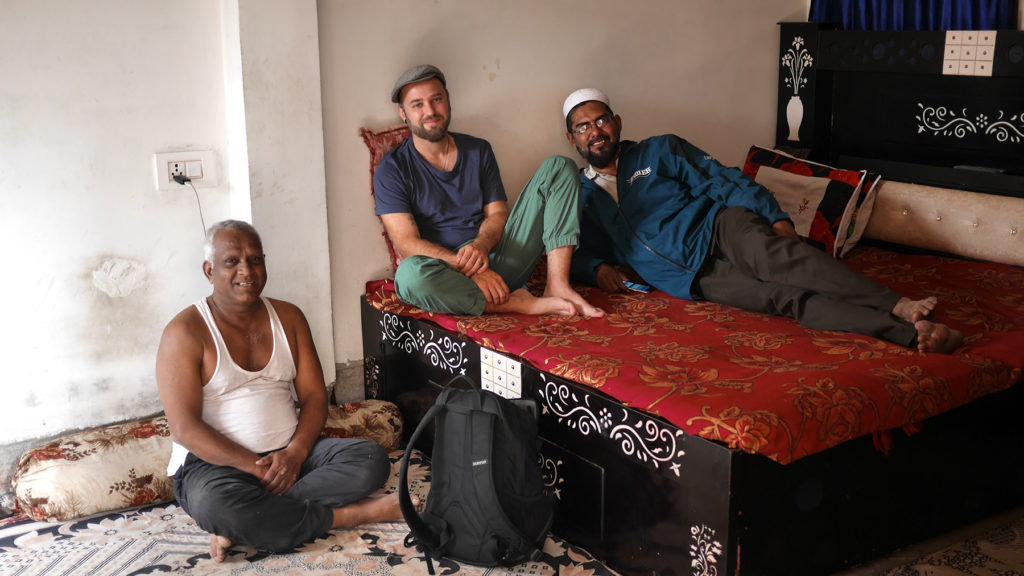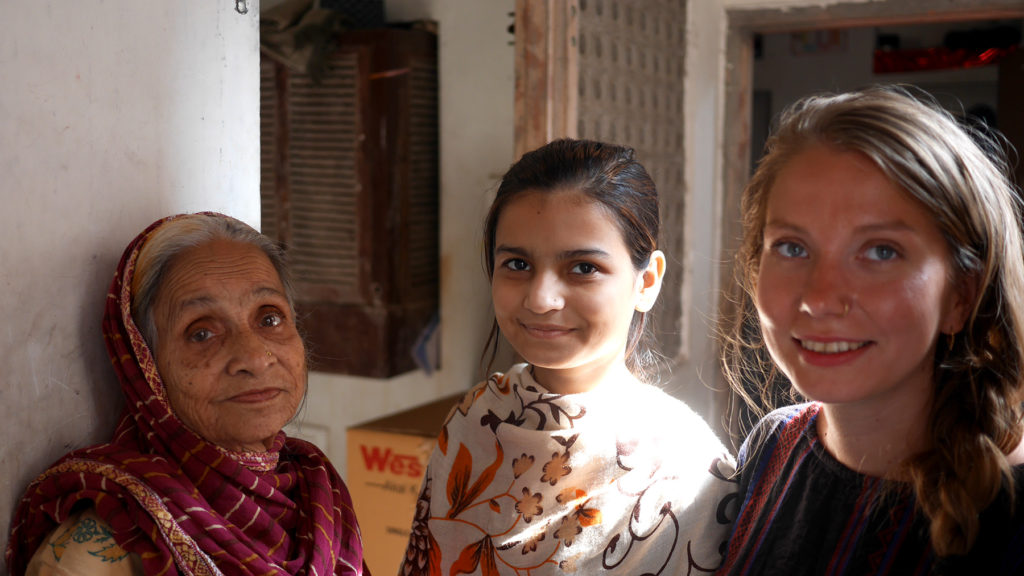 Attending a Muslim wedding
During the visit at the friend's place, Salim mentioned that he was going to attend a wedding in the evening. We asked if we could join him and he said we are more than welcome. It's the wedding season in India. Every evening during our stay in Jaipur we've heard some wedding parties and seen fireworks being lit up all around the city. The fireworks mean that the groom has arrived to the party.
In the evening Salim picked us up. We were three people on one motorbike, classic Indian style. Luckily Salim was a very careful driver and probably the only one in the country who is using the horn only when it's necessary. The wedding took place in the outskirts of the city and on the way, we passed several other parties. The drive there was longer than we had expected. On the way we stopped to buy a card and an envelope and put a little bit of money in as a present for the wedding couple.
When we arrived, we heard that the groom hadn't arrived yet, he was late. Most of the guests were family but the concept of family is here a bit broader… There were hundreds of guests. Salim introduced us to many of them. Then we got some food from the buffet but as vegetarians we had to skip most of the items.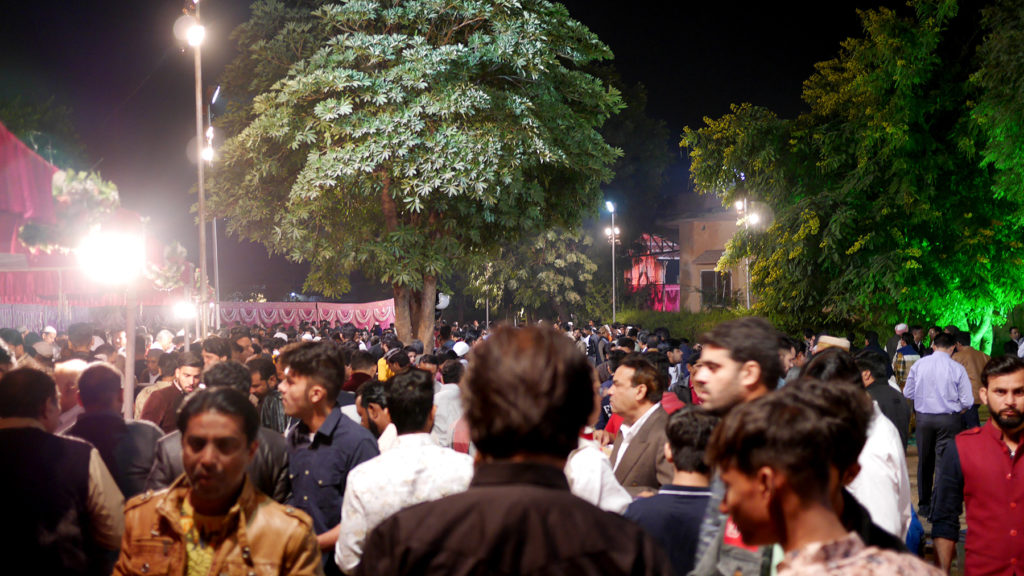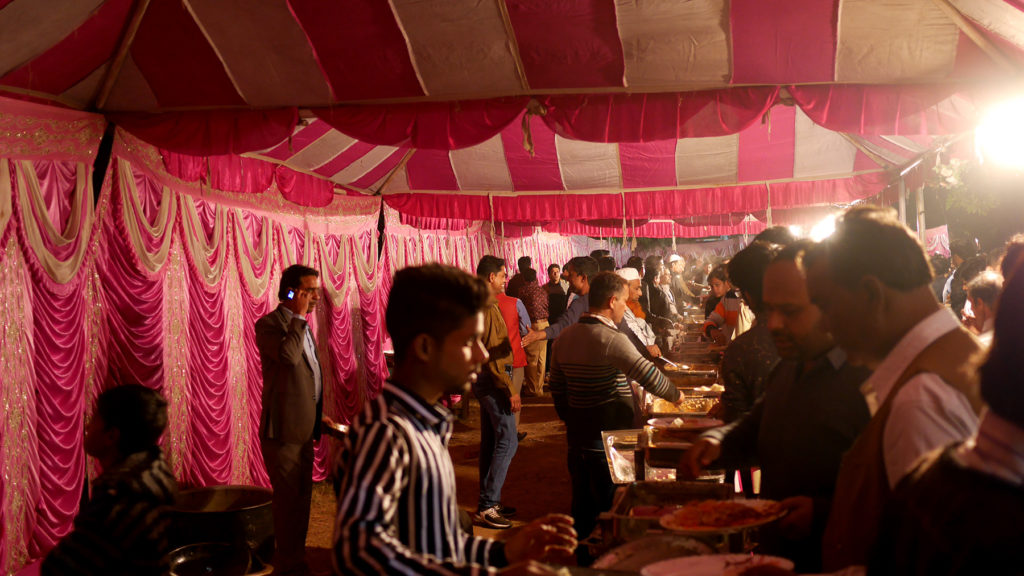 After eating Salim offered to Johanna that she could have a look at the women's side and then come back. Johanna did a small round at the women's side while Seri and Salim continued to chat with the men and drink milk coffee. She had some small talk with a few women and took photos of kids who requested it. It still felt a bit awkward to hang out there alone, without even knowing who's wedding it is, so soon she came back.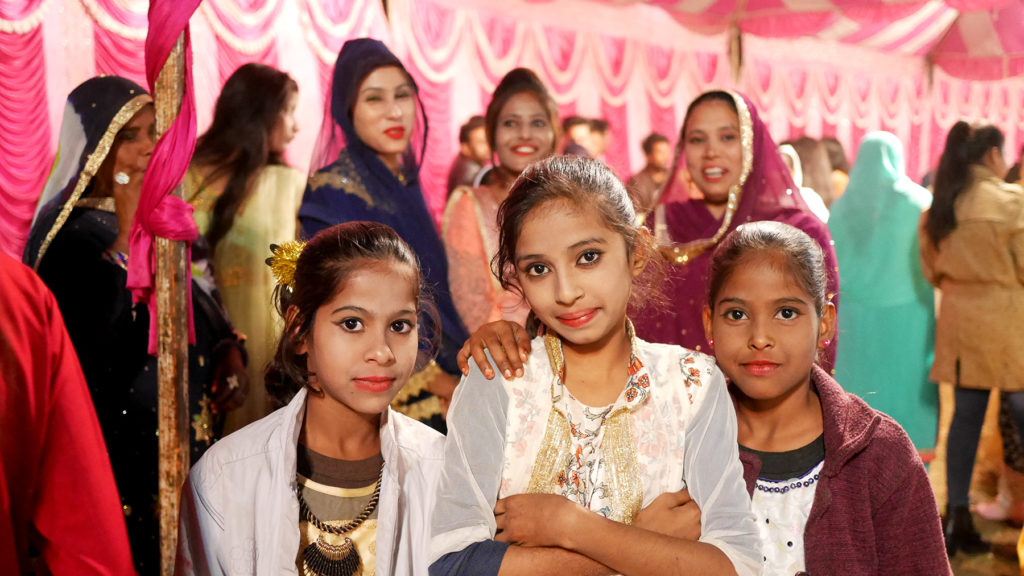 After a while Salim asked again if Johanna would like to go over to the other side and talk to the bride. Finally, we got the message, and Johanna went awkwardly back to the other side. The bride was not very talkative. Johanna stayed at the other side until she was surrounded by little boys, of whom one who was probably not even ten years old, told her that he would like to fuck her. After two hours we left the wedding as the groom had still not arrived. Many others had done so already before us, so we hope there were at least some people at the party when or if the groom ever arrived.
Good Ride Stories goes Bollywood
The evening before our carriers as Bollywood stars were about to begin, we were quite excited. We didn't know at all what to expect and what we would need to do there. We got a small list of clothes etc. that we would need at the set and prepared that still before going to bed. Our driver was supposed to pick us up at seven the next morning to bring us to a glamorous five-star hotel where the filming was going to take place…