Pushkar is an ancient, sacred city with a holy lake in the middle of India's desert state Rajasthan. The city being sacred meant that there were dozens of Hindu temples. Holy men bathe in the ghats of the lake and perform rituals. Cows decorated with flowers or colorful fabrics walk freely on the streets. Chanting from a temple or music from a religious happening is echoing on the streets constantly. The city is a vegetarian's dream but an alcoholic's nightmare: alcohol, meat and eggs are strictly prohibited within the city center by law. We enjoyed the sacred, mystical aspects of the city. But almost straight after arriving in Pushkar we couldn't help but wonder: is the city more sacred or more commercial? Until now, we hadn't seen as touristy place in India.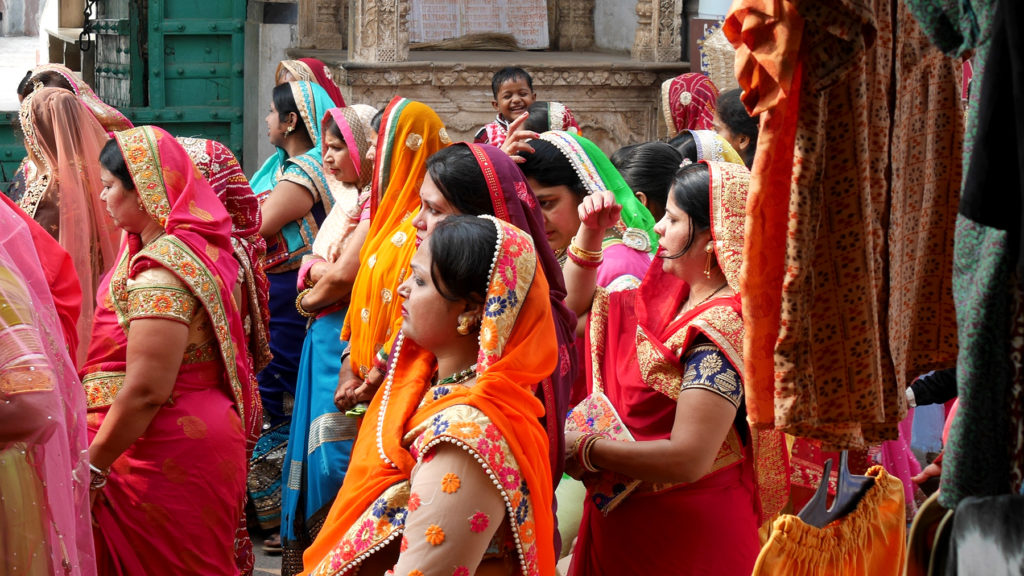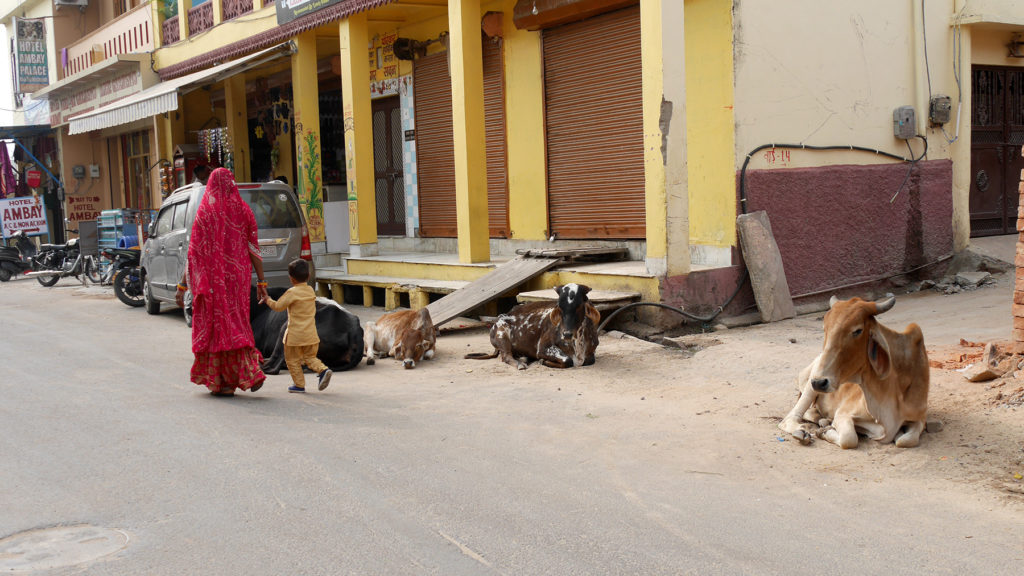 Arriving to Pushkar
When we arrived, we were positively surprised of our hotel. The Kanhaia Haveli, in an old palace-style house, was the most beautiful and at the same time one of the cheapest accommodations (500 rupees for a room with bathroom / 6 euros) we have stayed in in India so far. It even had a lovely and lush rooftop terrace from where we could see almost the whole city an all its temples.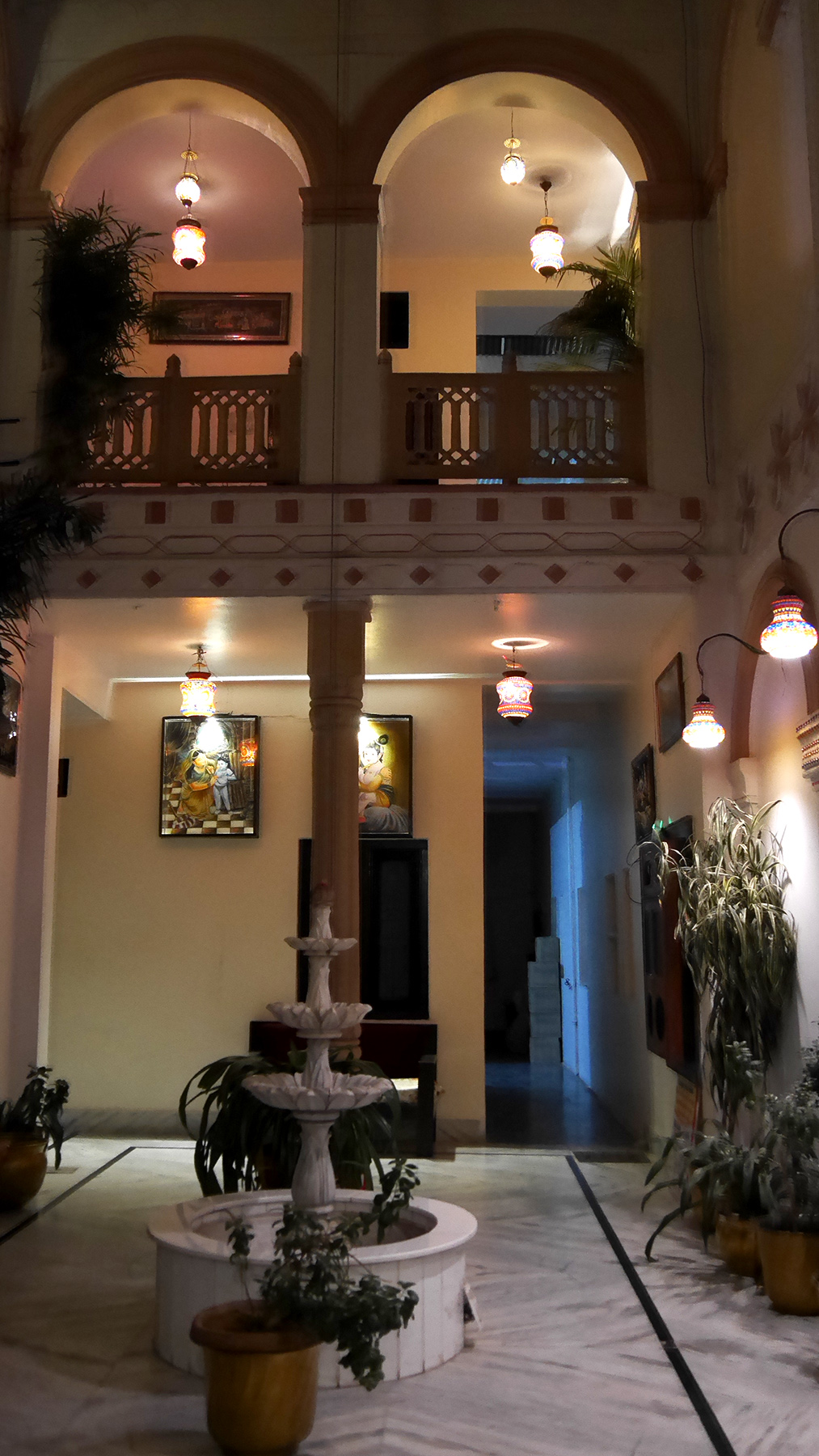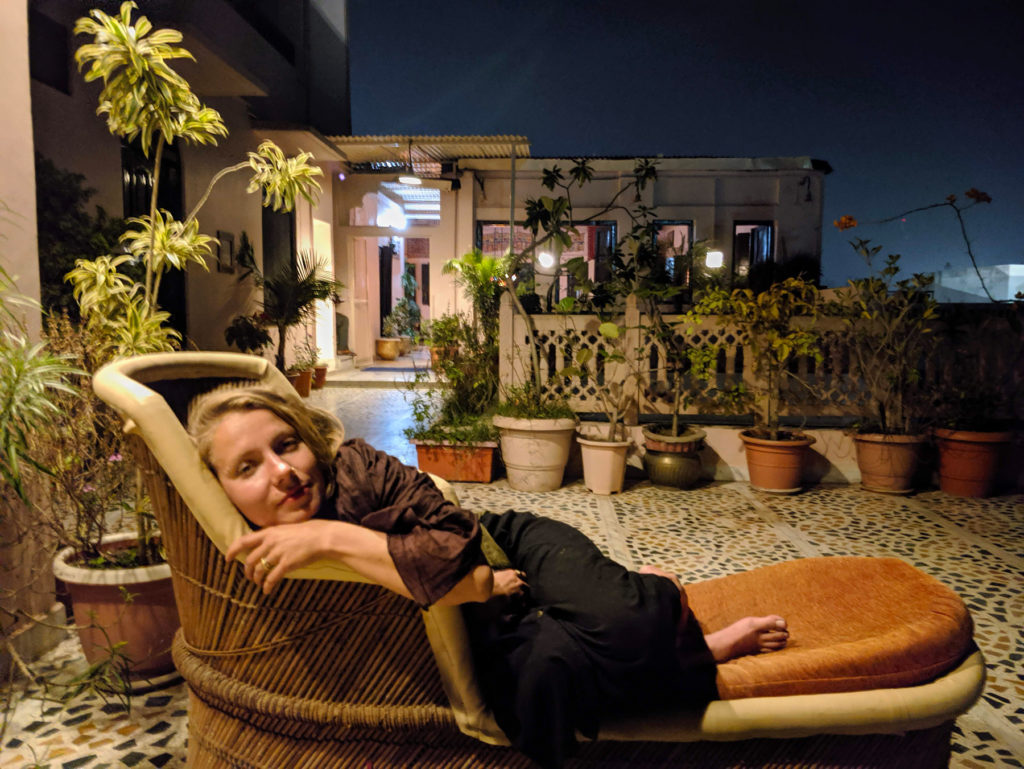 We were a bit exhausted because of our surprising Bollywood acting career that we had been working on in Jaipur the last two long days. Therefore we were happy to learn that there are not that many "must see" things in Pushkar. Just visit some temples and the holy lake, that's about it.
Visiting the temples of Pushkar
We decided to visit the Brahmaji temple, which is apparently the most special and popular one in town. It's dedicated to Brahma. This Hindu god is believed to be the creator of the universe, so it's a little surprising that there are only a couple of temples dedicated to him in the world. Taking pictures was strictly prohibited inside Brahma's temple but we can tell you: it was intense colorful.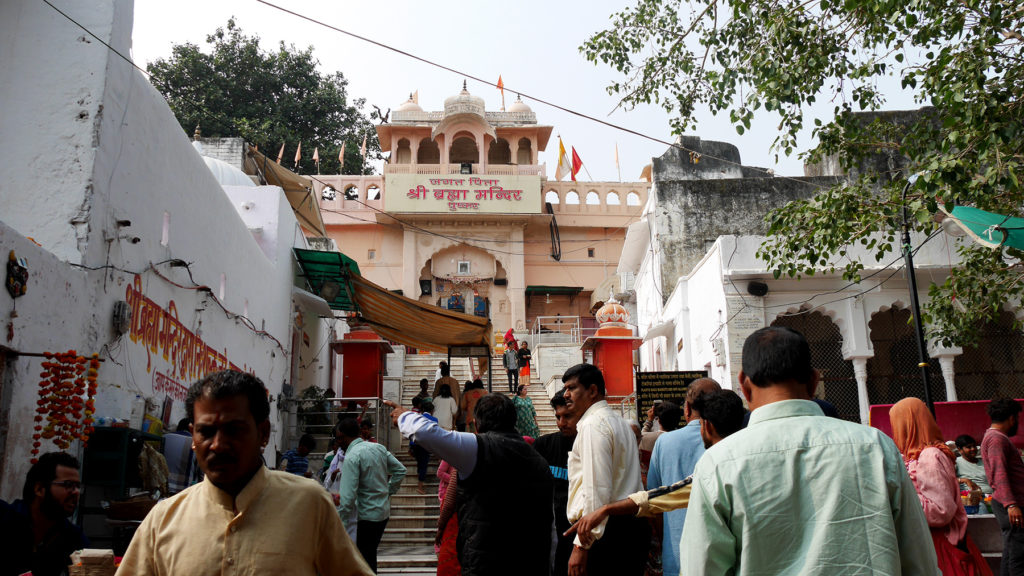 We also tried to visit the Rangji temple, but foreigners were not allowed to enter. But alone the huge, beautiful, turquoise door leading to the temple's courtyard is worth seeing for.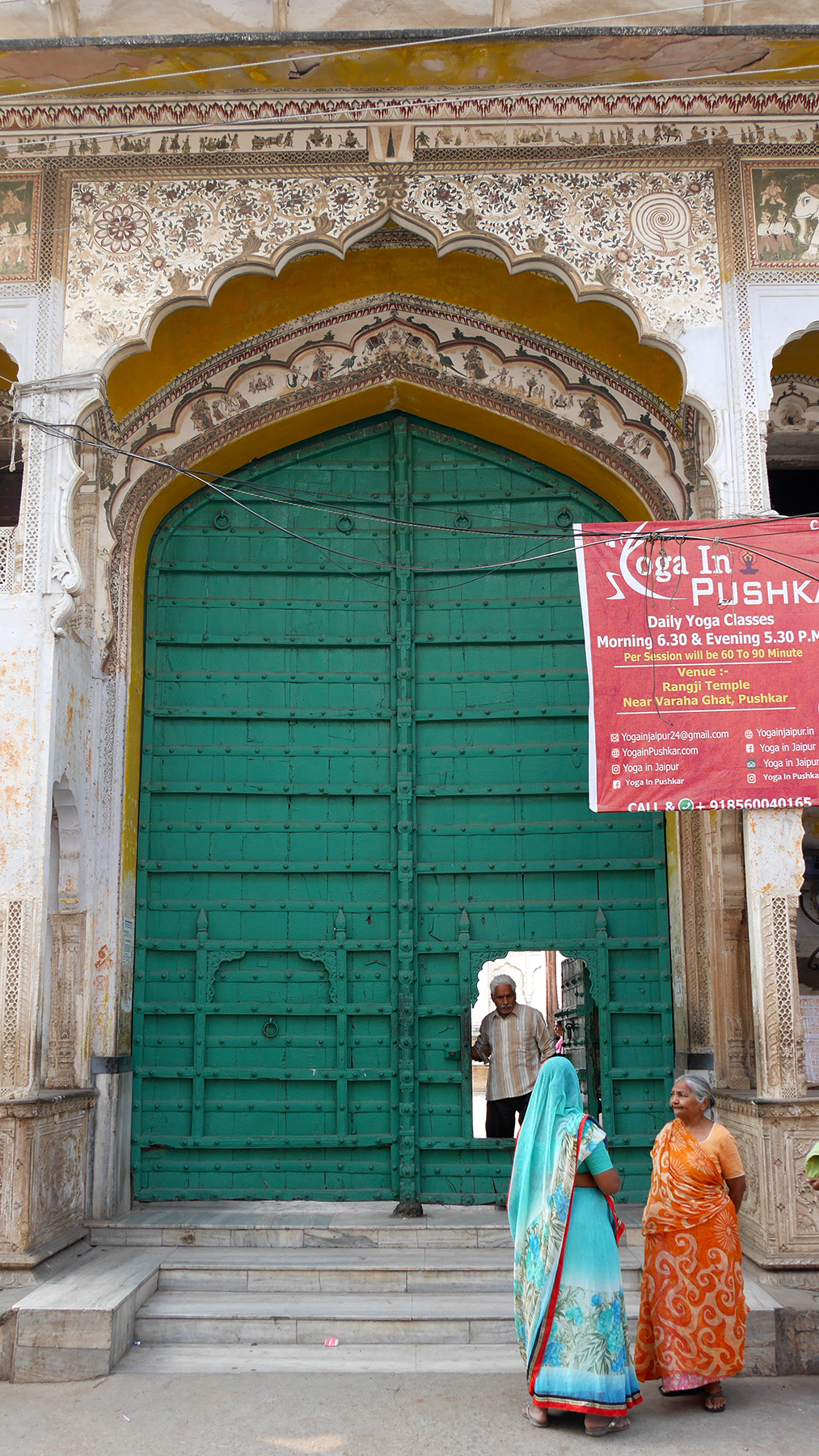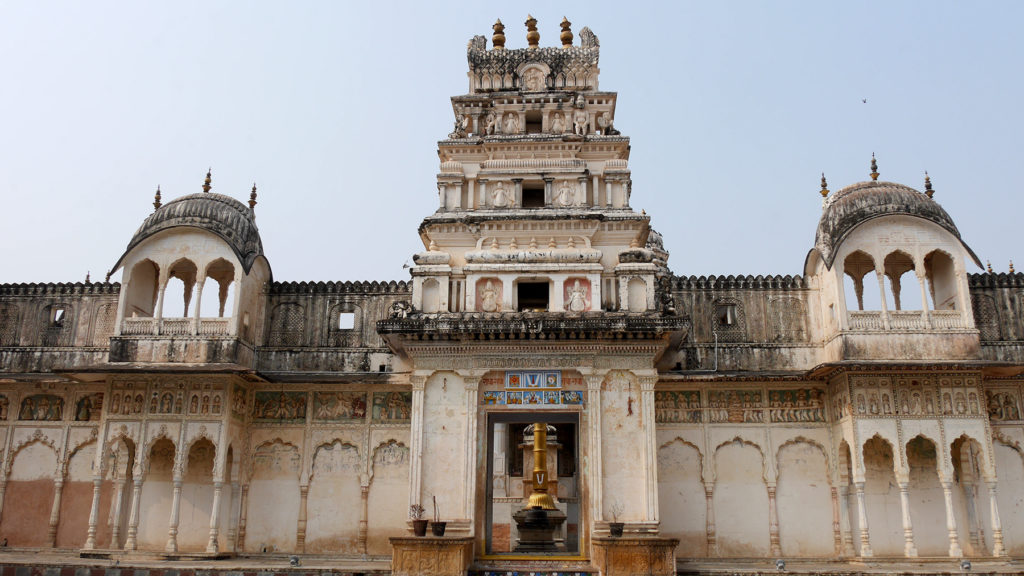 The holy rituals around the lake
Apart from visiting the temples, we tried to get the hang of the city's holy side by visiting the ghats by the lake. The city is compact, and the lake is in the middle of it, so you basically can't avoid visiting them while in Pushkar.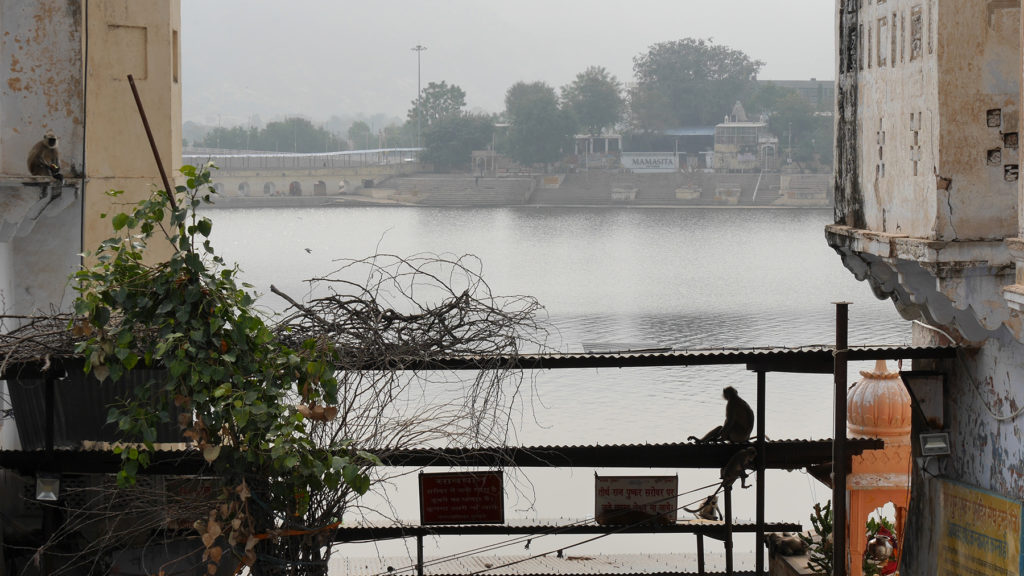 We have been to THE sacred city in India, Varanasi, in 2014. There the ghats by the Ganga River are dotted with fires used to cremate bodies. Every evening a massive ceremony is held. We had heard that Pushkar would be a bit similar. Therefore, we were totally surprised how peaceful and quiet it was around the lake. During daytime the whole place seemed to be almost empty. Also, in Pushkar there is a ceremony, Aarti, taking place at Varah Ghat every evening. But on contrary to the one in Varanasi with a big crowd, there were only a handful of people.
The ceremony was mesmerizing. Just when the sun started to set, a few holy men stood by the water humming a prayer. At the same time, they performed mystical rituals including flower petals, holy smoke and fire. This kind of moments are so special and so far from what we experience at home, but being there, in that very moment, it all feels surprisingly normal.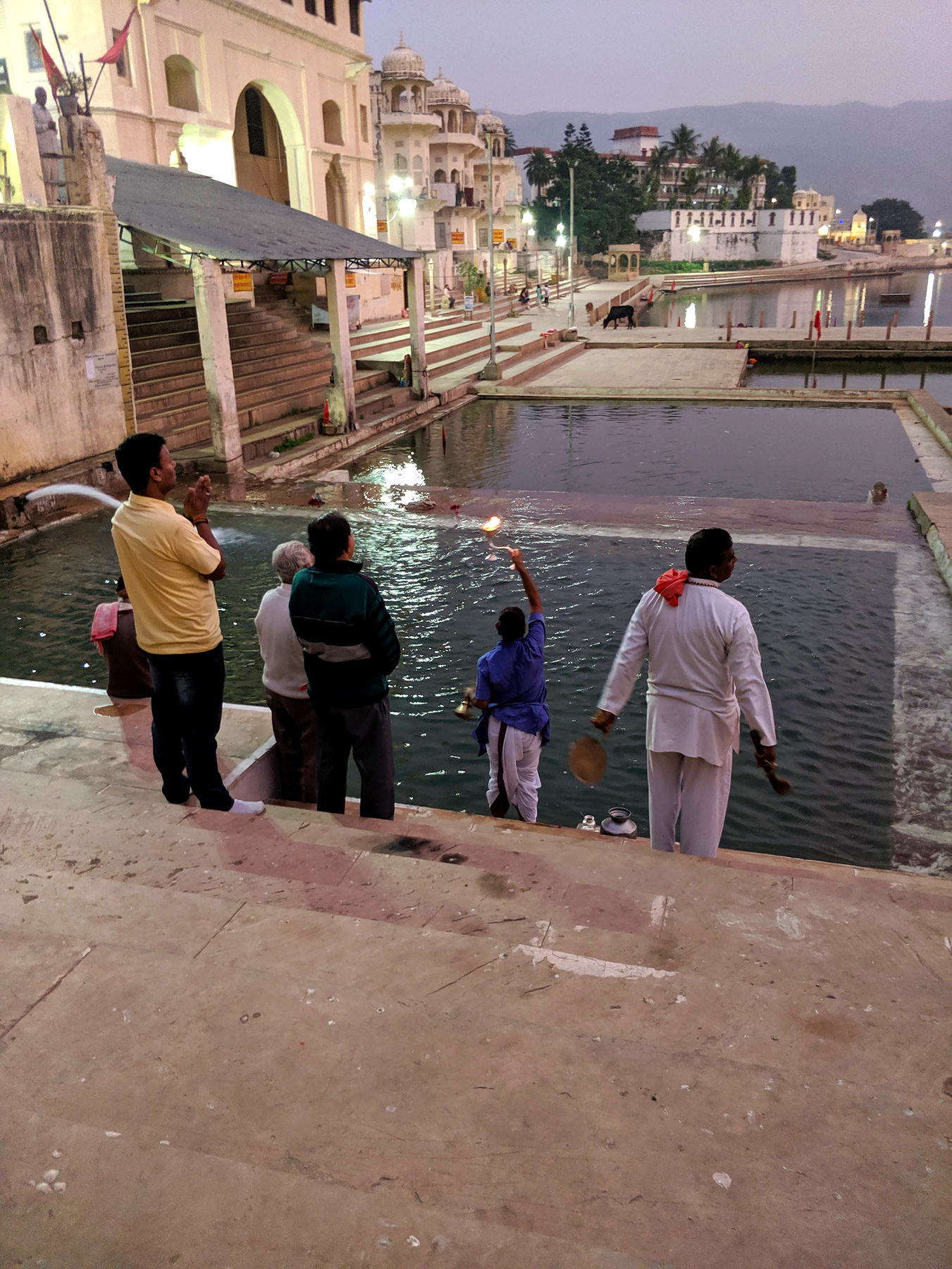 Wedding season in India
This time of the year is the wedding season in India. By now we have gotten used to the streets being blocked due to a wedding party, every evening firework show (despite the fact that fireworks are banned in India) and the music playing until late night. We even visited a wedding in Jaipur. But none of the parties we've seen or heard have sounded as crazy as the ones in Pushkar. After listening a few hours to the insane fast, loud and chaotic music of the wedding parades on the streets makes you wonder if you have just gotten crazy and the music is only in your head.
We followed one very loud wedding parade for a while. People dressed in gorgeous shiny and colorful outfits dance and have fun, a band is playing brass instruments and drums, followed by a cart with a sound system and another one with a super loud generator that is giving power to the light chains that hang from the umbrellas the people are carrying. And then there is the groom, sitting on a gorgeous, glittering white horse. We didn't see the front of the parade and therefore also didn't see the bride. Maybe she was transported by a magical flying dinosaur or something.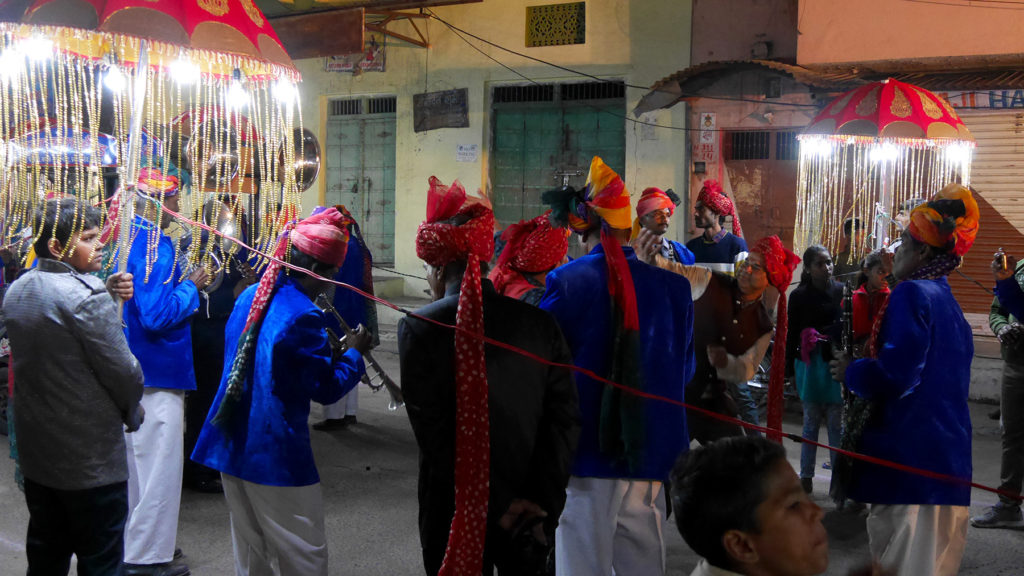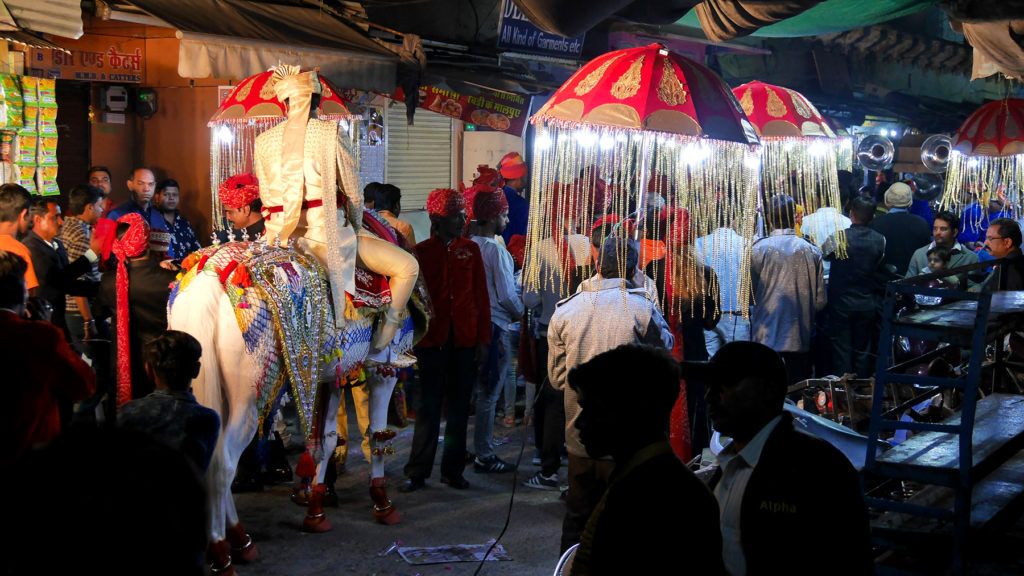 The commercial side of Pushkar
Apart from the spiritual side of the city, the whole place is crowded by tourists and dominated by the street vendors. The number of stands selling handicrafts, clothes, jewelry and other souvenirs makes Pushkar not only spiritual but also very commercial. The prices in Pushkar were mostly reasonable. We also ended up buying a few clothes and souvenirs, but luckily the size of our backpacks doesn't allow us to get crazy with shopping.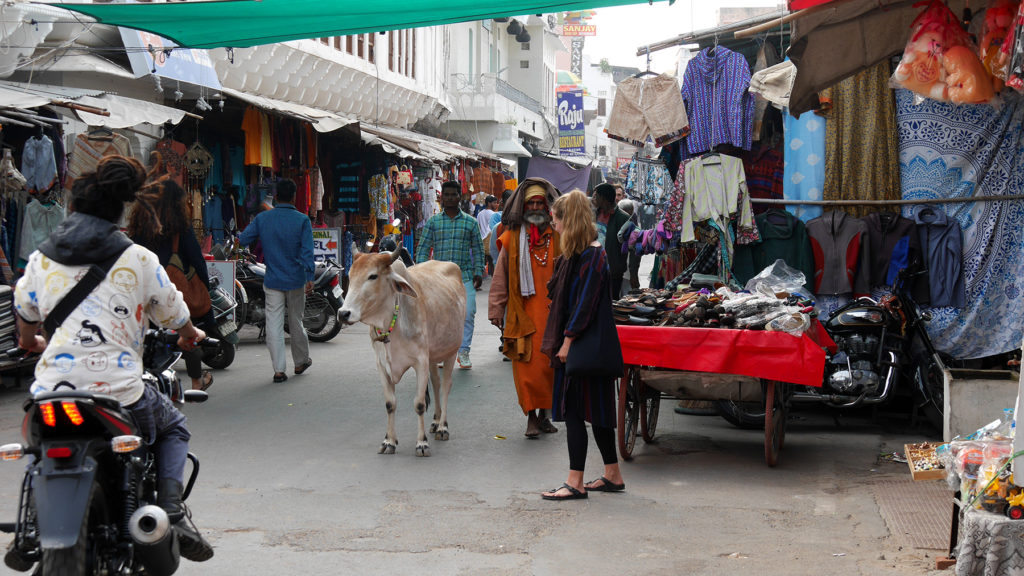 Pushkar's vegetarian tourist food
Being a touristy place, Pushkar also provides a wide variety of food, that is all vegetarian, of course. This was a good chance to get something else than only Indian (even though we love it). We had some excellent pizza at the atmospheric garden of La Pizzeria. Ganga Street Restaurant had nice falafel wraps. Opposite of it was a good breakfast place offering fresh fruit juices and huge muesli and fruit bowls. Apart from that, there are small street stalls all around selling yummy Indian snacks for very cheap prices.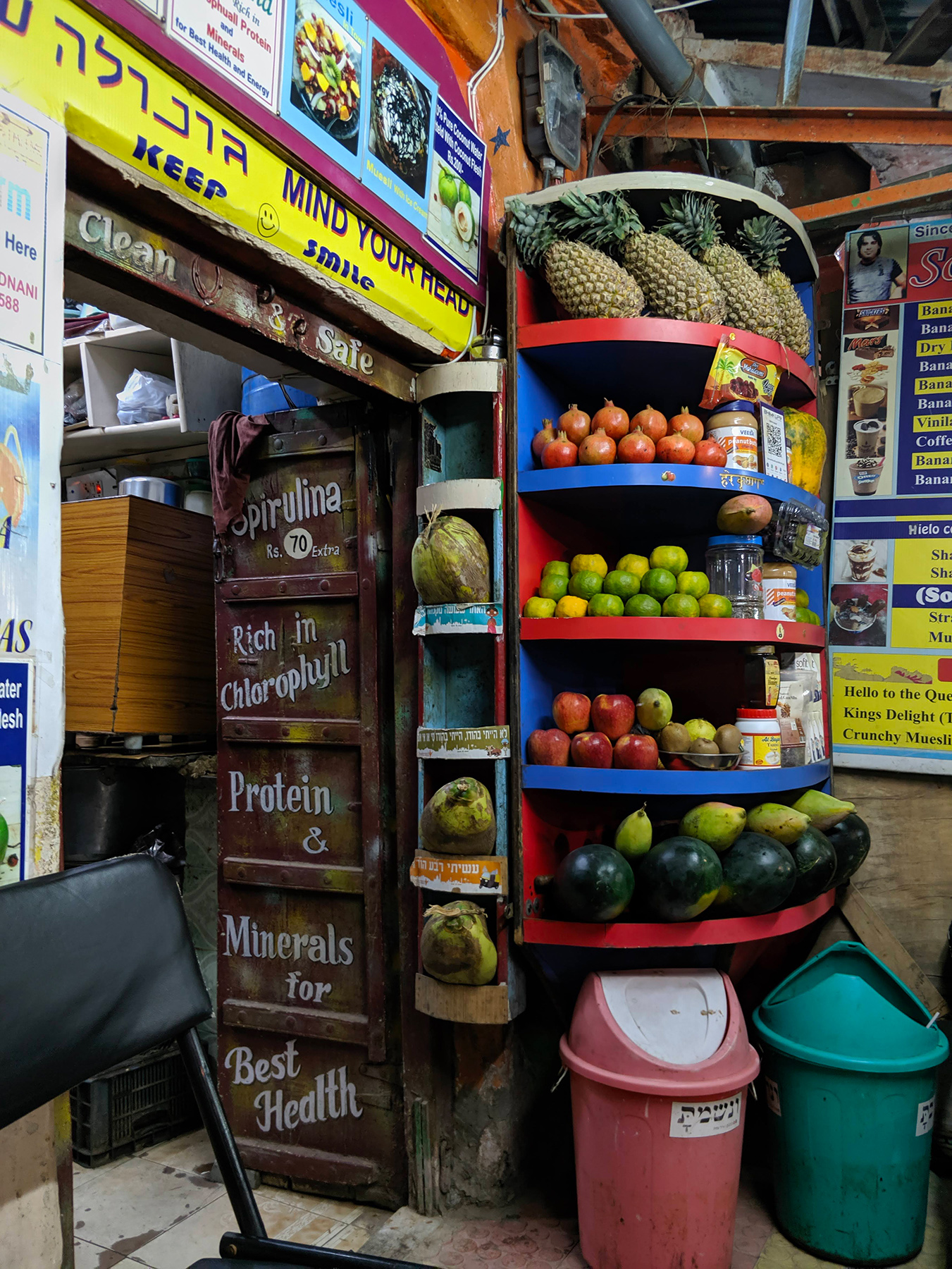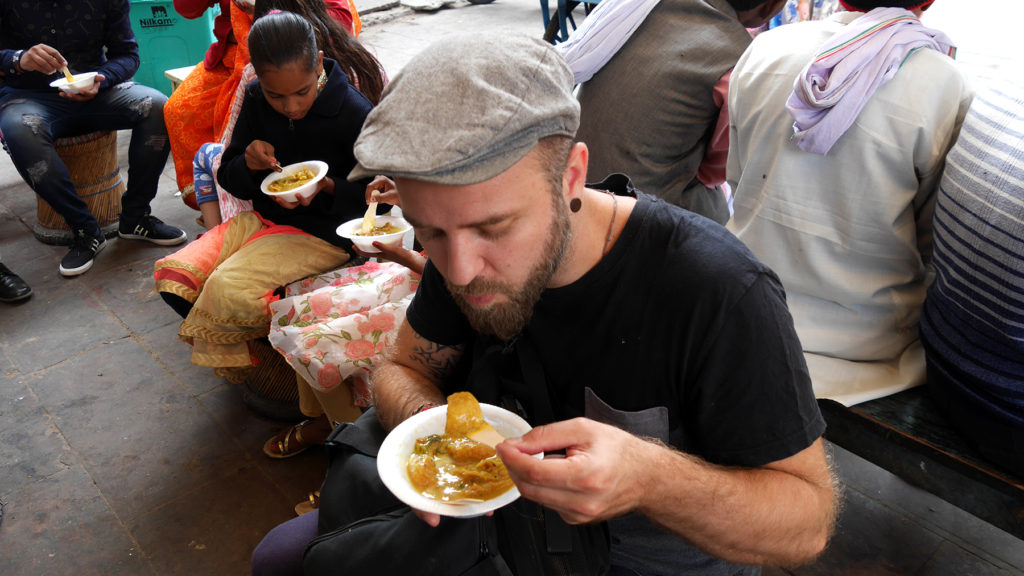 Towards the South
Even though Pushkar was a nice place, we were ready to leave after two nights. We were looking forward to a long train ride and arriving to the South, even though we were not sure yet where we were going to hop off…