We still wanted to continue exploring Sikkim and after Namchi we traveled to Pelling. Pelling, in West-Sikkim, is supposed to be popular among tourists, but for us it showed itself more as an empty ghost town. Many travel to Pelling because of the apparently amazing views from the town, but we didn't see much because of the fog and clouds. There's also a lot to see around Pelling, but we didn't succeed in all our plans because of the weather. On our second day in Pelling it was pouring. But we can't complain – this was the first time that it was properly raining after Kyrgyzstan.
Getting to Pelling
Early in the morning, we took a shared sumo from Namchi to Geyzing. We had bought the ticket already one day in advance (recommended), as there are apparently not many cars going to Geyzing per day. The journey took around 2,5 hours and costed 180 rupees per person (2,7 euros). Sumos are an easy and inexpensive way to get around in Sikkim.
Geyzing is the nearest town before Pelling and there are shared taxis for the rest of the way. Another inexpensive mode of transport. The 20-minute taxi ride costs 50 rupees per person.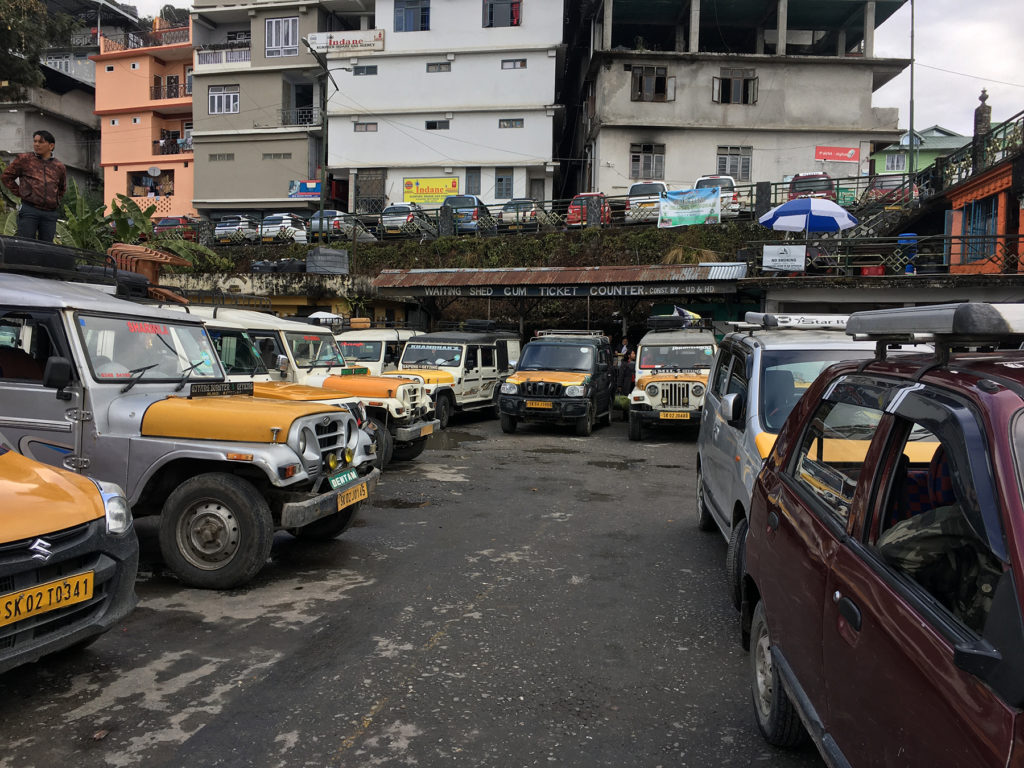 Note to self: never book OYO
For some reason we had booked a hotel room for Pelling already in advance. It would not have been necessary – the place is packed with hotels. We had booked our first OYO Hotel using Goibibo hotel search for the first time because of the cheap price. Long story short, at the hotel they told us that OYO is a cheater company, they don't work with them and they can't accept our booking. So, we had to search for a new place, which, luckily, wasn't a problem in this case. We just walked to the next hotel. What was a bit more of a pain in the ass was trying to get the money of our booking back from Goibibo. It also worked out in the end, thanks to the over-enthusiastic customer servers there, who called us about 10 times after every email straight after sending it, just to check if we had already read it. Still, we recommend no-one to book any OYO Hotels!
The town of Pelling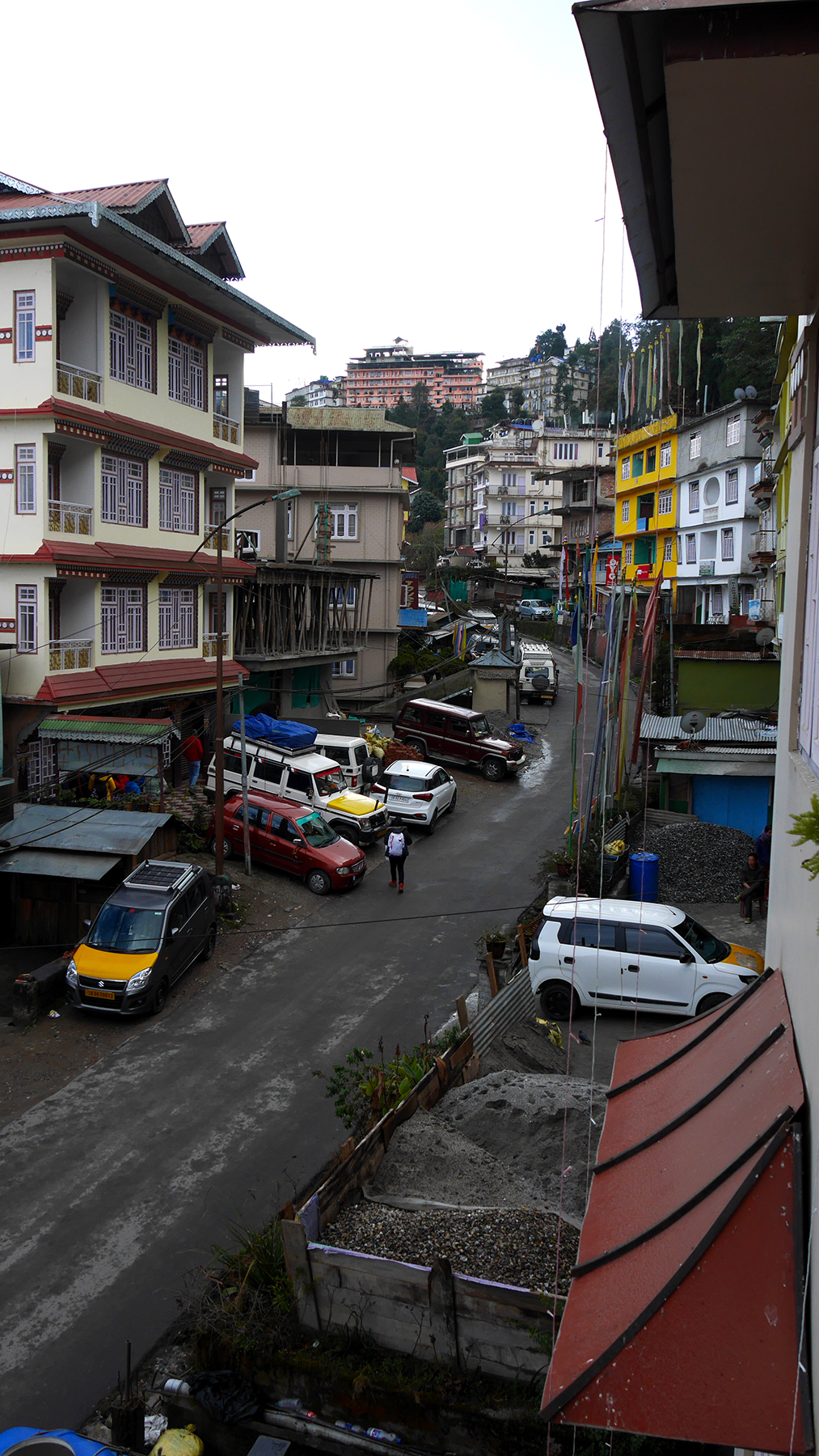 Like said, there are dozens of hotels in Pelling. At this time of the year we seemed to be almost the only guests there, though. Hotels are pretty much the only thing there are in this town and all of them being empty, we really had the feeling of being in a ghost town (the fog covering the town didn't help to shed this feeling). Also, the restaurants were empty, and judging from the faces of the workers when we stepped in, this place doesn't get many white tourists, even in the high season. This was not the place for us to stay – we would recommend staying in Geyzing where one can see more of the local life (not sure if there are any guesthouses, though). But the real attraction here is not the town itself but the sights around it. We explored some of them.
The lame sky walk, the huge Buddhist statue and Sikkim's oldest monastery
One of the attractions near Pelling is the huge statue of Chenrenzig and the sky walk in front of it. Chenrenzig is an embodiment of the compassion of all buddhas. If it was only the statue there, we would have probably not even bothered to go there, as we just saw two huge religious statues in Namchi. There's definitely something with Sikkim and huge god statues on mountain tops. But we thought that the sky walk (a glass platform in the heights) could be interesting to see. After walking the long way up, we changed our minds completely.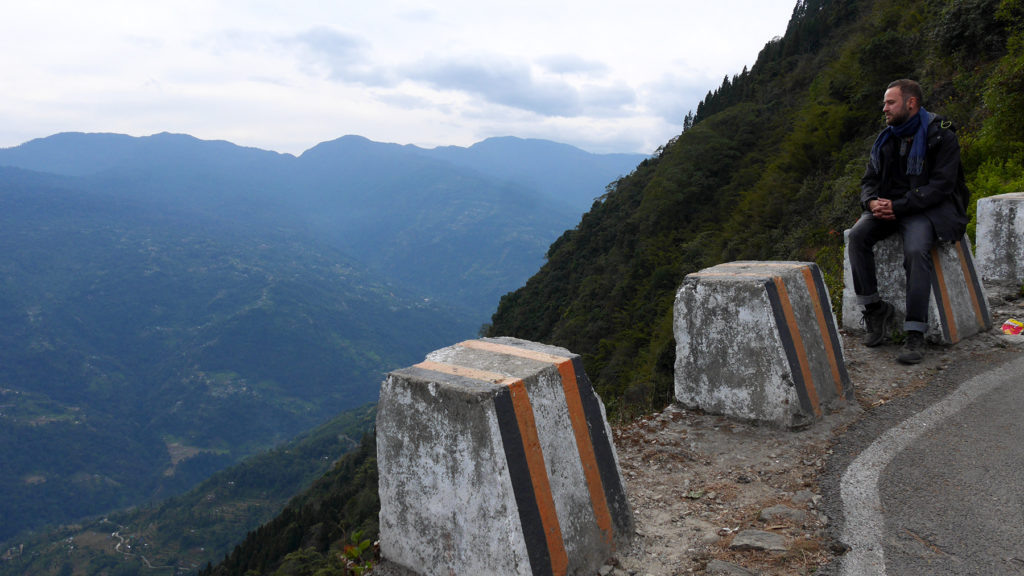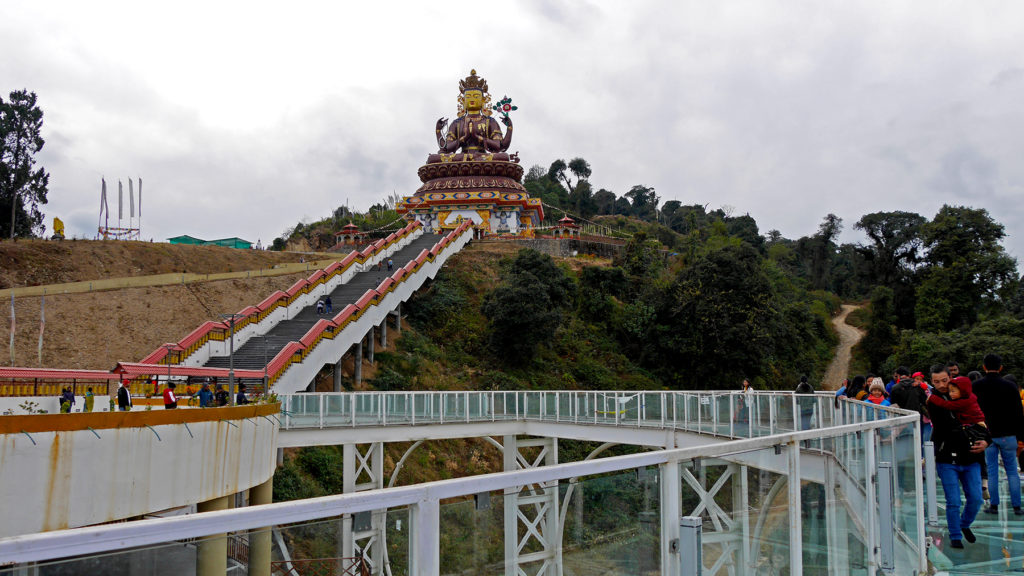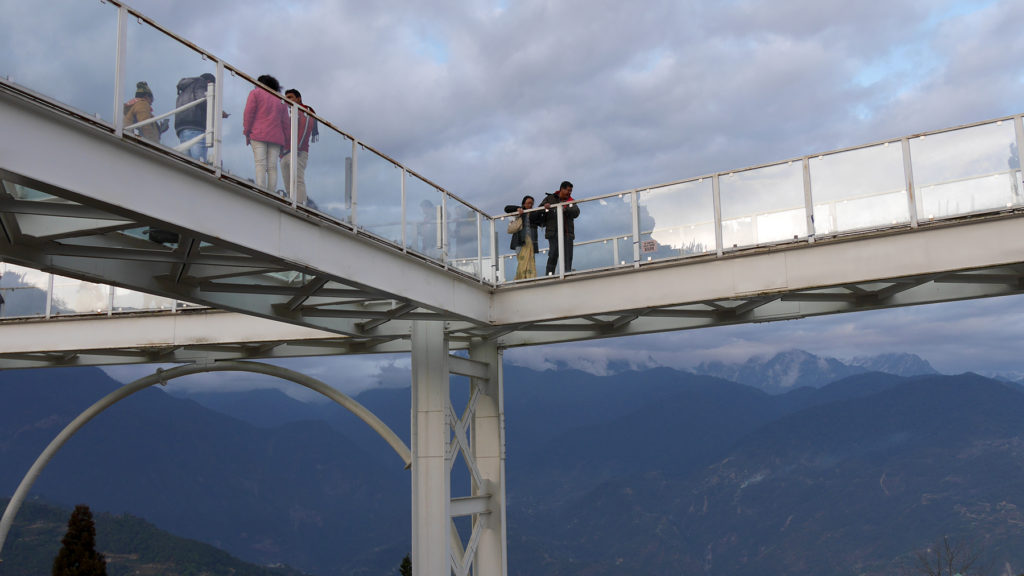 The Sky walk was probably the lamest one in the world. But the statue, in turn, was great. Inside the statue there was a beautiful monastery. Along a spiral staircase, one could get all the way up to the lap of the statue. The views from up were pretty good, but would have been even much better without the fog and clouds. Around the statue there were hundreds of prayer wheels. We sent, again, loads of good thoughts and prayers to the universe.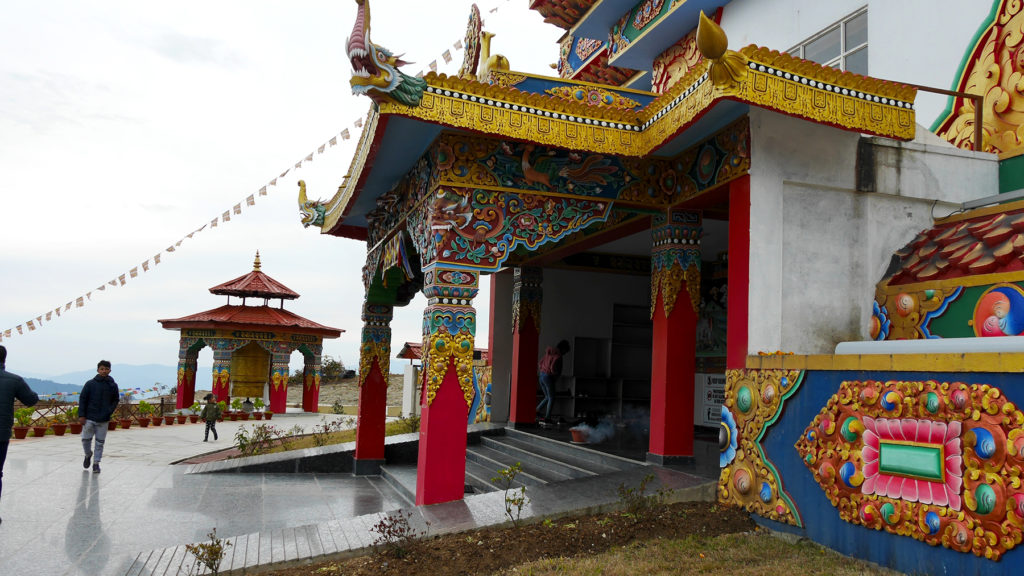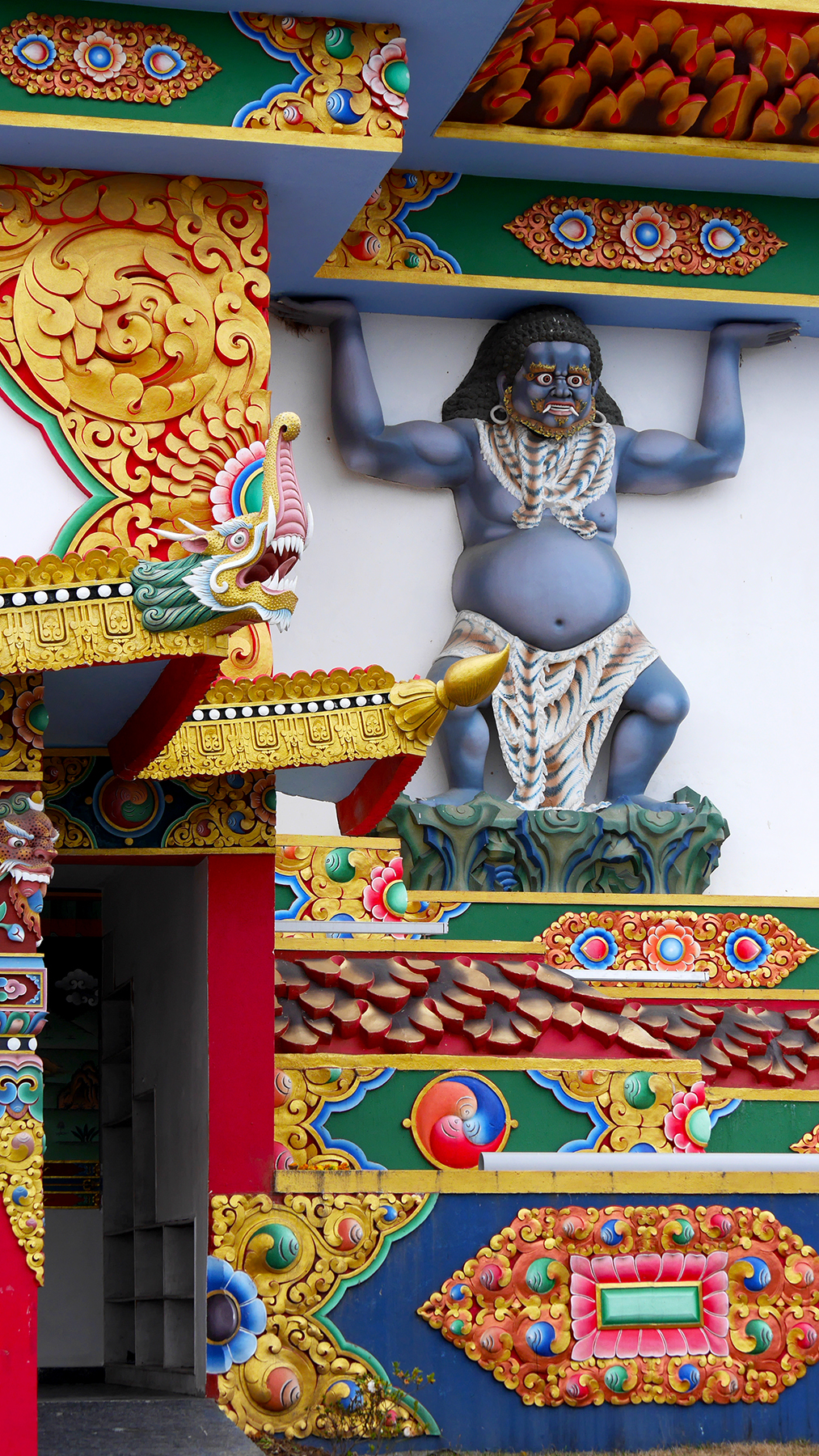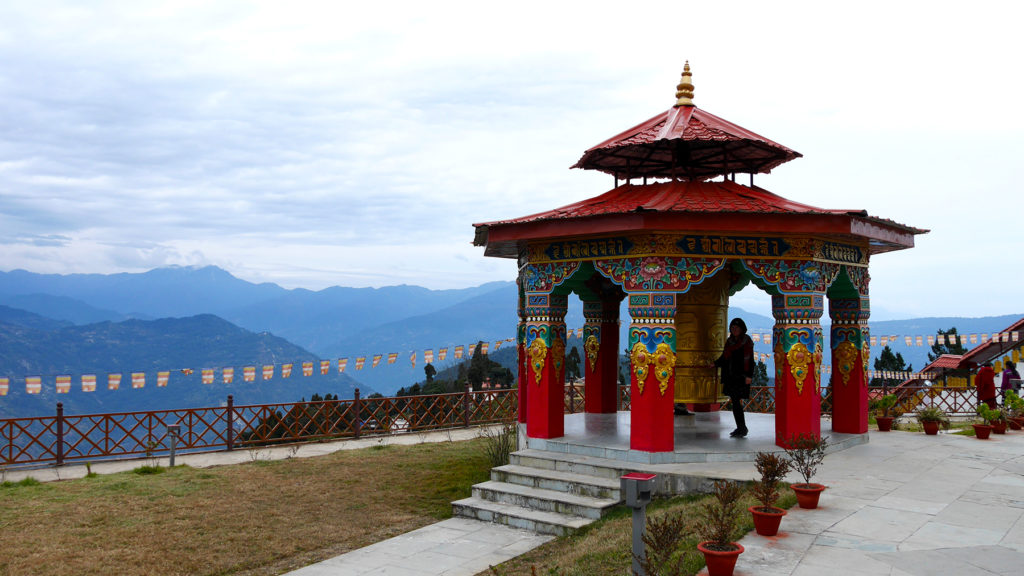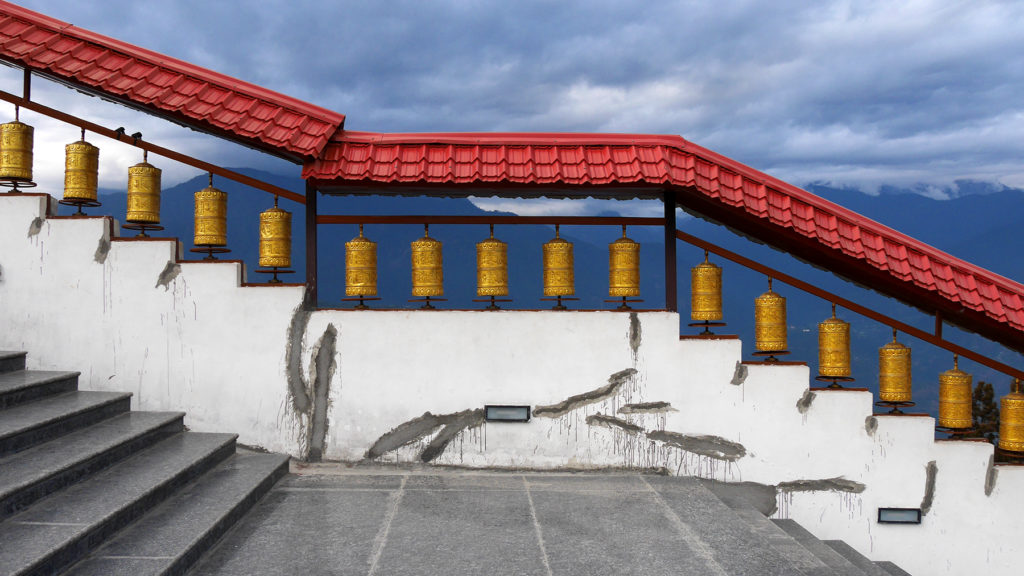 We didn't even know that Sikkim's oldest monastery was also located near the sky walk. We visited the place but as the monastery itself was closed, we can't tell too much about it.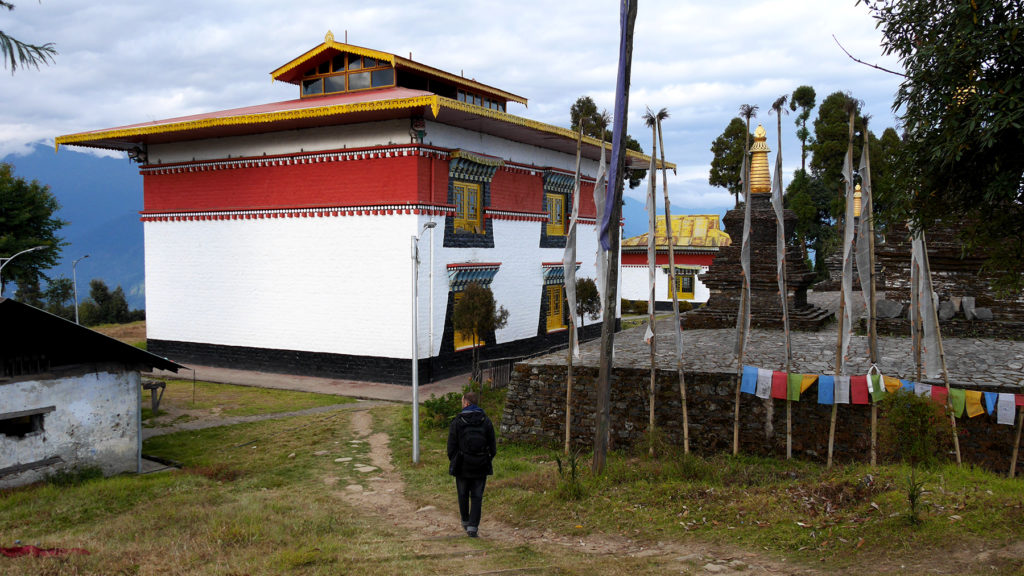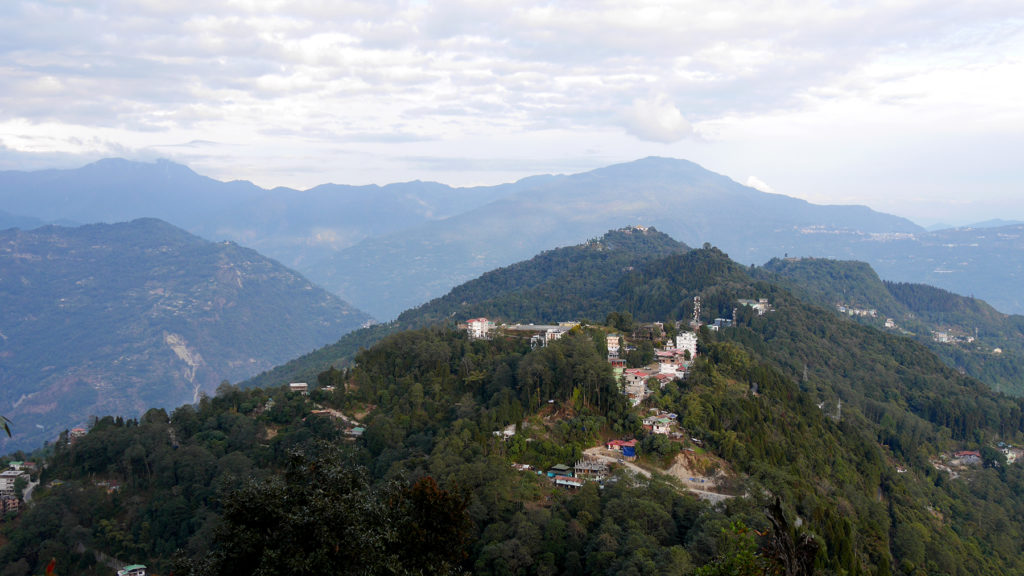 We tried to get a shared cab back to Pelling but there were none. Just as we had accepted our faith and started to walk, a group of young Indian tourists stopped next us on the road and gave us a ride back. We had just been talking that it seems that hitch-hiking is not very common here, but maybe it could work after all.
The fascinating Pemayangtse Monastery
Pemayangtse Monastery is over 300 years old and therefore also one of the oldest Buddhist monasteries in Sikkim. Besides huge god statues, we had also seen enough of monasteries in the last days and weeks. Therefore, we were not too interested in visiting this one, but did so anyway, as it seemed to be the "must see" attractions here.
On the way to the monastery it started to pour. We had our rain jackets with us, but the walk was still not too pleasant. Even though it looked really cool as everything was covered with fog. But when we arrived at the monastery, we were happy that we had come – it was a fascinating place.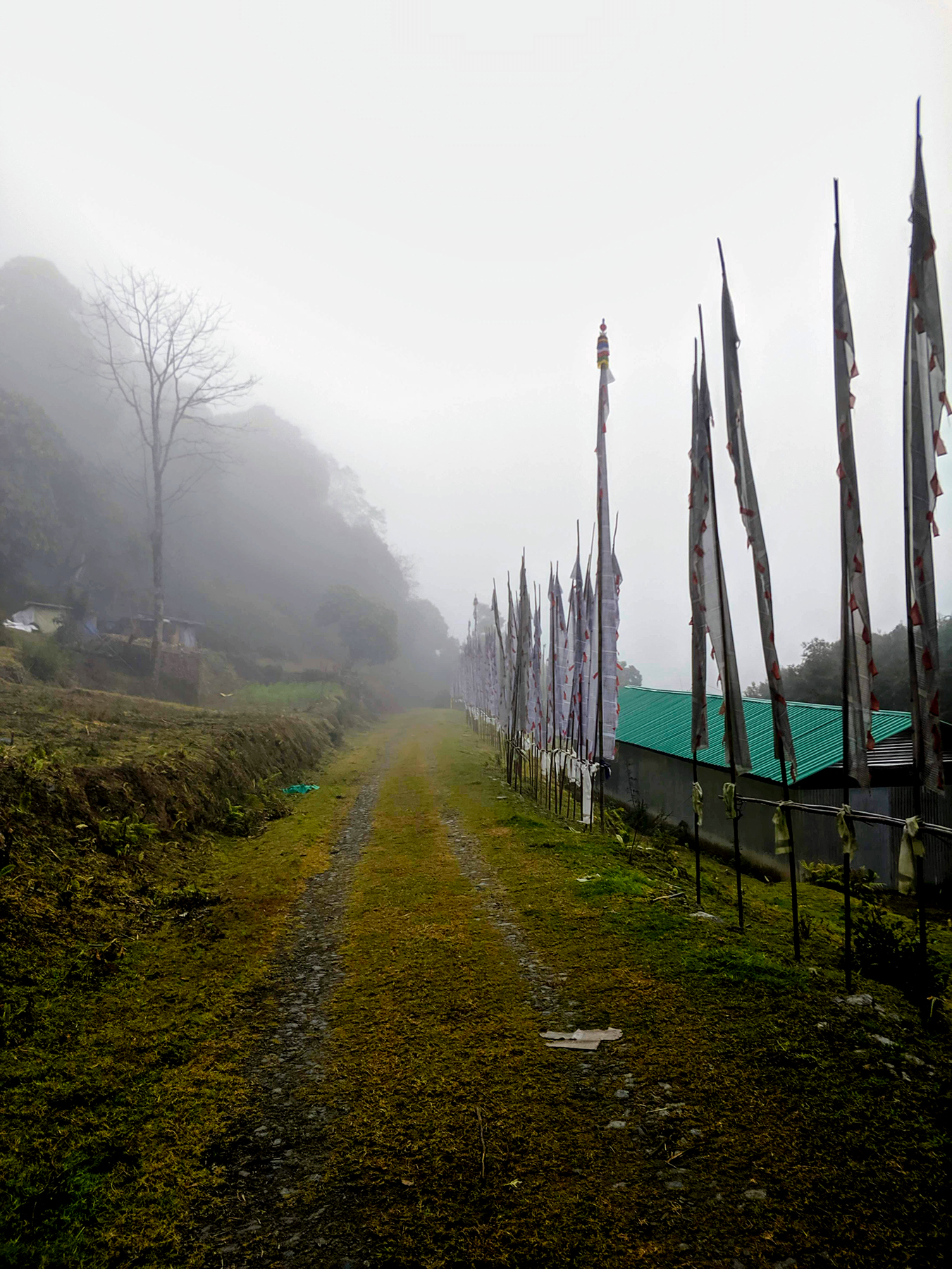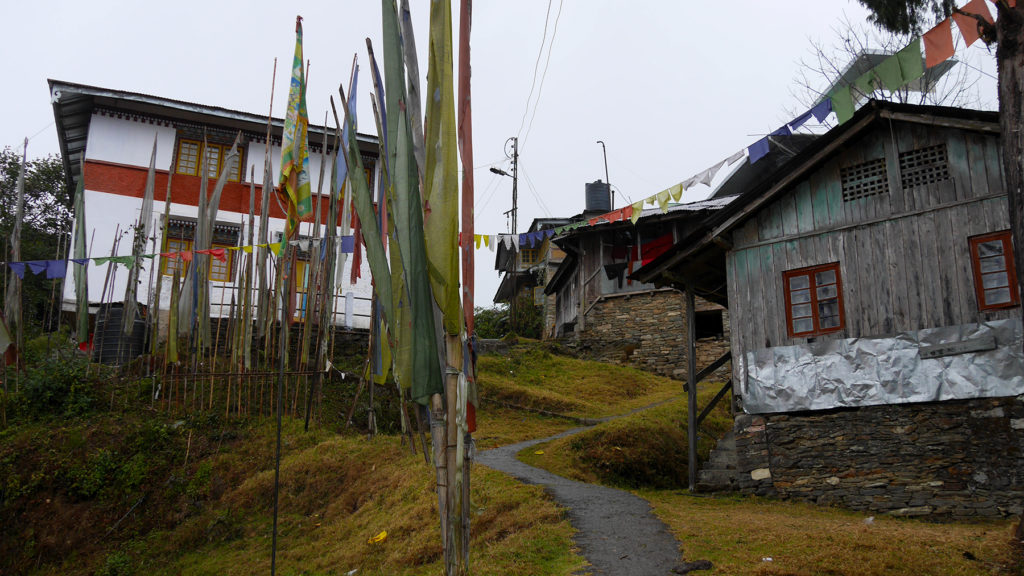 The buildings around the monastery looked more like some charming old barns. The wooden monastery itself also had some old time feeling to it. The smell in there and the sound of every step on the old wooden floor made the place very special. And of course, of half-vanished paintings on the walls and the gorgeous colorful statues in there.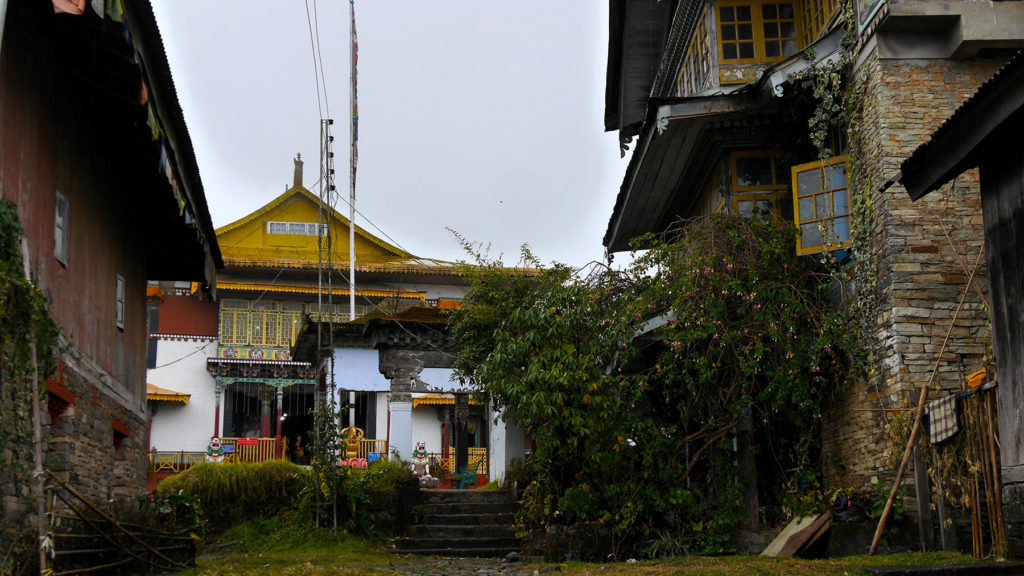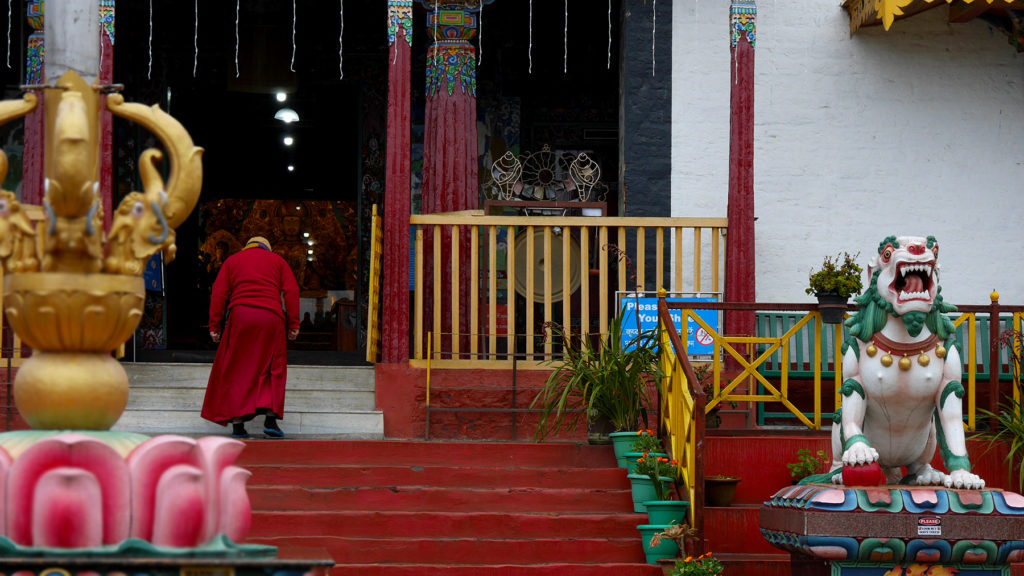 There was an interesting museum in the attic showcasing things like old gowns and (spooky) masks. The cherry on top was the center piece in the attic: a wooden sculpture portraying Guru Rimpoche's Heavenly Palace. It's a huge, multi-storey, miniature house-like fantasy world. Watching this piece of art felt like watching a movie, there was so much crazy stuff going on in it. Unfortunately, one is not allowed to take pictures inside the monastery, so you just must travel there to see it yourself. If you are in Pelling or around, don't miss the Pemayangtse Monastery.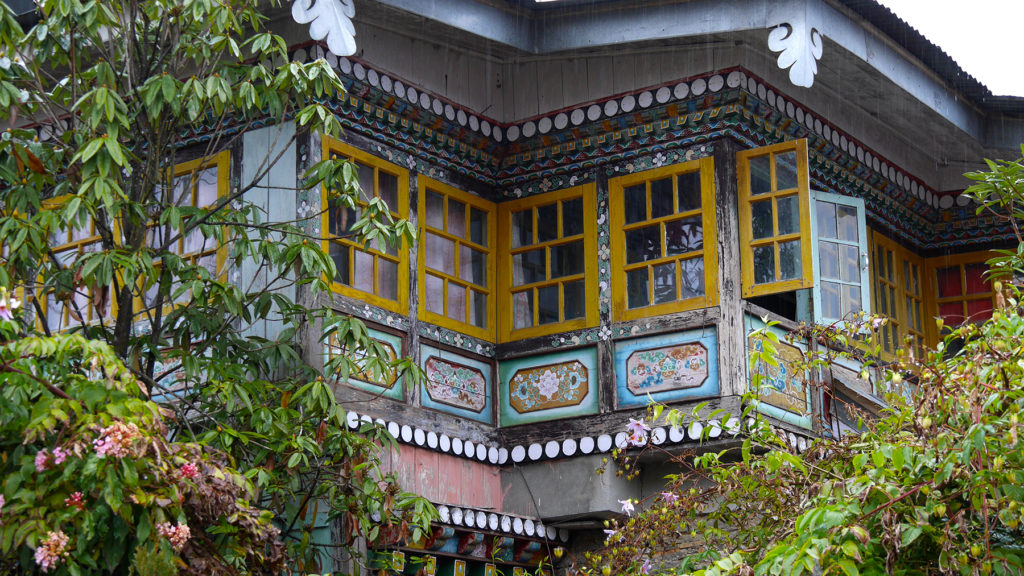 Some travel planning
So that our days would not be filled only with Buddhist statues and monasteries, we had planned to visit some ruins of an old fort, too. But as the weather was getting even worse, we found a good excuse not to do any more sightseeing and instead cozy up in our hotel room.
Anyway, we have been a bit tired of all the traveling and sightseeing lately. We still had to do some travel planning for the next days, though. We drank some Sikkimese red wine (Indian wine can be good!) and created a great travel plan for the upcoming weeks in Assam. In fact, so great, that it put us back in our good, adventurous travel moods again! Pelling was our last stop in Sikkim. Next up: Assam.