Already long before we started this journey, we had been talking about Sikkim. The Indian state of Sikkim is nestled between Nepal, Bhutan and Tibet in the Indian Himalayas. The former kingdom just joined India in 1975. This part of India was completely new to us. We imagined it to be a very different from the rest of the country – some kind of a mystical place far away in the mountains. And now we were heading there, more precisely to the capital, Gangtok.
Entering Sikkim
To enter Sikkim, one needs a special permit called the Inner Line Permit. Getting it is easy and completely free of charge, it just requires a registration at the border of the state and the whole process took for us around ten minutes. Not all border crossing points have the needed facilities for this process (the "facilities" seem to be a few papers and a stamp, btw), which means that foreigners are allowed to enter from West-Bengal to Sikkim only through two entry points: Melli or Rangpo. Our mode of transport from Darjeeling to Gangtok was a shared Sumo, which took the latter route. After some four hours on the mountain roads we reached Gangtok.
First impressions of Gangtok
As we entered Gangtok, and especially its pedestrian zone MG Market, we were surprised. To be honest, we had expected the capital of this remote state in North-East India to be much more traditional and old-fashioned than it was. The stone clad central street, reserved only for pedestrians, was dotted with shops, bars and restaurants and there were stylish locals as well as (Indian) tourists walking around. The whole street was lit with beautiful Christmas lights. For some reason this place reminded us of Nizhny Novgorod in Russia, which we also liked much.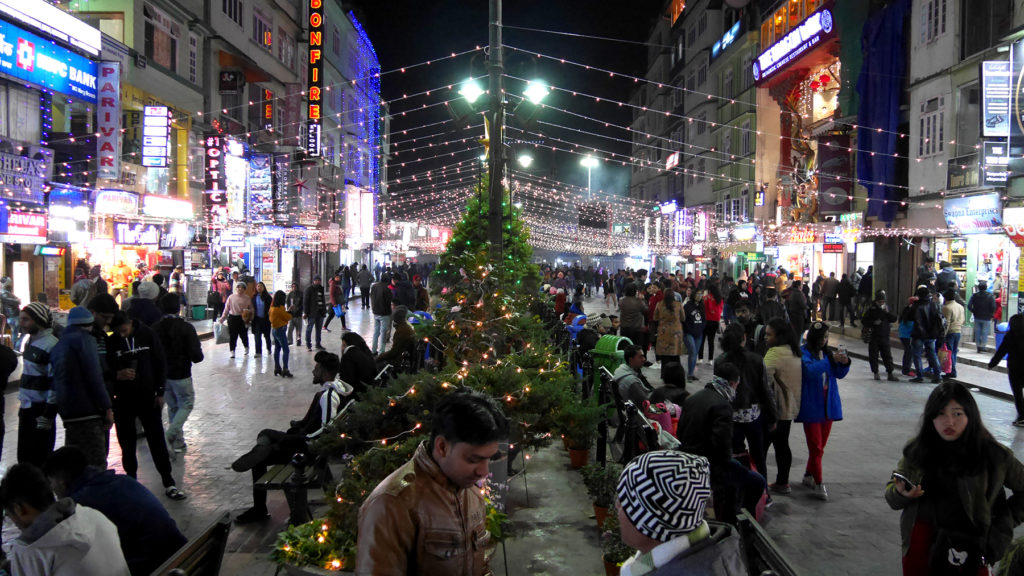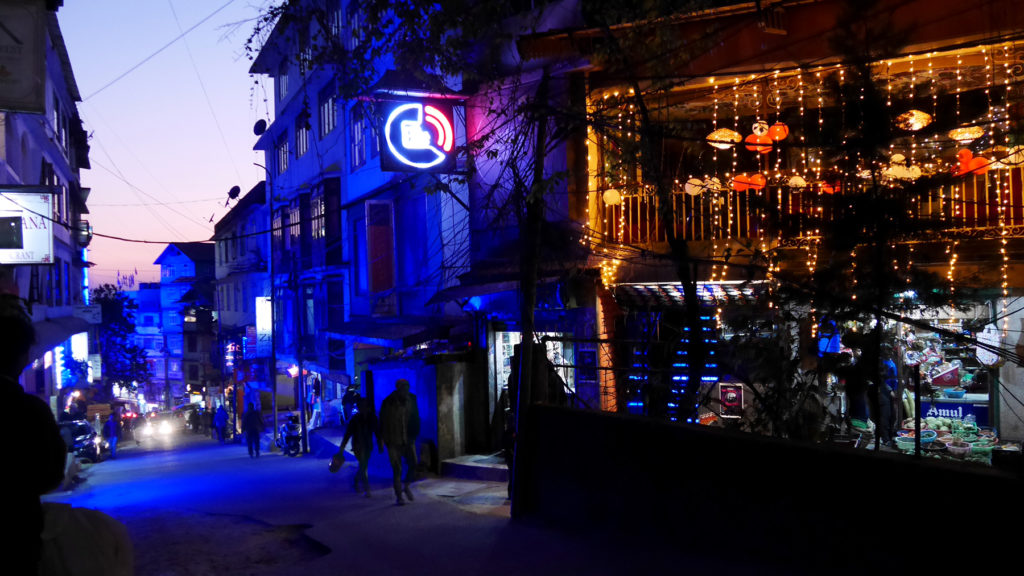 Around the MG Market, there are several streets leading up and down, as the whole city is built on a slope of a mountain. When the weather is clear, one can see the surrounding mountains and even the peaks of Kanchenjunga. Maybe you've never heard of it, at least we hadn't before, but Kanchenjunga is the world's third highest mountain, right after Mt. Everest and the K2!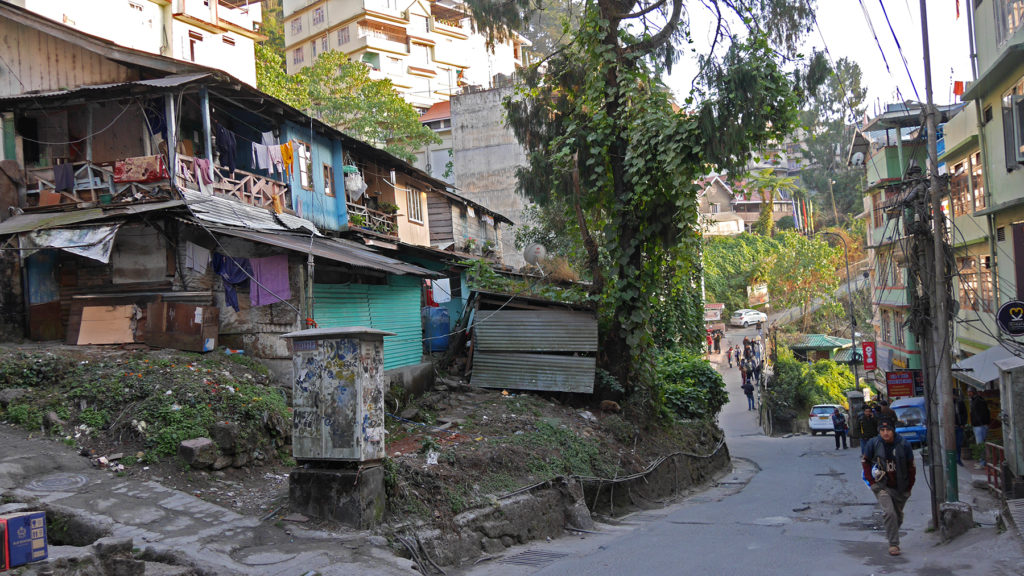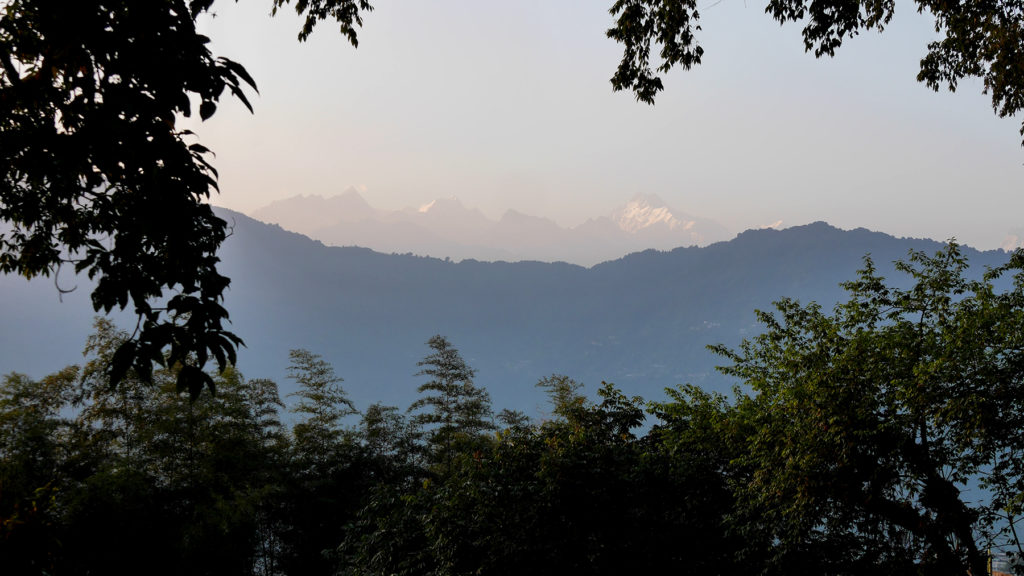 We stayed in a hotel a bit out of the center (the accommodation prices were surprisingly high in Sikkim) but once again it was easy to get around with a shared taxi. We also found a nice walkway (with a lot of up or down hill) from our place to the city with gorgeous views. The weather in Gangtok was as cold as in Darjeeling. This time we didn't have to freeze all the time, though, since we could get a small heater to our room for a small extra charge.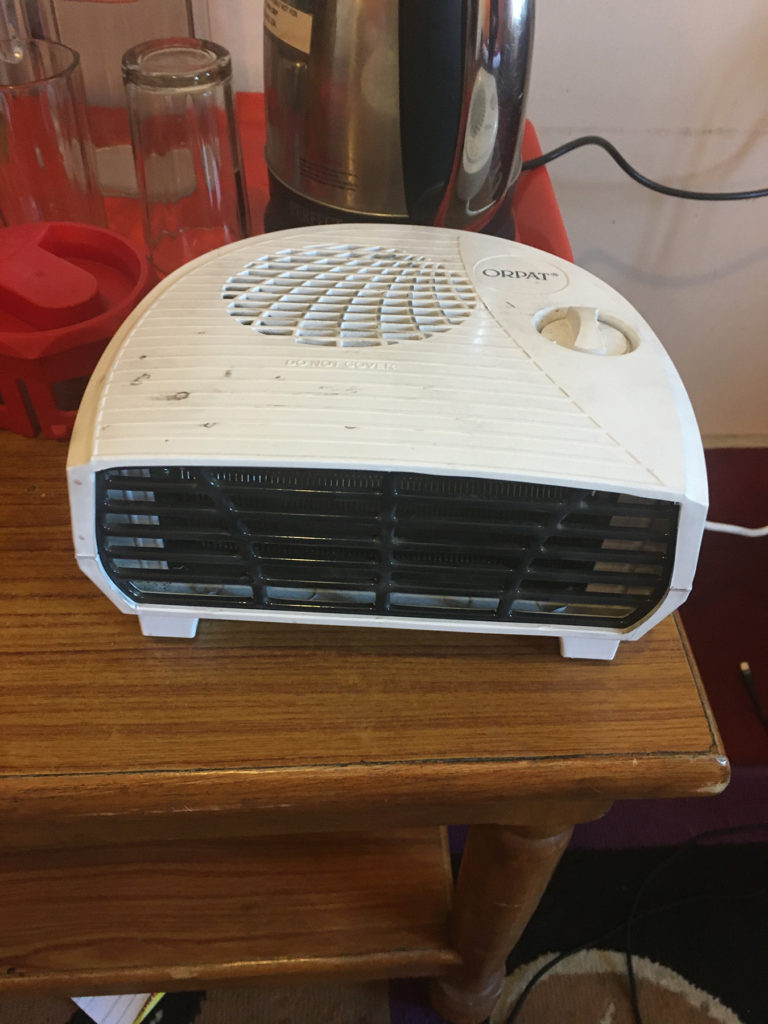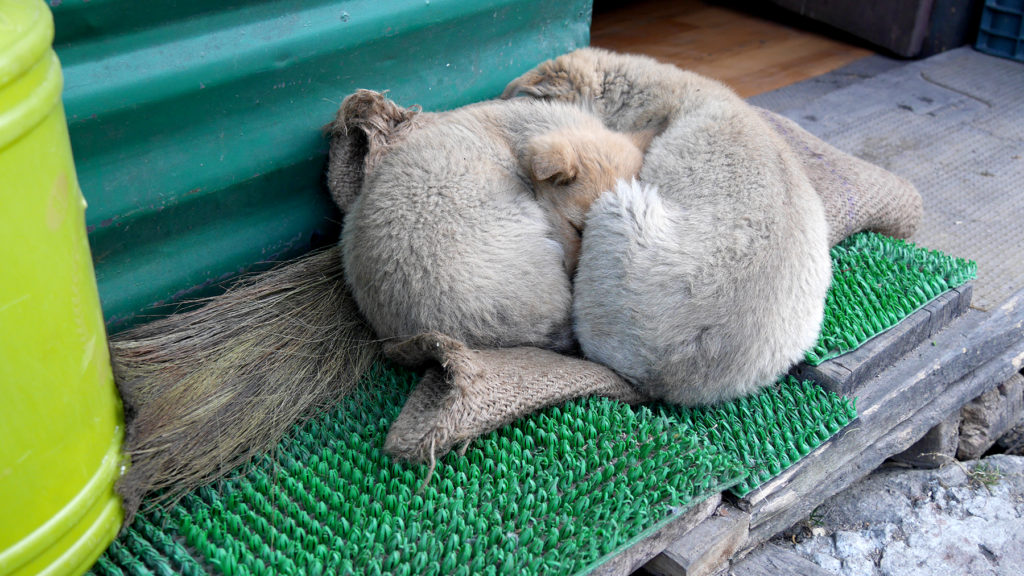 The food in Gangtok
One very special thing about Sikkim is that it's the world's first completely organic state, meaning that all farmland there is certified organic. Therefore, we could also assume, that most of the food we consumed in Gangtok was organic.
The food in Gangtok was strongly Tibetan influenced, even though almost everything was on offer. Because Johanna was still feeling ill, she didn't have much appetite during our whole stay in Gangtok, but Seri did. He had declared already before entering Sikkim that he will eat momos (the Tibetan dumplings) every day as long as we are in the state. To his luck we found an excellent momo restaurant called Shuffle Momos. Previously they did only delivery but had just nine days ago opened their first restaurant. The workers and the owner were super nice and the momos (and the masala fries) delicious.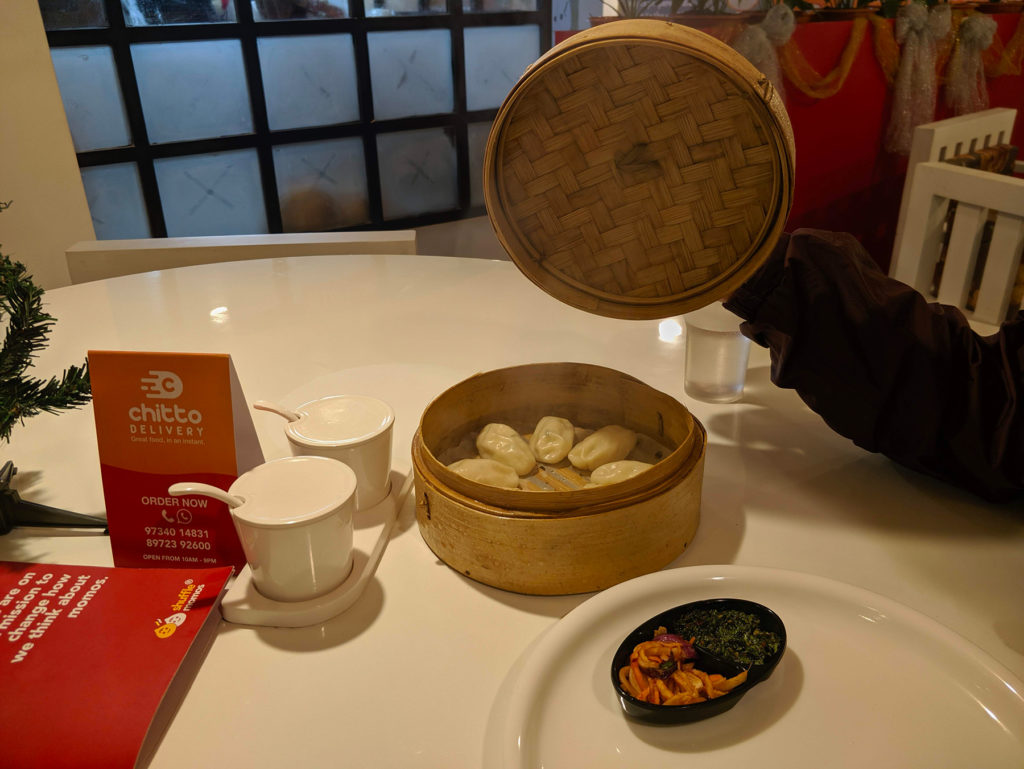 Another food that seemed to be popular in Gangtok, besides momos and traditional Tibetan food, were "rolls". They are crispy rotis filled with different fillings in wrap/burrito style. The most popular roll restaurant was clearly the Roll House decorated in a quirky style. We ate there twice and really liked it (even sick Johanna). Our rolls were filled with soya chunks, corn and cheese as well as with tomato, onion and other vegetables, with tasty sauces.
The Rumtek Monastery
The Rumtek monastery, located 35 kilometers from Gangtok, is the largest one in Sikkim and one of the most important attractions in the area. Honestly, we had had almost enough of Buddhist monasteries after Darjeeling already, but still decided to visit after all. Good that we did.
After going to a wrong taxi stand near our hotel at first, we finally found a shared taxi to Rumtek at the central taxi station. Already the 1,5-hour ride was worth going there. The weather was sunny, and we got to sit at the front seat of the Sumo, having the best views.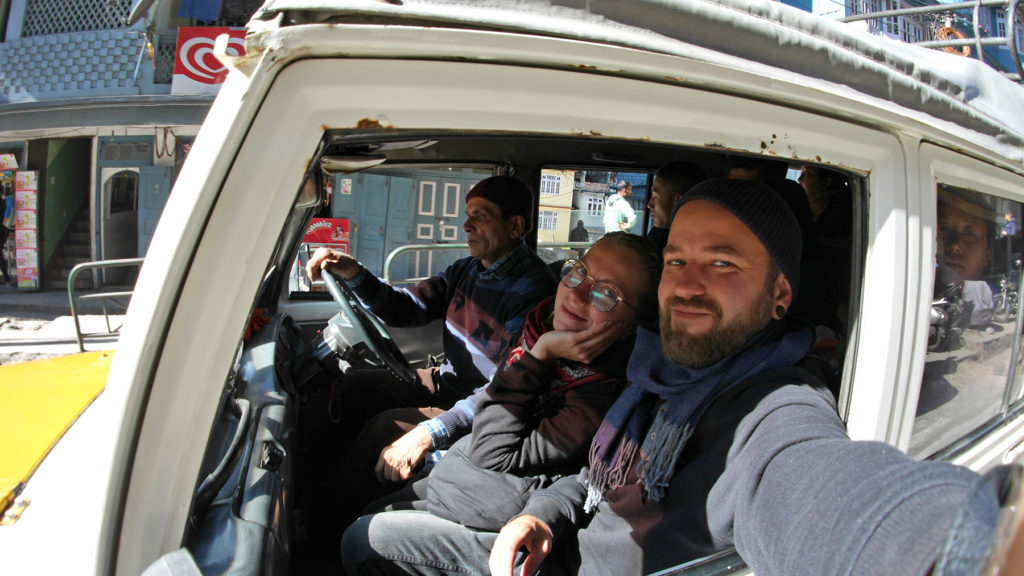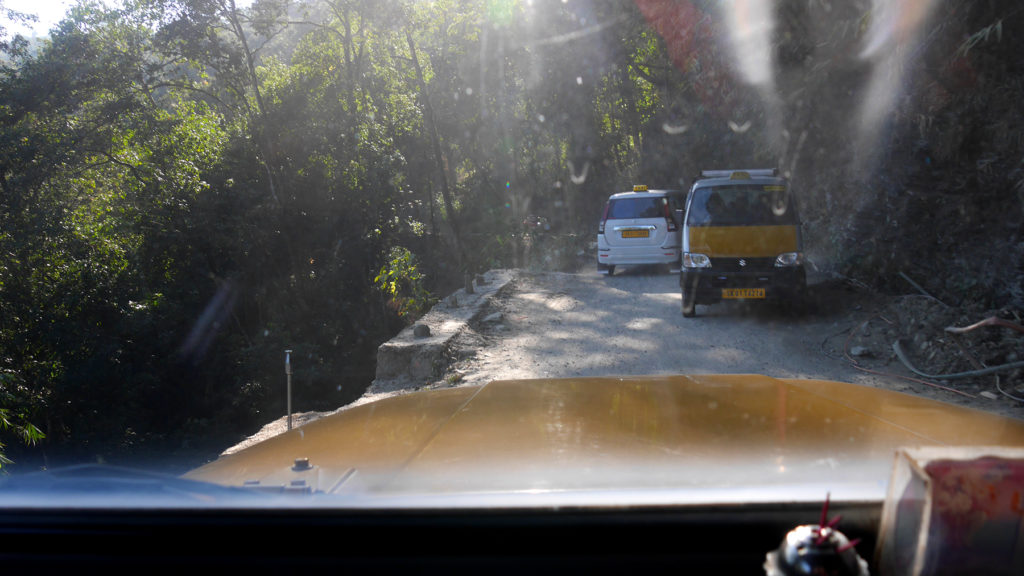 At the monastery gate we almost got into troubles because we didn't carry our passports and inner line permits with us. Luckily, we had the pictures of our passports' information pages and of our visas on our phones, and that with a little bit of debating was enough to let us in. Whenever visiting some tourist sights in Sikkim, carry your passport and permit with you!
We really liked the monastery and were happy that we had come there. This one was livelier as the ones we saw in Darjeeling – even though one monk there told us that almost everyone is gone for the holidays and that there's not much happening at the moment.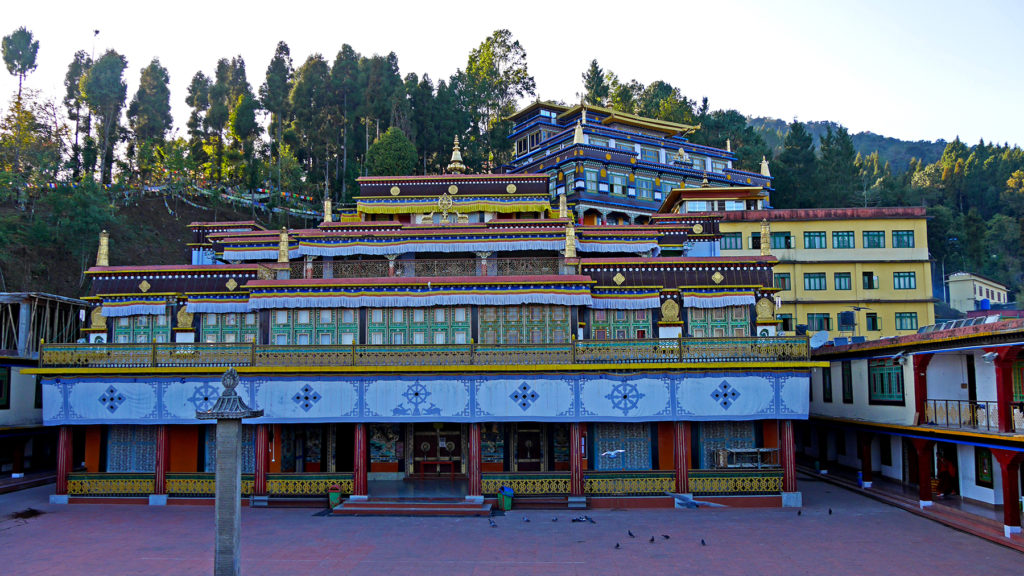 The area is huge and there are several buildings that one can visit. The biggest prayer hall was beautiful. Around it were some housings for the monks. We could see the young monks playing around and some were drawing mandalas at the roof in the sunshine.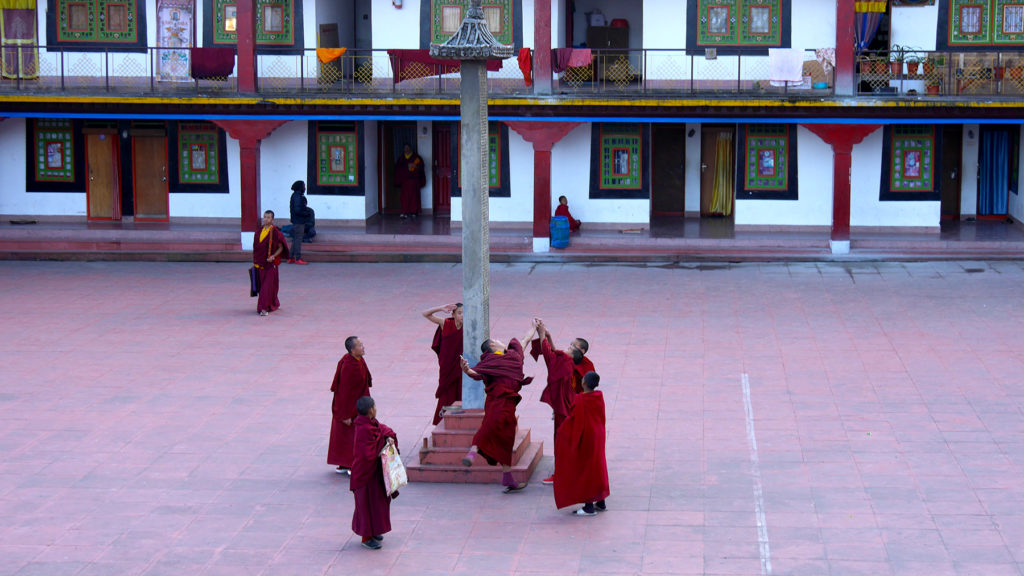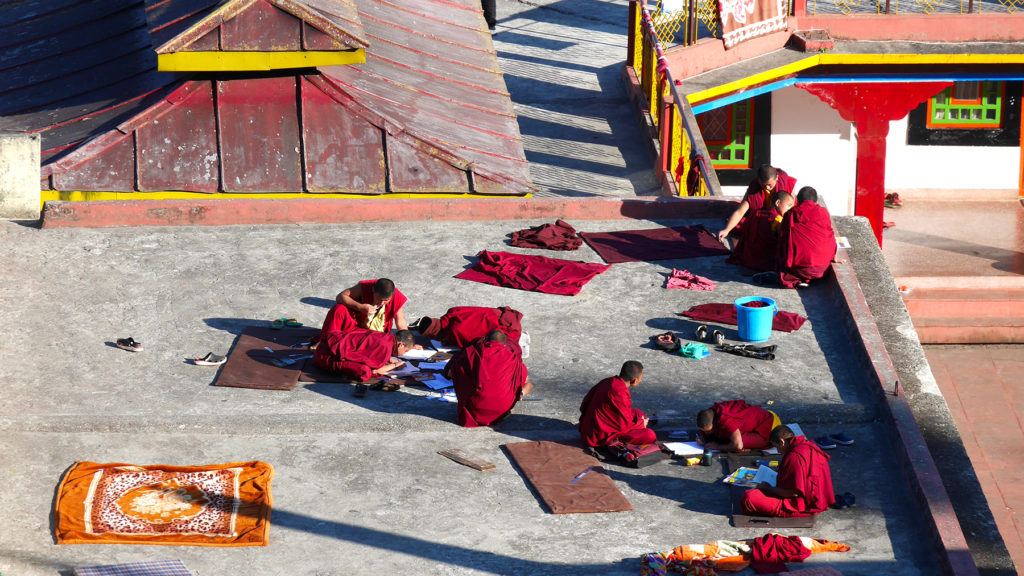 In the Golden Stupa we caught the last minutes of the monks' prayers. When the prayer time was over, the monks told us to take some of the treats and fruits from the bowls next to the statues. We've never thought about the fact before, but of course someone has to eat the offerings brought for the Buddha (if he's not able to finish them all himself…). Apparently because most of the monks were on their holidays, also the visitors could take some. Buddha's cookies and fruits were tasting especially good.
Then we visited another building, where we found another prayer hall. A friendly monk walked us around and explained us a little bit about the traditions there. Then we got to go to the roof from where we had an amazing view towards Gangtok. The monk recommended us to have a small walk in the peaceful forest, to where we saw a path decorated with prayer flags leading.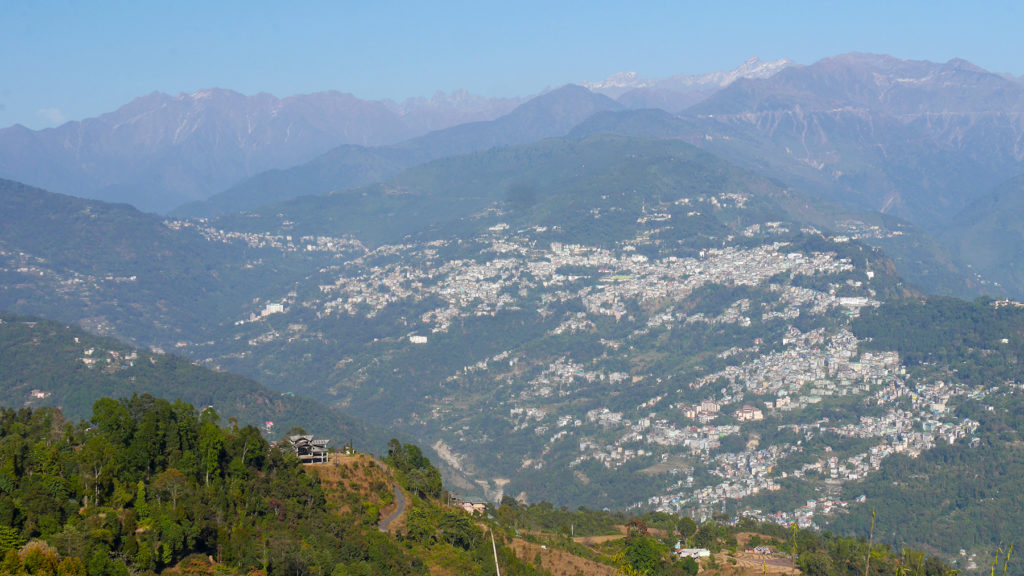 Our walk in the forest was really peaceful, indeed. During our walk we came to the conclusion that this was out favorite monastery on this trip so far. There was so much to see, not just the monastery itself but also the surroundings. In the forest we even found the monastery's football field, decorated with countless prayer flags, of course.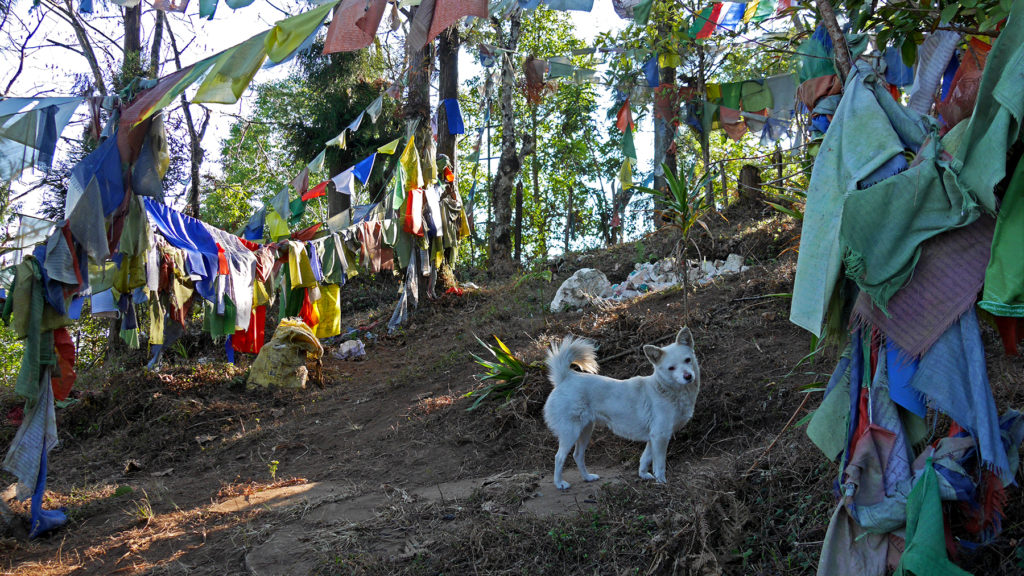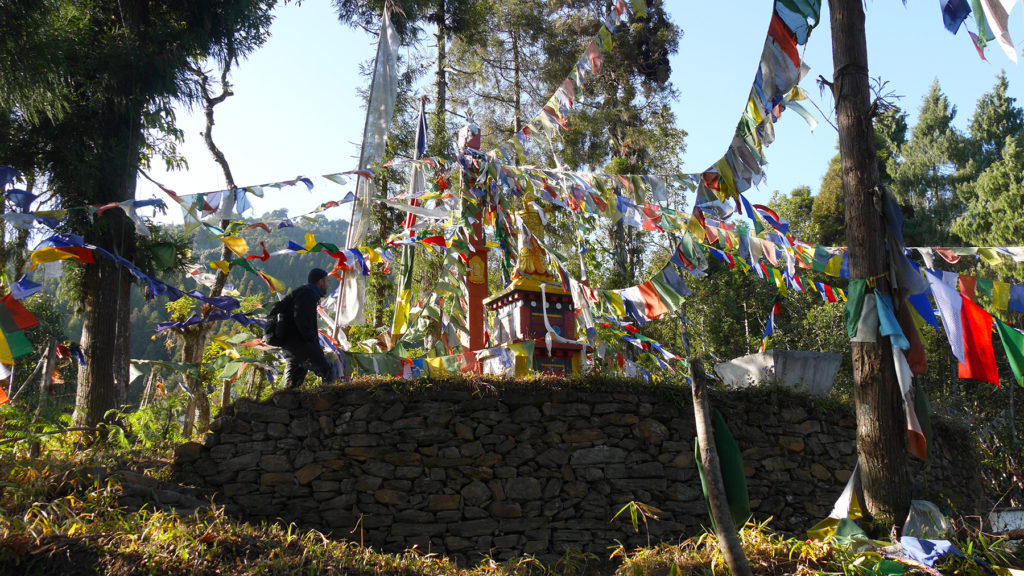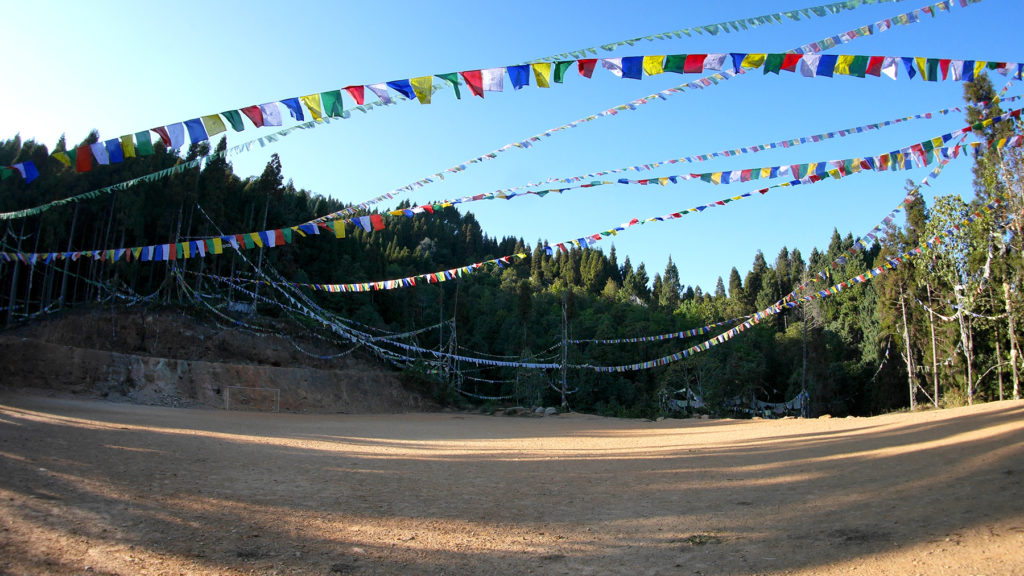 Unfortunately, it wasn't as easy to get back to Gangtok as it had been to get to the monastery. Despite some drunken hillbilly trying to help us out, we had to wait at least for an hour in the cold before we could find a car back to Gangtok.
The Orchid Sanctuary
Because Johanna was not feeling too good during our whole time in Gangtok, we didn't do much sightseeing, apart from visiting the Rumtek Monastery. But one sunny day we decided to walk up to the Deorali Orchid Sanctuary. It's a big hall with over 200 different orchid species. Even though December is not the blooming season, we could see some beautiful, colorful orchids.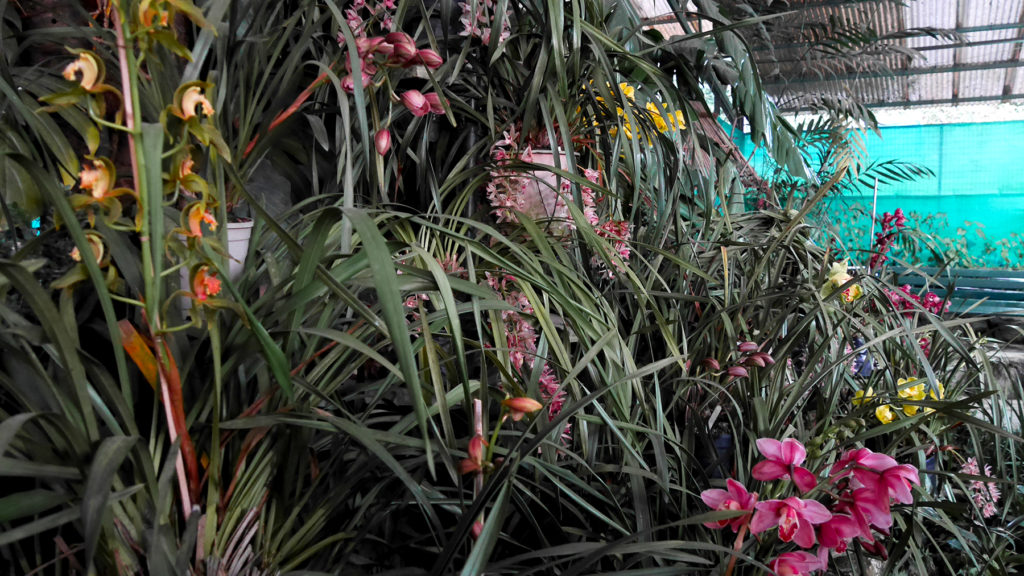 Towards Namchi and the new year
Our next destination was going to be Namchi, some 80 kilometers from Gangtok. In the morning we headed again to the central taxi stand and entered a Sumo to Namchi. There we wanted to celebrate the New Year's and also to visit a special place…