From Assam we traveled to the state of Meghalaya, which is, like Assam, one of the remote North-East Indian states known as the Seven Sisters. Our first destination, Sohra has often been credited as the wettest place on Earth. For us it was our first introduction to the fascinating culture and the mythologies of the Khasi tribe, before heading to the jungle to see perhaps the most special attraction of Meghalaya, the living root bridges.
From Guwahati to Sohra
From Assam's capital Guwahati we traveled to the neighboring state Meghalaya and its capital Shillong with a sumo for 200 rupees (2,4€) per person. We were planning to return to Shillong later for a few days, but now we continued our way directly towards Sohra (also known as Cherrapunji), our base for the jungle trek.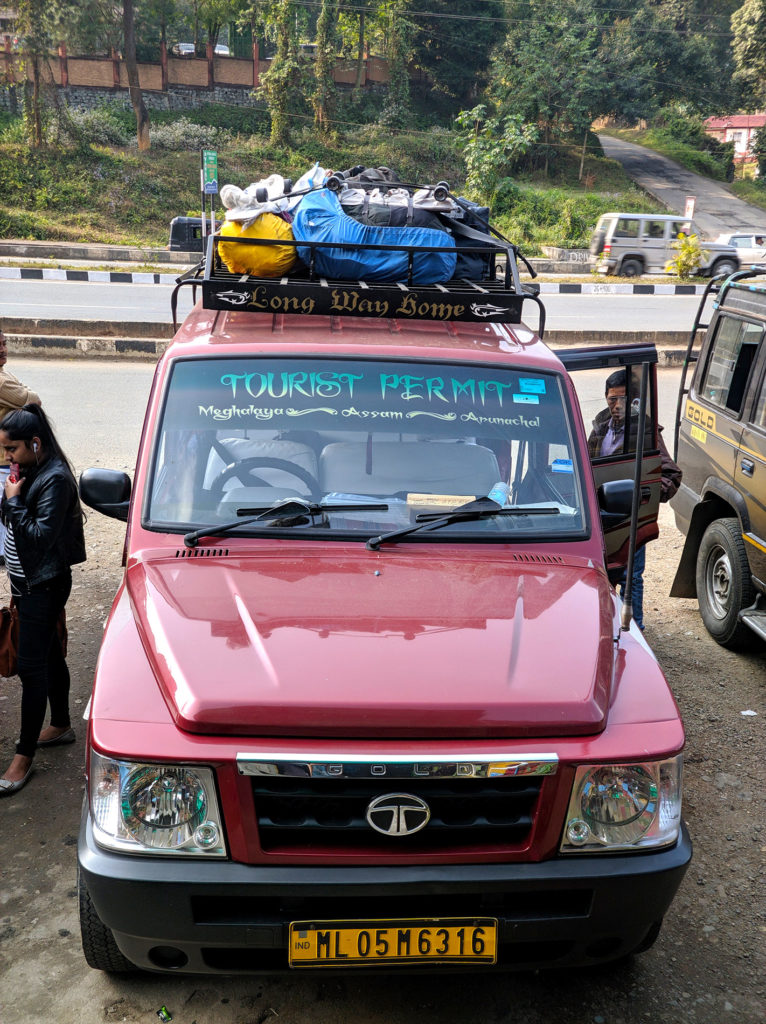 On the sumo we got to know a young couple from Guwahati, who were on a secret romantic weekend getaway. They had both told their parents that they are having a sleepover at a friend's place. The couple was also headed to Sohra, so we decided to share a taxi together. The taxi drivers in Shillong seem to be quite rude. The first one asked 4000 rupees (50€) for the 1,5-hour ride but in the end, we found someone who agreed to take us to Sohra for 500 rupees (6€).
Sohra, the wettest place on Earth
This small town is more widely known as Cherrapunji, but Sohra is the name the native inhabitants, the Khasi people, call it. It's also known for being the wettest place on Earth (even though it now holds the second place). We didn't see any rain, though, as it wasn't the rainy season now. There are not many sights in Sohra, tourists that come here use it mostly as a base for trekking to the root bridges in the nearby jungles. We also spent only one night in Sohra, but we liked its small-town vibe.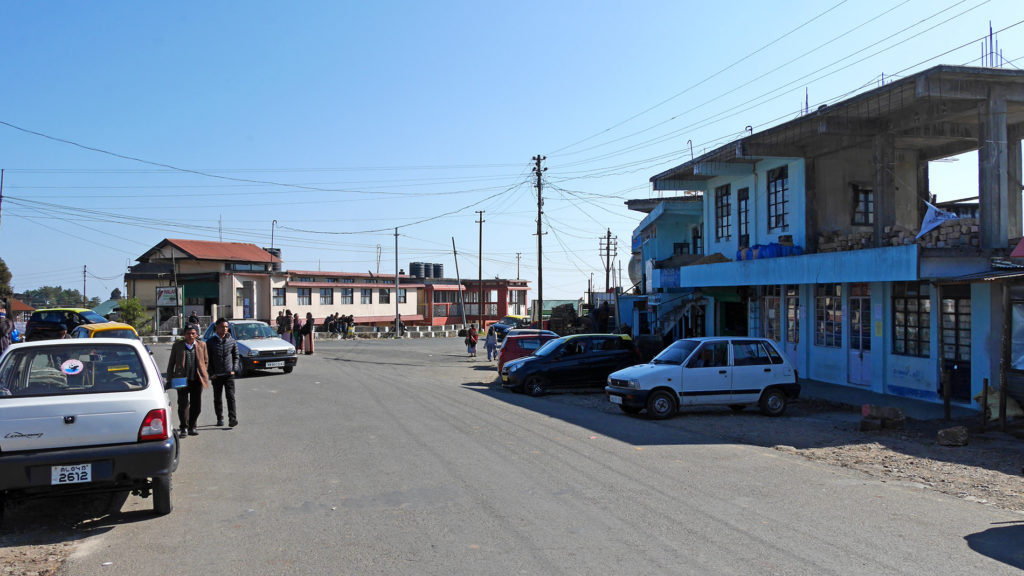 We stayed overnight in By the Way Hostel. It's a little hut with two rooms. Cheap and cosy, but a bit cold at night. We thought the owner, Heprit, was a very special and fun character and we really enjoyed talking with him.
Introduction to Khasi culture
Several tribes form the majority of Meghalaya's population, of which the biggest one are the Khasis. In Sohra we got our first introduction to the Khasi culture from a book that we found at out hostel and by talking to our host. After Sohra we spent two nights in a village in the jungle and learned more about this fascinating culture.
Even though majority of Khasis are Christians, many still follow their age-old religion, Niam tre. This religion and the culture itself is very strongly bound together with nature. This makes totally sense, as about 70% of the state of Meghalaya is forest. The tiny village where we spent our following two nights after Sohra, for example, was in the middle of the jungle, a couple of hours walk from the nearest town. Nature, and trees in particular, are seen as the manifestation of the divine and therefore hugely respected by the Khasis.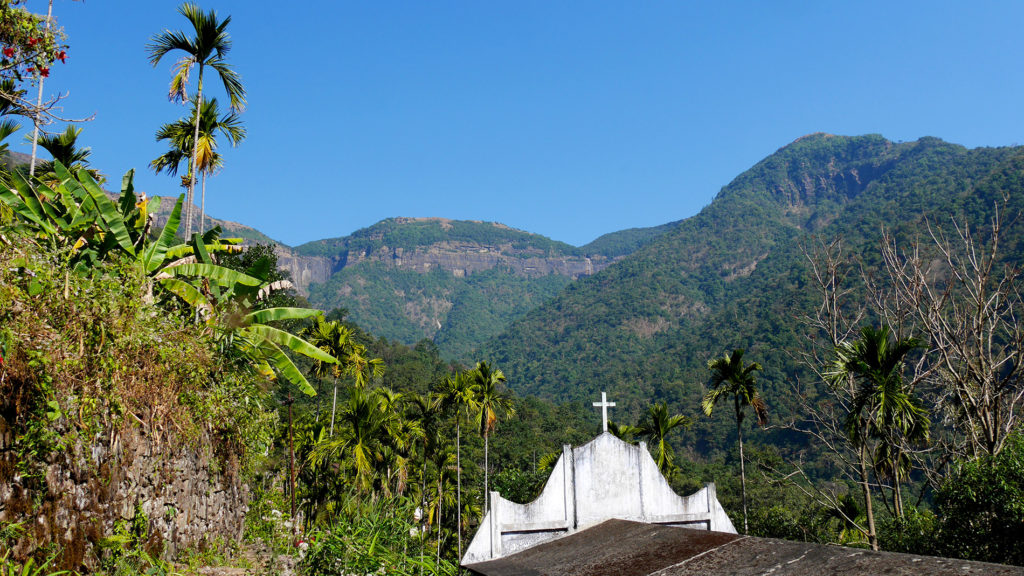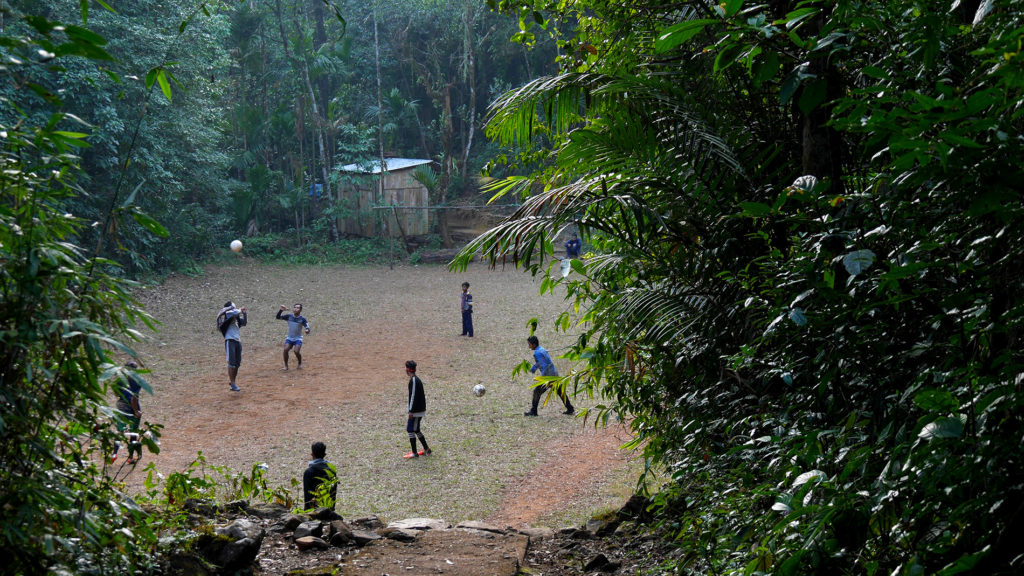 The Khasis believe that the forests are full of spirits, good and bad. The spirits are believed to be most active during the rainy season and we heard some enchanting stories of that time. We are getting more and more interested in the North-East India, in its tribes and traditions and its wonderful nature. When we return one day, we have to make sure we do it in the rainy season, even though it must be rough here in the wettest area of the world.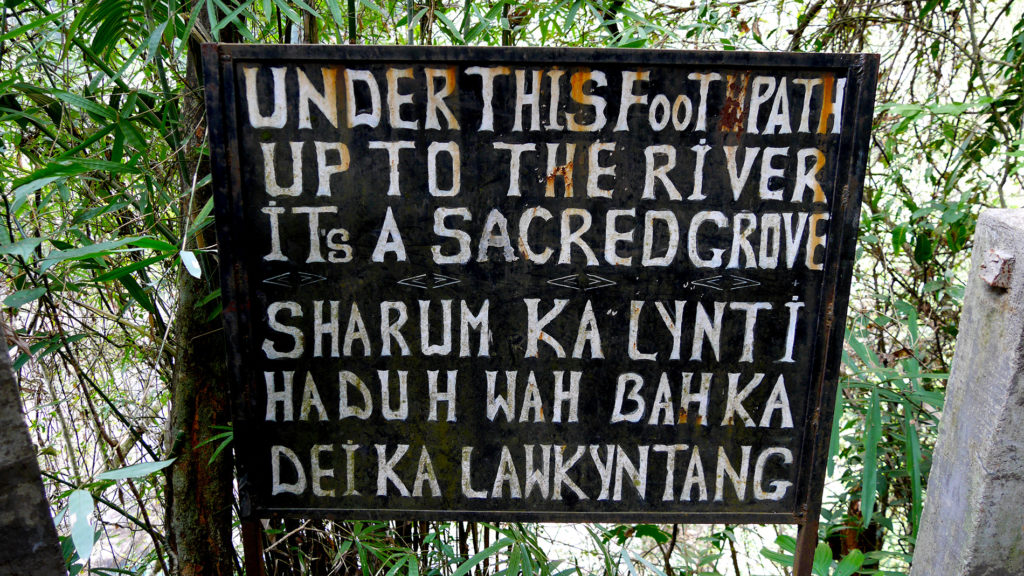 U Thlen, the evil snake spirit
One of the stories from Khasi mythology got us actually a bit scared – the story of U Thlen. According to the myth, U Thlen is an evil spirit that can take the form of a giant, man eating snake. In order to protect themselves from this horrifying spirit, people make sacrifices for the snake and unfortunately, he is very blood thirsty and likes human sacrifices.
What makes this myth especially scary is that it's still alive. Nowadays it's rare, but apparently still not completely uncommon, that someone gets murdered in order to keep U Thlen happy. We figured that we, unknown tourists, might be an easy target if someone needed to appease U Thlen. Just before leaving Sohra, after our jungle adventure, we learned though, that he's only happy with Khasi blood. Still, quite a chilling story.
Khasi people and their customs
Another thing that we found really interesting is that Khasis follow a matrilineal system and actually are said to be the largest surviving matrilineal culture in the world. A girl child is especially wished for. The youngest daughter of the family is the one who will inherit all her parents' wealth but also who is supposed to take care of the parents. After marriage it's not the wife who moves into the husband's home but the other way around, or they decide to live in separate houses. In a way the Khasi women seem to have more freedom and more power than many other women in India. We also got to know one Khasi super woman, Veronica, on our jungle trek.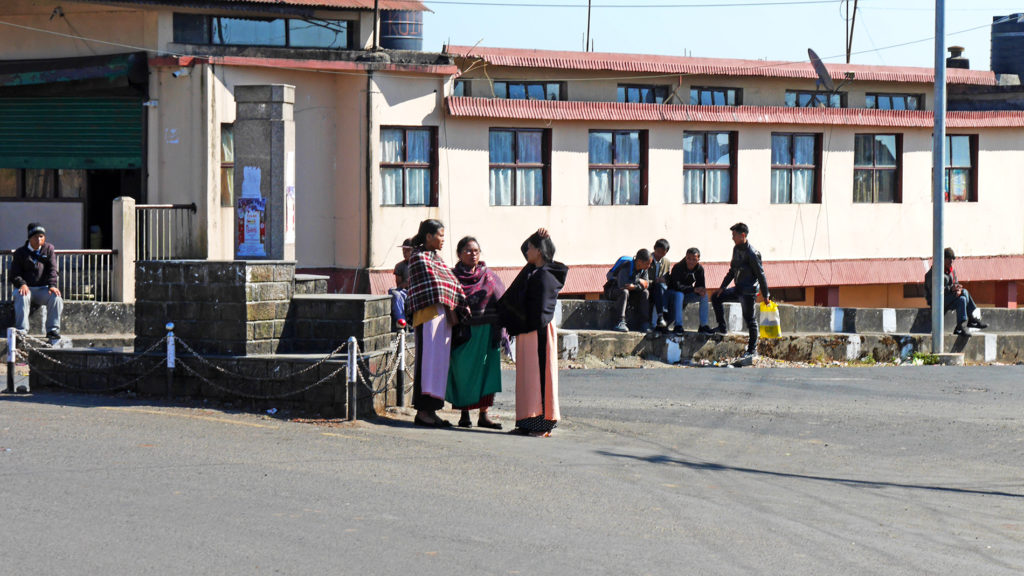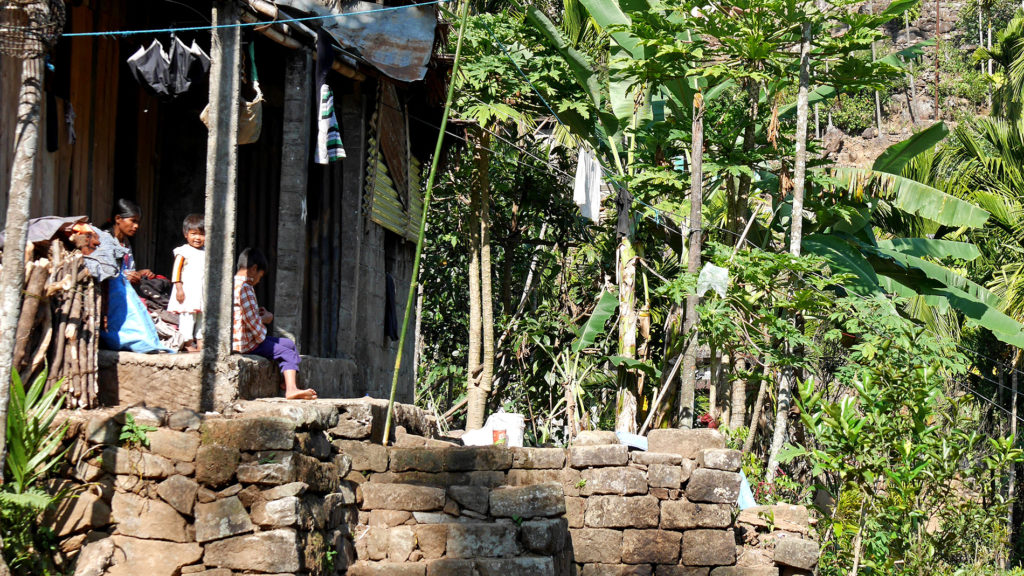 The Khasis we talked to were funny and easygoing. We also noticed that Khasis are small, many were even shorter than under 160 cm tall Johanna. While in other parts of India there were usually 10 people fitting into one sumo, here 17 Khasis were not a problem. Many Khasis are strong and fast walkers because they are used to walk long ways through the hills and the forests and to carry huge loads of food and other stuff on baskets that hang down from their foreheads.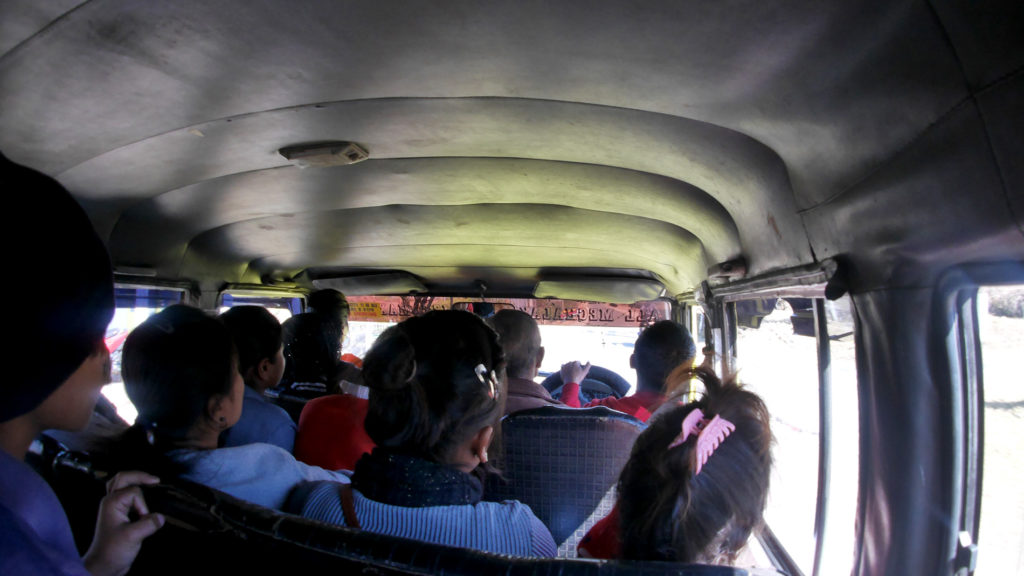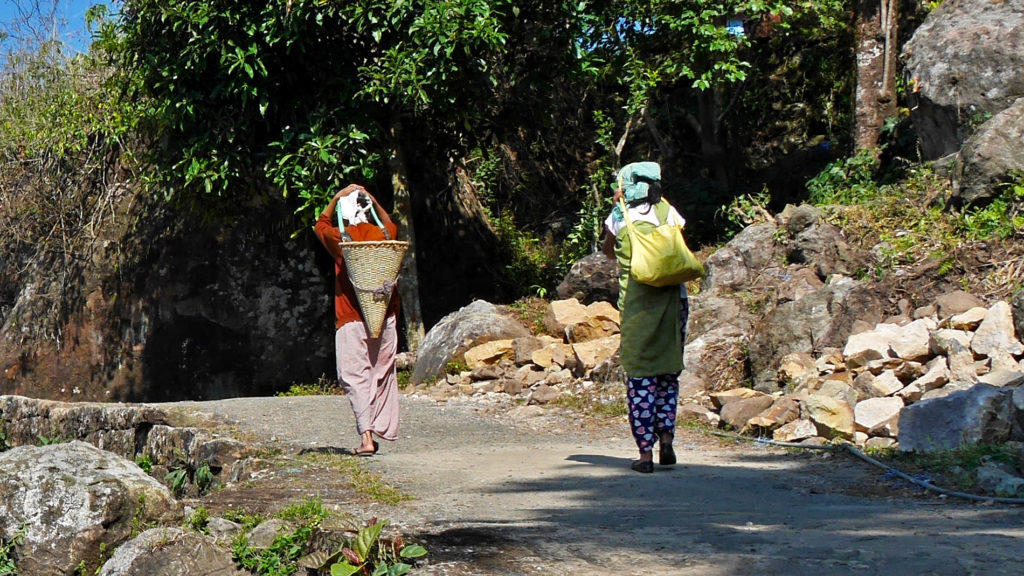 Our first Khasi words
In Sohra we also learned our first Khasi words. The Khasi language has similarities to Khmer language, as the Khasis originate in South-East Asia. We really started to like how the language sounds. To thank someone you say "Kublei" and an answer to that is "Om lei lei". When you greet someone with "Kumno", they answer "Kumni".
Preparing for the next day's jungle trek
It wasn't only Khasis that we got to know in Sohra. Our neighbor Sonauli was a nice backpacker from western India. On our only evening in Sohra we went together for a dinner. While eating our noodles, we talked about the Indian backpacker culture and how everything has changed in the last years. It was interesting to hear Sonauli's opinion, as we had seen the same, somewhat drastic changes happen between this and our previous trip to India.
After dinner we still had to prepare for the next day's trek, because we were planning to start early. As Sohra is a really small place, the few restaurants and shops there close early. Luckily, we still managed to get some snacks for the trek. We also packed light day bags so that we could leave our big ones in Sohra until we came back. The next morning, we started our wonderful adventure into the mountain jungle, towards the living root bridges.