Latest when we had a one-night stop in a village called Bokonbayevo, we came to the conclusion that Kyrgyzstan is so beautiful and versatile that it's crazy. We decided to have a stop there because we wanted to see the Lake Issyk-Kul on our way from Karakol to Bishkek. But we had not been expecting to get our minds blown by the beauty of the area in this scale.
Cruising along the Lake Issyk-Kul
Early in the morning we headed to the bus station in Karakol in order to catch a minibus, marshrutka, to Bokonbayevo, 133 kilometers away. We found one straight away, but we had to wait for some time before it was moving. The marshrutkas start only when the vehicle is full.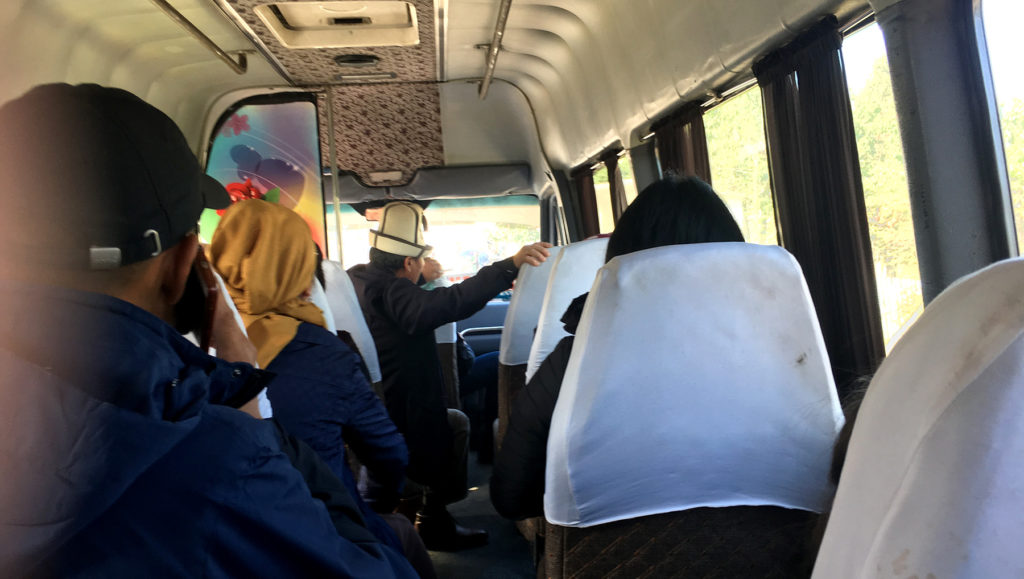 The scenery on the way was unbelievably beautiful. We knew that the Lake Issyk-Kul is the world's second largest alpine lake, but still we didn't expect it to be that huge. It was like cruising around next to a light blue sea, with snow covered mountains in the background. We saw many empty, sandy beaches and thought it would be the perfect beach holiday destination at summertime. By the looks of our surroundings, we could have as well been by the Mediterranean Sea or somewhere. But we got a reminder that we are in Asia, indeed, when people started to hand plastic bags to each other, and the kids began to puke up (this was the standard on our last Asia trip).
Arriving in Bokonbayevo
Already on the way we had thanked ourselves for deciding to stop by the lake, even if it's only for one night.
We had booked the cheapest double room available for that night and what do we get: a whole floor of a cute wooden villa for ourselves (no other guests) with a lovely garden with fruit trees and an awesome breakfast.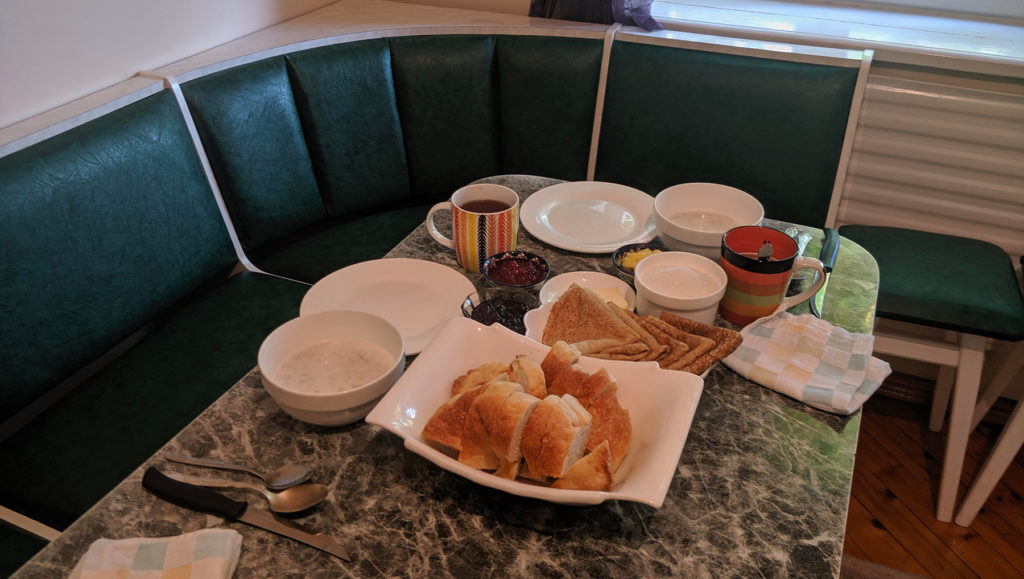 Fairytale named Kyrgyzstan
We didn't have many plans, just wanted to get to the lake. Already two persons had told us that we had to go to the Fairytale Canyon nearby. We were not very interested, as we had just spent a night in a canyon last week. The lady from our guesthouse said the same: we had to go to the canyon. Well, if we really HAVE to, we thought, and got a shared taxi there.
Good that the people had been pressuring us, the canyon was amazing. First, we walked through the entrance. There was no-one there, so we didn't even have to pay. A bit further we came across a huge herd of sheep, like hundreds of them.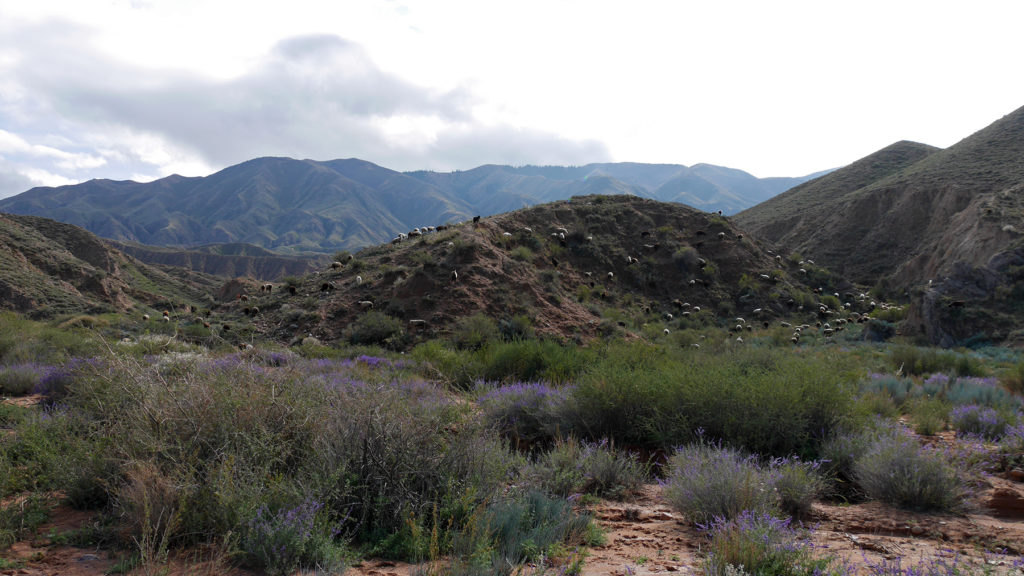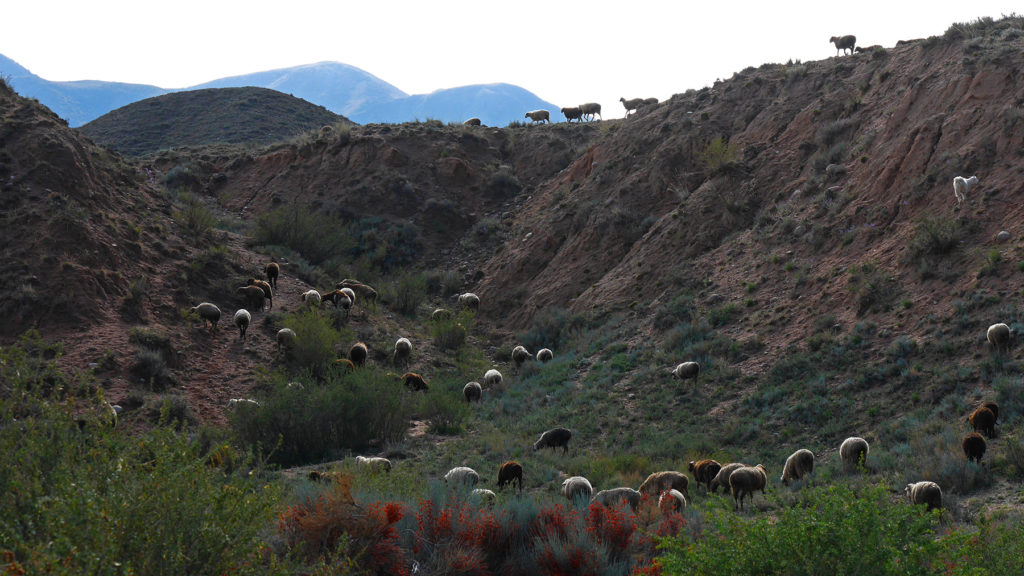 The canyon started looking more and more spectacular, with different shades of brown, green, red and yellow.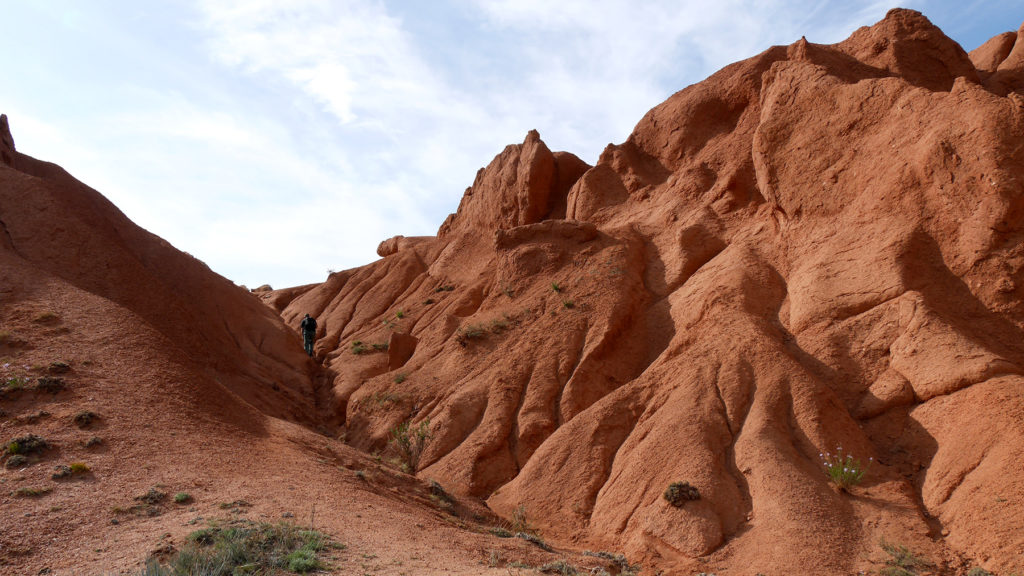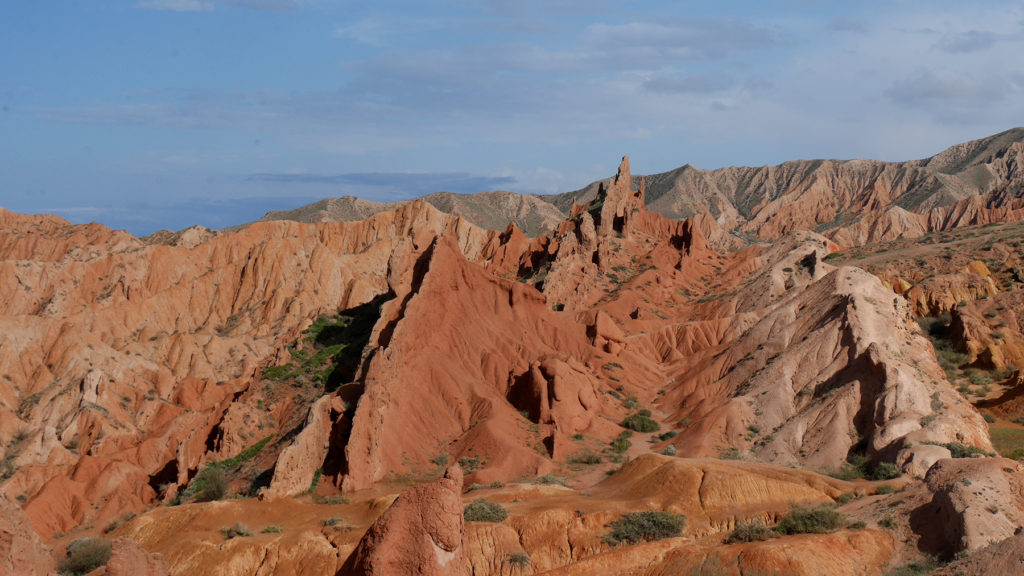 And then we saw it, the view over the canyons. We really started to feel like being in a fairytale, can Kyrgyzstan even be real?! A canyon, a beautiful blue alpine saltwater lake and snowcapped mountains, all at once! With everything we've experienced in the last days and now this – we have fallen in love with this country.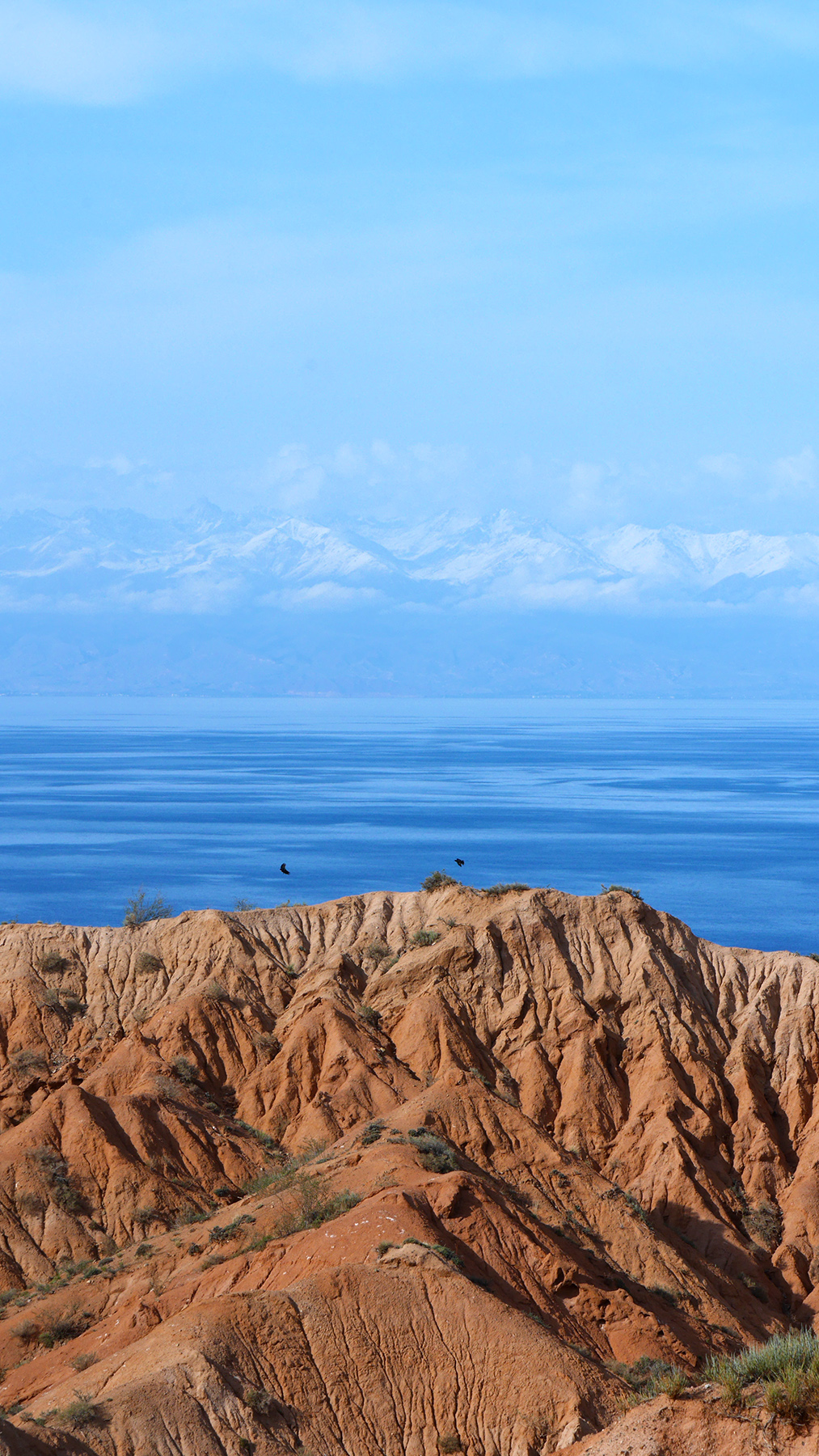 After walking around in the canyons, we had a break on the beach. Then we hitched a ride back to the village.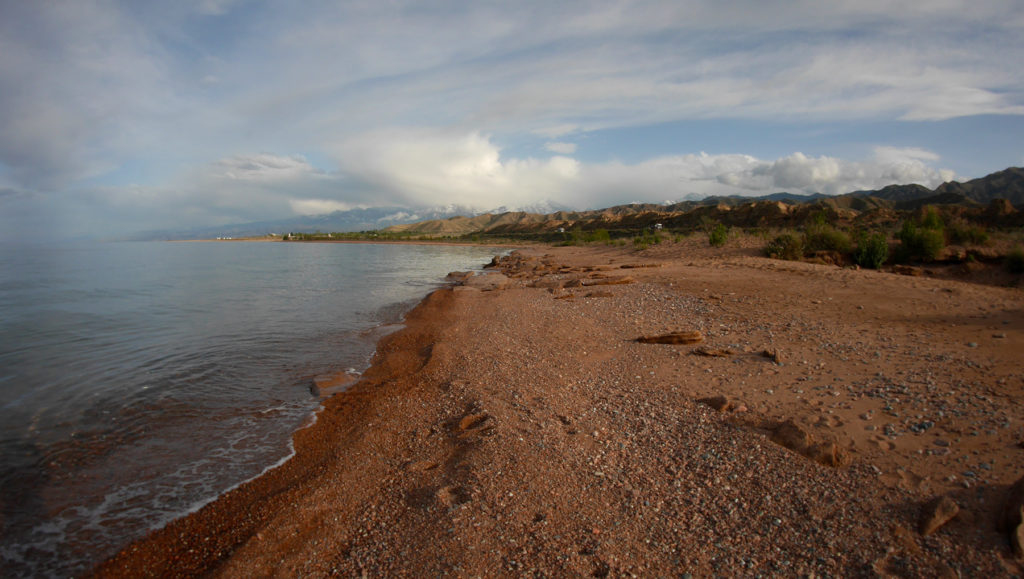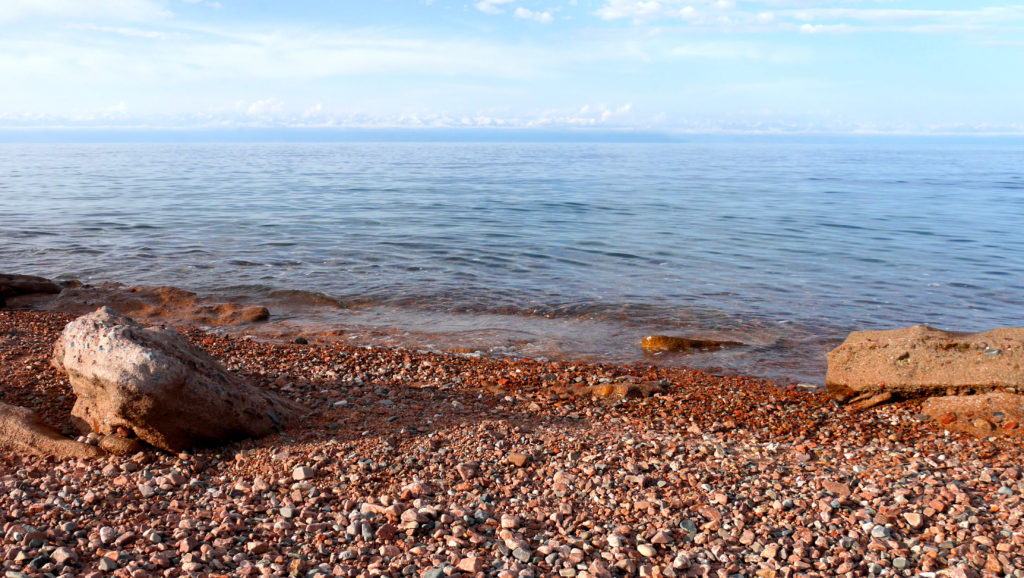 There would have been a lot more to see in that area. Anyhow, we had to keep on going. We are starting to be a little bit in a hurry as we need to arrive to the China-Pakistan border before there's too much snow. Next stop: Bishkek.