The second largest city of Kyrgyzstan, Osh, was going to be our last longer stop before leaving the country. Therefore, we spent most of the time planning our trip to China and Pakistan and preparing the necessary documents etc. But we also had some time for sight-seeing and fun having – and we liked what we saw and experienced there. During our stay in Osh we also ended up getting kind of "married".
Luck and un-luck with our guesthouse
Basically, we had luck with our accommodation. The owner granny didn't speak any English but for some reason she upgraded us to a really comfy room with our own bathroom.
There was some confusion about our payment, though. We've gotten a notification from Booking.com that the first night was paid already, but according to the granny it wasn't. We tried to sort it out over telephone with her daughter-in-law with no luck. As we had plans for the evening, we agreed that she's going to stop by in the morning and the granny can keep Seri's passport until that.
When we came back around mid-night, the granny was still up. She wanted to solve the money issue right away and had invited her grandson there to help us with translating. We agreed to pay, and they promised to check about the prepayment later (which they never did, btw). We felt sorry that we had kept the granny awake that long. It turned out that it was un-necessary. Apparently, the granny did never sleep, because on our first night she was yelling really loud with some man at 2 am and the next night this happened at 4.
Poor cocktails, good company
The plans we had for the first evening was to meet up with Lena and Tjerk – this was going to be the last time for our paths to cross, at least before India. We went to some beer garden that served grill food. After food, Tjerk decided to order Kurut, traditional dried yogurt balls, as a beer snack. It was surprisingly much fun to eat those. The taste was so weird sour and dry that you couldn't but laugh while trying to get one of those down. We wanted to celebrate our reunion and our friends' 151st day on the road by ordering cocktails and learned the hard way to not to do that in Central Asia. They really don't seem to know anything about cocktail making. The girls' mint liqueur mojitos and Seri's tornado, that was actually a B52 served with a lighter and a non-fire resistant straw are a proof of that.
Wedding at the bazaar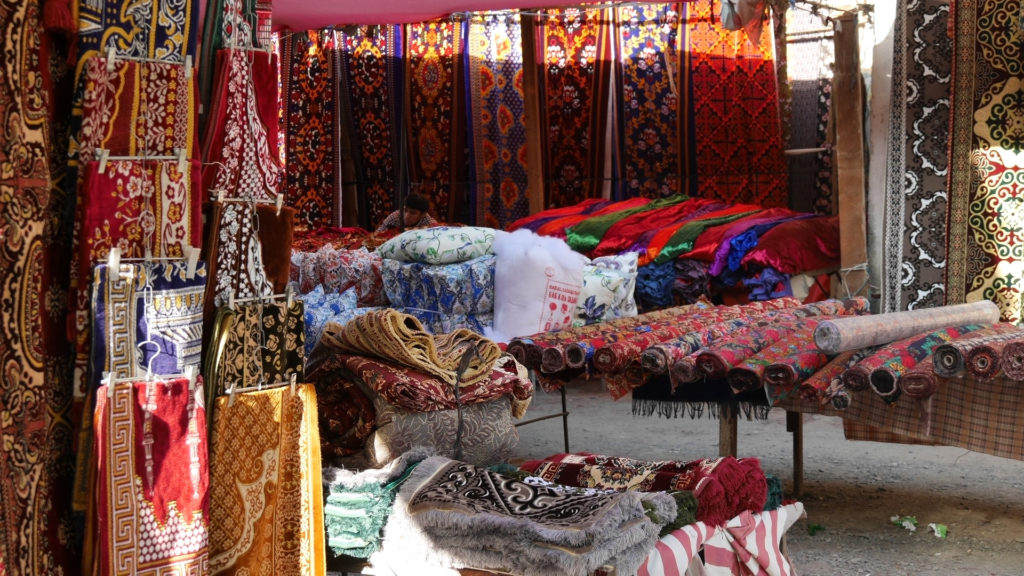 A city trip in Central-Asia wouldn't be complete without a visit to the local bazaar. We liked the one in Osh because it was easy to navigate. There was only one main street. The wares were like in any other bazaar, everything from clothes and jewelry to nuts, vegetables and spices.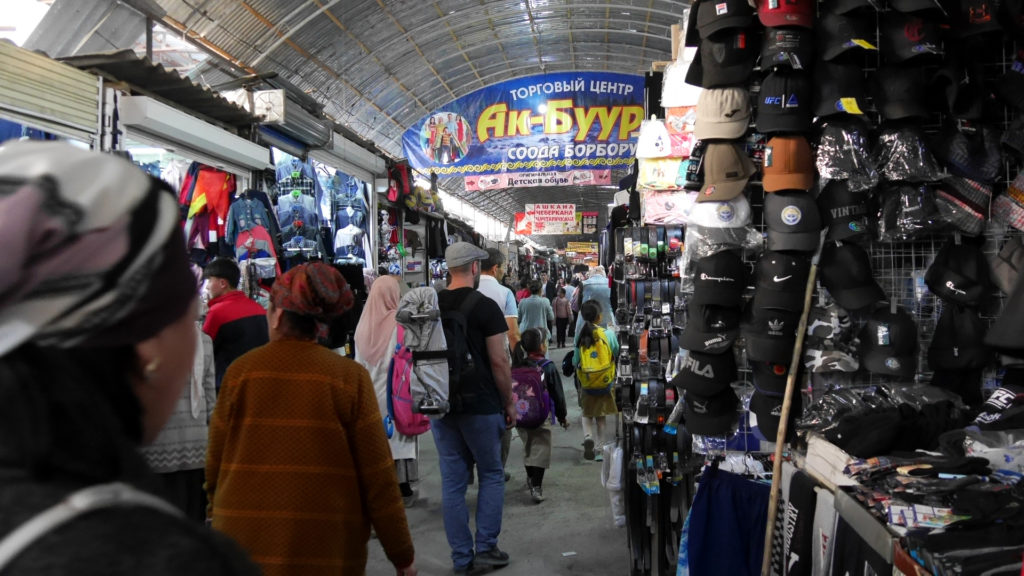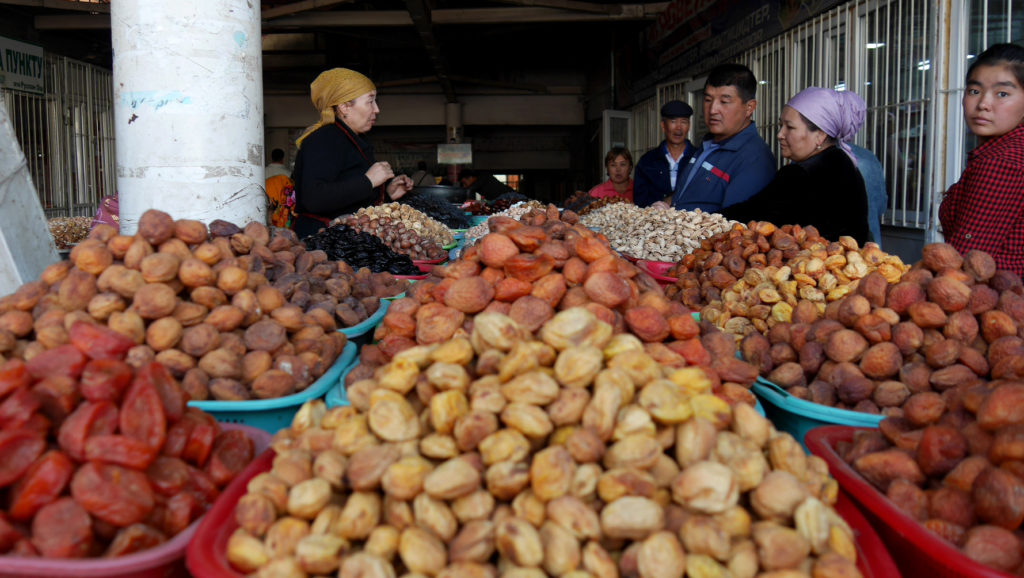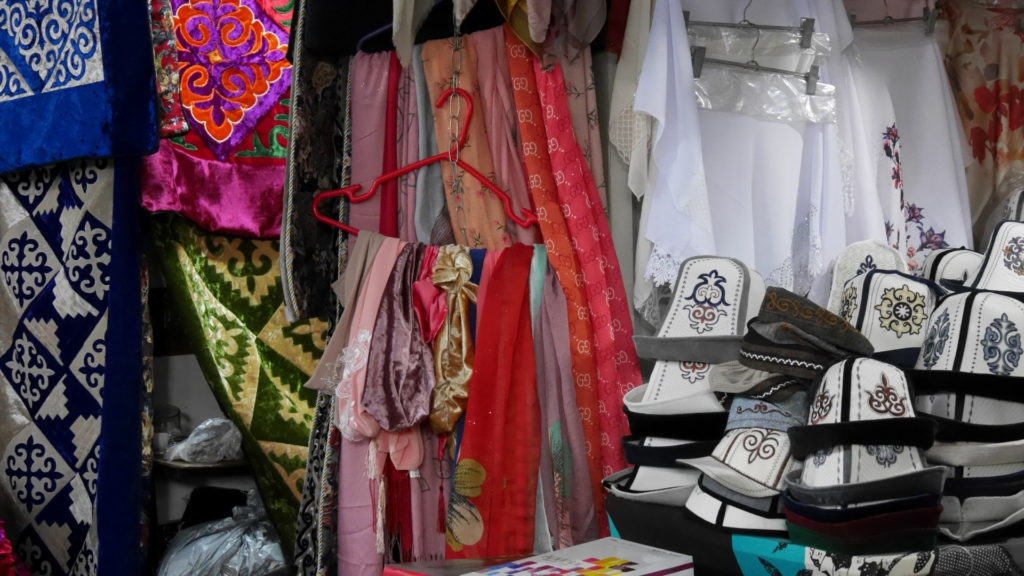 We had been in search for wedding rings for ourselves for the most of our time in Central-Asia. Or not really, but having a ring on your finger makes things easier here, and in the countries we are going to travel next, with very traditional family-roles. We haven't been able to find a ring small enough for Johanna's dwarf fingers in any bazaar so far, but finally we had luck with the size and the prize. Our fake-wedding costed around 5 euros including the rings, a manty-dinner and some cake for dessert.
Vegetarian food in Osh
Usually, when we arrive in a new city, we google the vegetarian restaurants there. We couldn't find any for Osh, which wasn't really a surprise for us after Bishkek. But we found a recommendation for "the city's best" manty-restaurant, which was supposed to have veggie options, too. It's called Mantykana Aibek and it turned out to be awesome, indeed. On the first day we ordered two different manty (local dumplings), filled with pumpkin and spinach. They were served with marinated onion and the combo was really yummy. We also ordered smetana with it and got a whole jar. We couldn't finish all of the smetana so we asked to leave it to the fridge as we were definitely going to be back the next day. This time we ordered the same set as the day before plus a portion of potato manty. It was a ridiculous amount of food, but we could pack the rest as a take-away.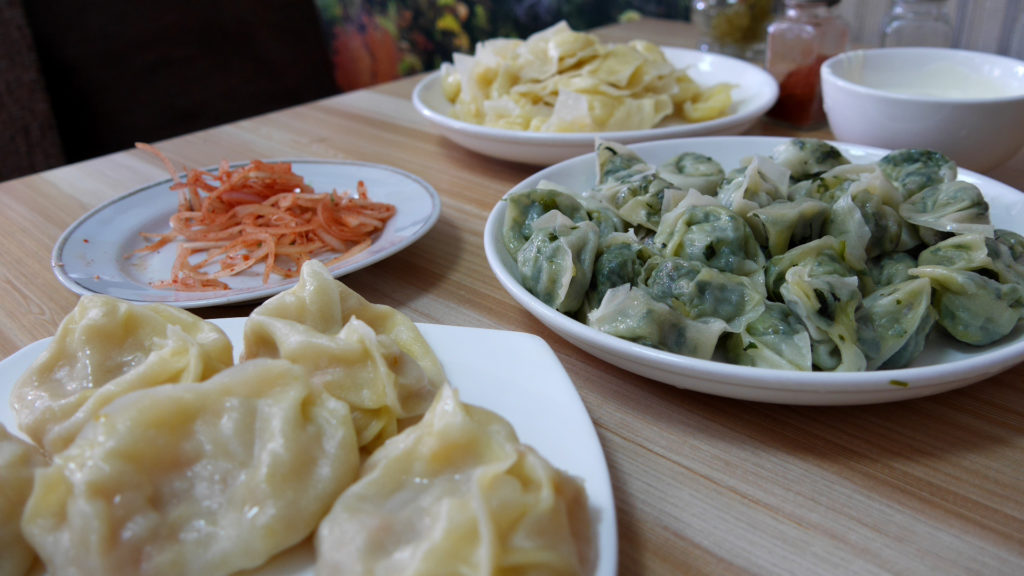 Sunset on a sacred mountain
One of Osh's landmarks is the Sulaiman-Too mountain (the other one would be the Central Asia's biggest Lenin-statue, which we missed). It has been considered holy by many religions for hundreds of years. It's still said to be a popular place for religious and shamanistic rituals. Of course, we wanted to visit this mystical mountain, especially because getting up there would take less than an hour. We chose some random path to go up, not even knowing that there would be a big stairway on the other side. But it was nice. We saw some cheerful kids and even a cemetery with the "fat-bottomed goats" that Johanna has been hunting all around Kyrgyzstan.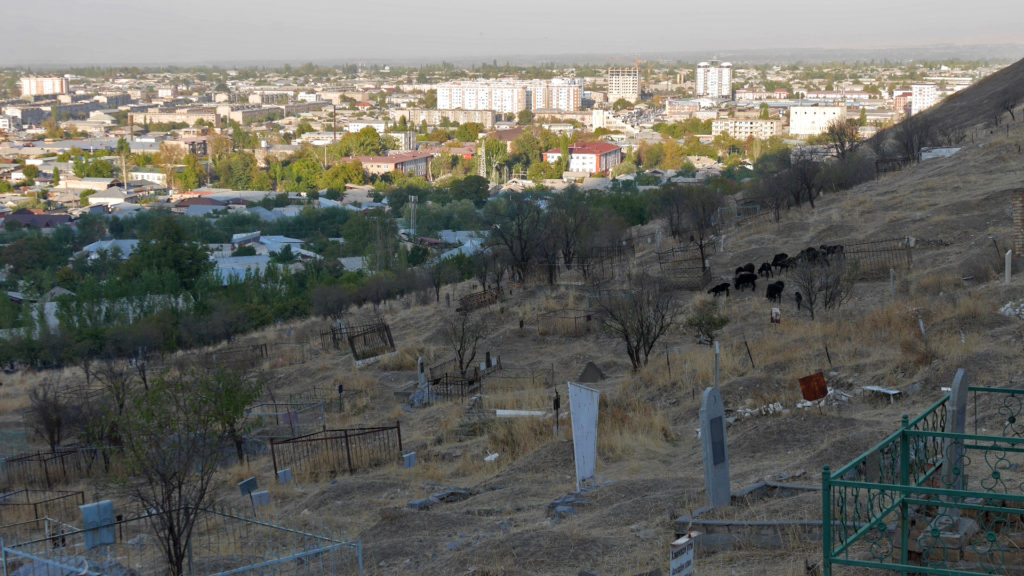 On the top we witnessed a beautiful sunset over Osh. Somehow, we had ended up on another side of the mountain, not there where you can find a little mosque and where all the tourists go. We found the stairs and still wanted to go up to the mosque, even though it was almost dark already.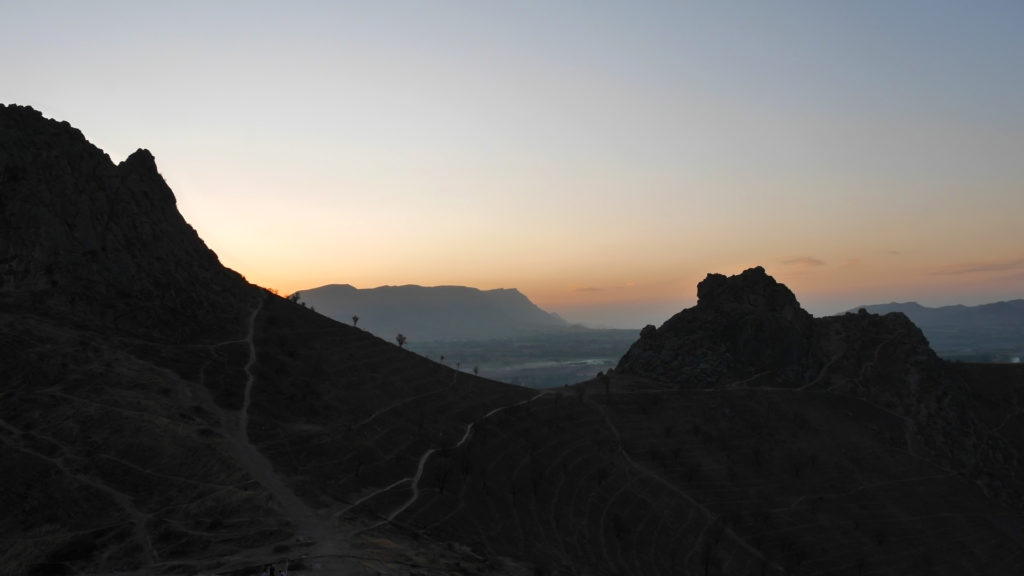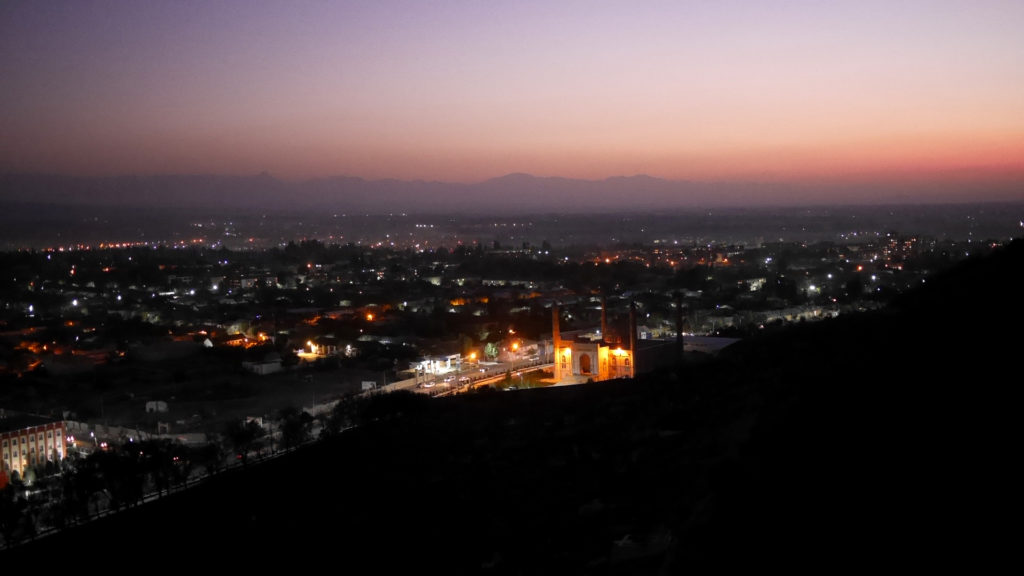 Adventures in a dark cemetery
On the way back we tried to get down the shortest way and ended up in another cemetery. It was a bit spooky to walk there as it was already completely dark, but we had a headlamp. We were hoping that the gates of the cemetery were still open so that we wouldn't get trapped in the cemetery at night. Of course they weren't. When we got to the closed gate, Seri started to search a way out by going into a bush growing along the fence. Johanna stated there's no way that she's going to start crawling in some bush in a dark Kyrgyz cemetery. We saw that behind this fence there was another one, so if we managed to get over the first fence but not the second one, we would be even more trapped. Still, we decided to give it a go. It wasn't too hard to climb over the first fence. When we got to the other side, we saw a hole on the second fence and could walk through it. We were out of the cemetery and saved from the Kyrgyz ghosts. At least we had a small adventure on our last evening in Osh.
Getting out of Osh
During our party with Lena and Tjerk, it turned out that it wasn't going to be the last time we see each other before India, after all. They had decided to start driving towards Tajikistan the same day we wanted to get closer to the Chinese border, which was in the same direction. Therefore, we got to bum a ride from these two, again. We had agreed to meet in a very special place early in Sunday morning…