After spending a lot of time in the nature and small places lately, we didn't get too excited about staying in Kyrgyzstan's capital, Bishkek. We still enjoyed the things that a big city can offer – or at least we tried to.
Getting to Bishkek
In Bokonbayevo we went to the bazar where all the minibuses are leaving and asked for a ride to Bishkek. Soon we were surrounded by drivers that wanted to offer their services. We negociated a shared ride for 250 som (3,4€) per person by one of the minibuses. There were already a granny and a mom with a child waiting for the departure. The bus filled slowly but after 45 minutes it was full and we were ready to go.
The beginning of the journey we could still admire the views over the Lake Issyk-Kul. After some five hours we were approaching Bishkek. We got lucky, as we realized that the minibus was going to pass near our accomodation and the driver agreed to drop us off at the crossing.
We spent another half an hour searching for our hostel, which was marked wrong on the map. The hostel was nice but almost empty, as the season was over. Therefore we got an upgrade to a bigger room with a garden view. The owner was planning to throw a barbeque party the next day and was insisting us to join it. We had to turn the offer down several times, as we didn't expect central-Asian barbeque to be very vegetarian friendly and also because we didn't want to spend our only whole day in Bishkek at our hostel.
Not too excited about Bishkek
The time in Bishkek passed fast and during that time we didn't get too excited about the city. We couldn't find much to do or to see there. We tried to look for some cultural program like theather, museums, opera etc., but all the places were closed. Usually eating and drinking are the best activities anyway, but this also got a bit ruined as we were "tricked" to eat chicken. But to be honest, we also found some amazingly good food and great beer in the city, which, indeed, was the one and only highlight there for us.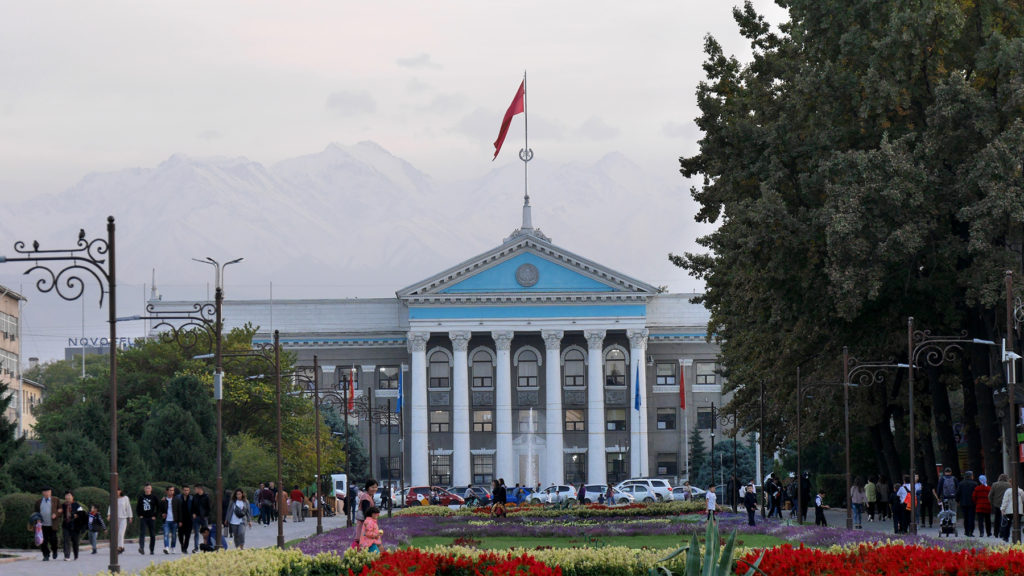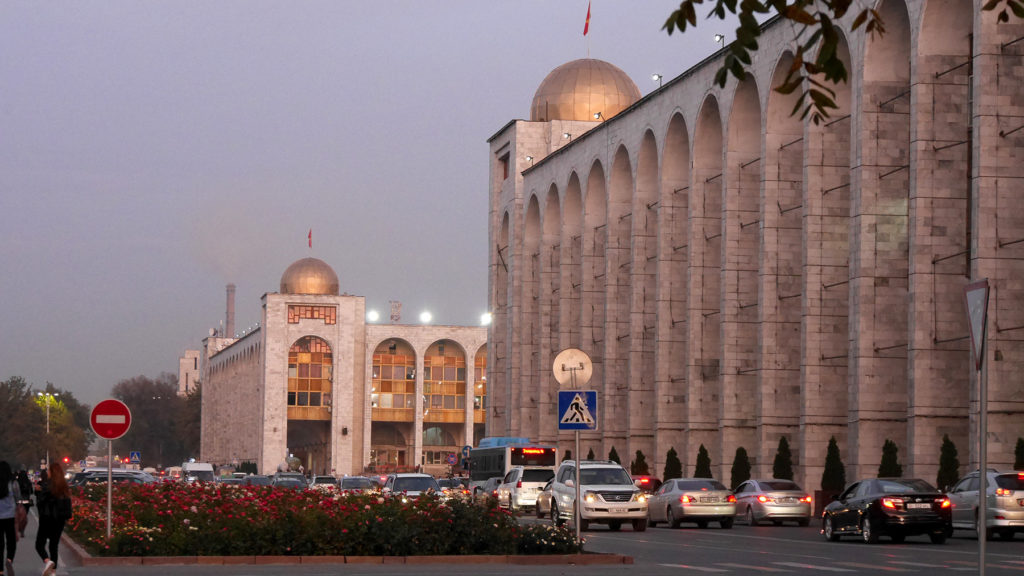 The food and beer
On our first evening in Bishkek, the owner of our hostel recommended us a Georgian restaurant called Purpur. As it was our first time eating Georgian food, we didn't know what to expect, but ended up discovering another yummy cuisine. This got us to dream about traveling to Georgia at some point.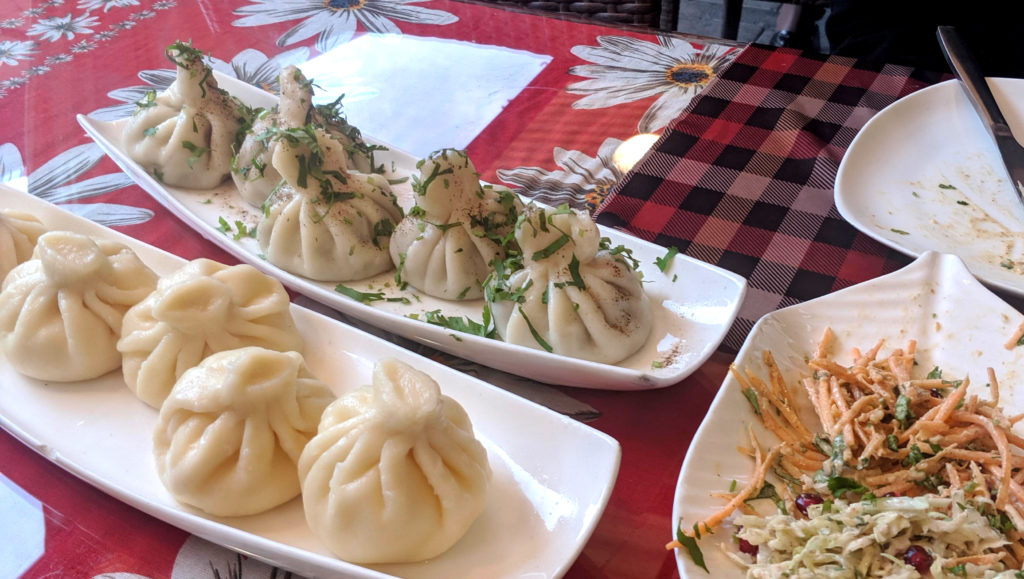 Another place we liked was called Save the Ales. It's a female run craft brewery with a nice garden. We liked the place so much that we visited it on our both evenings in the city. We tried their ipa, dipa, and märzen, as well as the blueberry and raspberry beers, and spent too big part of our travel budget there. Anyway, soon there won't be much beer available anymore, so why not to use the opportunity…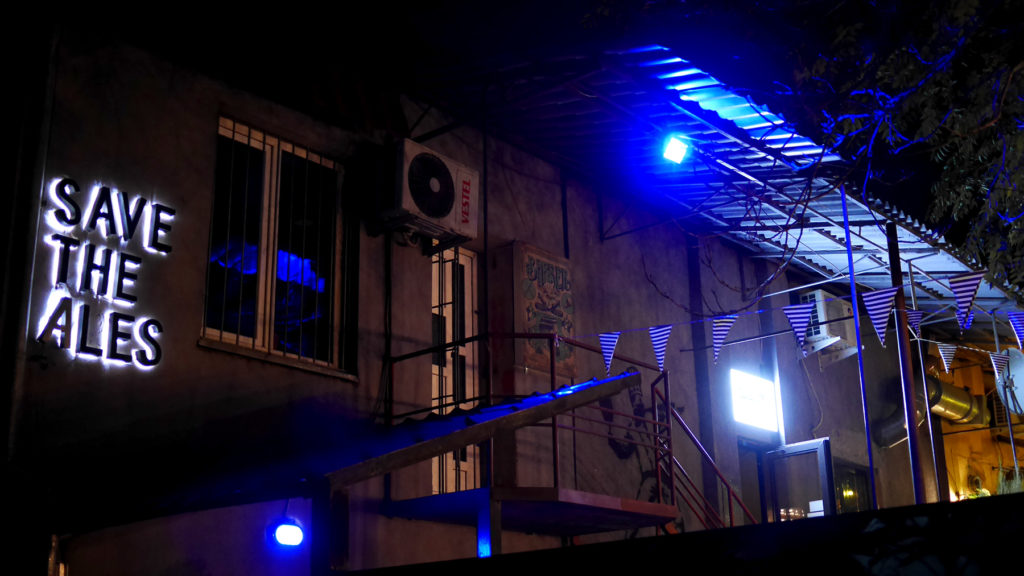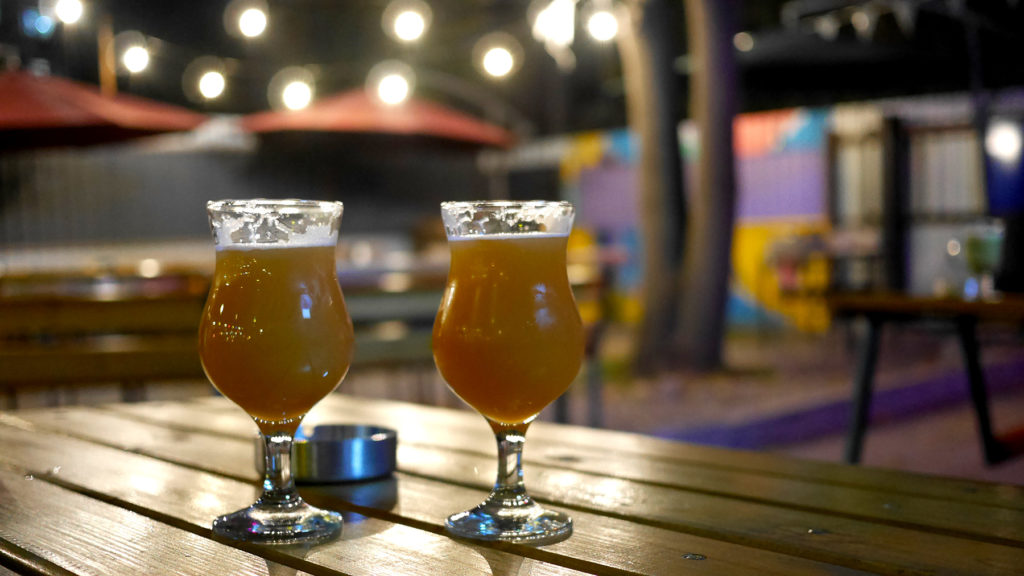 Osh Bazar and the desperate search for vegetarian food
There is a huge bazar in the outskirts of Bishkek, but we didn't go there. We chose to visit the smaller one, Osh Bazar, instead, which was also so big that we almost got lost in there. On the same go we wanted to check out the ride situation for the next day, as shared taxis to Osh's direction leave next to the bazar. The drivers tried to get us into some cars right away as we arrived there, so we figured it will be easy.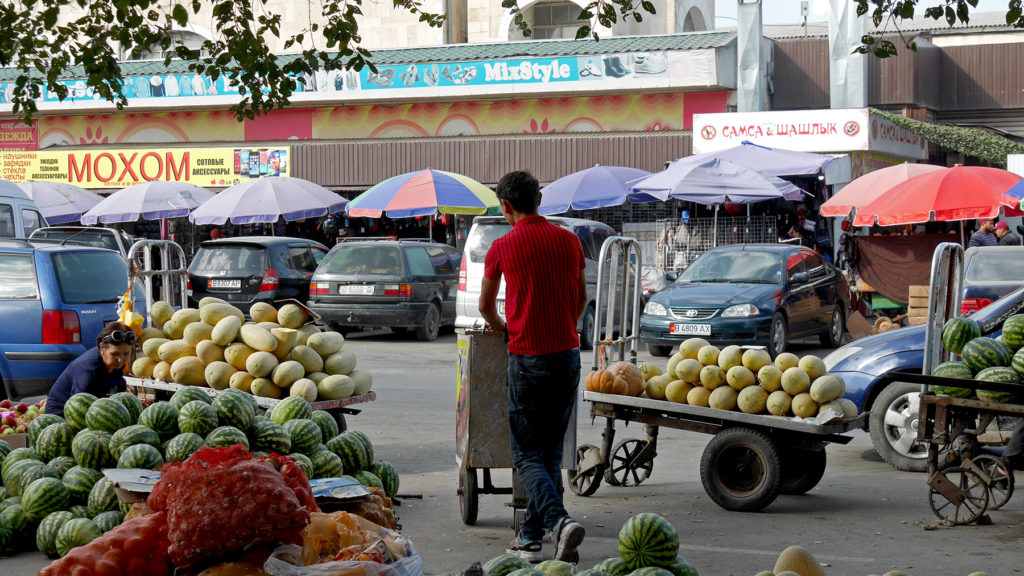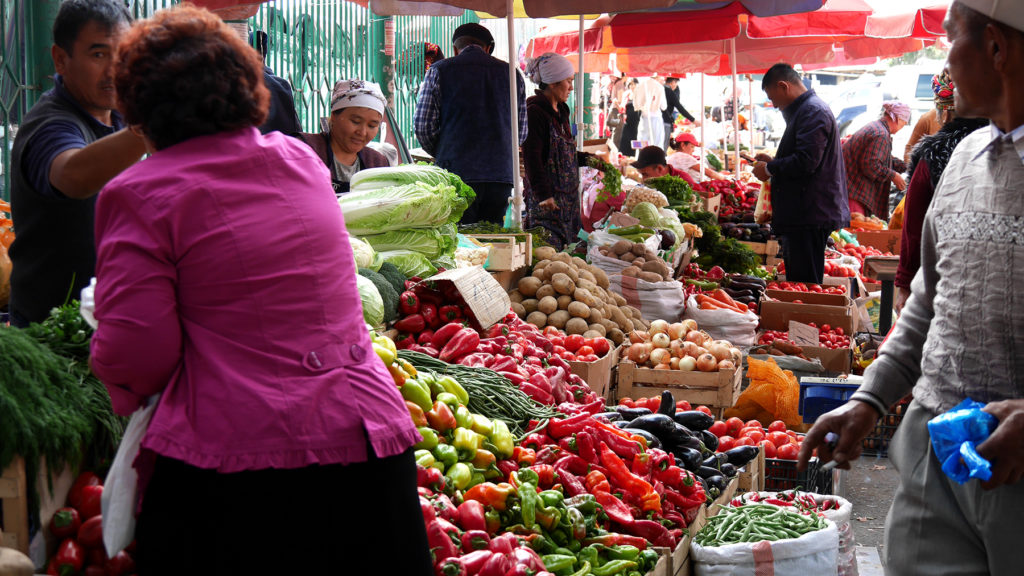 We also bought some snacks for tomorrow's ride and tried to find something vegetarian to eat. This is where we ended up eating chicken. We asked from several stands selling all kinds of pastries, if they had something vegetarian. The answer was always negative. We even went to a bigger restaurant with a long menu, including potato pelmeni. They didn't have the pelmeni and all the other hundred items contained meat. Finally we found a promising pastry stand. The seller woman answered da when we asked for veggie food. But despite the fact that we showed her a note written in Russian, stating specifically that we don't eat meat, including chicken, fish, bouillon and lard, she decided to sell us one of her potato and chicken-filled pastries. And as the chicken was mashed (she had probably prepared this treat from the worst parts of the chicken), we couldn't figure out straight away what it really was. Later, by writing kuritza, what she kept repeating, to Google Translator, we found out the true meaning of the word – and will never forget it. Luckily after that incident we found an Indian restaurant with a lunch menu near the bazaar.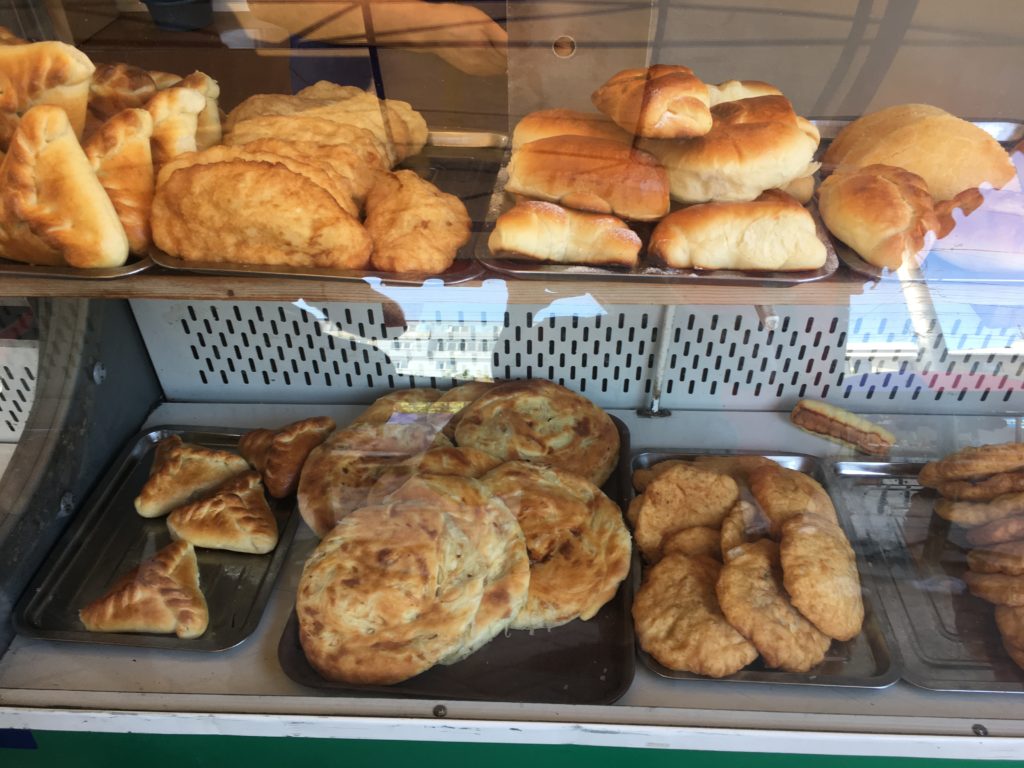 Other things we did in Bishkek
Like already said, there was not much to do in Bishkek. We visited a place called Oak Park with old trees and some sculptures. Seri thought the sculptures were not even well made. We also managed to pick up headphones, that an old social work collegue of Seri had forgotten to one cafe a few weeks earlier. That's about it.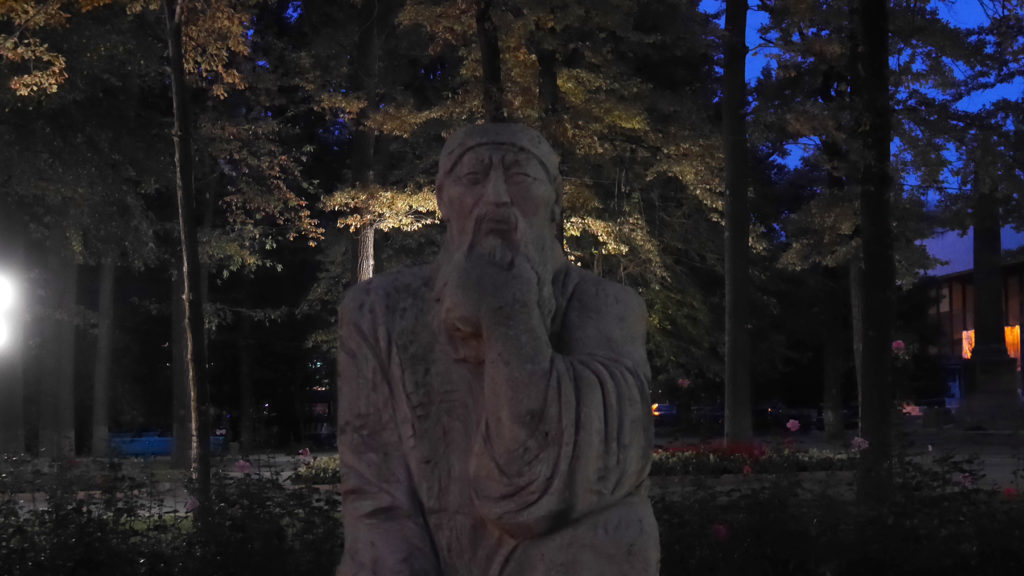 Leaving Bishkek
In the evening before leaving we contacted the Community Based Tourist Office in Arslanbop, to arrange our stay in our next destination. The next morning we went early to the Osh Bazar to get a ride to Arslanbop. Things didn't work out quite as planned, which made our not-too-warm feelings towards Bishkek even colder. But that's another story again.