Tashkurgan is the last city on the Chinese side before the Khunjerab Pass and the border of Pakistan. Also, the border of Tajikistan is near. Therefore, majority of the inhabitants of Taskurgan are Tadjik, but most of the hotels and restaurants are run by Chinese, and some by Pakistanis. The mixture of cultures there is interesting, and the city is surrounded by beautiful mountains, but otherwise we didn't enjoy being there too much. We had to spend three nights in Tashkurgan before the Pakistani border would open again on Monday. By that time, we were more than ready to get out of there…
Getting from Kashgar to Tashkurgan
In order to get a bus from Kashgar to Tashkurgan, we were told to be early at the bus station. We left our hostel before eight Beijing time, meaning before seven local time. It was dark and cold, and everyone was still sleeping, except us. When we finally got a taxi, it took us to a place which was marked as the place for the Tashkurgan buses also on our maps. Still, it turned out to be a wrong place.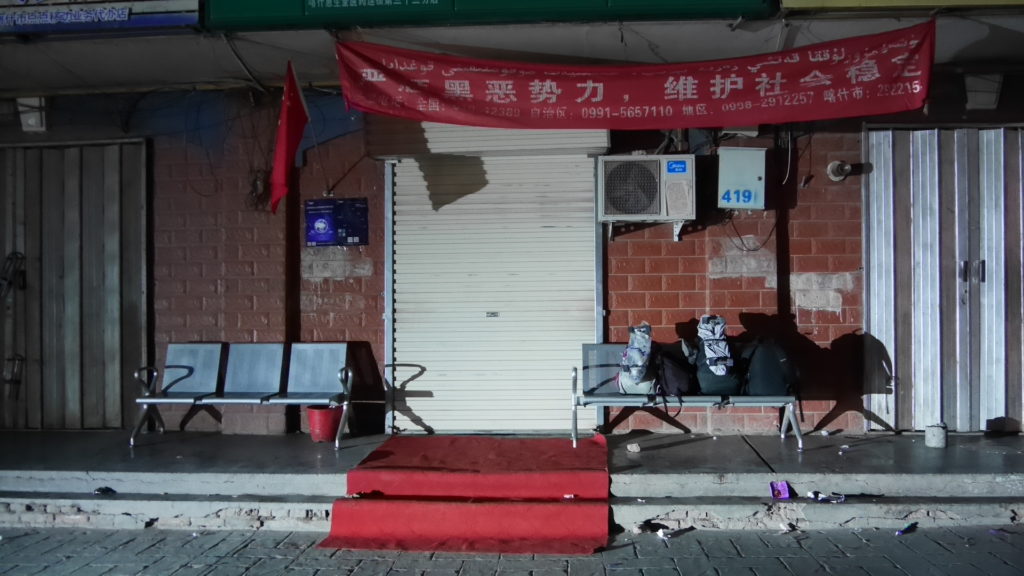 After we had waited over an hour, some man (of whom we were first suspicious about) came to us and led us to the right place. It's called the West Bus Terminal. We still had to wait two hours before the minibus got full. Then we were finally on the Karakoram Highway, off to Tashkurgan!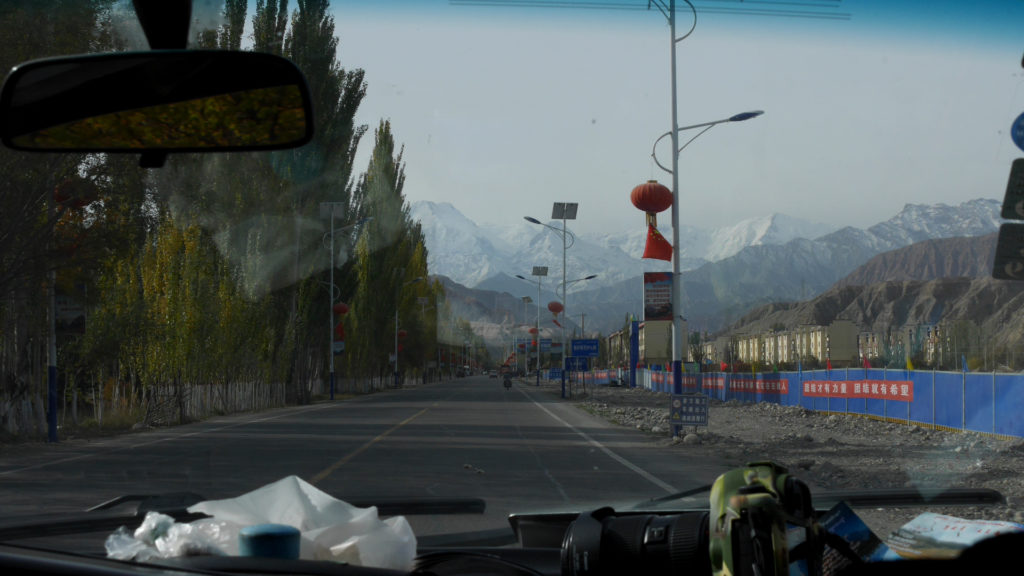 On the way we had a very chaotic passport control. There were several Chinese tourist groups queuing. Or "queuing", as seems that Chinese tourists are not able to stand in line. By fighting our way through the crowd with knees and elbows, we managed to pass the checkpoint in half an hour.
Many Chinese tourists who don't even intend on crossing the border to Pakistan, travel to Tashkurgan just to see the stunning views there and on the way. And indeed, as soon as the Karakoram Highway started, the alpine views got pretty scenic. We also passed the Karakul lake, which is one of the highlights for many tourists in Xinjiang. And we saw some yaks on the way (very important highlight for Johanna)!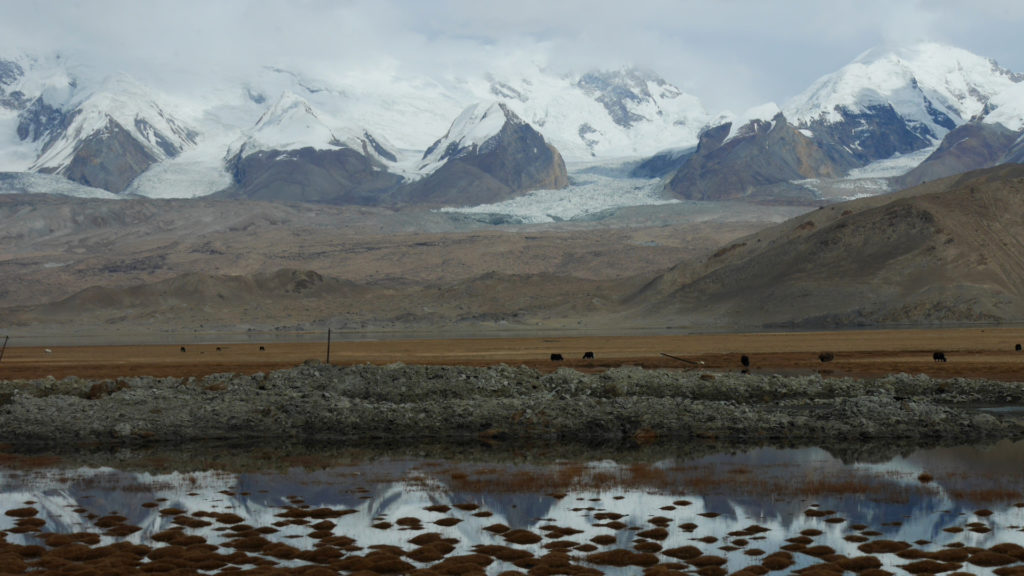 Hard time in a Chinese hostel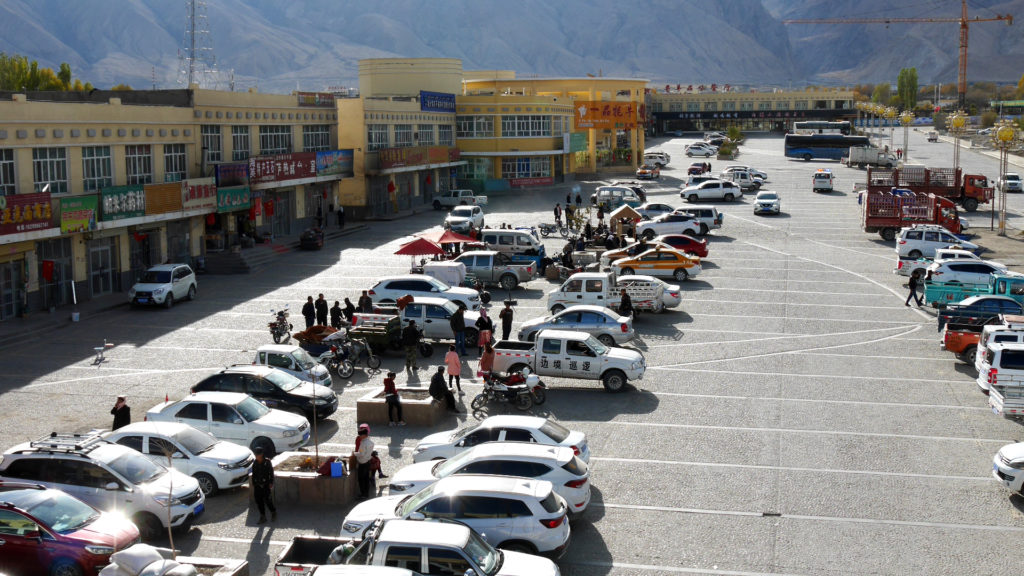 We arrived in Tashkurgan and went to the K2 International Youth Hostel, which was the only (at least budget) option for foreigners in town. K2 was a big place but still completely fully booked. Luckily, our Taiwanese friend Eva had travelled to Taskurgan one day ahead of us and kindly booked beds for us, too. Unfortunately, the only option available were beds in male and female dorms, so we were separated for the first night.
We both had our own struggles with our Chinese dorm friends who were acting ridiculously. For example, starting their tea party before six in the morning inside the dorm, talking loudly and spitting on the floor. When they finally left an hour later, they left the lights on and the door open behind them, of course.
The next two nights we had our own room but still the Chinese tour groups really got on our nerves. We could hear them yelling, blowing their snot and spitting excessively loud throughout the mornings. And as we were the only Europeans in the hostel for most of the time, we felt like being an attraction. People were watching what we were doing and wanted to take pictures of us. It was especially great the morning after sleeping in the dorm, as we were both completely fucked up after a bad night, sitting in the common area, having and argument and trying to smile for the cameras at the same time.
The people who made our stay better
Otherwise the common area of the hostel was quite a nice place to hang out. Will still got to spend some time with Eva before she left back to Kashgar after our first evening. Then a German guy, Manuel, showed up, with whom we also spent some time in and outside the hostel. There was also a group of three Pakistani men, who were also waiting to get out on Monday, after a business trip in China. As we were all foreigners who were not able to speak Chinese and about to take the same bus over the border, it didn't take long until they had "adopted" us.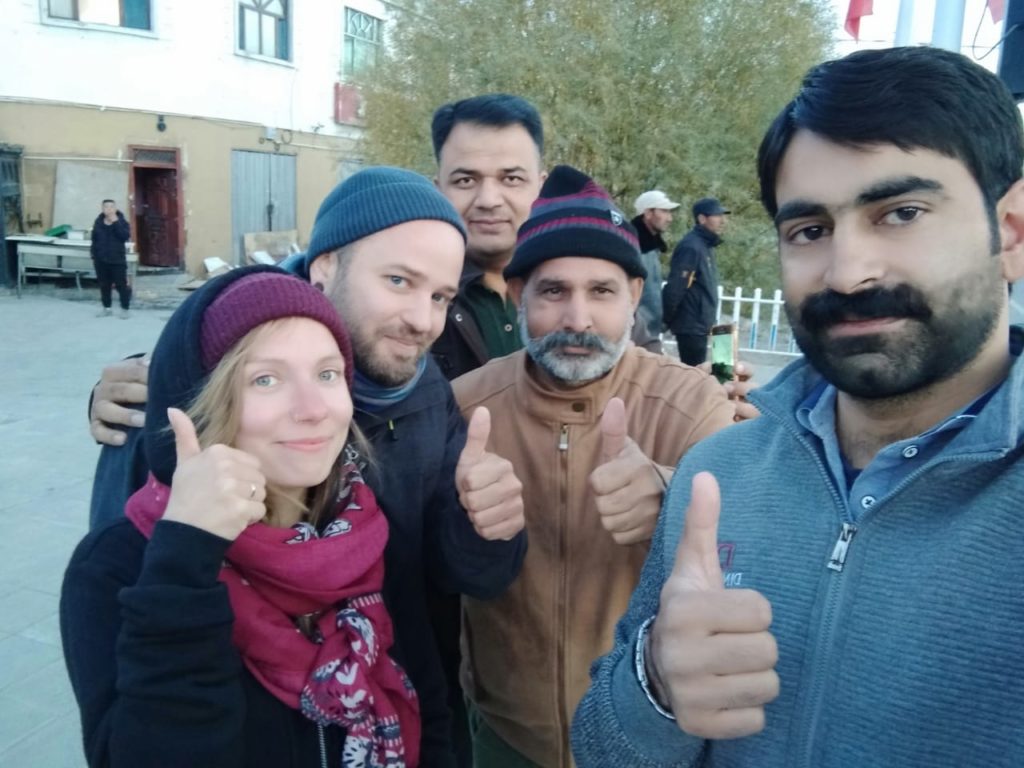 Vegetarian food in Tashkurgan
Most of the restaurants around our hotel served Chinese food (not a surprise, as we are in China after all). As Johanna was still traumatized of her food poisoning and wanted to avoid Chinese food, and because of the communication in the Chinese places was difficult for us, we ate twice in a Pakistani Café. There we got our first tastes of Pakistani food and were happy to realize that it was much easier to communicate with the Pakistanis and that vegetarianism was an understandable concept there. Also, sometimes we bought fresh bread from the Tajik bakeries and ate it with vegetables. Sure, we had some Chinese food, too, just some vegetables with garlic and rice.
Sightseeing in Tashkurgan
Because of not sleeping well, we felt quite grumpy most of our time in Tashkurgan and didn't enjoy being there too much. We thought that the beautiful mountains surrounding this otherwise bland city were pretty much the only things we liked in there. Being in Xinjiang, also Tashkurgan was heavily surveilled. So we couldn't even take our boards and skate out of there, as the first passport checkpoints were just next to the city centre. But we visited two of the few sights that the city has to offer, and they were quite okay.
One of the sights was the ruins of an old fortress. Another was a wooden pathway in the wetlands next to it. Somehow it felt like visiting an empty amusement park as there were no Chinese tour groups on that day. We didn't even have to pay for the entrance, as we entered some other way where we didn't see any pay counter.
Perhaps the greatest thing about these sights were the newly paved, wide and empty roads. We decided to come the next day with our skateboards just to cruise around. But we entered from another direction this time and were told to pay in order to enter, so we skipped it.
Trying to get things done
In Tashkurgan, we also had to deal with things related to our upcoming adventures in Pakistan.
As we had heard that there are no ATM´s along the Pakistani side of Karakoram Highway before the bigger city of Gilgit, we thought we need to change some rupees is Tashkurgan. Anyhow, as we visited a few places that offered money exchange with a bad rate, we learned that there should be several ATM's in the North of Pakistan. The first ones were right in Sost where the customs of Pakistani side are located. So, after all we didn't change any money but packed some extra yuan with us just in case, we would need them.
Johanna wanted to send a postcard for her mom, so we went to the post office. There the workers looked at the postcard for a while and said then "No!". Apparently, it's not possible to send a postcard from a Chinese post office…
We had read that we can buy the bus tickets to Sost, Pakistan only on the day of travel. Surprisingly, already on the evening before leaving, our new Pakistani friend Umar came to show us a ticket he had bought, with the seat number 1 of which he was especially proud. It turned out that the three Pakistanis had managed to buy the tickets already that afternoon. We started to panic, as we knew that there's only one bus per day, with limited seats, and we reeeeally wanted to get out of China straight on Monday. Seri asked where they had bought the tickets and Umar promised to bring him there.
Ten minutes later Seri was on his way to the bus station, guided by the whole Pakistani group. It turned out that you buy the tickets at the station, even though the bus is leaving at the customs, a few kilometers further away. The station guard refused to open the doors and told Seri to come back the next morning at 9 am. Afterwards these happy new friends invited Seri for chai and food in the Pakistani Café.
The next morning, we were at the gates of the bus station well before nine to make sure that we will get out of the country that day. We did. But getting the ticket wasn't as smooth as planned.