We crossed from China to Pakistan through the Khunjerab Pass. Being at 4693 meters, it's the highest official border crossing point in the world, and also the highest part of the Karakoram Highway. The bus was not quite what we had expected but the ride through the mountains was epic and we had some fun with our fellow passengers. But before that we still had to get the tickets and go through the Chinese migration in Tashkurgan.
Getting the ticket for China-Pakistan bus
As the Khunjerab Pass, the border between China and Pakistan, is closed during weekends, we had to wait until Monday morning. Seri had gone to the bus station already on the evening before with our Pakistani friends in order to get the tickets for the bus to Pakistan, but the man at the gate of the bus station had told him to come there the next morning at nine. Just to make sure Seri double checked the time: Nine o'clock.
Nine o'clock official Beijing time means seven the local time. So, we had to wake up very early. It was still completely dark and freezing cold when we got out. We were in front of the bus station gates twenty minutes before nine. From the gap between the curtains we could see, how the station man got up from his bed (yes, he seems to live at the station) and quickly got ready for his workday. At nine the man came to the gate just to announce us: "Tickets to Sost 10 o'clock". We tried to ask him why he had told us to come at nine, but he got really pissed off and told us to leave. He seemed to be an asshole, also judging the way he treated the small dog tied on a short leash to a fence of the bus station. We went back to the guesthouse, waited for another hour and went back to the station. Luckily this time we managed to get the tickets from some office building inside the bus station, followed by many Pakistani Men.
At the customs
The bus to Sost doesn't leave from the bus station where you buy the tickets. Of course not, it would be way too easy. So, we had to walk some two kilometers to the immigration building of Tashkurgan. Our Pakistani friends from the hostel were there already waiting for us.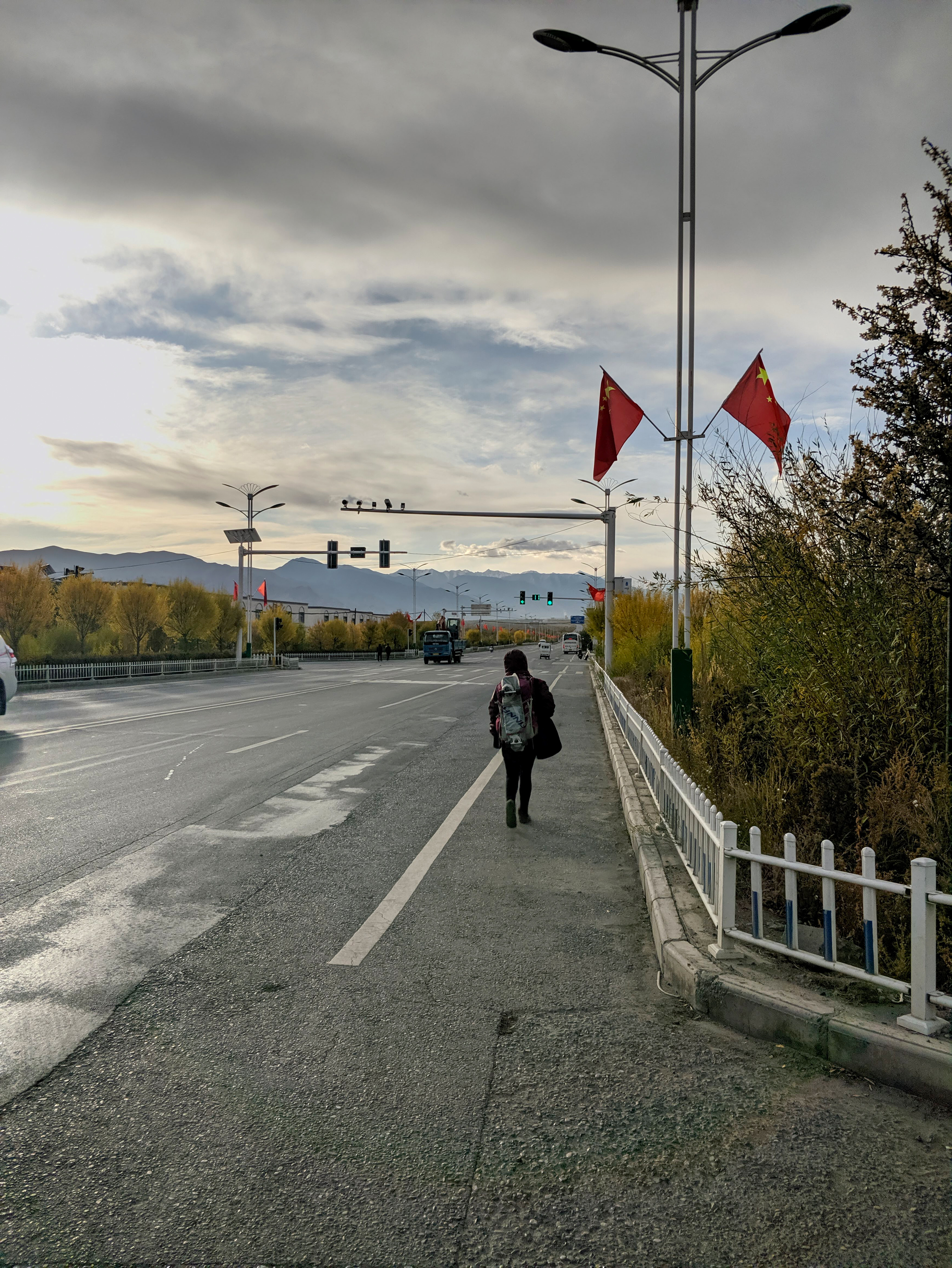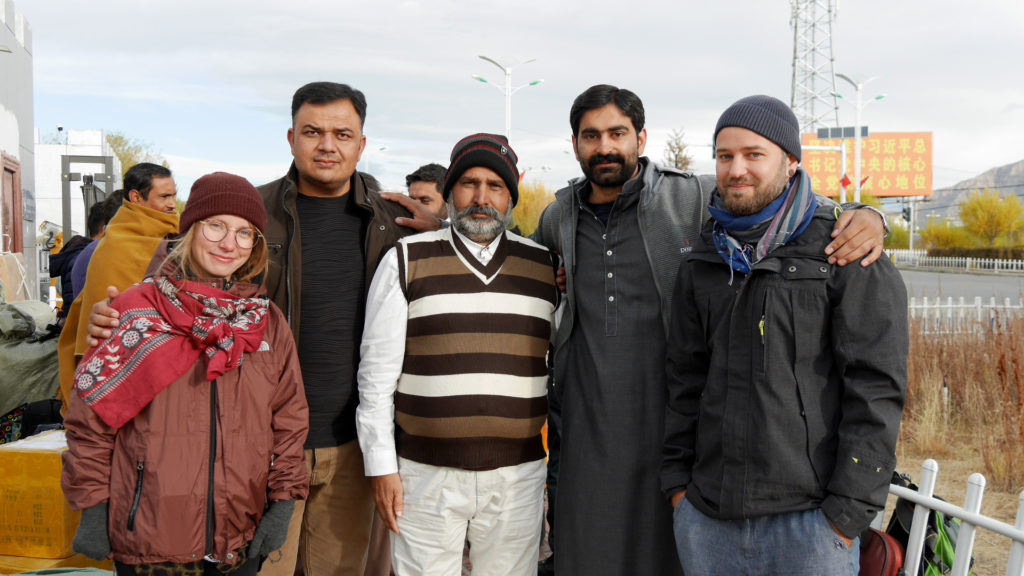 The gates opened after eleven. Getting through the customs took maybe an hour as there was a lot of queuing. As it had taken us seven hours to get into China, this felt like nothing. We were surprised how fast and easy it all went, and how well everything was organized this time.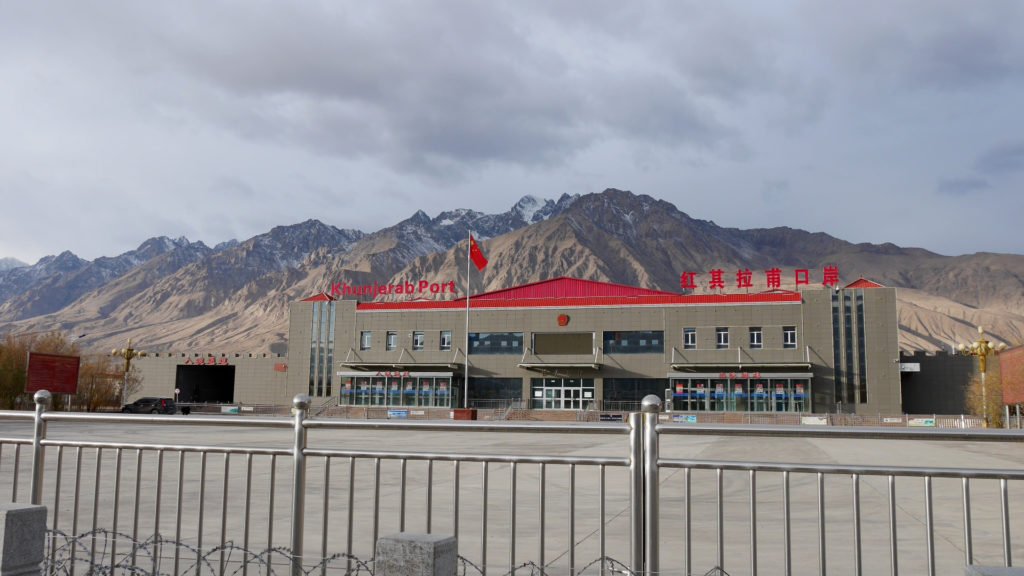 After the customs we had to go out to wait for our bus. Luckily the sun had started to shine so it wasn't that freezing cold anymore. While waiting we had chats with the other passengers. They were all Pakistani men and very friendly. We had already really started to like the Pakistani people.
The wonderful Chinese sleeper bus
Even though we were going to travel daytime, for some reason the bus was a sleeper model. We were familiar with this concept from our last trip to China, and it is not our favorite form of transport. It doesn't make much sense to have to lie in some short and narrow bunk beds in the middle of the day. The others didn't seem too happy about it either. It was also pretty smelly and dirty in the bus, but at least the views were amazing, and we had some funny company.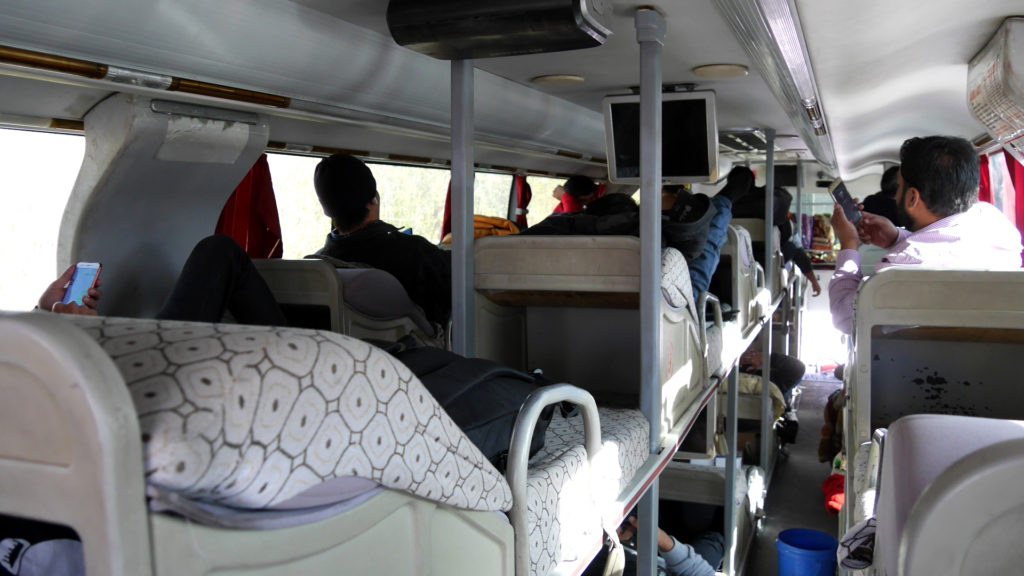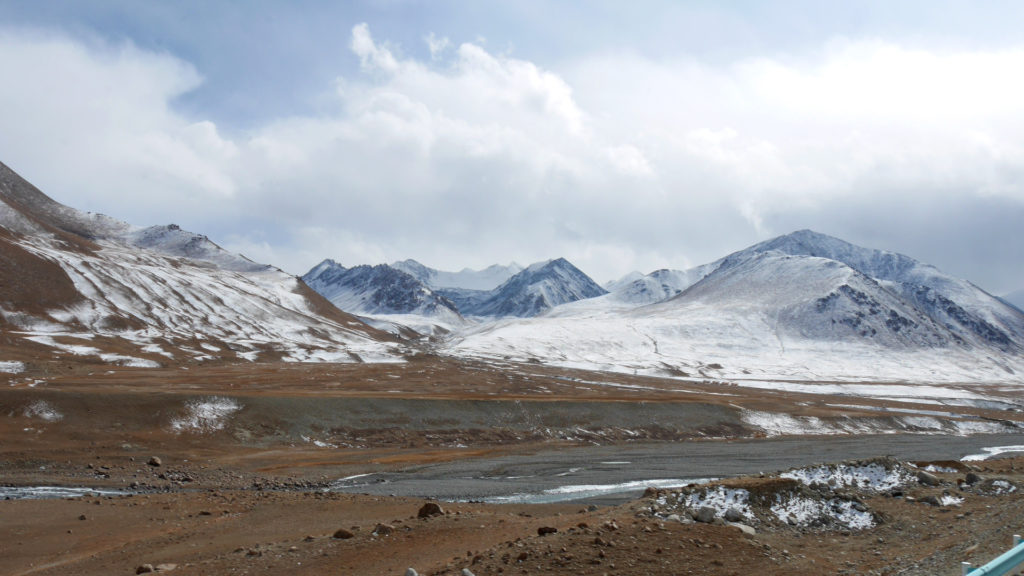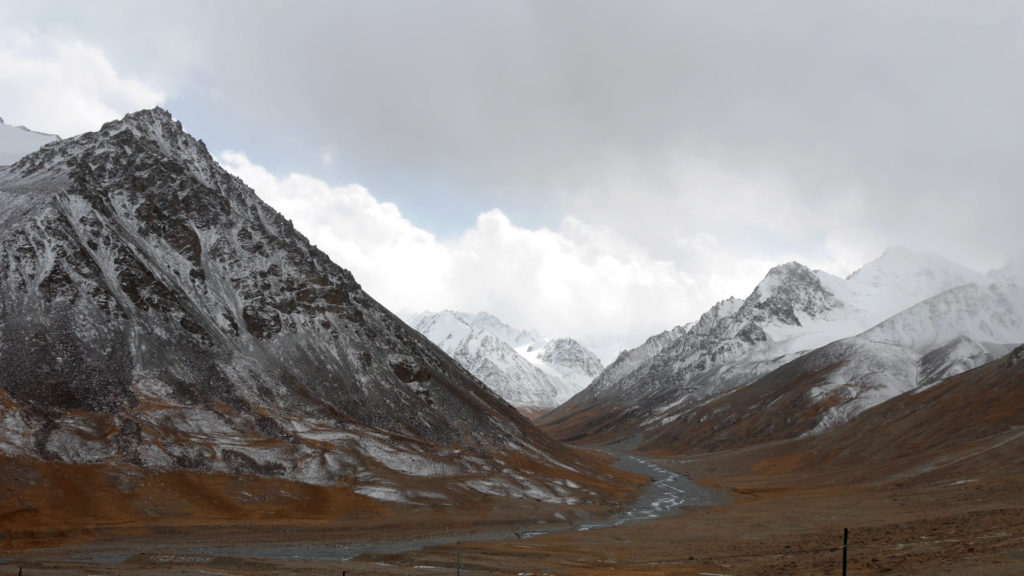 Seri got compliments from the guys travelling with us, they seemed to think that he is a great guy. Johanna's self esteem, on the contrary, got a few hits. One of our friends was trying to guess our ages. As usual, he thought Seri to be much younger. When Johanna told that she's 29, he stated that she looks six years older. Another man started a conversation by asking which language they speak in Finland. Then he had another question: "If Finland is such a wealthy country, why do you look so poor and weak?". Thanks guys! At least Pakistani people seem to honestly tell what they think.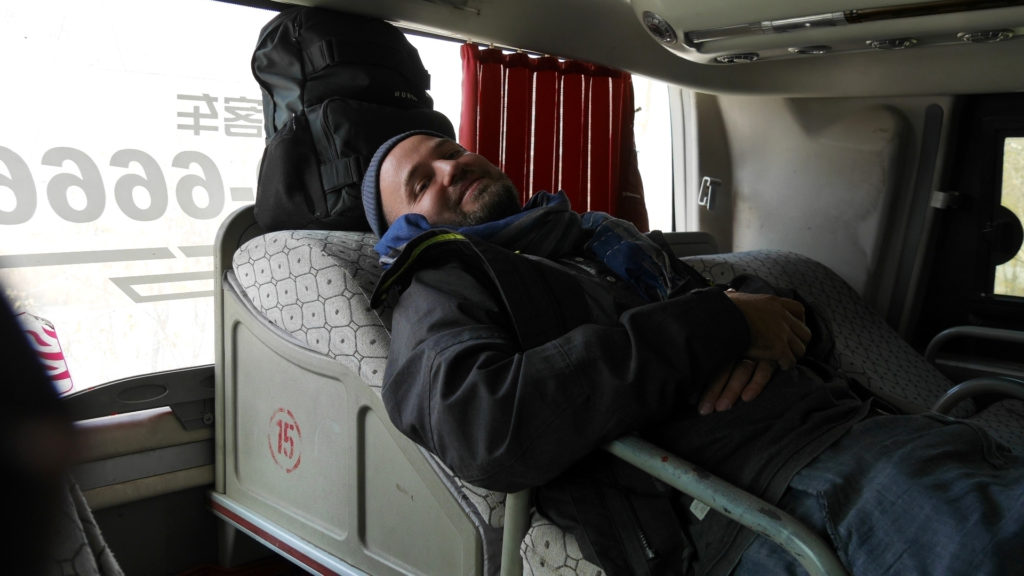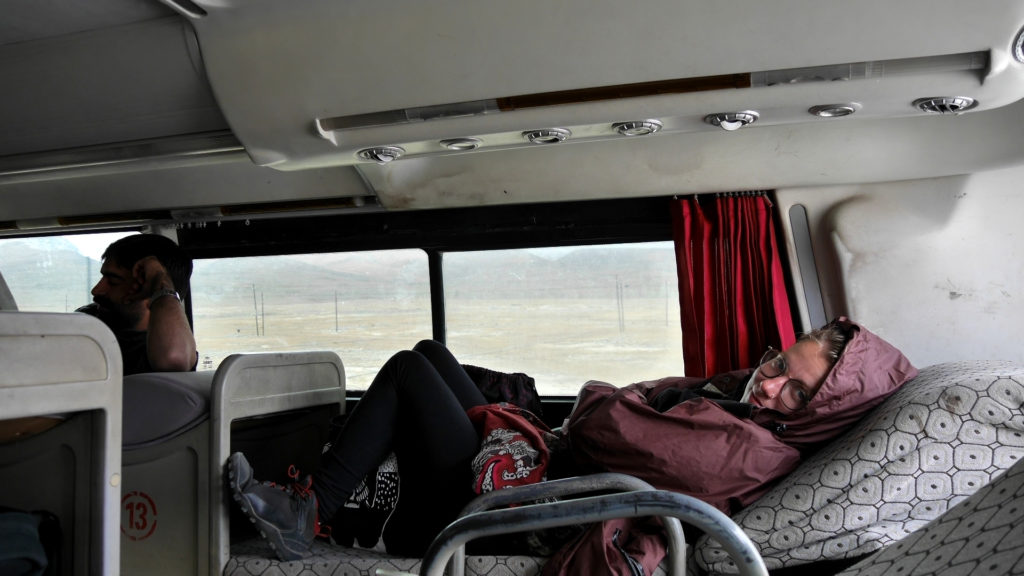 As we were driving on the Chinese border area, we were, of course, not allowed to leave the bus. Except for one time when there was a "toilet" break. The bus stopped in the middle of nowhere between some barb-wire fences on both sides, and the men went out to the nature. For Johanna this was not an option because she was the only woman in the bus and there was not even one bush that could have provided some privacy. Afterwards our young Pakistani friend told with a smile that he had filmed Seri peeing.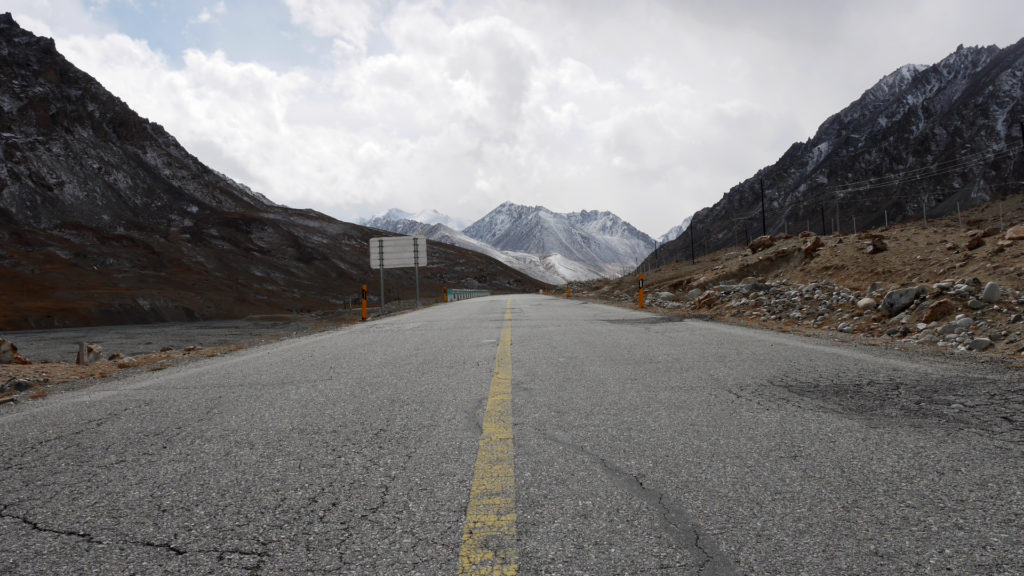 Crossing the Khunjerab Pass
After driving for some four hours we reached a small border station at the Khunjerab Pass. As we stopped, it started to snow. We all had to get out of the bus, but only so that they could count how many people there were in. That was the last check on the Chinese side and, once again, we were surprised how easy it went.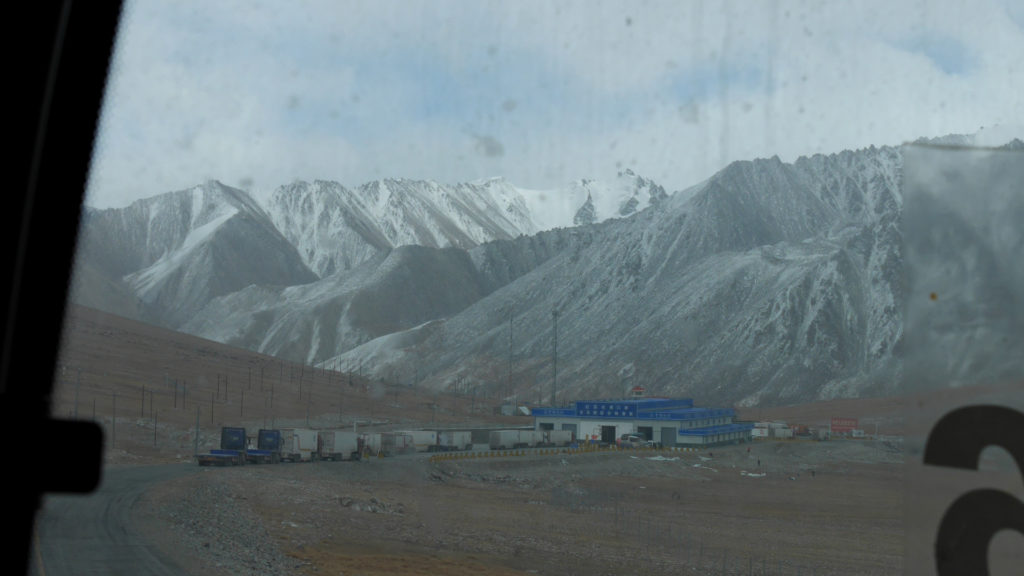 Then we drove through the famous gate of Khunjerab Pass. Unfortunately, we didn't have a selfie-break there. When we crossed from China to Pakistan, our fellow passengers started to celebrate: "Pakistaaan, Pakistaaaaan, Pakistaaaaaaaan!" We were as happy as they were to have left China behind and to have arrived in Pakistan.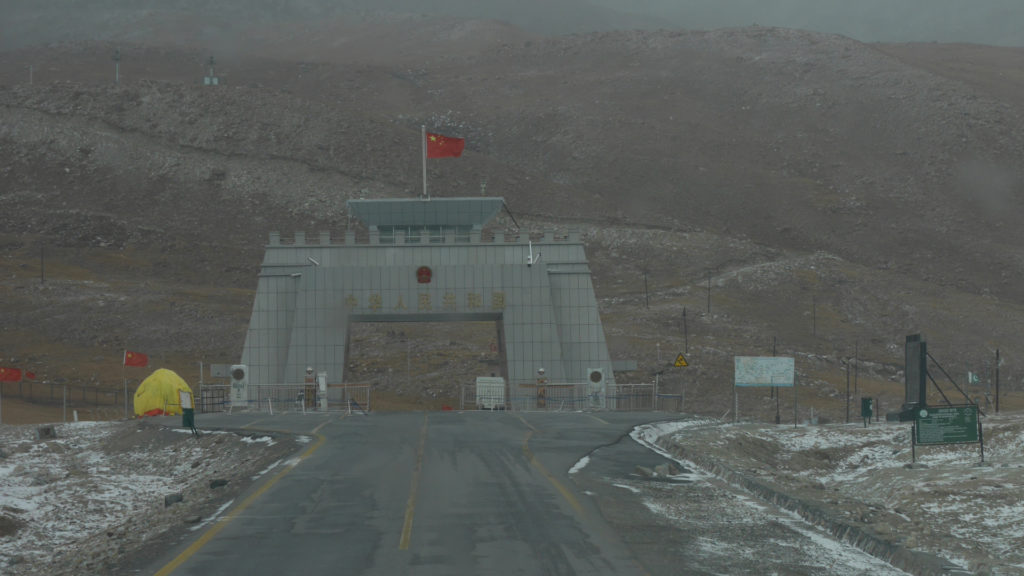 Our first kilometres in lovely Pakistan
The Khunjerab Pass is the highest point of the Karakorum Highway. Slowly we started our descend. It's crazy how on this journey the views just keep getting better and better. The scenery on our first kilometers in Pakistan was the most amazing we've seen so far (and we have seen some pretty good views already). First there were snowy peaks all around us. Sometimes we saw some stones that had fallen on the road due to landslides. Then the turquoise Hunza-river flowing along the road created some beautiful contrast against the bright green, red, yellow and orange autumn colors. It was just so mind-blowingly beautiful. And we couldn't believe it – we had made it to Pakistan, the place we had been dreaming of for a long time!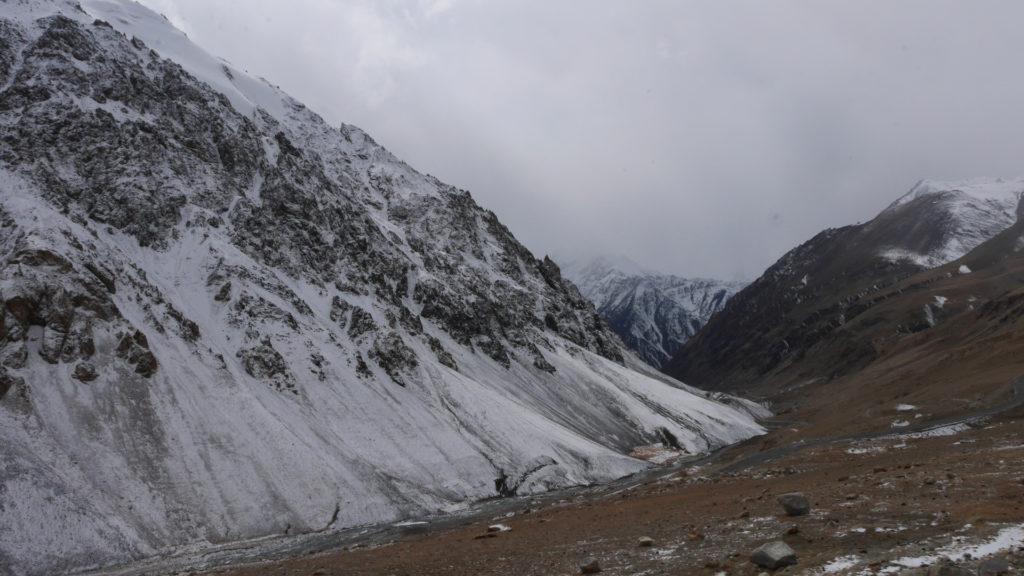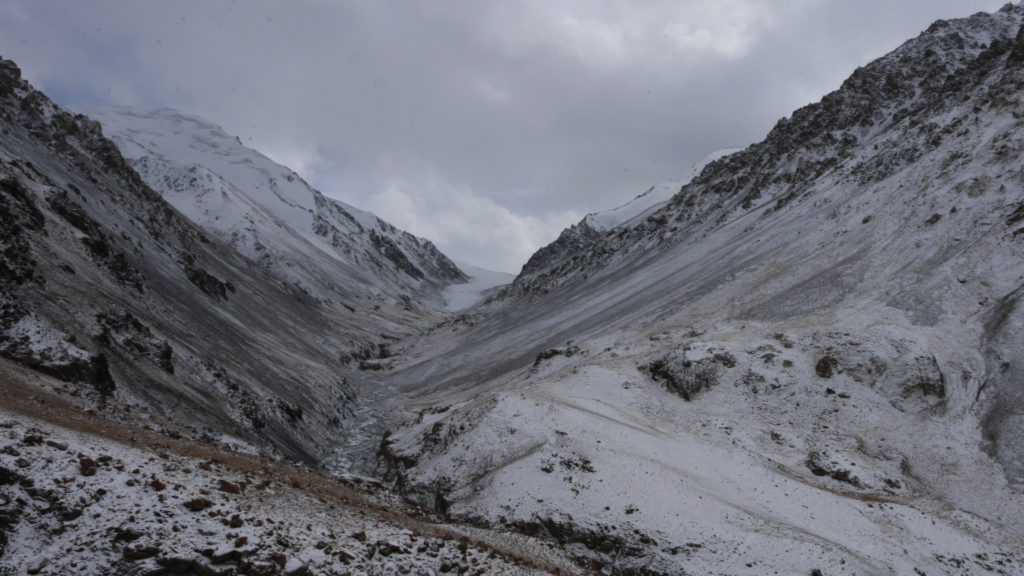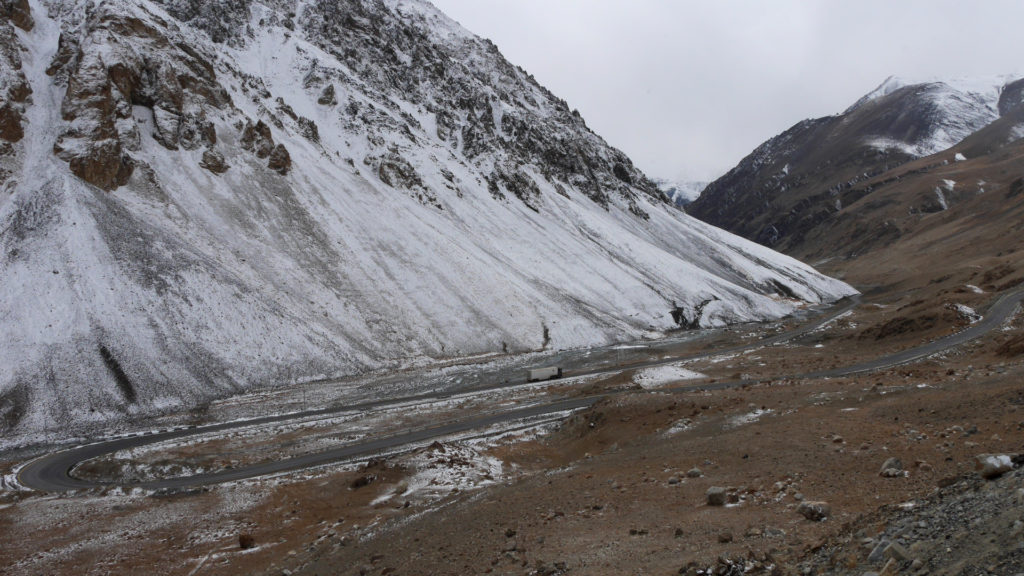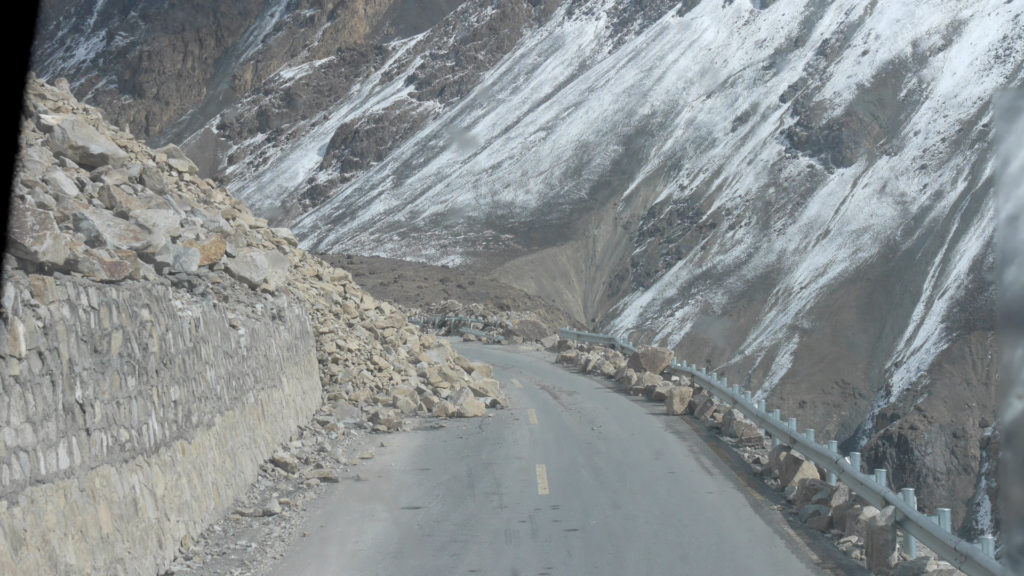 We crossed through the Khunjerab National Park. We didn't have a stop there but still we had to pay the national park fee. It's 10 dollars for foreigners but you can pay it in other currencies too. We used yuan and got an okay exchange rate, so there's no need to get Pakistani Rupees beforehand (there are several ATM's at Sost).
Arriving to Sost
It took some two hours from Khunjerab Pass until we arrived to Sost. It's the first town on the Pakistani side of the Karakoram highway and the place where the customs are located. Everything worked super smoothly there. We didn't have to spend more than 30 minutes at the customs, and no-one even wanted to check on our bags. We just had to fill a form stating that we are not having a bird flu and other strange diseases. Then we were taken to a room where our e-visas were checked by two friendly guys. After that we got stamps to our passports and we were free to explore Pakistan. And being free after traveling in Xinjiang had a whole new meaning.