The way from Gilgit to Skardu is only 200 kilometers, but it took us around nine hours to get there. And it wasn't that kind of nine hours, when you sit back and enjoy the ride. More that kind, when you hold your breath (and pee) and hope for the best. The way back was even worse and took us twelve hours.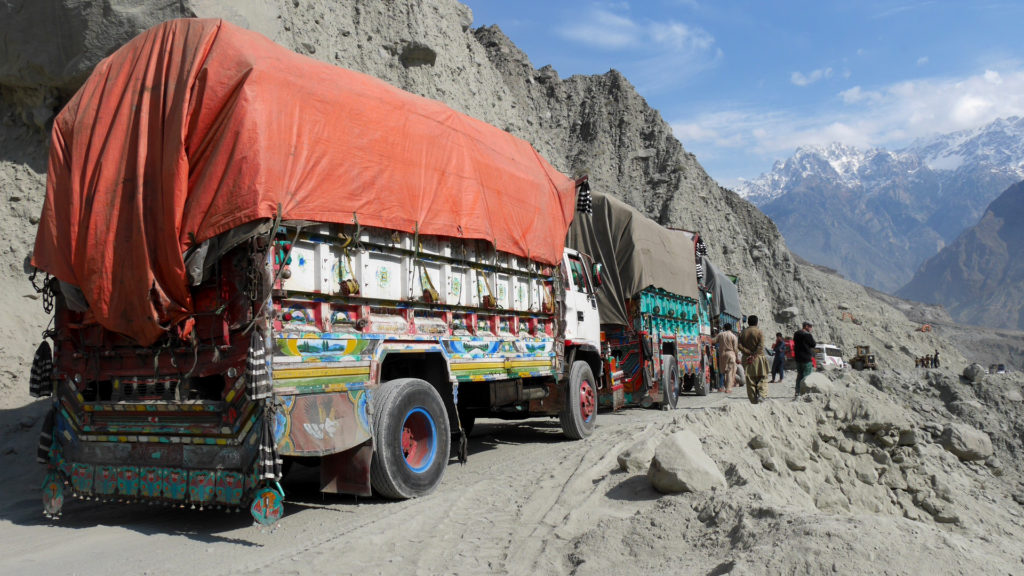 Green light for our Skardu plans
The morning we left our guesthouse in Danyor, we were not even sure where we were going. Our initial plan was to head to Skardu, but as the road had been blocked due to landslides the day before, we didn't know if it was possible. Luckily on our way to Gilgit's bus station we got the info that the road was open again.
The car to Skardu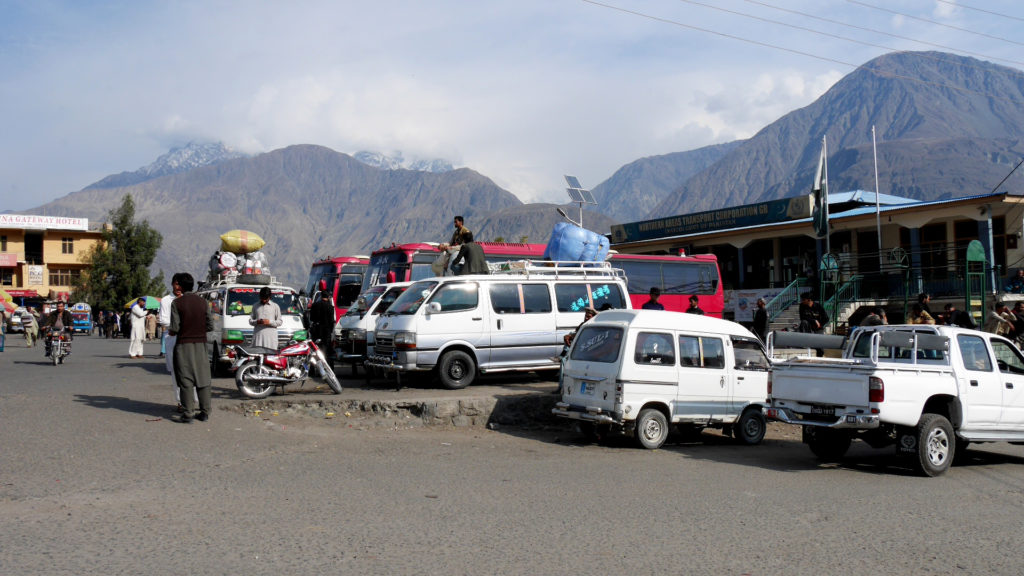 Nawaz from our guesthouse had organized us tickets to Skardu. When we arrived at the bus station, we were surprised to find out that our vehicle was not a minibus but a private car. First the two drivers wanted to get four persons to the back seat, each paying 1000 rupees. But after waiting for a fourth person for a while, each of us agreed to pay 200 rupees more each to start our journey. Seven euros was still a very reasonable price for that way.
We shared the backseat with a nice guy working for the army. He was just on his way to his 2-year-post at the Indian border in Kashmir. He didn't speak much English, but still he managed to tell us that there had been a road accident in northern Pakistan some days ago where 24 people died. He also kept repeating that the road we were going to take is really bad and dangerous, and he assumed it might take us 14, or maybe 20 hours to reach Skardu. Especially after that, we were really looking forward to our journey…
The worst "road" of our lives
Besides the man sharing the backseat with us, also other people had told us that the road is pretty shitty. But we couldn't believe how bad it was before we experienced it. This was probably the shittiest road we've ever traveled on. Or "road", more like a construction site. And not just a regular construction site, but one high up on the Karakoram mountains, where workers are continuously blasting the rock. The roadside was dotted with nice signs like "danger", "blasting zone" or "land slide area". Sometimes we had to stop because of construction work, or a queue of colorful trucks that wanted to pass us on the narrow road or because of a herd of goats or huge stones that have fallen on the road. One time there was a big bus sideways stuck on the road with one wheel hanging over the cliff. One time there was a big bus sideways stuck on the road with one wheel hanging over the cliff.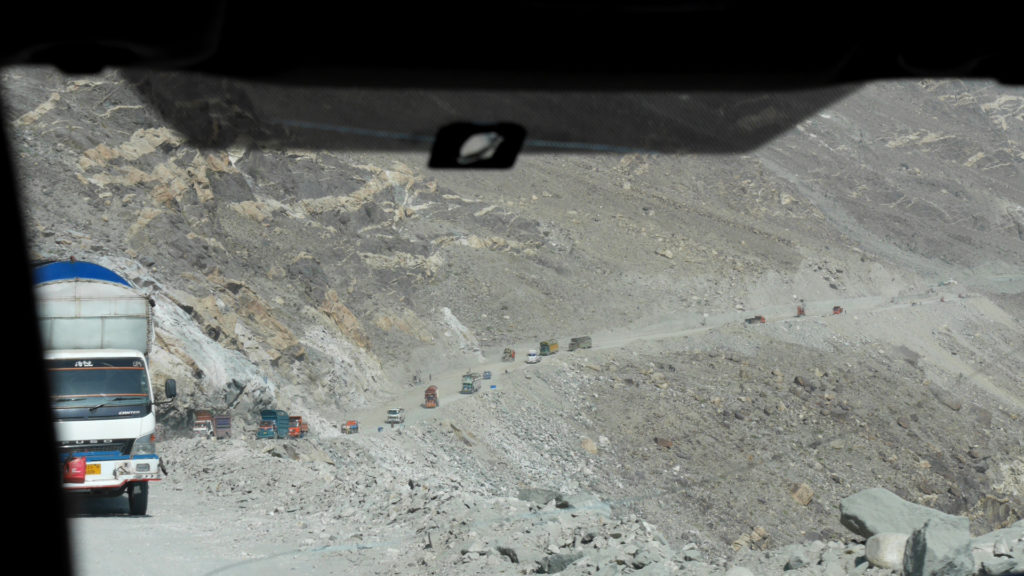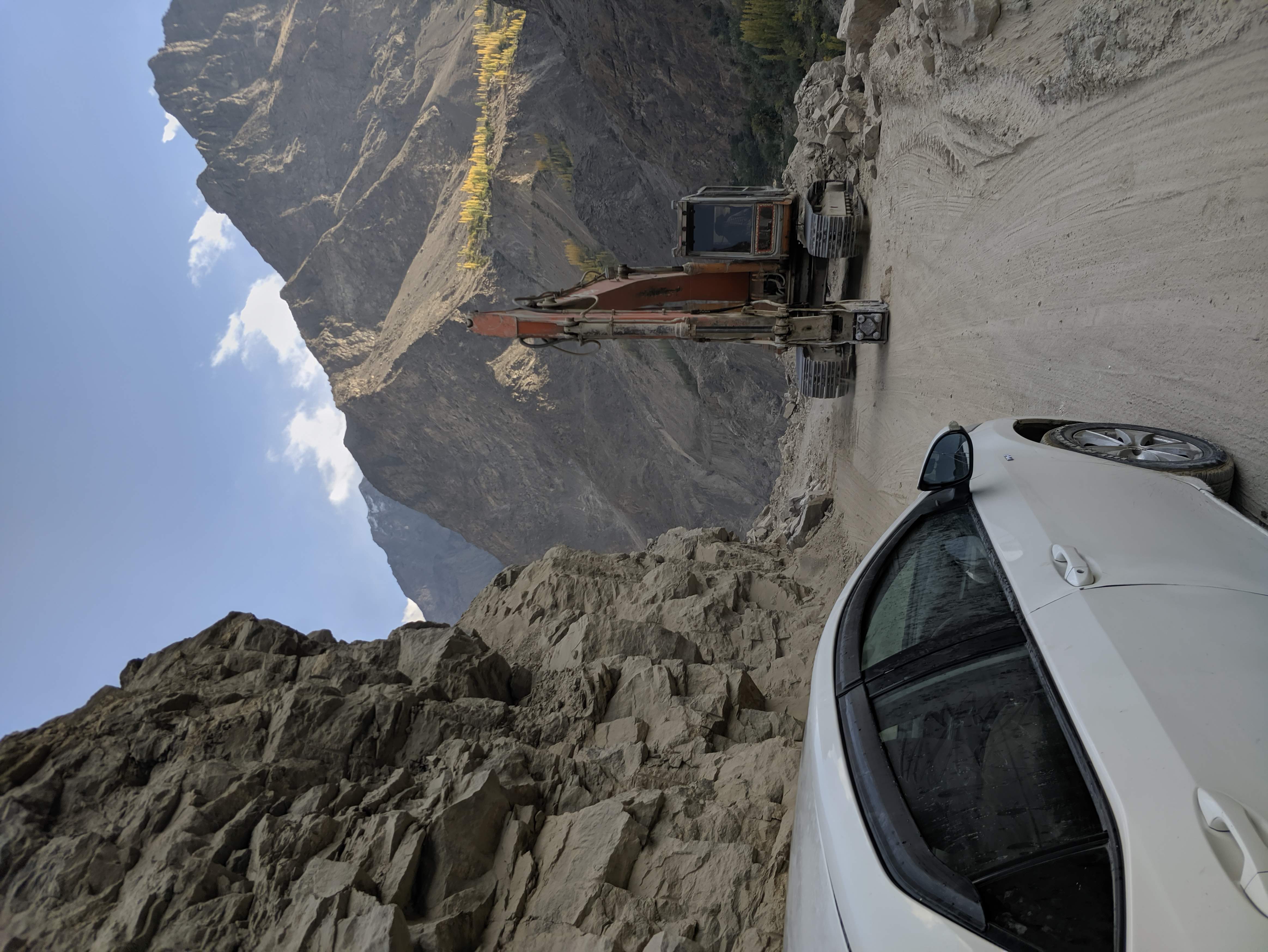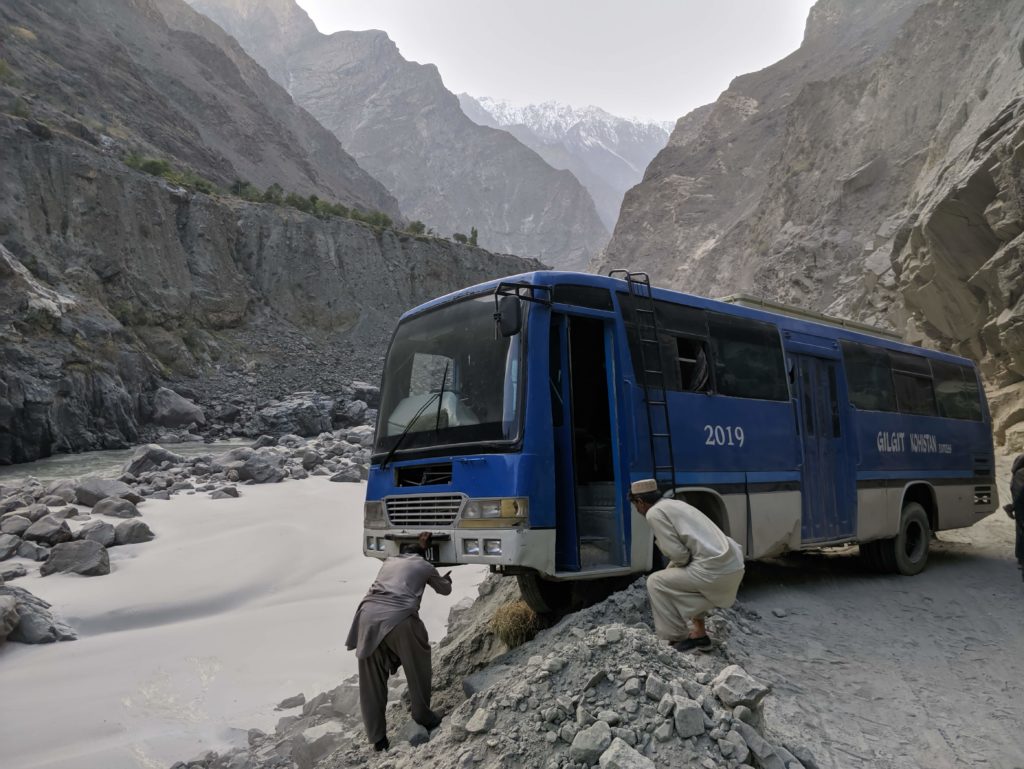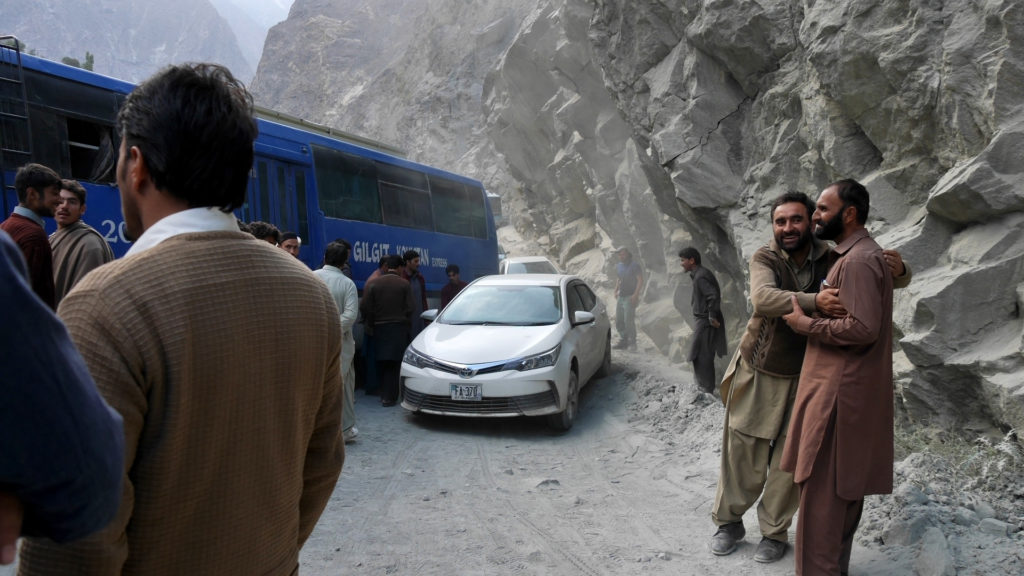 Seatbelts are pretty much non-existing in these parts of the world. And even if they do exist, no-one uses them. On the other hand, using a seatbelt probably wouldn't save you when falling from a cliff or getting crushed by a landslide. But we wished that the driver would have used his seatbelt, so that we didn't have to listen to the beeping of the seatbelt warning signal for nine hours straight.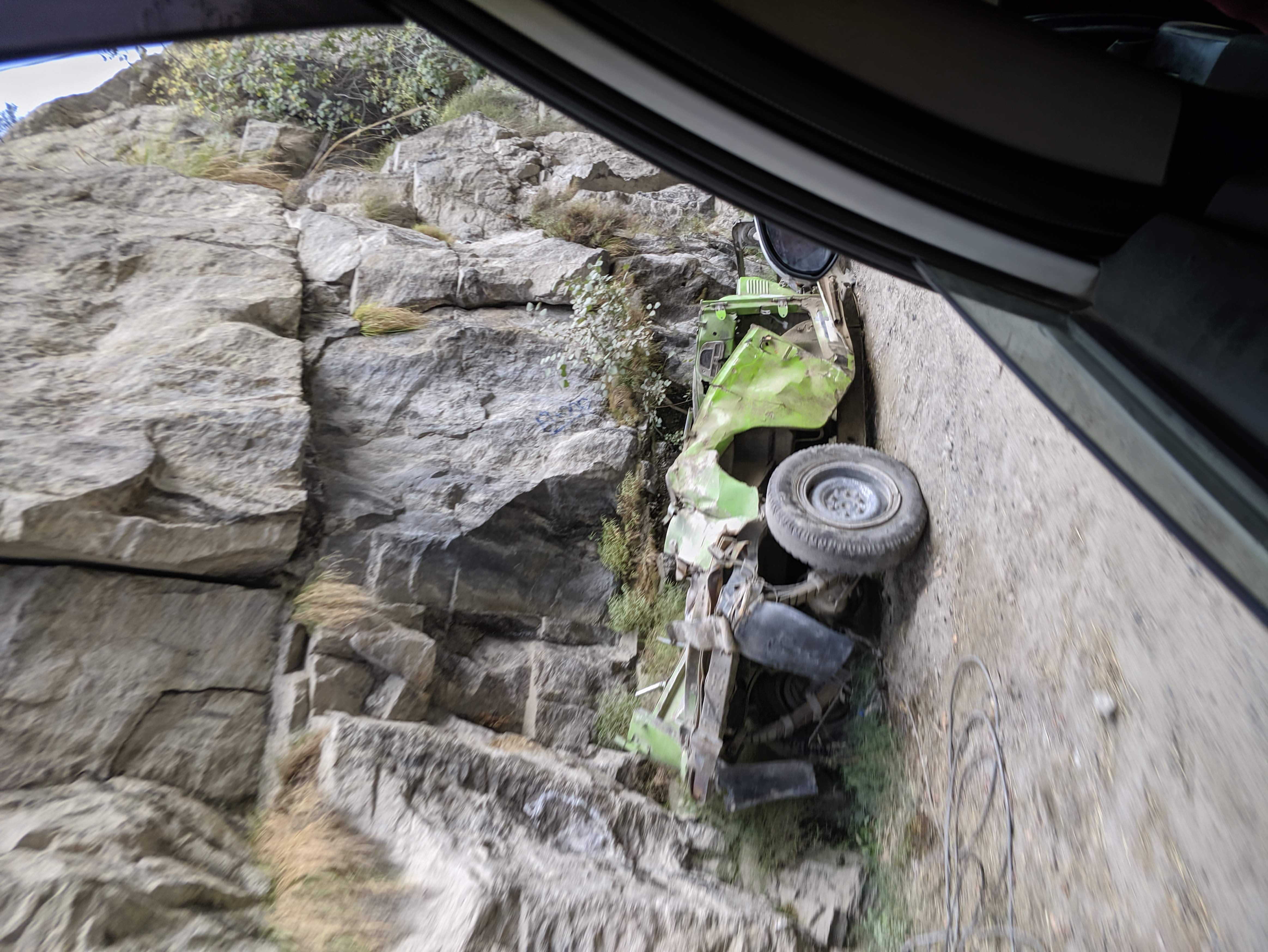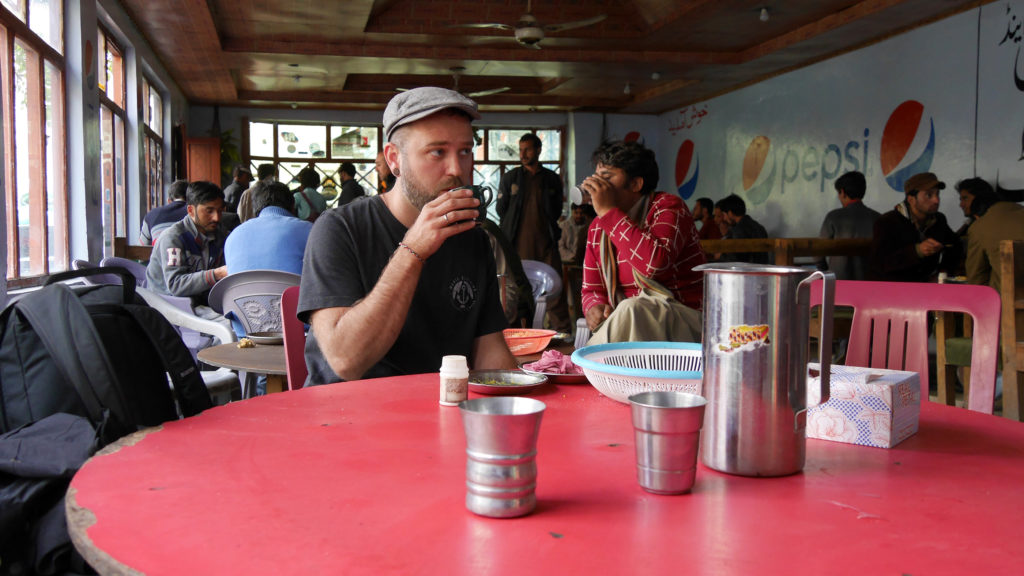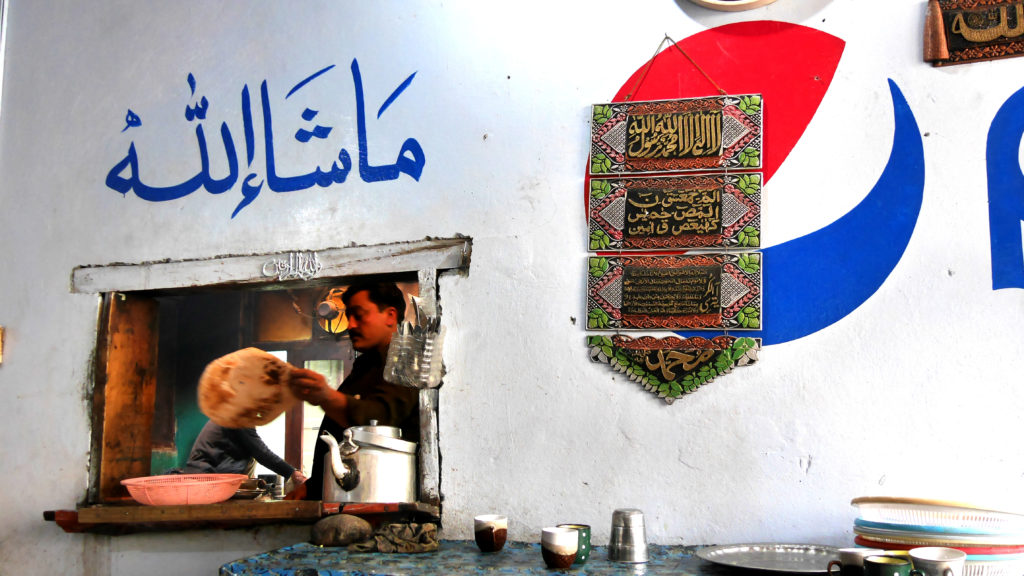 After six hours we passed a restaurant named "Half-way Restaurant". Therefore, it felt quite optimistic, when the driver told that maybe already in three hours, we could be in Skardu, inshallah. But the rest of the way really went faster. There were more already paved parts and less construction work going on. We arrived in Skardu when it was already dark.
We had some good time in Skardu, so in a way the nine hours on the construction site payed off. But unfortunately, in order to continue our way to South, we had to take the same road back to Gilgit.
Our way back to Gilgit was even worse
The way back was even worse. This time we traveled by a minibus the locals call "high roof bus". The workers were actively blasting the rock while we were on the road. We saw men stuffing dynamite to the holes in the rock. At one point our bus was waiting directly under a cliff that they were splitting with a jackhammer. This was a relatively scary experience.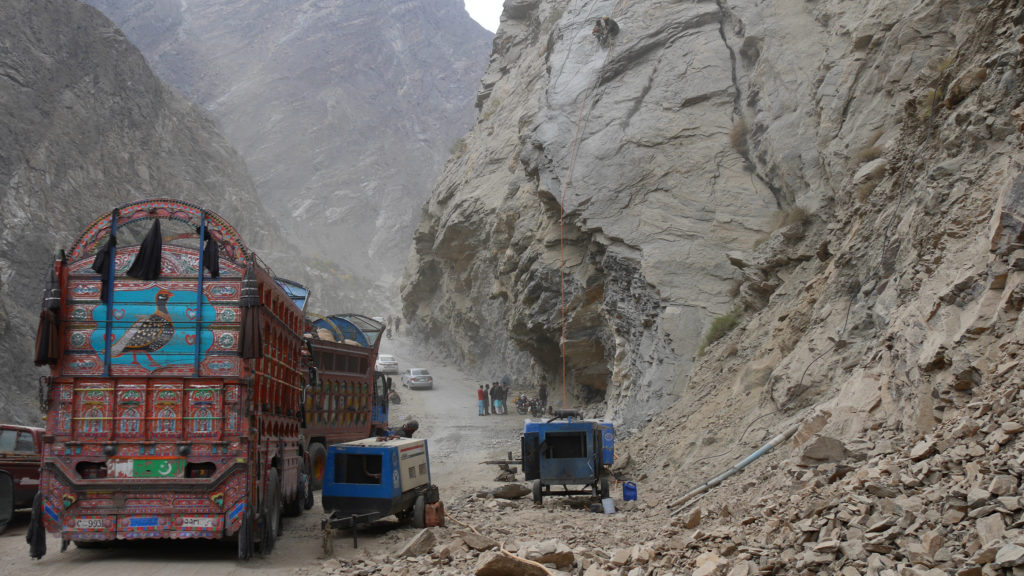 Because of the blasting there was another landslide and the road got blocked. While we waited, it got already dark. We couldn't help but wonder if we really would need to spend the whole night there, as this is what has happened to the travelers on this road a few days earlier. We didn't think that they would be able to clear all the stone matter from the road now that it was completely dark. But luckily, after two hours we were able to continue our way.
Dinner – the best part of our journey
The best part of our way back was the dinner we had in a roadside restaurant. By that time Johanna had almost gotten some kind of a panic attack because of all the excitement on the road and it felt really good to stop at a relaxing place for a moment. As the place was completely full, we were invited to sit on the floor in the kitchen, right next to the tandoor oven. We had nice conversations with the other guys on their ways back to Gilgit as well, and at the same time could watch as a man was baking naan bread in the oven. And again, one of the guys we had the dinner with insisted on paying our meals.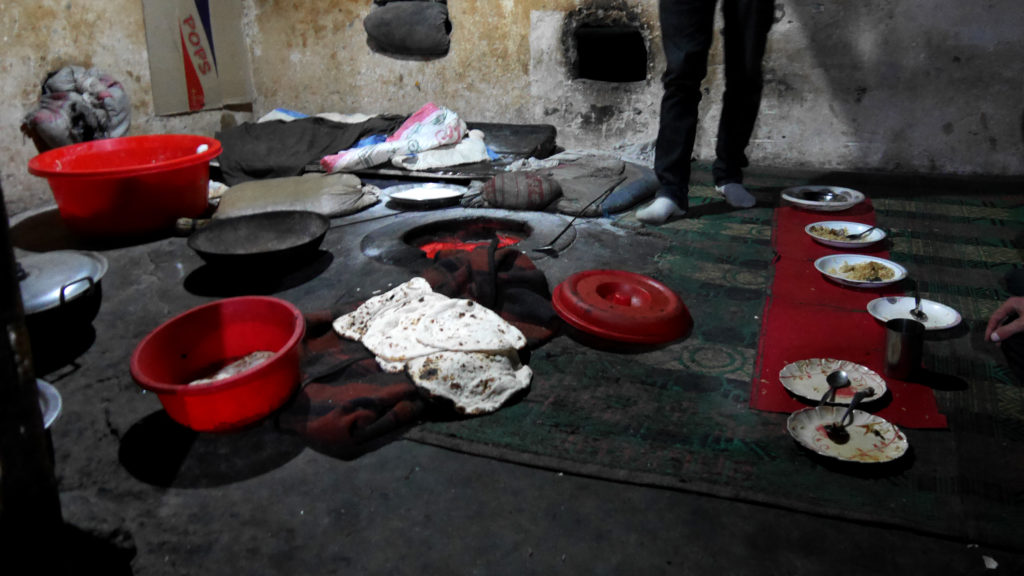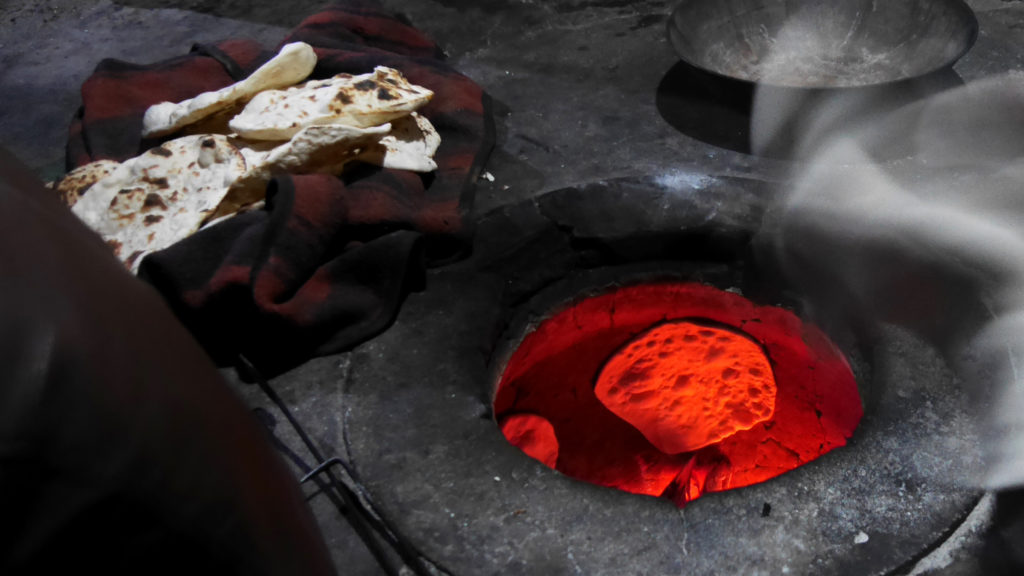 Arriving to Gilgit, alive
It wasn't fun to ride this risky narrow "road" in the complete darkness. After twelve hours we did make it to Gilgit and were thankful to be still alive. We don't recommend taking this road if you don't have to. This road should be finished next year, and we are sure that then the journey between Gilgit and Skardu will be much faster and more pleasant. In the meantime, there is another one going through the Deosai National Park. It was closed this time of the year because of snow, but if it is open, it must be a better choice.