Everyone has heard of Darjeeling tea and Assam tea, but how about Kangra tea? Palampur is a small city in the Kangra Valley of India's Himachal Pradesh, known for its tea plantations. The Kangra Valley Express, a narrow-gauge train, is running through Palampur. That was one of the reasons we wanted to have a stop there.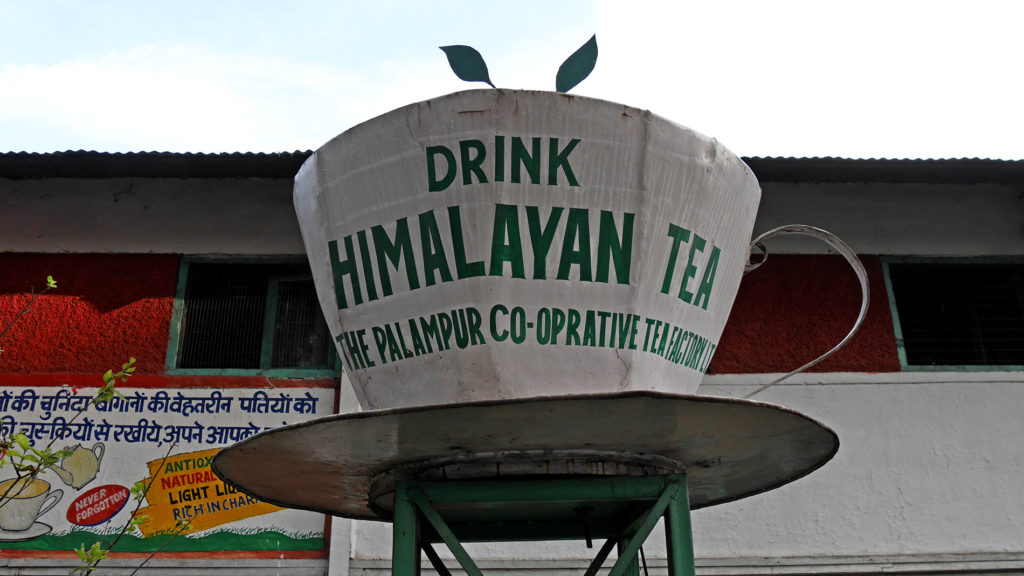 Impressions of Palampur
We took a bus from Dharamshala to Palampur and arrived after 2,5 hours.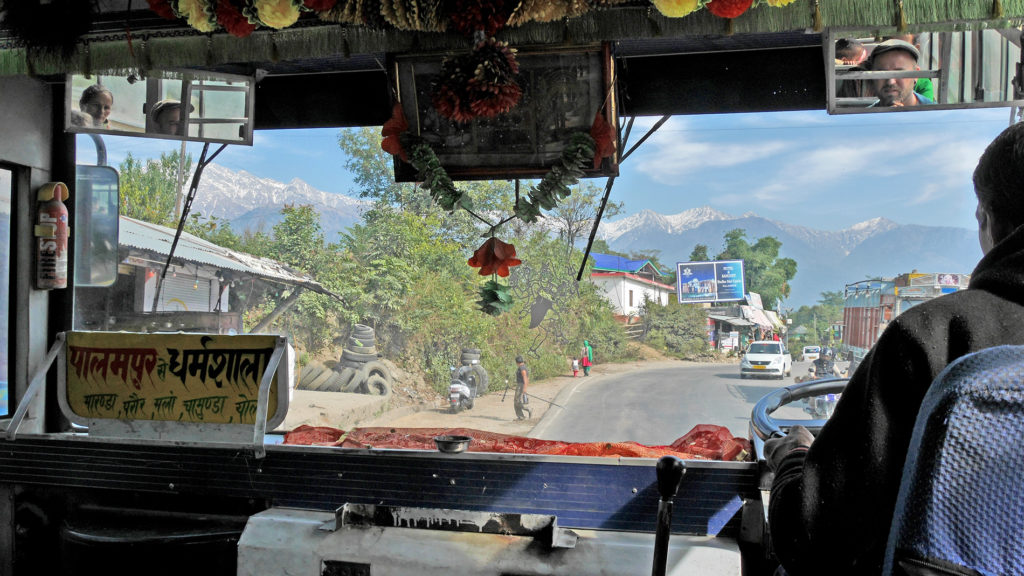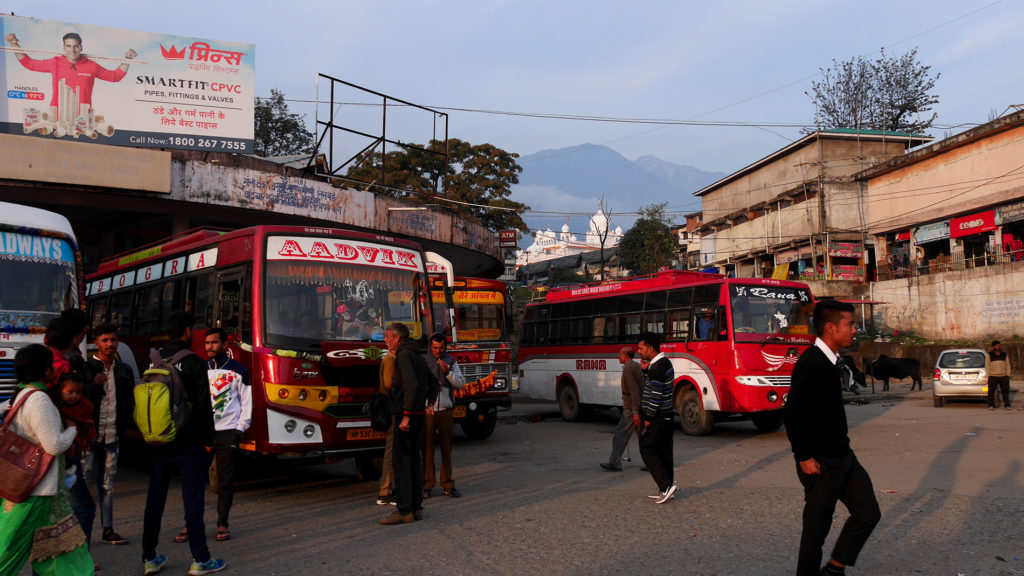 The center was busy. Our hostel was located a few kilometers uphill in an area called Bundla, where it was very calm. Even though we really like Mcleod Ganj, it's rather touristy there. This was the complete opposite and we enjoyed being in an ordinary, non-touristy mountain village in beautiful surroundings.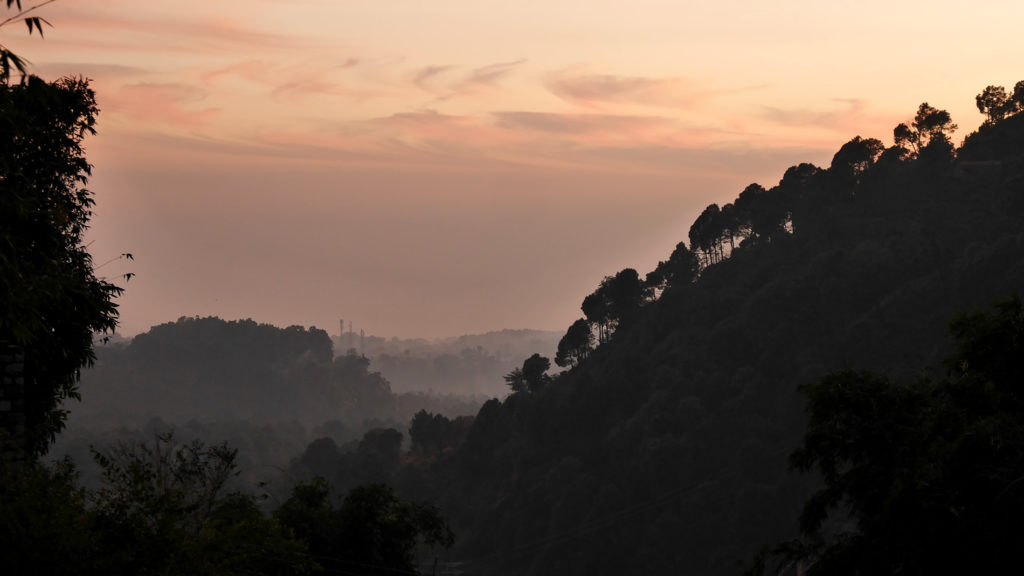 Semi-unsuccessful visit to the tea factory
What Palampur is famous for is the tea, so of course we wanted to visit a tea factory there. It took us over an hour to walk to the Palampur Co-operative Tea Factory, which is producing both, black and green Kangra teas.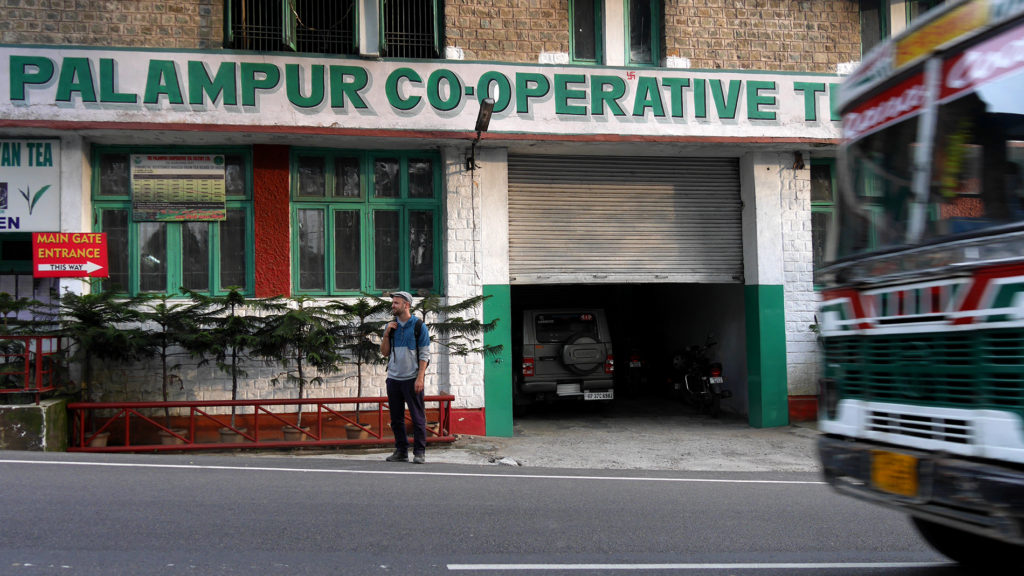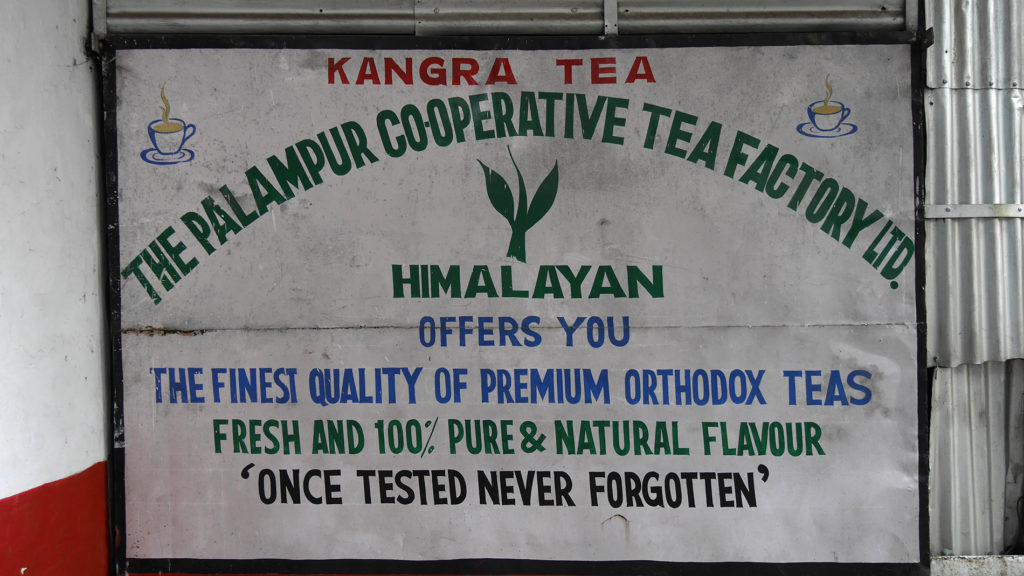 There it turned out that it was not tea season. Therefore, there was not much happening inside the factory and no guide who could give us a proper tour. After we asked nicely, a friendly worker agreed to show us briefly around. But the machines were not on and the huge tea fermentation hall was completely empty.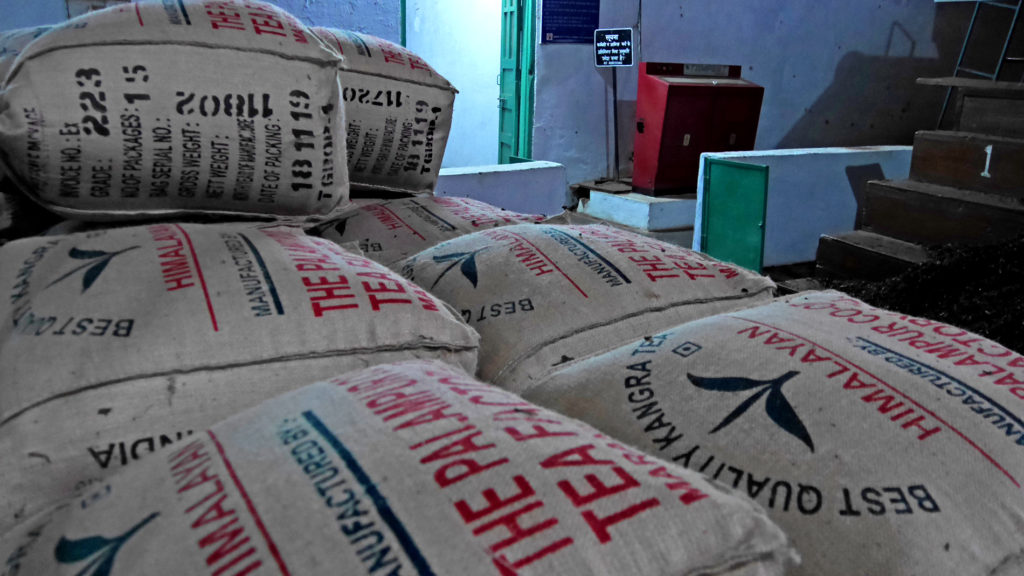 Also, we were not taken to the tea plantations behind the factory. Anyway, we were not too disappointed. We have visited tea factories already before and will still in other places on this trip. At least we could admire the vast tea plantations growing along the streets as we walked between the city and our guest house.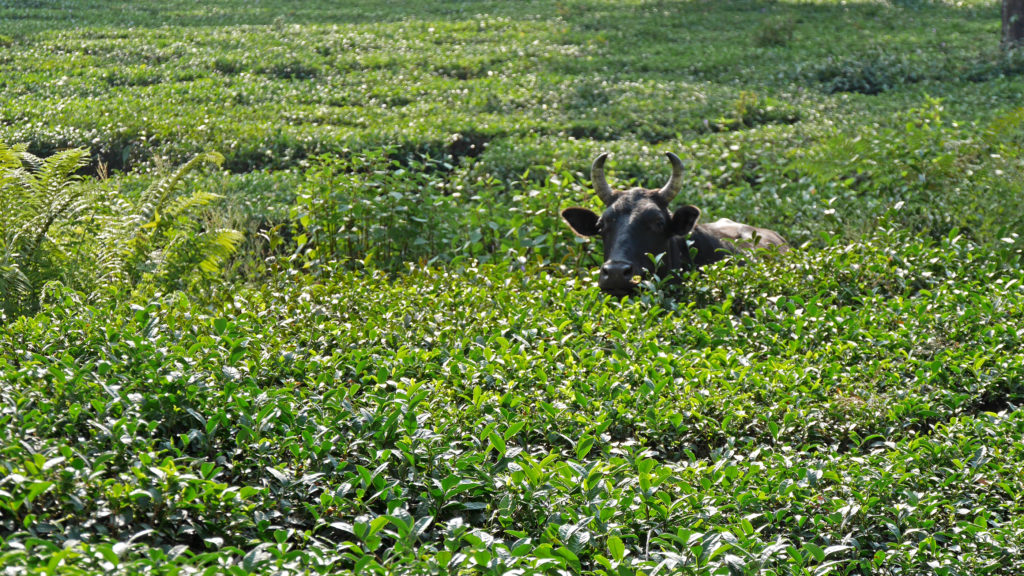 A nice walk in the countryside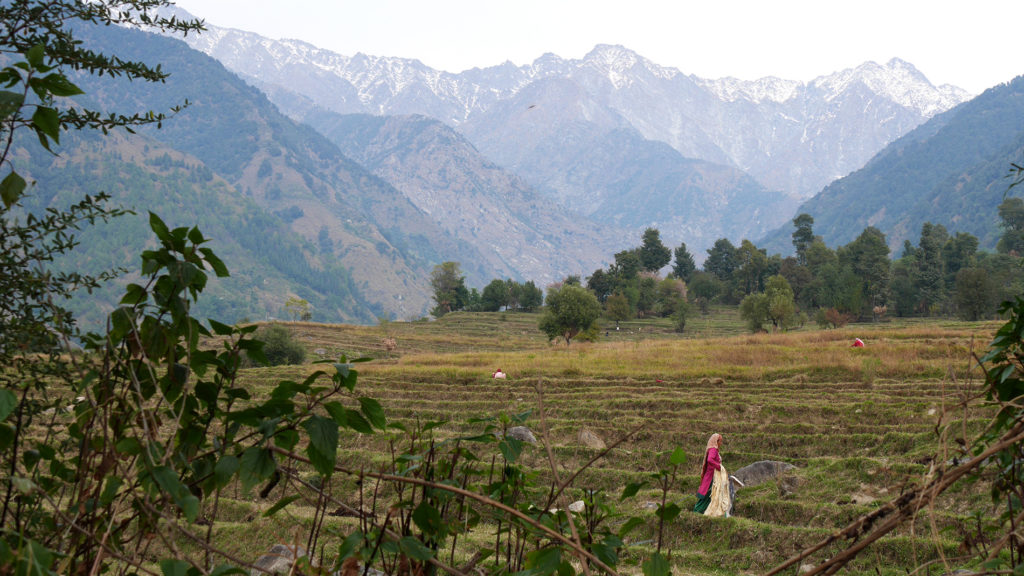 We were staying at Himalayan Heritage Hostel that was situated up on the hills, outside of town. From our hostel's balcony we could see the pine-clad hills and the snowy mountains behind them.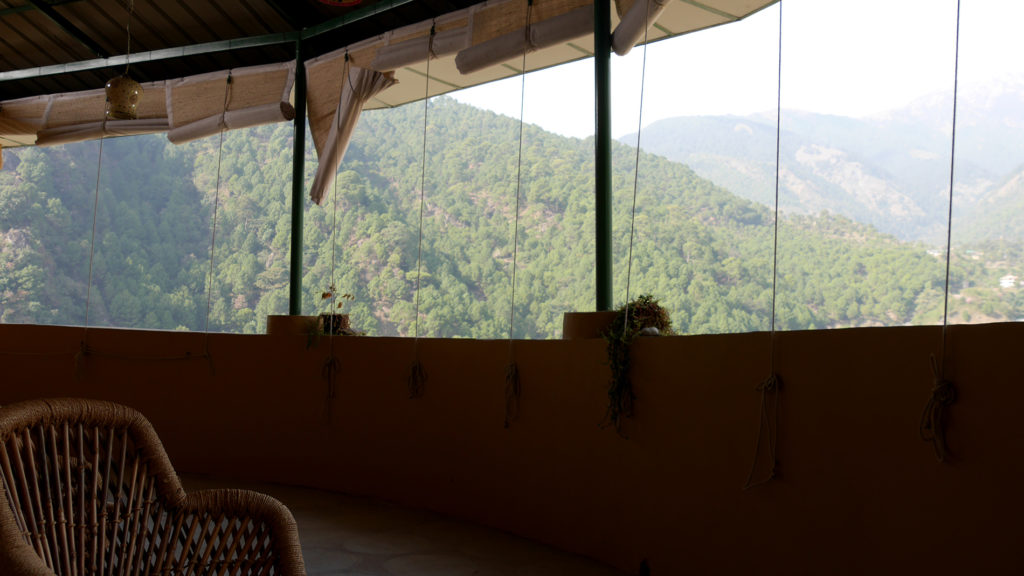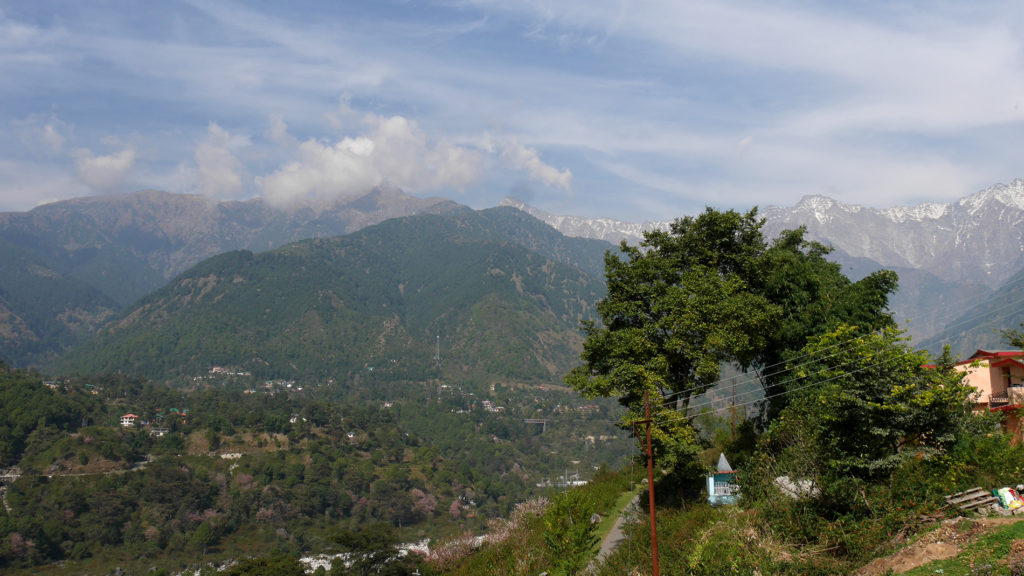 These hills were tempting us to walk on them and so we decided to visit the Shree Jakhani Mata Temple. It was a nice 1,5 hour walk through the countryside and small settlements. We could see the families working on their fields and groups of kids coming from school, waving to us and yelling hello.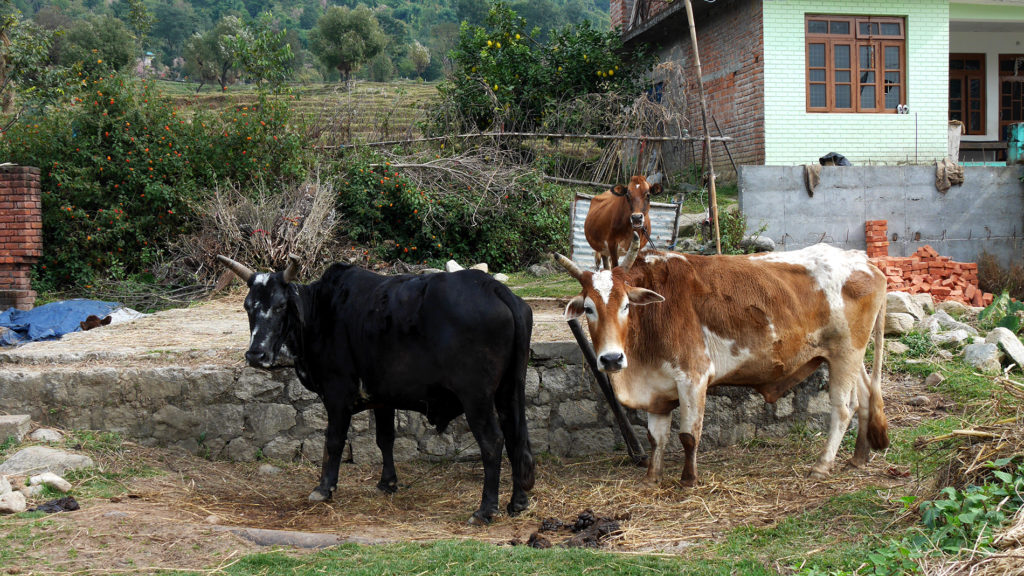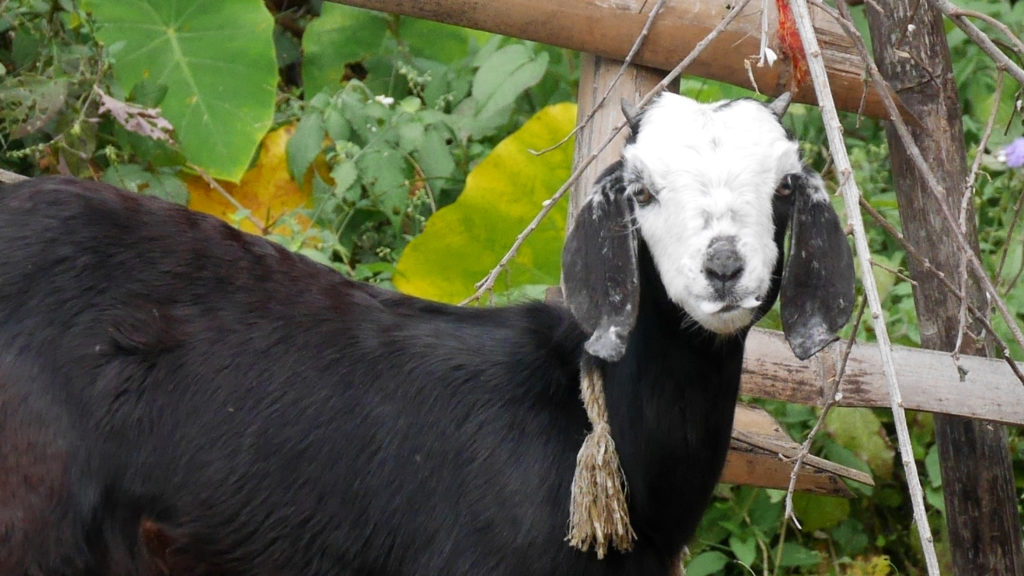 The temple itself was nice, but like on our whole journey, also the highlight of this walk was not the destination but the way itself.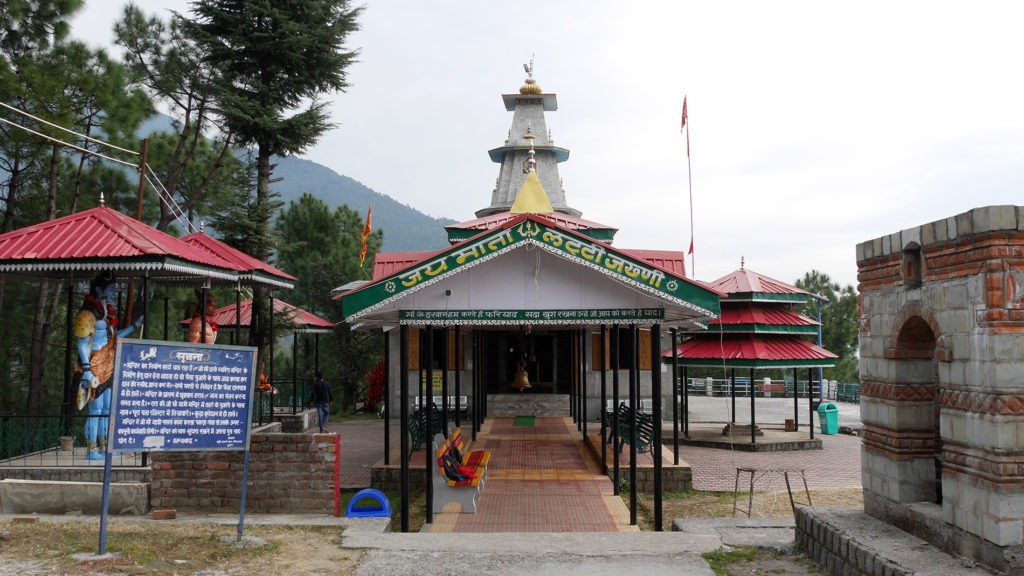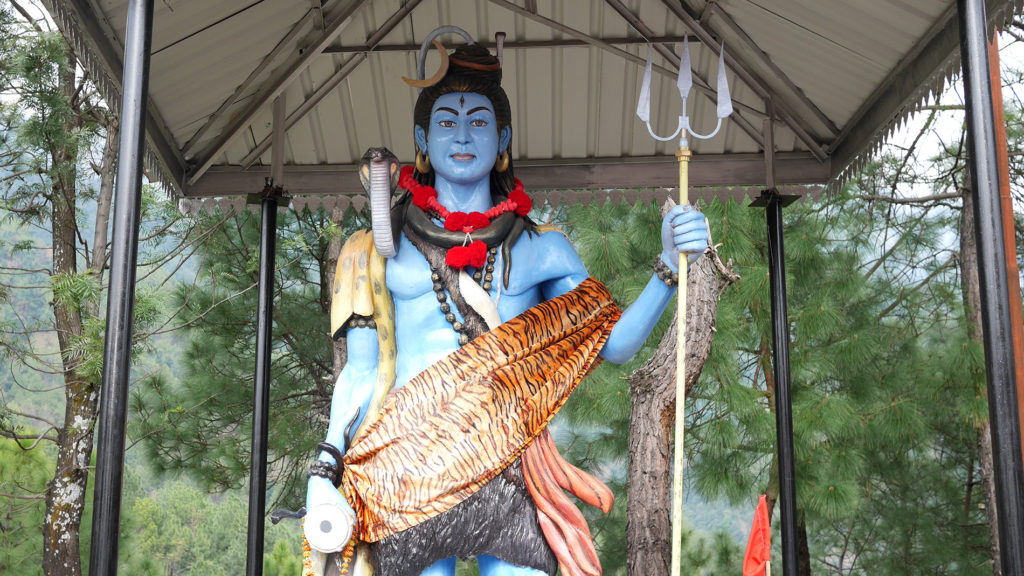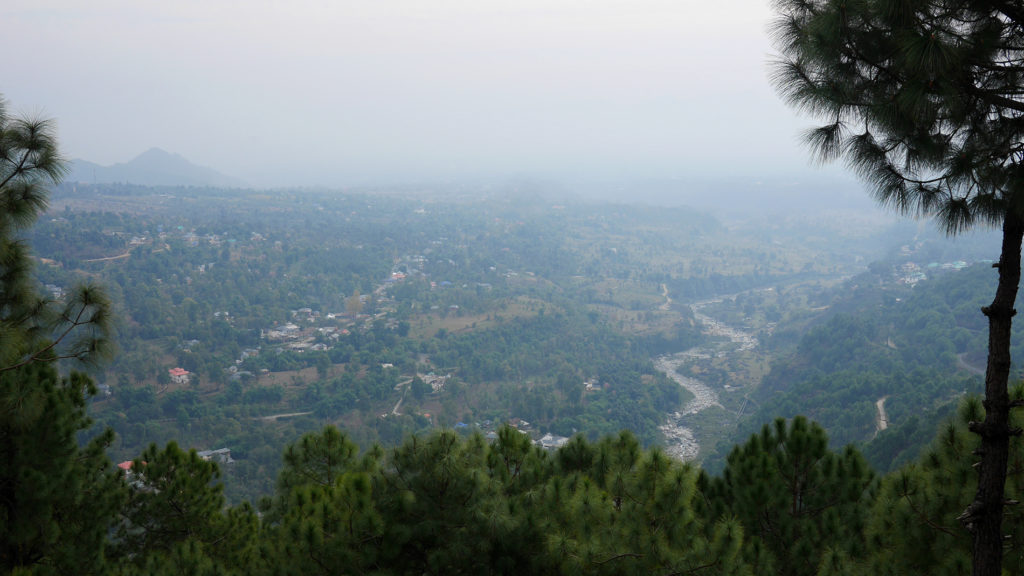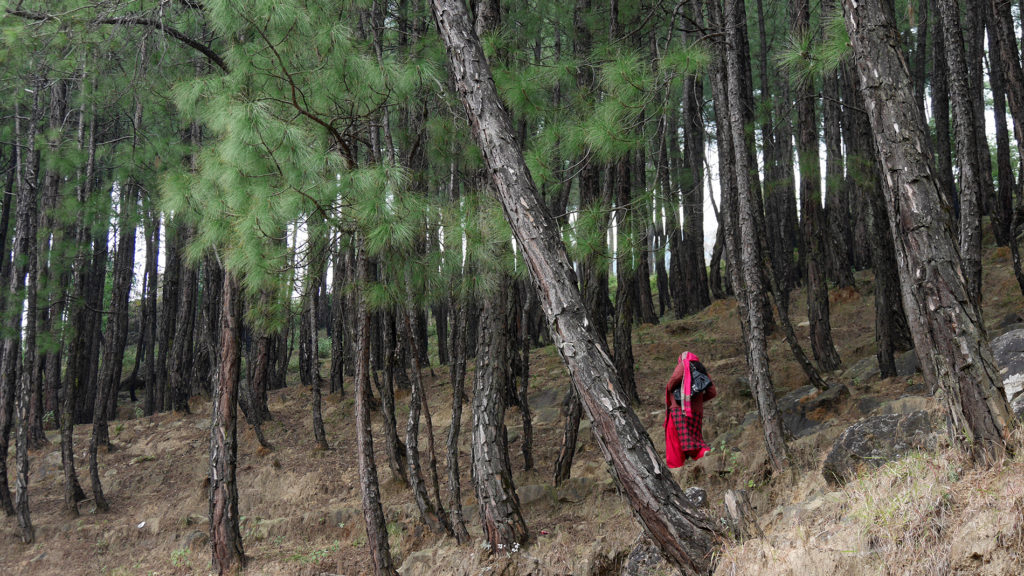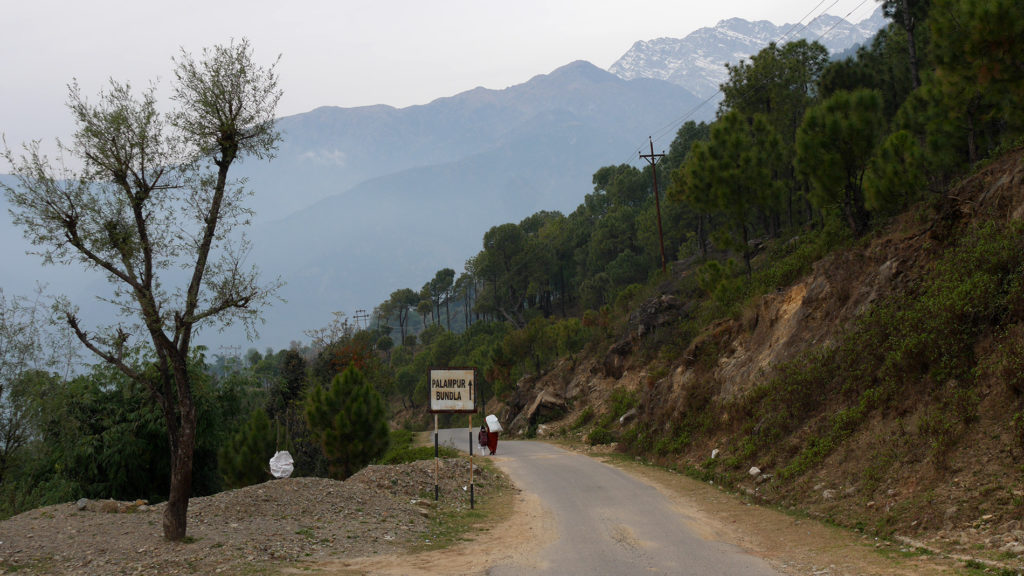 Food and the people of Bundla
We stayed in the hostel with a young Belgian couple (who were the only foreigners we saw during our stay in Palampur). On our second and last evening we went together to eat at Cliffy's Cafe. It is an atmospheric place that serves modern South Indian food. We were a bit surprised to find such a stylish place there at the outskirts of Palampur.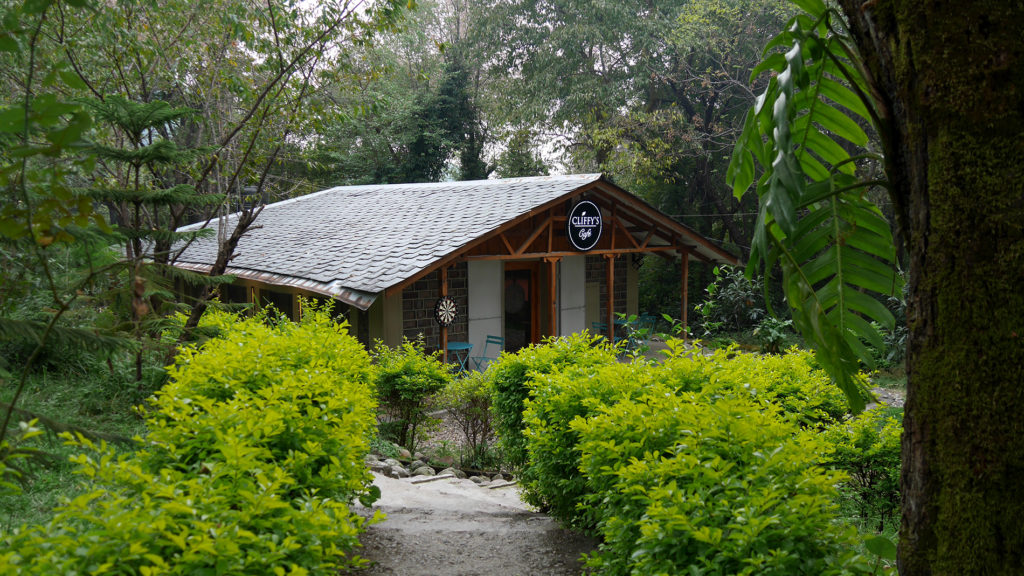 Otherwise we ate only at Rana Dhaba, the closest place to our hostel. It was a basic, one man operated eatery. After Mcleod Ganj's endless offer on anything a tourist would want to eat, it was nice for a change to have some basic Indian food and to be among locals. After our meals the owner Rana offered Seri bidis (tobacco rolled in a leaf) and cigarettes one after another. He also taught us some new Hindi words, as we couldn't communicate too much in English.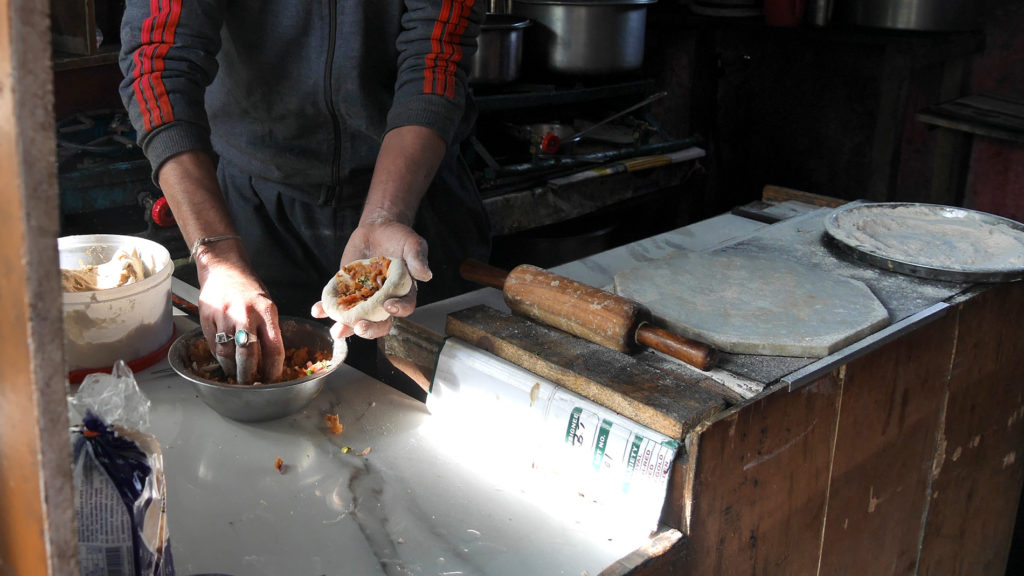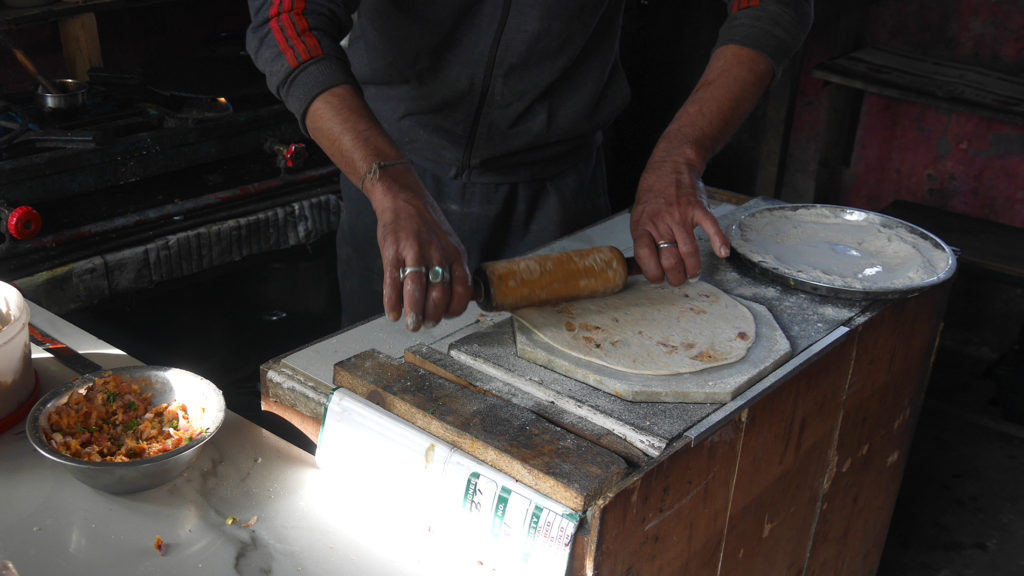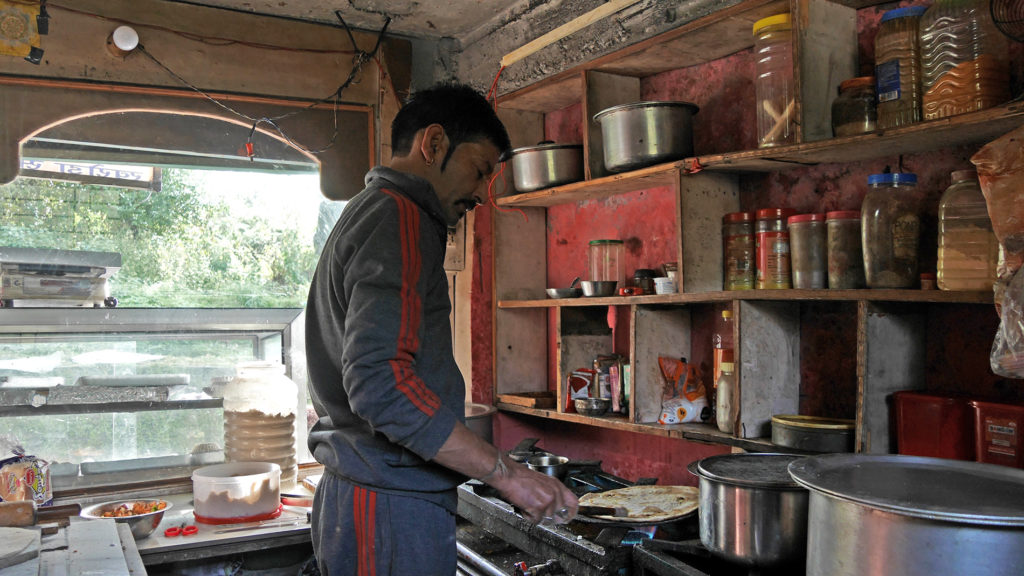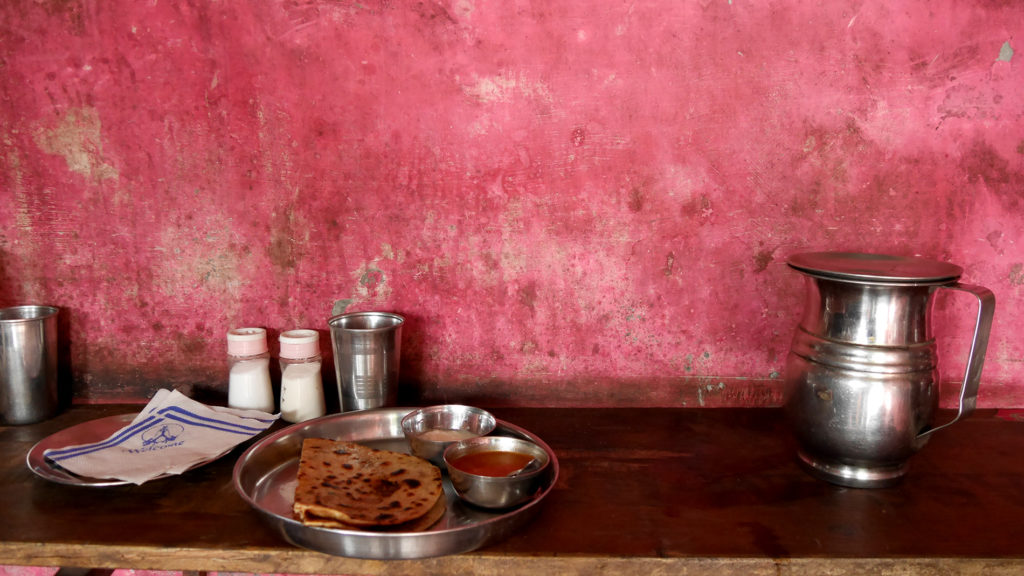 Our favorite thing in Palampur wasn't the tea, after all, but getting to meet the local people and to see a part of their everyday life.
The journey goes on
Our next destination was going to be Jaipur. We knew that the journey was about to be long, but it turned out much longer and more complicated than expected. Our plan was to travel the first part on the narrow-gauge train, also dubbed as the toy train, and we were really looking forward to it…