We spent 11 wonderful days in Hampi in December. We wrote notes about our days there like we usually do for our blog, but by the time it came to publish this text, everything has changed. Hampi, as we know it, doesn't exist anymore. At the beginning of March 2020 the authorities bulldozed down the whole part of the area known as "Hampi Island". The guesthouses, restaurants and other businesses there are now demolished completely. It is sad for all of us travelers who have fallen in love with that extraordinary place, but the saddest it is for the people who lived there. Along with their businesses they lost everything. Everything they have built with their own hands, their source of income, their homes.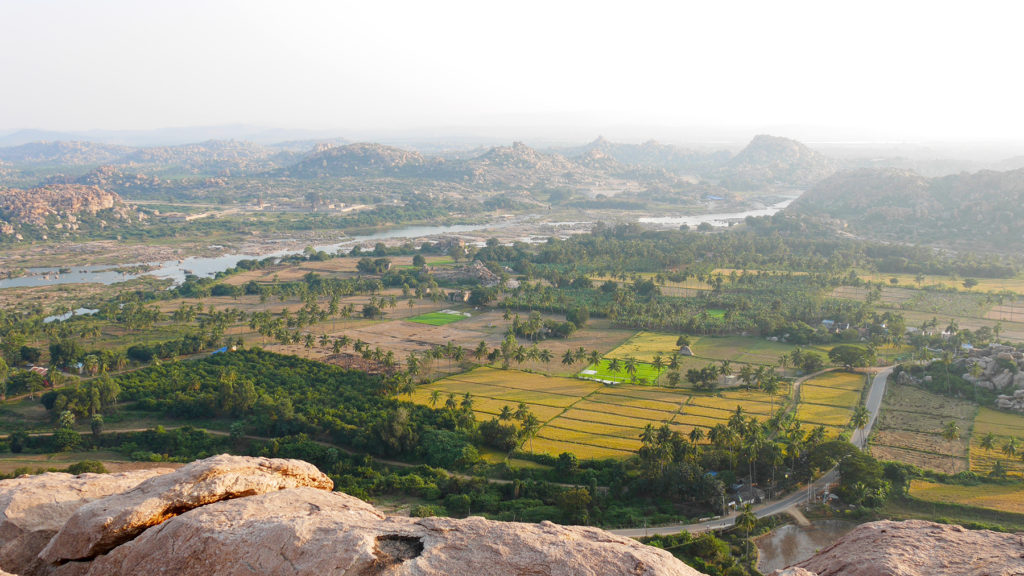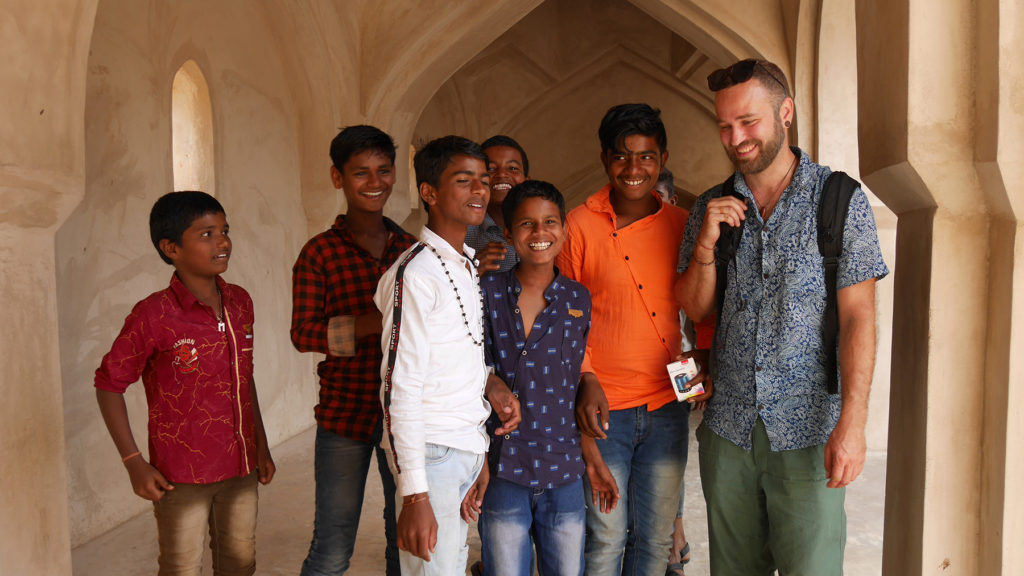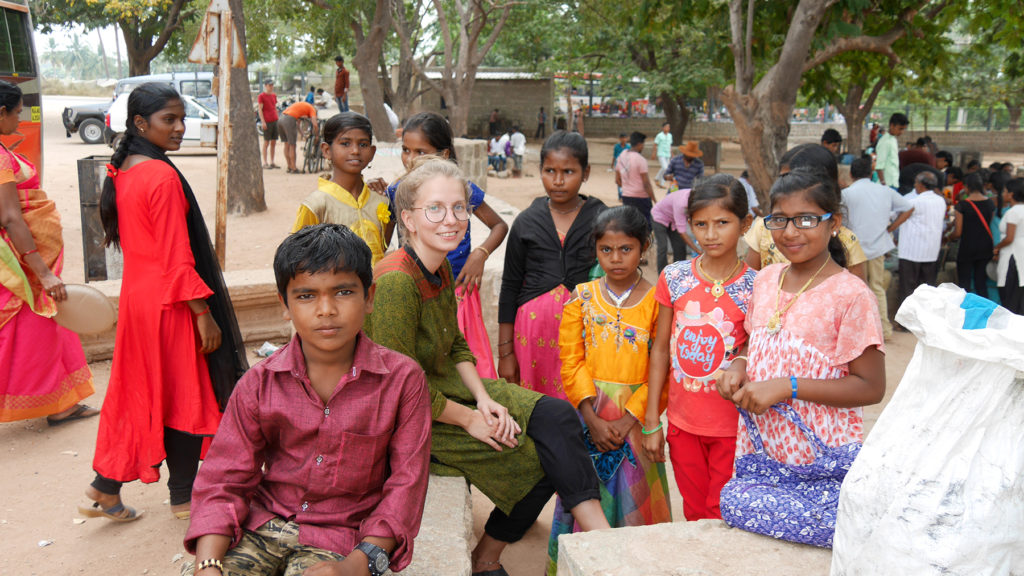 What hampi was for us?
Hampi, in Indias state of Karnataka, is a village dotted with ancient temples and ruins. The nature surrounding the village is almost like from another planet. Along with palm trees and vast, green rice paddies, there are large rock plateaus with almost gravity-defying rock formations with huge boulders standing over each other.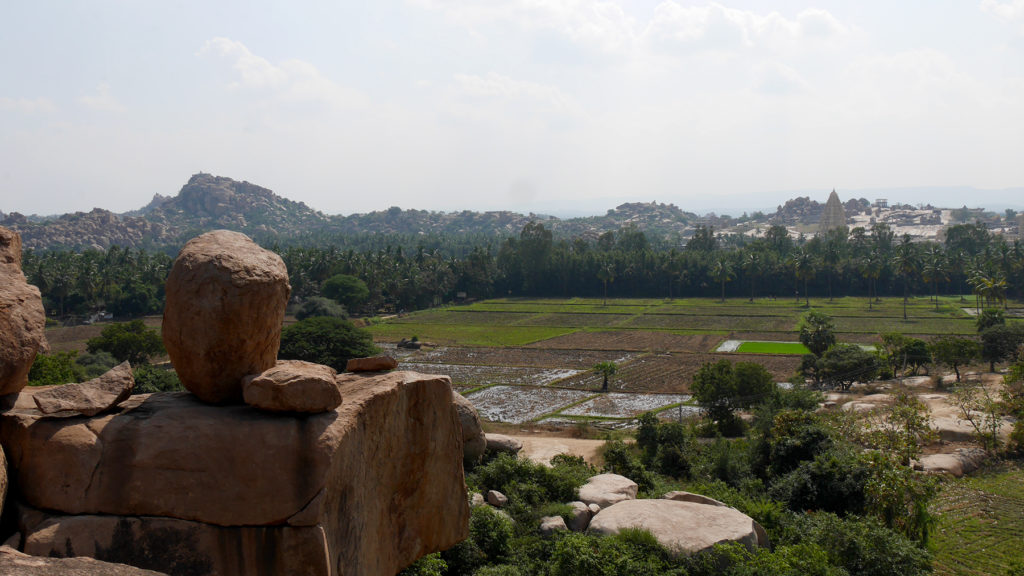 Because of the boulders the place is considered a mecca for climbers. This, among other things, is what has brought Seri many times back to Hampi. For Johanna, who is not a climber, this was also already third time there. Because the place was not only about climbing or about the impressive ruins. Virupapura Gaddi on the other side of the river from the temples, also known as the Hampi Island, was a laid-back backpacker bubble with breathtakingly beautiful surroundings.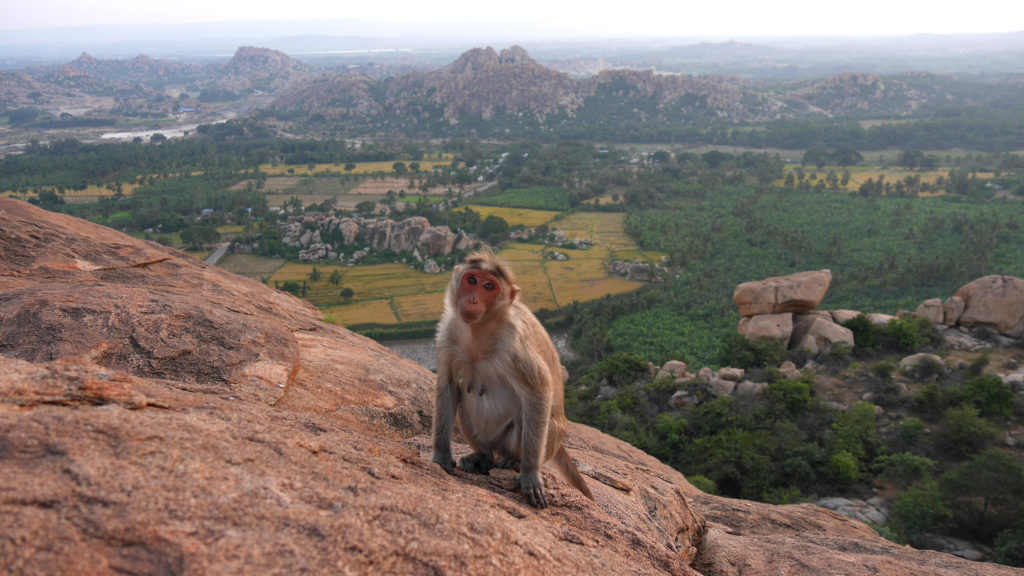 Like the times before, also this time we stayed in Goan corner. When talking about Goan Corner, it breaks our heart that we must use the past tense. It WAS a place that almost felt like home, but it neither exists anymore. It was a place where many stayed for a long time, even much longer than we did. Many of them were climbers so it was easy to find company to go to boulder with or to spend time together in the evenings.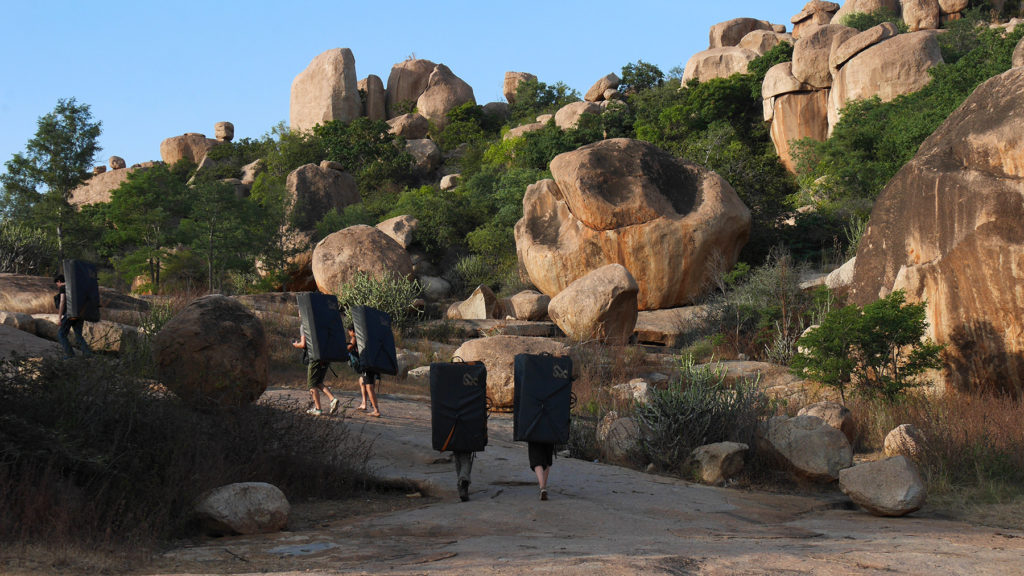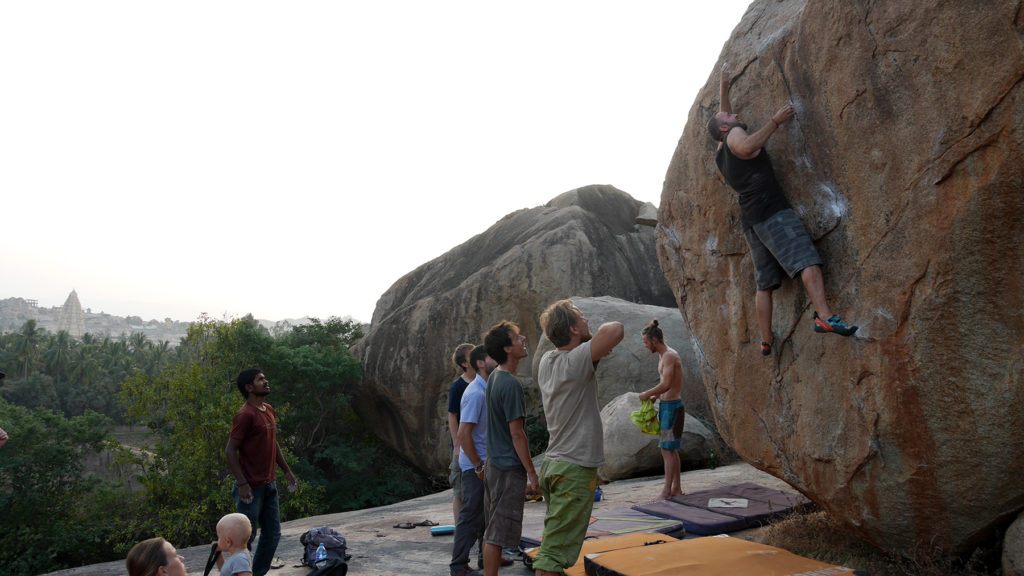 We've always met nice people there and made new friends. Along with the huts for the guests and the restaurant serving delicious food, the family running Goan Corner had their own beautiful house at the premises of the guesthouse. As the whole place got demolished, they don't have a home anymore.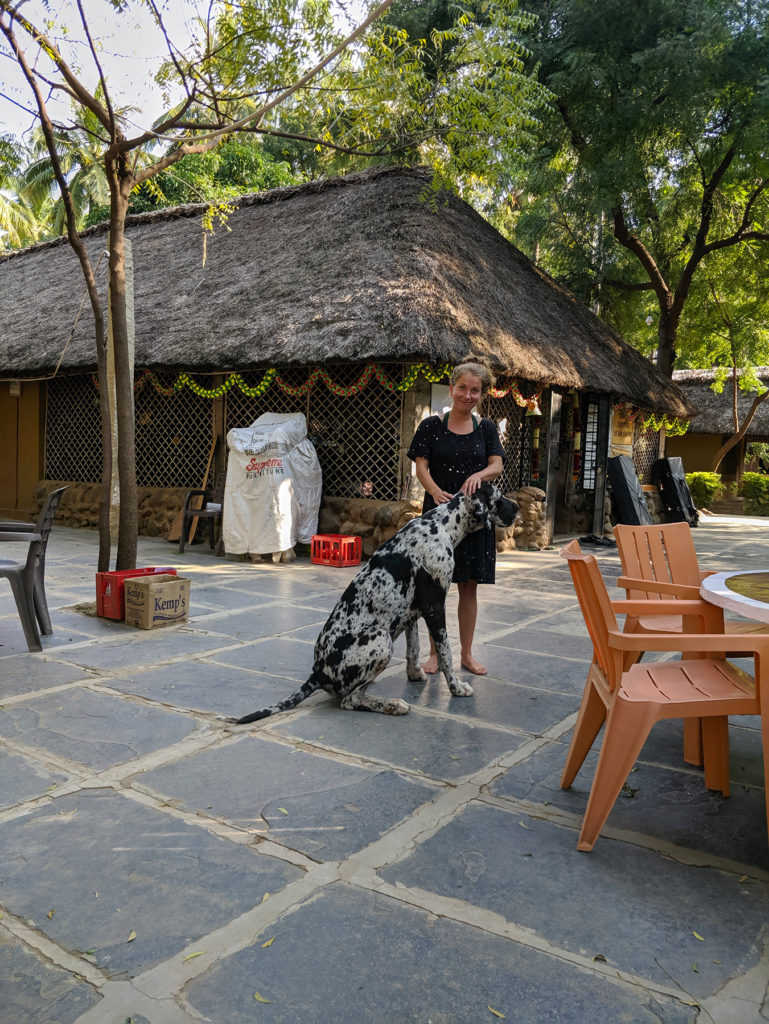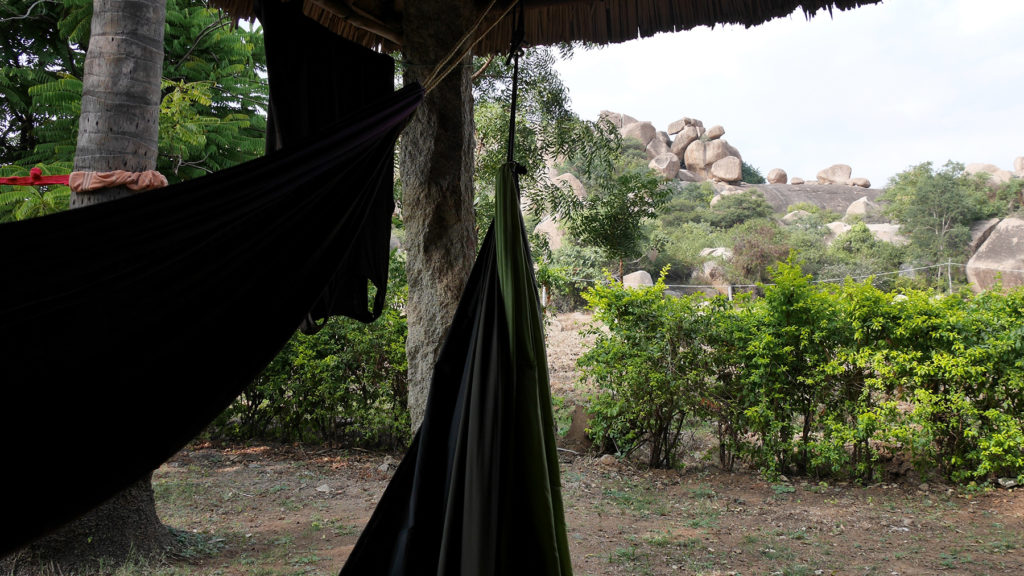 Our days in Hampi were happy. Seri went to climb once or twice a day and Johanna went to Yoga every day. She was lucky to find a great and very motivating teacher, Manti, who held his yoga classes in a big "tent" in the forest. In between we relaxed in the hammock or spent some time with the others at the restaurant. Johanna also got some work done.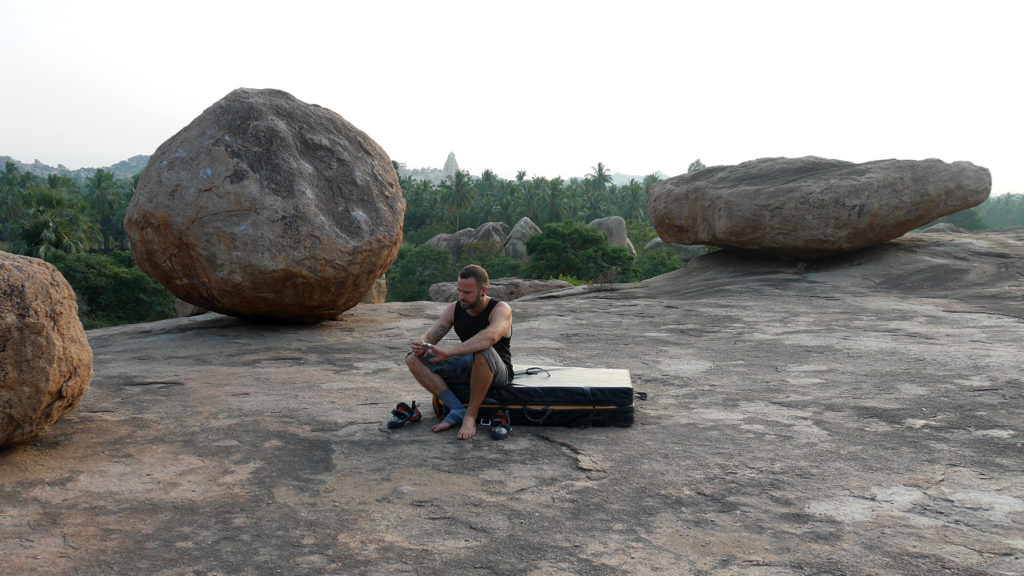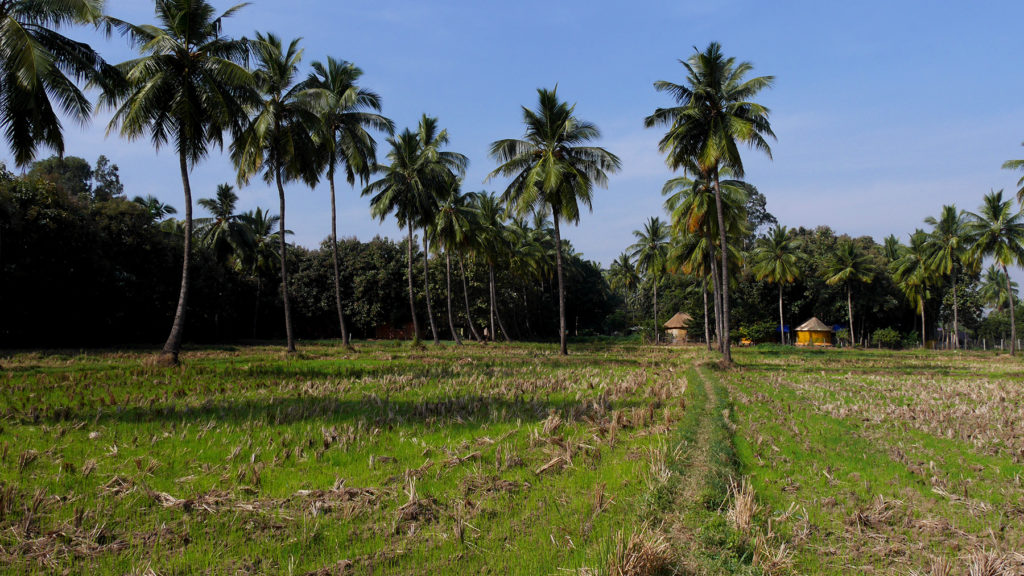 One day we rented a scooter and did a little road trip to the surrounding villages and nature places with a friend, and another day we explored some of the temples.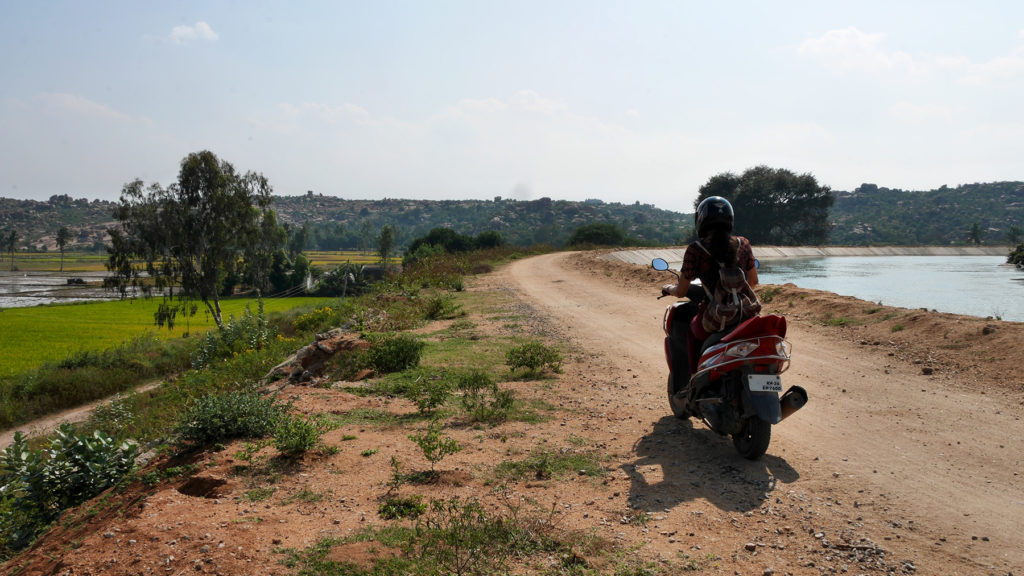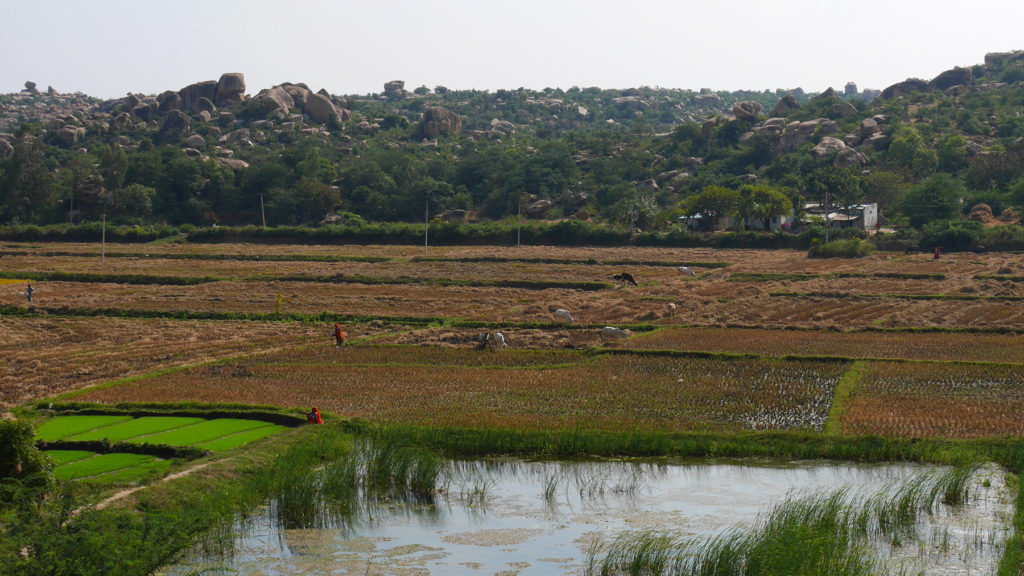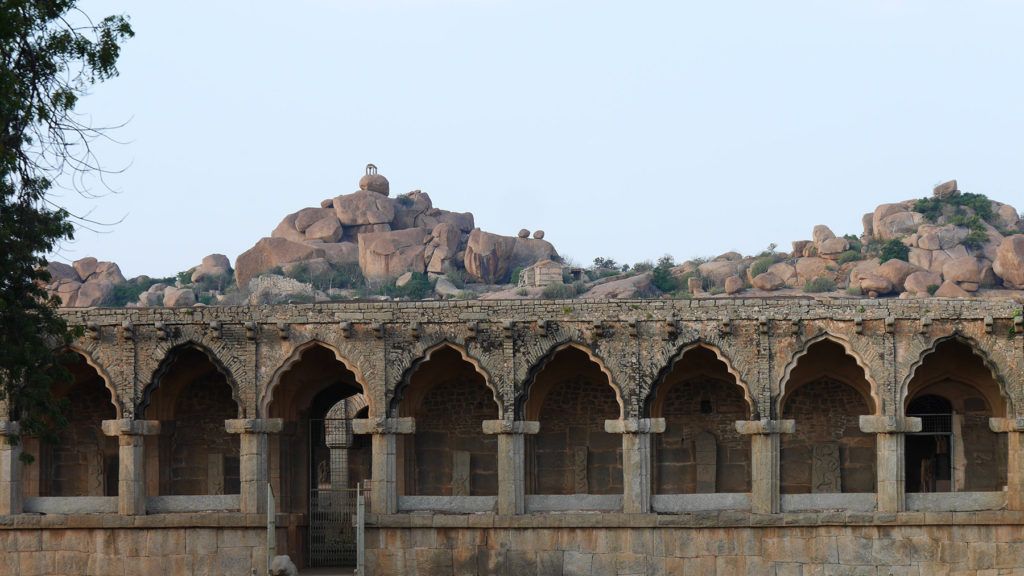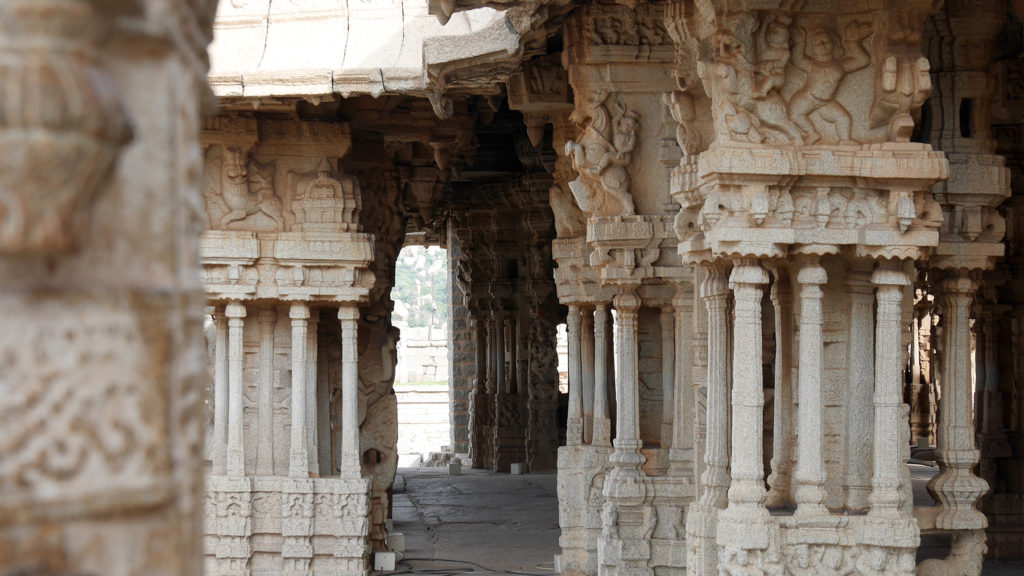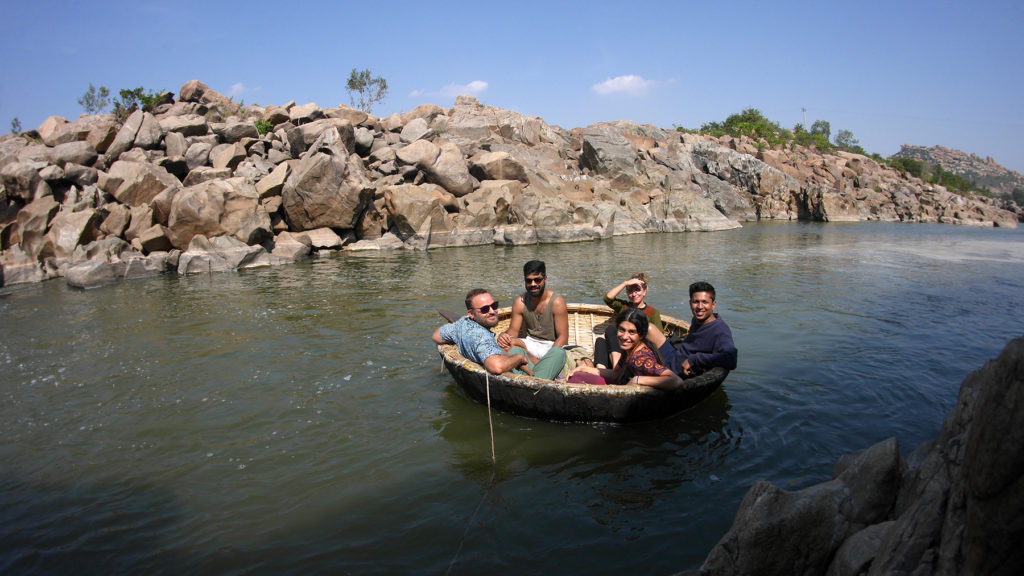 After 11 days we decided that we had to move on because we didn't have too many weeks left of our Indian visa anymore and still wanted to explore the North-East. Leaving wasn't easy, but we knew we will come back. See you next time, we said. Except that now we know that the next time won't come.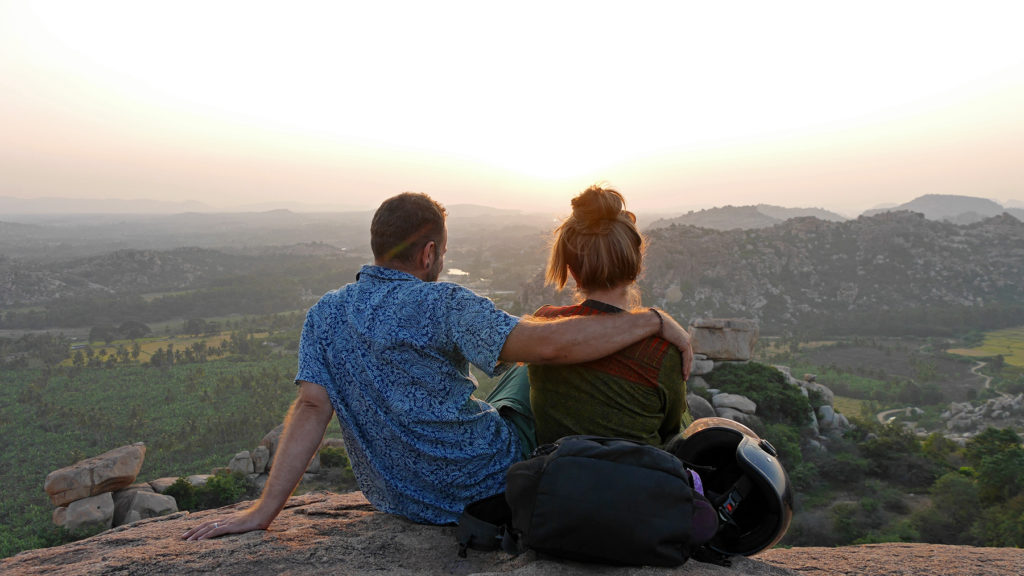 What happened in Hampi?
What has happened in Hampi is quite difficult for us to understand. Not many were talking about the topic while we were there and there's also a lot of misinformation and rumors going around. Therefore building up a picture of what exactly is going on has been difficult. There are many questions about this topic that will probably never be answered.
The UNESCO World Heritage site Hampi started to become a popular destination on the backpacker trail in India in the 90's. Besides the uniqueness of the place that was attracting people, it was also well accessible from popular locations like Goa. Lot of Infrastructure like hotels, restaurants and shops were built. Furthermore, Hampi became a world-famous bouldering location.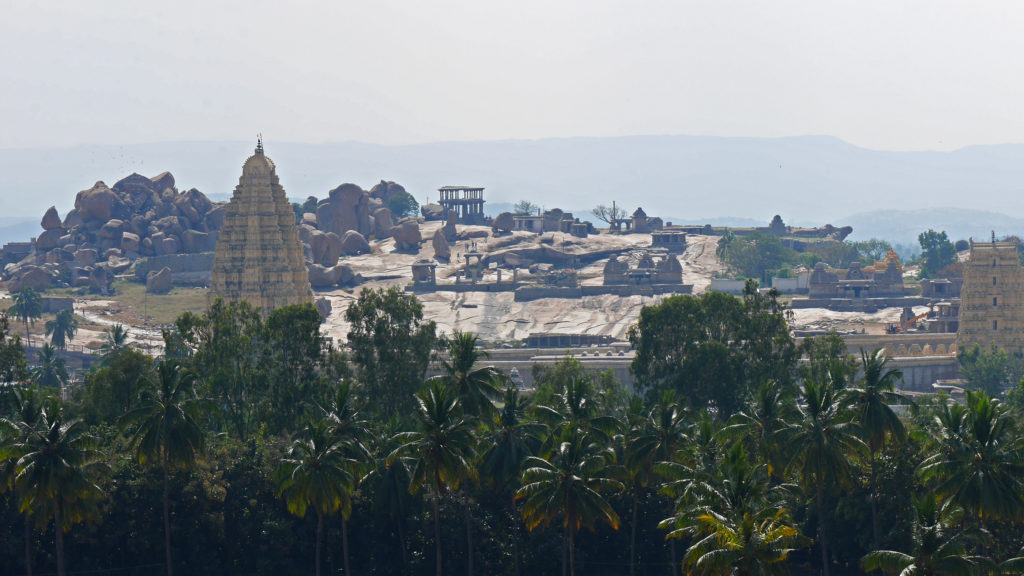 After UNESCO classified the Hampi World Heritage site as being in danger because the growing tourism, the Area Management Authority directed the local authorities not to renew any licenses or give new permissions for commercial activities. There would have been an Integrated Management Plan by an Indian heritage conservation expert, aiming more gently to turn the development to a more sustainable direction. The Area Management Authority, however, decided to set up an own plan that was seeing development only as a threat. Furthermore, there have been for many years' rumors about plans of building luxury resorts in that area that would, of course, profit from demolishing most of the existing infrastructure.
In 2011, Hampi Bazaar, the place closest to the temples, was demolished, along with the homes of local people. Many guesthouse owners of Hampi Island had already appealed to court to protect their properties from the same faith. In the meanwhile, in 2016, also the old village of Virupapura Gaddi was demolished. On February 11th, 2020, the case was lost at the supreme court and followed by the complete demolition of Virupapura Gaddi, the Hampi Island.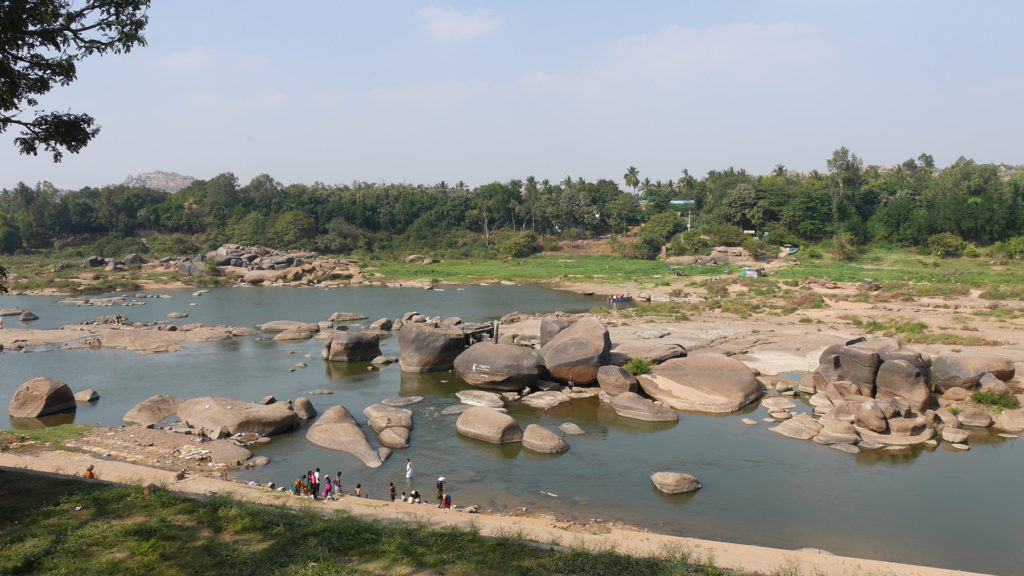 For us this doesn't make completely sense, as there are no ancient temples in the proximity of Hampi Island. And even if there were, what is more important, to preserve old monuments or the lives and culture of the people that live there now?
Here's more info about the topic:
https://www.whatisthis.technology/hampi.html
https://medium.com/@trixiepacis/hampi-island-a-paradise-lost-80653f2e4d7e