Om Beach, close to Gokarna in India, is a special place for us. It's where we met each other for the first time almost ten years ago. It's also a nice, peaceful alternative for the more crowded beaches of Goa. We had our first longer stop on this journey at Om Beach. After three months of intensive traveling it felt like being finally on a holiday and we were not planning to leave anytime too soon.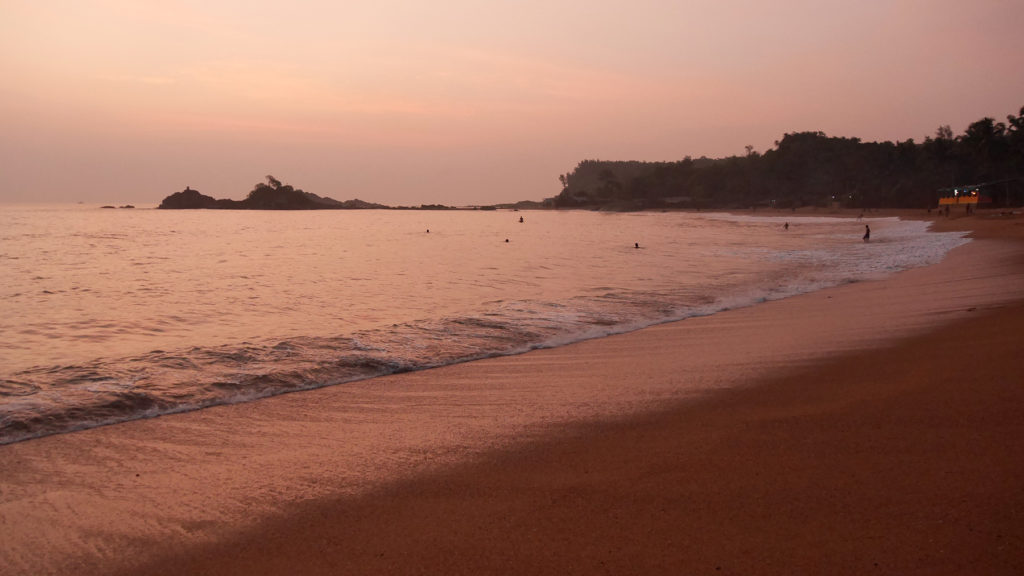 On our way from Rajastan to Gokarna
The train reservation system in India is complicated, and this time we had a better chance to get a confirmed ticket when we made a booking from Rajastan all the way down to Kerala in the South. We were not planning to travel that far, though, but to hop off near some beach on the way. How ever, when we got on the train in Rajastan, we didn't know where exactly. Finally we decided to skip Goa this time (at least for now) and to head straight to the relaxed Om Beach in Karnataka State.
The train ride from Ajmer (next to Pushkar) in Rajastan to Karnataka's Gokarna took 33 hours. In contrary to traveling in the train's sleeper class as usual, we chose to travel in the 3AC class this time. It's a little bit more comfortable but still very affordable option, where the cleanliness of the carriage is maintained better and we even got clean sheets and blankets for the night. We had a nice group of young Indians traveling next to us. Occasionally, someone passed through the wagon selling drinks or food.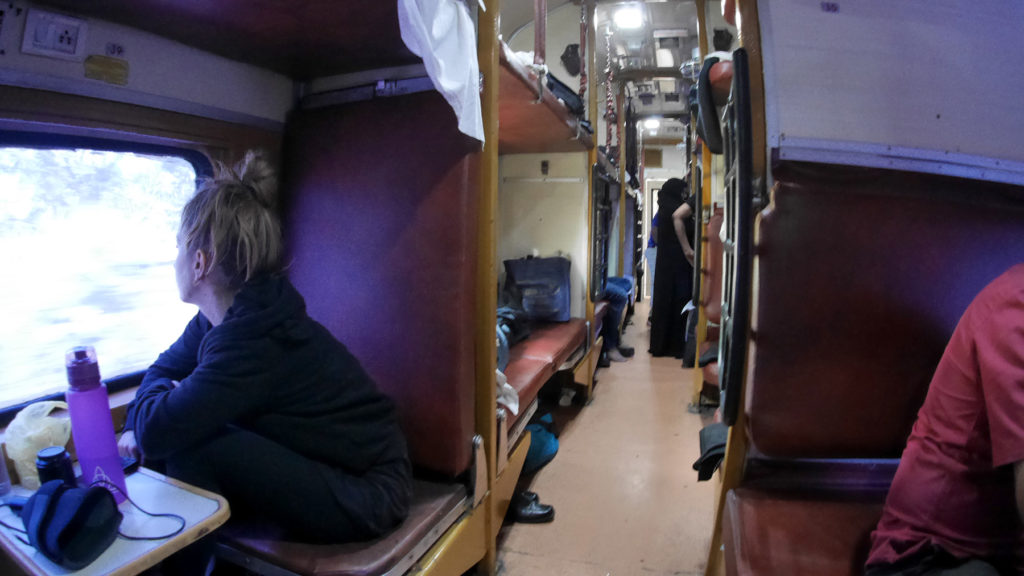 Like the name suggests, 3AC class is air conditioned, so the windows are closed. But the doors in the space between the carriages are open and slowly we could feel the air outside getting hotter and moister. The ride went so smoothly that we could have almost stayed longer in the train.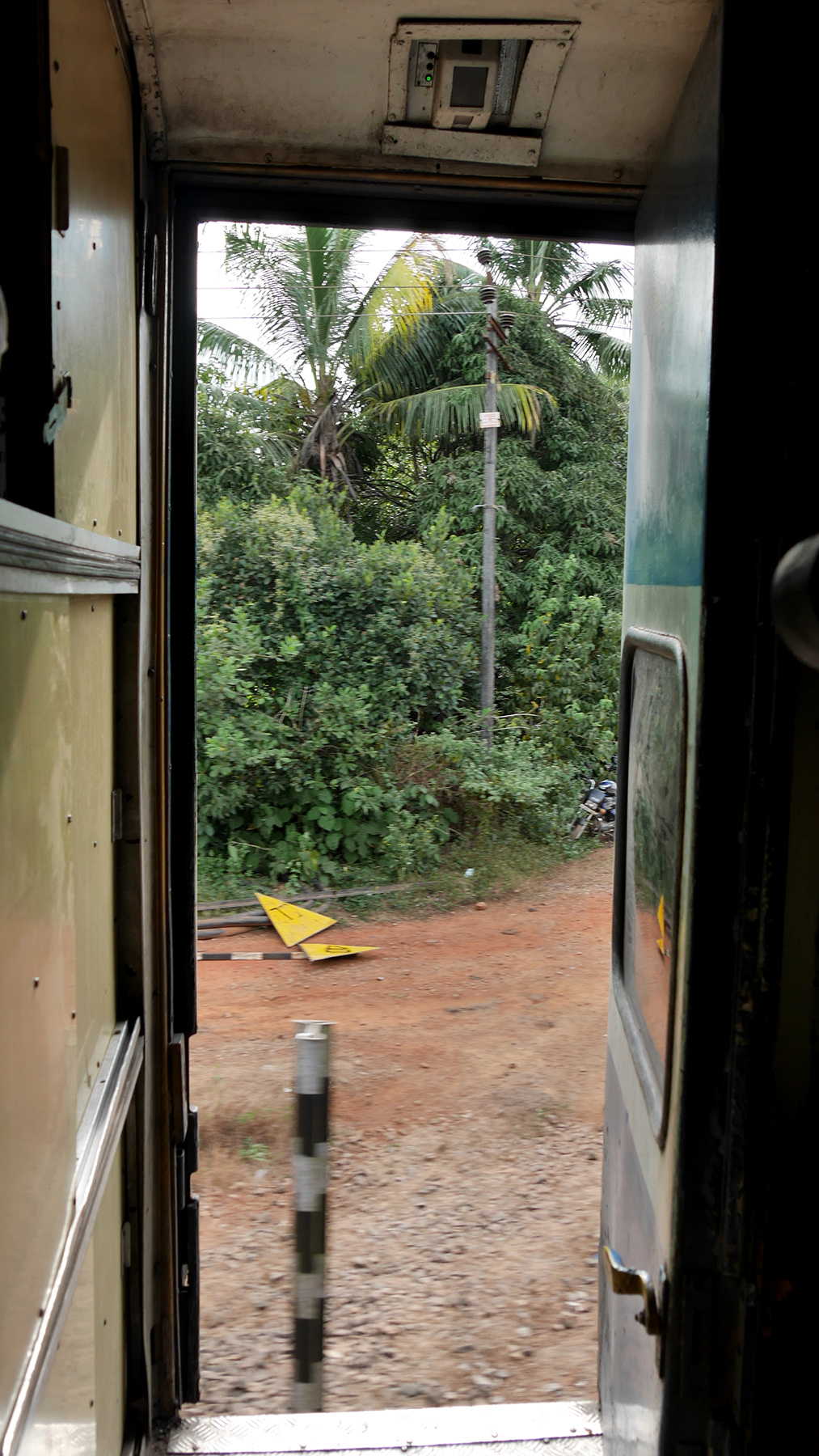 Om Beach hasn't changed, good so
We had moved over 1300 kilometers south and the weather was tropical. We took a rickshaw to the beach, having a stop at the wine store to get a bottle of Old Monk, some Indian rum. There is a handful of guesthouses at Om Beach, most of them located on the right corner of the beach. We had a look at couple of the places and then decided to stay at the Nirvana Guesthouse, like we also did the last times. It has a beautiful garden and finally we could have our own little beach hut with a comfy terrace.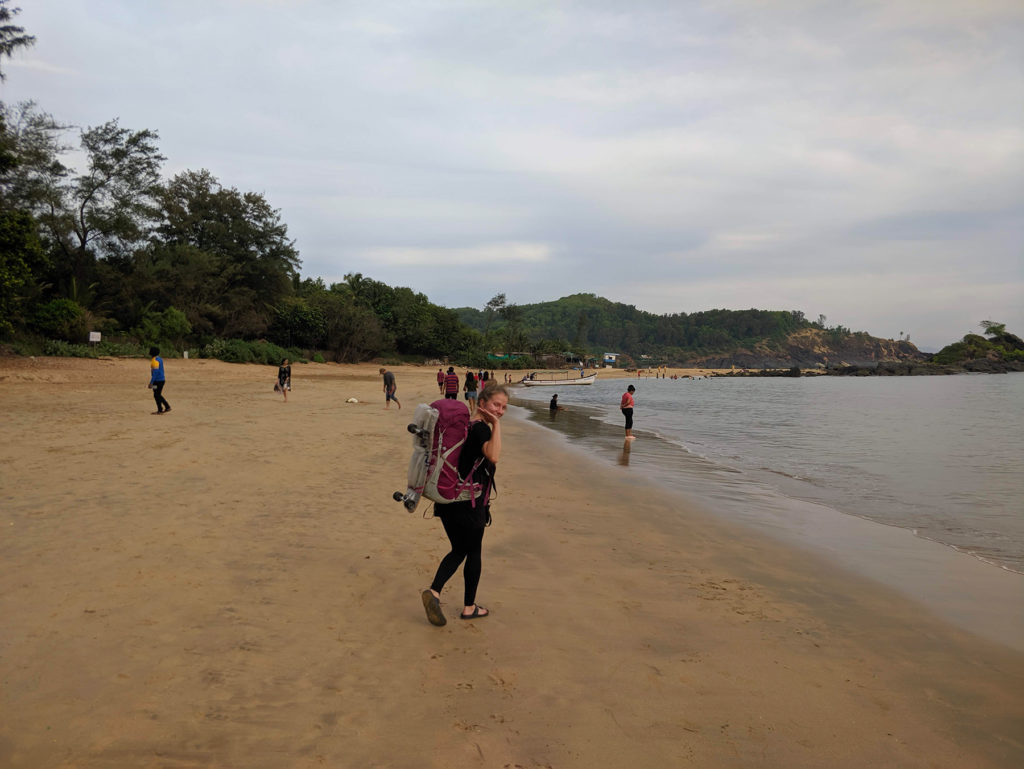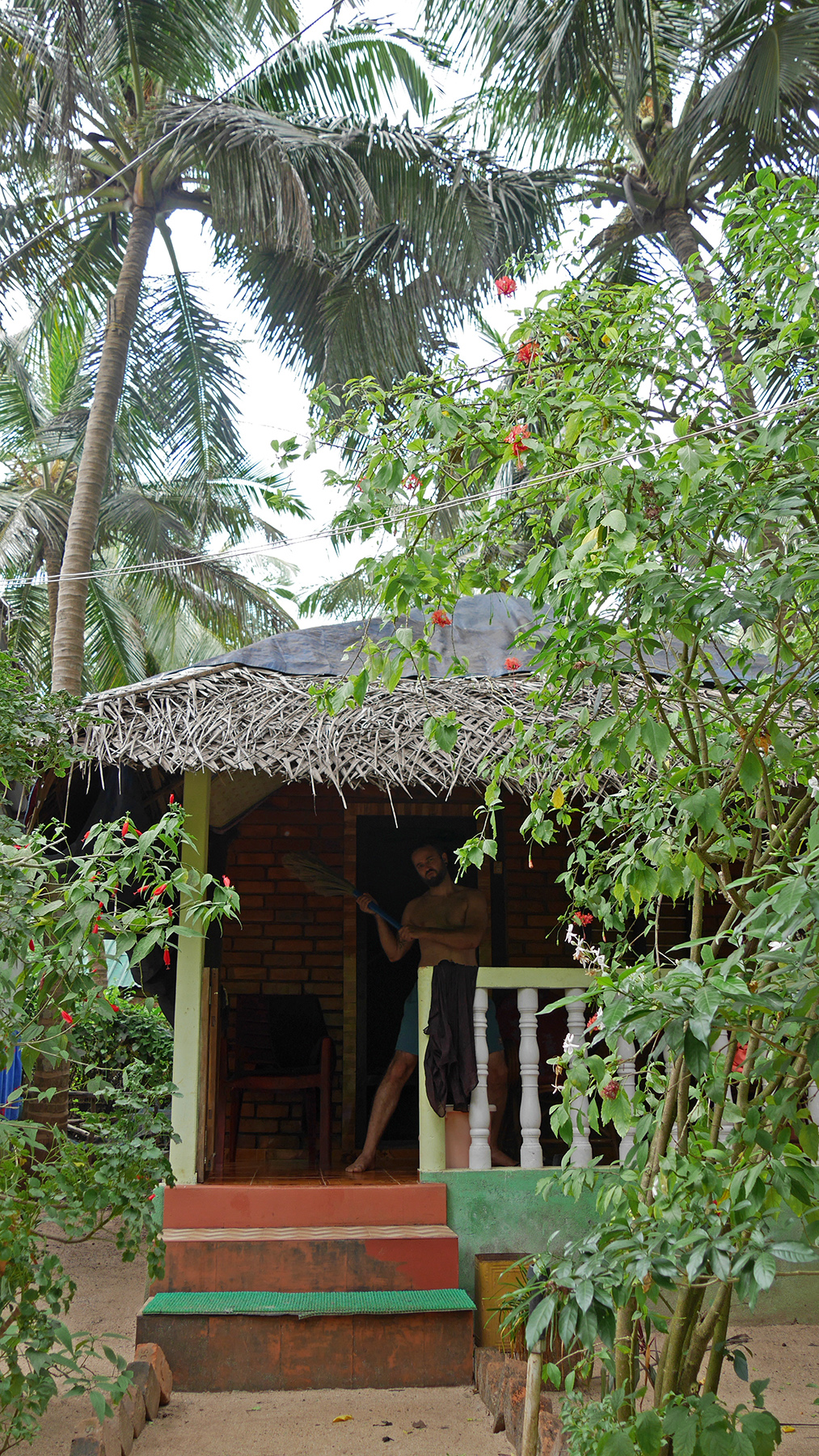 This was Seri's fourth and Johanna's third time at Om Beach. This probably tells something about how much we like it there. It's amazing that not much has changed after our last visit five years ago, and not even after the first one over nine years ago. Some of the guesthouses had grown bigger but otherwise almost everything was like it was before. There was a bunch of other travelers staying by the beach, mostly Israelis, but not too many. There are also some people selling jewelry or fabrics, but they are not pushy, and we had lots of good conversations with them. They all seem to have the same mantra: "Full power, twenty-four hour, no toilet, no shower". And then there are many cows and dogs enjoying the quiet beach life.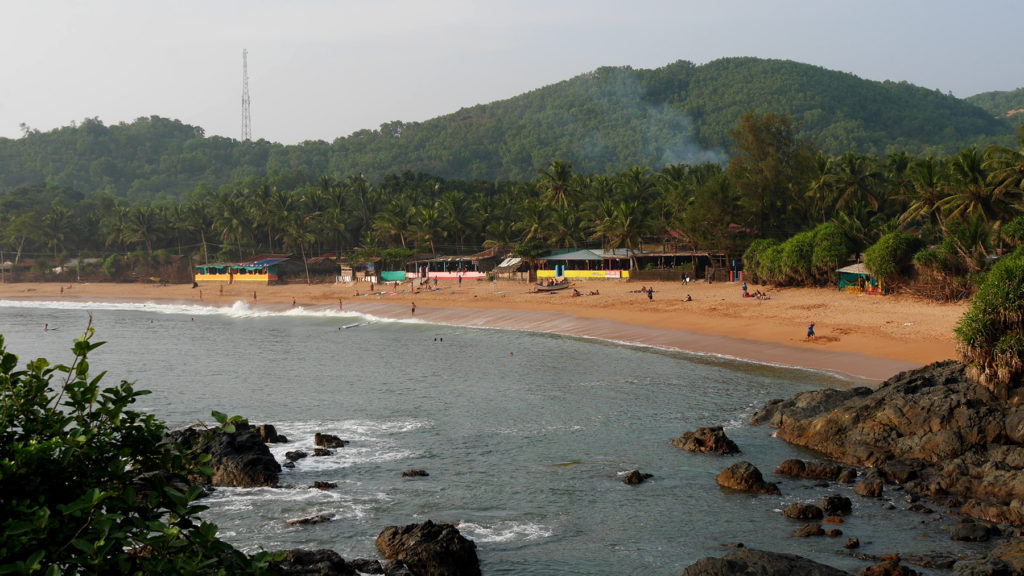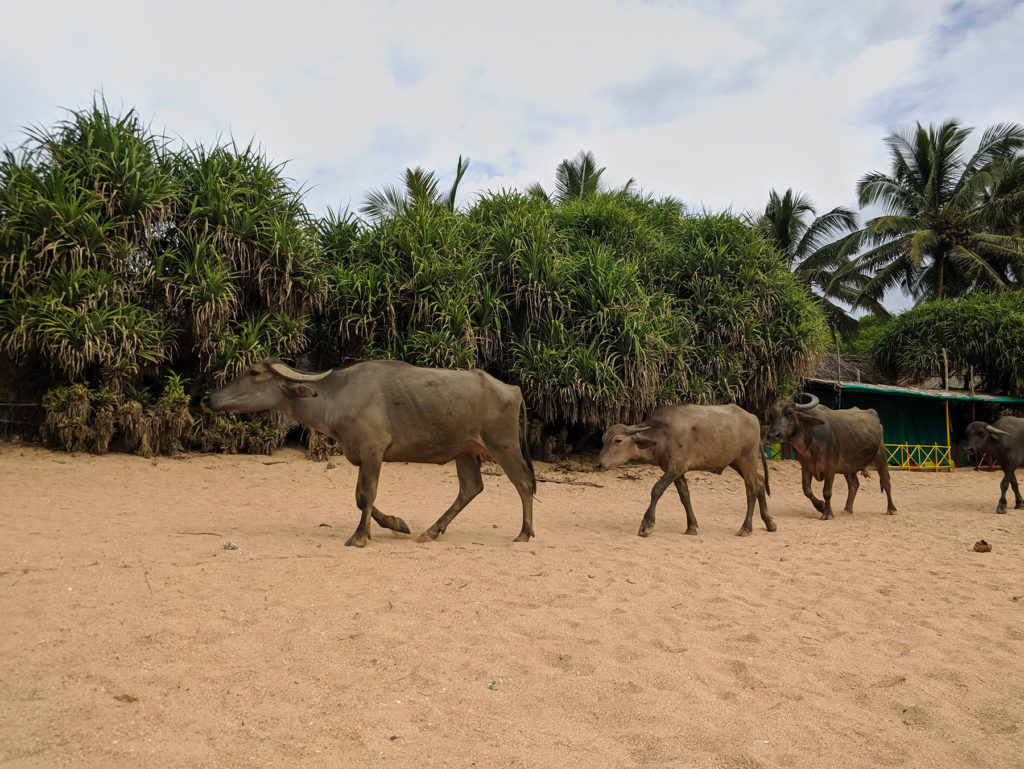 Our days at Om Beach
We didn't move much except between our lovely terrace, the beach and a few restaurants. Mostly Johanna laid on the beach and Seri played with the waves until the afternoon. In the evenings we worked on our blog or sipped some rum blended with freshly squeezed fruit juice or coconut water. In between we enjoyed the delicious food that was on offer. We can't even count how many papaya lassis we had during our stay, and Johanna got crazy with Nirvana's aloo gobi (potato & cauliflower curry), it was soooo gooood. After all that intensive traveling, it felt good to stay in one place and just enjoy and relax.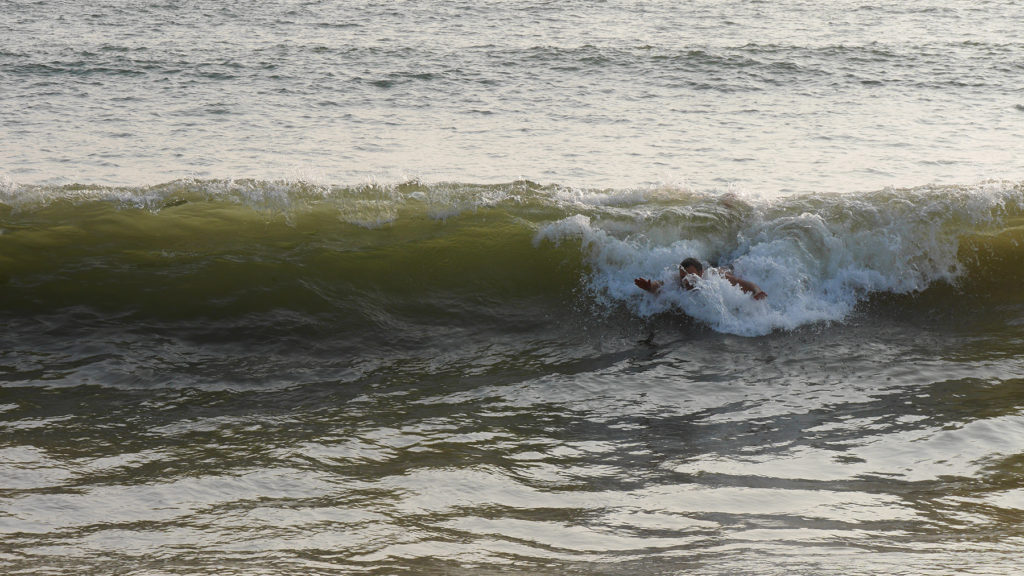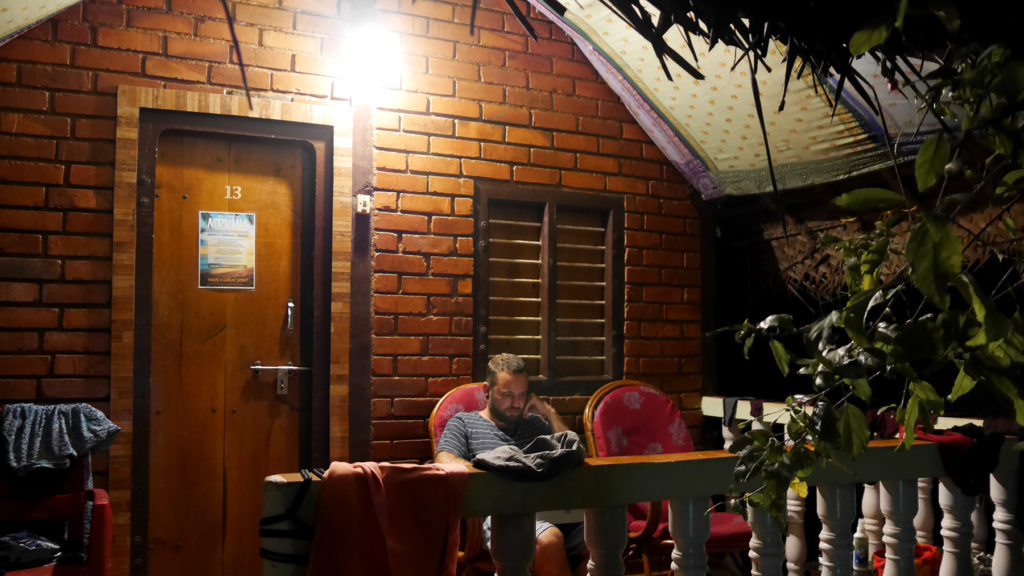 New friends
On one of our first days at Om Beach, a German guy came to us with a special question. As he had already checked out and was about to move to another guesthouse on the beach, he asked if he could borrow our room for an hour. We did some arrangements in the room and he put on a suit that he had borrowed from the nearest bigger town. Then he did a job interview through Skype in our room.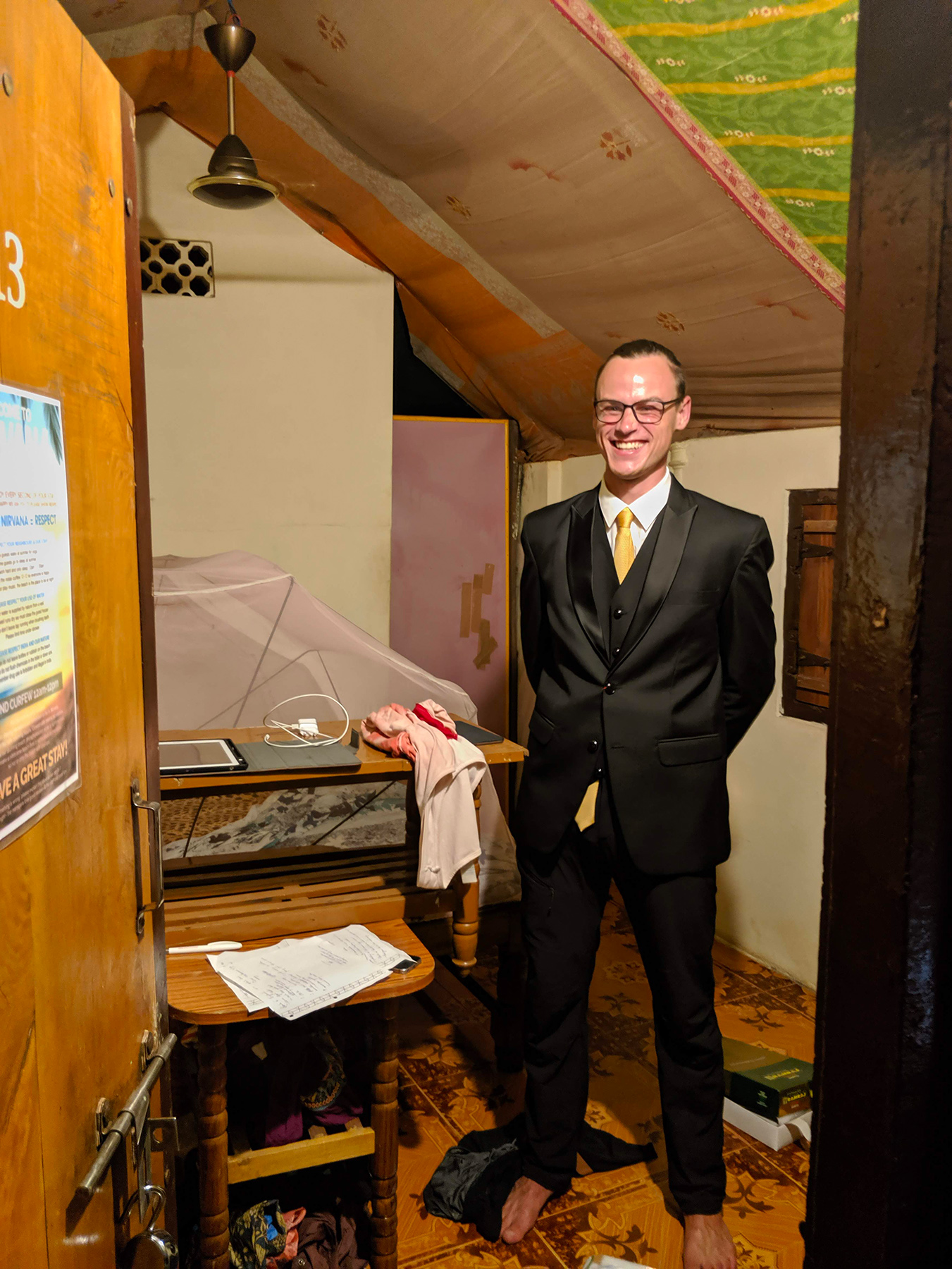 That's how we got to know Mathis and his friend Lena. We had interesting conversations with them and some fun involving the Old Monk, too. Lena is a yoga teacher so one morning she also held us a long yoga class. They became our friends and we are convinced that sooner or later we will meet them again.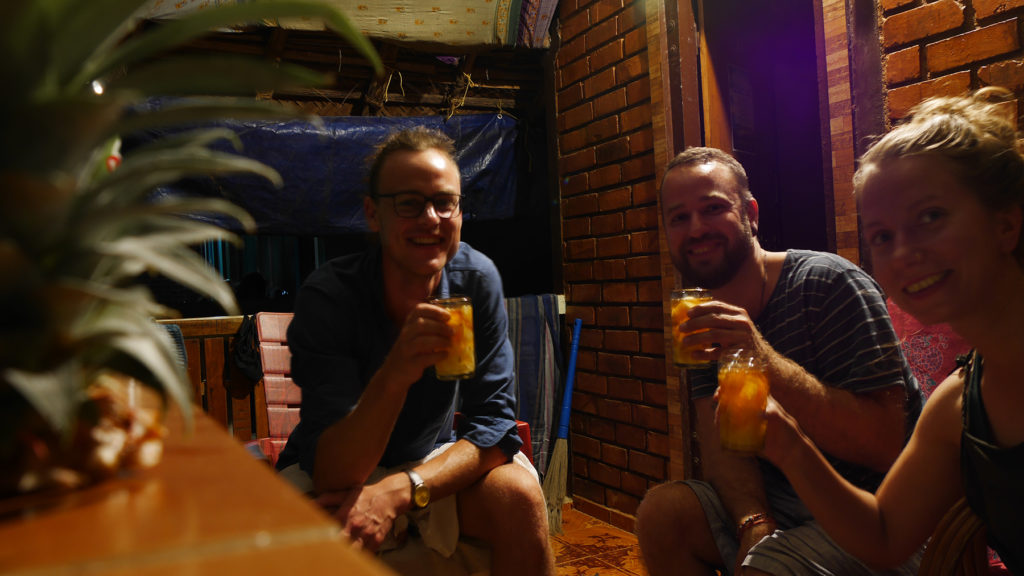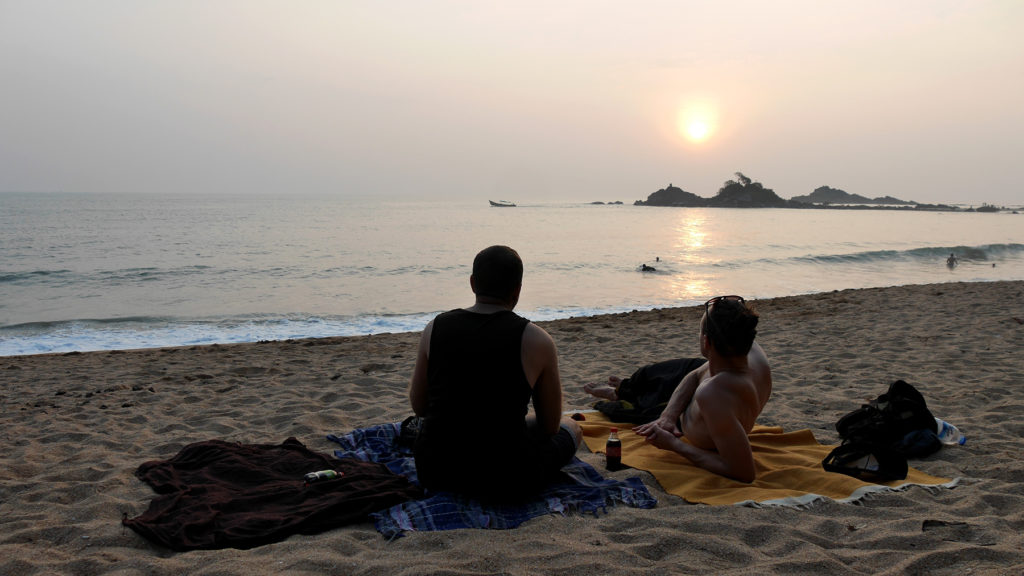 Mystery
The only thing that disturbed our peace at Om Beach was an uninvited, mysterious guest in our hut. Johanna has a tiny fabric bag where she keeps her soap and shampoo bar. The bag used to hang on a hook in our bathroom, just there where the ceiling is starting. One evening Johanna asked Seri why the hell has he stuffed the bag into the ceiling. As he told he hadn't, we were wondering if Mathis, for some strange reason, had done it. We took the bag down and hanged it back to the hook and went to sleep.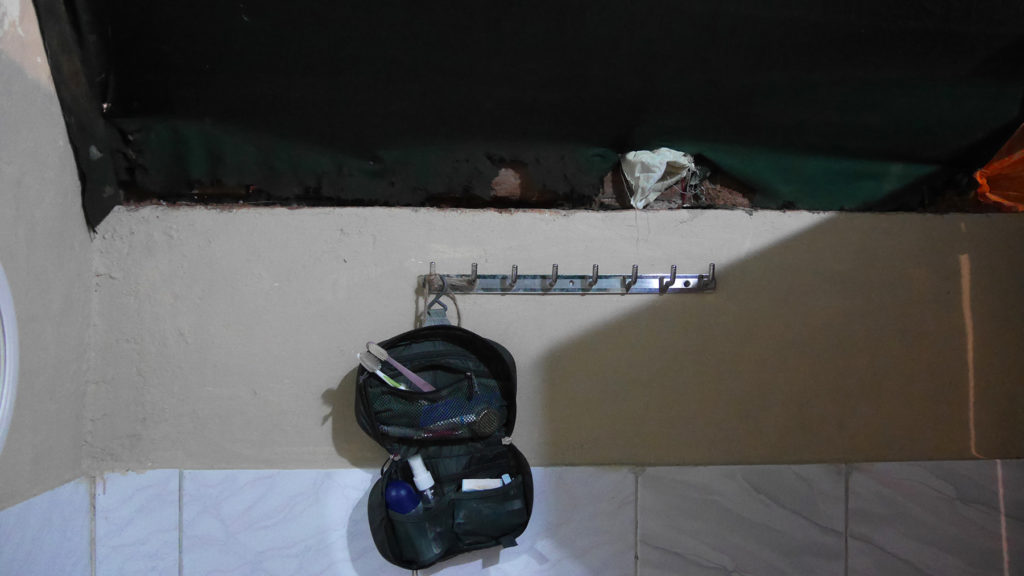 When the bag was again pulled into the ceiling the next morning, we got the chills. There were monkeys jumping on our roof sometimes, so we wondered if one of them could have put their long hand through the roof and try to grab the bag. Or maybe it was a mouse or the even pink frog that appeared to our bathroom every evening.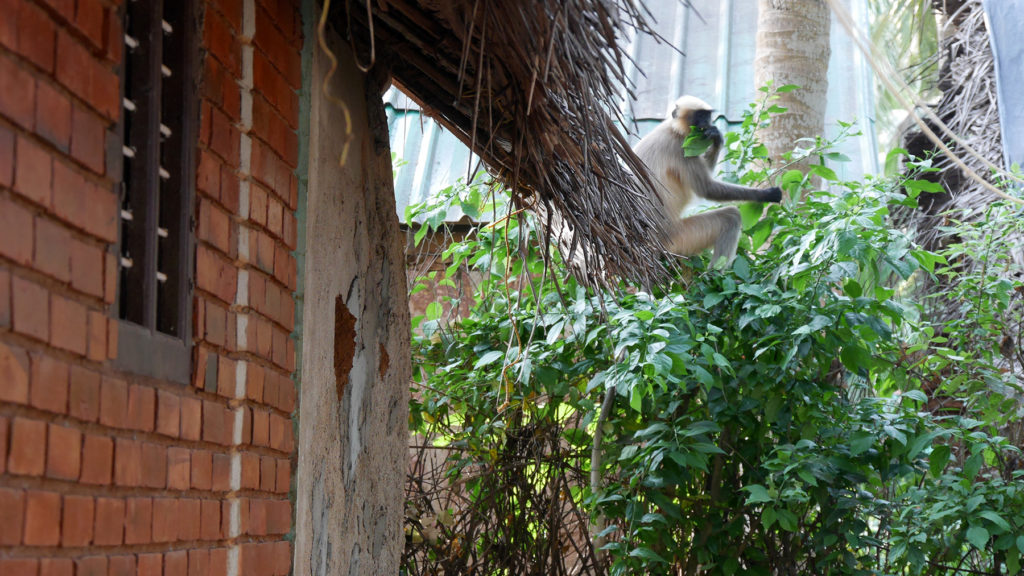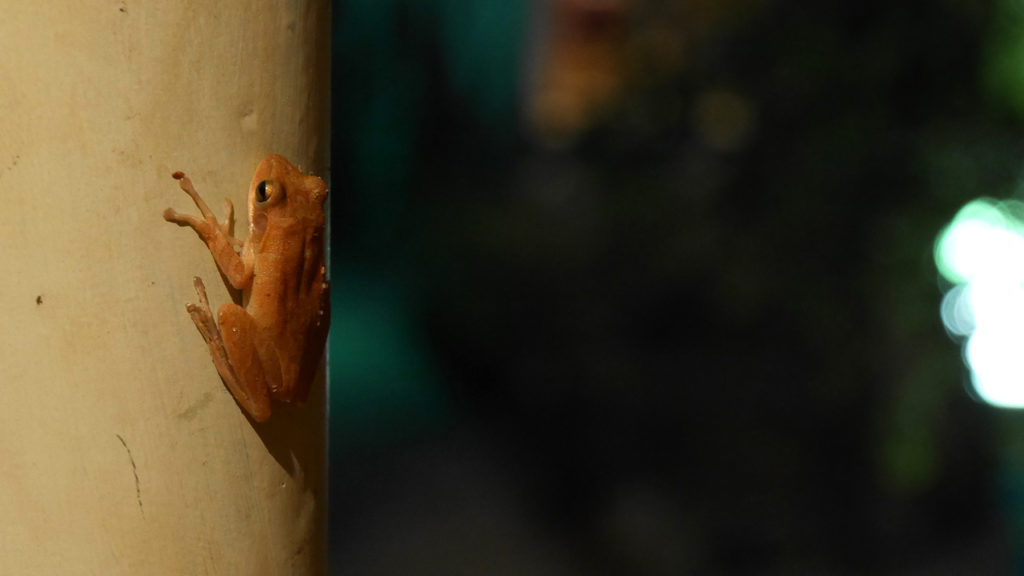 Johanna was, however, convinced, that it's either a ghost or a giant spider with eight long legs. Well, the next night we found out it had probably been the same mouse that we found now attacking our fruit bag. Mystery solved, but at least we got some excitement to our otherwise very peaceful days at the beach.
Leaving isn't easy
At some point we had the feeling that it was enough of beach life and that we would be ready to move on the next day. We thought we had stayed five nights but when the time came to pay the bill it turned out that it had been seven. It also turned out that we didn't have enough of cash to pay our bill and there are, of course, no ATM's at Om Beach. We had to drive to the town with a rickshaw to get some money, and as this was going to ruin our last full beach day, we decided to stay one day longer, nine nights altogether. Because we had to head to the town anyway, we might as well buy some more Old Monk. After wandering around in the town for some time, we had a nice party at the beach. Just the two of us, as Mathis and Lena had already left.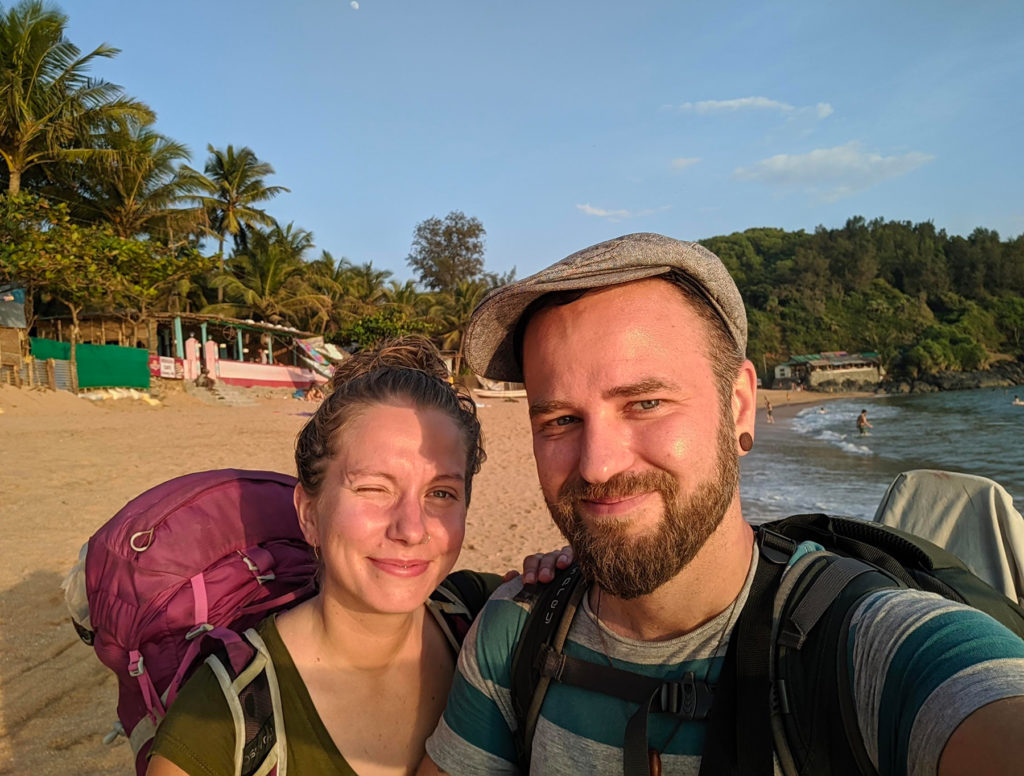 The Gokarna Town
Gokarna is an interesting, small Indian town by itself. There's also a beach in town but if you ask us, it's not as nice as Om Beach. There are several temples in town and the whole place feels quite spiritual. The cows are slowly walking around on the streets and there's not too much traffic. It is somewhat touristic, meaning that you see other travelers and can find many souvenir and clothes shops, but still the town feels authentic.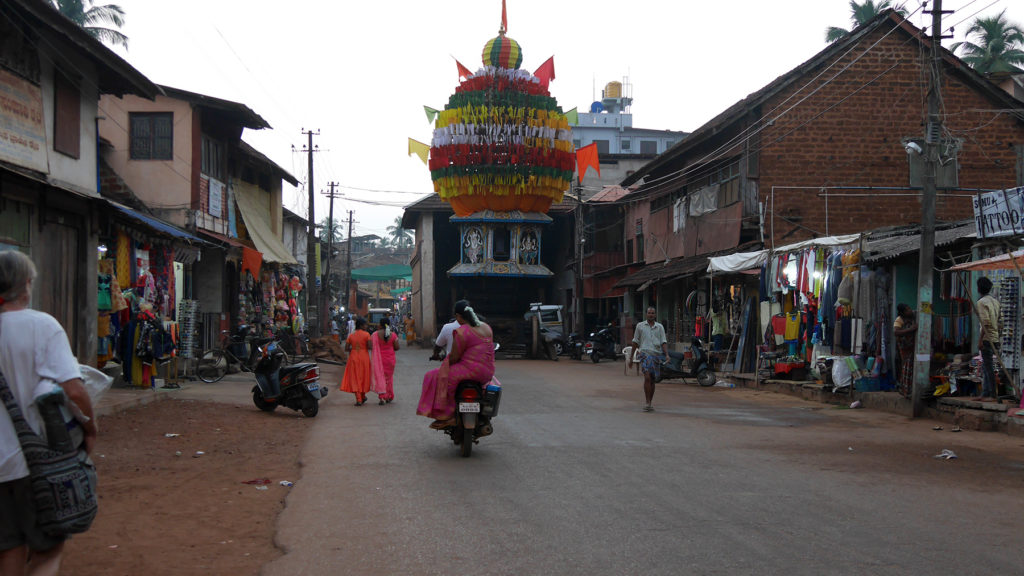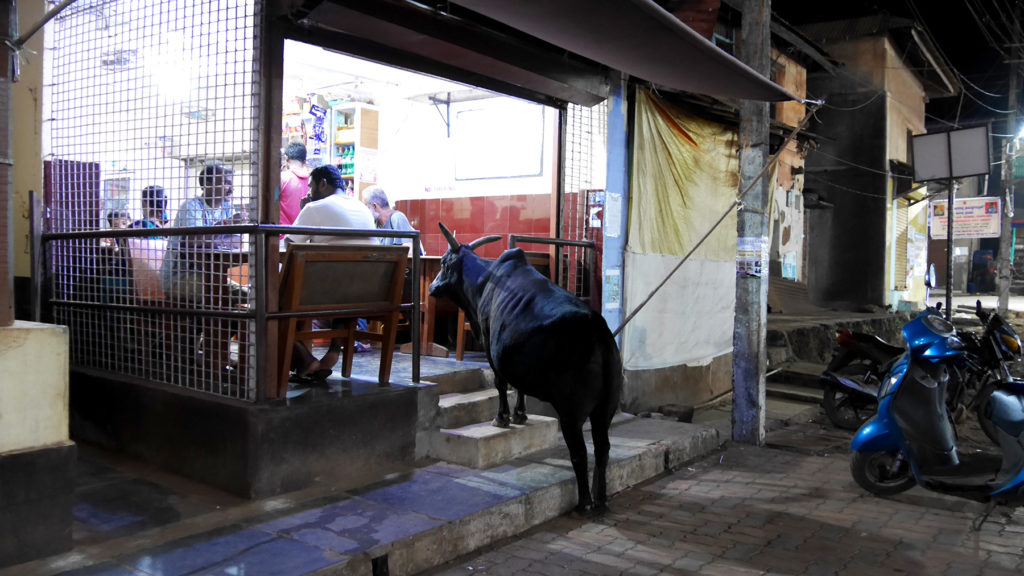 We came back to Gokarna Town on the day we left and spent there a few hours before our bus ride. At sunset we were walking around a small, holy lake (Kalyani). As it got darker, some huge bats started flying over us. There were dozens of them, and they were almost the size of a seagull. It was amazing.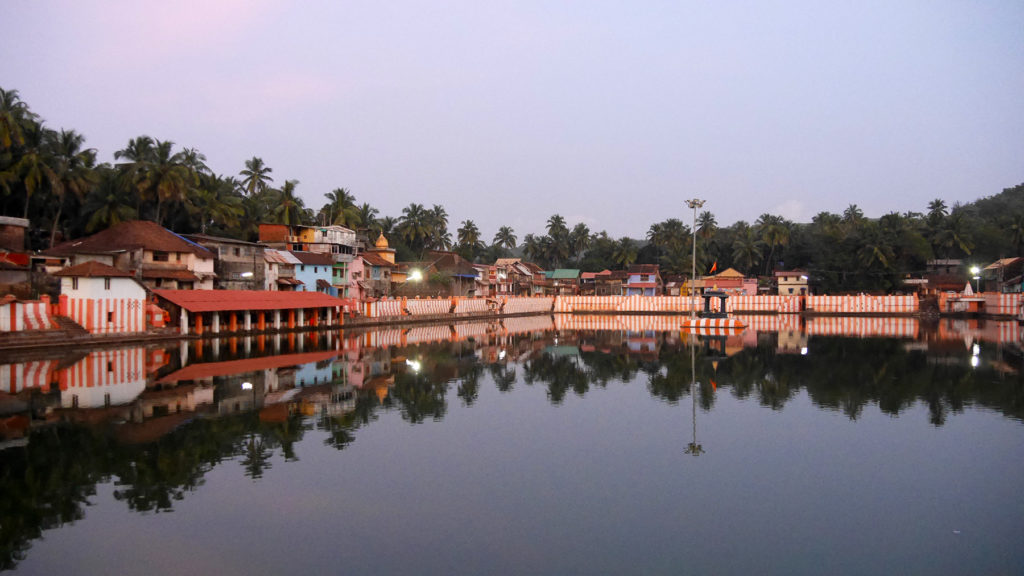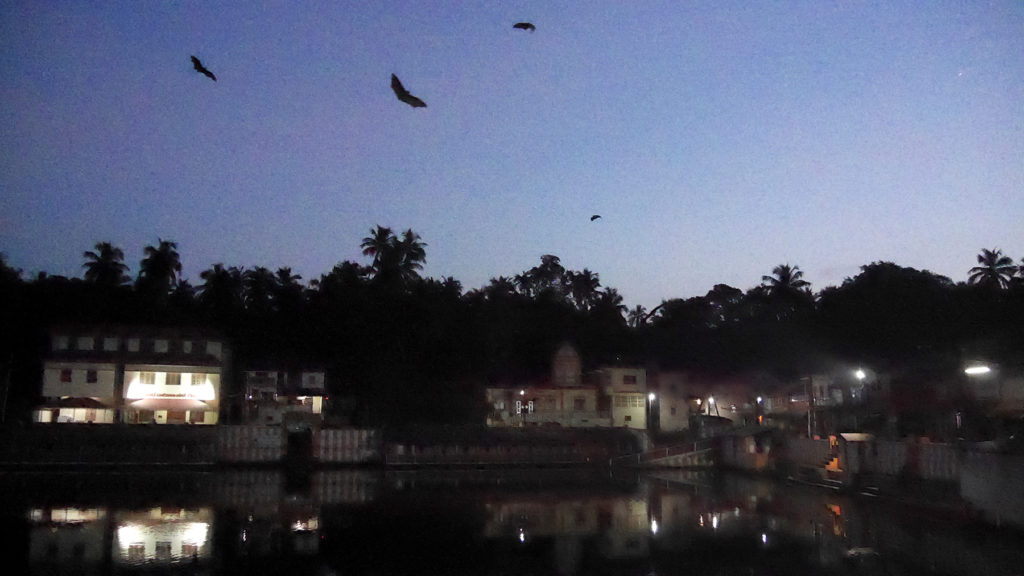 We also found a great South-Indian restaurant. We have eaten many dosas (fermented rice flour pancakes served with different sauces) in our lives, but never have they been this good. Besides the classical masala dosa we ordered onion dosa which was a delicious surprise, almost like a vegan omelet. If you ever end up in Gokarna Town, please have a dosa at Santrupti Pure Veg Restaurant for us. It's located a little bit before the main beach on the road leading there.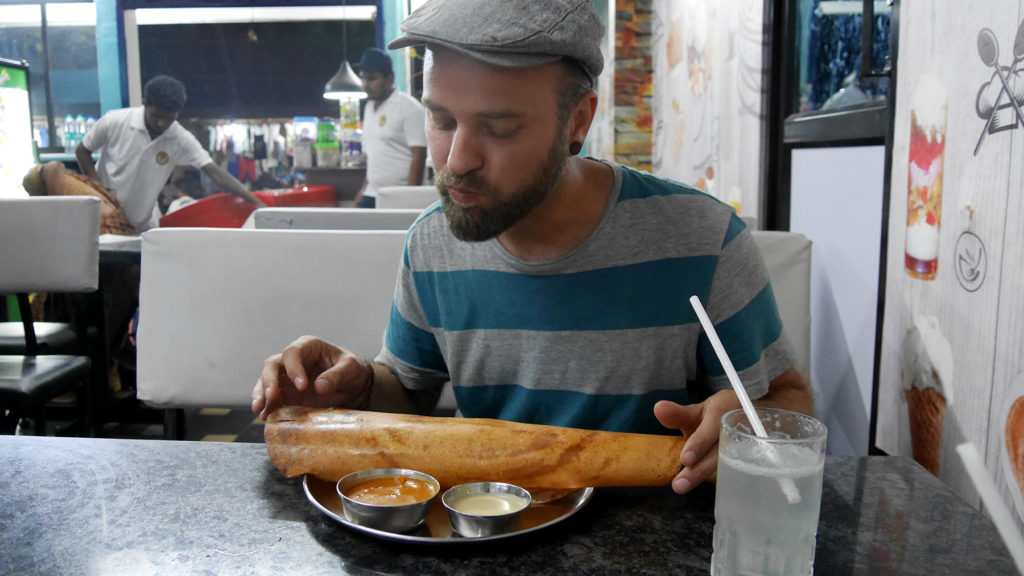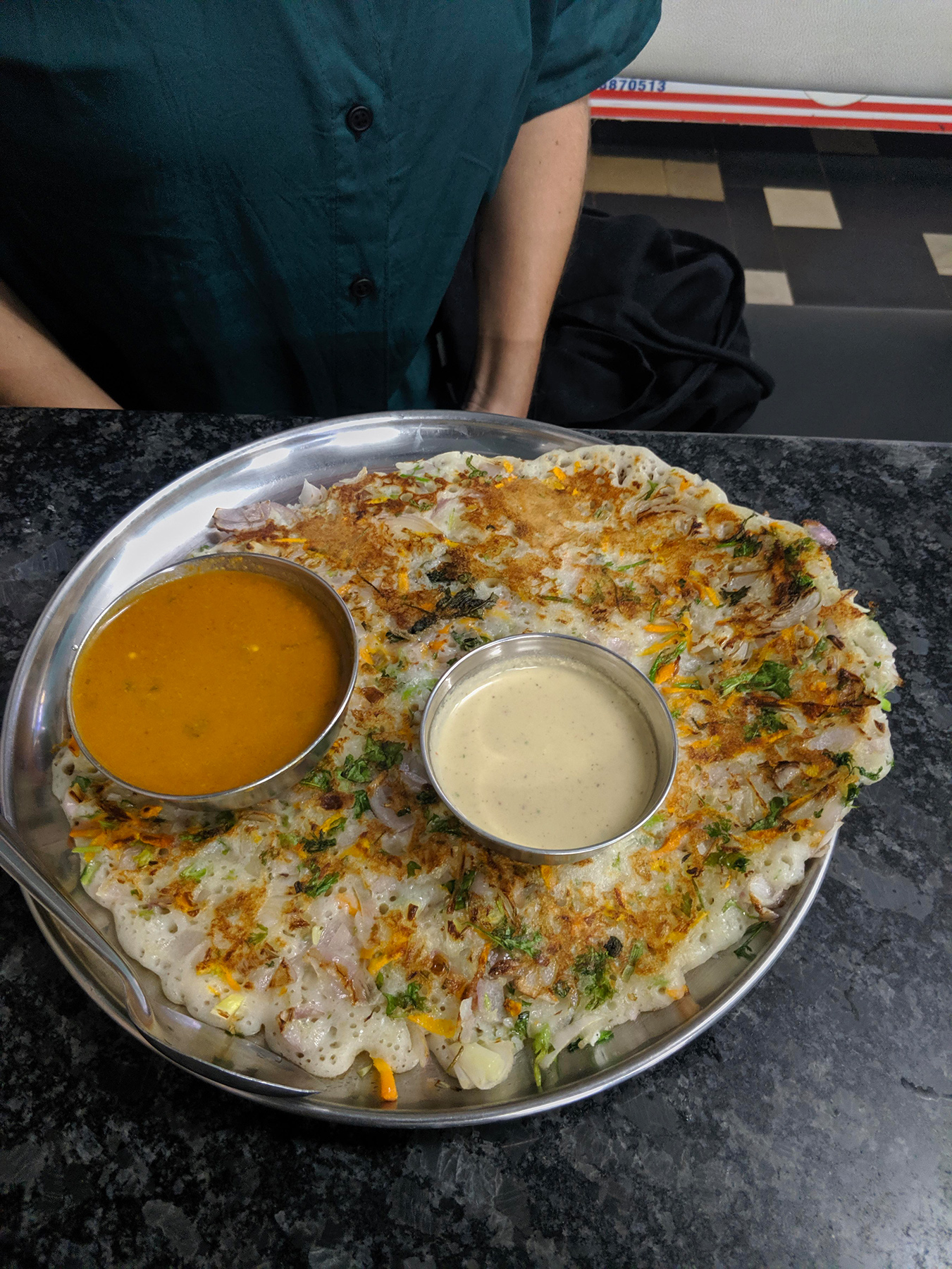 Finally the journey goes on
Around ten in the evening we boarded a shuttle bus that was bringing us to the first Indian sleeper bus of this journey. Our next destination was going to be Hampi..