Arslanbop is a small village in Kyrgyzstan, but it hosts the world's largest walnut forest. On our way from Bishkek to Osh, we had decided to have a stop there. The route between Osh and Arslanbop was one of the most scenic ones we've ever seen. The journey takes around 11 hours and there is no public transport between the two cities. Therefore, we had to come up with a plan on how to get there.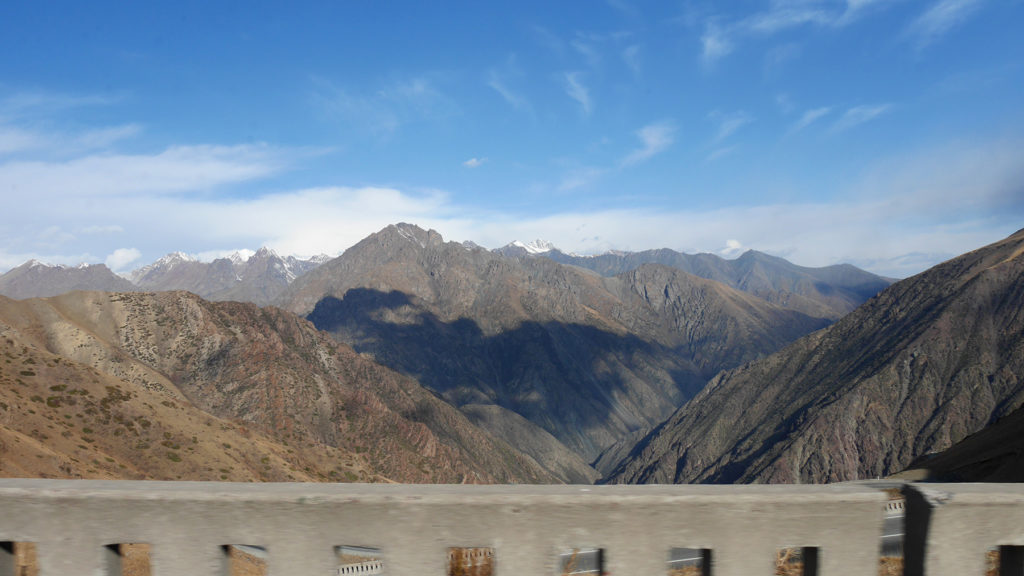 Getting from Bishkek to Arslanbop – Plan A
We didn't know what time we could reach Arslanbop and wanted to make sure that we can still find a place to stay. Therefore, the day before leaving Bishkek, we contacted Arslanbop's Community Based Tourist Office (CBT) which is organizing homestays in the village. The very helpful man there told us that there will be a place for us to stay and that he could also organize a shared taxi for us. It was more expensive than expected, 2000 som per person, but we decided to take the easy option anyway. Unfortunately, the man texted us later that the driver couldn't find other people for us to share the car with, and of course we didn't want to pay for the whole car. It was time for the Plan B.
The plan B worked, kinda
Finding a ride
We woke up at six and took a Yandex to the Osh Bazaar in Bishkek. Numerous drivers had tried to sell us a ride to Osh direction there the day before, so we thought finding one would be easy. We arrived before seven and the place looked completely different than earlier. Where were all the taxi drivers? Despite not seeing any taxis there, we didn't have to wait long until someone came to us asking if we want to go to Osh. We told the guy that we wanted to go to Bazaar Korgon, which is a connection point for Arslanbop along the road leading to Osh. He told it would cost 1200 som per person, which was an okay price. Then we asked if it would be possible to get a ride straight to Arslanbop. It's almost an hour's ride from the main road, so usually the cars don't directly go there. At first, he laughed and said no. 20 seconds later he changed his mind: 1500 som for all the way to Arslanbop. Wow, that was easy.
He and another, younger taxi-hustling friend of his started pushing us and our bags into one car. Some grandpa was getting really pissed off, apparently he had been kicked out of the car because of us. The younger of the hustlers assured us that it's fine and told us that his brother will take us to Arslanbop. For some reason we got to sit at the back seat alone. This was new to us, because usually in Central-Asia, 10 people can easily fit into a 5-seat-car. Beside the young driver, there was an older, gold-teethed man sitting in the front. They seemed both nice and friendly, even though we didn't have a common language. As we had been discussing only with the other two men about the price of the ride, we still double-checked the price with the driver: 3000 som altogether.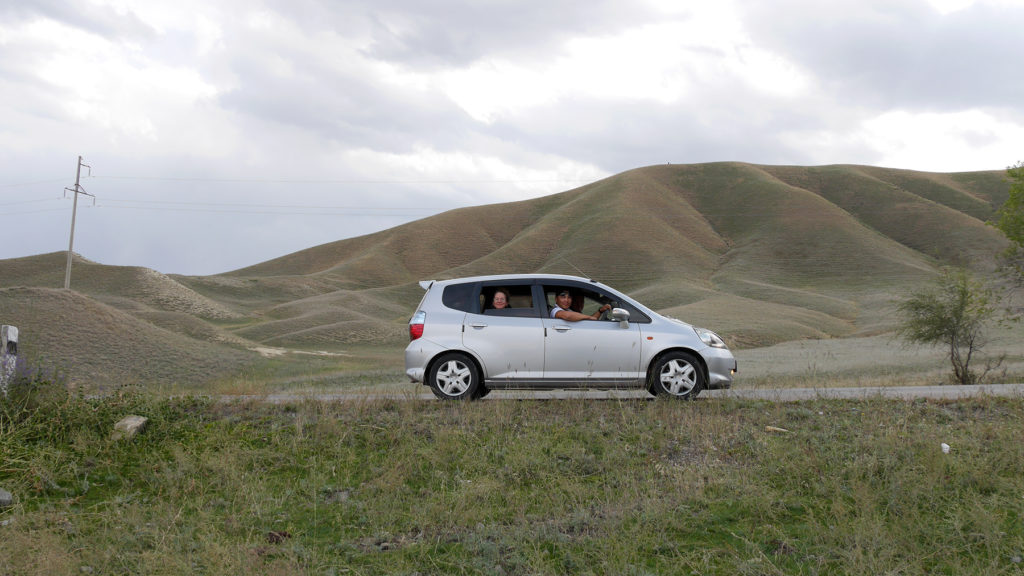 On the way to Arslanbop
The scenery on the way was stunning. We saw everything from snow-capped mountains to sandy, multi-hued hills and from turquoise rivers to clear lakes. At one point we were driving in over 2000 metres, right at the peak of one of the snowy mountains. The 11-hour-ride on the windy mountain roads didn't feel long at all because there was so much to admire around us all the time. The guy was driving carefully and not too fast like many drivers here, but not too slow either. He also stopped to make photo breaks for us tourists on the way. At some point we started wondering if the driver and the other passenger knew each other, because they seemed to have a lot to talk about together.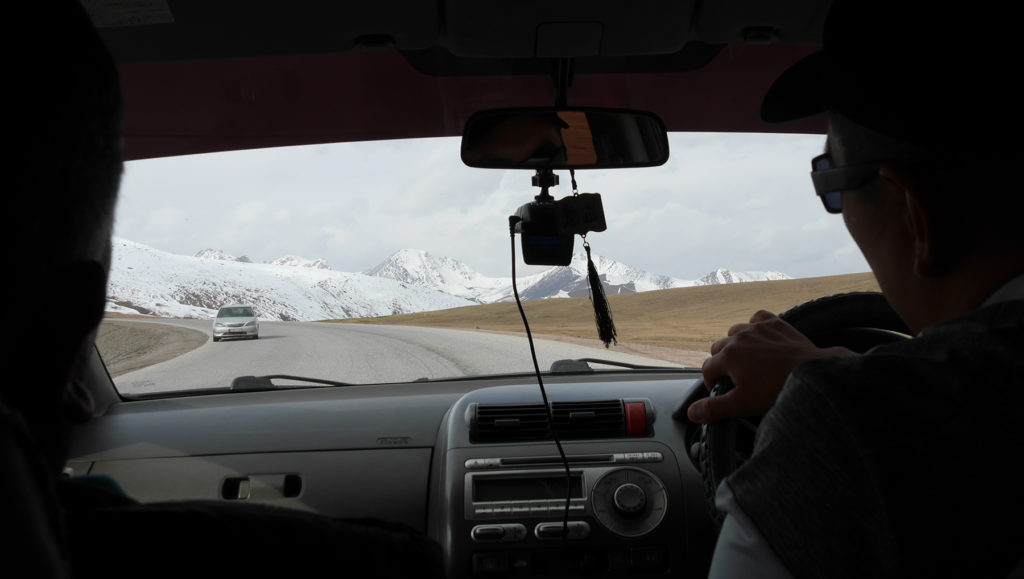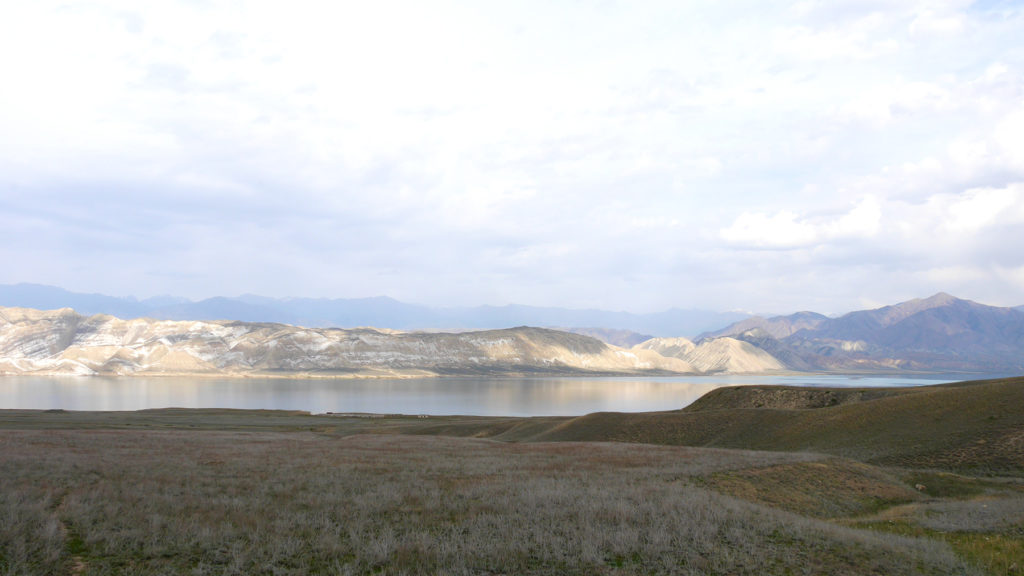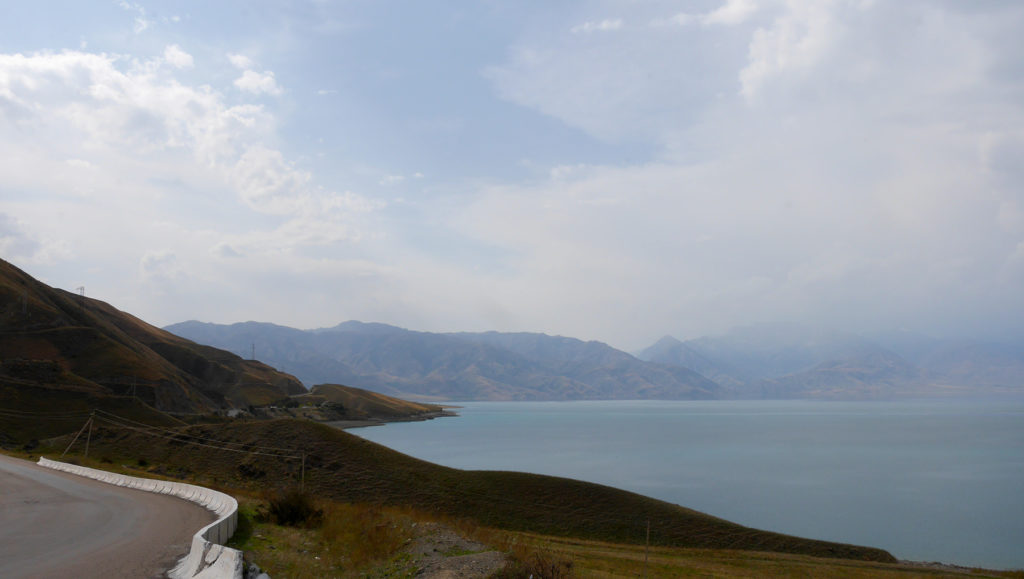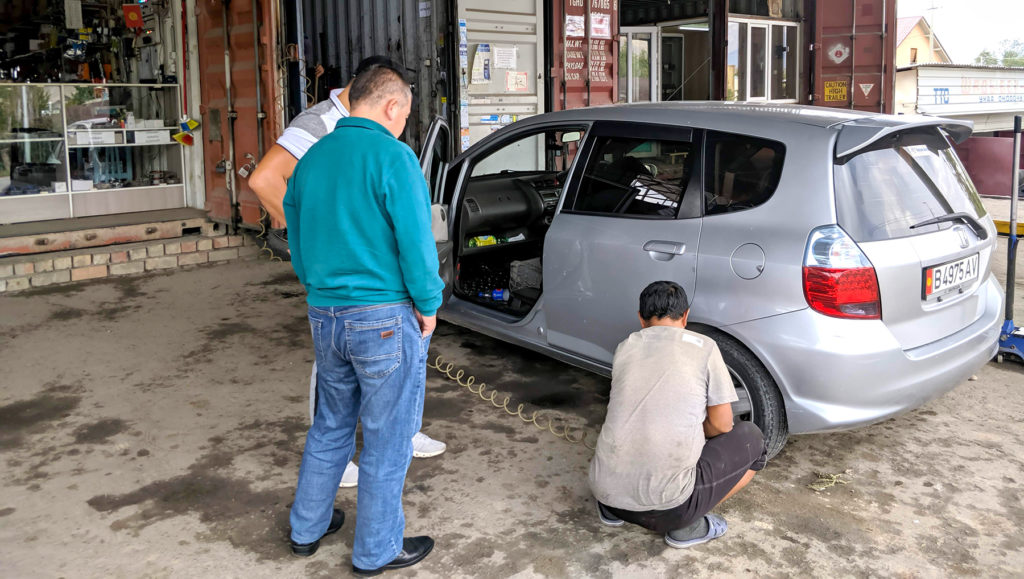 We had several toilet breaks and got to see some pretty "interesting" shit houses. On our lunch break at some small road-side restaurant we two only drank tea, because we had packed our own snacks. During the lunch break we managed to have some small conversation with the two men. We talked about our professions and families and the driver showed us pictures of his kids. At the end of our lunch break the men refused to take our money and paid for our tea.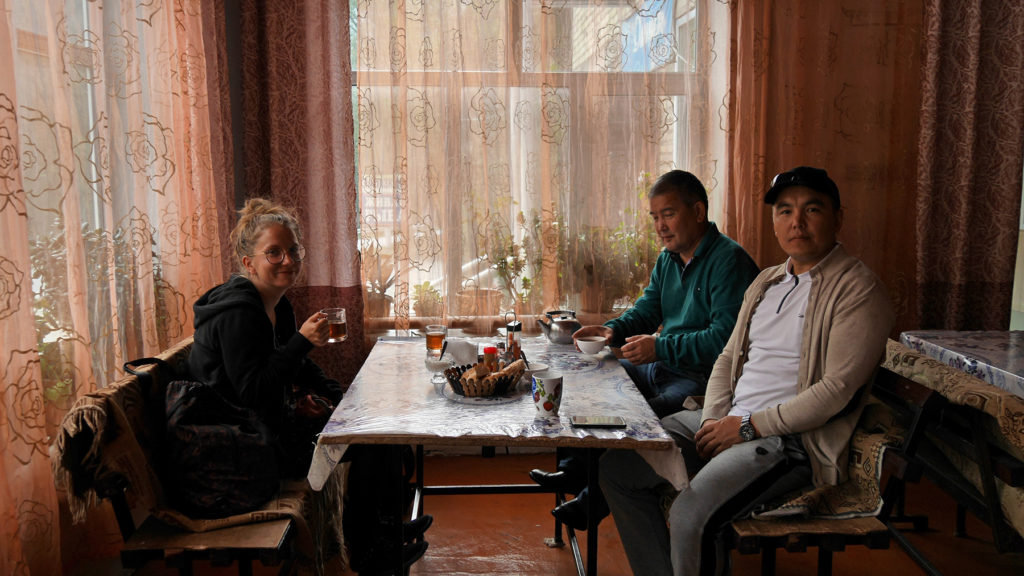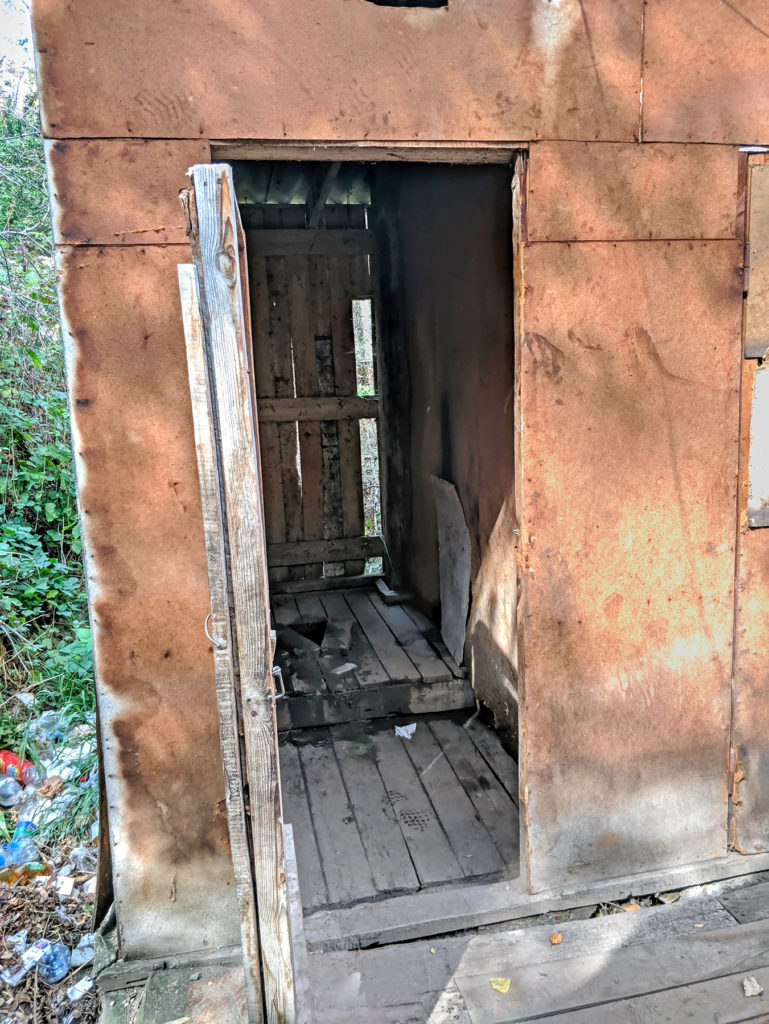 The fiasco at the end
The car stopped at Bazaar Korgon. The driver wanted us to get out. We were confused, as we had agreed to get a ride all the way up to Arslanbop. It seemed that the driver didn't know anything about this agreement and was insisting on us to pay the whole price of 1500 som per person. We refused, of course. With Google Translate we had a difficult conversation with the driver, the other passenger and a taxi driver who wanted to take us further from there. We tried to explain that we had been told before getting into the car, that the price to Bazar Korgon was 1200 per person and we were not going to pay more if being dropped off there. We felt especially bad about the situation because the driver had been so nice to us and we believed that he wasn't aware of the bullshitting of his "brother", who, surprise surprise, was not his real brother. He said he doesn't even have the men's phone numbers, but he took a photo of our translated text to show them later. In the end we agreed to pay a hundred more per person. We said that we feel really sorry and started then negotiating with the other taxi driver, ending up paying another 200som to Arslanbop, as we wanted to be there before darkness.
Reflecting on what just happened
Johanna felt quite bad about this happening when we sat in the other taxi towards Arslanbop. 200 som is not a big money for us but for the driver it probably was. He had been so nice to us and now he possibly thought that we were bullshitting him. Still we didn't want to pay it because it had clearly been a scam. 
It got even worse when we arrived in Arslanbop. It turned out that this is a common scam on this route. And if it is so common, the driver must have heard about it, right? Probably this friendly driver was in the game all along. And if you can't trust a person who seems sincerely this friendly and happy, who is showing you pictures of his family and insisting on paying your tea, who can you really trust? We consider ourselves experienced travelers and don't usually fall for these scams, especially performed by the sneaky taxi drivers, so this one really took us by surprise. At least we got a reminder that we must be even more careful in the future.