Aizawl is the capital of the North-East Indian state of Mizoram. The state is located at the most eastern end of India, in the remote corner between Bangladesh and Myanmar. We didn't stop there only because it was on our way to Myanmar, but in order to meet someone special. We got a good insight into the life of a Mizo and a tour around the exceptionally quiet city (at least in Indian scale) with a local friend.
Aizawl – The quietest capital in the world?
We didn't really know what to expect before arriving to Aizawl. One of the few things we had heard about the city we heard from the dudes at Shillong's bus station. They told us that the people of Aizawl wake up at five, have lunch at ten and go to sleep at six. Well, they had never actually been to Aizawl, so this was not entirely true, but we have to admit that Aizawl was definitely one of the most peaceful capitals we have ever visited.
Mizoram is at the eastern end of the time zone, which means that it gets dark before 5 pm. Everything, EVERYTHING, closes down latest around seven. As Mizoram is a dry state (alcohol is banned there), even bars are not open in the evening, as they don't exist at all. Soon we learned, though, that closing of shops and restaurants doesn't mean that the people go to sleep. They do things at home, invite friends over or even throw some house parties.
What makes Aizawl even more quiet is the fact that using horns is forbidden in the whole state of Mizoram. Aizawl was the first city in India to ban using horns. Can you imagine, an Indian city without any honking horns!
But Aizawl being quiet doesn't mean that the place is boring. We really liked our stay there.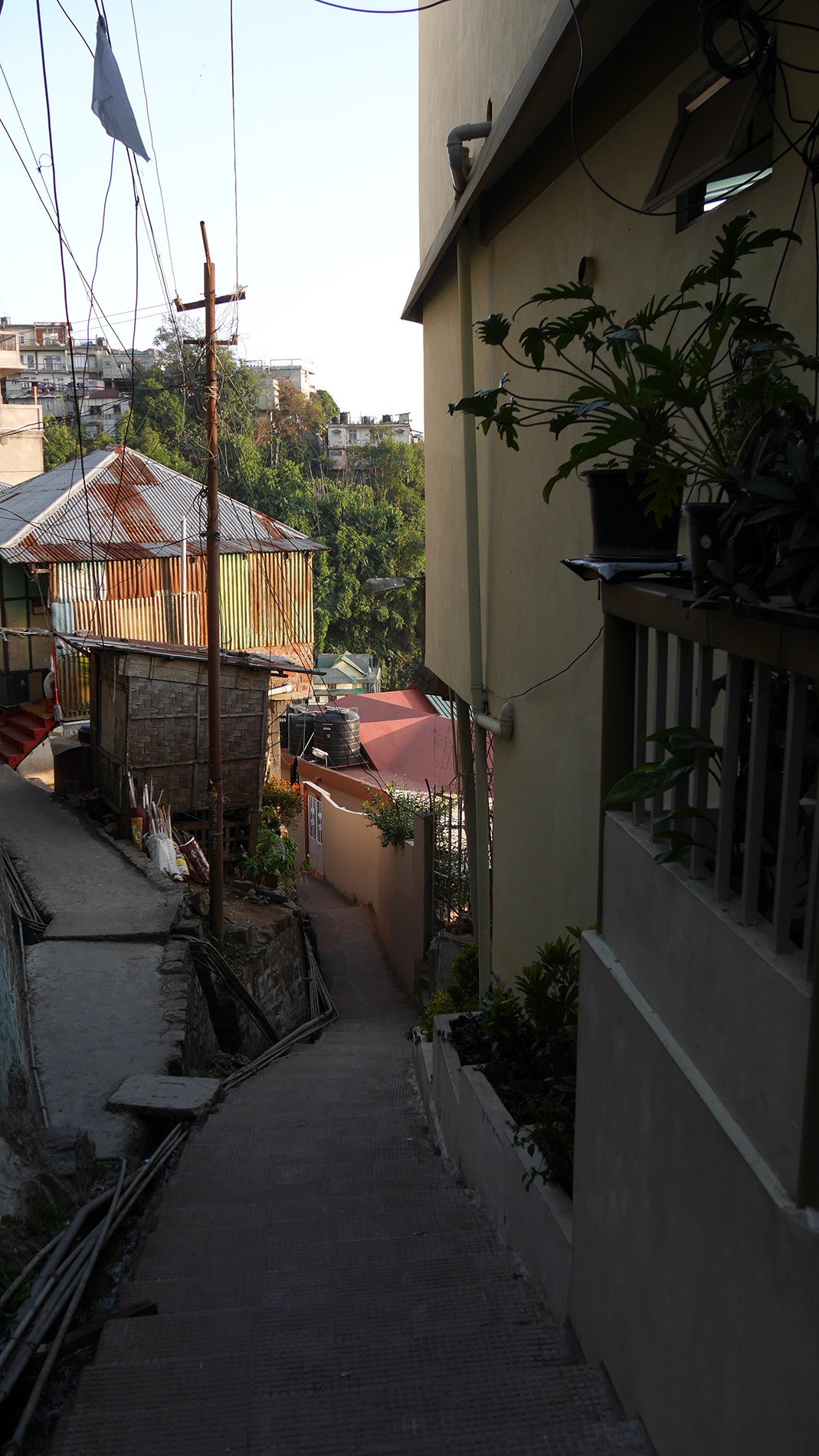 Meeting our local friend, Maria
Like said, we didn't know much about Aizawl beforehand. In fact, we probably had never even heard the name Aizawl before we started to plan our journey. Therefore, it was a big surprise for us when it turned out that Johanna's cousin had had a pen pal (and a dear friend) living in Aizawl for over 20 years. Of course, we arranged a meeting and were all really excited about it.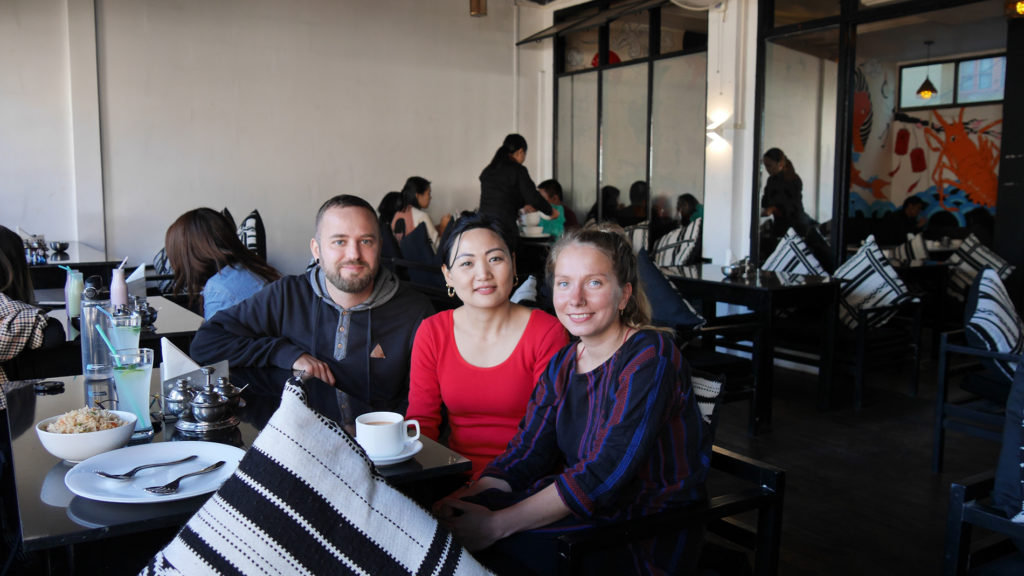 We met Maria in a trendy restaurant on our second day in Aizawl. It turned out fast that she is an extremely friendly and joyful person who likes to have a laugh. So, our day with her was a lot of fun. After eating, Maria helped us out with organizing the sumo tickets to our next destination and we had a walk at the local market. She surprised us by suggesting that she could pick us up and give us a tour around the city with her car later in the evening.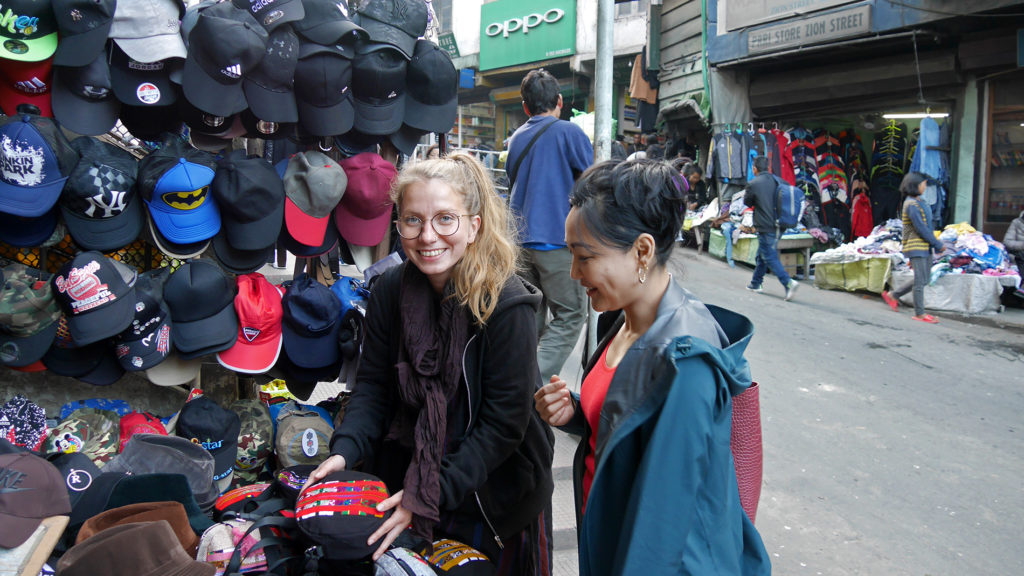 Important buildings, night landscapes and ghost stories
We started our tour by having dinner. So, it's not entirely true that everything is closed in the evening – at least hotel restaurants are an exception.
Then we started driving up and down the winding streets of Aizawl. Maria pointed out the buildings: "this is the city hall", "that's the church", "this is a good animal clinic".
We drove to a more remote street and Maria told us that she doesn't like to drive there alone. She told us that a motor biker had died in an accident on that road and after that his ghost had been walking around there, trying to stop the cars to ask for help. True or not, as she told the story, we got the chills.
It paid off to go to the notorious ghost road, though. We parked the car up on the hill and admired the beautiful night landscape of Aizawl. We also had a stop at another nice viewpoint.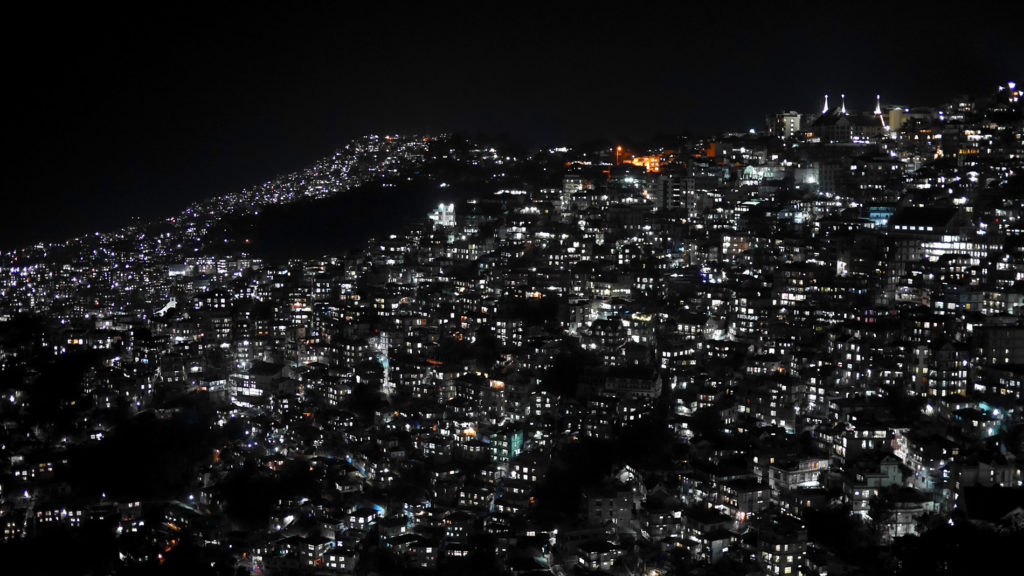 Of course, during our ride we talked a lot and it was interesting to hear how it is to live in Aizawl. Maria was especially cute every time she talked about her love towards animals, especially dogs, and Johanna could bond with her very well with that topic! 😀
At the end of our ride we said our goodbyes to Maria, as we were going to continue our journey the next morning. We are hopeful that we will meet her one day again, as she would really like to come to meet Johanna's cousin in Finland and we would like to go back to Aizawl, as well. Maria, thanks once again for the fun day in beautiful Aizawl!! 🙂
Registration in Mizoram
Other than hanging out with Maria, we didn't do many interesting things in Aizawl, as we only stayed for two days. Our first day got pretty much ruined because of the registration one needs to do upon arriving to Mizoram. You "can" do it online nowadays, but in reality the website was not working well and it was so confusing that after fighting with it for some hours, we gave up and went to a place called office of the Superintendent of the Police, located at the other end of the city. At the office we had to persuade an officer to fill the form with us, and to be honest, we think it's still filled incorrectly.
Food in Aizawl
We didn't have time to try many restaurants in Aizawl but we noticed that many restaurants in the city look pretty stylish. We saw some vegetarian meals in the menus, but meat is still a really dominant ingredient here. We even heard that some people eat dogs in Mizoram. We didn't get to taste any traditional Mizo food yet, as apparently most of the traditional stuff is meaty.
After our worst ever pizza experience in Shillong, we got a great one in Aizawl. Twisted Sisters is a small and hip pizzeria run by two nice sisters. Probably this is the best place to get pizza in the whole North-East India!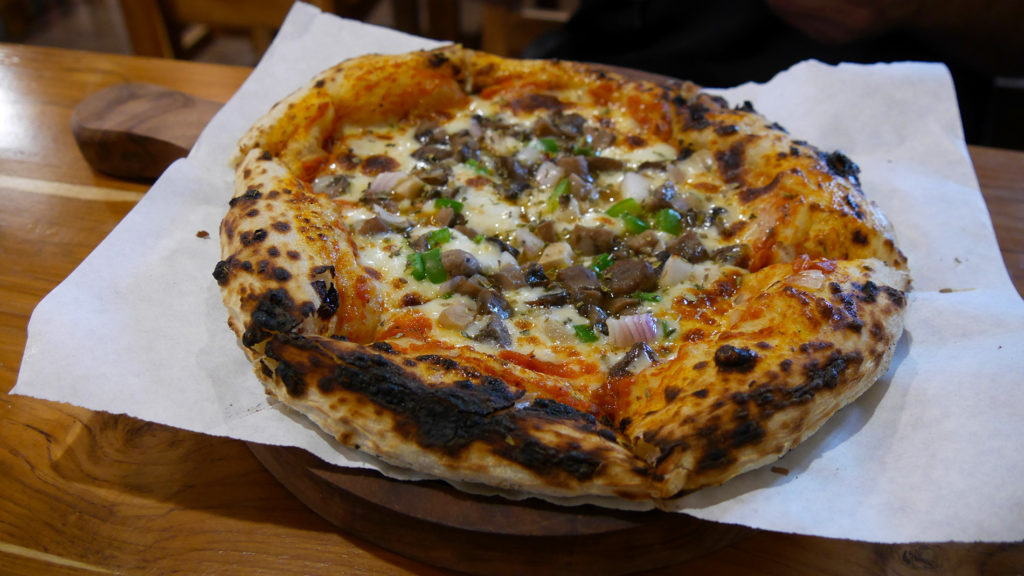 Also, Chopstyx Restaurant is worth mentioning. They had some good Asian vegetarian food options in the menu.
Homestay recommendation
And before ending our report from Aizawl, we have to give credit to our homestay, the 1998 Homestay. This was definitely one of the best accommodations we had in India or on our whole trip so far. The family running the homestay was really welcoming, giving us a warm and familiar feeling. On the other hand, the room was so clean and comfy and the place was run so professionally that it felt like an upscale hotel. On top of that there was a big terrace with a great view, which was also a perfect place for doing morning yoga.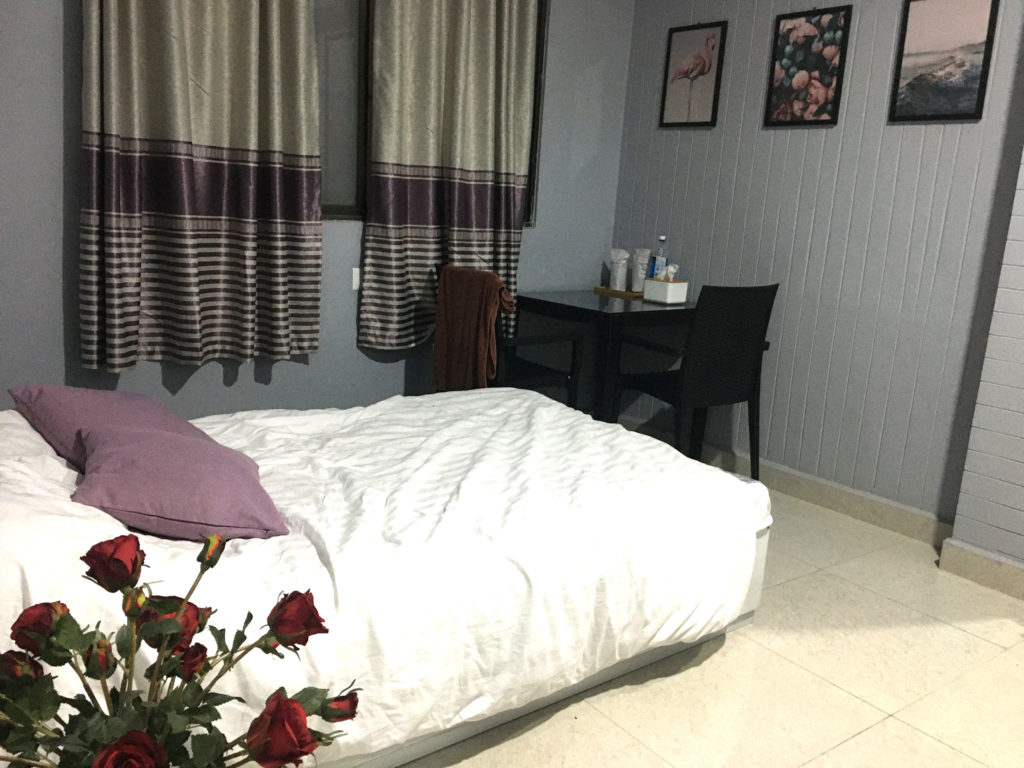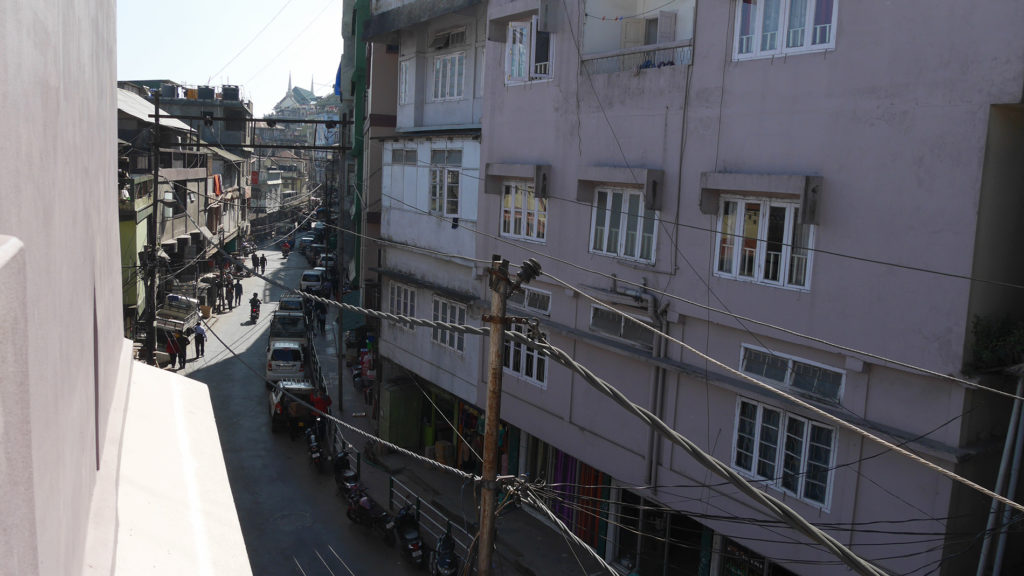 Leaving Aizawl and heading towards Myanmar
Early in the morning we went to the sumo stand in order to get to Champhai, the last "bigger" Indian town before the Myanmar border. We don't know what was the point to buy the sumo ticket beforehand because when we arrived at the stand, the ride we had the ticket for was canceled and all the others seemed to be full. After talking (mostly with body language) with the workers and everyone else hassling around the ticket booth for a while, another sumo driver magically appeared and we could start our journey towards Champhai.