Myanmar's Chin state, with its beautiful nature, mountains and strong traditions, is, for sure, a fascinating place for an adventurous traveler to explore. But being also one of the least developed and least traveled states of Myanmar, it wasn't the easiest place to arrive. After crossing the border from India, our first destination in Myanmar was the small town of Tedim.
The dusty road from border to Tedim
We had crossed from India into Myanmar through the remote Zokhawthar-Rihkhawdar border. After getting into the country, we had to find a way of transport for us from the border on. We couldn't find any info about public transport between Rihkhawdar and Tedim (or any other place) beforehand, but the friendly guy at the border post found us a pick-up truck that was headed towards Tedim.
The roads on the Indian side before the border had been bad, but nothing compared to the roads in this part of the Chin state. The road from Rihkhawdar to Tedim was not only bumpy but also extremely dusty (not a good combo with an open pick-up). This must have been the second-worst road of our journey so far, right after the 200-kilometer-long construction site in the Pakistani mountains.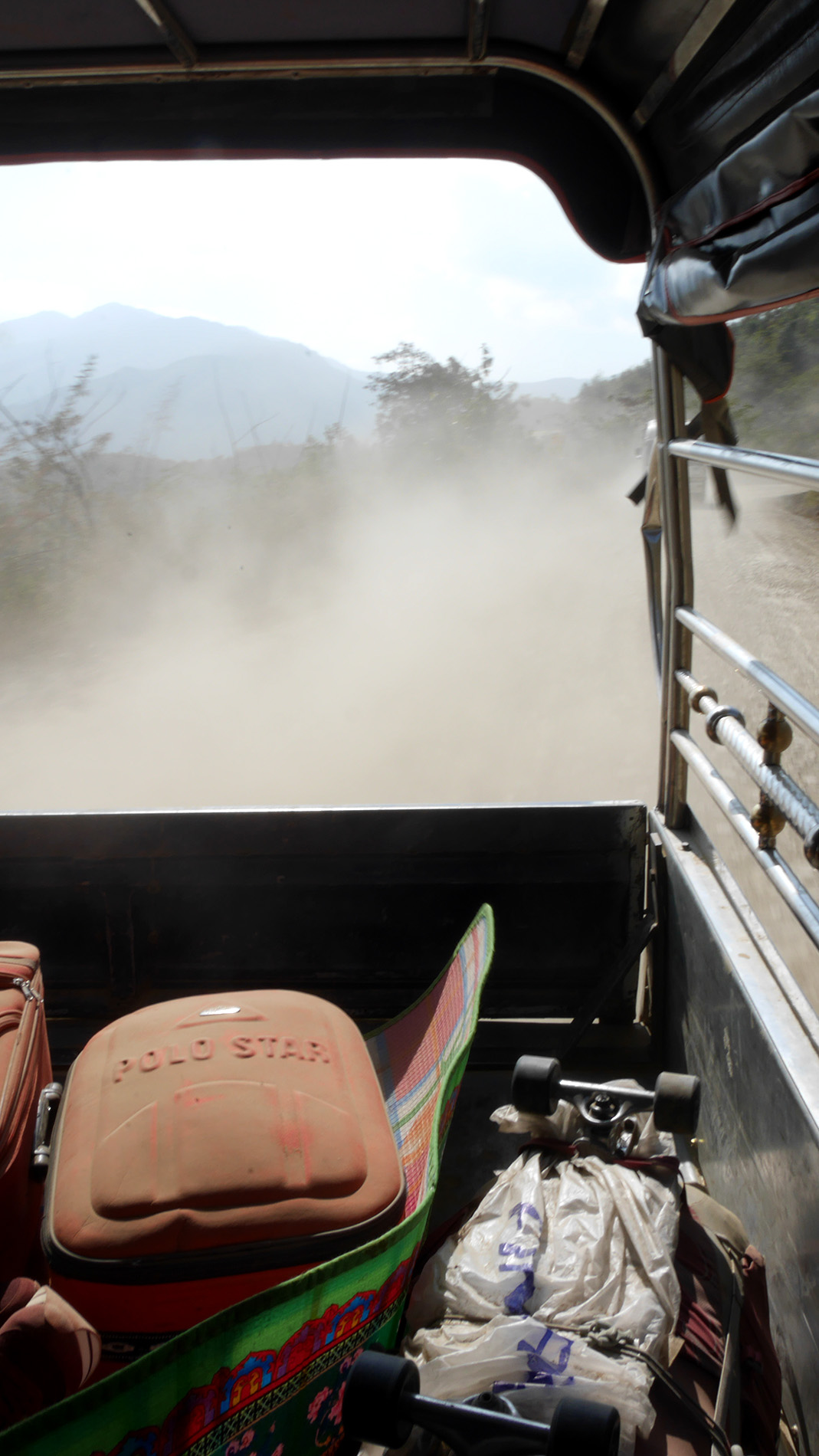 First, we thought that we were driving on the right side of the road because it happened to be in a slightly better condition, but soon we learned that the traffic really is right-sided in Myanmar. This was confusing, as it's left-sided in the neighboring India and Thailand. It turns out, that in Myanmar the traffic was changed to right side within a day in 1970, by the dictator U Ne Win who followed the advice of his astronomer.
Meaty lunch break with Jesus-preaching drunkard
On the way to Tedim we (or at least the others) had a lunch stop in a small roadside village. When we entered the restaurant, we saw that they had spread pretty much every single part of an animal on the table. We didn't have high hopes on finding vegetarian food but still tried to ask for it with the assistance of a fellow-passenger who could speak a little bit of English. No luck.
While the others ate, we had a chat with the village's own drunkard. He was mainly preaching us about Jesus, but he also welcomed us to Myanmar several times, which was nice. Strangely the man followed Seri to the toilets, went in after him, and came out carrying the toilet cleaning brush. Would have been interesting to know why.
First impressions and confusion in Tedim
Tedim is a small town, inhabited mainly by the Zomi people, who are mostly Christians. Being all of a sudden in this small town where we couldn't understand anyone, in a new country, surrounded by a whole new culture and new customs, we felt a bit misplaced.
The views from the town over to the mountains are nice, but as we had seen so many mountains in the last weeks and months, we didn't get too excited. Other than that, we don't know what there would be to see in Tedim.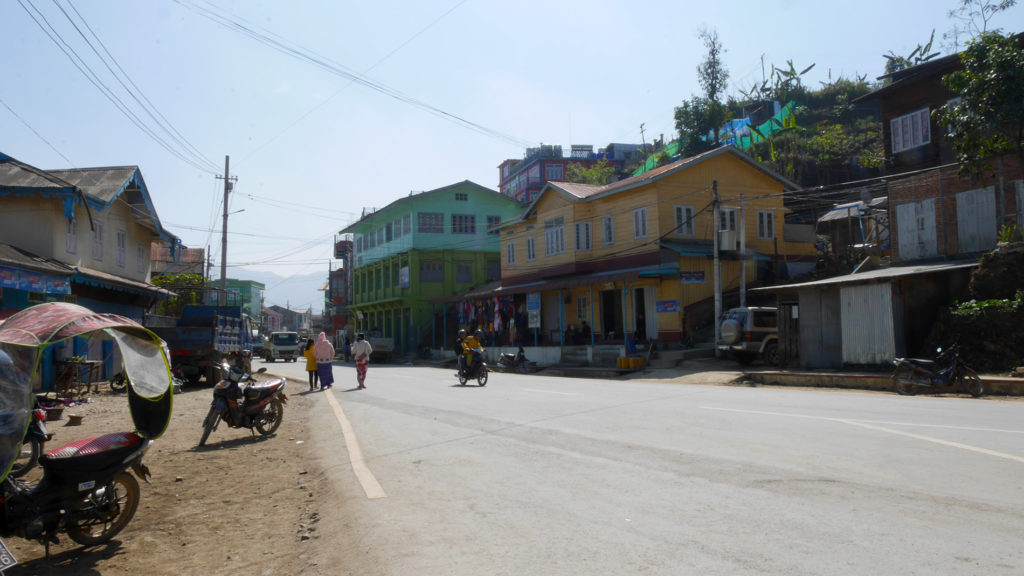 While walking around the town, we kept popping into a group of totally drunken, but friendly, young men. The percentage of drunken people out of all the people we had seen today was pretty high. If it was anything like that in Mizoram before, we don't wonder why they made it a dry state. Also, the road-sides and villages are dotted with alcohol advertisements, which was quite a contrast to Mizoram where we didn't see any.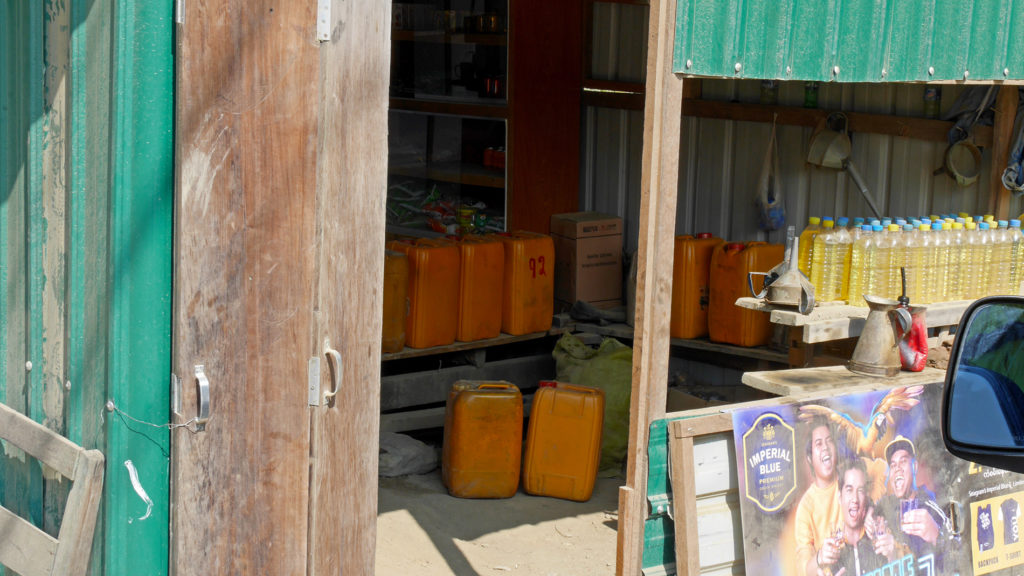 The drunken men had something white smeared all over their faces, and we also saw other people with similar looks. Later we learned that it's Thanaka, a paste made out of tree bark, used widely in Myanmar as sun protection and/or make-up.
Finding accommodation in Tedim
There are at least two guesthouses in town that accept foreigners. We stayed in Ciimnuai Guesthouse where we got a single room with a shared toilet with a bucket shower for 20 000 kyat (13 euros). After India this felt relatively expensive. The guesthouse was very cozy and the owner could speak English.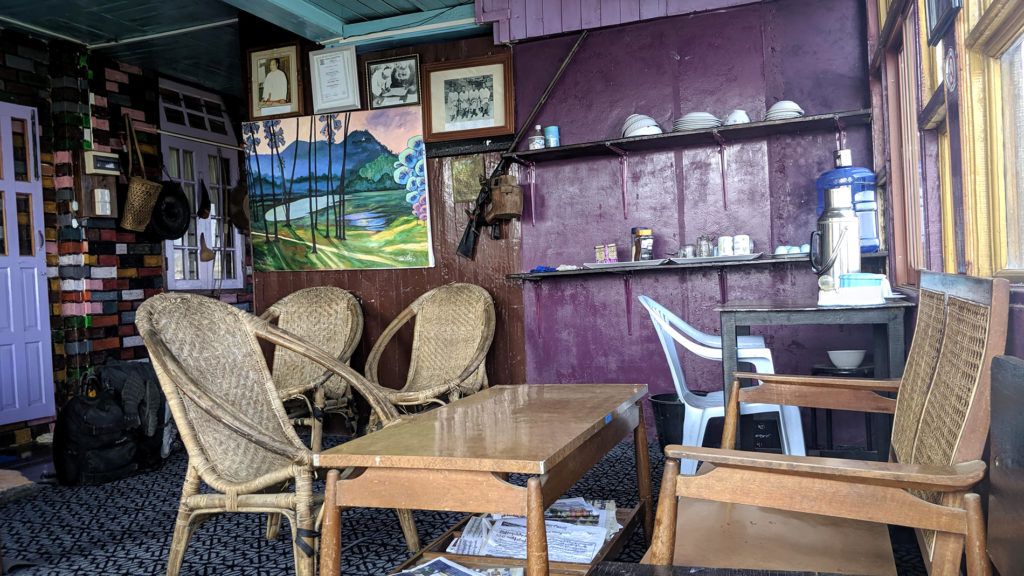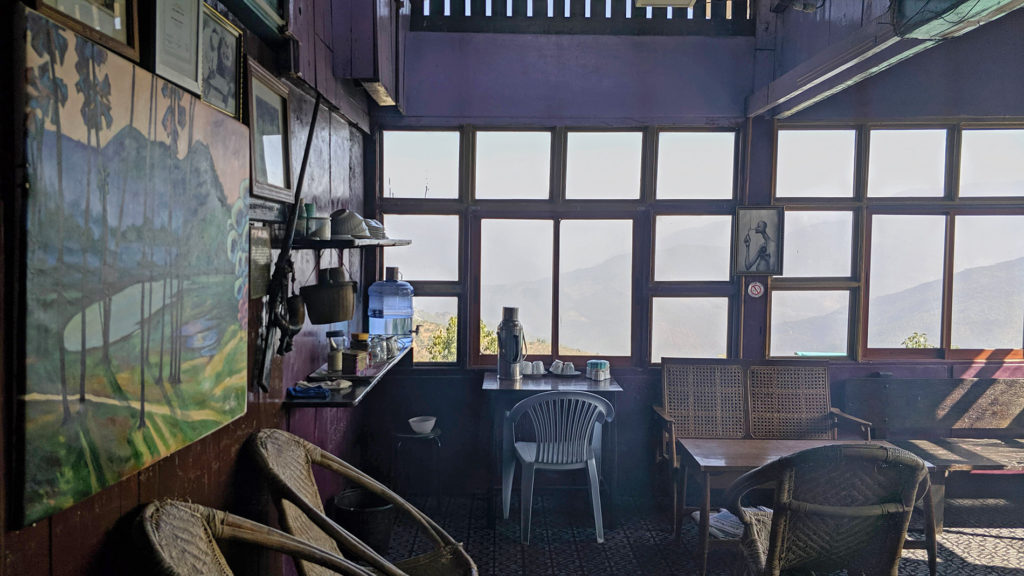 Finding (or not) money
As we had only changed a small amount of money at the border, we had to get more. There are two banks in Tedim. The one was closed and we couldn't reach the ATM at all, as it was located behind the locked fence. The second one just didn't work. Soon we realized that there was no electricity in the whole town at that moment, so no wonder. Luckily, we still had enough money in order to get out of Tedim the next morning.
Finding (or not) vegetarian food
Since we hadn't had any breakfast or lunch, we were pretty hungry. The tradition of everything closing early on the Indian side of the border seemed to continue here in Tedim. It was 4.30 pm and most of the restaurants and shops had closed already. We tried to ask for something vegetarian in the few places that were still open, but no-one could understand us. Usually we carry a note written in the local language, stating what we do and don't eat. Now we didn't have one, as we didn't even know what the local language was (FYI: it's called Zomi as well).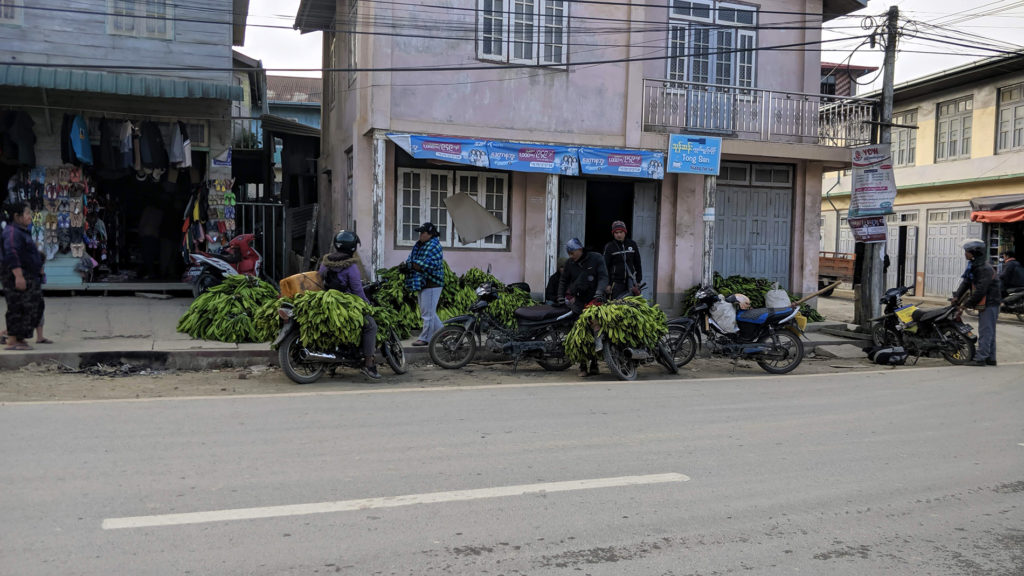 In one small shop we found a woman who could speak English. She sold us local sim-cards (buying and activating one in Myanmar is 100 times easier than in India). On the same go, we asked her if she knew any place where we could find some vegetarian food. She didn't, but she started calling around in order to find us something to eat. How lovely! Unfortunately, she didn't have any luck either – it seems that food without meat is not a concept in Tedim. We bought two packs of Korean instant noodles, an avocado and our first ever Myanmar Beer and enjoyed this lovely dinner at our guesthouse.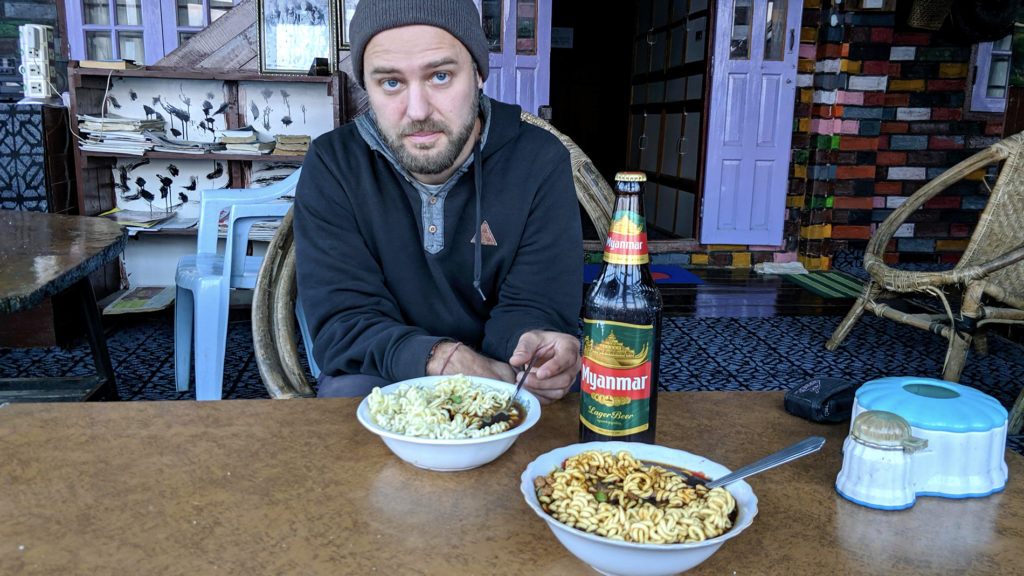 Journey into Myanmar continues
We do enjoy traveling to remote places off the beaten path (which probably is clear for anyone who's been reading our blog), but it's better done when you already have some idea of how things work in that particular country. We soon understood that there was not much that we could get out of Tedim at the moment and that it was better to continue to someplace bigger, with a little bit more infrastructure. The next morning, we headed to Kalay, where it slowly started to feel like we had arrived in South-East Asia…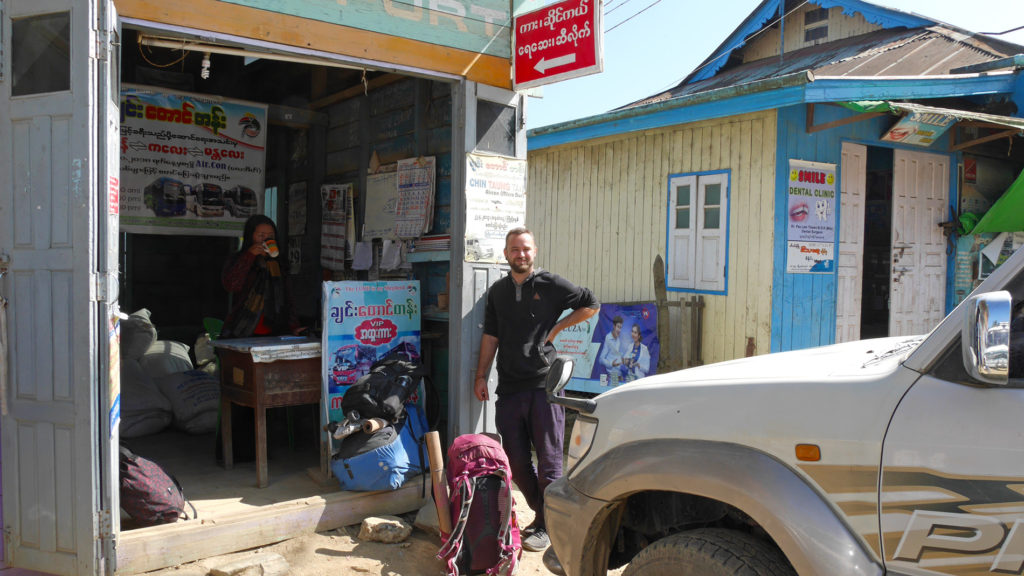 How to get from Tedim to Kalay
As of January 2020, the minibusses from Tedim to Kalay leave at 7 am and at noontime (probably not on Sundays and Mondays). The price was 8000 kyat per person. The bus stand was in the same building as the Ciimnuai Guesthouse.