After crossing the border from India to Myanmar's Chin State and having an overnight stop in the small town of Tedim, we arrived to Kalay. Kalay has been claimed to be "the true capital of Chin State", even though it's not even located in Chin, but the neighboring Sagaing State. When we arrived to Kalay, it slowly started to feel like we had finally arrived from the Sub-Indian continent to South-East Asia.
From Tedim to Kalay – The Burmese style of transport
We were told that the way from Tedim to Kalay would take around two hours. With a few breaks and waiting twice at some construction site, we finally arrived five hours later. Compared to the SUV's, Sumos, that are the go-to transportation on the Indian side of the border, our minibus was much more modern and there was so much space that everyone could have their own seat.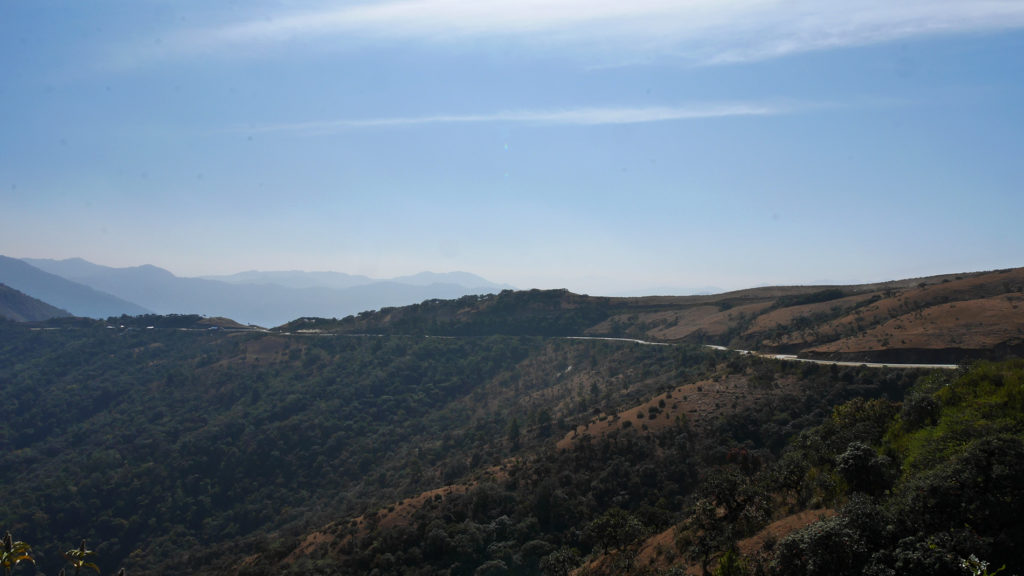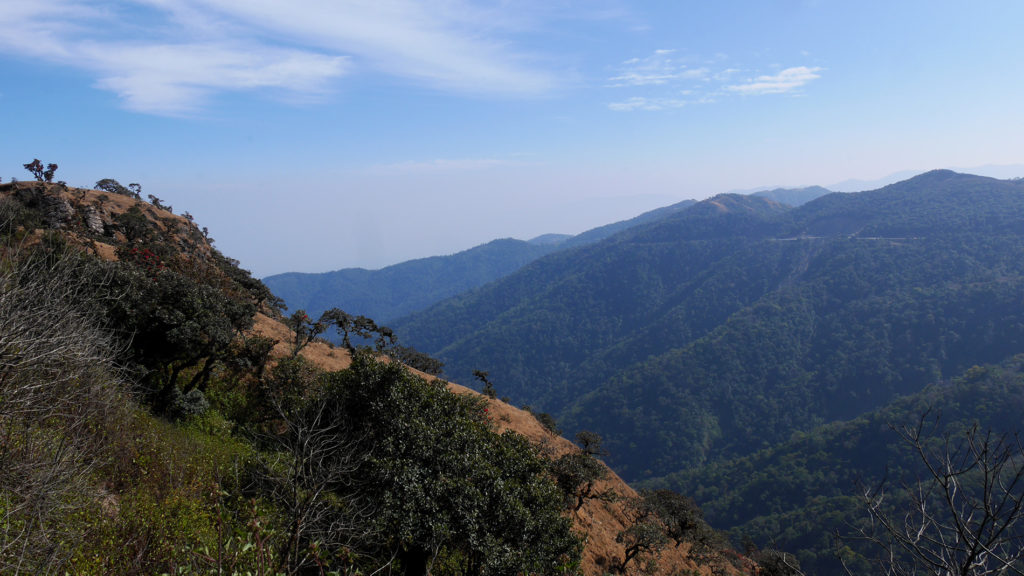 Our first Burmese vegetarian meal
After our bad luck with vegetarian food on our first day in Myanmar, we were prepared for not getting any vegetarian lunch. To our surprise the young waitress at the roadside restaurant, where our driver decided to have the lunch stop, spoke perfect English. She told us it's her major in the university. So, on our second day in Myanmar we managed to get our first Burmese (Chin style) meal, which was, apparently, mustard leaves in broth, mustard leaf salad, sauteed mustard leaves, chickpea curry and rice.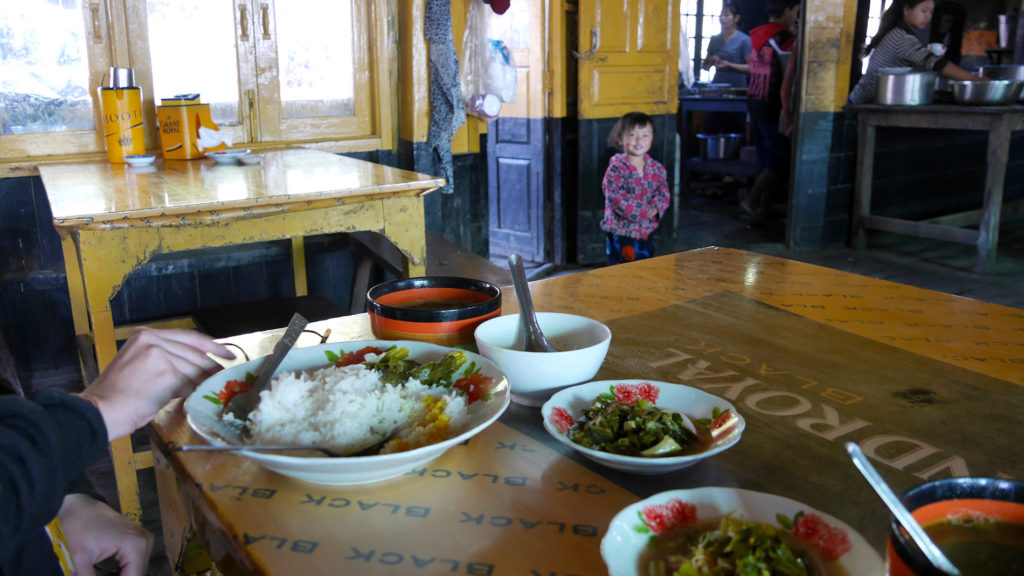 First impressions of Kalay – Arriving to South-East Asia
When we arrived to Kalay, we got a nice sight-seeing tour around the city, as we dropped all the passengers to their homes. The center of the city of some 400 000 inhabitants seems to be built around a few major roads. Between them there are small, almost rural-feeling streets with traditional houses, of which many are built out of wood and bamboo.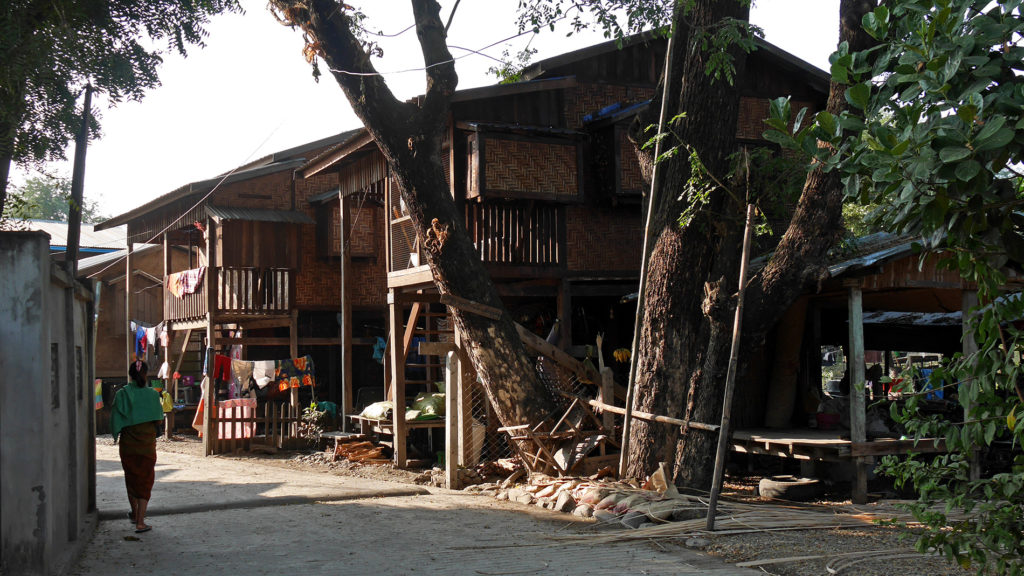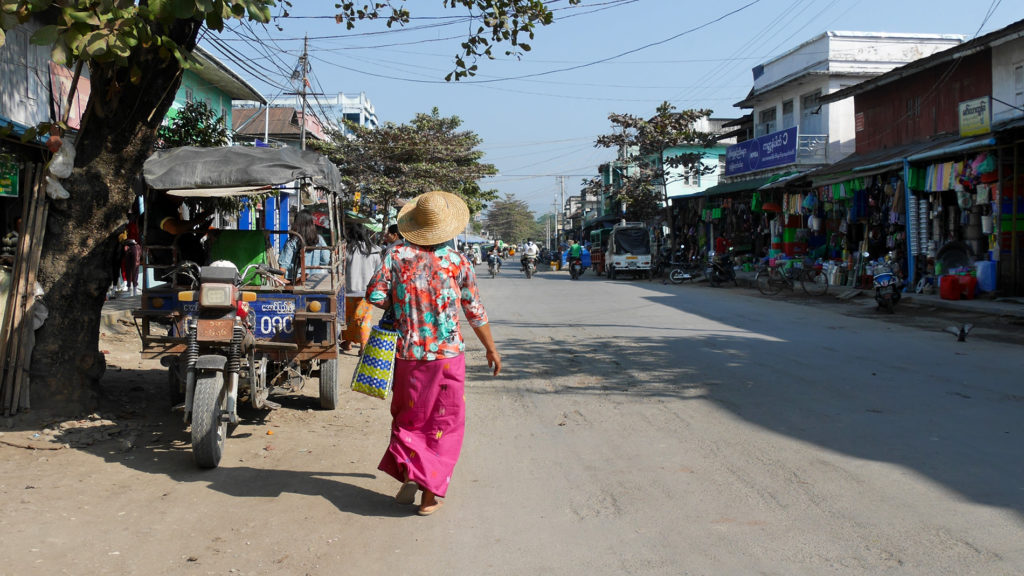 It's difficult to explain why exactly, but instantly when we got to Kalay, we had the feeling that we had finally arrived from the Indian sub-continent to South-East Asia. Maybe it was how the streets were laid, or the little shops along them, or how the people lived. The people were not carrying long baskets hanging down to the back from their foreheads anymore, but some wider baskets resting on top of their heads. Some carried them even without hands. Also, the Rickshaws here were looking different. It's a scooter with a metal side wagon with a roof and surprisingly soft seat, where two people fit – another facing to the front, another to the back.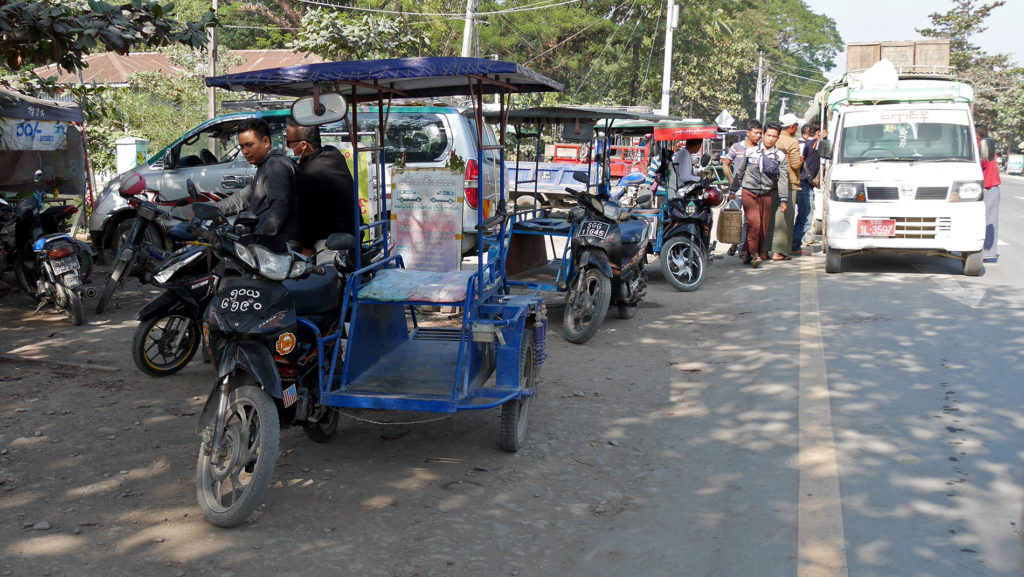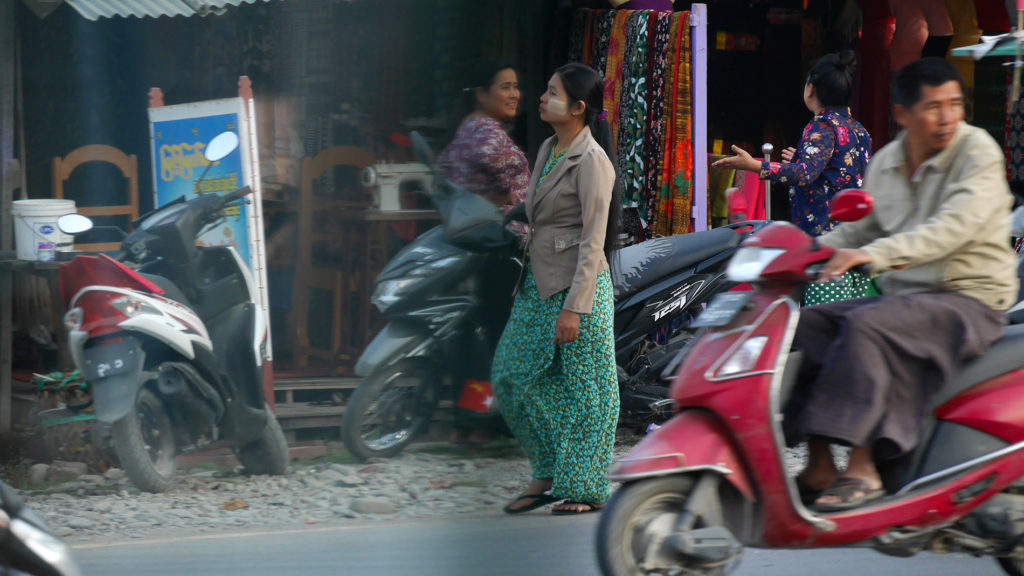 Or maybe it was the smell in the air that reminded us of South-East Asia or the warmer evening breeze – it was around 15 c in the evening (a lot warmer than in the places we've spent most of time in the last months), and over 25 at day time. Later we even found a proper cockroach in our bathroom – definitely a sign that we are in South-East Asia. (It's a miracle, though, that this was our first cockroach in 4,5 months, if we don't count the ones we had in Kashgar, but they were tiny.)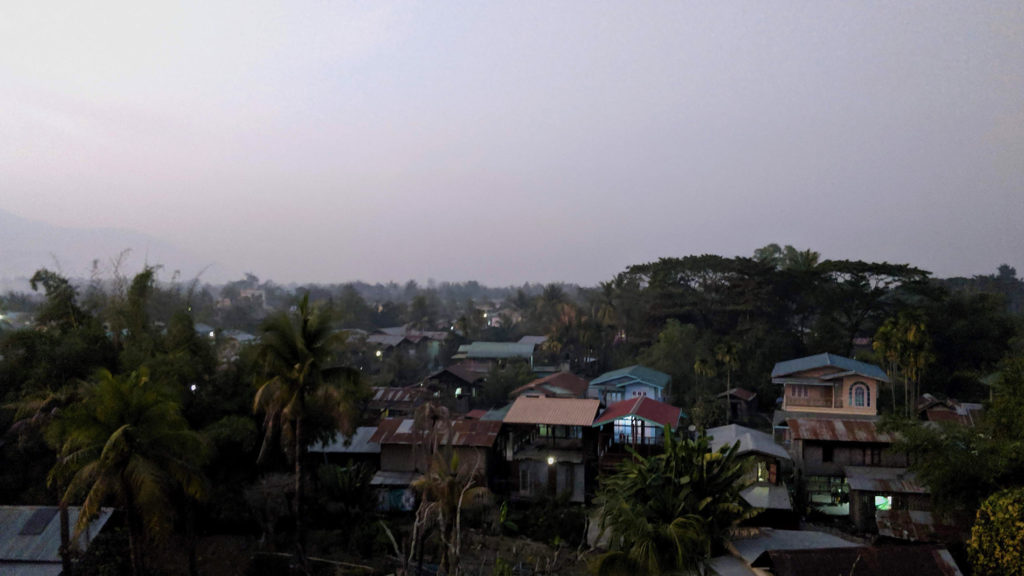 Finding accommodation in Kalay
It was difficult to find info about any budget accommodation online. We went to see a few hotels but didn't like them and ended up asking for a room in a bit more expensive hotel. They didn't have a room available but pointed us to the direction of the Thein Hotel instead. It had the nicest and cheapest room we had seem on our little room-search-tour in Kalay. A Double room including breakfast costed 30000 kyat (19 euros).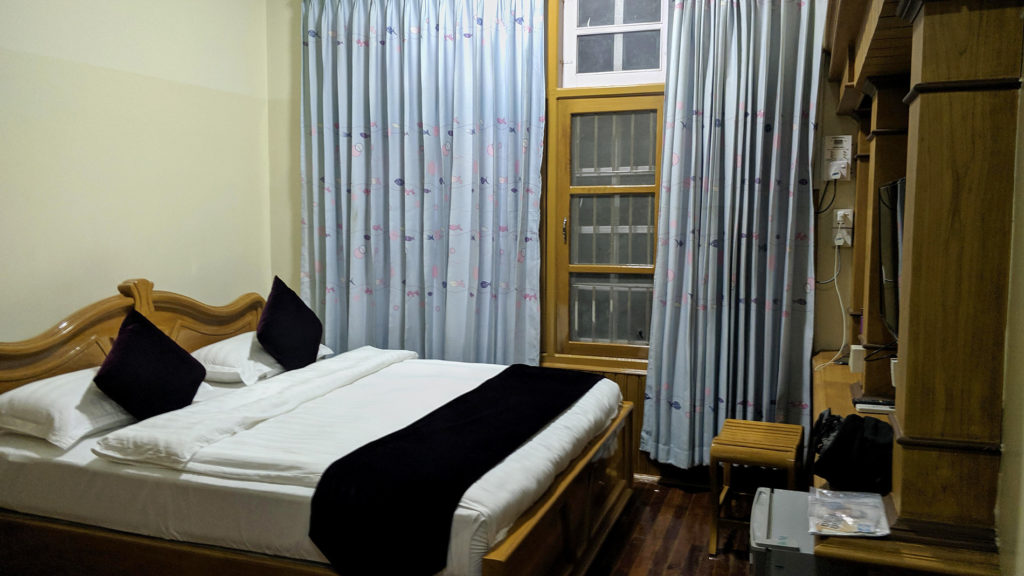 Note to self: Kalay is not Kalaw
Our plan was to chill in Kalay the evening and the next day, and then to continue with an evening bus to Bagan. It turned out, though, that Kalay, also known as Kale and Kalaymyo, is NOT known as Kalaw. Johanna had been looking some routes from Kalaw and it turned out that there actually isn't any night bus to Bagan from Kalay. Therefore, our evening and part of the next day went mostly by re-planning our next move. The connections from Kalay on are not great and you can't find any info about them online, but the woman at our hotel knew to tell that there is a night bus to Mandalay. So, Mandalay it is, then! If you need some info about the connections from Kalay on, there's more about that at the end of this story.
Veggie food in Kalay
There are plenty of cheap street restaurants in Kalay. This time we decided to have our dinner in a bit "fancier" place, Yangon Café, because it looked like a place that might have an English menu, so that we could find some vegetarian food. We still haven't figured out what are the local veggie options and how to order them. In Mandalay Café English was spoken and we got some nice noodle woks and a rice-tealeaf-peanut salad.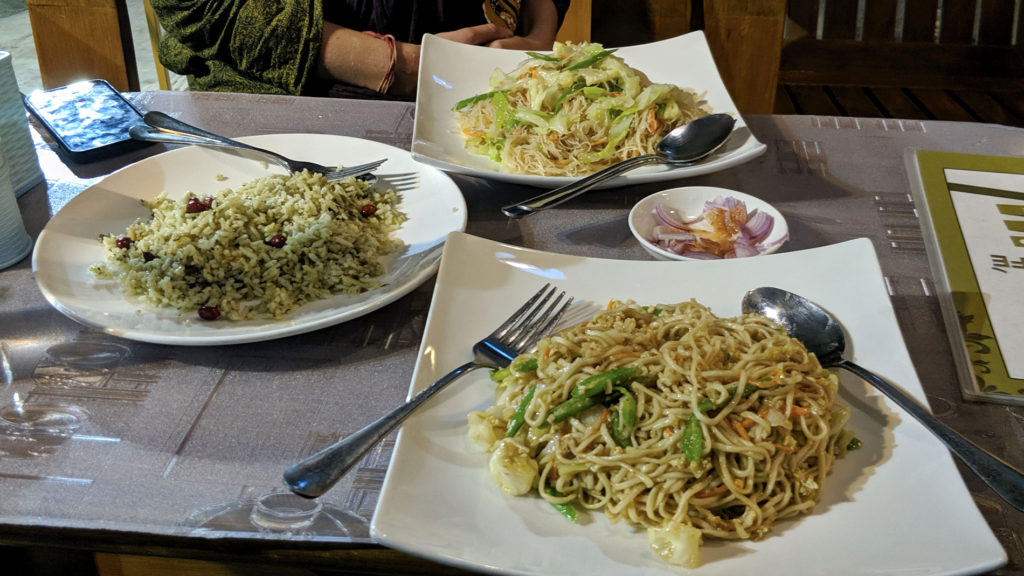 Shopping at the local market
The next day we visited the Mandalay Bazaar. We though its mostly a food market, but actually it was more for clothes and household items. On the way there Johanna admired the "skirts" know as longyi that both men and women wear here in Myanmar. Where men's longyis are simpler, the ones the women wear have bright colours and the most gorgeous patterns. What a nice surprise that the bazar was full of longyi fabrics, in all possible colors and patterns. We went a bit nuts there and after going back and forth with the colors for ages, we ended up buying three fabrics (one was costing 3-7 euros depending on the quality).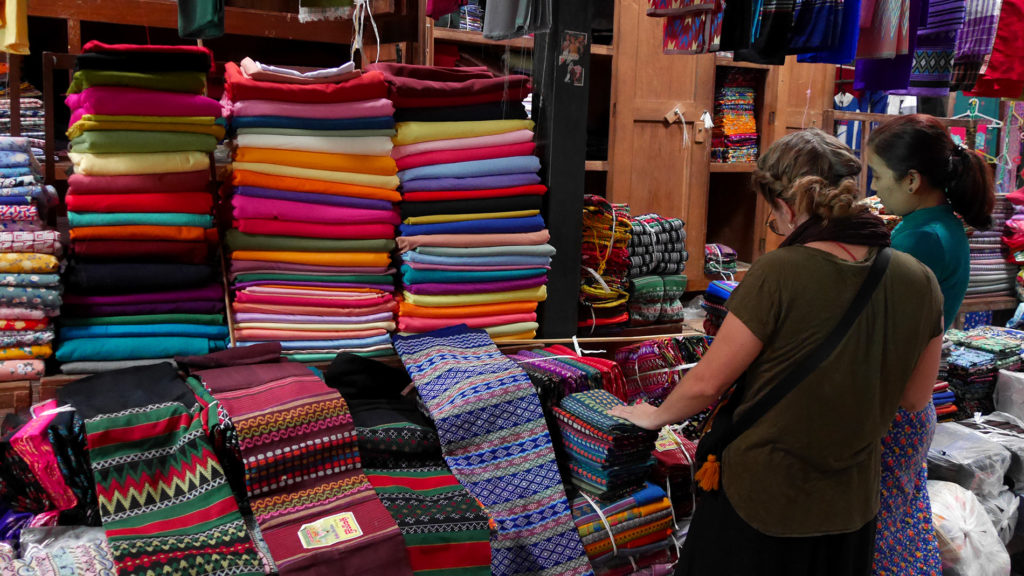 Many of the sellers were interested in talking to us. To our big surprise, two sellers at the market started talking some Finnish phrases (like "terve" and "mitä kuuluu"). As we didn't thing that there are many Finnish tourists visiting this market, it was very confusing. Turns out that a few people at this market have worked in Phuket.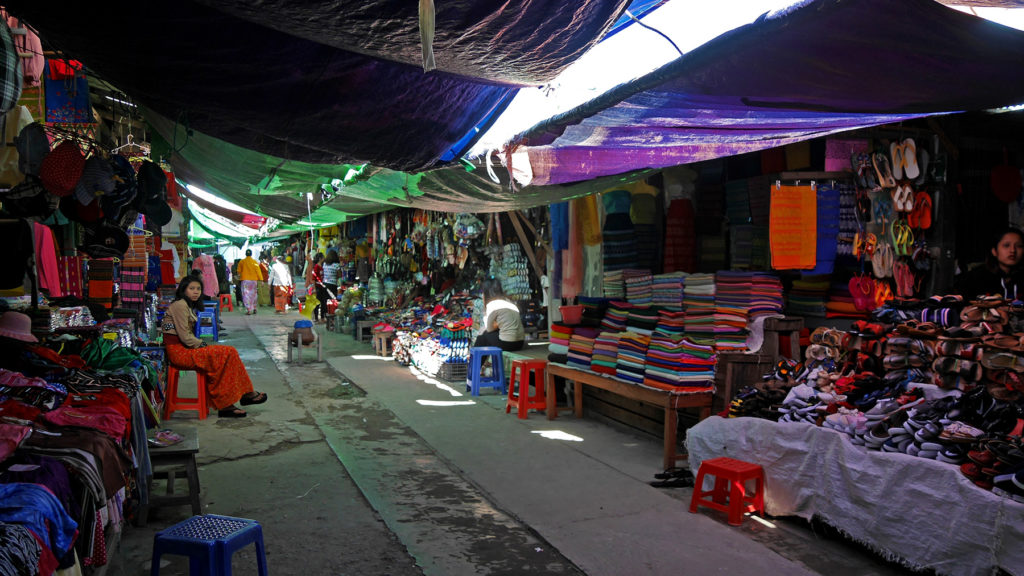 Transportation from Kalay on
After our market tour and lunch, we left to the bus stand in order to continue our journey. The night bus to Mandalay leaves at 5 pm and costs 20 000 khyat (as of January 2020). The owner of our hotel booked the bus for us without any charge and we even got a pick-up from the hotel. But if you want to sort the tickets out yourself, here's the location of the bus stand.
Also, there is a minibus to Monywa twice a day, at 7 am and 5 pm. From Monywa there should be more connections to different places. There's also a bus to Yangon and a minibus to Tedim, but we don't know the times.
At the bus stand two kids aged four and six came to talk to us and surprisingly they were talking really good English!
Then we were on our way towards Mandalay, or Manlay, like all the cool people seem to say around here…