After crossing the border from Myanmar to Thailand, we spent 10 days in one of our favorite cities, Bangkok. Having been on the road for several months, arriving in Bangkok felt very homelike. Not only because we've visited this awesome city many times before, but also because we met up with Johanna's family there. We enjoyed our time in Bangkok by indulging in Thai food, doing some sightseeing, chilling by the pool and having a little holiday from all the traveling. We also needed a new plan on how to continue our journey, as the pandemic had ruined our original travel plans.
Re-union in Bangkok
The re-union at a street food restaurant in Bangkok felt almost surreal. Johanna's sister had arrived to the city already some days ago because of work. Her boyfriend had joined later but was about to fly back to Finland that night just after our dinner together. And Johanna's mom had just arrived the same day. So here we were, after us being on the road for almost half a year already, having a delicious family dinner Thai style on a busy street in Bangkok.
Things we did in Bangkok – a few recommendations
There's so much to see in Bangkok. As we've visited a few times before, we didn't go crazy with sightseeing, but we did visit some old favorites as well as some completely new places for us.
Wat Saket – The Golden Temple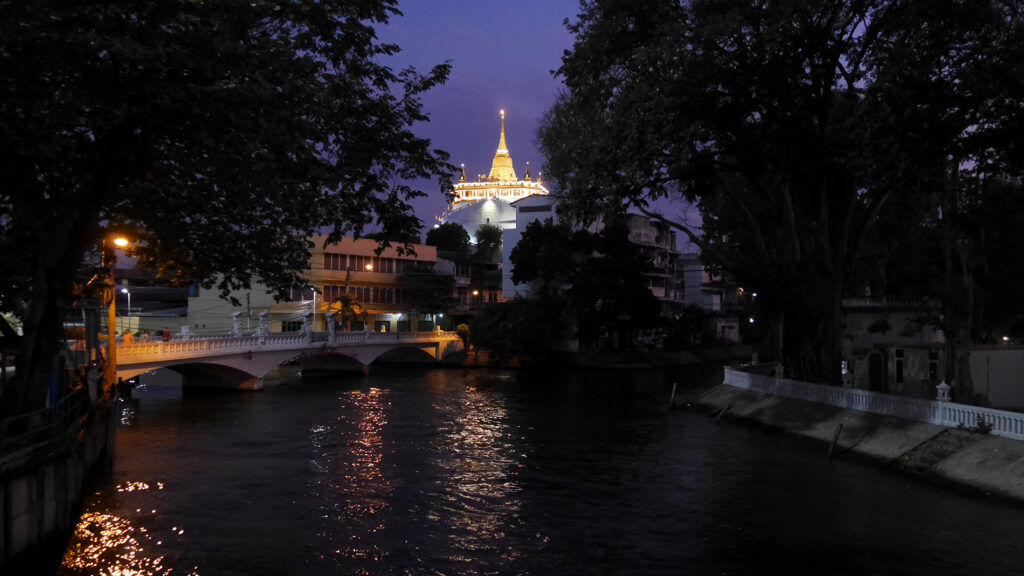 The Golden Temple, Wat Saket, is located on an artificial hill in the old town. After the countless temples and pagodas in Myanmar, we were already pretty much done with temples. Still we wanted to visit this one, because it's always nice to see the city from up (especially at sunset) and the walk to the top through the lush gardens is very pleasant.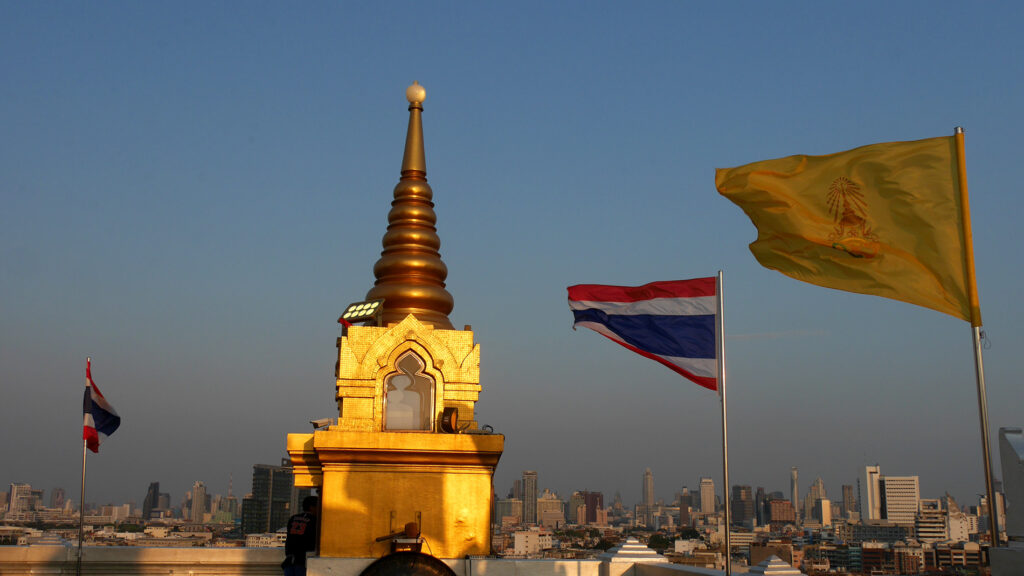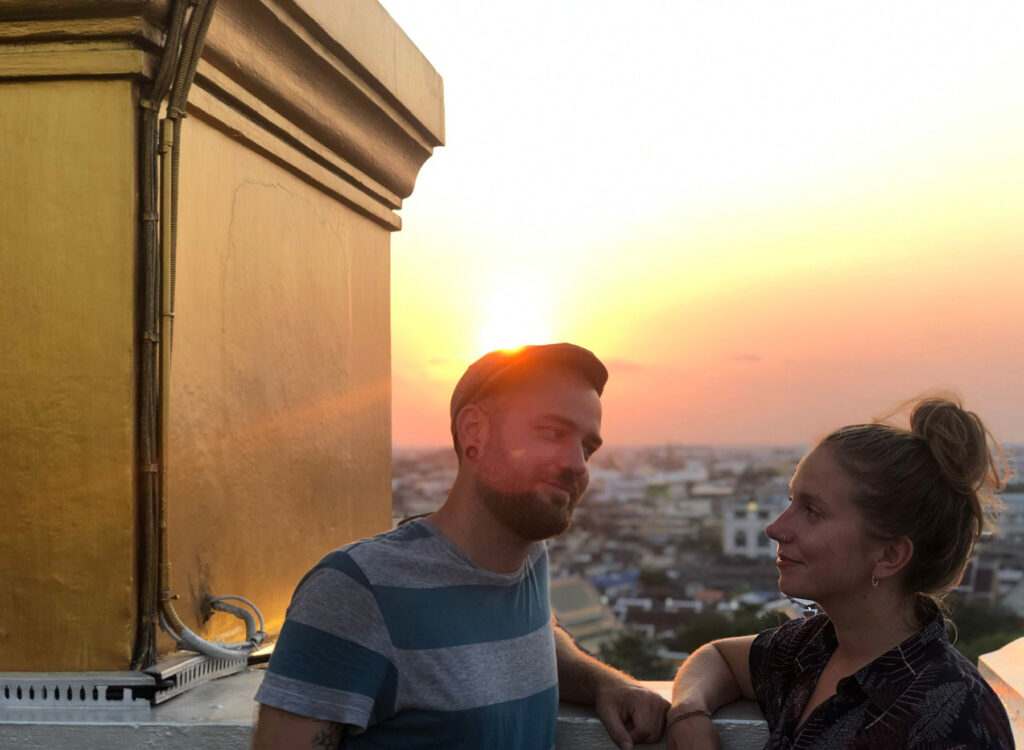 Jim Thompson House
Jim Thompson was a silk merchant who unexplainedly disappeared in the Malaysian jungle in the 60's. Still, no-one knows what exactly happened to him, but his house is still existing and open for tourists. He was a passionate traveler and antique collector and his house is filled with fascinating objects to look at. The house itself is special as well, because it's built by combining many small traditional Thai houses. There's also a restaurant in the beautiful garden, where we had some yummy happy hour cocktails. The entry to the house is 200 baht but you can visit the restaurant and garden for free.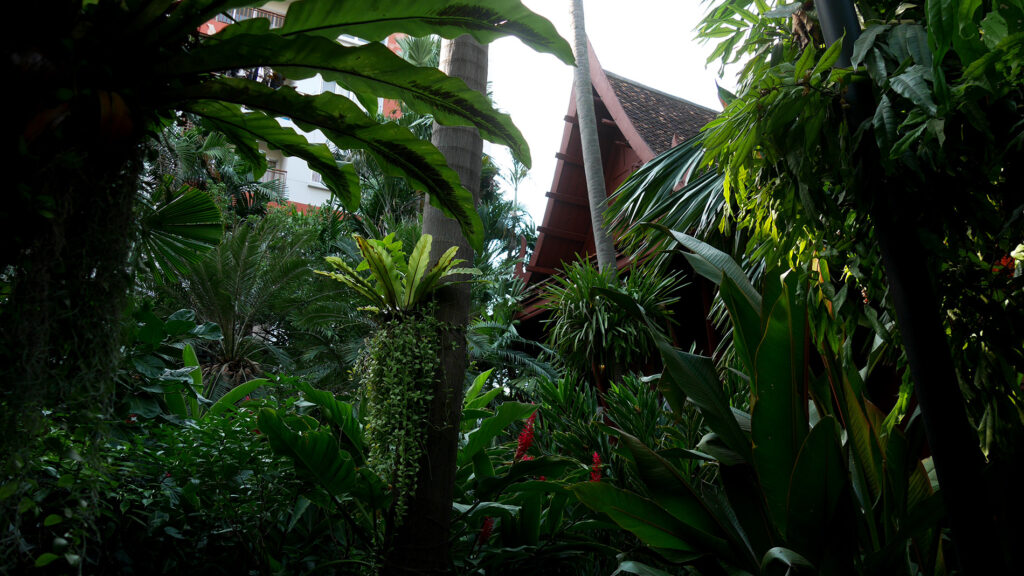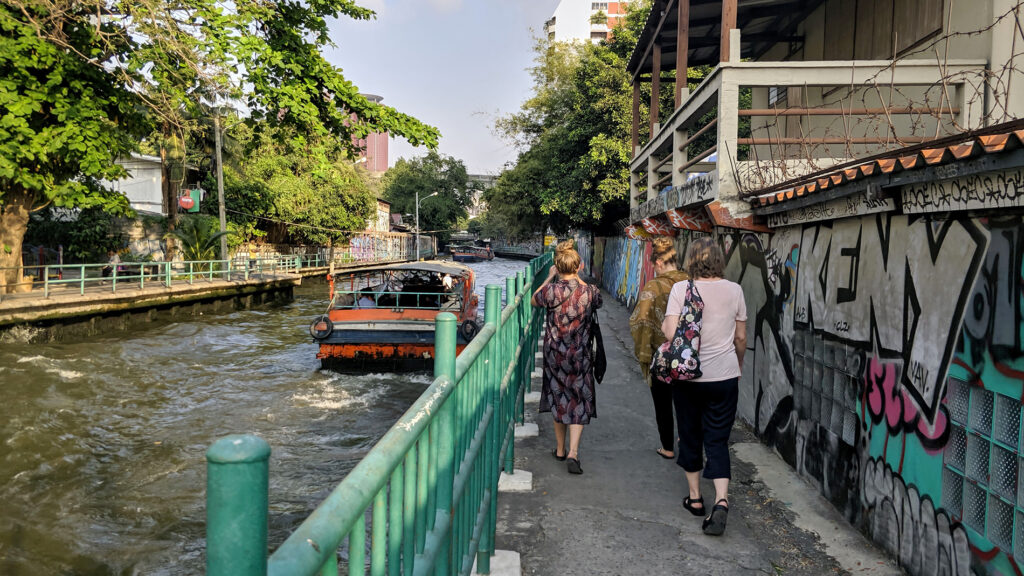 Lumphini Park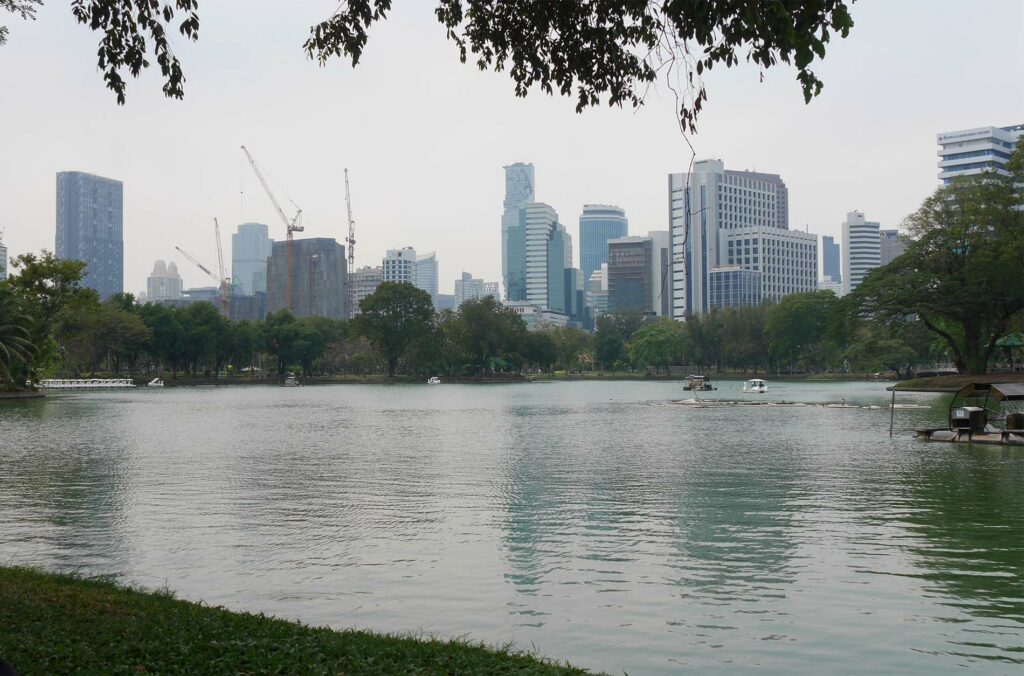 Lumphini Park is a nice, green getaway in the middle of the city. Why we like this park especially much is its fauna. There are dozens of huge monitor lizards lazing around in the sun by the lake. You can also see some turtles in the water and if you buy some fish food (they sell it in the park) and throw it into the water, you can spot all kinds of funny looking fish or at least their mouths.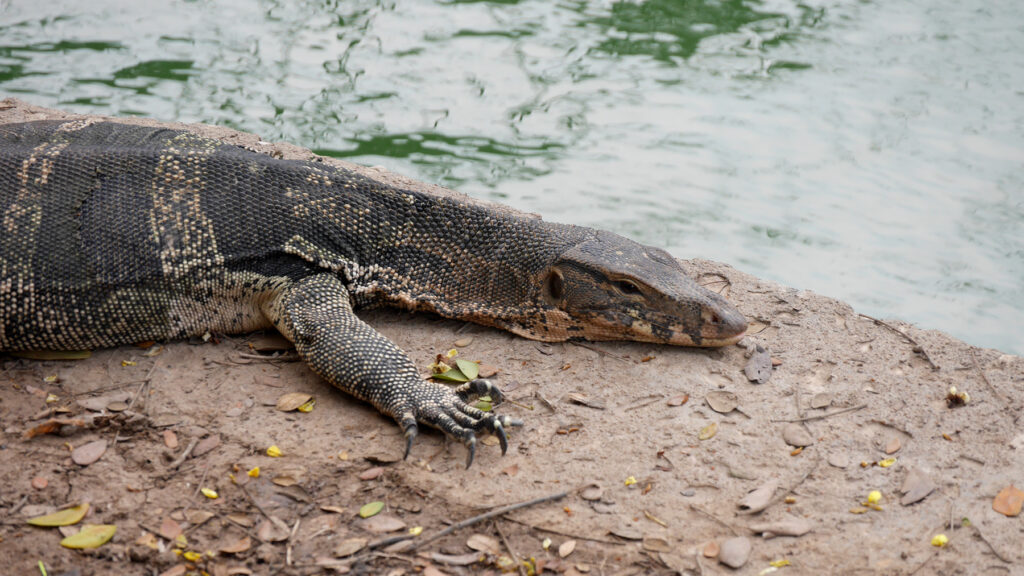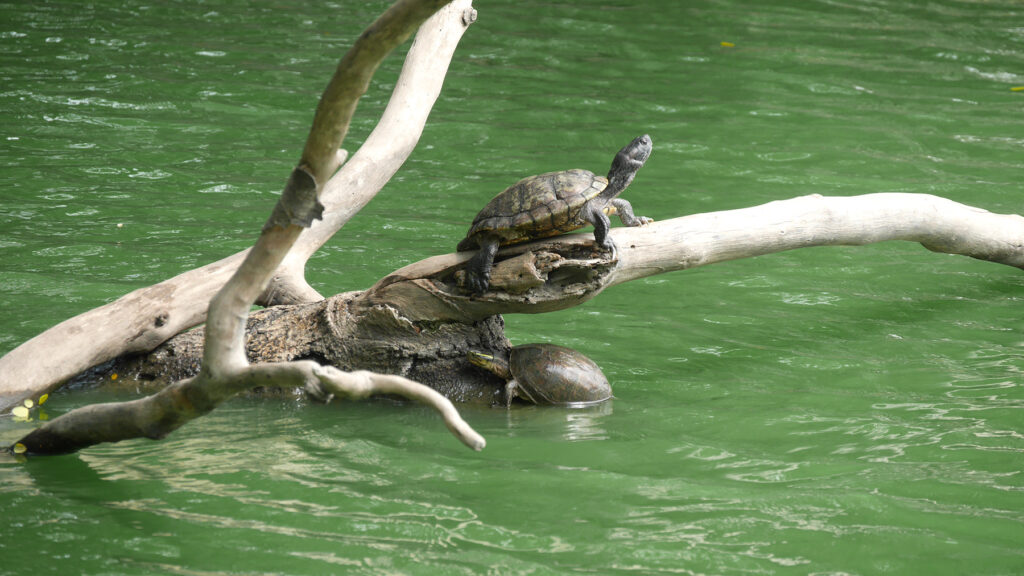 We (Seri) had some debate with the park's guide who stopped us on our skateboards and told it's not allowed to ride bikes (or skateboards) in the park after 3 pm, apparently because the park is so full of people in the afternoons. But we came another time in the morning and had a nice ride around the almost empty park.
Bike tour at Bangkok's Green Lung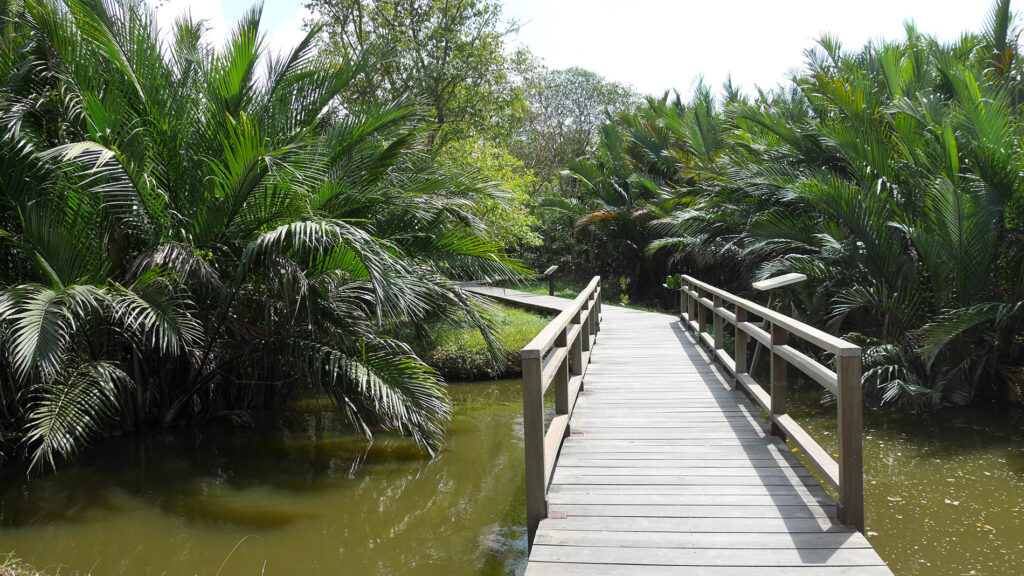 Bang Krachao, also known as Bangkok's Green Lung, is a big artificial island in the Chao Phraya River. On the island, there are some roads and pathways and some small houses, but mostly it's just nature. We took a small boat across the river from Khlong Toei Pier and rent bicycles straight on the pier on the island side. Even though we like the bustle of the city, a bike tour on the island was such a nice way to escape the busy city life for a while. Definitely one of our new Bangkok favourites!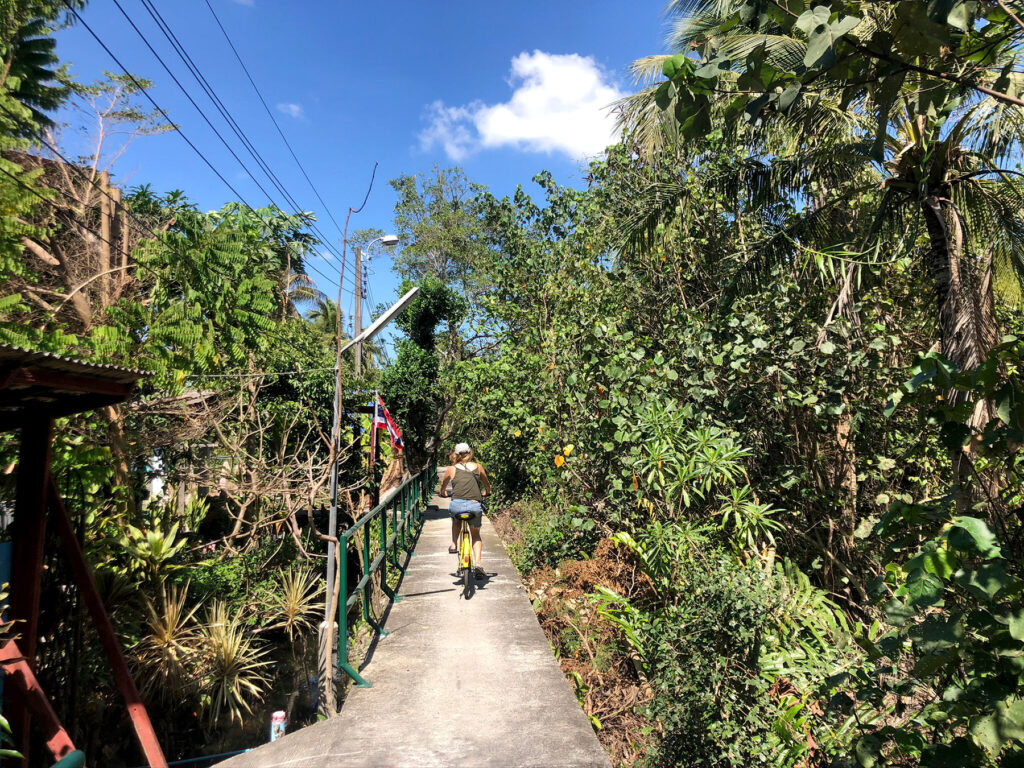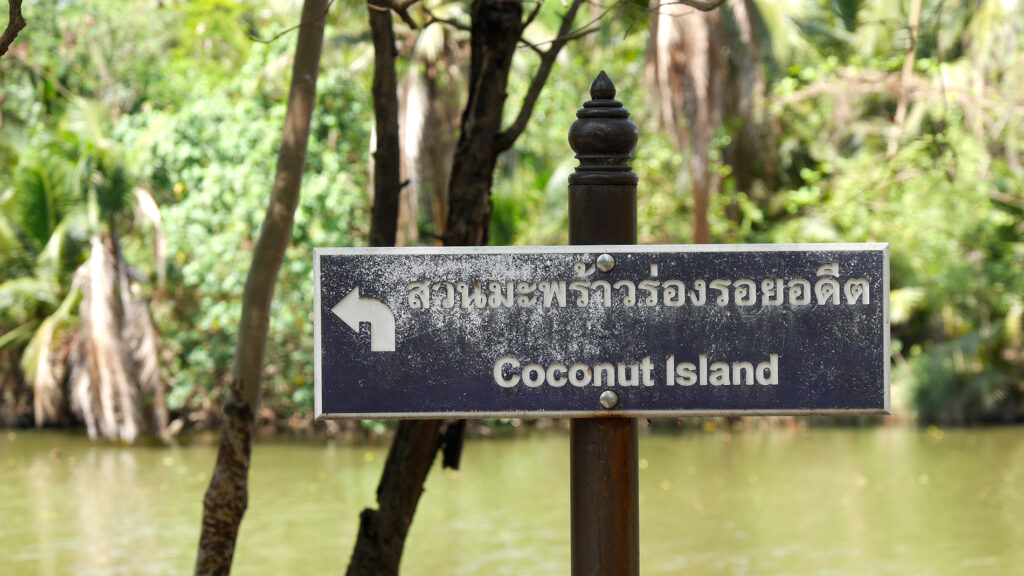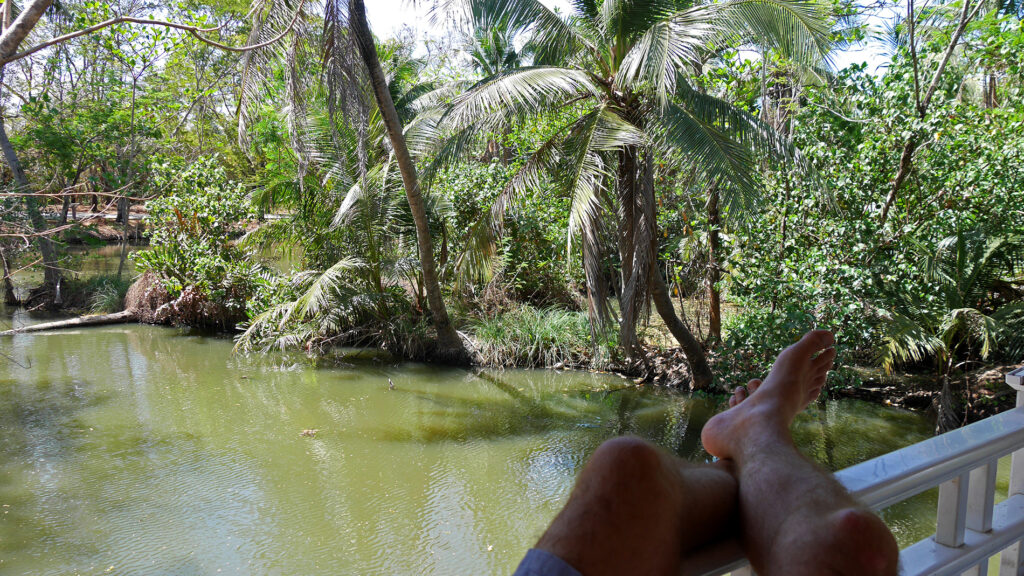 Shopping
Not that we think that shopping is a great pastime, but if you need something, you will probably find it in Bangkok for a good price. We have visited MBK shopping mall mostly because of its great food court, but they also sell pretty much everything in this huge shopping center. Two other malls worth visiting, not necessarily because of shopping but because of their interior, are Terminal 21 and Siam Centre. In Terminal 21, every floor is resembling a different travel destination, like San Francisco, Rome or Morocco. And the ground floor of the luxurious Siam Centre is decorated in a very innovative way, with rivers, trees and food stalls. Johanna's favourite night market, JJ Green, had unfortunately closed down, but we found a nice alternative, Talad Rot Fai (Ratchada Train Market).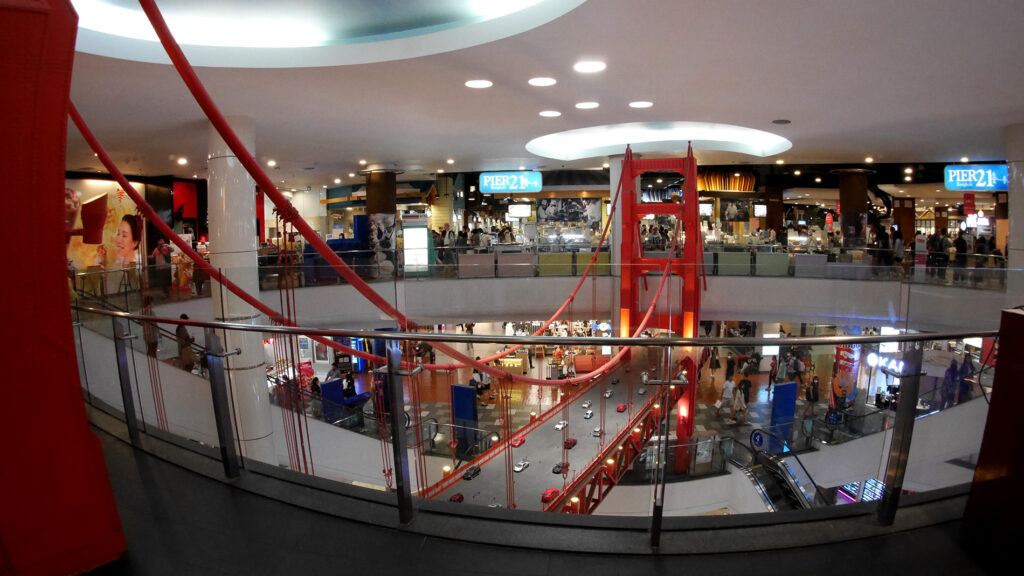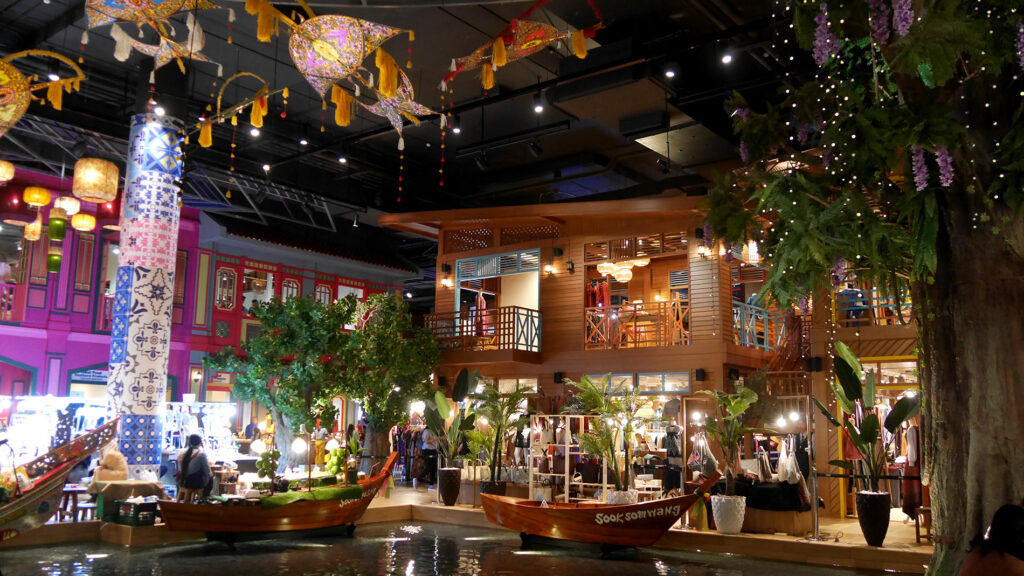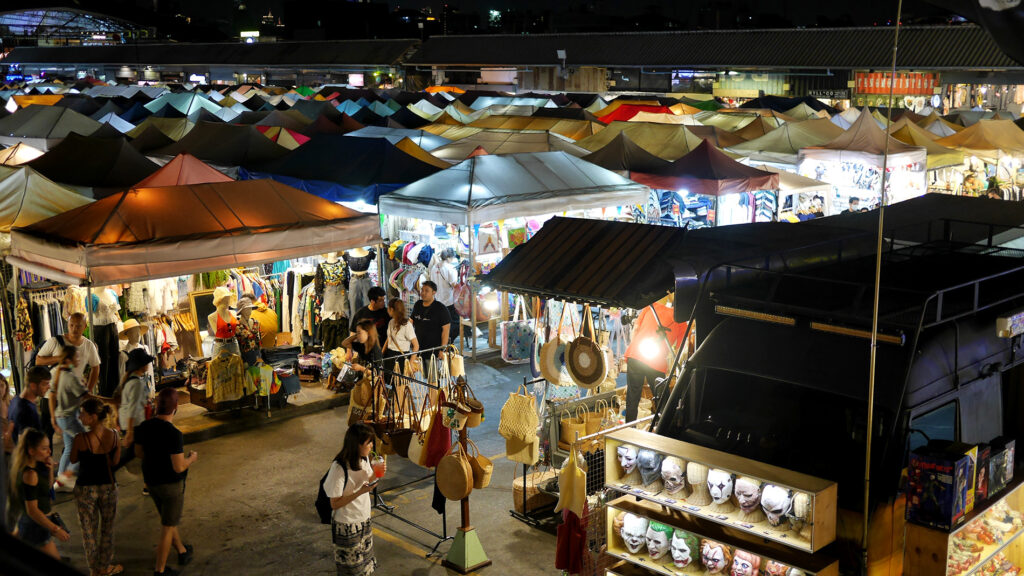 Indulging in Thai food (and drinks)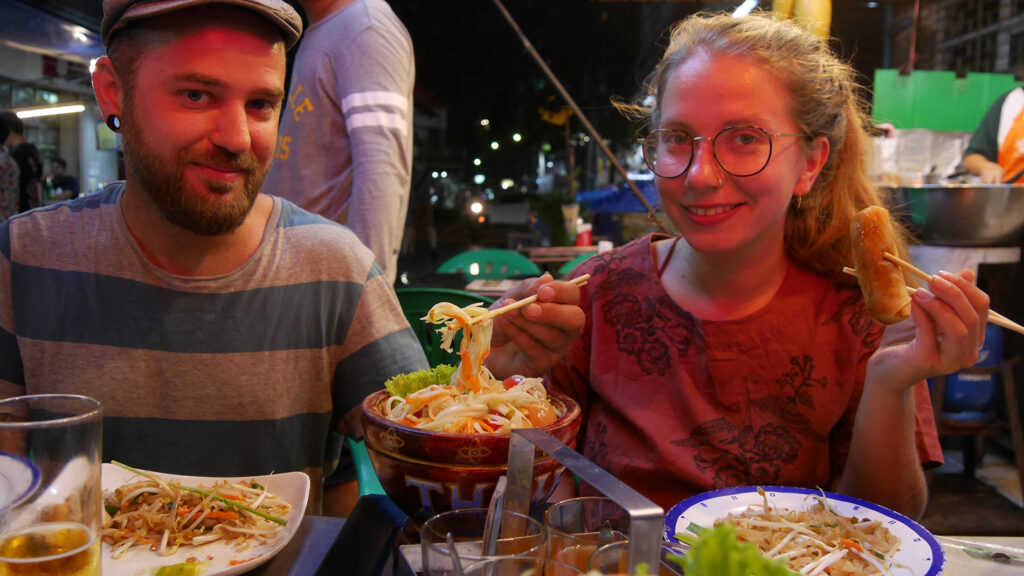 One of the reasons we like Bangkok so much is the foooood. Nevertheless, this time we won't give any restaurant tips because you get yummy Thai food pretty much everywhere, duh. The city's street food culture is strong, and you can find surprising treats just around any corner. As vegetarian or vegan, the options are a bit more limited though, and there might be some fish sauce, oyster sauce and such things hidden in foods that seem vegetarian, so better ask to make sure. Also, food courts at shopping malls are great places to find cheap local food, and some of them have vegetarian stands, too. After all, we must give one restaurant tip, which is actually one of our favorite eateries in Bangkok, despite the shopping mall atmosphere: the above-mentioned veggie food stand at MBK mall with a sign "Good Taste Vegetalian"!!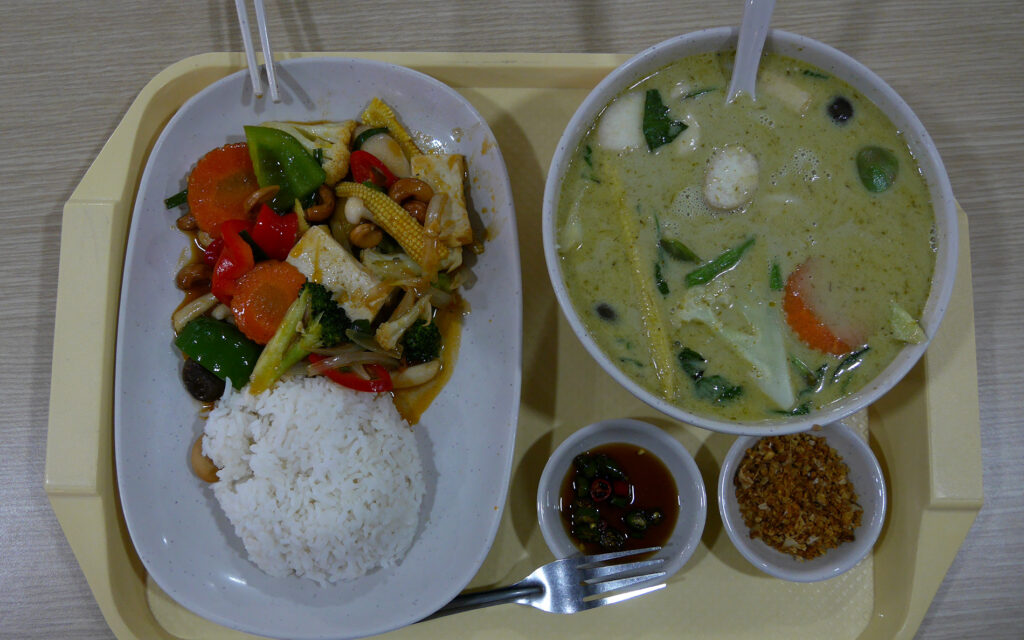 During our stay in Bangkok, besides indulging in delicious Thai food, we also consumed alcohol maybe more than we would like to admit. Well, we were on a family holiday so why not… Mostly we just sipped some drinks by the roof top pool at sunset or sat on some small plastic chairs at markets or street restaurants, watching people pass by. On a few evenings we ended up at the infamous Khaosan Road. It truly is a horrible place one wants to escape, but at the very end of it we discovered a chill drink stand with a diy vibe called Gypsy's Lips. We also found a few nice and creative bars at the Nana Street in China Town. We dragged Johanna's mom with us where ever we went, and towards the end of the evening she would start questioning "isn't this enough already?!", but we could tell that she was having fun, too.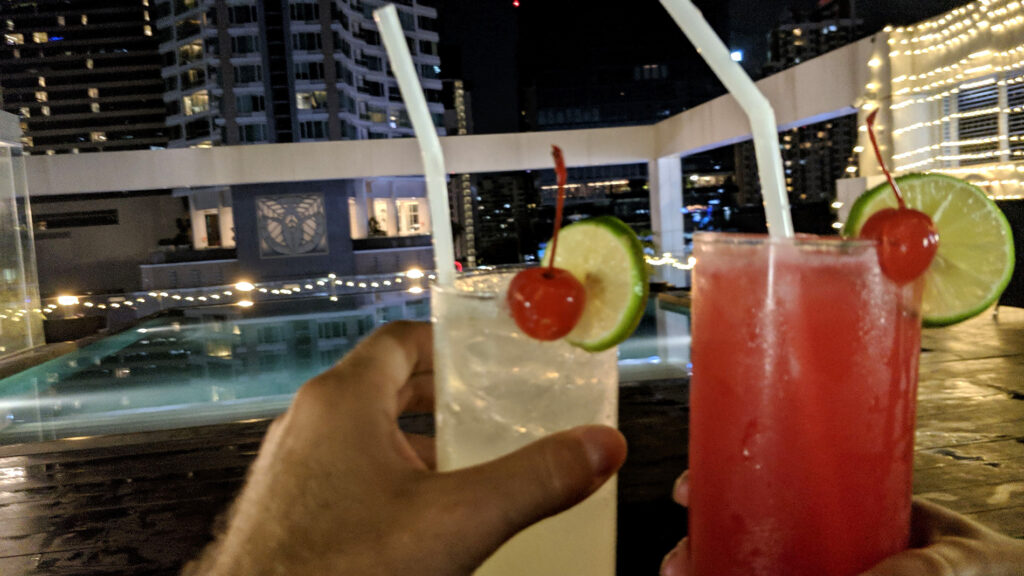 Getting stuck and re-planning our trip
Even though we didn't plan it, we ended up staying 10 nights in Bangkok. This was the longest stop we've had after Hampi. We said our farewells to Johanna's family after a week but as we had some unfinished computer work, we two decided to extend our stay and work by the pool. Well, as we said, Bangkok is one of our favorite cities, so we really didn't mind getting stuck there for a bit longer!
We also had to make a new plan on how to continue our journey. We were supposed to start our "way home" overland from Bangkok, by travelling towards China and Russia. At this point (February 2020) it had come clear that because of the Covid situation, we could forget all our plans that included China and that there was no chance to get home overland. We needed a whole new plan! It was disappointing to realize that we were not able to do the whole journey without flying as planned, but what comforted us was the fact that in 2013 we traveled overland from Finland to South-East Asia and finally to Bangkok trough Russia, Mongolia, and China. So, in a way we had now closed the circle. Instead of heading North we decided to try to get to the southernmost point of Asia one can get overland – Singapore. Of course, it was also unclear if we would be able to succeed in this, as the situation in Asia was getting more and more difficult. But we were not ready to go home yet. So, after Bangkok, we slowly started our way South…