Yangon was the end station of our 10-day-motorbike trip, and it was also going to be our last destination in Myanmar before crossing the border into Thailand. This versatile country had treated us so well, that knowing we would soon be leaving Myanmar made us feel a bit blue. But we were really looking forward to our last day in Myanmar and to explore Yangon.
Finding the rest of our stuff
After dropping the motorbike off at Discovery Ride's office, we headed to the bus station. We had packed only what we needed for our road trip, while the rest of our stuff was sent from Mandalay to Yangon by bus. As we got to the bus station, the workers didn't seem to understand what we want, or they didn't care, or they didn't have any idea where our stuff might be. We already got a bit worried that our bag was lost, but all it needed was one more call to Discovery Ride's Mario (whom we had called countless times during our road trip already), who talked with the workers in Burmese.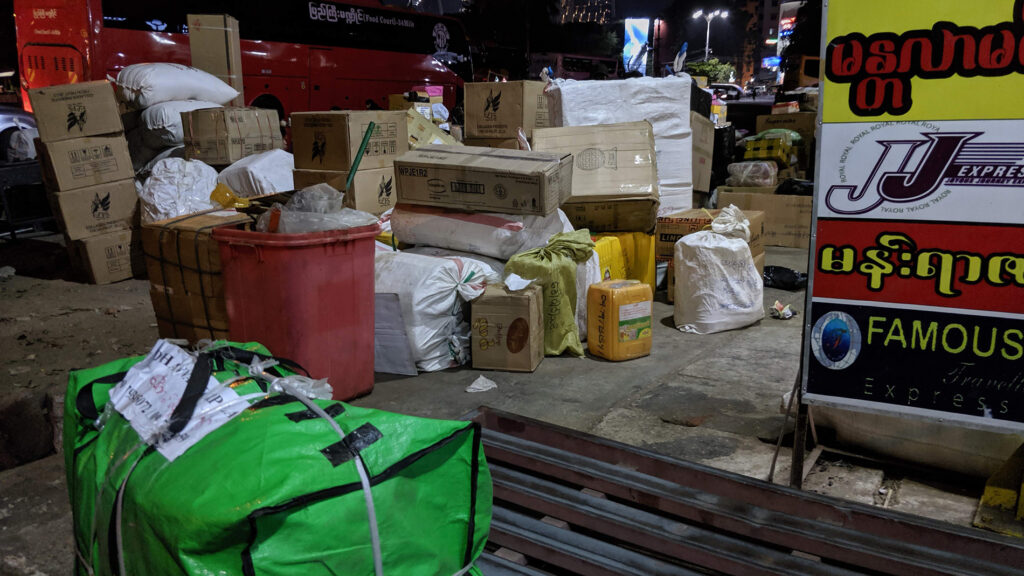 When we finally got to our hostel with all of our belongings, it was pretty late in the evening already, but we still had something important to do. As we've told before, Johanna got a rabies shot in Loikaw after a dog had licked her hand with a small wound on it – just to be sure. The second shot had to be taken on the third day after the first one, which was today.
Visiting the dog bite station
As it was late, we had to go to the emergency station of the General Hospital. We were hungry and worried that it would take ages. Well, it definitely didn't, we were in and out of the hospital in 13 minutes! There was no queue, English was spoken and the workers understood straight away what we needed.
We got sent to a special dog bite station. The super nice doctor there told us that usually, they don't give the second shot outside the business hours, bus she called her supervisor and got permission for it, as we couldn't get there earlier. The dog bite station with a fridge full of rabies vaccine indicates that dog bites and rabies, indeed, are a big issue in Yangon and the whole of Myanmar. Maybe it really wasn't total over-exaggeration to get the shots. And as Johanna had gotten the rabies vaccination already before the journey, this was the last booster that was needed.
Waking up to a bad surprise
Because we had been traveling mostly in areas with not that many backpackers lately, we haven't stayed in a proper backpacker's hostel for a long time. Our room in this one was cozy, but it definitely came with its own hostel-annoyances. We woke up really early because of Spanish people yelling to phone on loudspeaker (this happens somehow often in hostels!). Next, Johanna spotted a little bug in the bed, which, with further inspection, turned out to be the good old bed bug. And then we found plenty more of them.
The evening before, Johanna, who loves to make a mess, had spread all our stuff on the floor, stating that it doesn't matter as we have to re-pack everything after our road trip anyway. So, there was a high chance that our stuff was now contaminated.
In case you didn't know, bed bugs can be a real pain in the ass. They suck your blood and can spread diseases. If they get into your backpack and start laying eggs there, you carry them with you to the next place and they make it their home, too. If you get them to your home (or hostel), it can be really difficult and expensive to get rid of them. We had been lucky since this was the first time we encountered bed bugs on this journey, but they are our old enemies from previous trips. Therefore, we knew to take the issue seriously, unlike the staff of our hostel…
When we told them about the bugs the staff was first just asking if we'd like some medicine for the bites. After explaining them what bed bugs are, they finally agreed to wash our stuff for free and put it into the dryer. The stuff that we couldn't wash we put into plastic bags and placed under direct sunlight. It was over 35 degrees in the shade, so we think the temperature inside the bags could get over 50 c, which should be enough to kill the bugs and their eggs.
Fighting with the bed bugs (and the staff of our hostel) took some hours, which was a bit unfortunate, as we only had a few hours left anymore to explore the city before we had to get back to pack our bags and catch a bus towards Thailand. But we managed to get something out of the rest of the day and to see and taste some nice stuff…
Sightseeing in Yangon
As we had returned the motorbike, we were, after a long time, on our skateboards again! Yangon wasn't the most skater-friendly city with its chaotic traffic and cracked pavements, but we did find some good streets to skate on and just enjoyed seeing the city a bit.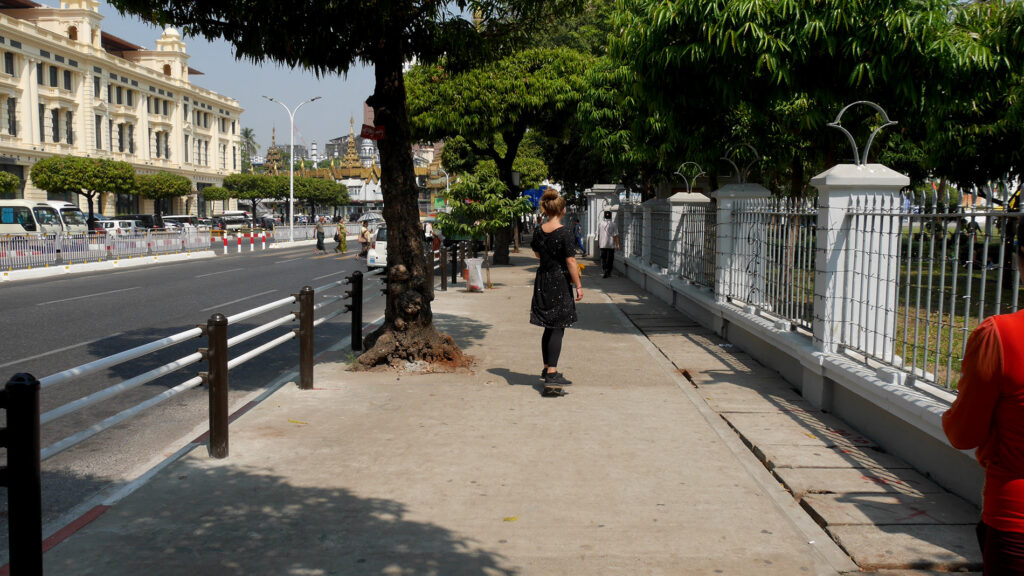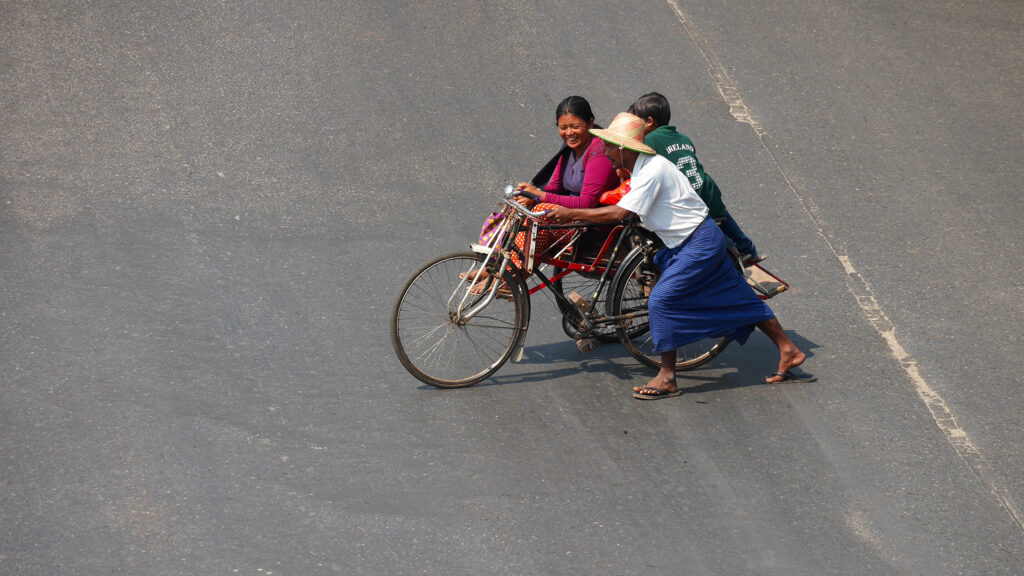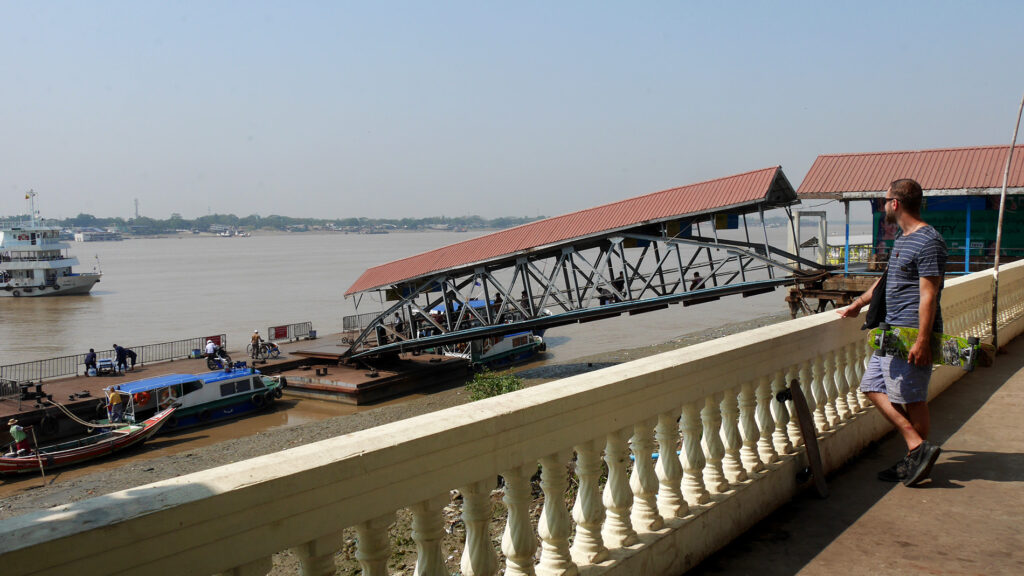 For some time, we were skating and snacking around, but it was so hot, that soon we just wanted to hang out somewhere in the shade. We headed to an impressive park which we had seen the last evening when we arrived in the city.
The park was a green area around the Kandawgyi Lake, with long bridges leading from one side of the lake to another. In the lake, there was a beautiful golden boat palace. We really liked this park.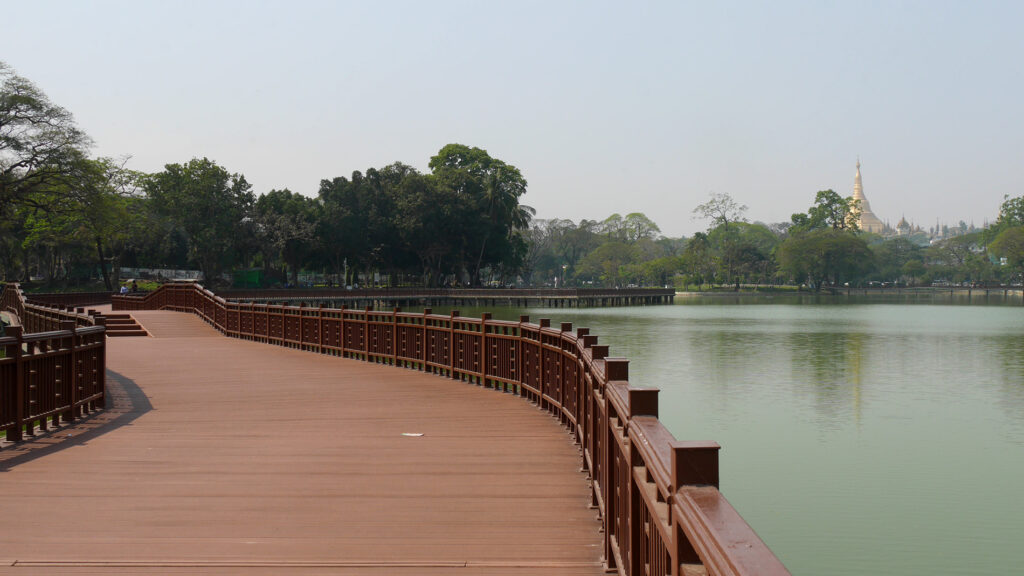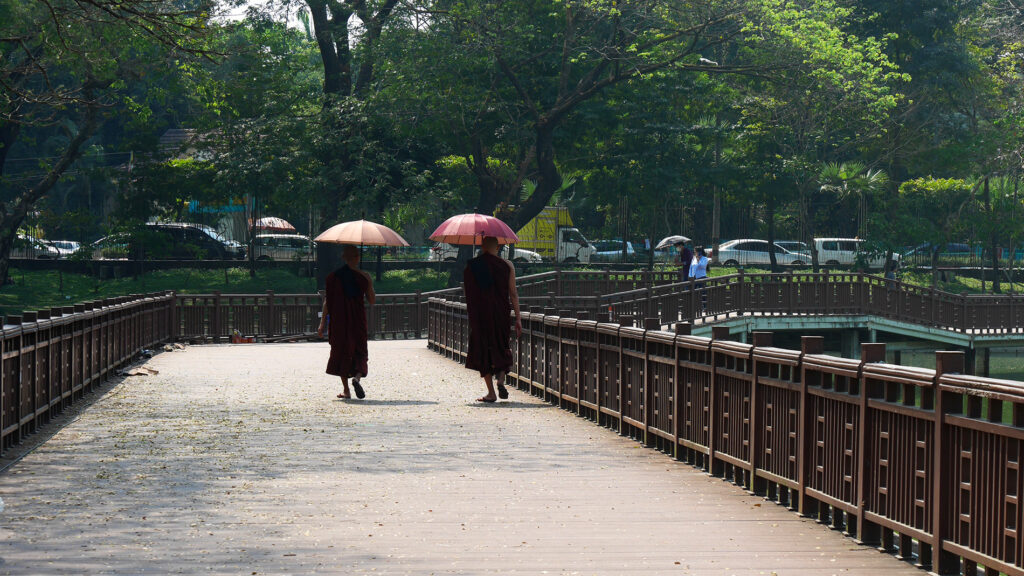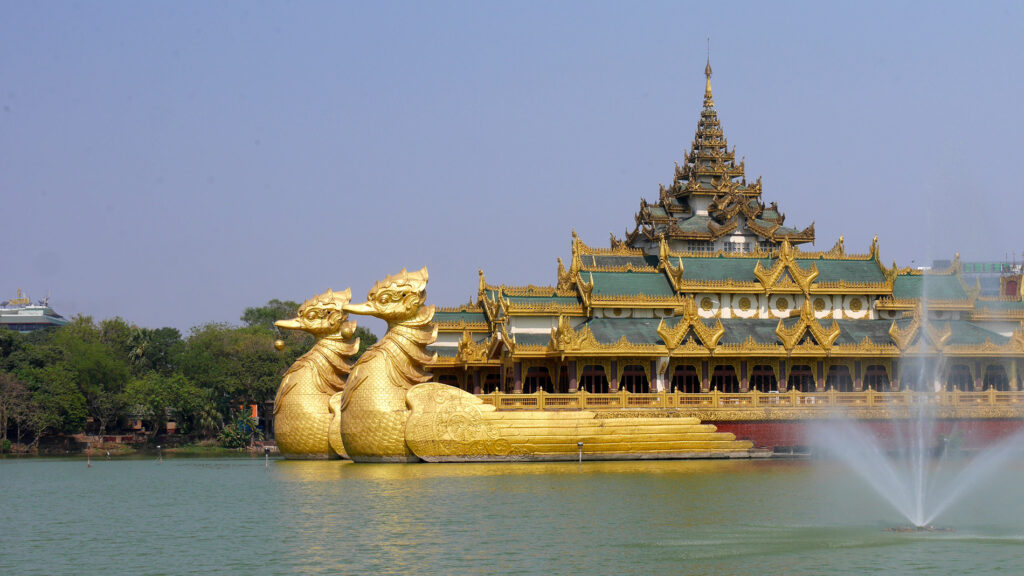 Apart from several pagodas (like the famous Sule Pagoda) we saw while cruising around, this park was the only "attraction" we actually explored during our time in Yangon.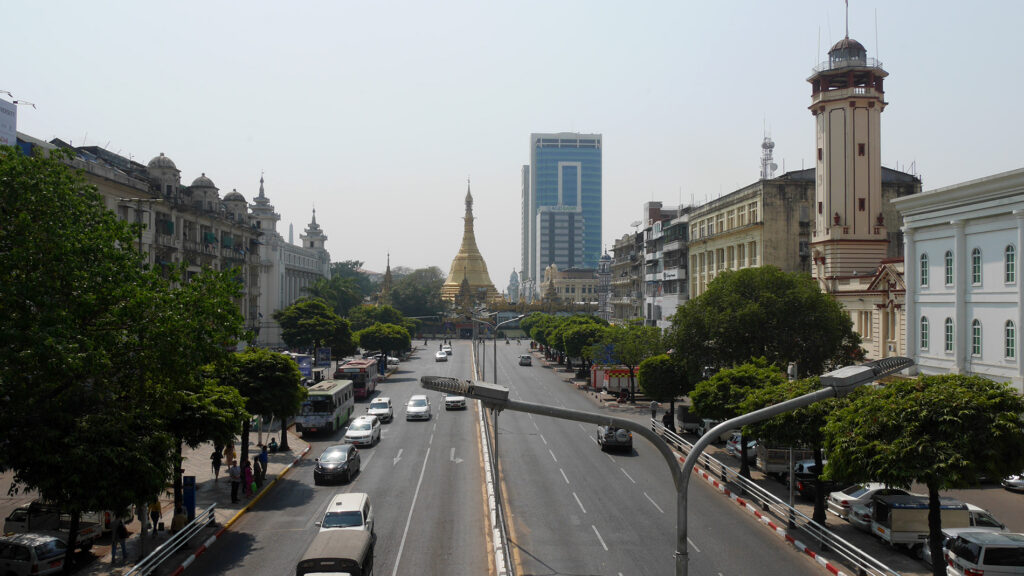 Culinary highlights of Yangon
Ah, eating, our favorite activity in every city… In Yangon, we found two restaurants that we can really recommend.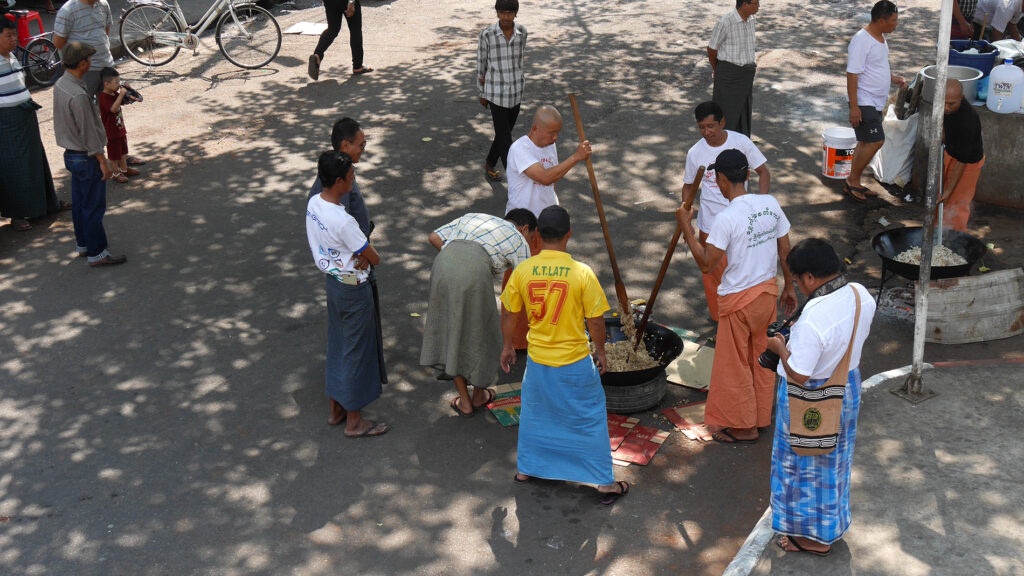 The Burma Bistro
On the evening we arrived, after visiting the hospital, it was already late and it seems that restaurants in Yangon close pretty early, around 9 or 10. We randomly entered Burma Bistro, which was still open. This was a bit posher place and the meal we had there was the most expensive one we had in Myanmar. Meaning 18 000 kyat, around ten euros, so still very affordable for food, beers and cocktails for two! And the food and drinks there were heavenly!!
We had a Burmese noodle salad. Like mentioned a couple of times already, we have started to love the crunchy, spicy salads here in Myanmar. This one was the crown jewel of them all.
We also had a curry with Burmese chickpea tofu, which is another local and delicious vegan option.
The cocktails we chose from the long list were lemongrass and Thai basil infused sugar cane juice with white and dark rum. Also, a delight.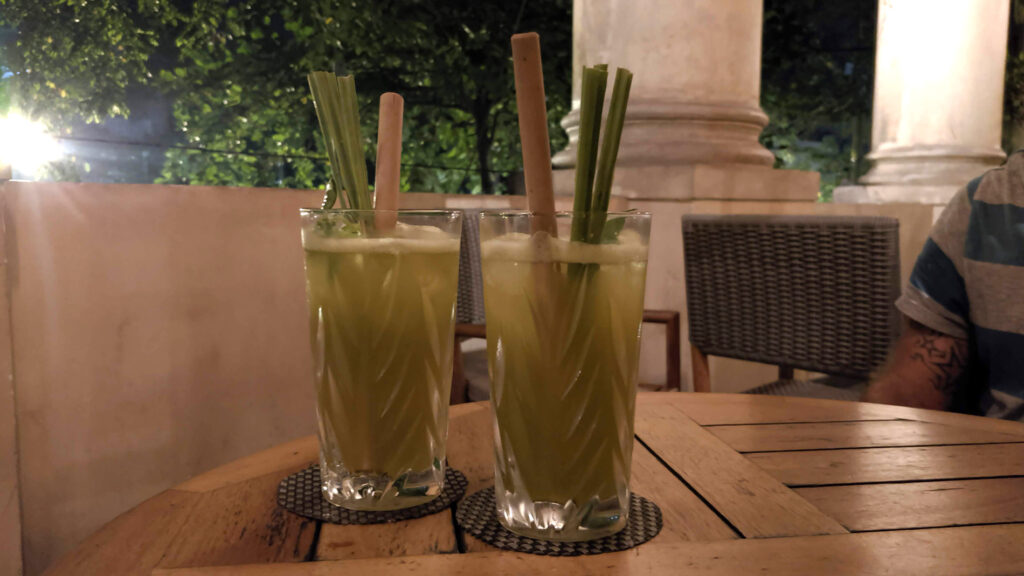 If you are in Yangon, visit Burmese Bistro and prepare for a taste explosion! 😀
999 Shan Noodle House
We left Shan state a few days ago, so we were already missing Shan noodles and wanted to enjoy them one more time before leaving Myanmar. Shan noodles are a famous local dish from the Shan state. It's a must-taste while you're in Myanmar and if you're not planning to visit the Shan State, this would be a good place to try it. We had two delicious vegan versions of this classic dish with some spring rolls and fruit juice. The waiter was a funny girl, she totally managed to confuse us by joking that there is chicken in our food. There wasn't, though.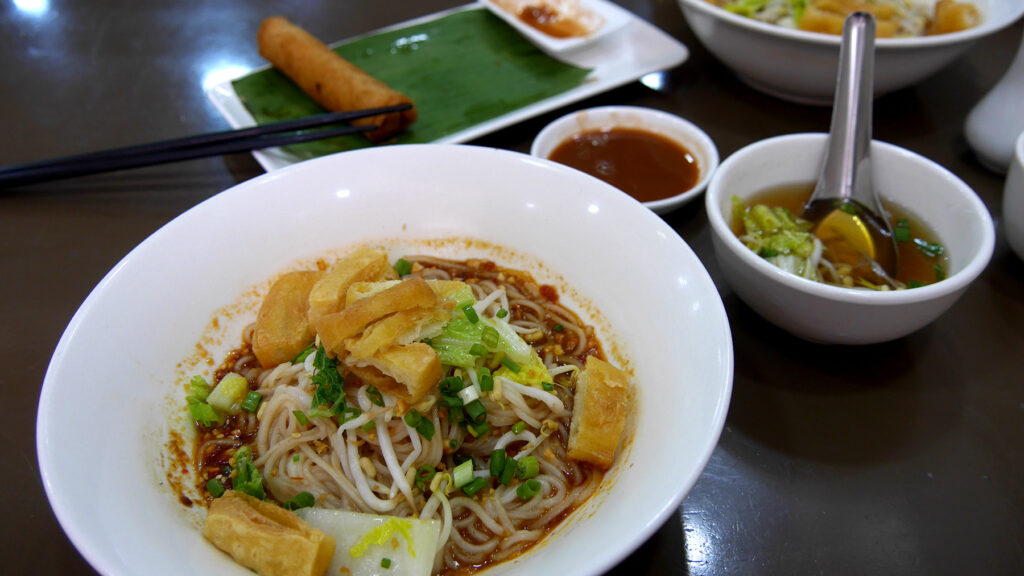 Leaving Yangon
As said, our stay in Yangon was short. In the evening we had to get to the bus station and catch a bus towards the Myawaddy – Mae Sot border, towards Thailand.
The bus left from Aung Minglabar bus station, which is really far from the center. We didn't know that before, but luckily one hostel worker gave us the advice to get a taxi two hours before the departure of our bus. The time was totally needed.
The journey across the border was easy but still a memorable experience, more about that later. The next afternoon we reached Bangkok, where we had set up a special date…