Even though Chumphon is the port to the popular tourist islands Tao, Phangan and Samui, most of the passers-by don't seem to realise that Chumphon itself would be worth a stop, too. At least the Thung Wua Laen beach where we stayed was almost empty and had a very local vibe. Besides hanging out at the beach, we drove around with a scooter and visited some cool sights.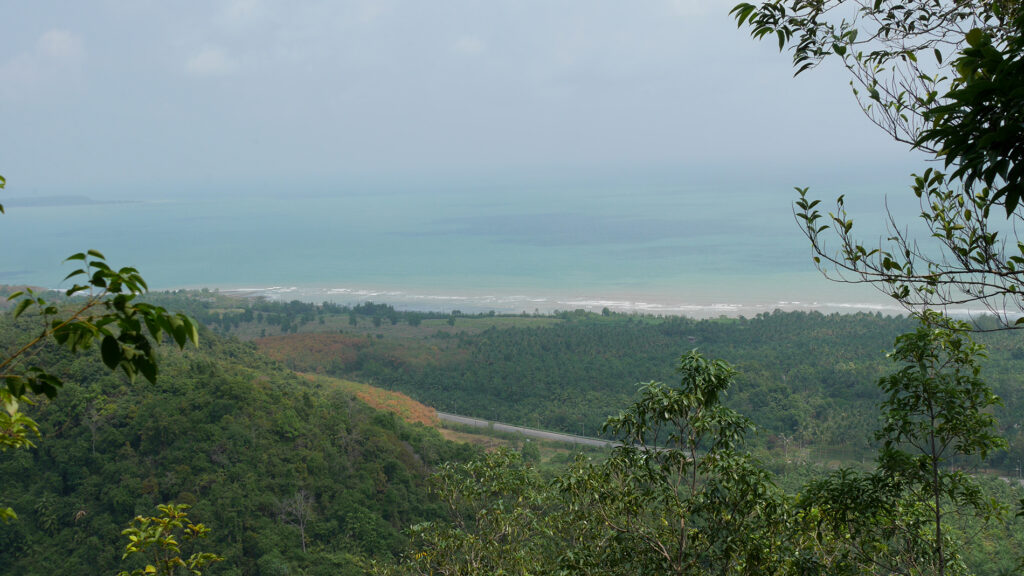 Arriving at Chumphon in the pouring rain
Our bus from Bangkok was headed more South, so they dropped us off at the bus stand of Chumphon along with some cargo. It's not always necessarily a bad thing when a bus arrives somewhere ahead of schedule, but when it's four a.m. and pouring, it's not ideal.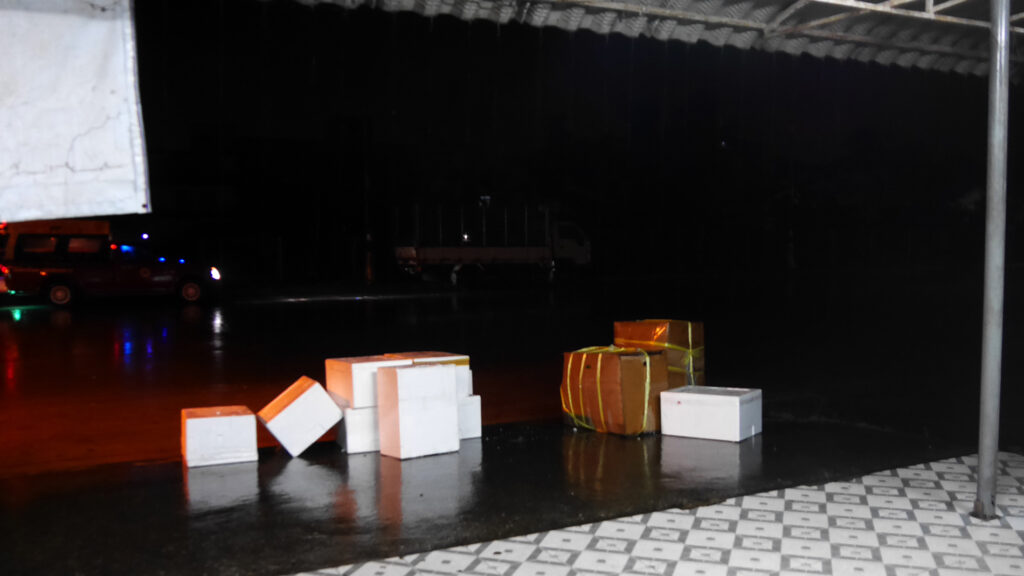 The Thung Wua Laen beach is located far away from the bus station and at that time there were no tuk-tuks around. After waiting for an hour or so, we managed to get a ride from a songthaew (pick-up truck). We didn't make it far, though. The car broke down in the middle of a deep puddle and wouldn't start again. After trying for half an hour to repair the car, the driver gave up and called someone to pick us up. Of course, this guy wanted more money than initially agreed, but there wasn't much we could do about it as it was still completely dark and raining a lot…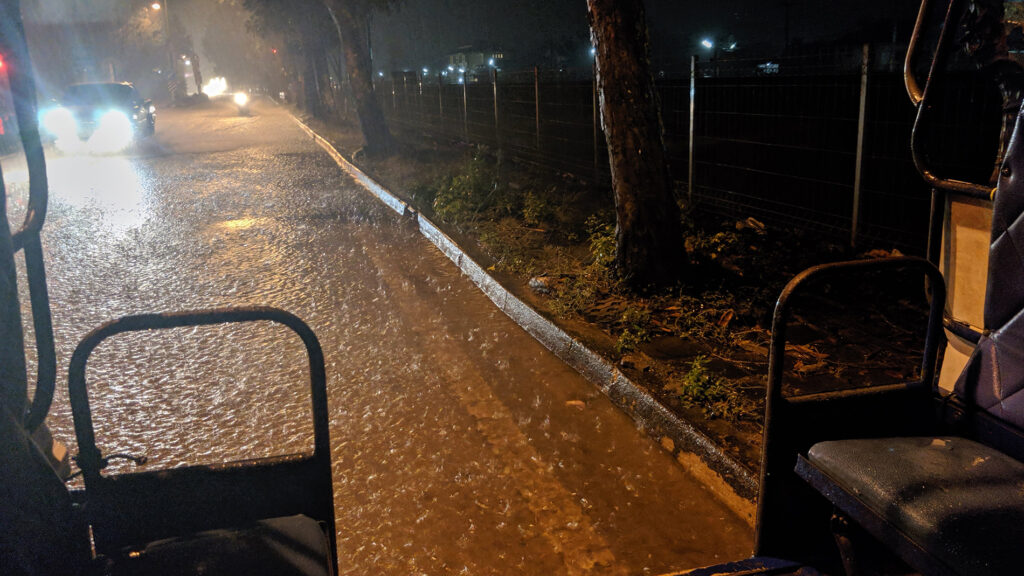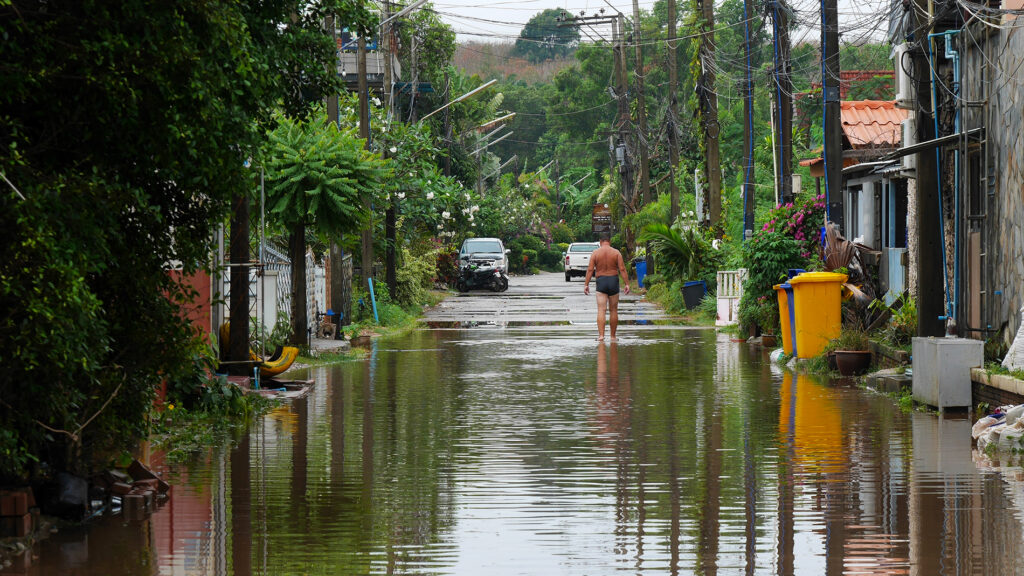 The Albatross Guesthouse
When we finally arrived at our accommodation, the Albatross Guesthouse, everyone was still asleep. We managed to sneak into the building and had a nap on the couch. The place, run by two lovely ladies, was really comfy and just five minutes walk from the beach. Even though the building was located next to a road, we were surrounded by nature. The view from our balcony was so green, especially after the rain. We could hear the forest and the splashing of the waves in our room.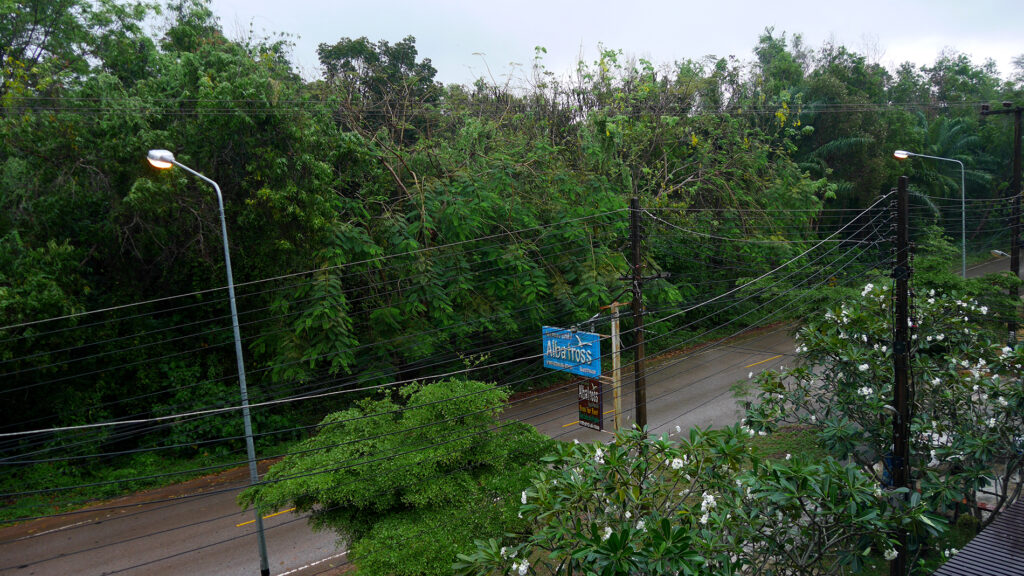 Enjoying beach life with rain and wind
It's not the rainy season now, but for some reason, the weather continued rainy for most of our stay. It didn't rain as much as on the morning we arrived, but there were some showers every day and the wind was really strong. The waves were so big that for Seri it was a lot of fun, but Johanna didn't get into the water even once. The beach was beautiful and almost completely empty.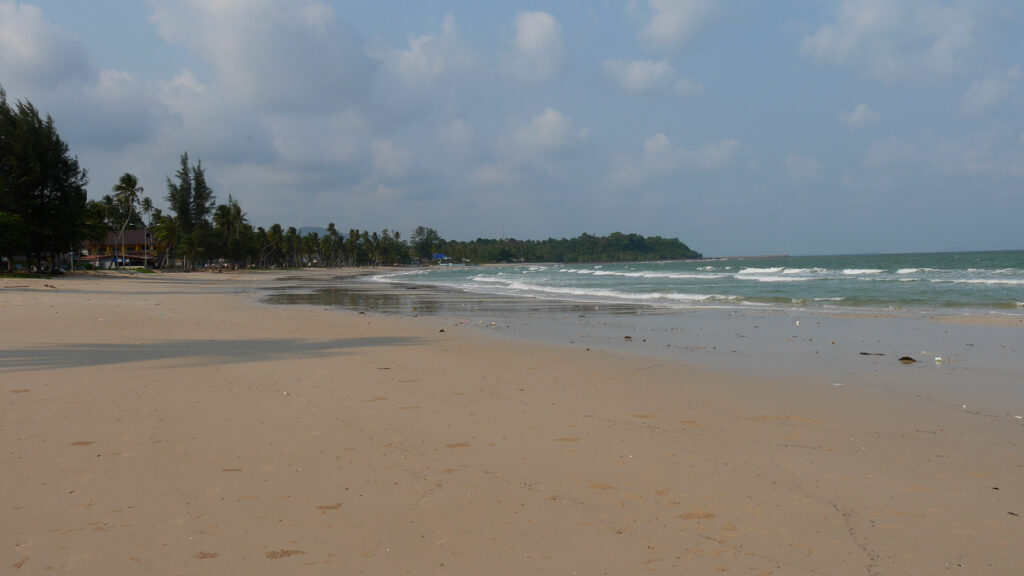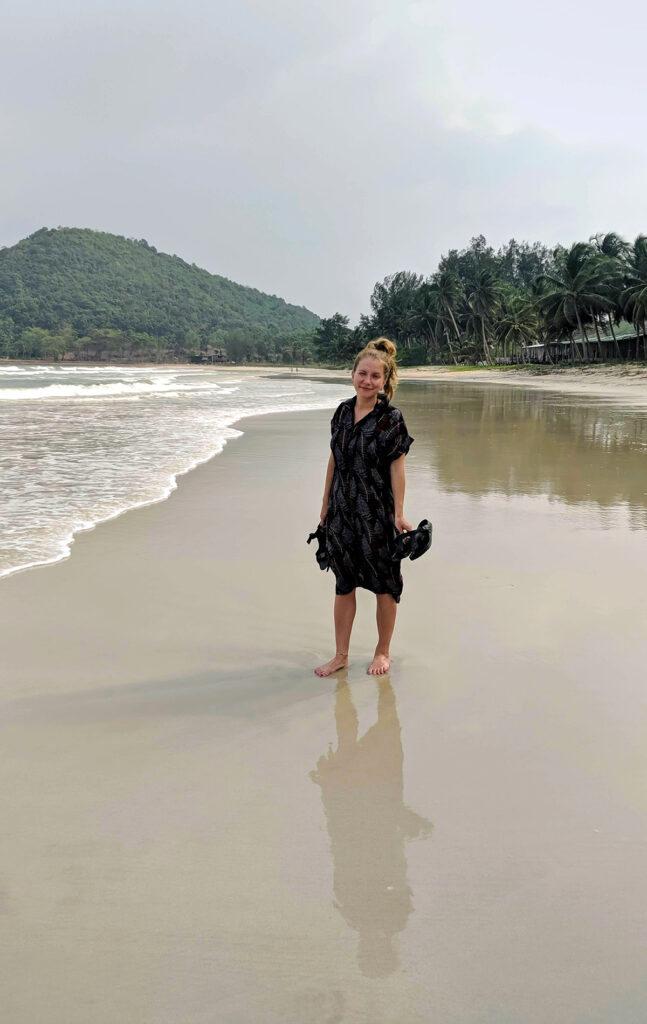 Exploring Chumphon by a scooter
We rented a Honda Wave scooter for three days as our plan was to go around and do some sightseeing. In Chumphon area, there is a lot to see. There would be waterfalls and caves and small paradise islands where you could go on a day trip. We ended up skipping most of that stuff because of the rain but still managed to see some cool stuff.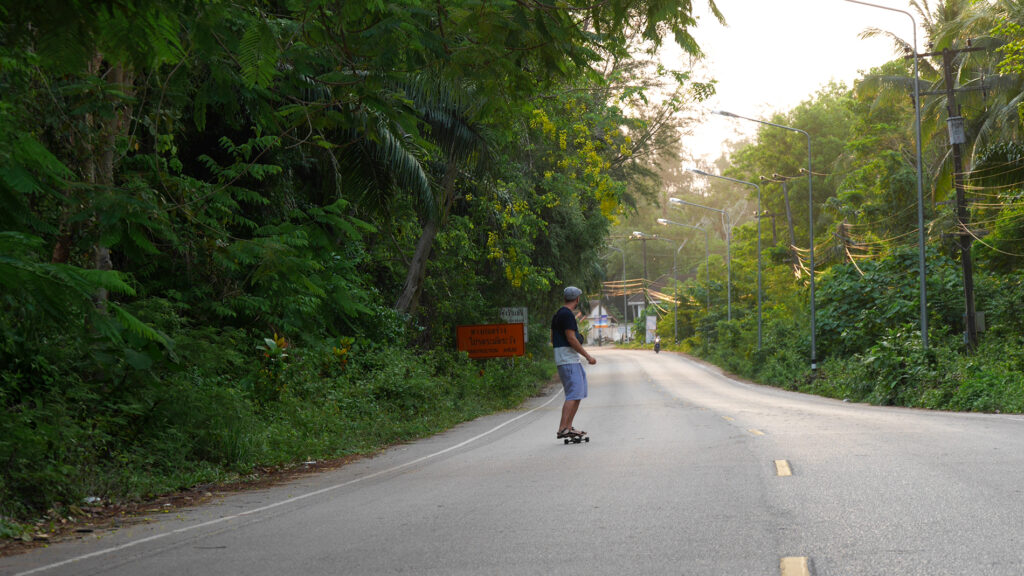 The Khao Dinsor viewpoint
To reach the Khao Dinsor viewpoint, we drove up a steep hill and hiked through the jungle the last kilometres to the top. The viewpoint is located inside a raptor centre, but the centre seemed to be closed and the whole place felt a bit run down. There are several wooden viewpoints built along the route, but most of them looked like they could collapse any minute and were marked with a "do not enter" sign.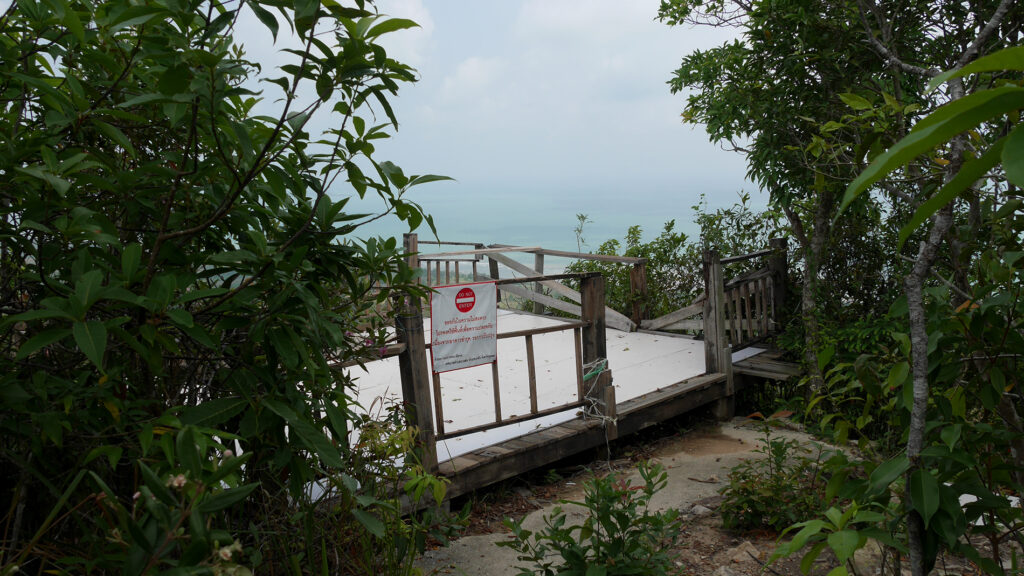 This and the rustling of the leaves, birds and whatsoever in the bushes gave the whole trip a bit eerie feeling. Especially because we were the only people around. But the trek in nature itself was nice and we could admire some gorgeous views from some of the less-hazard looking platforms we dared to enter.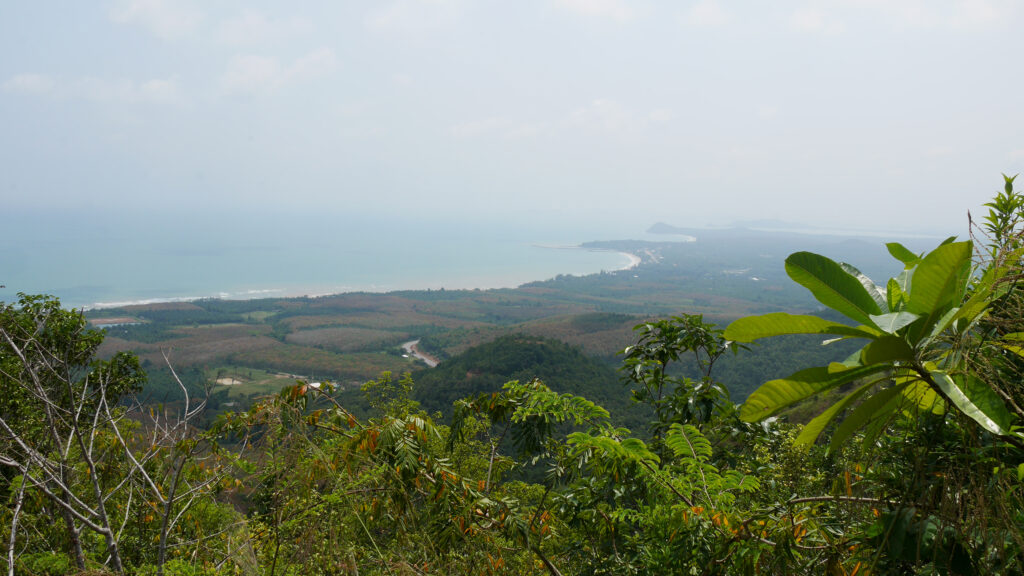 The Nong Yai Reservoir
The Nong Yai reservoir was created after a devastating flood to control the flooding of the area through an artificial lake and channels. Now it's a nice, green area that seems to be a popular hang-out spot for the locals. There is a long, wooden bridge leading to a small island in the lake.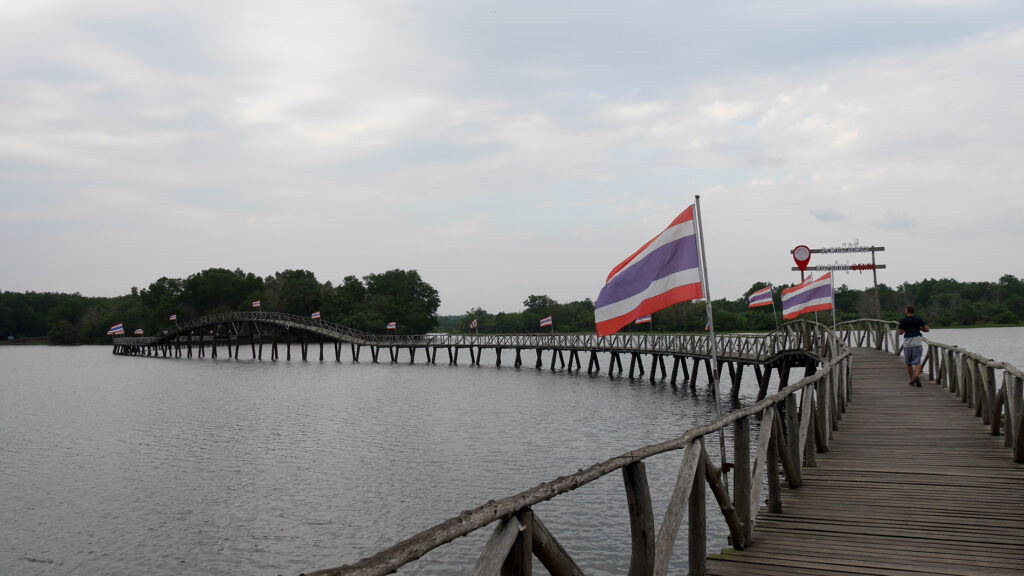 The island was, surprisingly, full of chickens! Some locals were feeding the birds and they went wild. Then the locals were laughing at Seri, who, it turns out, is not very comfortable around wild chickens if they come in bigger quantities.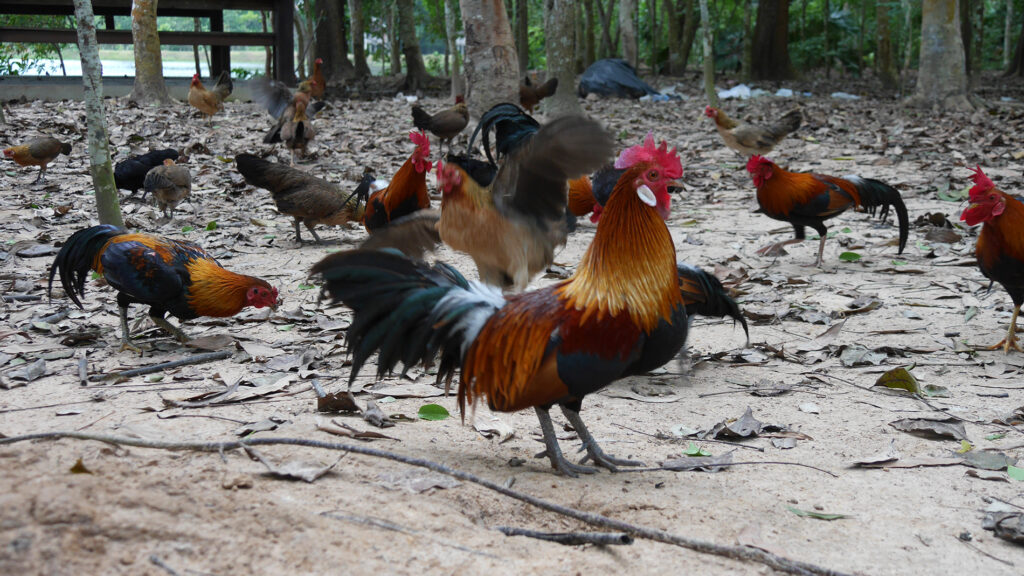 We didn't see only chicken during our visit to Nong Yai, but also a lot of fish and deer. So, all in all, a very nice and animal-rich half-day trip to Nong Yai.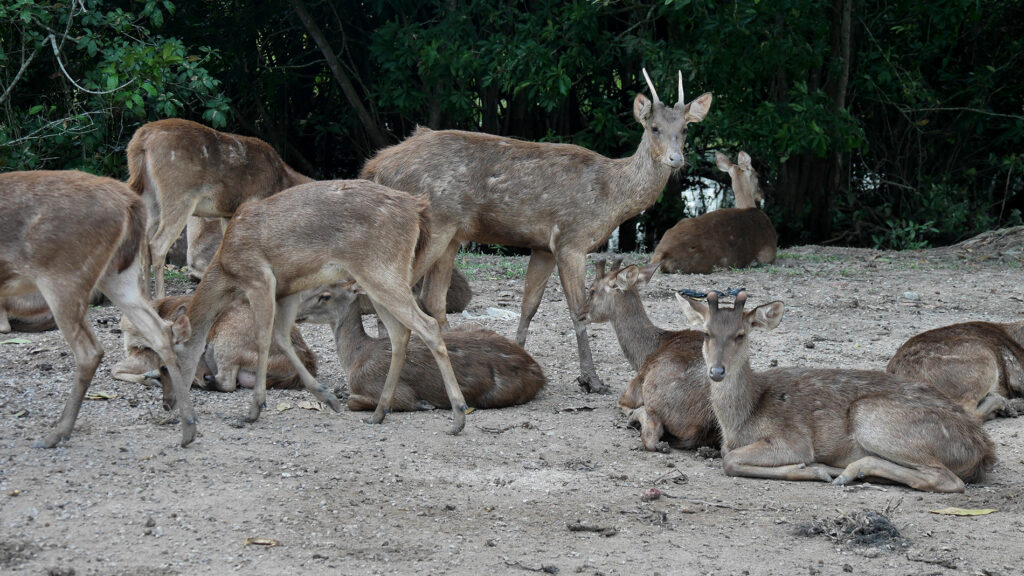 A visit to the doctor
Considering that we didn't need a doctor at all during the first five months of our journey, it's weird that our visit to doctors in Chumphon was the fourth time in a month already! Seri's nail bed had gotten relatively infected for some reason and after some days we came to the conclusion that it's not going to get better on its own. The visit to the doctor was quite funny, as we didn't have any common language. When the problem was finally understood, we were a bit terrified when we saw the giant scissor the doctor took out of the closet. Luckily, she didn't amputate Seri's whole finger but just gently punctured the swollen spot. Before we left, the doctor nicely showed the prescription for the antibiotics in hand gestures. When the sun rises, take one pill, etc…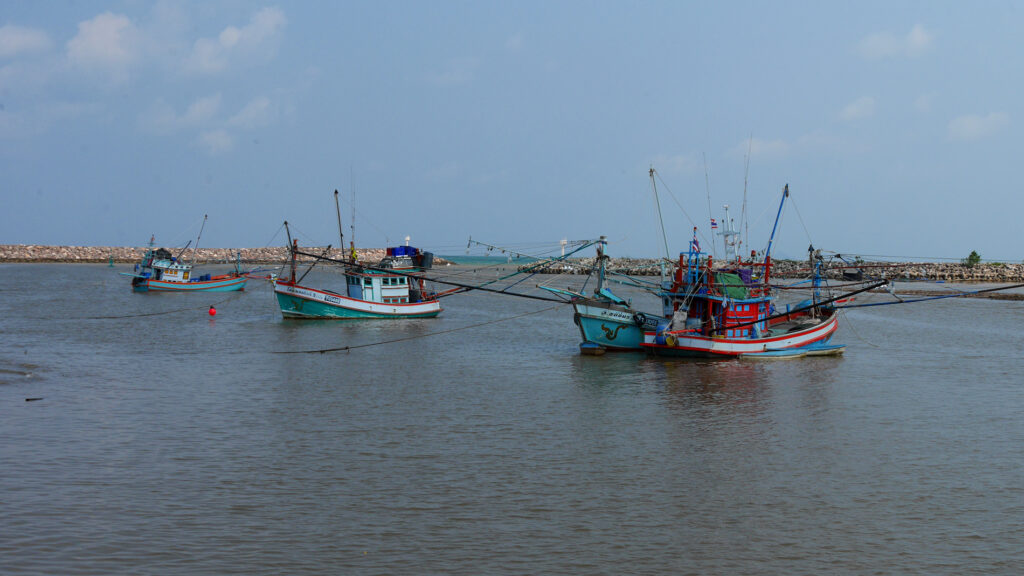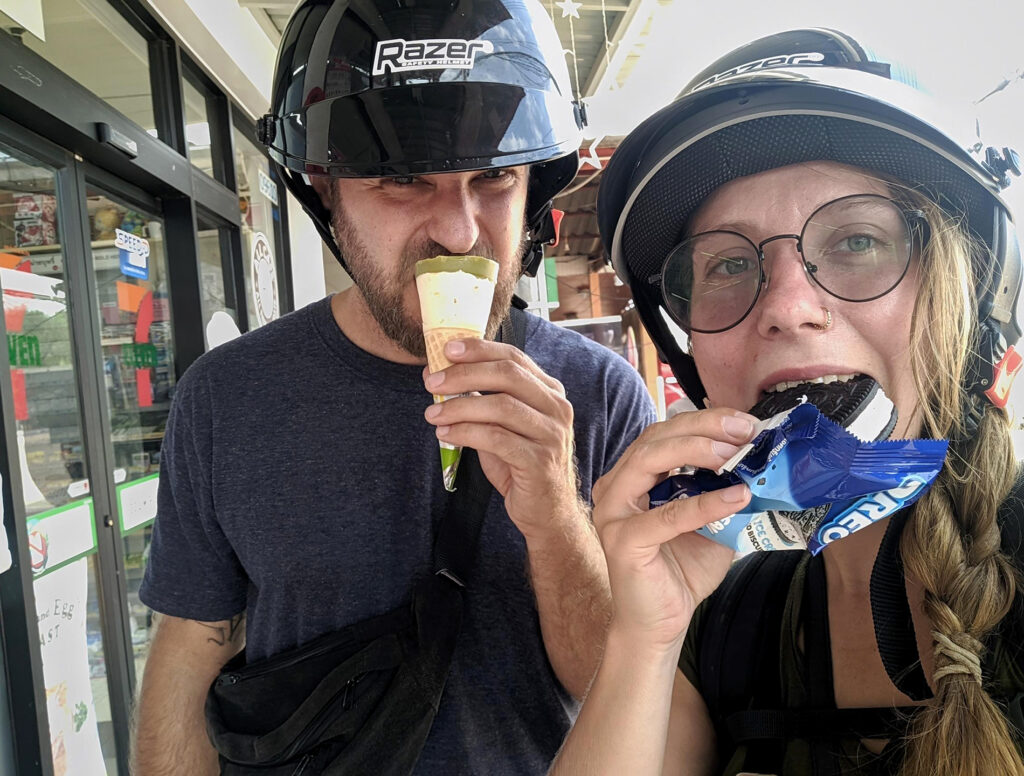 Party with locals
Another special happening for us during our stay in Chumphon was a party we ended up having one night. Some of the restaurants on the Thung Wua Laen beach are clearly made mainly for us farangs, where some were more in favour of the locals or Thai tourists. That evening we decided to sit down in one of the shacks that seemed to be a popular place among locals. On a table next to us there was a nice group from Chumphon town. Again, we didn't really have a common language, but tried to have some conversations mainly in gestures. One of the women said "friends?" and made the heart sign with her fingers. We answered the same way, so now we have some friends in Chumphon, too. We also learned that the local style of ordering drinks in a bar is not to order one drink at a time, but a whole bottle, some mixers and a bucket of ice. So, of course we had to order and empty a bottle of Hong Thong Thai whisky and ended up having a really funny time that evening and a slight hangover the next day.
Chumphon sum up
To sum it up, if you have a few days to spare before going to the islands, have a stop in Chumphon! There's much to see, the beach is nice and it's easy to get the hang of the local life there. The places of interest are scattered around a relatively vast area, though, so we would advise renting a scooter to get the most out of your stay in Chumphon.