Crossing from Myanmar to Thailand over the Myawaddy – Mae Sot border was going to be the 8th international border crossing on our overland journey so far. There was public transport going to the border and not much paperwork was needed, so we expected this crossing to be one of the easiest ones. Things did go almost as smoothly as planned, but the journey still had some special moments and wasn't boring at all.
We would have still had 10 days left on our Burmese visas, and as Myanmar was a really interesting and warm-hearted country to travel in, we would have also loved to stay there a bit longer. But we had set up a date with Johanna's family in Bangkok, which we were, after many months of traveling, really looking forward to! Therefore we tried to get from Yangon to Bangkok as fast as possible without any unnecessary stops.
Getting from Yangon to Myawaddy (the Burmese side of the border)
Our bus from Yangon to Myawaddy (the Burmese side of the border) was leaving from Yangon's Aung Mingalar bus station at 19.30. The bus station was really far from the center and it wasn't total over-exaggeration when the staff of our hostel told us to leave by taxi two hours before the departure of our bus.
The bus was definitely the fanciest one we've had on this journey! The seats were really big and comfy and we got some small snacks when boarding the bus. There was a nice stewardess dressed in a beautiful, traditional Burmese outfit.
When the bus had left Yangon's outskirts, the stewardess came to us. First, she gently told us it was time to sleep now, pushed our seats back and popped out some holders for our feet from under the seat. Then, to our big surprise, she offered us a plastic tray that was filled with something "for good sleep". We refused the sleeping pills but slept well nevertheless.
At one point in the night, we had a stop at a big gas station/roadside restaurant. Seri surprisingly had the best gas station meal of his life there: a delicious Indian-style roti meal.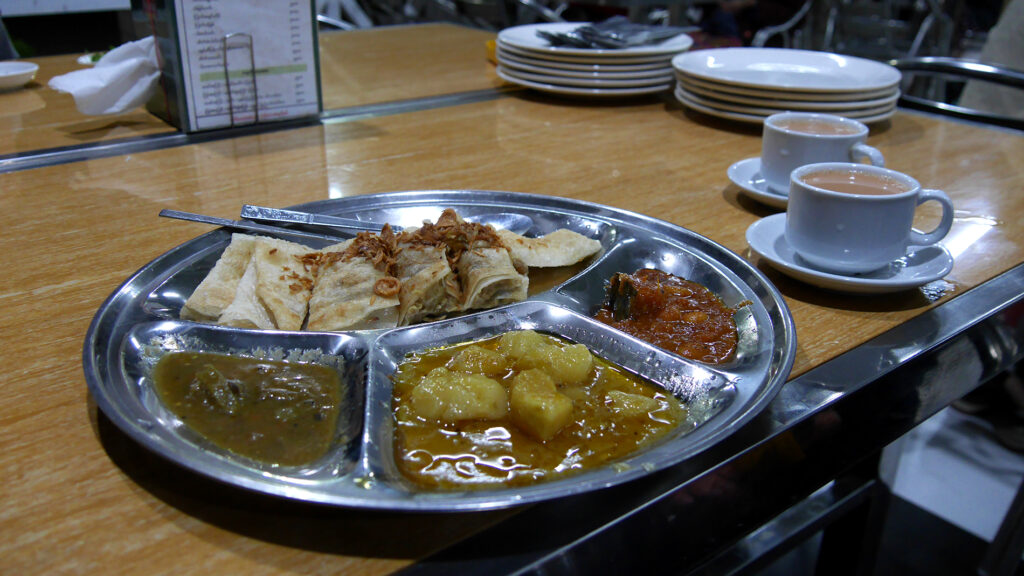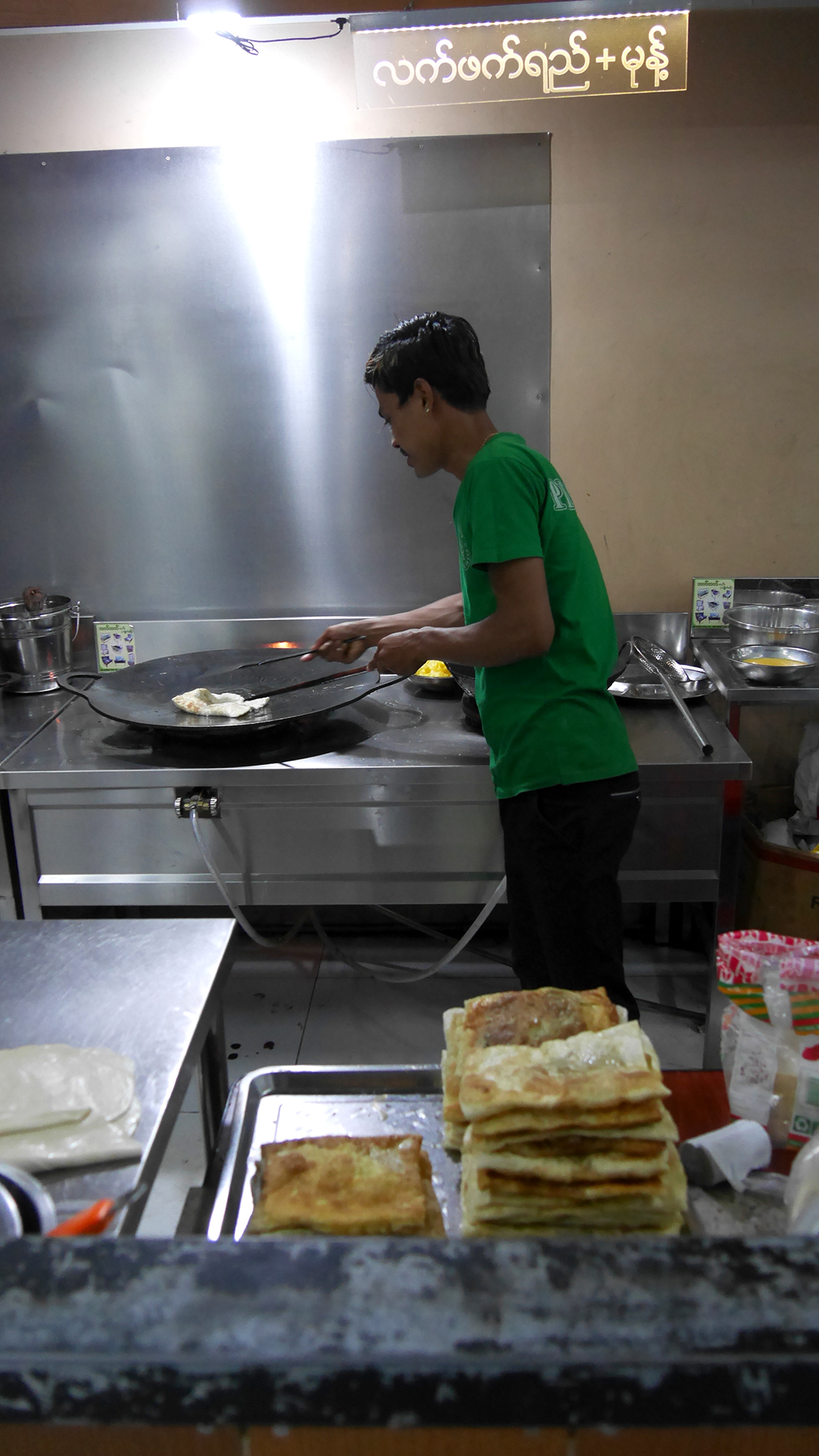 At the Myawaddy border
The bus ride from Yangon to Myawaddy was supposed to take 10 hours, so we expected to be arriving around 6.30 in the morning. After all, we reached the border town well in advance and got out of the bus into the darkness at five.
We were not directly at the border yet, so we had to get a ride there. Once again, we got to experience a whole new style of a rickshaw, that was a motorbike with a big box for us and our bags, over the front wheel. The ride took a few minutes and cost 1200 kyat (less than a euro).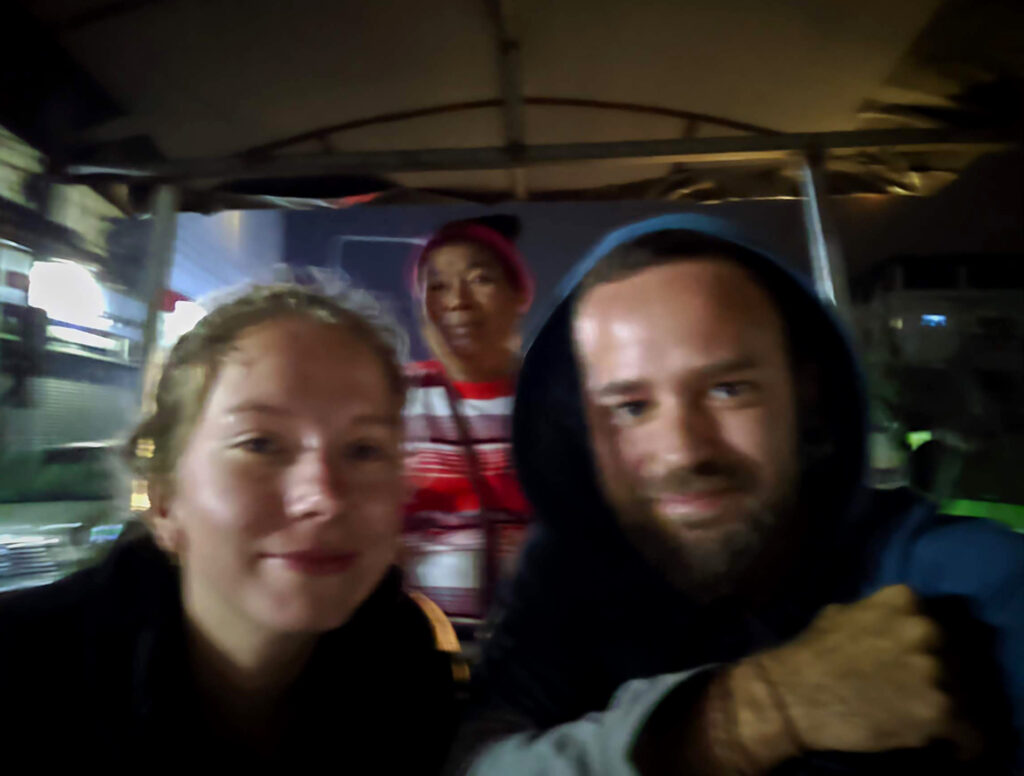 Before crossing the border we changed our last kyat into Thai baht by a small currency exchange booth (= a woman sitting by a small table on the side of the street). Usually the conversion rates at borders are really poor, but surprisingly, here we got an even better rate than what the currency converter on our phone gave us!
Crossing the border from Myanmar to Thailand
The emigration process on the Burmese side was straightforward. There were very few people. We got into a small office, filled some paper, smiled for the camera and got the exit stamps.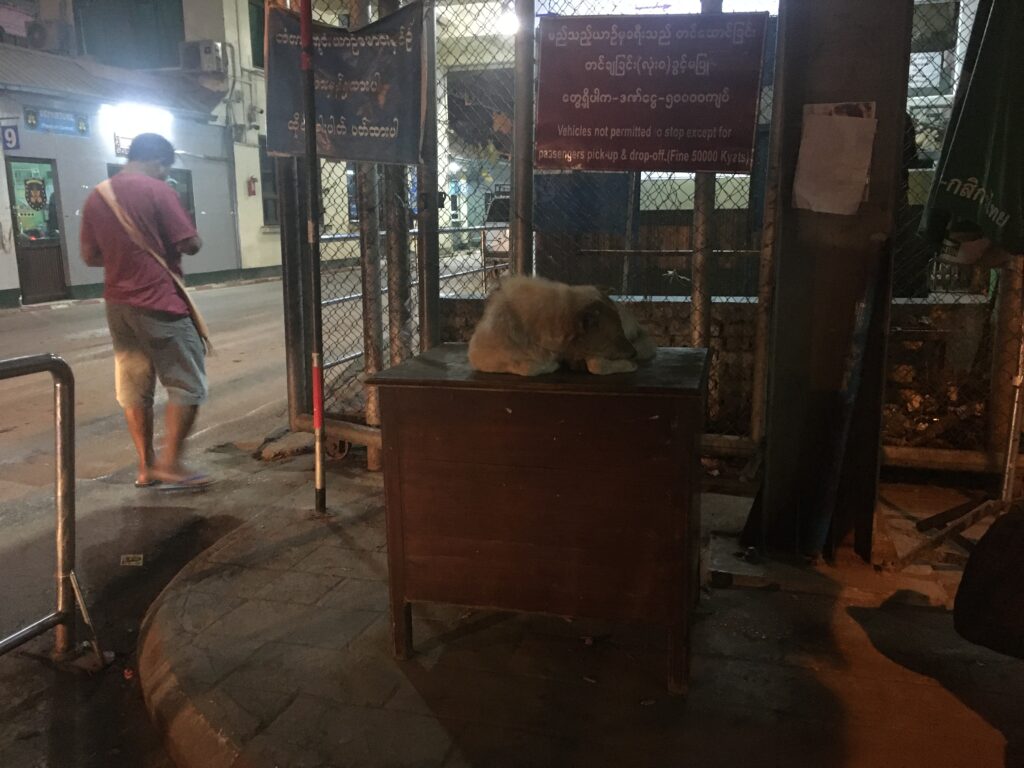 We walked over a bridge crossing the Moei River that marks the border between the two countries.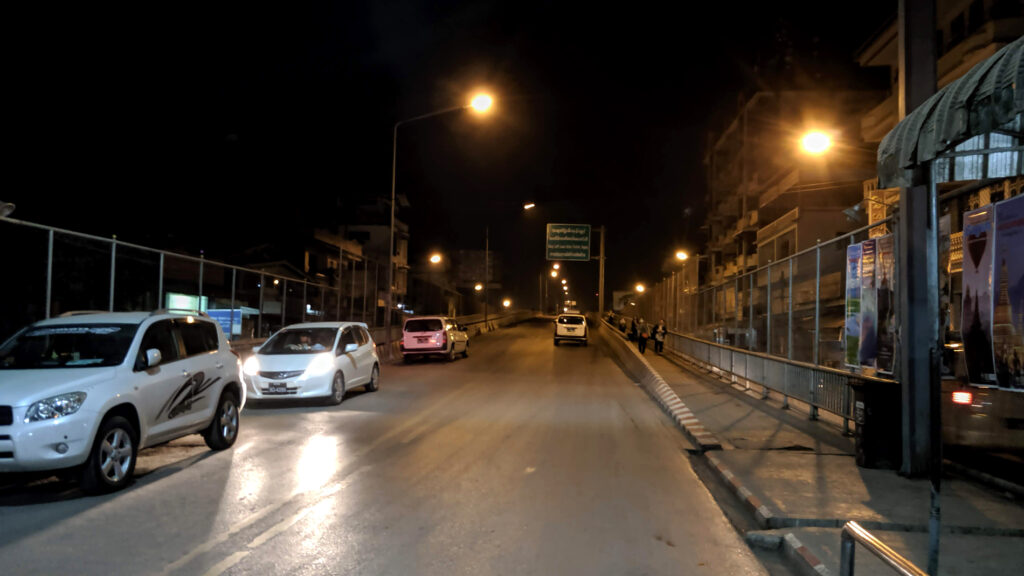 The things on the Thai side worked smoothly as well. We were wondering earlier if we should have booked some bus tickets or fake flights out of the country, as basically one should have a proof of exiting the country when entering. Luckily, no one asked us about that.
Another happy surprise was that we got the permit to stay 30 days in Thailand. As Finnish and Austrian citizens, we didn't need a visa for entering Thailand and had we arrived by plane, 30 days would have been a standard. But we had gotten mixed information about the length of the permit when arriving via a land border – according to some sources it would be only 15 days. So we were really happy about the possibility to stay a whole month in Thailand.
During the whole border crossing, our bags were not checked even once. Not having to unpack and re-pack our backpacks made the border crossing even faster and easier.
At the border, we could clearly notice how differently the two countries were approaching the emerging coronavirus pandemic (February 2020). There were no signs about corona at the Burmese side at all, where on the Thai side there were big posters telling about the symptoms, the workers wore masks and hand disinfection was offered.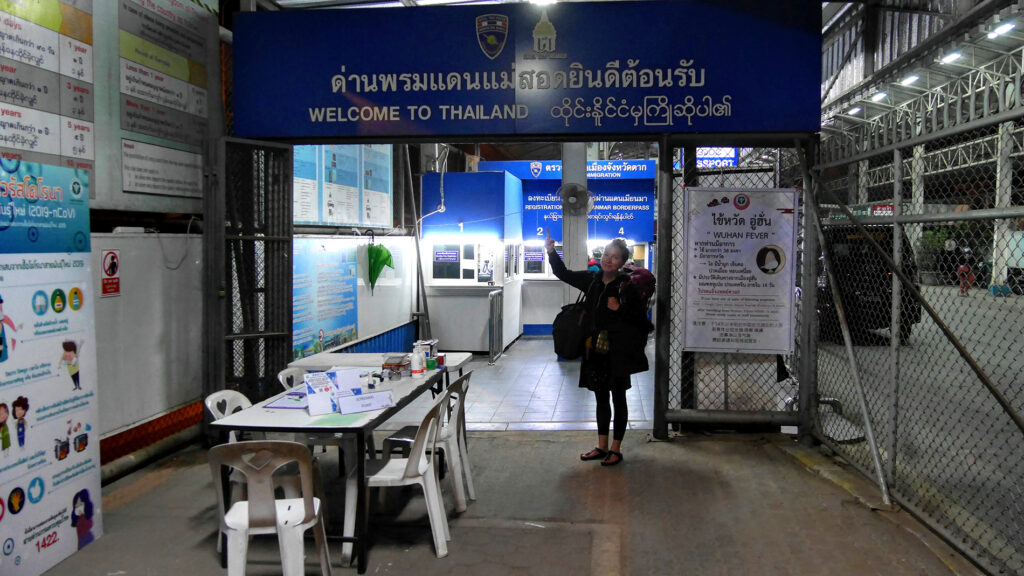 Getting from Mae Sot to Bangkok
We had tried to research bus time schedules from Mae Sot to Bangkok in advance, but only found info about one bus that is leaving at eight in the morning and the next ones in the evening. As we knew this is a popular border-crossing point, we didn't think this was true. But we really didn't want to wait until the evening if there really were no other buses, so we tried to make sure that we get to the bus station early enough to catch the 8 o'clock bus.
The Mae Sot bus station is located some kilometers away from the border. There was a songthaew, a Thai-style collective pick-up truck taxi, waiting at the border. The songthaews don't start to move until they are full, and so far we would have been the only passengers. We didn't have time to wait, but strangely couldn't find any tuk-tuk or taxi, neither. Luckily the friendly songthaew driver saw another songthaew coming from the Burmese side of the border and stopped it for us. It was empty, but apparently anyway on its way to Mae Sot, so he took us on board and we only had to pay 20 baht each (0,5 e).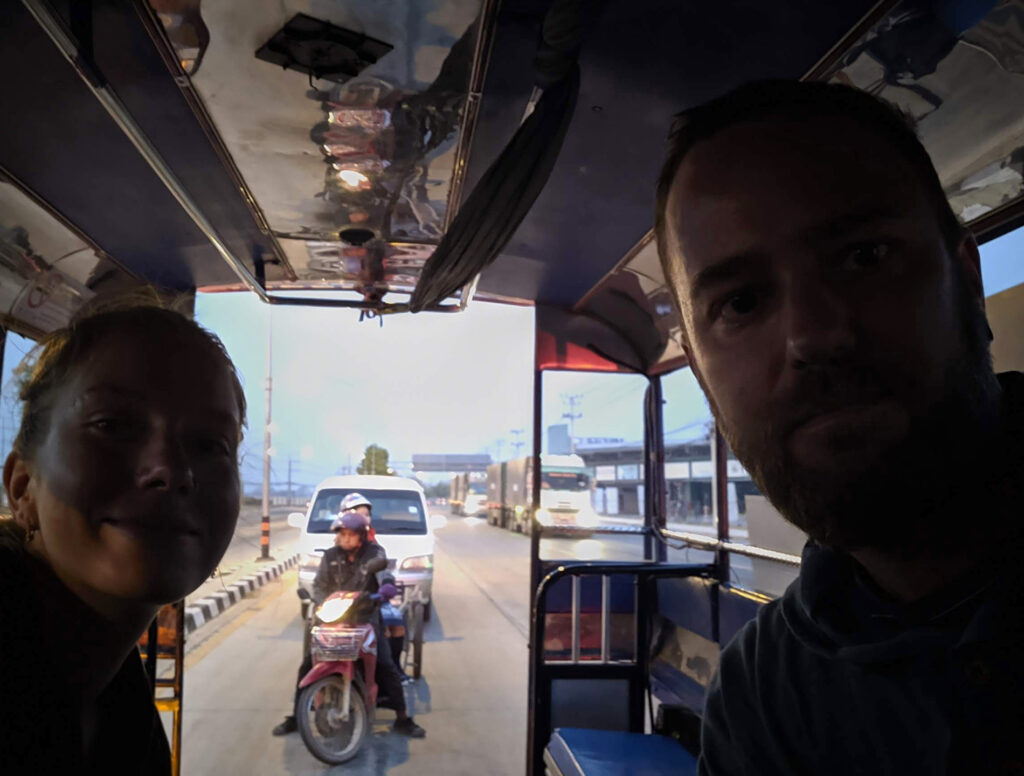 At the bus station, we had to wait for some time before the ticket counters even opened. We got the tickets for the first bus that left at eight, but just as we had thought, there were several other morning buses leaving after that one, too.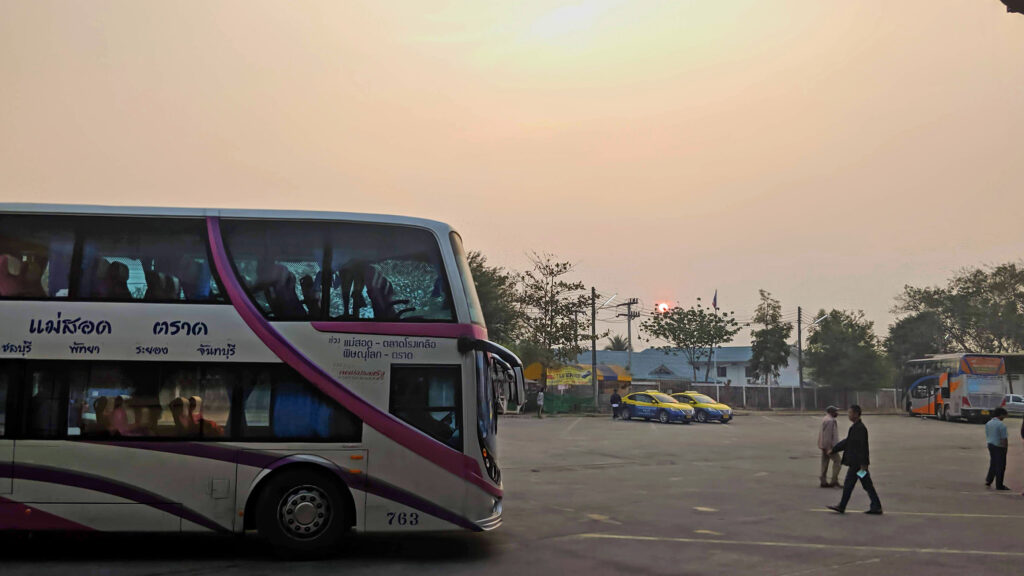 On our way to Bangkok
Even we wouldn't have thought it's possible, this bus was even fancier than the previous one. The seats were like thrones and even had a massage function! On this bus ride we didn't get offered any free drugs, but got a nice little lunch box.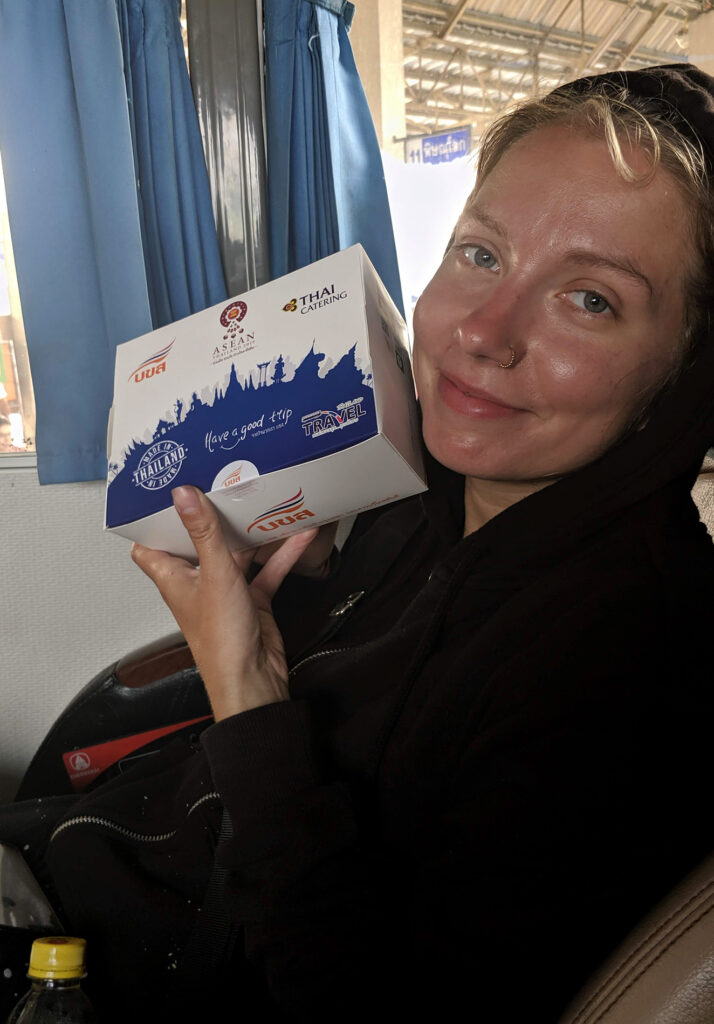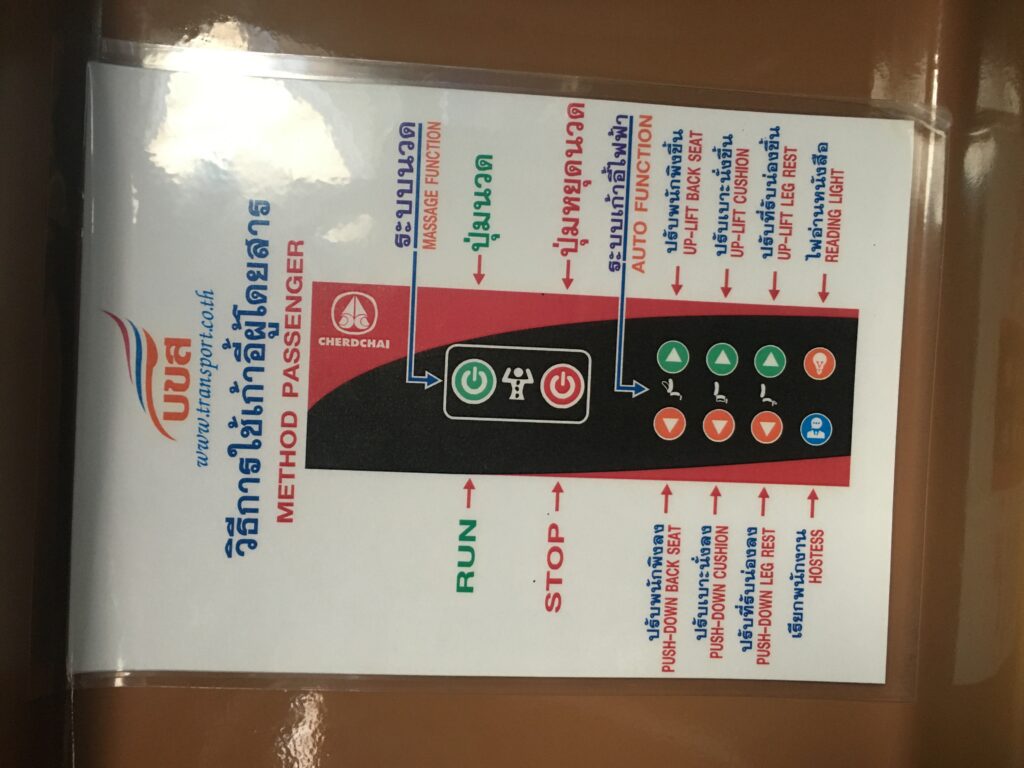 On the way, we had a stop at a food court and it turned out that our ticket included a free meal! Nice surprise, even though the veggie options there were almost non-existent. During this break we had time to observe our surroundings. It felt strange how different everything from people to food was already, even though we had only traveled less than a thousand kilometers. But as much as we had liked Myanmar, it felt wonderful and exciting to be in Thailand!
We arrived in Bangkok in the afternoon, around 21 hours after leaving from Yangon. Thanks to the easy border crossing and the majestic buses, we were not even feeling that tired! Then we prepared for dinner with Johanna's family and for having a nice holiday together in one of our favorite cities – to have a little break from traveling.